h
Are you looking for ways to create high-quality content for your AI? Here is what you need. A detailed Anyword review – your last resort for quick and effortless content creation. 
A cursory search on the internet will result in many available tools that claim to be AI-driven. However, as a business owner or an employee, it can be tough to ascertain which ones actually provide good value for the money and which ones are overpriced. 
That's why this article intends to sift through the noise by providing you with a detailed review of Anyword and how it actually works. Read further to explore this excellent tool? Read on to find out the best and worst thing about it.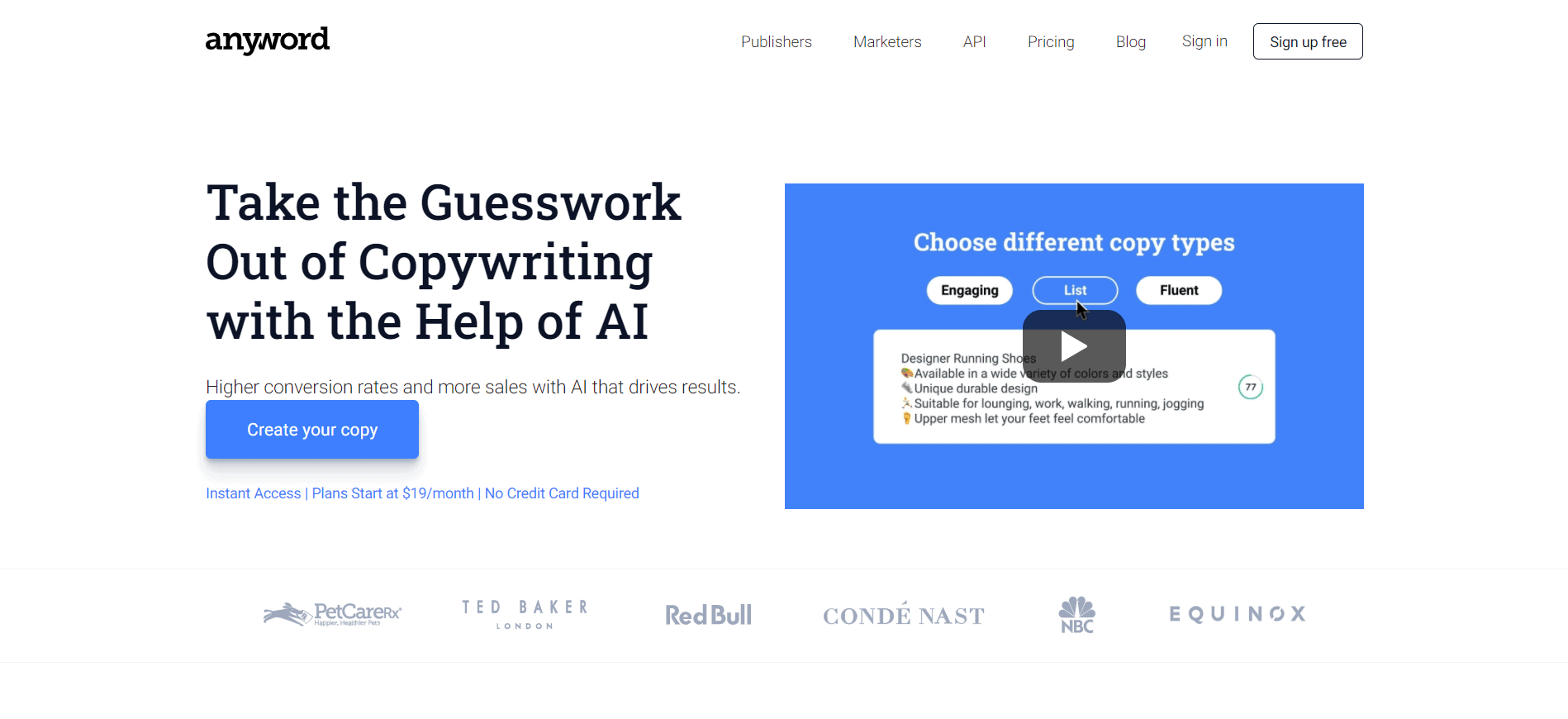 What is Anyword?
It is an artificial intelligence content marketing tool. With Anyword, it can easily create engaging, captivating, and compelling articles for you. Just by one click of a button, it will give you quality content in minutes. You do not need to be an expert or writer anymore.
We know the real struggle comes in when you actually have to sit down and write thousands of words for your website articles. Or even your report or any other piece. Anyword is the solution you need to deal with issues and make it ultra-easy. 
This super-cool tool can easily create engaging, captivating, and compelling articles for you. It uses NLP and ML techniques such as deep learning, dialog engine, and natural language processing to generate essays and slideshows.
Get Anyword Now
How much does Anyword cost?
Well! The pricing of Anyword is exciting. So you're considering using AnyWord? Great! We wanted to give you some quick information about our pricing. It is a super easy and affordable way for content creators of any level to get their work done fast without all the hassle.
For beginners, it is pretty reasonable, and I guess, cheaper than any other such excellent tools. It costs just about $19 a month for its starter pack. In this package, you will get all the general editing and content writing parts. Nothing much specific and personalized.
But this is just not it. There are 2 other packages you can go for if you want something more accurate for your business. There is this Pro Beta plan. This one is perfect for the mediators and freelancers who are just looking for basic ideas. The other one is the Enterprise plan which is the whole package in one. This is for a company that wants nothing but more target-specific content. 
The best part about these 2 packages is there is no fixed pricing to this. But nothing to worry about because the Anyword team asks for your information and gives you personalized packages. Now, some of you might think, 'What's the deal with that?'. But the thing is, you can easily plan your content requirement and pay for what you want. Nothing extra. 
Isn't it an amazing AI copywriting tool?
Features of AnyWord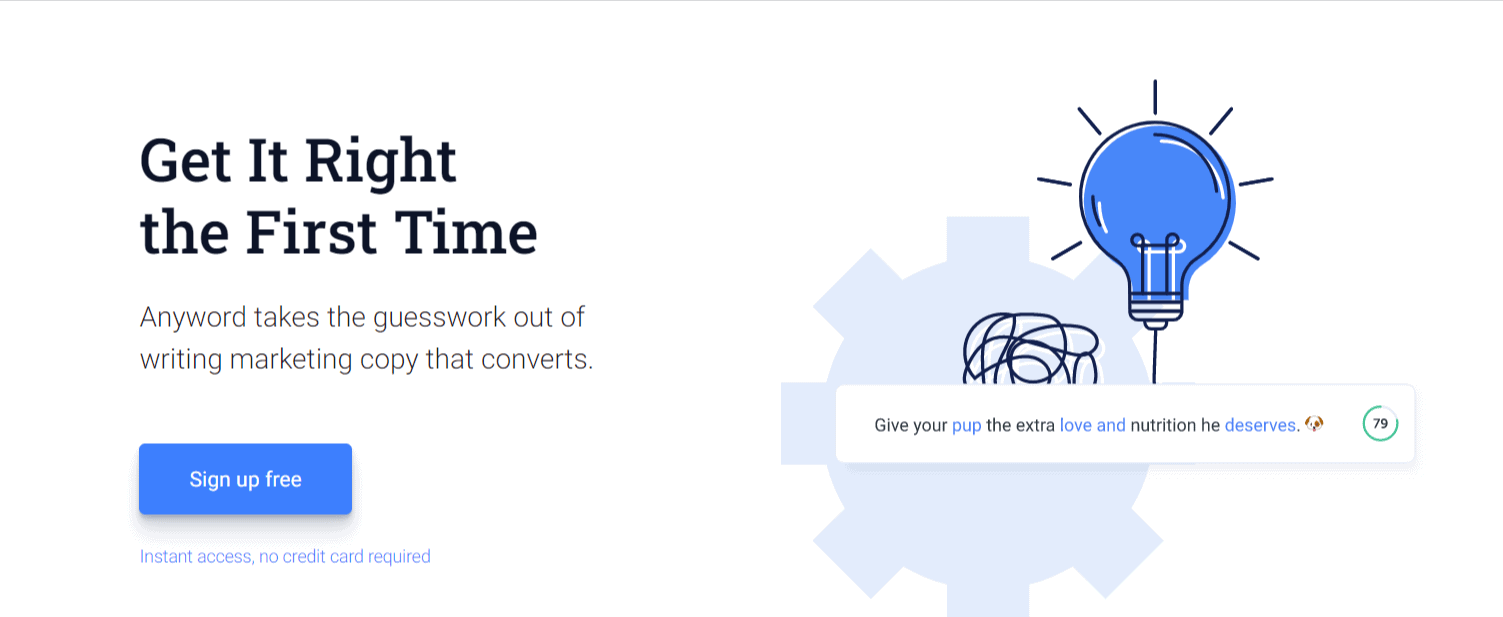 With Anyword, you can create a website with all the bells and whistles without becoming an expert. But obviously, before trusting a tool so much, we need to see all its features. So, here they are. 
Create your ad copy in a few seconds
Writing content and copywriting can burden you, especially when you are taking care of all the technical things to rank your website. Why not take off this baggage and use Anyword for your copywriting business? If you think it creates similar copies for all its users, then you might be wrong.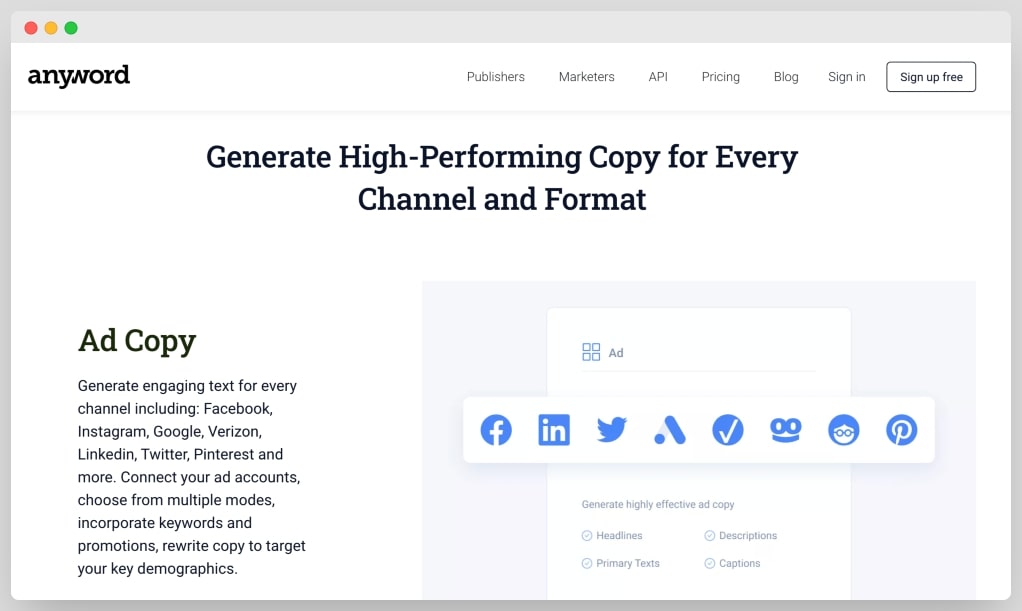 It may be one Artificial intelligence thing that produces the content. But it's so reliable because it creates personalized content. No matter from which industry, field, or business you are from.
Formats for all types of content
The best thing about content writing is that you can use so many formats to create your posts. No one format is being followed by anyone creating content or writing anything for their websites and ads.
So, Anyword offers unique formats for all its users. Go and try them out. 
For your reference, here's a list of the formats you may want to try out.
Listicle (list article)
Facebook ad title and description
Emai subject lines for better open rate
Full Blog posts
Create Filter and Prioritize your content 
If you are a content creator, then the best tool for AI copywriting is Anyword. It helps you filter out keywords with less traffic potential and help increase your site's SEO. It enables you to filter keywords that are not relevant to your niche. 
Anyword is a dictionary that makes it easier to find exactly what you're looking for. It will give you the priority of each word to know which word has a higher value when optimizing. This one is the perfect tool to estimate the relative importance of words in a sentence.
Write exciting captions on your social media
We all know how difficult it can be to come up with captions for our content. It's often the most challenging and least enjoyable part of creating a video or blog post. This is where Anyword comes in handy! With Anyword, you'll never have to worry about coming up with an engaging caption again! 
Captions will be generated automatically based on keywords in different tags, such as names, descriptions, comments, hashtags, etc.
Preset Keyword Library
The Preset Keyword Library is a module that can be utilized by developers to include keywords to a site's content. It not only allows the developer to preset words, but also categories and tags. This module is incredibly helpful for SEO purposes as it provides an organized way of including keywords in a website's content.
Additionally, the module creates a schedule for updating keywords and you can easily manage that schedule.
The Preset Keyword Library is a great way to keep your website's content up-to-date with relevant keywords and categories. The added organization method makes it easier to use and maintain. Easily include keywords to your site's content using the Preset Keyword Library.
Predictive performance score
A predictive performance score is a tool that is used to measure the effectiveness of a predictive model. It is also used to measure the accuracy of the predictions that are made by the model.
The score is usually computed by using a holdout set. The holdout set is a dataset that is not used in the training of the model. The model is trained on the training set.
The performance of the model on the holdout set is then measured. Many models are used in machine learning and optimization.
Get Started With Anyword Now
Templates provided by Anyword
1. Creative Template
As AI was used to create a sleep-related website for the Facebook Primary Text channel, it's no surprise that anyone can now use this technology on their own.
To dig deeper into any copy, just click "more like this" and three additional versions in similar styles will be generated automatically!
2. List Template
You can use bullets to make your product stand out. The best type of bullet is one that highlights the benefits and characteristics of what you are selling, so it will be easier for people reading them to understand exactly why they need or want this specific thing from you!
We don't think emojis work well in these situations since there isn't any context about how those icons might match up with whatever sentence/paragraph beforehand- which means anyone who sees them could have his own thoughts on whether he's happy about something being offered based off nothing more than an emoji alone.
3. PAS Template
Using the PAS framework, a business can highlight customers' pain points and find solutions to help them overcome them.
4. AIDA Template
With the click of a button, I've completed all these copies for myself.
With just four lines and no input necessary from myself or my clients (because they add in their own landing page URL), this AIDA-based process saves us time and effort while still getting what we want to out them – features prominently displayed on every page!
How to Use Anyword for Long-Form Content?
Writing content on Anyword is as simple as boiling water. All you need to do is select a few pieces of information and write down the content's idea, and within a few clicks, you end up having a superb article. Wanna try that with me? See how exactly it works.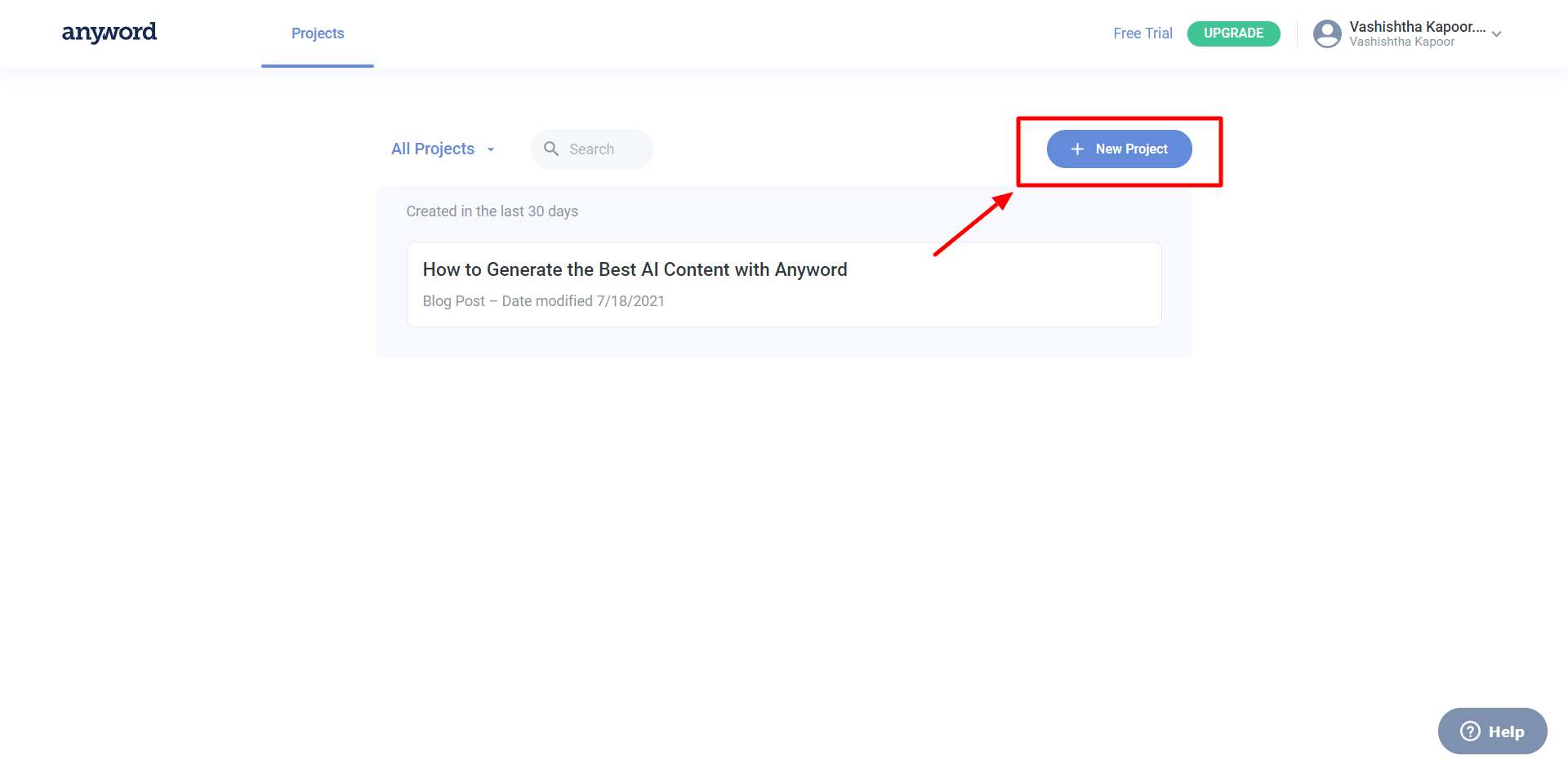 First, select the New Project button. 
There you will get the list of the type of content you are looking forward to writing. Select the most suitable one and click on Next. 
Here, I am using the blog template just to give you a tutorial. 
Now, you will have your list ready, and all you need to do is add all the information you need in your piece.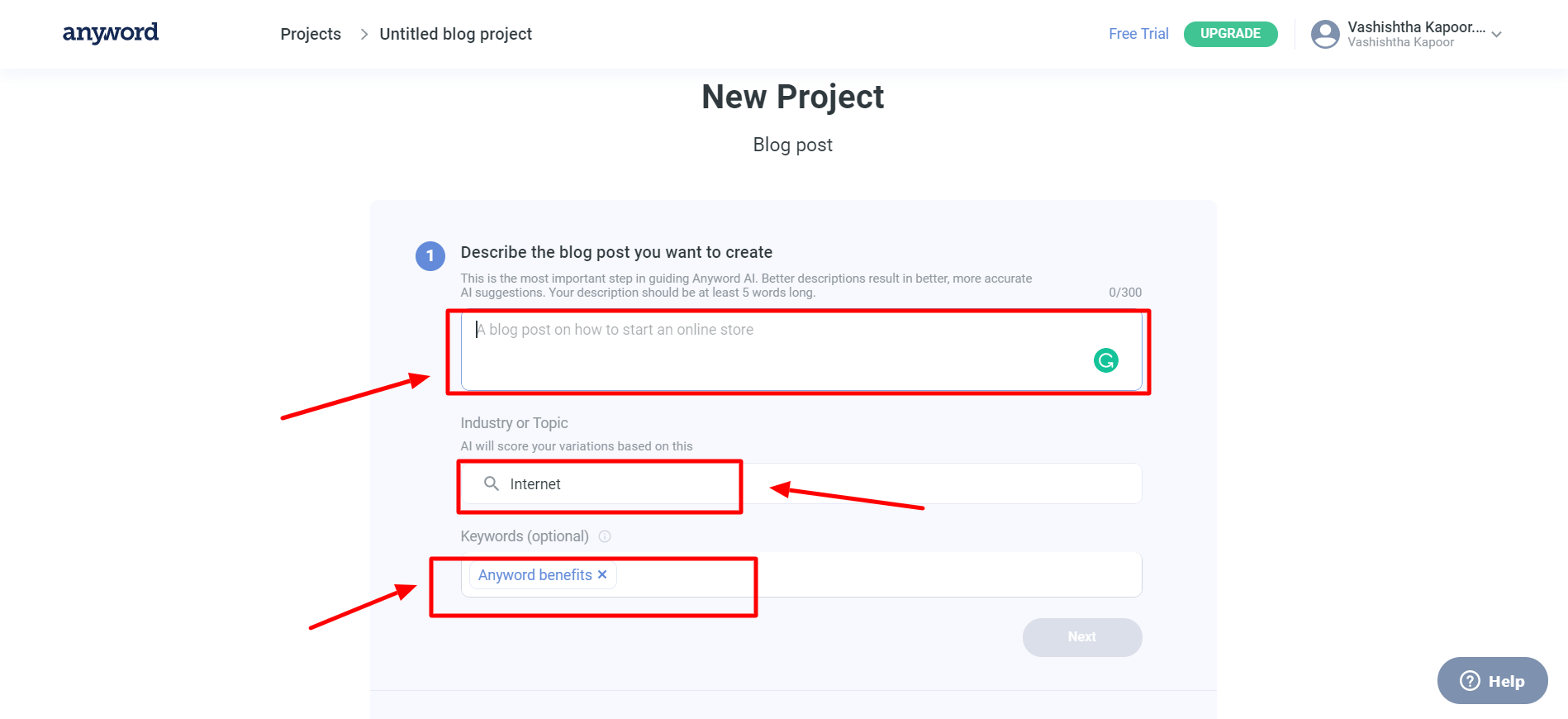 Let's start with the basic idea. This includes your target keyword, a short description of the article (here, blog).
Along with it, you need to mention the industry under which you are creating your content.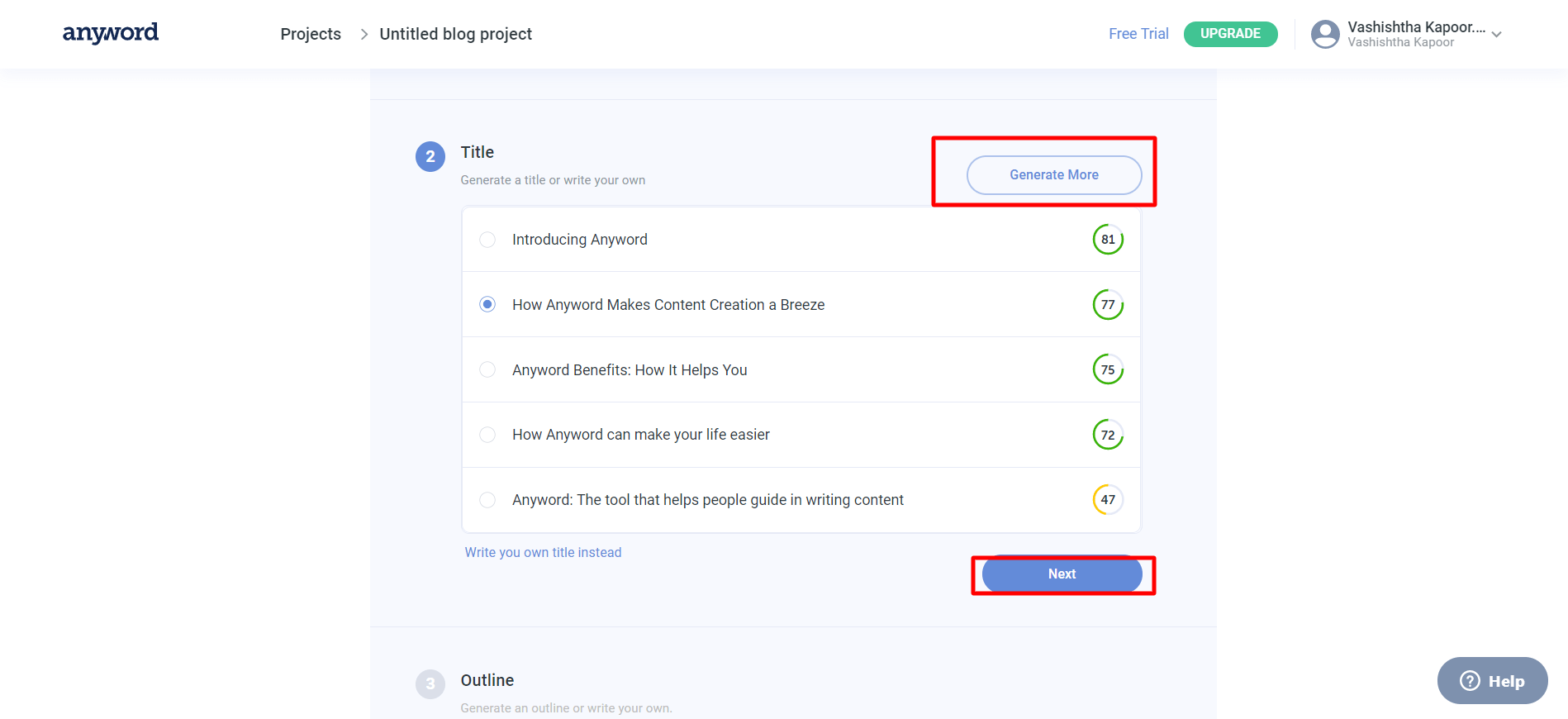 After that, it will show you a list of titles suitable for your blog post. 
On the right side of each title, you will see a small pie chart. It shows the effectiveness of your content on the internet. This is done based on the target audience of that industry. 
If you find any idea good, select it. If you want more, you can simply click on Generate More and get more views. 
Once you find your The Title, select it and click on the Next button.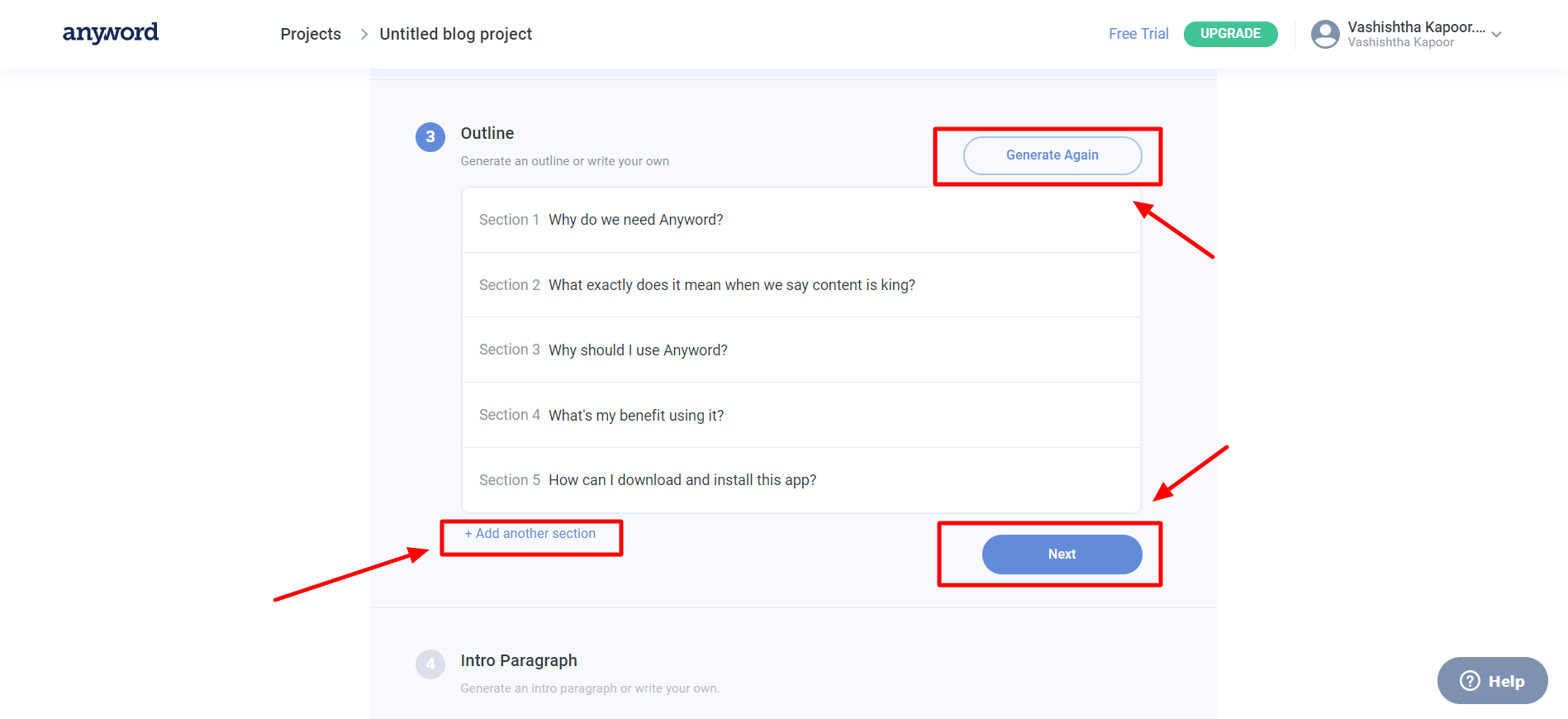 Moving on, you have an Outline section where you can section the structure of your blog. 
You can add sections and even delete some as you like. 
This Generate Again button is on the top right corner that you can use if you don't like the idea. 
Once you are satisfied, you can click on the Next buttons.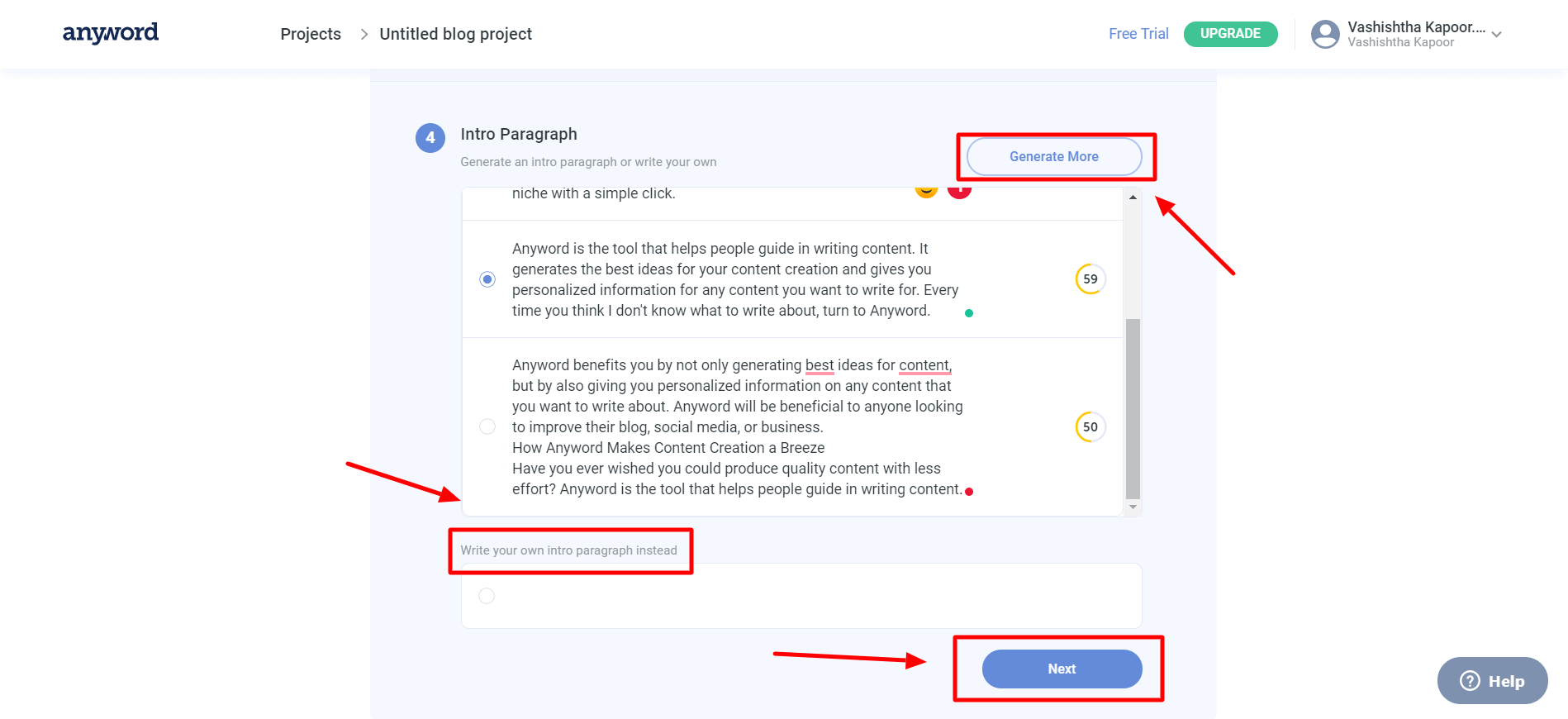 This part is where you get to choose or write your Introduction paragraph(s). 
Just like the title ideas, there is a pie chart on the right side of every idea. Seem that's just the prediction. 
You can edit these paragraphs or just write your own. If you want more ideas, you can click on generate more button. Once don't, click on the Next button.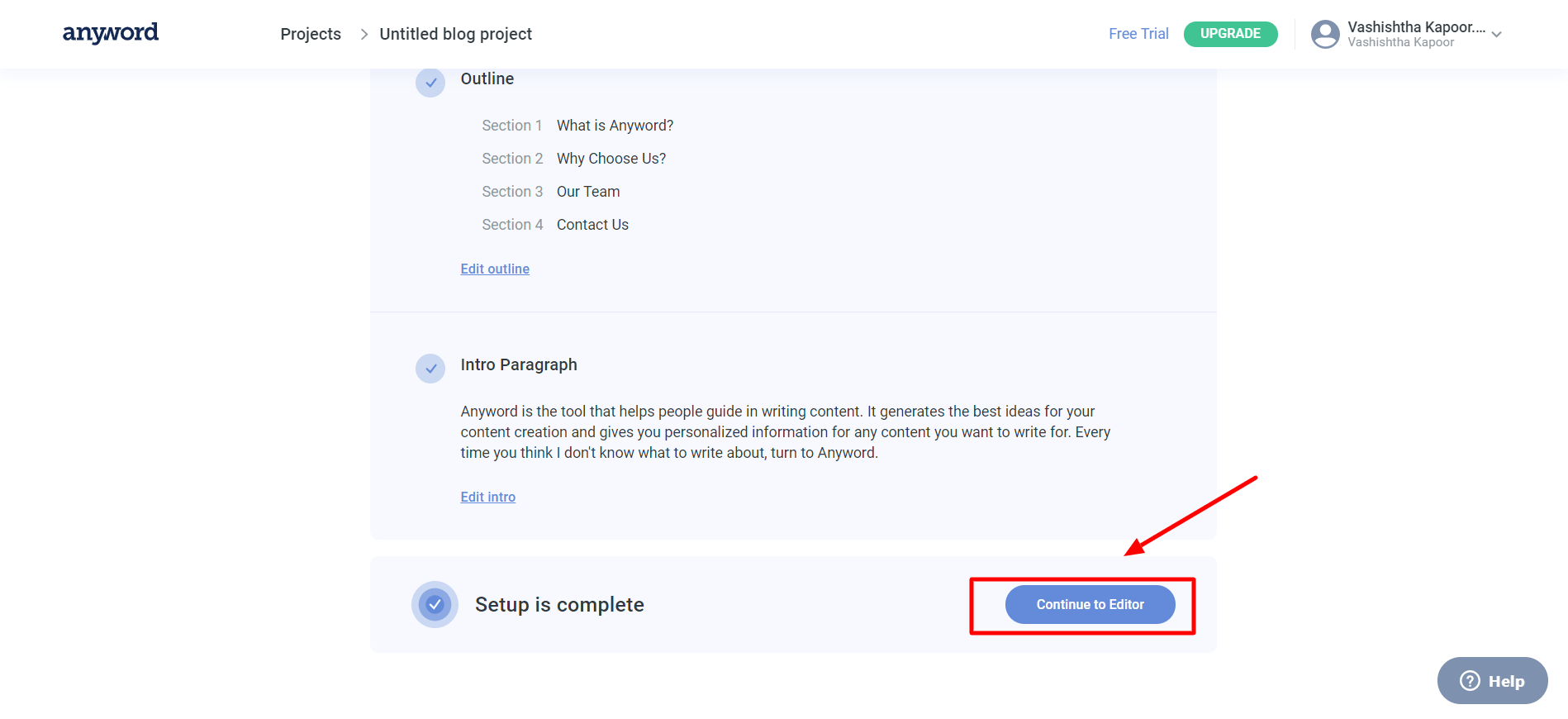 Finally, click on the Continue to edit button, and you are ready with your article's primary format. 
Now that you are on your document, it's time to take this editing feature further. 
You have your introduction paragraph ready now you need to finish the other parts. For that, you can click on the Generate button.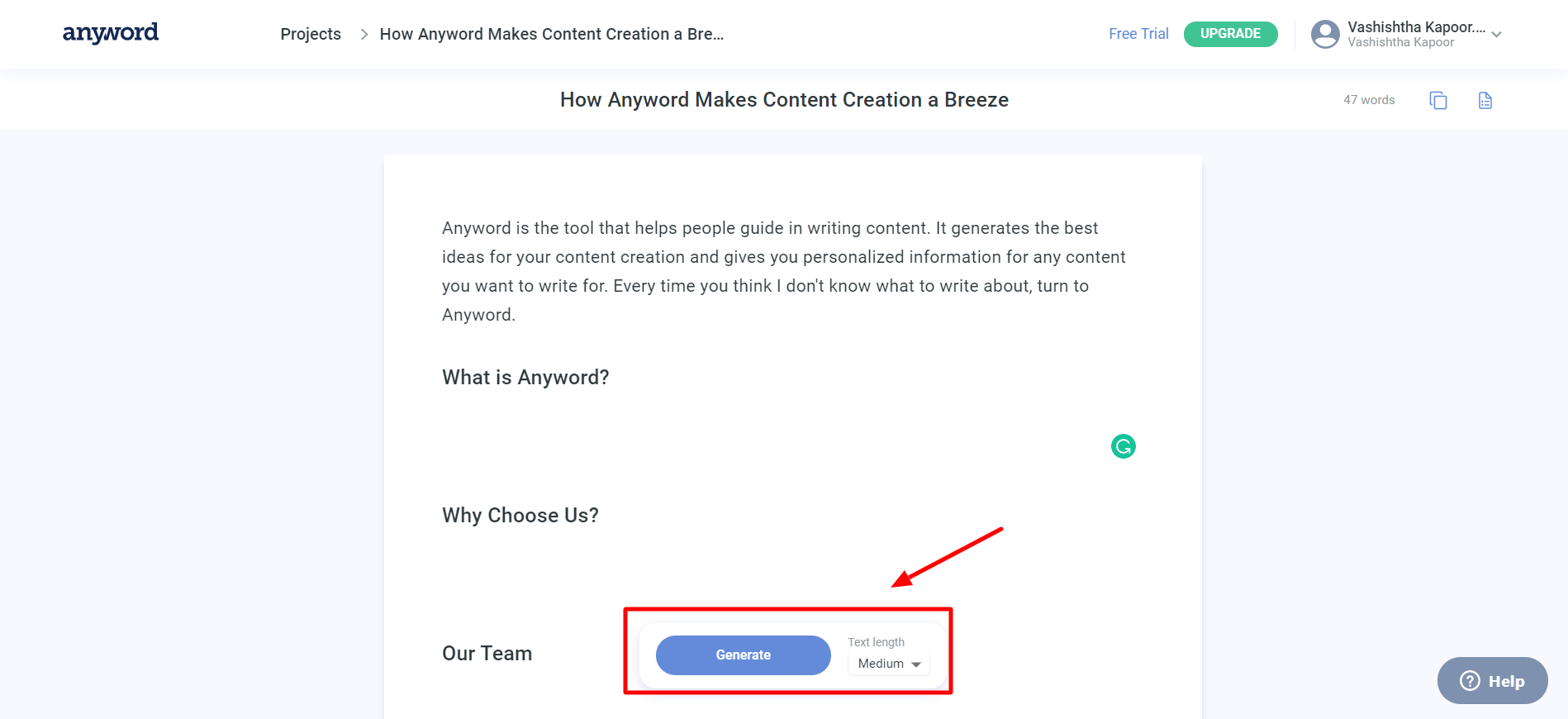 Besides that, there is this setting where you can set the length of your blog. Like I have selected the medium size. 
Under every paragraph, you can generate as much content as possible. 
Simply move to the next heading and start generating more content. 
You can easily edit in between as well. Just scroll, select, and start editing,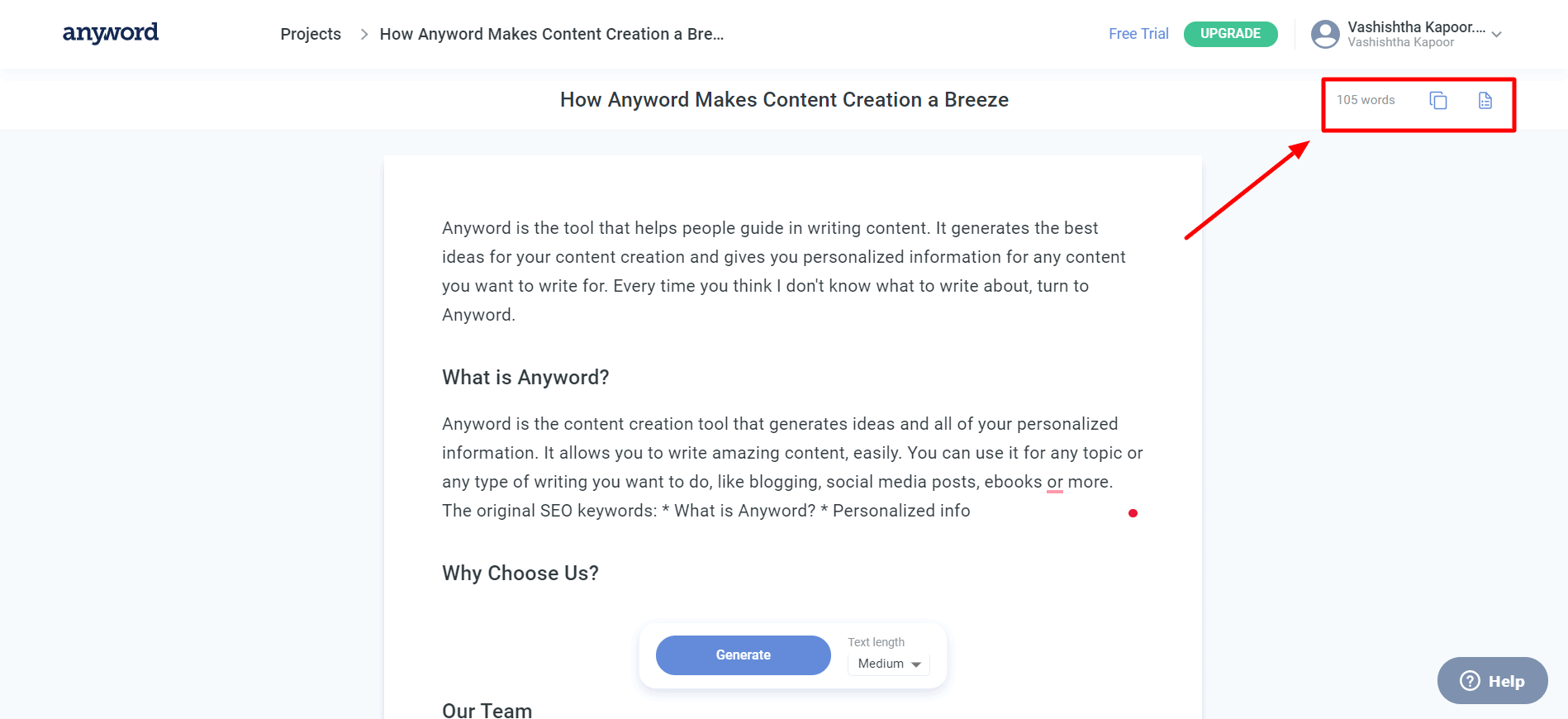 As you finish, you can view the number of words and see the brief of your content. 
Later, you can copy the content on your clipboard and paste it anywhere you want. 
There you go, you have this excellent content ready. Not much effort and incredible creation. 
Alternatives of Anyword
Below is a list of comparisons between Anyword & its alternatives or competitors:
1. Jarvis (formerly Conversion.ai)
What is one best alternative to Anyword? If you ask me, then it has to be jarvis.ai (formerly conversion.ai) which is one of the best writing tools. But how which one out of these two is the best? Let's figure this out.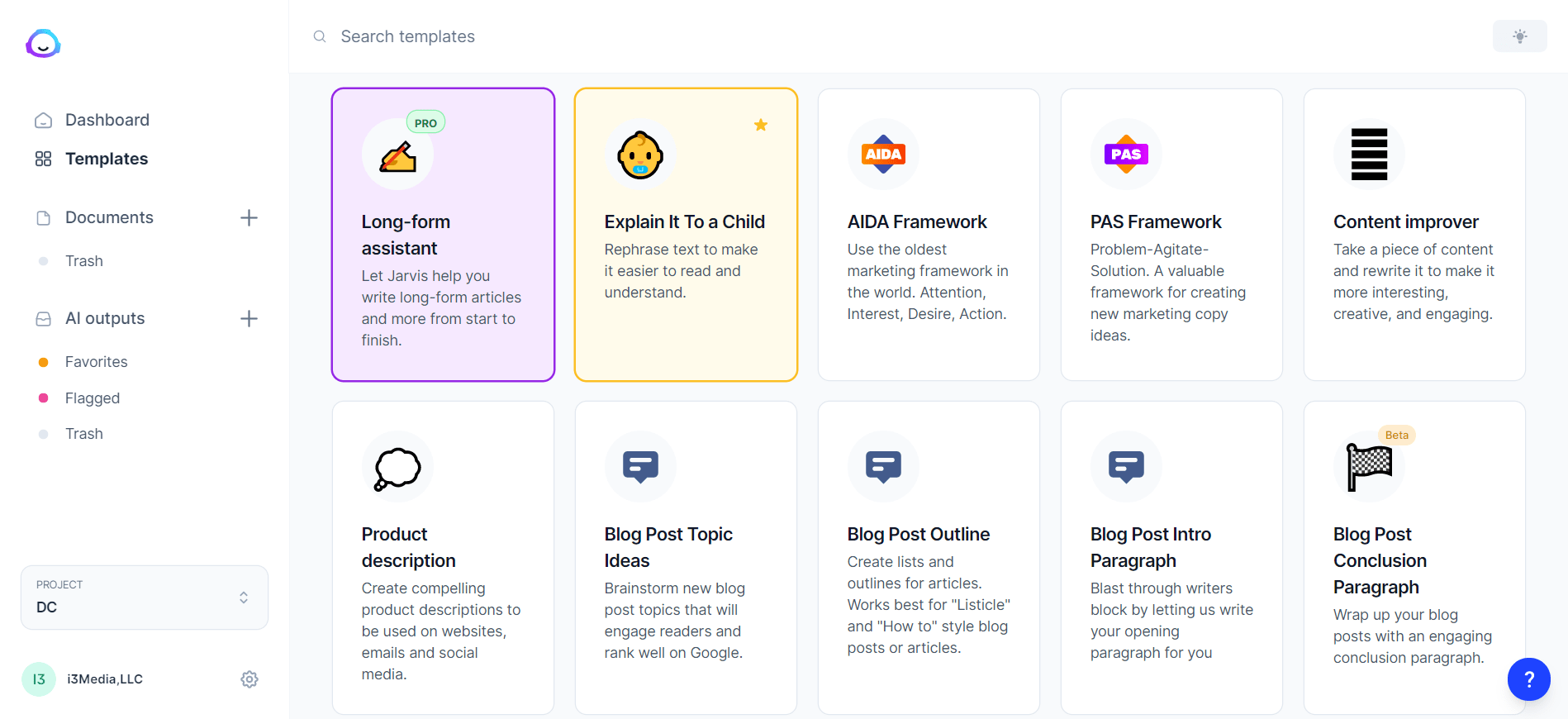 Jarvis.ai tool makes it perfect for users because their client database is stored with them on an Amazon S3 server with SSL encryption (not in the cloud). It also has Google voice recognition, so only YOU can access Conversion.ai data!
Bottom line: this tool gives you better quality content that's cheaper, and without all the pricey features other AI-writing apps offer.
2. Writesonic
Writesonic has unique formats for copywriters and content writers. They have the easiest way to create content, and it's not hard on the eyes. You don't notice any typos like in a draft.
You can quickly produce articles without looking at your screen or keyboard. 
The template for the writer is a bit complicated. All in all, Writesonic is really easy to use and, let's face it, it is cheaper than the other tools.
What can you create with Anyword?
How do you know what to write? It's a question we get asked all the time. And, the answer is that it depends on your audience and tone. That's why we created Anyword – a customizable word-generating platform for content creators looking for inspiration.
Here is a list of everything you can write using Anyword: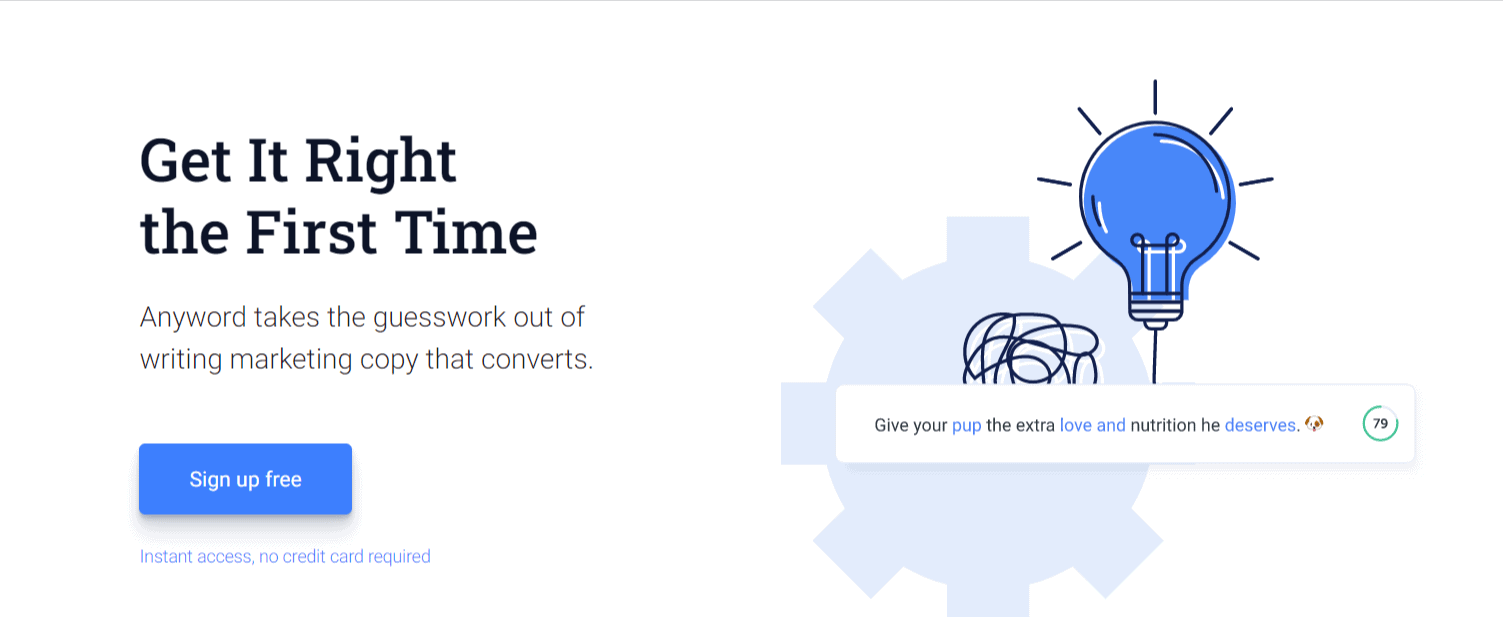 Write Social Media Posts
Anyword is best to write your social media posts and captions. Be it Facebook, Linked In, youtube, or Instagram. To write a book, you don't need to re-create the same sentences from scratch. Just use any word, for that matter. It is made for social media users. If you use it to tweet and follow, your online presence will be stronger, and your followers will increase.
Website copies
Anyword is powerful to make headings and subheadings too. And lengthy texts like an article are possible in a lovely format by any word. Expand your business with Anyword's many copies. Write effective website copies just like a pro. Get them for sale and make your readers buy!
Competitive ads
Anyword helps you write ads that get you more business. This includes writing native ads, push ads, and everything you are looking for. It helps you create ads in seconds that have the content. You just need to write a headline, two sentences of copy, and it does the rest for you. 
Anyword allows you to assign topics, key phrases, and tags for each article or page, which helps visitors find the information they are looking for faster than ever.
Types of emails
Anyword is a perfect tool to come up with email marketing. It is easy to use and lets you write beautiful email shots that will get your audience's attention within seconds. If you want to write personalized emails to reach out to clients, Anyword does your job with a click. 
Blog Posts
Anyword helps you write influential blogs that help you convert faster. Anyword helps you to write an interesting blog that people will surely like. Using Anyword saves your time and creates unlimited opportunities for you in your line of work. 
It takes care of all the research, keywords, information, and everything you need to write your blogs. This software also takes care of the content and makes sure that all your blogs are SEO-friendly. 
Using Anyword Discount Code
To be able to get the 20% off-plan, you gotta first signup through my link. (of course, it is an affiliate link and you will get a 7-day free trial).
Once y0u signup and activate your account, go ahead and choose the plan.
I would recommend you to use the trial limit to the fullest.
After your trial period ends, you will see a screen like this whenever you log in to your Anyword account. Hit that Purchase button.
On the very next screen, you will have the option to choose from a pricing plan.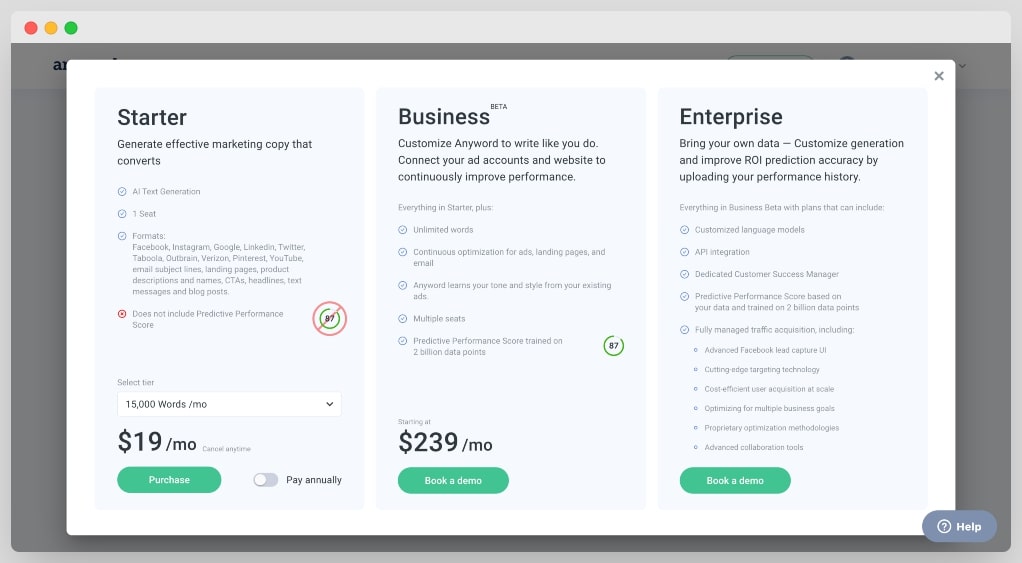 You can choose the starter plan that usually costs 19$ per month. Click on Purchase.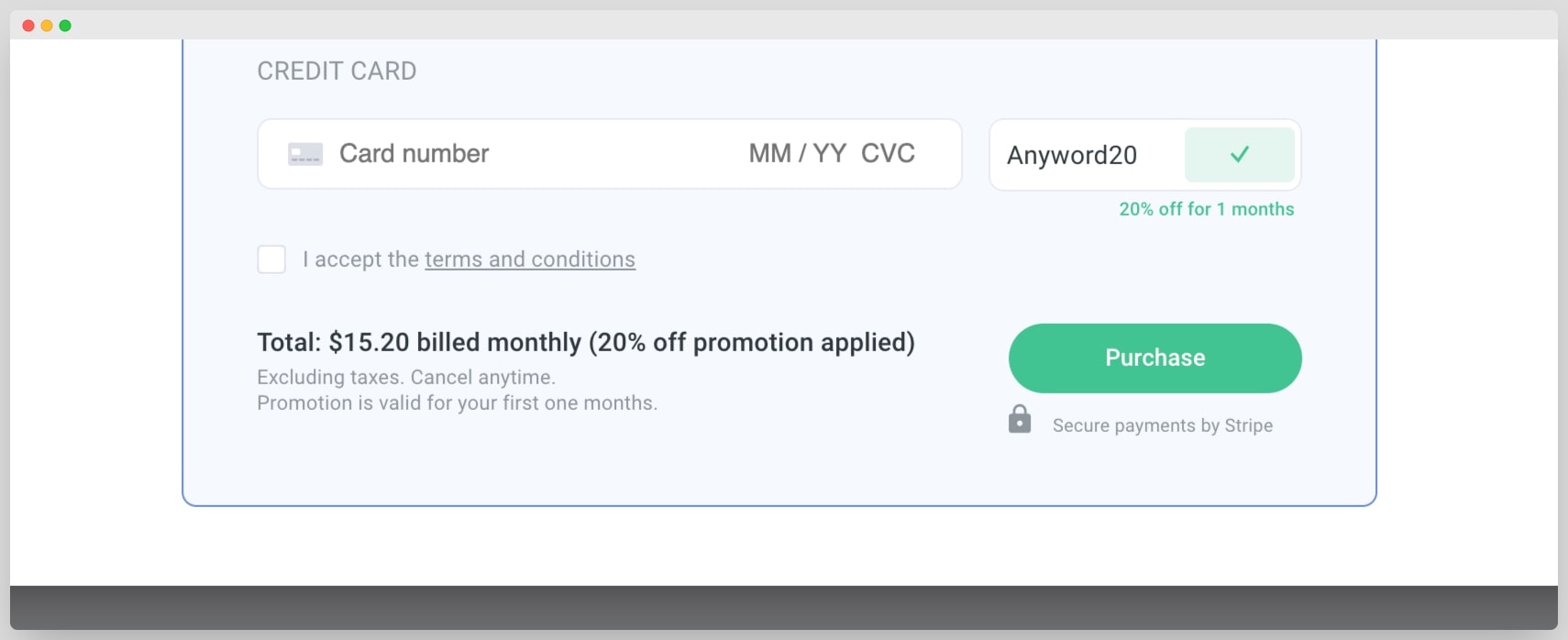 Now when you're prompted to fill up the details and pay for the plan, type the coupon code "Anyword20" and click on Apply icon.
You can then add your card details and make the transaction.
Note: When you choose the annual billing, you get 20% off without any coupon code. So, this coupon code is only applicable on the starter plan billing monthly.
Anyword Review by Customers
Don't take my words. Just read what people like you have to say about this amazing AI copywriting tool.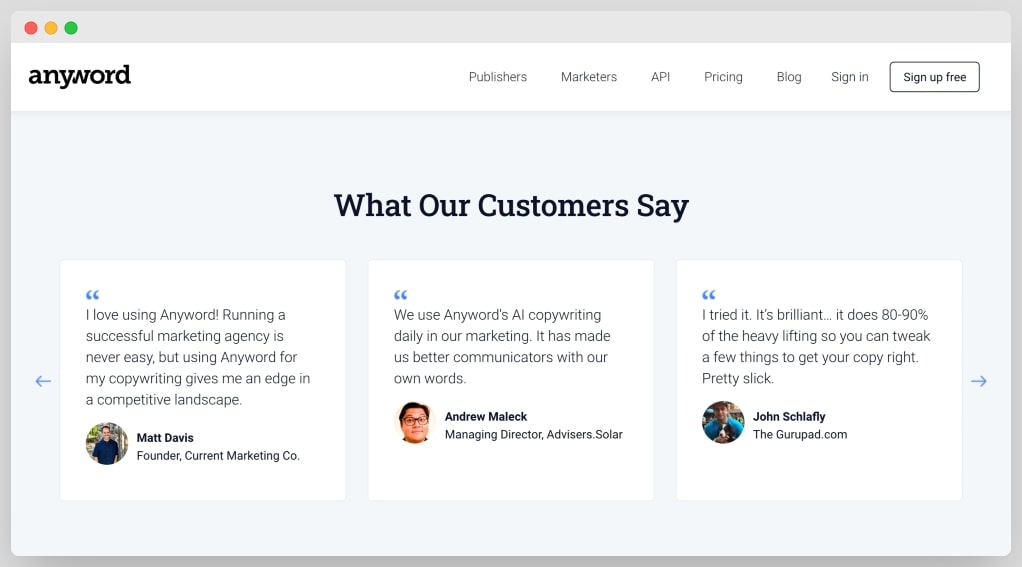 The customers love it as it really helps you grow your revenue by paid ads or SEO content.
However, in my personal opinion, there can be more features and formats. It sounds costly when you consider it only for the long-form content.
Anyword Affiliate Program
If you want an additional source of income for yourself or your brand, then Anyword can help. Sign up with them through their affiliate program and let me tell ya – 30% recurring commissions are not bad at all!
How to get started?
1) Click here to go straight over there (link). Promote this product on social media as well so that more people know about it including friends & family who might be interested in something new coming out soon enough themselves;
2) Make sure if anyone gives a referral after using any word services they send over some love because everyone likes getting paid.
Why should you join the program?
Recurring Income:
Get paid for every new paying customer you bring in and there are no limits on how many people can refer. Enjoy an easy, straightforward dashboard with features such as launching campaigns that will generate revenue over time!
The AI platform also helps users find niche words they would otherwise never think of by generating creativity through its advanced algorithm (think Off-Page SEO). It's free until January 1st so why not try it out now?
FAQs related to Anyword
🙇‍♂️ What is Anyword?
Anyword is an artificial intelligence-powered marketing copywriting software that can turn your content into a salesperson. It uses words and phrases to create unique, high converting language.
✔ Who is Anyword suitable for?
The Anyword app is a brainstorming tool for marketers. It allows you to quickly and easily create content without spending hours searching the internet or writing various versions of your blog posts, emails etc., all from one place!
💁 Is it easy to make landing page copies using Anyword?
This is a fantastic feature because it means that users do not have to input any more information after generating the first project settings. They can just add in a new landing page URL and get copies made for them automatically!
💥 Which marketing channels are supported by Anyword?
You can use these banners to promote your product on various marketing channels. They're made for both Google Ads, Facebook Instagram Linkedin Text Ad Outbrain and Taboola Native Ads as well!
🙆 Can I use the default advertisement modes in all supported marketing channels?
No. Not all modes are available in every marketing channel, but the Facebook primary text is a great option for creating duplicates of your writing samples with desired styles and branding to ensure consistency throughout all materials
💥 How can anyword help me write attractive email subject lines?
You can increase your open rates by writing appealing email subject lines with the anyword Email Subject Line Feature. Simply enter in some project specifics such as project name and desciption, then let Any Word generate one of their favorite subjects for you!
👓 How does content promotion work on anyword?
With just a few clicks, you can have your content promoted to the hundreds of thousands who visit this site every day. And if that isn't enough for ya - there's also an option where they'll share any article with their friends on Facebook!
🔥 How does Anyword help with SMS promotions?
Keep your promotional copy brief and to-the point. SMS promos have limited character count, so use every word wisely!
🔥 What is the Blog Post Project feature of Anyword?
With the blog post project, you'll be able to create engaging content by using creative names for your blogs and intro paragraphs that can help with writing any topic. You may also reuse opening lines of text in order build upon them when creating other parts/pages of your posts!
👍 How much commission will I earn with the Anyword Affiliate program?
You can make money by promoting Anyword and letting your friends, followers know about it. Just like any other affiliate scheme you'll get a 30% recurring commission every month that they subscribe to the service!
🙋‍♀️ Is Anyword legit?
Anyword is a dream to use and has been incredibly helpful for me in the past. The interface feels intuitive, giving it an easygoing feel that's perfect if you're looking for something simple or want your content tailored specifically towards how best suits my writing style--I would totally recommend Anyword!
🧏‍♂️ Will AI replace copywriters?
No, this is not true unless the copywriters show their creativity
Also Read:
Wrapping Up – Is Anyword Worthy?
Once you start writing content using any AI copywriting tool, it becomes crucial to optimizing it further for your target keyword. AI content is not always SEO-friendly.
AI writing tool can help you generate a lot of content but not rank it. You gotta use the top-notch SEO tools to rank well.
I've written some guides and reviews of helpful SEO tools that you can make use of.
Conclusion – Anyword review in 2022 – Good or bad?
Now that you know everything about Anyword, you can write the best pieces within a few seconds. Anyword is a must-have tool for bloggers and social media marketers. Anyword can be used on multiple platforms, which gives you an edge to use it the way you want and publish it all across your various accounts easily.
Through this Anyword Review, it's not like you get everything done without any effort. Anyway, it's artificial intelligence, and you need to use your human mind and do some editing to get the best results. It is just there to bring you the work done with less effort. 
What are you waiting for?
Hit the button below and get your Anyword access NOW. 
Get Anyword Now at 20% Off