Binom is a self-hosted tracking platform for professionals in media buying, CPA advertising, and the ad-sales industry. However, the features may not be exactly what you needed. Hence arises the need for a good alternative to Binom. Not just the paid options, but also the freeware exists. So, in this blog, we are discussing the top Binom alternatives 2021 that provide unmatched features at an affordable price.
Before looking at the best Binom alternatives, let us know the features offered by Binom.
About Binom

Binom saves your time with fast reporting and also eliminates tracking errors. Since a tracking tool is crucial for every affiliate marketer, Binom ensures to keep affiliates ahead of the competitors.
Binom Advantages:
A 14-day free trial
Single license with unlimited traffic tracking.
Amazing 5 ms click processing time to save a lot of time.
Saves more time by generating reports quickly.
Group campaign reports helping you understand campaign performance.
Automated updates every month to keep everything up & running.
Clean interface, easy to operate, and flexible.
Set different access rights for a team with a multi-user system.
Quick response time with an answer to queries in less than 2 minutes.
Top Alternatives & Competitors to Binom

BeMob is a one-stop affiliate tracking solution for media buyers and affiliate marketers. It helps marketers track all their ad campaigns in a single dashboard.
You can manage traffic data automatically or by setting up the advance rules manually. By analyzing the reports, you can understand any campaign's performance, and decide which one is profitable.
If you have a team, then you can collaborate with them by sharing workspaces and reports.
Advantages:
Fast redirects irrespective of the amount of traffic.
High-quality human traffic with bot prevention.
Decide access controls and permissions for your team.
Server auto-scaling architecture ensures no traffic loss.
API integration allows you to launch or stop the campaigns directly. No need to log into your traffic sources.
Achieve high ROI with an advanced set of rules and audience targeting.
Get support in your native language.
Get 24/7 notifications on your campaign performance.
Pricing:
Basic: Free with 3 months data retention
Professional: $49/month with 6 months data retention
Business: $249/month with 9 months data retention
Enterprise: $499/month with 12 months data retention
Also Read: 7+ best BeMob alternatives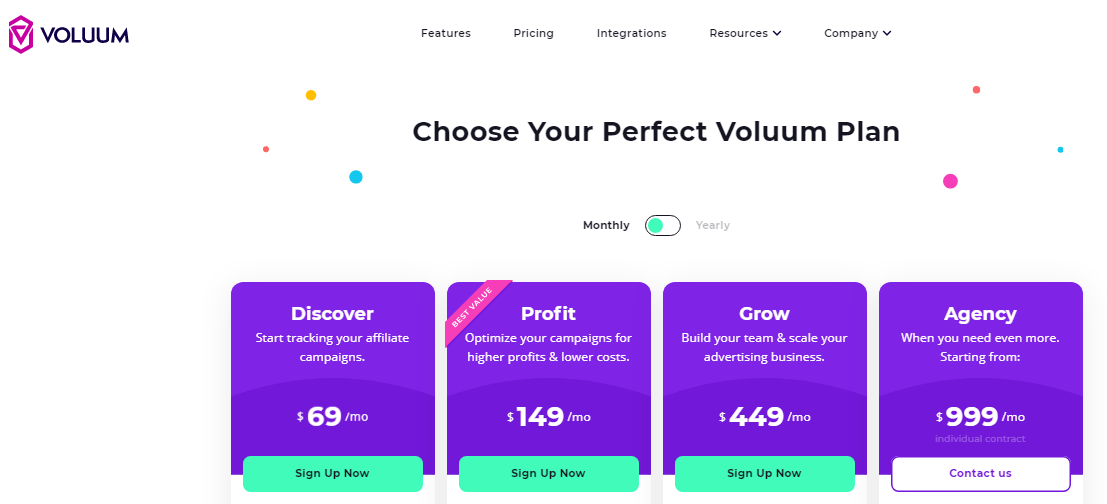 Voluum is the recommended affiliate tracking software by marketers around the world. It comes with built-in integration with 40+ traffic sources like Facebook, Google Ads, and more.
You can easily track all your campaigns in one place whether it be mobile or desktop.
It allows you to optimize campaigns accurately in a faster and simple manner to generate huge ROI.
Even when you are not logged into the Voluum dashboard, still everything works fine on automation.
Advantages:
The Anti-fraud kit helps detect bot traffic ensuring you don't lose money.
Integrate all traffic sources and set automation rules.
Get notifications on mobile & desktop regularly.
Easily detect flaws in your landing page setup.
Collaborate with partners by defining access controls. Also, share reports with your clients.
Redirect traffic to different landing pages based on a set of rules.
See your campaign reports in real-time. With A/b testing, you can optimize campaigns and identify the best performing offers.
Supports different tracking modes like Redirect and Direct tracking.
One dashboard with all the tracking metrics such as visits, clicks, conversions, etc.
Pricing:
Discover: $69/month with 3 months of data retention
Profit: $149/month with 3 months of data retention
Grow: $449/month with 3 months of data retention
Agency: $999/month with 3 months of data retention
Also Read: 5 best voluum alternatives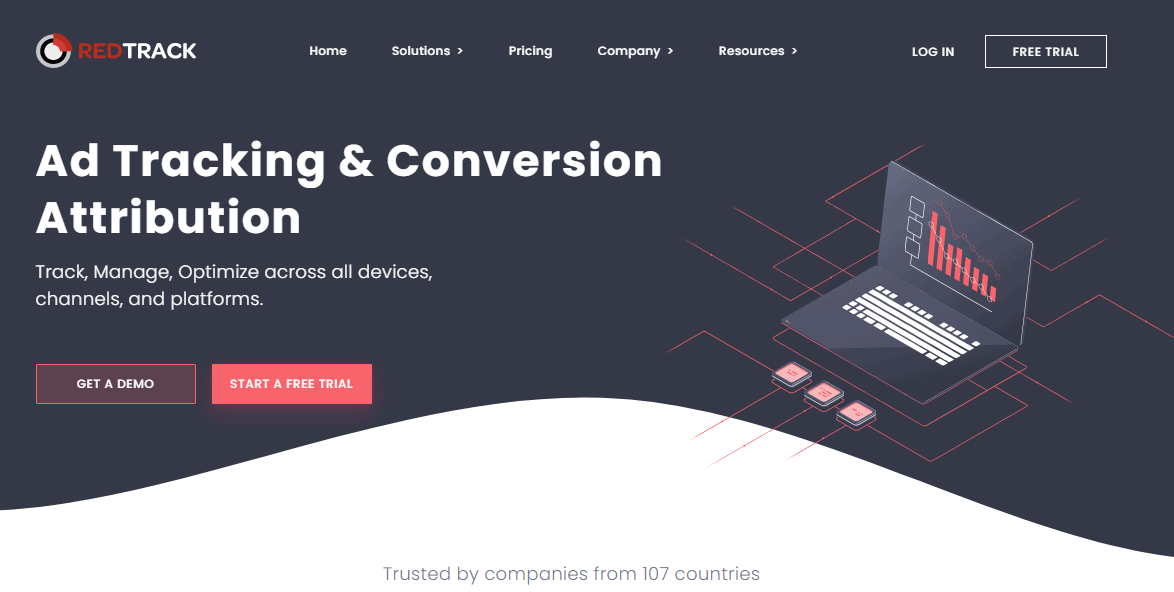 Redtrack offers conversion and attribution across different channels and devices. The supportive devices include mobile and desktop both.
It is one of the leading ad trackers trusted by media buyers & marketers in around 107 countries.
With Redtrack's campaign automation rules, you can turn insights into action in real-time. By analyzing & optimizing in real-time, you can save tons of hours on manual work.
The tracker helps you improve conversion rates by attributing all conversion events. By identifying the conversion points & funnel stages, your ROI will rise exponentially.
You can share reports to your partners, and teams, thereby saving tons of hours. Choose the data you want to share by setting up the access rights.
Advantages:
Connects inbound clicks to outbound clicks.
No bot traffic, safe & secure tracking.
White-label reporting gives brand exposure.
Supports server-to-server implementation.
Set KPIs and advanced rules for targeting to reach a benchmark.
Cookieless tracking on Google, Facebook, Taboola, and more traffic sources.
Assign specific roles to teammates so they could access limited data as you want.
Pricing:
Basic: $49/month with unlimited campaigns, conversions, and advanced reporting & targeting, 3 custom domains.
Pro: $99/month with the same features of Basic plan. Additional features include unlimited custom domain, free SSL, integrations, alerts, and automation.
Team: $199/month including the same features as Pro plan. Additional features include additional users up to 2, and publisher tracking & management.
Agency: $449/month with 5 additional users, publisher discovery, and White-labeled reporting portal.
4. Post Affiliate Pro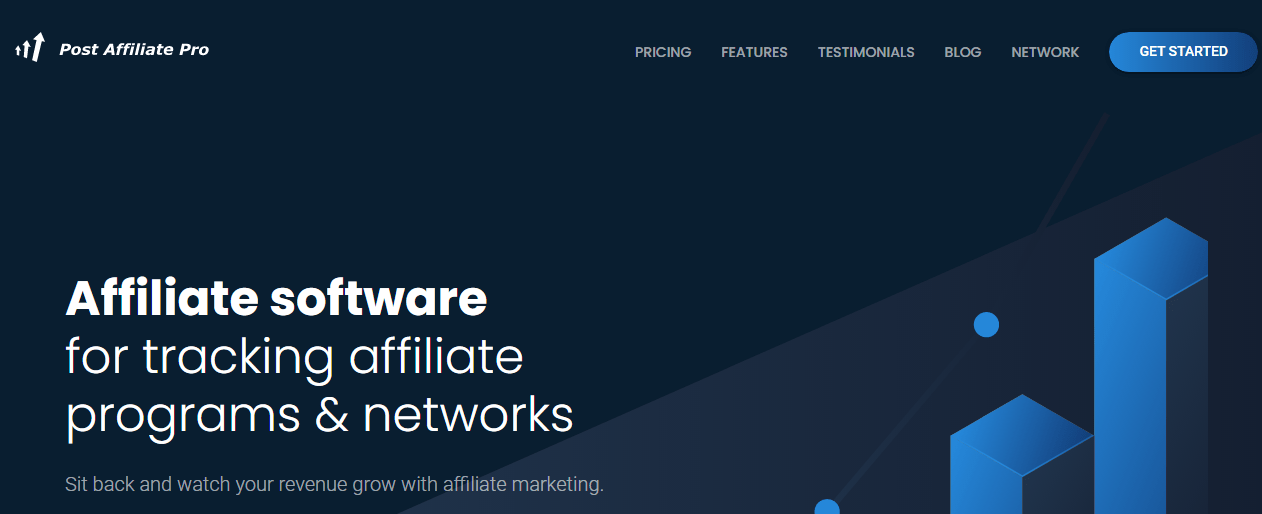 If you want to grow your revenue just by sitting on auto-mode, then Post Affiliate Pro is the right choice. With its easy to use dashboard, affiliates can manage their campaigns seamlessly.
Whether it is Shopify, WooCommerce, Magento, MailChimp, Stripe, or any third-party automation tool. You can seamlessly integrate Post Affiliate Pro tracker with over 170+ CMS & payment gateways.
Advantages:
Multiple unique tracking methods result in precise tracking.
Protects your affiliate programs against any fraudulent activities.
Supports sales tracking in multiple currencies.
Get lifetime commissions even if a customer buys a new product regardless of the cookie tracking.
Awesome promotional materials like Banner rotator, discount coupons, SmartLinks, etc.
Customizable interface with multilingual support.
Comprehensive reporting showing performance of banners & campaigns.
Pricing:
Pro: $97/month with 1,000,000 tracking requests per month
Ultimate: $197/month with 5,000,000 tracking requests per month
Network: $477/month with 20,000,000 tracking requests per month
5. FunnelFlux Pro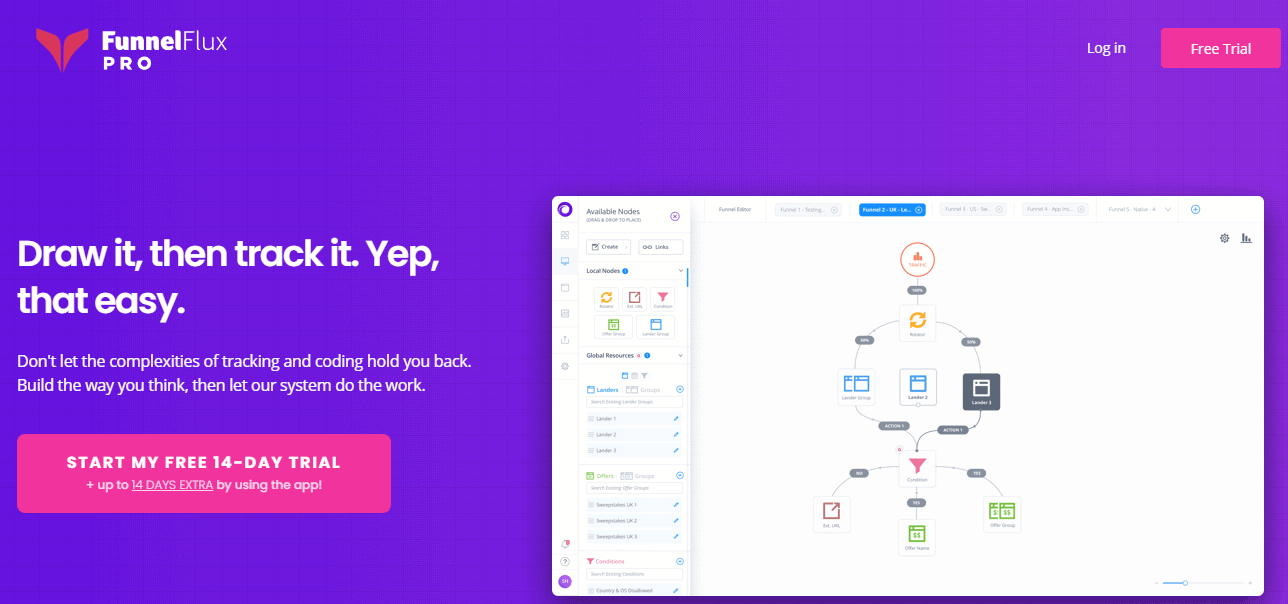 Reduce the coding complexities and track effectively the way you want. Start FunnelFlux Pro visual tracker 14-day free trial by using the app and grow your affiliate business.
It allows you to track your advertising performance from Facebook, Google Ads, Taboola, Shopify, Onesignal, and more.
By simply drag & drop editor, you can create visualization and track its performance. You can determine the number of clicks, conversions, and a lot more.
FunnelFlux Pro provides in-depth reporting, rocket-speed redirects, advanced JavaScript tracking, and more for the marketers.
For advertising agencies, it provides multi-login access, full API access, and tracking across funnels for a lifetime.
Brands promoting their products can track the complete sales journey and determine the performance and ROI. Product owners get JavaScript and LTV tracking, custom webhook integrations with cart systems, and more.
For these reasons, FunnelFlux Pro is our top choice as Binom alternatives in 2021.
Advantages:
Visual funnel builder makes it easy to design the journey.
Powerful reporting with multiple attributes.
Flexible integration system across multiple platforms.
One-to-one support for all your tracking concerns.
Pricing:
Core plan: Starts at $99/month with up to 1,000,000 visitors/month
Growth plan: Starts at $299/month with up to 5,000,000 visitors/month
Scale: Starts at $499/month with up to 20,000,000 visitors/month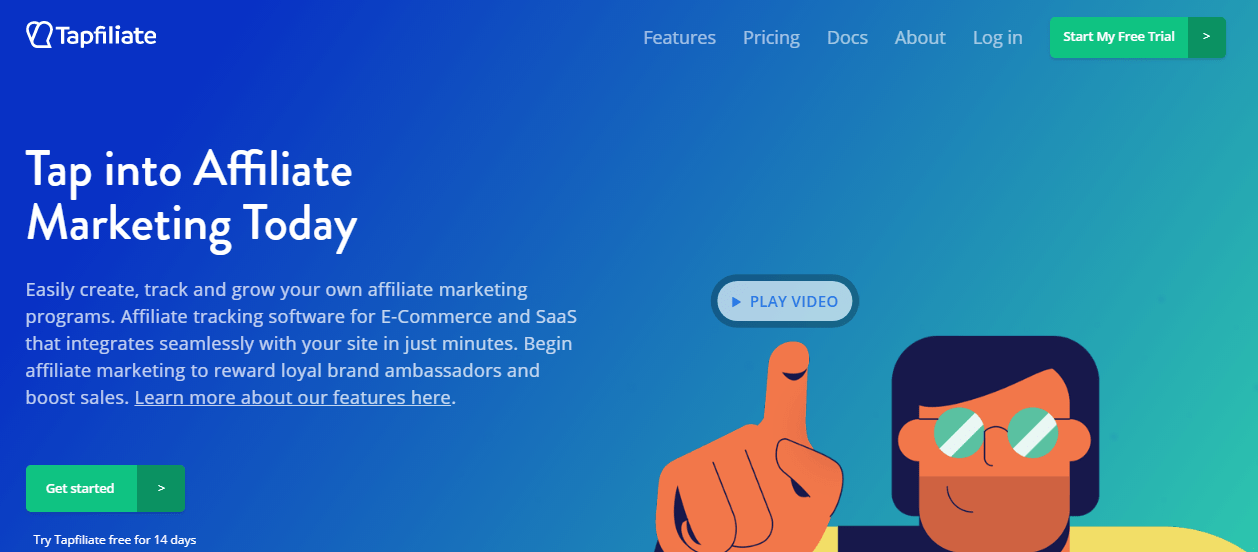 With Tapfiliate affiliate tracking software, you can easily integrate your site in a few minutes. You can keep a track of affiliate programs' performance and grow your affiliate business.
It is easy to set up the software and integrate with 30+ platforms including Shopify, WooCommerce, etc.
Inviting affiliates is just a click away through URL, manually, SSO, or API. Once the affiliates have joined, you can add banners, text links, and other promotional materials. Affiliates can easily use these tools to promote your brand.
Advantages:
Grow brand reach on social media with referral links, coupons, banners. It's easy to create shareable social media posts.
White-labeled affiliate pages with a branded dashboard supports six languages, and custom sign up fields & payout system.
Plug & play integrations for over 33 automation tools.
Different commission structures like a recurring, monthly, or fixed percentage.
Set performance bonuses based on target fulfillment.
Automation helps you trigger emails, webhooks to make your workflows simpler.
Full access API helps you focus on business strategy instead of manual tasks.
Pricing:
Essential: $69/month
Pro: $149/month
For custom plans, contact the support team.
7. EverFlow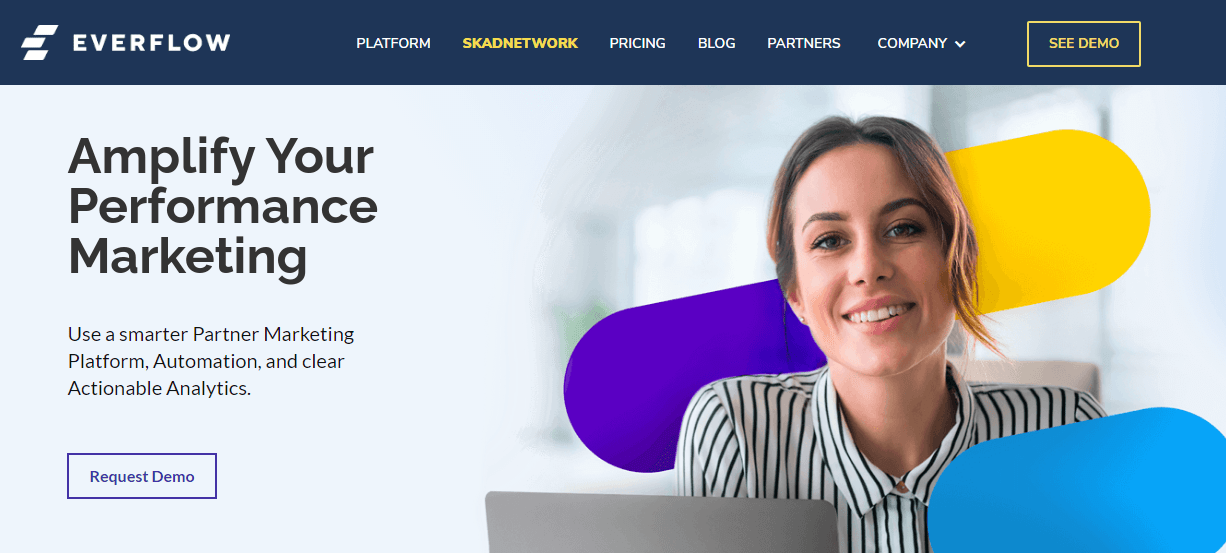 Everflow is a smarter performance marketing platform with complete automation & analytics features. It helps marketers, media buyers to track & analyze every channel and determine their results.
It helps you take action on all the data like blocking bot traffic, and receiving notifications whenever an action is needed.
By analyzing the data using important metrics like device, location, and more, you can determine the results faster. This would help you optimize towards growth.
Tracking partners is easy and quick through direct linking, impression tracking, coupon codes & in-app.
Advantages:
Integrate Shopify store in just a few clicks
Auto-optimize offers based on a set of KPIs like revenue, CVR, and Event rate
Integrated payment methods ensure affordable global payments
Catch the spammers by timely alerts when a partner's conversion seems to be faster
Access everything via API
Protect your business & programs with anti-fraud tools
Pricing:
Starter: $395/month with up to 50K clicks
Traction: Tiered with 50K + clicks
Value Added Services: $750 per 10 hours
8. Tune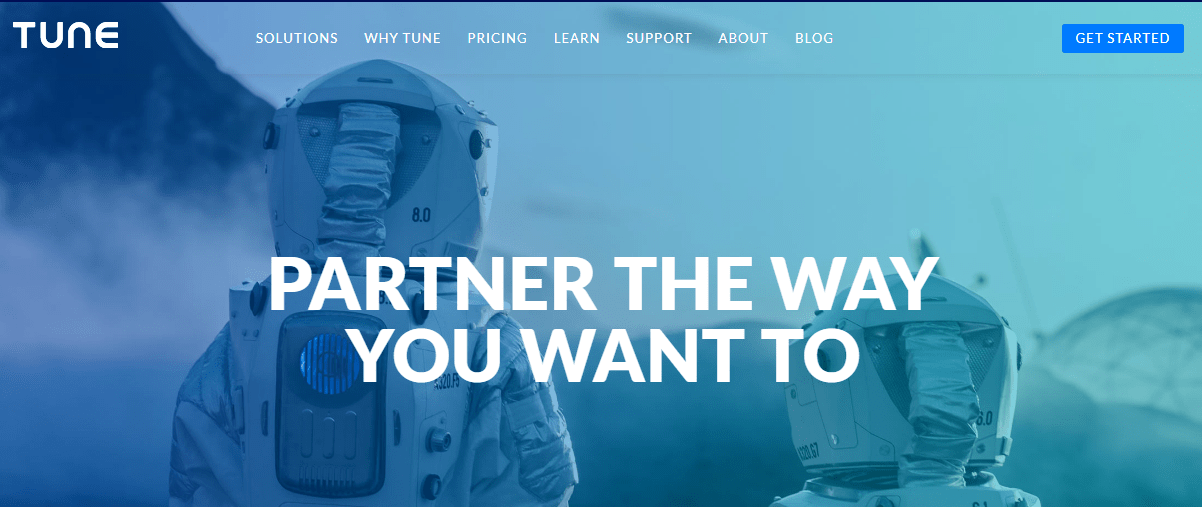 Tune is a partner marketing platform for advertisers and affiliates to integrate & manage partners. It helps you streamline your workflow and save time with automation. It reduces manual tasks and helps you scale your network faster than your competitors.
It offers a world-class infrastructure with real-time data that helps you take action. Nothing is too costly, all the pricing is transparent and predictable.
Advantages:
Automated invoicing and payments solution
Automatic notification to partners on traffic sources that seem to be vulnerable
Set custom rules for conversion rate, profit margin, and offer type
Real-time customizable reports, dashboard, and interfaces. It helps take instant action with an automated system. Also powers decisions in real-time with the two-way API functionality
No hidden fees, no last-minute charges. Upgrade your plan for additional features anytime.
Pricing for Advertisers:
Bootstrap: $499/month
Startup: $879/month
Scale: $1500/month
Pricing for Networks:
Conclusion: Which is the Best Binom Alternatives of 2021?
So, at the end of the best Binom alternatives, we can conclude that FunnelFlux Pro is a leading affiliate tracker. There are other trackers like Voluum that have been in the market for a long time. But, people are migrating to FunnelFlux Pro due to feature-rich infrastructure at an affordable price.
If you are an affiliate marketer or advertiser, you should have an affiliate tracker. To minimize the confusion, we have curated a list of top affiliate tracking tools, so you could choose one easily.