Are you a freelancer professional? Yes? Branding is something that lets you get name and fame in your industry. You can image yourself as an authority too using a branding WordPress theme.
I have tried many of these WordPress theme and some of themes in the list are one of the fastest loading WordPress themes too. The most sought features like SEO compatibility, responsiveness and ads optimization are the basic requirements on an ideal modern WordPress theme. But you may end up your search for a perfect branding design WordPress theme here.
Let's start your adventure.
Branding >>> Features you would need
Author Bio and Images
Featured on (Brand LOGO) to claim the authority
BIG social buttons to connect your audience
A Design that highlights your NAME
Emphasis YOU and Expresses WHO YOU ARE.
The Best Branding WordPress Themes are:
1) Authority Pro
As you would have already seen some Genesis child themes, the optimization quality of Authority Pro is a little above the rest of the child themes.
2) Authority
Conversion focused, branding ready WordPress theme for bloggers who like to keep the Design clean and maintain top-notch quality content. Authority theme is being used by the award winning blogger Matthew Woodward.
The theme is limited with features but rich with the styling and appearance quality. Quiet appealing and tempting enough that your readers will stick to your blog and visit a few more pages once they land on your website.
3) Marketing Pro
Marketing Pro is yet another awesome WordPress design available on themeforest. This theme is available with more than 7 demo layouts and each layout is made for a different purpose, for a different kind of professional. You are definitely going to enjoy crafting your website with this theme.
4) SteadyIncome
Are you an author, Writer or a published blogger? SteadyIncome is a best fit for you. You can use the creative homepage subscribe form and those compelling top call to action buttons. If you utilize the features and play well with them, creating an authority in your niche is not a tough task for you.
5) Entrepreneurship
This theme is elegant and clean enough to focus on content only. Three column layout is yet another thing that impresses me a lot. Content wrapper is narrow and the sidebar has enough width to carry important announcements, banners and branding images. The only thing this theme lacks is the author image and subscribe f0rm on the header above the fold.
However, the theme is not only admin friendly but also user friendly.
6) Expert
This theme possesses everything you will need in a branding wordpress theme. From the author image to an appealing sidebar subscription widget. Tons of custom widgets are there to create a website with irresistible sidebar design.
7) Presenter
Presenter impressed me right from the first impression. This is the only reason why I still remember it. I can bet you will love using this theme. The theme options panel is a bit complicated and you may need some more time to understand the whole admin panel. But, the overall experience I had was awesome. The header section you see in the above screenshot is made using the revolution slider and rest of the things are added using the theme options panel.
8) NewsMag
Many of my friends are running a cool, responsive and appealing weblog on the newsmag theme.
9) Newspaper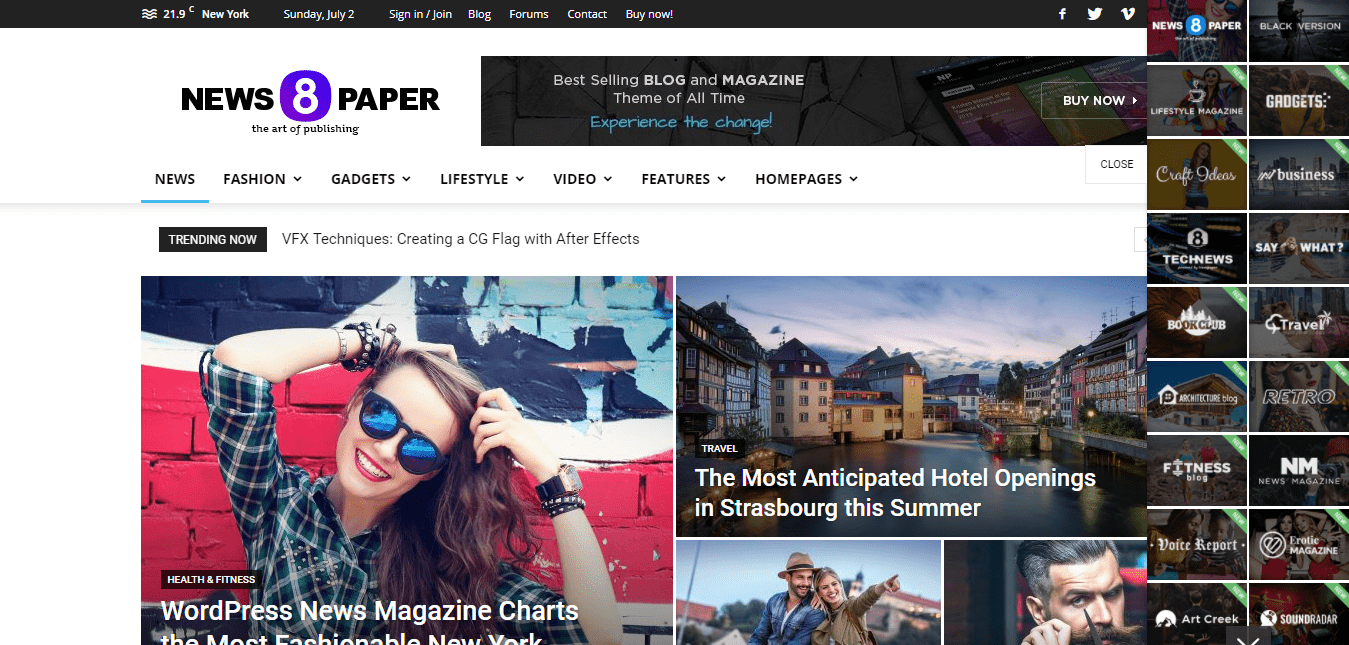 Newspaper is truly the first choice for a person looking to design a magazine or a prodigious multi-author blog. Over 40 demo layouts are the proof that the theme is flexible enough to enable you make any kind of website or blog. Very light use of Visual composer along with enormous features make it one of the top rated themes on the themeforest marketplace. The colorful, dynamic theme can be used to craft a cars magazine, fashion blog, entertainment website or anything you want it to be.
[table colalign="left|left"] No, Theme
1,Authority Pro
2,Authority
3,Marketing Pro
4,SteadyIncome
5,EntrePreneurship
6,Expert
7,Presenter
8,NewsMag
9,Newspaper[/table]
I would love to hear from you if you have any question for me. That is my job behind the blog. Treat me as your guide and let's see what we can do together. I also provide services like WordPress maintenance and cusstomization. Please feel free to get in touch.