Here's another web hosting provider with promising hosting features. I am here with the ChemiCloud review covering its features and pricing. Let's go ahead!
There is no doubt that businesses require a great and functional website as the foundation to become successful. In order to make the online project successful, websites can be helpful in boosting the business.
One needs to opt for the hosting service that offers quick service, uptime and speed.
If you are in search of a reliable service for web hosting, which can be helpful in scaling the business website or blog faster than the competitors, here is something for you.
In this curated guide, I will be taking a look at ChemiCloud, which is a comparatively less known provider but still way better than many of the well-renowned web hosts.
So let us get started.
What Is ChemiCloud?
Started in 2016, this American Web Hosting Company has managed to gain many users in just a few years of existence. ChemiCloud has a lot to offer in these times where fast and good web hosting is in high demand.
The platform is well known for its features, performance as well as reliability. It offers Shared Hosting, WordPress Hosting, Reseller Hosting and Cloud VPS Hosting. 
ChemiCloud Review: The Feature-Set That Makes A Difference… 
Let us talk about the features that make ChemiCloud a robust solution.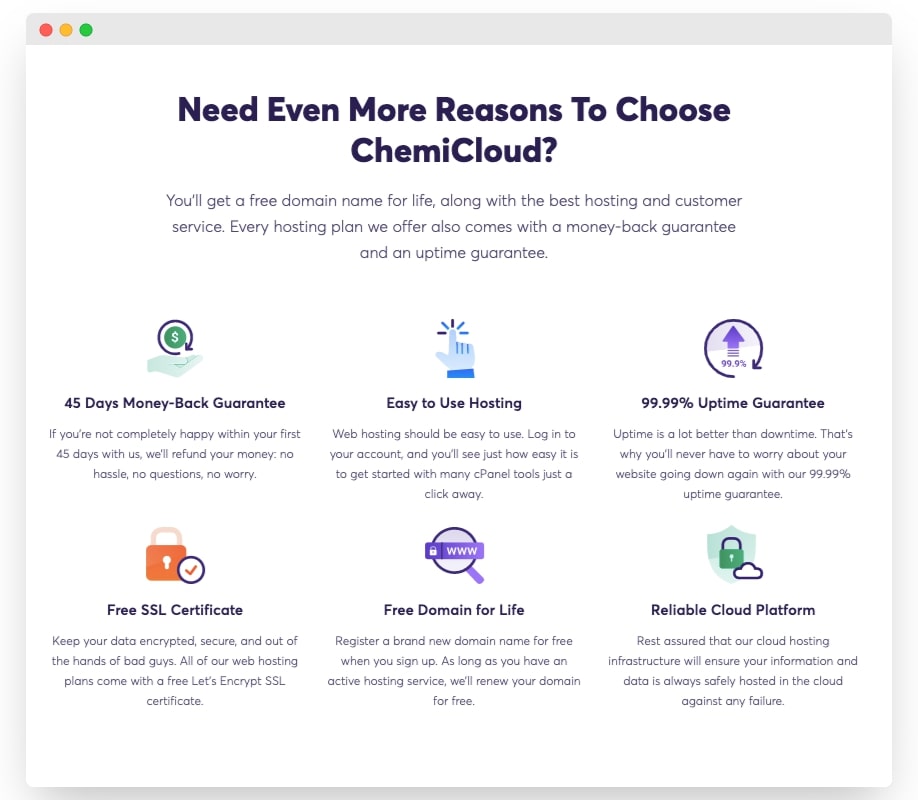 Scale Your Business With The Latest Security And Technology 
Key Highlights
LightSpeed Web Server that is just like its name built for lightning speed. 
Daily Backups ensure that you do not have to ever worry about losing your work ever again.
Your safety and protection are ensured by the Advanced Firewall.
Hardware failures become a story of the past owing to the Cloud Infrastructure. 
Fast SSD drives to speed up the access as well as enhance reliability. 
It lets you opt from 8 server locations.
Your security is boosted with features like 2FA Authentication and Proactive Defense.
It offers top-tier reliability owing to the DDoS protection, Premium DNS and 24/7 Proactive Monitoring. 
Owing to the Secure Email Connection, SSL Encryption, High Email Delivery and Spam Filtering, your emails are all protected.
A User-Friendly Yet Robust Control Panel
Key Highlights
It is super easy to manage and pretty mobile responsive.
You get 24/7 in-built support. 
The powerful Control Panel offers one-click app installation as well as lets you create calendars and emails.
Here users also get easy backup and restoration of their data. 
It is super easy to create a site, add collaborators and also manage the domains.
Global Data Centers That Ensures Hosting Wherever Needed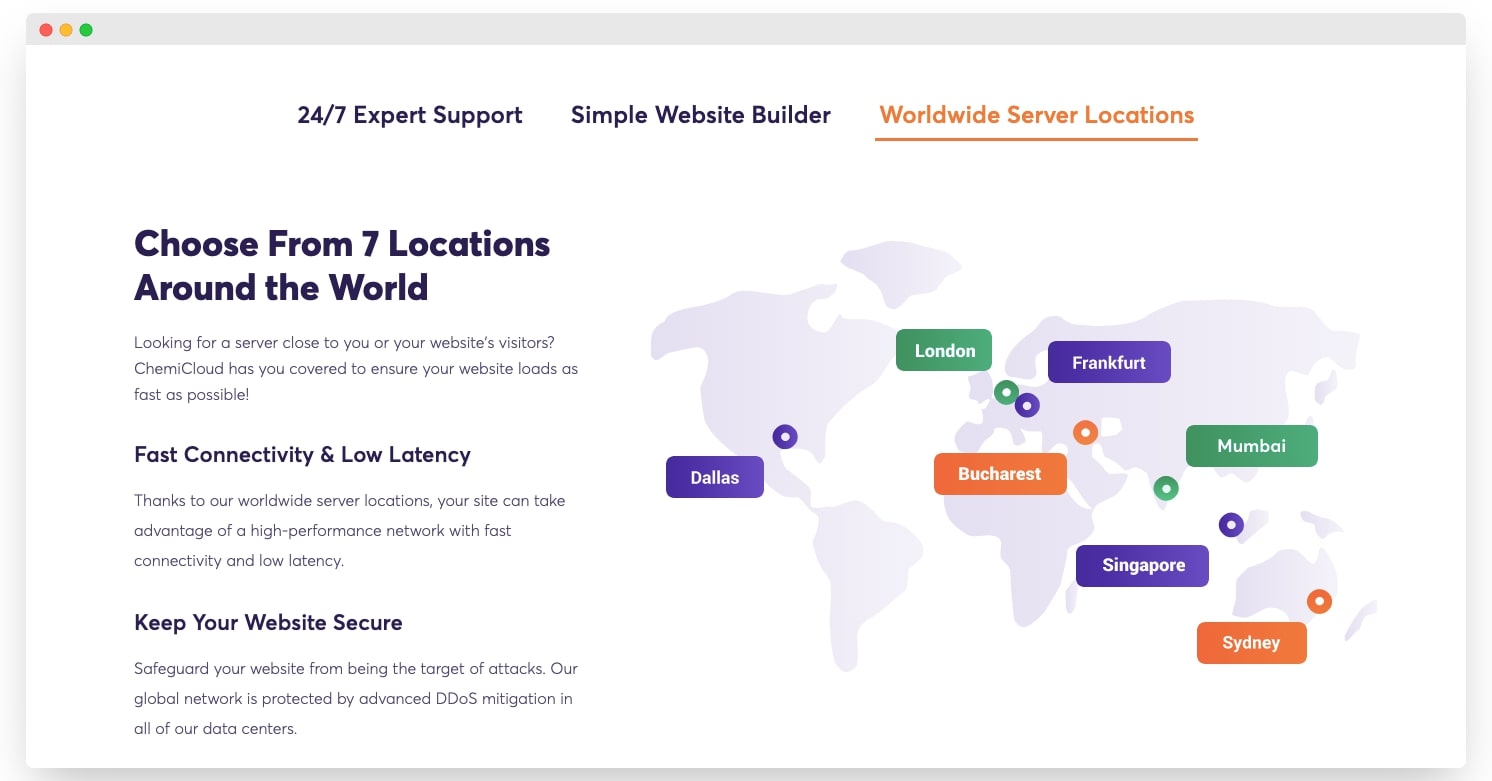 Key Highlights
The Top-Tier performance network ensures Fast Connectivity and Low Latency.
It offers top-notch security with high modern standards that include high availability, access control as well as 24/7 on-site security. 
Consistent Performance is ensured by the AMD EPYC 7000 Series CPUs. 
24/7 World-Class Customer Support
Key Highlights
Get help from the support agent anytime you need it.
Offers a quick resolution of issues and queries. 
The platform offers proactive monitoring of server issues as well as keeping the software updated. 
Apart from 24/7 customer support, users also get a knowledge base, video tutorials and blogs to read as well as resolve queries. 
Up next in the ChemiCloud Review: Services Offered By ChemiCloud
→ Shared Hosting
It is one of the easiest and affordable ways of getting started as well as hosting the business. With shared hosting, users get free domain for life, one-click installation, free CDN, Daily Backups, Reliable Email Services and cPanel Access.
I have also written a detailed tutorial of how you can easily launch a website with free domain. That too on ChemiCloud shared hosting plan.
It is very simple to build the website owing to the drag and drop editor, responsive design and more than 350 Templates. 
Get Started with ChemiCloud Shared Hosting
→ WordPress Hosting
It is a secure, reliable and quick way of boosting the WordPress website. With WordPress hosting, users get one-click installation, daily backups, WordPress staging, email services, free SSL Certificates as well as LiteSpeed Cache.
The hosting offers robust security, unmatched speed and superfast WordPress Laun