If you're wondering if Combin is safe or if it's free, or if there are other Combin alternatives, this guide has it all. So read on further Combin review and learn everything about this amazing tool. 
In order to boost your online presence, it is important to grow your Instagram following. By growing your following, you can attract partnerships, sponsorships, and collaborations.
It is possible to do it the old-fashioned way, but you will have a hard time keeping up. Fortunately, there are a number of Instagram automation tools available. Content curation, likes, comments, and followers are all available.
Need a central location for managing multiple Instagram accounts? Automate it. Combin is today's featured company, and we are reviewing their automation service that claims to improve your Instagram presence.
So, let us begin with the Combin Review to help you make your decision about it. 
Combin Review: What is Combin?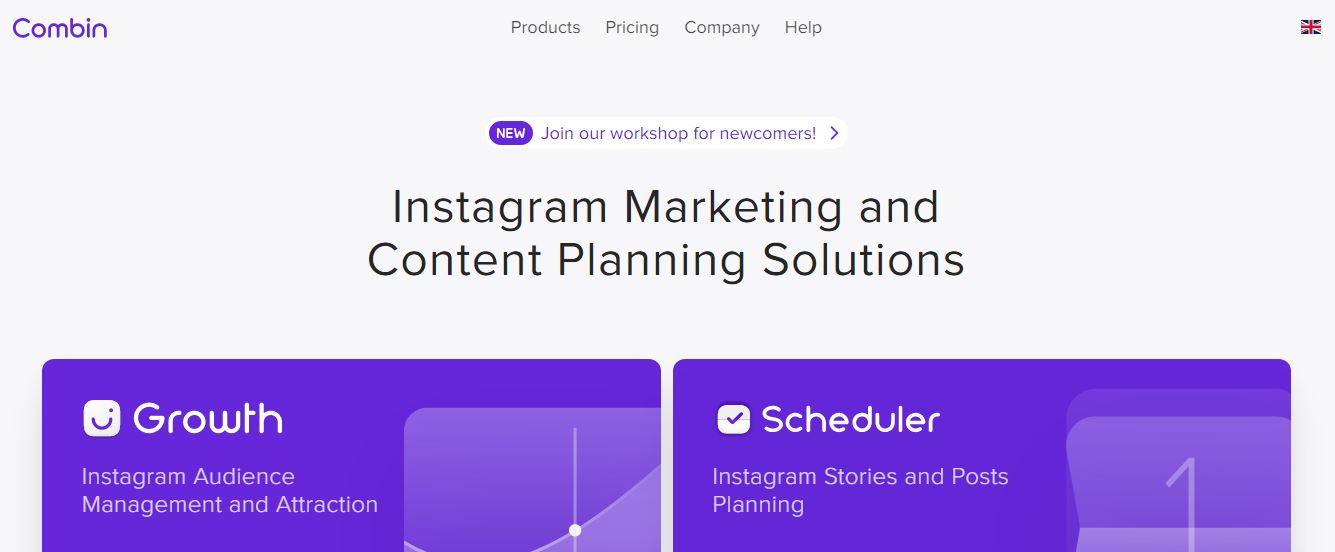 The program that you purchase is called Combin. Users of this app are hoping to gain more genuine followers, likes, and comments.
The program does not involve buying likes, but it does help you grow your Instagram presence organically and with great results. Followers you gain from them are likely to stay with you for a long time.
How does Combin work?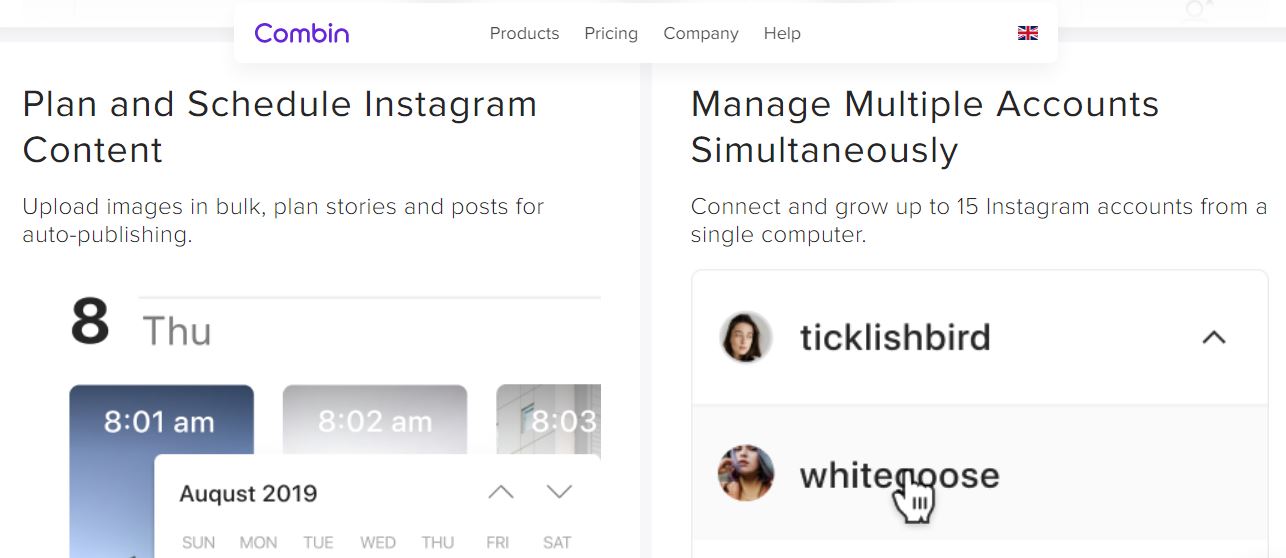 Combin is a desktop application that needs to be installed on your Windows PC, Mac or Linux machine. For the desktop app to launch, you must log in with the account you want to promote (multiple accounts are supported).
We designed the interface to be simple to use, intuitive, and easy to maneuver.
You can find people who share your interests via the desktop application…
In addition, you can directly message or follow your targeted audience and perform bulk or individual actions.
Combin's Advanced Features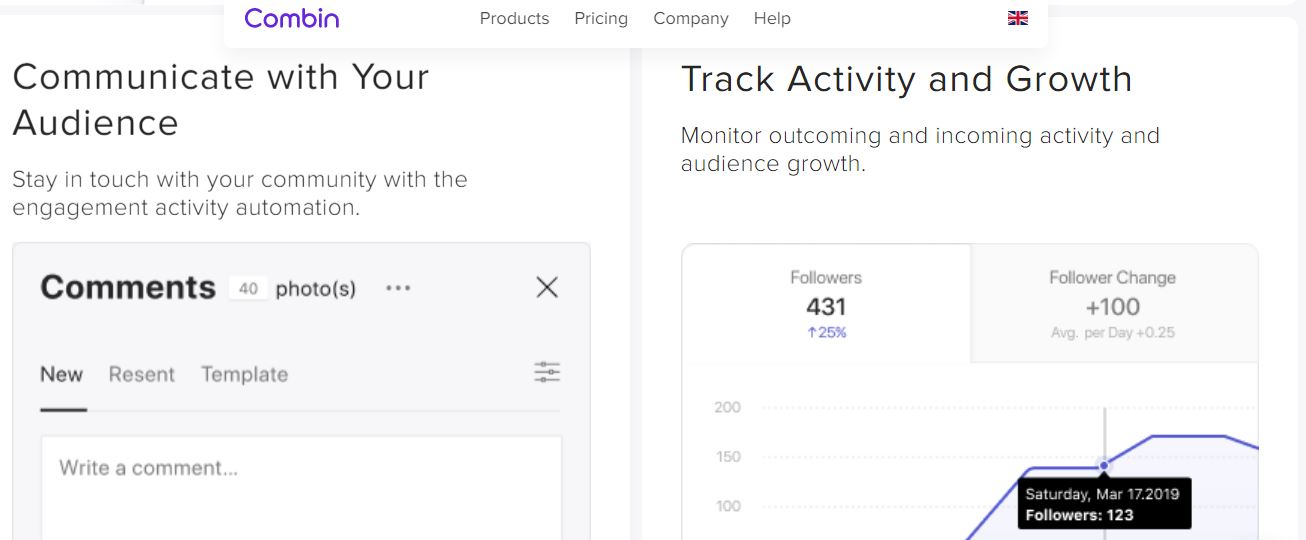 These are some of the main features of Combin:
Search Instagram with advanced features

People Search with Targeted Results

System for following and unfollowing

Communication ease

Posts & Accounts Previews & Sorting

Management of multiple accounts
You can use this app whenever you want since it is downloaded and installed. The app can be customized according to your needs. Its purpose is to provide you with a way to manage multiple accounts from a single application.
Downloading software like this gives you a lot more control over its features and dashboard.
Advanced Instagram Search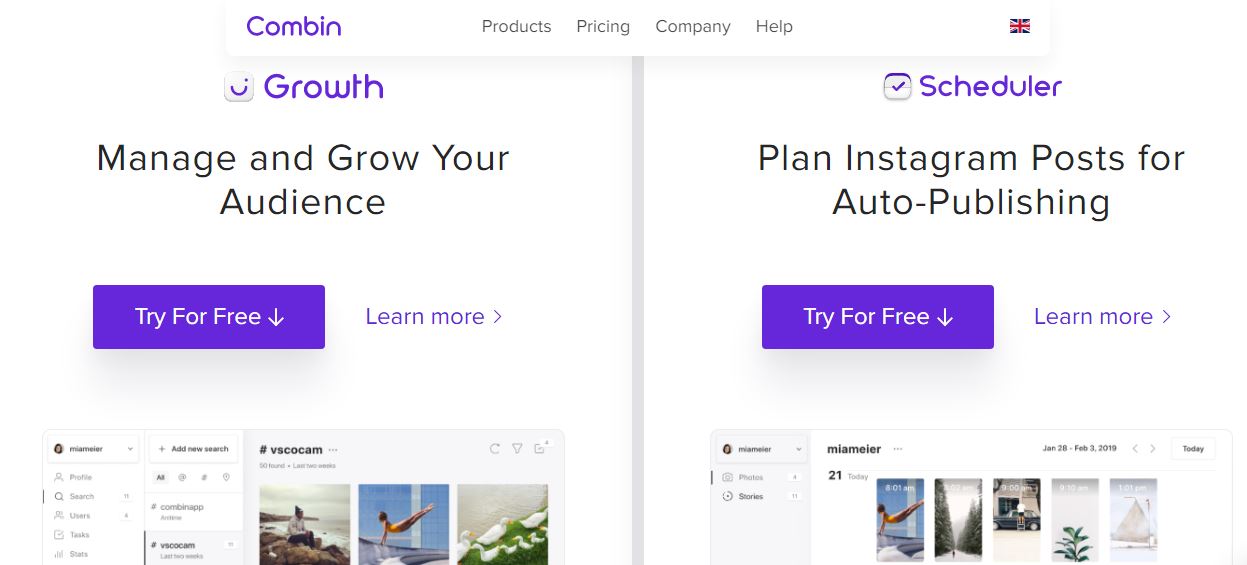 You can search relevant Instagram posts using location, hashtags, or a combination of the two. By utilizing this feature, you can find your target audience's most relevant content to help you engage with them.
In addition, you can follow, comment, like, or direct message your target audience directly from the desktop app using the Advanced Instagram Search feature. The results of your search can be filtered by Date, Comments, or Likes.
Keeping up with the ever-changing social media landscape is the goal of Combin, as it is constantly updating and developing its features. Combin's Advanced Instagram Search now offers the following new features:
Performance and growth statistics

Targeting by language, audience, and gender

Analyzing users using machine learning

Management and export of audience data

Repetitive actions can be automated

Management of multiple accounts 
Targeted People Search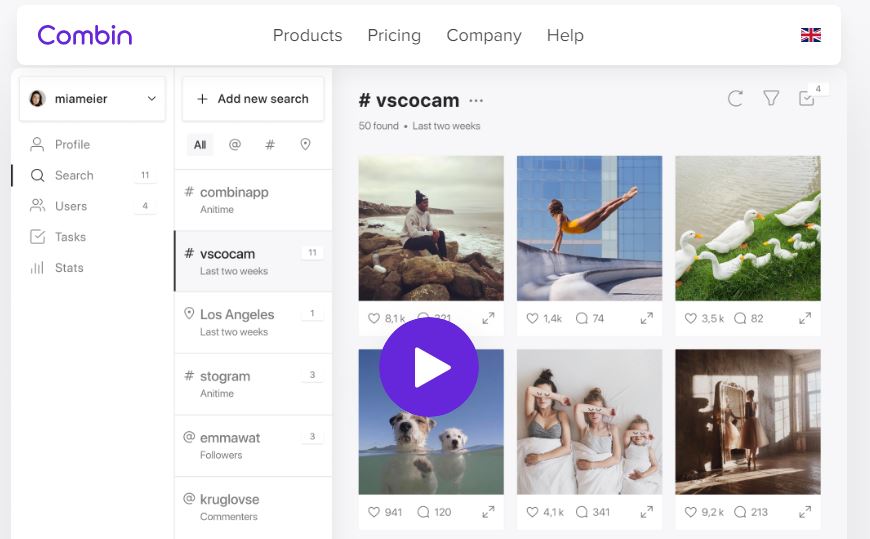 Who wouldn't want to target the Instagram followers of their competitors? Ultimately, you already have a niche product or service they're interested in; why not reach out to them? They're warmer prospects than cold prospects.
This feature can be used to mass like or comment on posts to get their attention. It enables you to communicate only with the people that are important to you, and interact with your target audience.
The program will do all the chopping and pasting for you, so you won't have to do it, which is going to save you a lot of time, which you can use to create more content.
Combin Follow/Unfollow Feature
Followers and followers can be managed through the follow/unfollow function. Both can be managed on one screen. When people don't follow you back and unfollow you, the system notifies you.
In addition to mass commenting and liking, this feature offers you the option to mass follow or unfollow, which again will be able to allow you to accomplish your engagement goals very quickly. You will grow much more efficiently.
Combin Ease of Communication Feature
With Combin, you can communicate easily with potential Instagram followers. As an example, you can efficiently engage in discussions with niche-relevant posts and users when you search for posts or users that meet your criteria.
As long as you stay within the daily limits of Instagram actions, you can also schedule activities such as following, liking, and commenting. Observe these limitations so that you do not get blocked for a period of time.
Your comments can be saved as templates, so that they can be re-used over and over. This is a time-saving technique, but try getting creative about the comments you save, since Instagram always looks out for spam.
Combin's Sorting & Post Preview Feature
If you use the desktop application, you can browse through and preview follower posts and accounts to determine whether they are relevant and engaging enough to interact with.
Combin's Multi-Account Management & Post Scheduling
You can easily switch between various Instagram accounts using this feature in the program. As a result, you won't need to sign in and out of the system whenever you want to engage on another account.
People with social media accounts are familiar with the concept of post scheduling.
Post scheduling involves creating a post and scheduling it for several hours, days, or even weeks in the future. With Schedule Posts, you can plan when your posts will be most effective in terms of engagement. Combin also created the following features to help schedule posts:
Posting ahead of schedule and instant posting

Automation of the entire publishing process

Editing the size of images

Geographic tagging

Mentions of hashtags and accounts

Bulk stories are being uploaded
Combin Scheduler Includes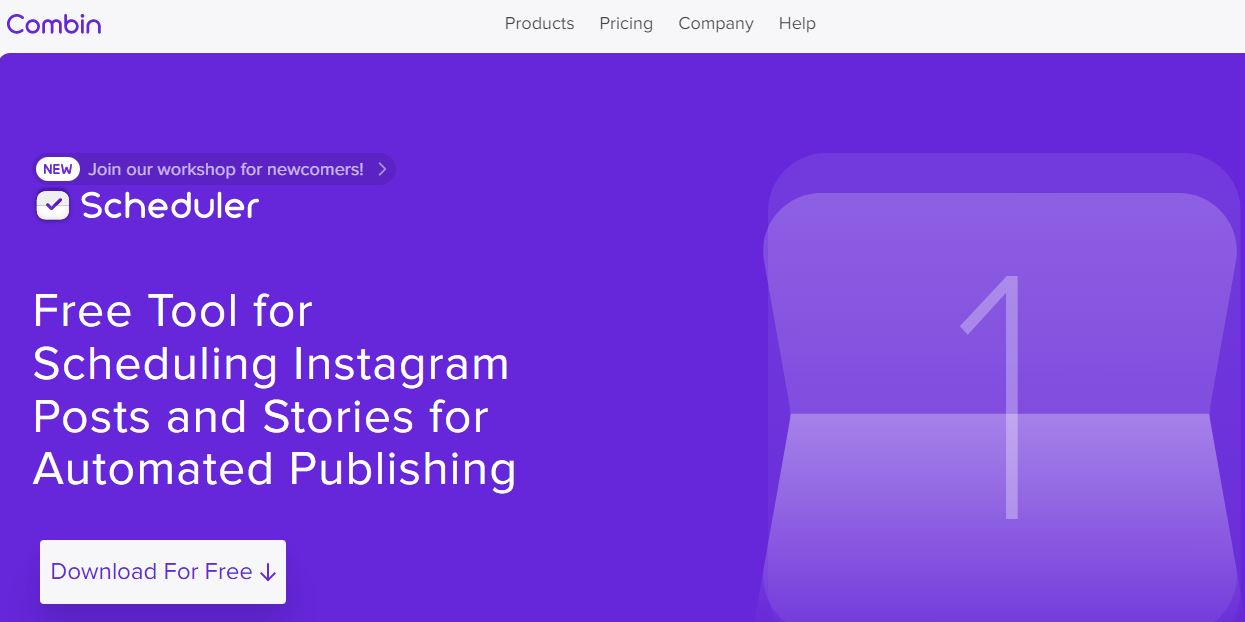 Scheduling 365/24-7 and instant posting: A powerful feature of Instagram that you need, as without this, trying to make money online with Instagram is just one step further and harder. To get your first 10,000 Instagram followers, you can use this feature to prepare your future post and any Instagram story.

Instagram Automation Publishing: 

You're ready to increase your Instagram following after all. It's all about leveraging Instagram automation to promote your Instagram content live across all social media platforms and gain traction on Instagram

Instagram Image Editing: This is one of the best features of the Combin scheduler, it allows you to edit each angle of the Instagram image to maximize your chances of gaining 10,000 Instagram followers.

Location Tagging: Without this feature, it is difficult to generate income online using Instagram. If you have American Instagram followers, you can make money online more easily.

Instagram Hashtags and Account Mentioning: This is a cool feature, but I don't really like it for finding hashtags.

Uploading Instagram stories in bulk is a great way to get more Instagram followers if you haven't been using Instagram story to get more followers. If you're new to Instagram, posting once daily on Instagram story is a good start.
Who is Combin for?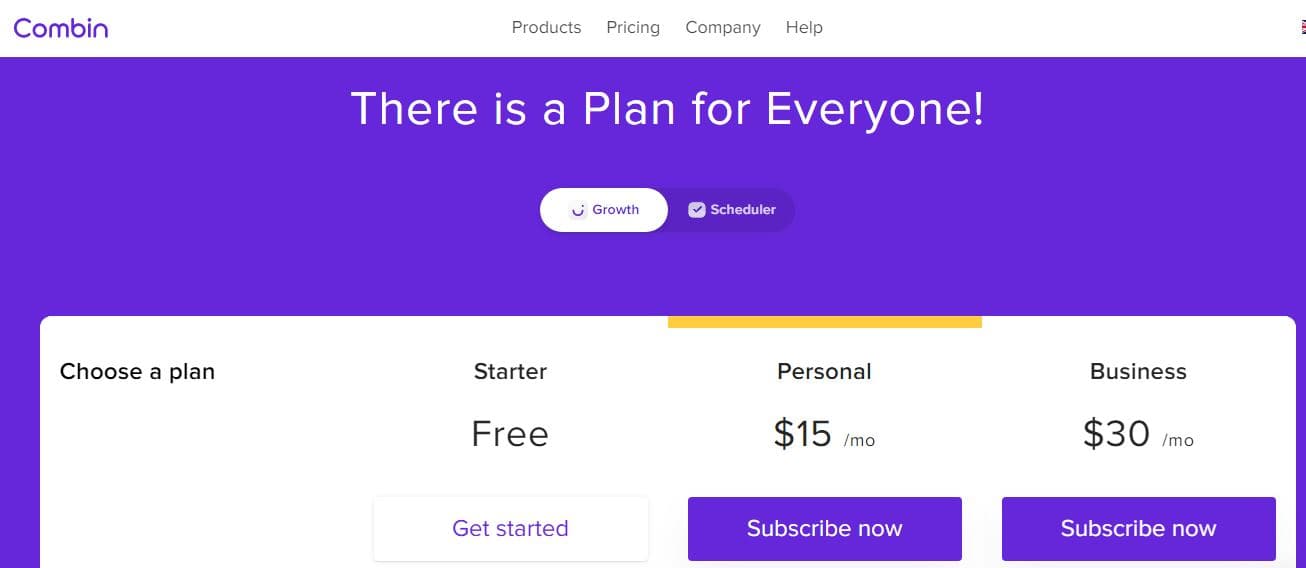 People and small businesses trying to grow their accounts organically but aren't sure where to begin.

A small business or individual who is too busy to maintain an Instagram account.

Who wants to schedule a post for a short or long period of time.
Combin is NOT for you if you're trying to get 1,000 followers every single day. Try something else instead. Combin does not give you fake followers, but engages your audience organically to boost your follower count.
Combin Review: My opinion and experience
In addition to subscribing to the Personal Plan of Combin, I personally tested the credibility of the service by setting up trackers for hashtags and accounts that interest me.
Upon setting up my hashtag tracker, Combin returned the latest and updated content within a range of hashtags. Easily selecting specific posts, commenting or liking them, and following them at the same time was accomplished by this.
The tasks' queue was immediately updated with my actions, and Combin took charge immediately. I became particularly fond of this feature, not only because it boosts engagement, but also because it identifies relevant content and accounts for me to follow.
The process of setting up a tracker for a particular account of interest was just as straightforward. The feature proved to be very helpful, especially for identifying trustworthy influencer accounts and discovering new users based on my niche to further expand my network.
I was able to build a follower count quickly and effectively as a result of this. After using Combin for just 2 days, I gained 254 followers.
Combin Review 2022: Why Should You Try It? (Pros & Cons)
As my profession requires me to build a network of active and reliable bloggers and affiliates, I have used some services like Woorise for increasing my following count organically in the past.
Many of my friends and colleagues have told me about Combin, so I decided to try it out for myself. Having tried Combin myself, I highly recommend that you do so as it is very promising and well worth the try.
Pros:
Easy to download and simple to use. No Instagram login needed.

Scheduling comments and posts saves you time. The program also allows you to like and comment on other posts.

FAQ pages are a lifesaver. They help you find answers if you get stuck.
Cons:
The program cannot be used until it is downloaded. The program is protected by security measures, but there is a risk. Websites and web services may be safer options.

To try it out, you need to join the email list. Promotional e-mails from unfamiliar companies don't appeal to everyone. Many of them will end up annoying you.

Customer service is not available 24/7. There is a FAQ page and contact methods available. You cannot access the service from another time zone or if you have a problem that requires immediate attention.
Also Read:
A Beginner Guide to Promoting Your Blog on Instagram
Combin Review Verdict
Combin appears to be able to go the distance when it comes to offering Instagram users functional marketing features, which is why it is a good choice if you need something time-saving and effective.
If you want to use Instagram for growth, I strongly recommend that you set your own limits, because Instagram is always on the lookout for accounts that abuse the platform.
Ultimately, however, it's up to you, and that's why Combin is so great. With Combin, you can control every aspect of your Instagram account, so you can grow it the way you like.
Hope you all loved the Combin review covering all the major aspects like pricing, features, and more.