In this guide, we will discover the best competitive intelligence tools for web marketing by mastering every aspect of pay per click, SEO, social media marketing, content marketing, email marketing, and visitor behavior analysis.
Some tools are precise, while others offer different features, some are free, others are not.
Top Competitive Intelligence Tools for better SEO
Many say SEO is dead, but it is not true. Search engines have become smarter and the ways to rank websites have also evolved. There are new ways to dig into the website's SEO audit using the tools and platforms available on the internet.
These intelligence tools are created by renowned companies after their market research and analysis of search engine ranking factors. Let's dive deeper into the list and see how these tools can help you improve the performance of keywords on your website.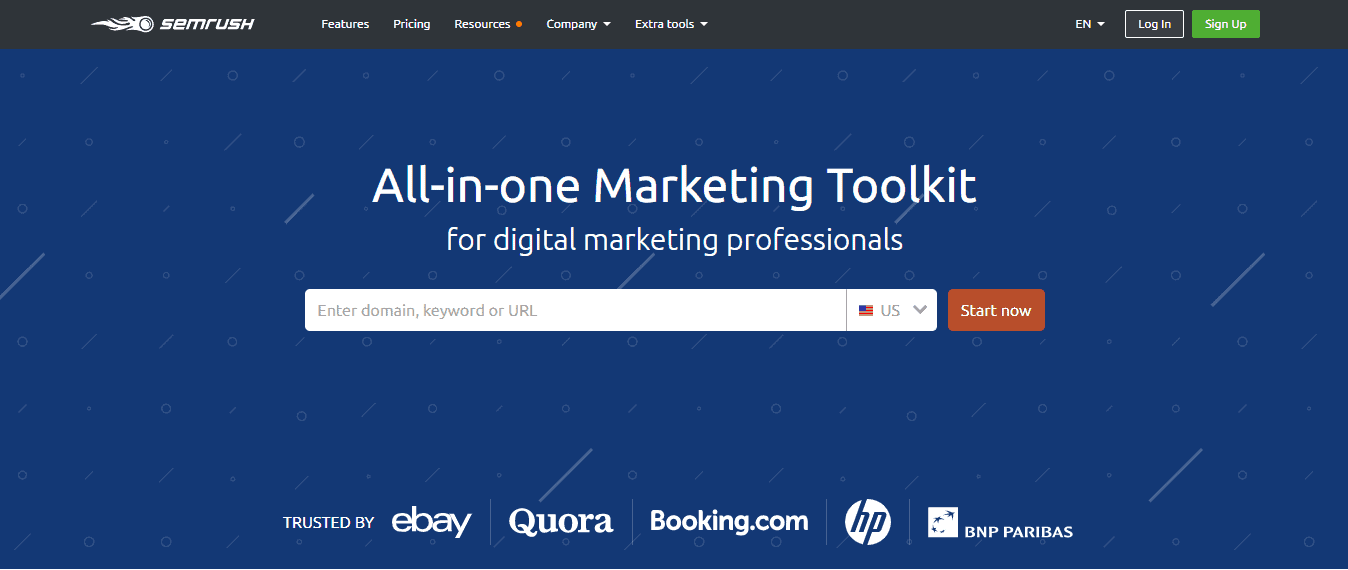 Semrush is an SEO tool that offers a lot of features and a remarkable research/analysis reliability; it has an active community. The company itself provides many valuable content and webinars to master the software and have a clear idea of how to do SEO.
Semrush functionality
We were talking about a complete SEO tool with exciting features offered by Semrush.
First of all, it is possible to carry out a domain analysis, which will return a lot of information, precious data to analyze and exploit. We are talking about the study of keywords positioned organically, analysis of backlinks, competitor's organic keywords, and statistics on the distribution of keywords in the SERP (for both organic and paid).
Thanks to Semrush, you can discover new keywords, check their positioning difficulty, or find relevant keywords that perhaps have a better performance/difficulty positioning ratio!
Semrush has a site analysis function, which allows you to identify the problems that could compromise your SEO strategy (for example, "broken" links, lack of alt tags, duplicate content, lack of h1, h2, and much more yet). Indeed, a specific feature that manages to direct our SEO work towards the right path to obtain the desired results.
Another exciting feature is Domain vs. Domain. You can analyze how our domain is behaving in terms of keywords, search volume, CPC, trends, etc. compared to a competing domain that we can insert without any hesitation!
Other beneficial features complete the "equipment," such as the Lead generation tool, CPC Map, and the SEO Writing Assistant.
A complete tool! But how much does it cost?
Semrush is not a Seozoom economic tool, for example, it costs less.
At the time of writing, the subscription plans are 4 (actually a 3 + 1 in which to request a customized solution), namely:
Pro – 28 advanced tools, monthly cost $ 99.95, or annual payment $ 83.28 per month.
Guru – all "Pro" features + branded Reports, historical data, and extended daily limits; monthly costs $ 199.95 or annual payment are $ 166.62 per month.
Business – all "Guru" features + white-label report, API access, and extended limits with sharing options; monthly costs $ 399.95 or annual payment are $ 333.28 per month.
Enterprise – a customizable solution for businesses with specific marketing needs; price not "declared" depends on the company's requests.
It can be seen that the prices are quite "demanding" and not cheap if compared to what some competitors offer. However, we must also say that, in addition to being expensive, Semrush is also the most complete and reliable Seo Tools out there … which is no small thing!
We, despite the prices, recommend it: the reliability offered is worth the substantial expense the advice we give you is to try it; you can take advantage of a trial period of 7 days, which will unlock all the features offered by the tool.
Try, analyze, and then decide if it is worth shelling out for you. The answer is yes for us.
We also add that Semrush has a very active community, a blog full of interesting content, and a series of webinars that help the user learn all the functions of the SEO tool and learn a genuinely functional SEO strategy (all always updated).
PRO's
The best SEO intelligence tools are available on the market.
Truly extraordinary depth of data analysis.
Always very reliable and complete analysis and research results… often more comprehensive than the competition.
Active community, lots of good content on the blog, and a series of invaluable webinars.
Possibility of free trial for 14 days.
CON's
The prices are "demanding", higher than those of the competitors.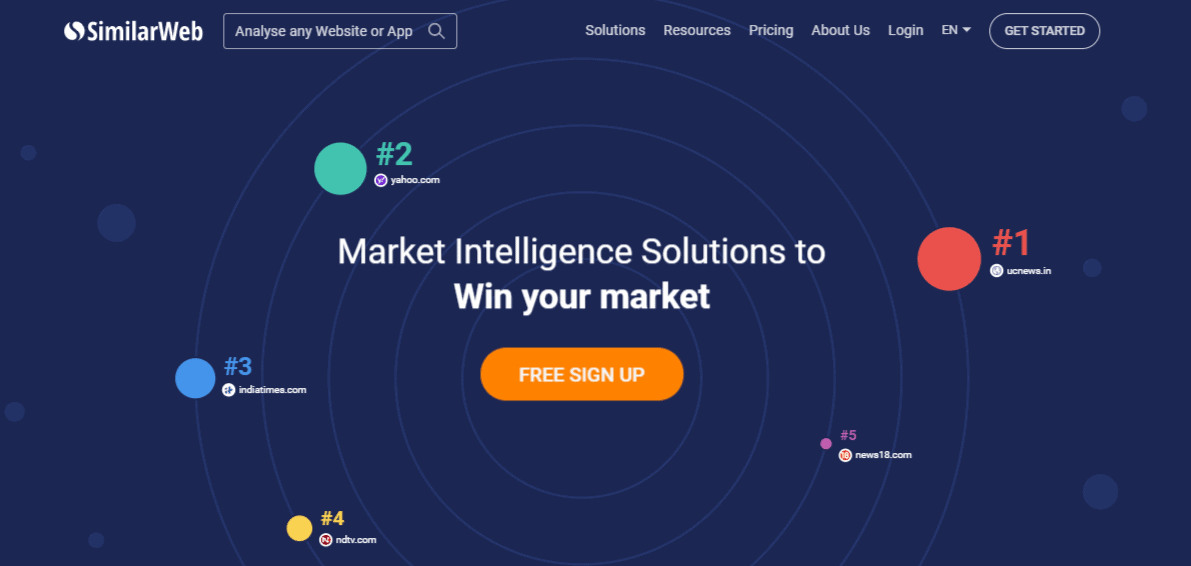 SimilarWeb is a handy tool for those who want to monitor the traffic on their site better and with competitors' websites.
It is a London-based IT company that mainly deals with web analytics services. In fact, it's one of the best competitive intelligence tools that allow you to discover, quantify, and analyze the traffic of a website.
Do you have a business on the web, and would you like to spy the competition?
SimilarWeb allows you to understand the site's performance, the amount, and the geographic origin of the traffic, referrals, and traffic trends.
There are currently several analysis tools that allow you to analyze traffic on a site such as the evergreen Google Analytics or SemRush, Alexa, or the Italian SeoZoom.
Many of these are paid or are not very intuitive on first use. Like many tools in this category, SimilarWeb offers a free version and a paid version.
The free version, obviously with reduced features, will still allow you to access beneficial information.
The peculiarity of SimilarWeb consists of being usable in the web version or through the practical and intuitive extension for Google Chrome or Firefox.
SimilarWeb: How the free version works?
As you can see from the image above, just enter the name of the site you want to analyze in the search bar and press enter: the results will appear immediately.
SimilarWeb will report data on global, national, and category rankings, but not only this. Scrolling down the page, we will find even more exciting results.
How: the trend of traffic on the site in the last six months, the geographical origin of the traffic, the primary sources of traffic, with particular focus on referrals, that is, the websites that bring views to the site we have selected, the first five terms of search, organic and paid, the traffic deriving from social networks, the analysis of sponsored campaigns, the most clicked subdomains (if any) and, last but not least, the interests of the audience and the significant competing sites.
SimilarWeb: How does the extension for Chrome or Firefox work?
If you want to have an even more straightforward and intuitive user experience, we recommend installing the extension for Chrome or Firefox.
In this case, simply type the site you want to analyze on your browser and click on the SimilarWeb icon at the top right.
A window will open with all the indicators to analyze the site, just like the web version.
You will find all the general traffic information, on traffic sources, on the geographic origin of traffic, on referrals, on organic and paid research, on social networks, on paid campaigns, and the interests of the public.
SimilarWeb is undoubtedly a vital tool to measure the success of your business on the web and to understand how competitors move on the network.
Experience the potential of this tool now. You will be amazed by the ease of use and the vast possibility of free functions.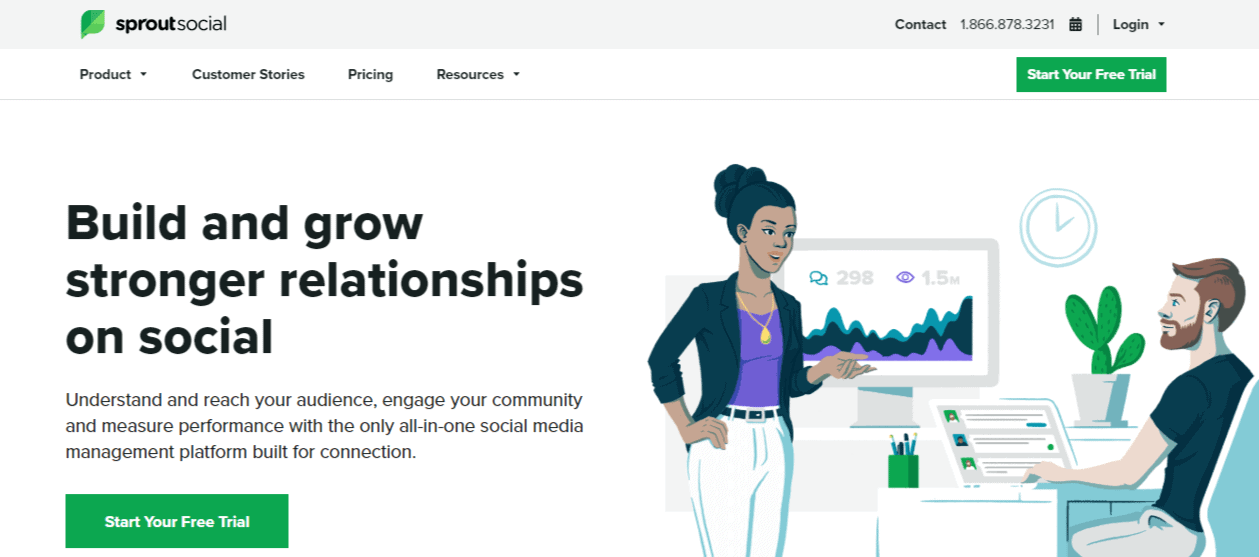 Sprout social, unlike the other platforms analyzed, is characterized as comprehensive intelligence tools that allow us to schedule posts, publish them, analyze them, and relate to our audience.
Sadly it doesn't have a free plan yet.
It is available as a free trial for 30 days, after which we will be forced to switch to the paid plan at the cost of $ 99 per month to continue using it.
Deluxe Plan includes:
A full Social Inbox
Real-time Brand Monitoring
Schedule posts in advance for Twitter, Facebook, and LinkedIn
Social CRM Tools
Reporting Tools
Supports up to 10 profiles at once
Sprout Social Browser Extension
Mobile Apps
Training and support
Sprout Social has a lot to offer, and the amount that you will pay with the deluxe plan will get paid if you have multiple accounts to handle.
One of the strengths of this social management tool is the smart inbox. It is a mailbox that holds all your social mails in one place.
This allows you to have everything under control without having to zap from one platform to another to check incoming mail.
Sprout Social is easy to use. The tabs message will show you mentions and tweets while the feed tab will allow you to access the various social platforms in one go.
Another strong point of this platform is the possibility to analyze your posts accurately, through the Viral Post function. With this feature, it is possible to view how your audience relates to you, thus drawing beneficial suggestions on the best timeframes for publishing your posts.
Finally, the discovery tab will allow you to follow your new followers in close contact with those who analyze your content.
Another strong point of Sprout Social, which differentiates it from other competitive intelligence tools and justifies its price, is the inclusion of a CRM tool that allows you to track all interactions with various users and obtain a more accurate and personalized overview in real-time.
The analytics part of Sprout social is well cared for and full of all the information necessary to use the statistics that the platform compiles to plan winning strategies on our social networks.
PRO's
Lots of micro tools and features available.
Intuitive interface.
Smart Inbox.
Social CRM.
CON's
Price.
Inability to publish groups on FB and LinkedIn.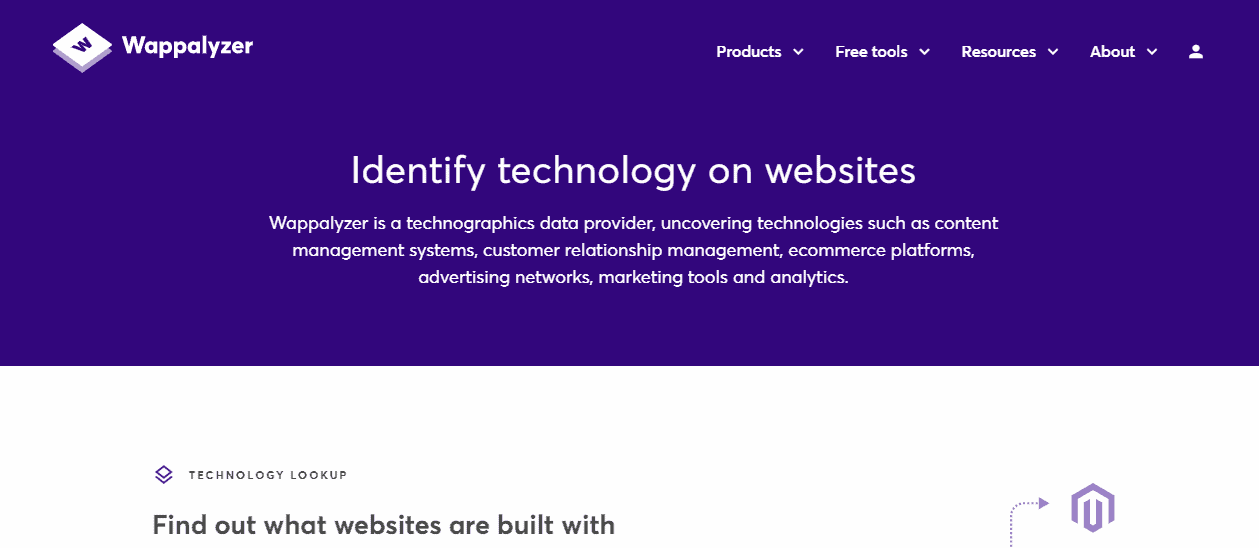 While we surf the internet with our favorite browser, Wappalyzer can discover and list to the user the software and technologies used for the creation of any website.
Available as an extension for Firefox and Chrome, it's intelligence tools that allow you to instantly know the name of CMS, eCommerce platforms, web servers, JavaScript frameworks, analysis tools etc. In short, practically listing all the software and platforms used to build the website, just like Builtwith.
Installation is simple: just visit the developer website, click "install" and complete the software installation.
After installation, some icons appear on the right of the address bar; by clicking on the first icon, you can view all the details and information captured by the software.
Wappalyzer is not available as an extension for Safari and Opera. Still, it is possible to take advantage of a bookmarklet: it is a small JavaScript program that can be stored as a standard URL address inside bookmarks. In this way, it is possible to take advantage of the Wappalyzer functions within any web browser.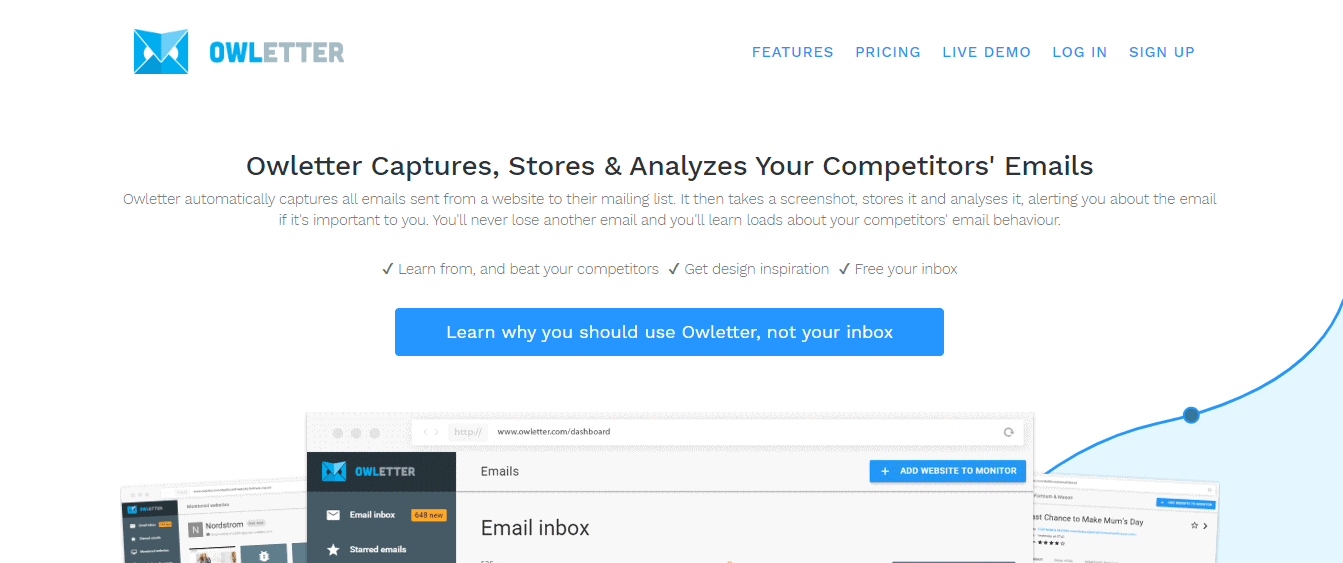 This software automatically aggregates emails from rivals and makes them into a simple, user-friendly dashboard.
Owletter's analytics spots change in your competitors' email frequency and pick up on trends to help you optimize when you should send your emails.
This describes a practical, data-driven alternative to keeping up a dummy email account to spy on your competitors.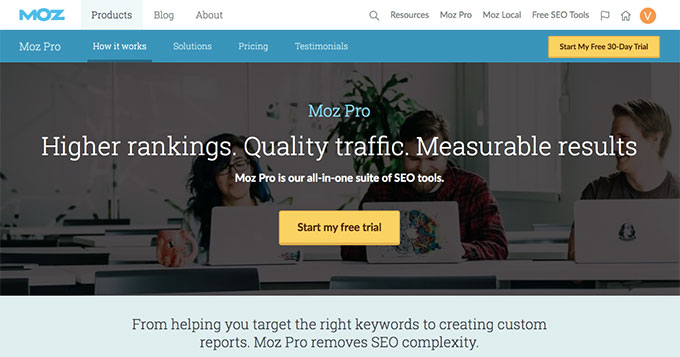 Moz Pro offers a complete set of SEO intelligence tools that helps improve search engine rankings and visibility.
Use proven SEO metrics such as Domain Authority and Page Authority that provide quality data to do the job more effectively.
The program helps companies/individuals save time by simplifying workflows and dividing data for better strategy analysis. The system automatically analyzes site errors and SEO opportunities and provides usable insights, allowing users to customize their content and design accordingly.
It keeps users updated on the situation using various tools such as auditing and assigning priorities to each based on their needs.
The complete set of tools simplifies complex analysis so that users can focus more on services than spend most of their time analyzing and solving problems.
MOZ PRO – FEATURES
Site audit: scan your site, discover SEO technical problems, and receive suggestions/corrections.
Rank Detection: Track hundreds (or thousands) of your keywords driving traffic on search engines.
Backlink analysis: view metrics on any site in seconds, including anchor text and domain authority
Keyword Research: Discover thousands of keywords to target, keyword difficulty scores, competition research, and SERP analysis
Identify your weaknesses: easily add, manage, and create keyword lists in one place. Classify, prioritize and compare keywords and phrases to optimize your strategy and content
Compare visibility on mobile and desktop devices: Customers have different search behaviors on desktops than on mobile devices: compare and optimize both with this program. Track desktop rankings on significant search engines in over 200 countries
Fast Site Scan: The solution quickly scans large sites and tracks new or recurring problems over time. The colored graphs show the breakdown of the categories of issues, the latest numbers, and the total numbers. Thus allowing you to quickly discover opportunities and inform people about the site's overall SEO performance.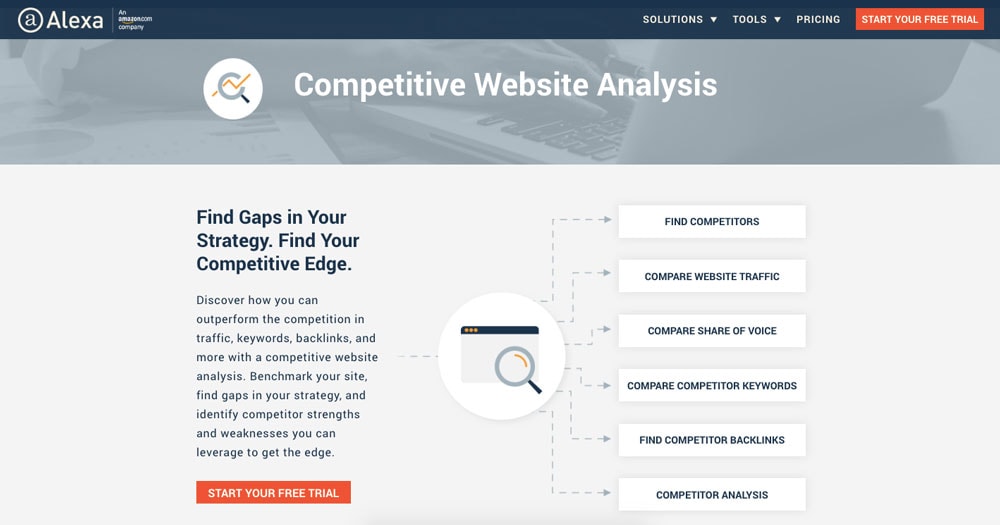 Alexa rank is a global ranking system (and an Amazon.com affiliate) that uses web traffic data to make a list of the most popular websites.
It ranks millions of websites in order of popularity. The lower the Alexa ranking, the more popular your site is (according to Alexa).
It also analyzes the behavior of a site compared to other sites, making it a useful benchmarking KPI or for analysis of the competition.
How does Alexa Rank work?
Alexa rank is calculated by combining estimated site traffic and visitor engagement over the past three months. Traffic and engagement are estimated from the data provided by the related toolbar. This monitors a user's browsing behavior, which acts as a sample of all Internet users.
If you want to contribute your data to the rank, you just have to download and install the Alexa toolbar:
This will show the Alexa Rank of the website visited. It will also send traffic data to a central server, recording your IP address and the URL you are visiting.
Although Alexa rank can be an excellent way to compare one website's performance with that of another, Alexa's statistics are not necessarily the most accurate.
There have been people who have compared Alexa with Google Analytics, concluding that Alexa is not as accurate.
This is because Google has a much broader reach than Alexa since not everyone will have the Alexa toolbar installed.
Because of this lower coverage, consider Alexa rank as an overview for comparison purposes and not accurate details of a website.
PRO
Here are some things Alexa rank can be useful for:
If your site makes money with advertising, a high Alexa rank may allow you to ask for more inventory.
You can get a quick estimate of the traffic of competitor websites that you can compare with yours.
It has the potential to attract quality guest writers who wish to contribute articles to higher-level sites.
It provides insights into your website's performance, which may be useful for other SEO / marketing operations.
Versus
Here are some things where Alexa rank doesn't help:
The data is limited to only users who have installed the toolbar. So there will be a lot of sites that get a low position despite having high traffic.
It can be easily manipulated (as we said), making the rankings even less reliable.
Subdomains and subpages are not classified separately, but only the top-level domain. So there may be some inaccuracies in this too.
BuzzSumo is a search and monitoring intelligence tools characterized by the following features:
Find the most shared content on social networks: you can enter your own or another domain and see what has been shared on social networks.
Find significant influencers for specific topics.
Receive alerts based on keywords, brand, links, author name or domain
Monitor competitors and make an analysis based on their content.
How to use BuzzSumo effectively?
Here are some practical examples of how to use BuzzSumo effectively.
Find good ideas for post content
Trying to find a good idea for the content of a post is like sitting with a sheet of paper and not knowing what to write: it's tedious, frustrating, and time-consuming.
And when you finally wrote the post, there is no way of knowing if it will be successful.
Sometimes you get numerous links and shares that ensure an excellent rating of the content, but on other occasions, this does not go anywhere, getting few shares and no traffic from Google.
It happens to everyone, and there is no way to guarantee the success of the posts.
You can, however, significantly reduce the frequency with which posts are lost on the street, thanks to intelligence tools like BuzzSumo.
Find relevant keywords with Google Keyword Planner
Before going to BuzzSumo, go to Google Keyword Planner and do some keyword research: enter the keywords you want to write content on to find out how many people have searched for them.
If few people are looking for these keywords, writing content based on them will lead to very little (although there are exceptions to this rule).
A list of all the keywords in a specific ad group
If these keywords don't work, Google will show you related keywords and, with a little luck, you will be able to find alternative options.
We want to write an article on social media monitoring tools, using the search key "social media monitoring tools." Our search showed that the average monthly searches for that phrase are 480. This may not seem particularly high, but there will be many other similar keywords that you can attract.
Discover the competitiveness of the keywords to attract
You now have an exciting group of keywords, but you're not sure if you can invite them effectively to Google.
To do this, you can perform a quick Google search to see which pages appear in the search results. For this type of search, RazorSocial has a tool called the "Moz toolbar" installed on our browser.
This shows the Domain / Page Authority for each of Google's results, or an indicator of the importance that Google attaches to the site itself.
For example, if your domain Authority is 25 and you see that all the results on the first page have the content corresponding to the keywords and their Authority is high, your chances of obtaining a good ranking in the search results are low.
Discover the most shared content
Now is the time to use BuzzSumo: search for the keywords you have identified to find out what the most shared content is related to them.
Once it's done, the goal will be to write better (more updated or more detailed) content to have the opportunity to beat competitors in search results, thanks also to adequate promotion.
Brian Dean introduced the term skyscraper technique, which describes this process in more detail.
You can see the articles that receive the most shares on different social networks.
Composition and promotion of the content
Now that you have compelling content, researched, and shared by users, the time has come to publish and promote it.
Example: See Interactive finds content on Obama's health care reform !!
Seer Interactive is an internet marketing agency that uses BuzzSumo to create new content.
One of their recent projects involved drafting an article on healthcare in the USA, particularly on the so-called Obamacare.
After an initial moment of writer's blockade, they launched BuzzSumo and researched "healthcare OR Obamacare."
From the results showing the most shared content, it was possible to see how consumers wanted impartial information that explained what Obamacare was.
Conclusion
We hoped you have got significant insights into how these competitive intelligence tools can improve your marketing strategies and increase more traffic to your website.
There are many more to cover and we might come up with other lists for more ways to drive traffic to your website. Do let us know which of these intelligence tools are your favorite. Also, let us know how you used it to increase the website SERP ranking?