In 2022, there will be several options for managed WordPress hosting providers. While the sector already has established competitors, a new cloud hosting option has joined the market and is fast rising. I'm referring to Devrims as the hosting provider.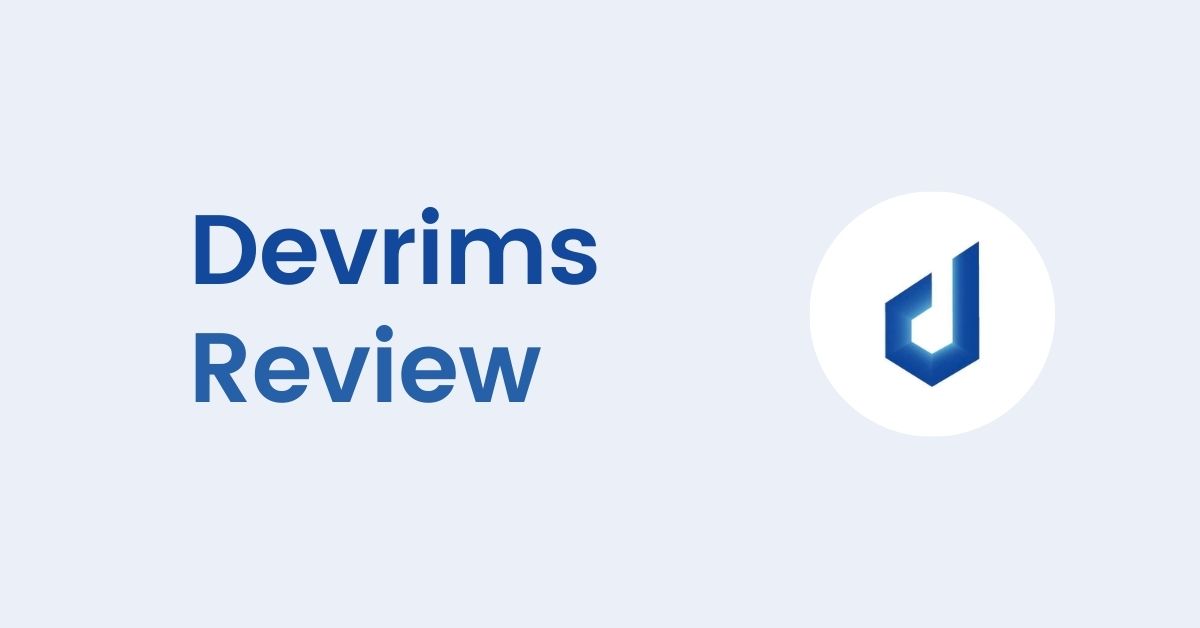 While Devrims is a newcomer, they claim to offer cutting-edge technology with unmatched performance and next-generation security. In this article, I'll conduct a full assessment of Devrims cloud hosting to see how well it stacks up against industry standards and current competitors. If you're on the fence about whether to use Devrims cloud hosting for your website, our review will assist you in making an informed decision.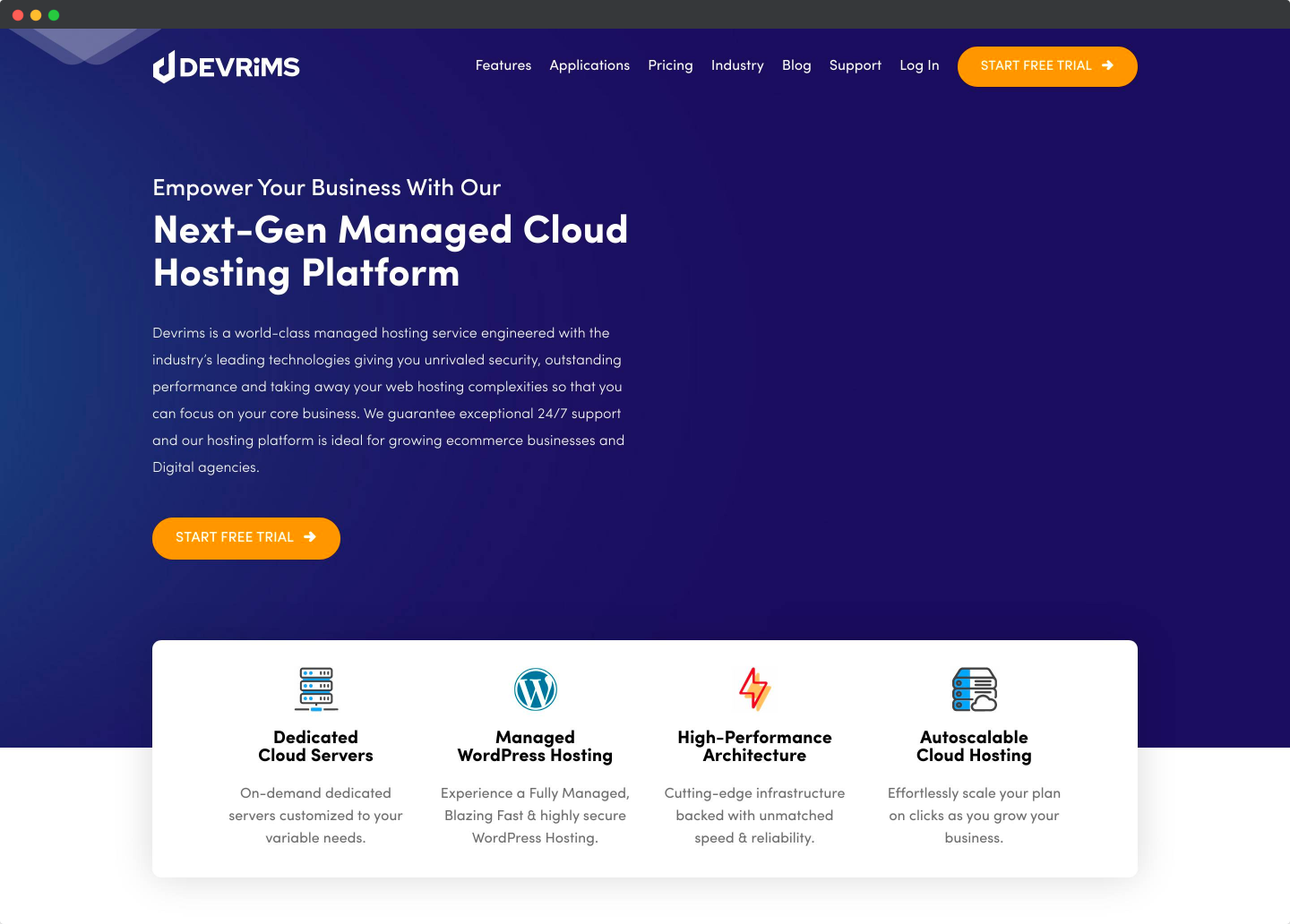 Devrims is a managed cloud hosting service specializing in providing scalable and dependable hosting. It takes care of all of your website's hosting requirements. While it is a new entrant, the fundamental solutions adhere to industry norms. This Devrims review will provide you with an in-depth look at the features offered by Devrims and its advantages, disadvantages, and price options.
Devrims provides fully managed cloud servers effectively supported by IaaS providers such as DigitalOcean and Amazon AWS to provide proper security and performance. Devrims is a newcomer to a very competitive sector; their strong customer service standards and comprehensive feature set demonstrate that they are a legitimate firm. Additionally, Devrims provides a six-day free trial period. As a result, I urge that you give Devrims hosting a try.
Devrims Security
It's terrific to have an economical hosting provider that provides excellent uptime and customer support. Nonetheless, it would be ideal if you discovered a supplier that fights back to safeguard your internet info and websites.
Devrims also provides exceptional services and features for this. The following are the security features offered by Devrims. Devrims has multi-layer security features such as IP whitelisting, database access control, SSH/SFTP security, server security protocols, and a hardware firewall that restricts access to whitelisted IP addresses.
It secures your website by providing a free SSL certificate, including Let's Encrypt.
You can also use free SSL certificates to secure your websites since Devrims offers unlimited website hosting. Additionally, Devrims has the Fail2Ban function, which mitigates brute force and malware assaults even when all incoming traffic is allowed.
Devrims' Interface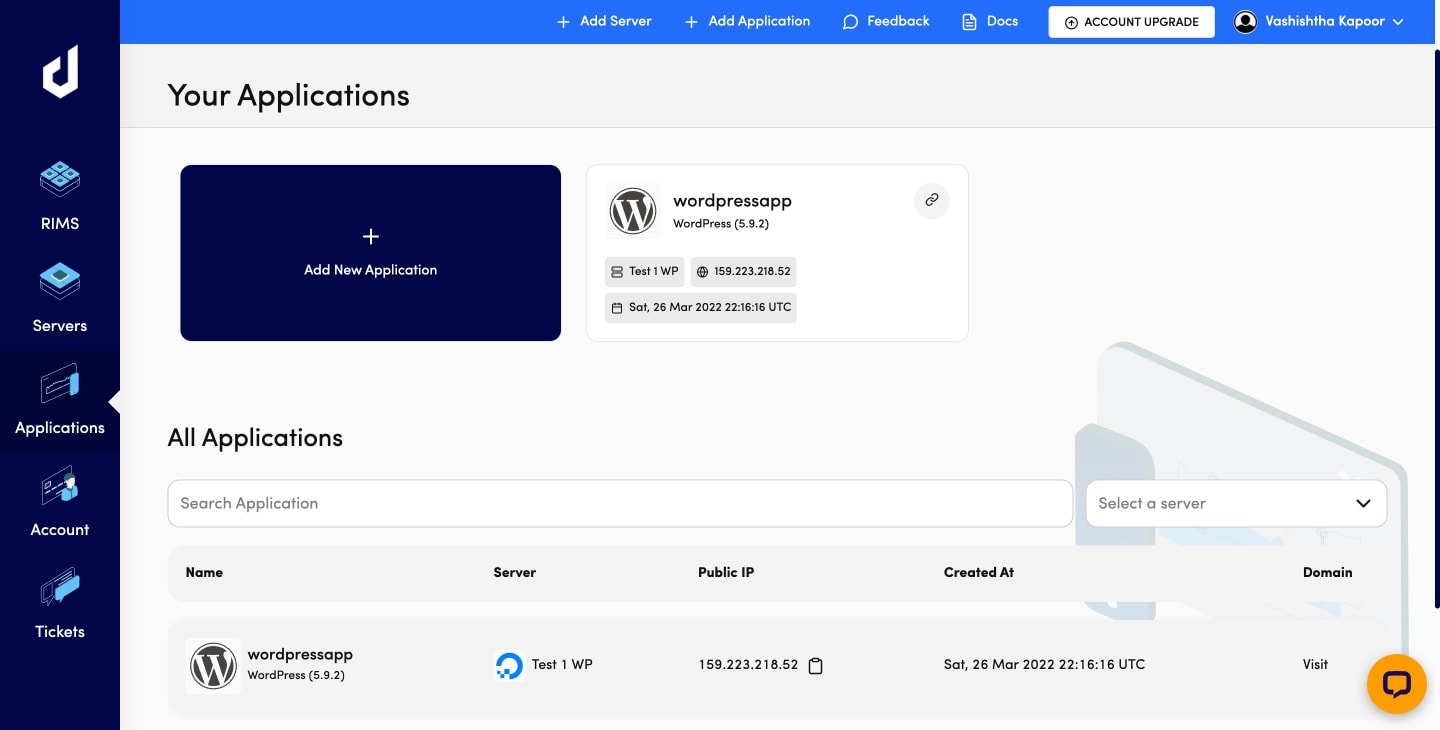 Devrims offers a straightforward hosting interface that enables even non-technical users to meet their hosting needs. It has all of the typical functions, and even after a few uses, it's simple to get used to them. After logging in, you're sent to the dashboard, where you may quickly start and configure your server for the first time.
Adding a new server needs the setup wizard, which provides step-by-step instructions; similarly, adding a new application involves just a few clicks. The dashboard enables you to organize servers into a single project using the RIMS functionality, which allows you to manage your server in various ways. RIMS enables the grouping of several servers in a single project.
Get Started with Devrims Now
Devrims Performance
Devrims provides professionally managed and trustworthy cloud hosting with a 100 % uptime guarantee. It operates over 20 data centers worldwide, providing sufficient flexibility and wiggle space for hosting the website in chosen regions and on selected servers.
The uptime includes ultra-fast SSD storage, a lightning-fast network, robust optimization, and server-level caching. They contribute to enhanced visibility via improved SEO ranks and page visits when they are in place.
Devrims assures 99.9 percent or more uptime. As a result, you anticipate high server availability. It is a step ahead of other hosting companies because it provides SLA credits to customers. These SLA credits are stored in your Devrims Wallet and may be utilized for invoicing purposes.
Have a look at the TTFB check results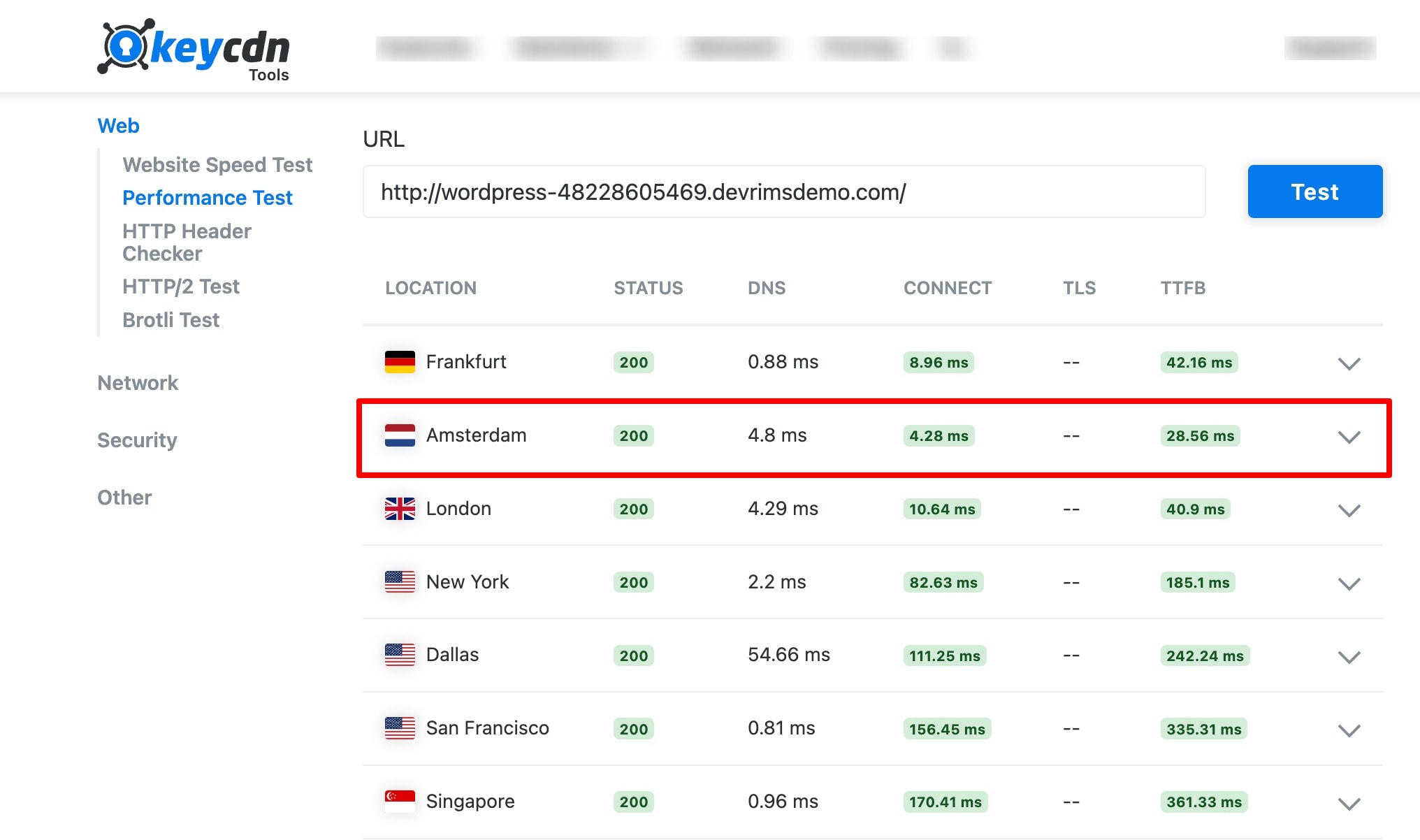 Additionally, Devrims offers fully managed optimized cloud servers that provide you with complete control over the performance needs of your applications. It has built a dependable infrastructure in collaboration with DigitalOcean and Amazon Web Services as its IaaS partners.
To simplify things, the Devrims interface includes the most popular and supported software versions and services according to the requirements of your apps. It further improves your performance and enables you to accelerate your server-level caching solution. It's simple to pick the cache technology you need and quickly apply it to your website.
Devrims Configuration of Servers and Applications
After logging into the dashboard, click the "server" option on the left to choose a server. You may add more servers and access your WordPress through the "application" page from here. Additionally, it enables you to install other functional applications, such as WooCommerce. Additionally, it allows you to monitor the server and less often used dashboard components.
Following that, you'll discover the Application tab, which is quite similar to the Servers' tab in the menu but is more straightforward. It displays a list of all the programs you've installed. Then, it's simple to access and control all of your apps using this page.
The dashboard is essential since it is devoid of superfluous information. Rather than that, it is easy to use for beginners.
There is a "tickets" tax at the bottom of the dashboard list. It's simple to create a support ticket. All you have to do is click on "tickets." You will be led to a website where you can quickly construct a ticker and submit your request.
In a nutshell, Devrims is very simple to use. Additionally, it is simple to explore as you learn more about the hosting choices. Nonetheless, a brief survey to assist new users or novices in selecting the most appropriate package for them. We're wondering whether it would significantly lower the market if individuals were uncertain about their hosting decision.
How To Start a Free Trial of Devrims?
By clicking "start a free trial," you're taken to the screen displayed above.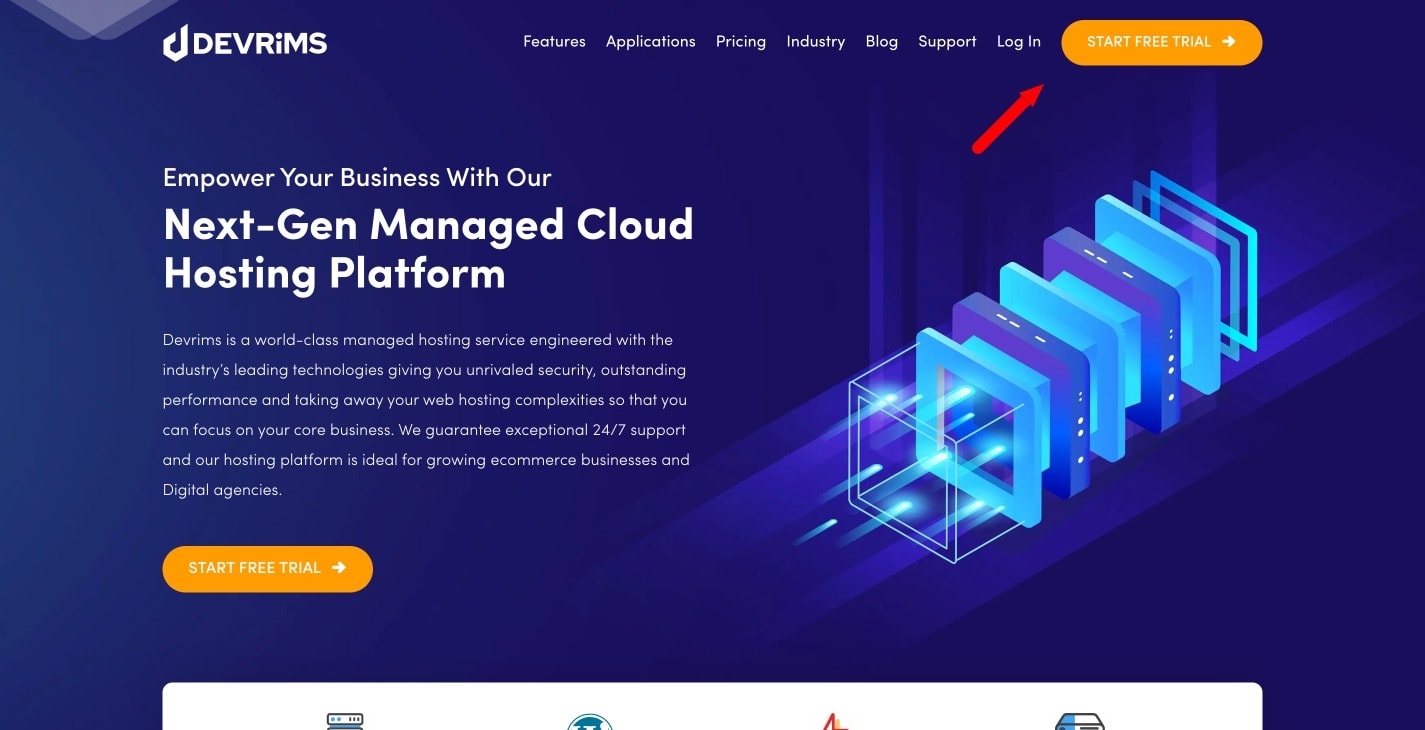 It's a simple registration process.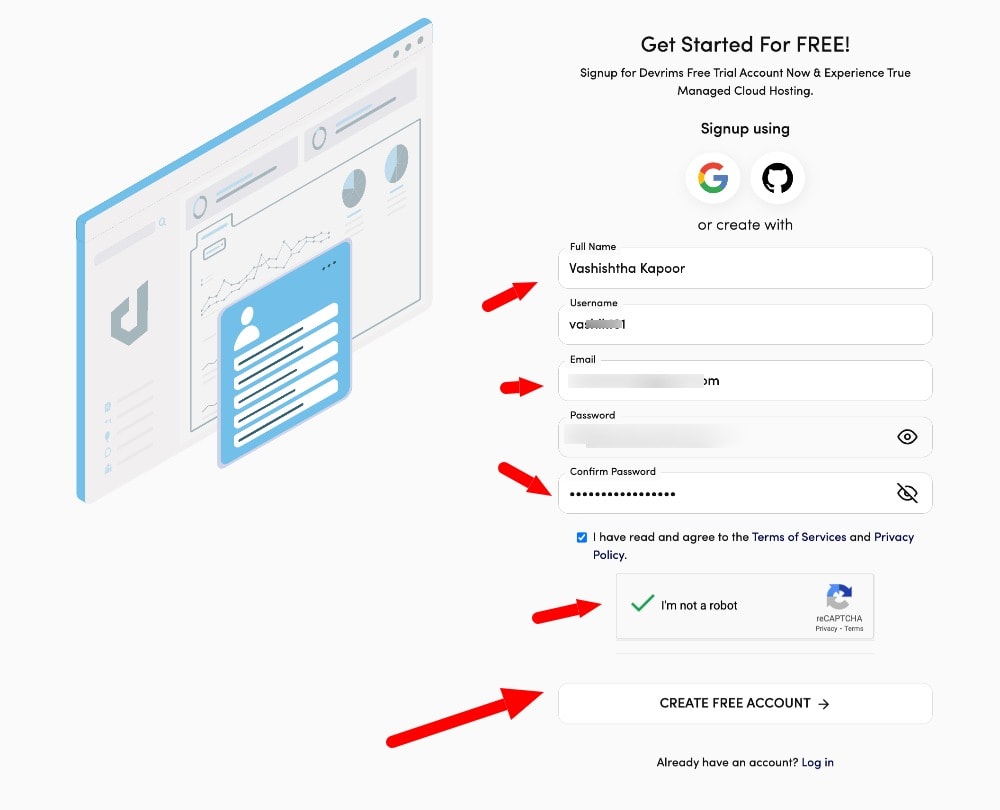 All you have to do here is fill in the blanks.
Next, you need to verify your email address. Type the verification code you received in your inbox.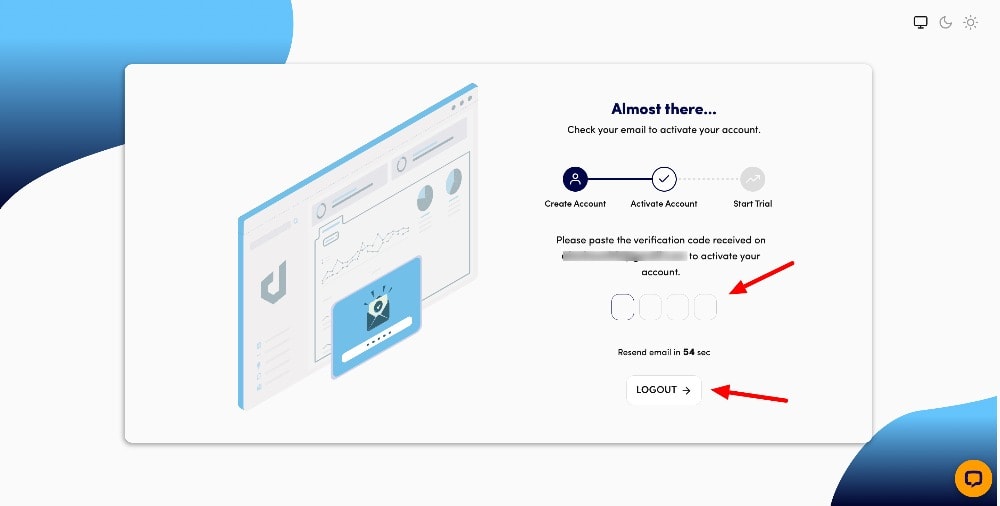 You need not add your card at this stage to verify your account and deploy your test server.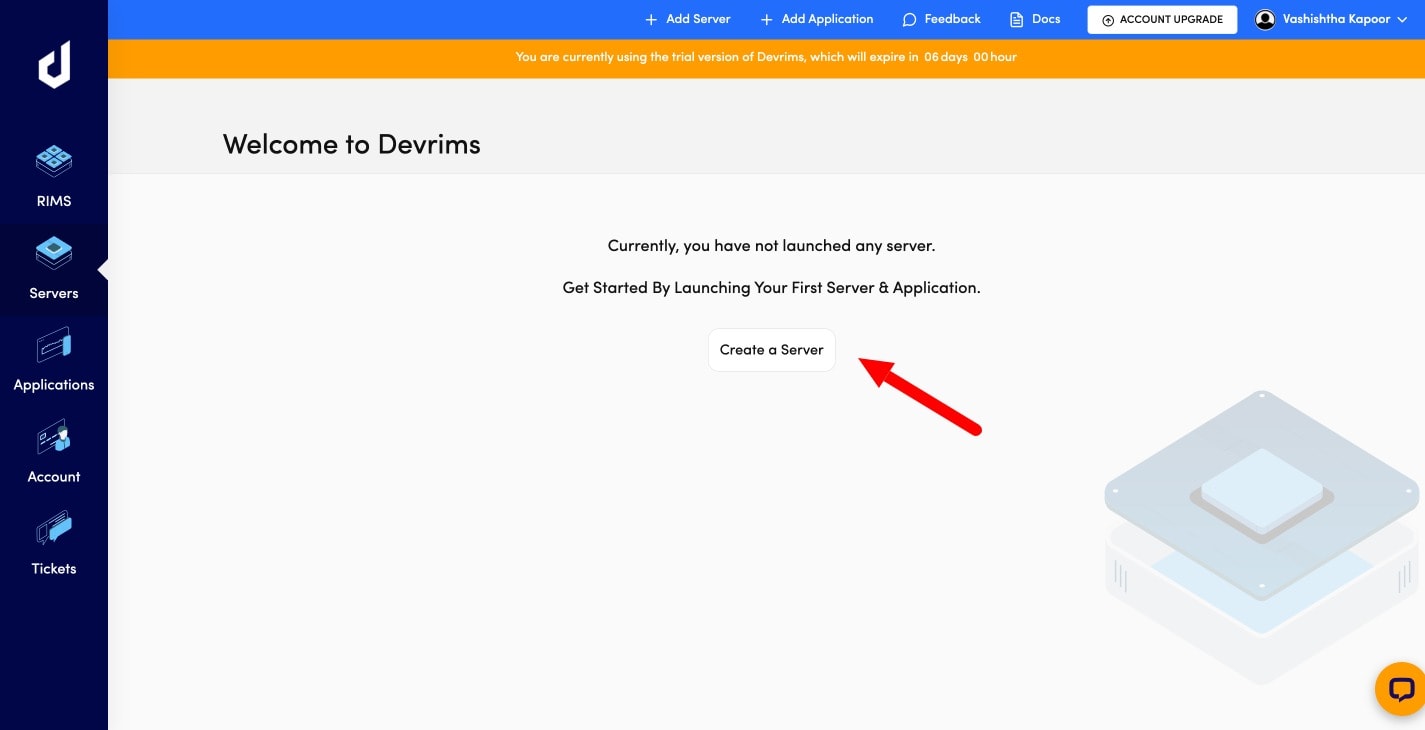 You have a trial that expires in 5 days. In these 5 days, you can test the performance and your use case with Devrims.
How to Create a Server in Devrims Cloud Control Panel?
Let's go ahead and Create a Server.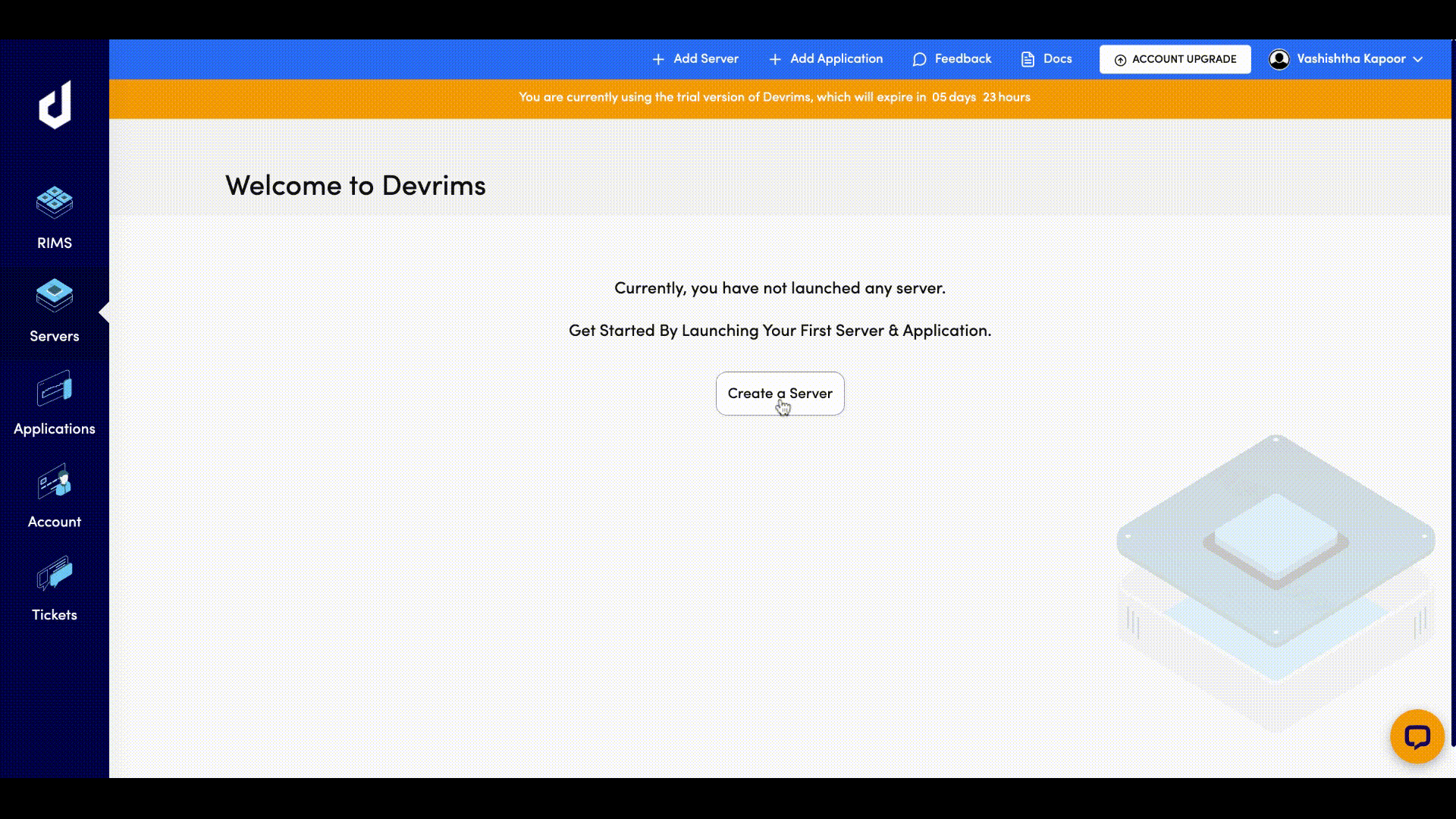 Choose the application and its version you want to deploy.
Choose the Tech Stack options for the application you chose.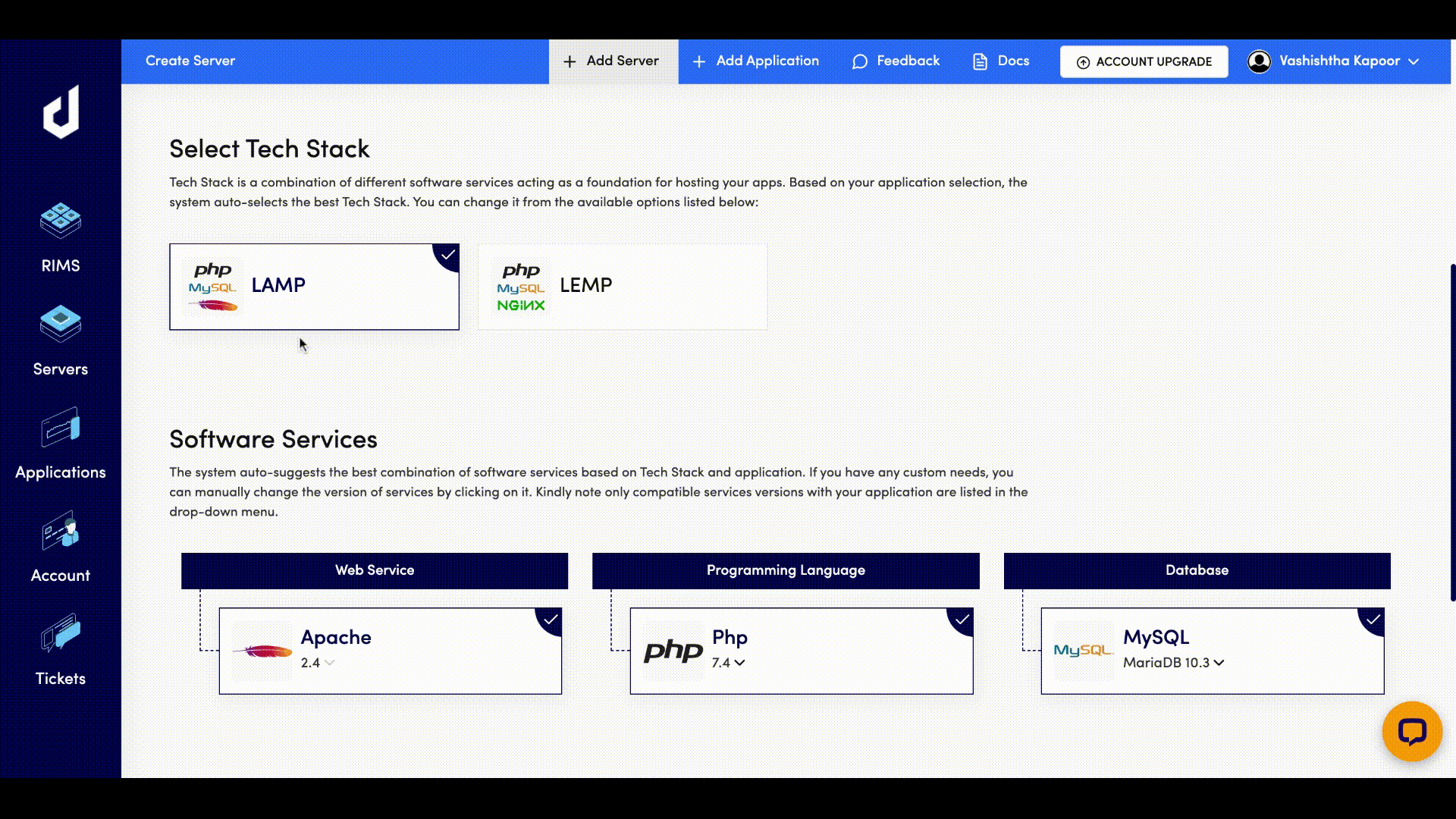 You can also see what services will be installed with the tech stack you choose. You can customize the version of services also.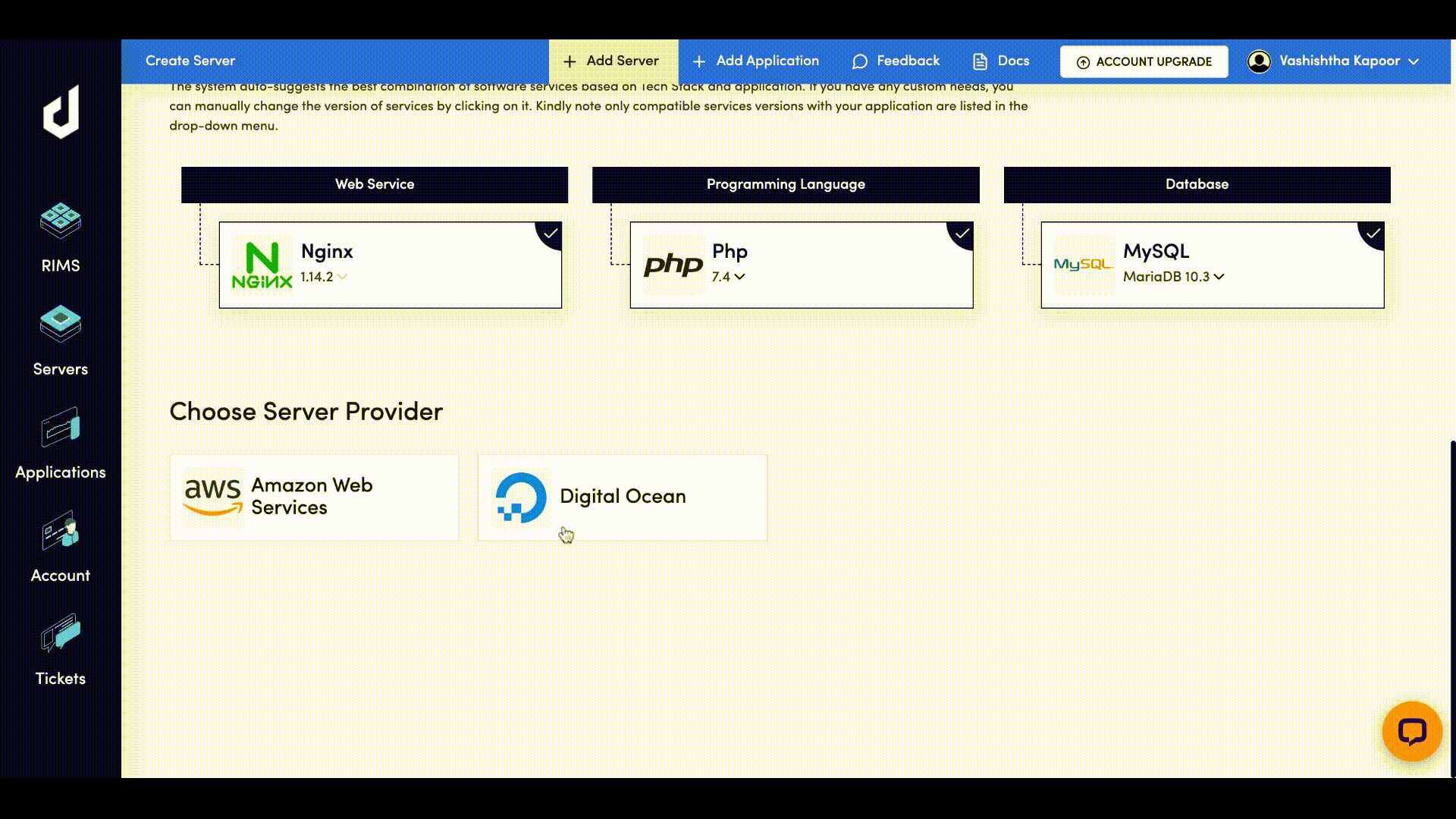 At the moment, you can choose from AWS and DigitalOcean's infrastructure.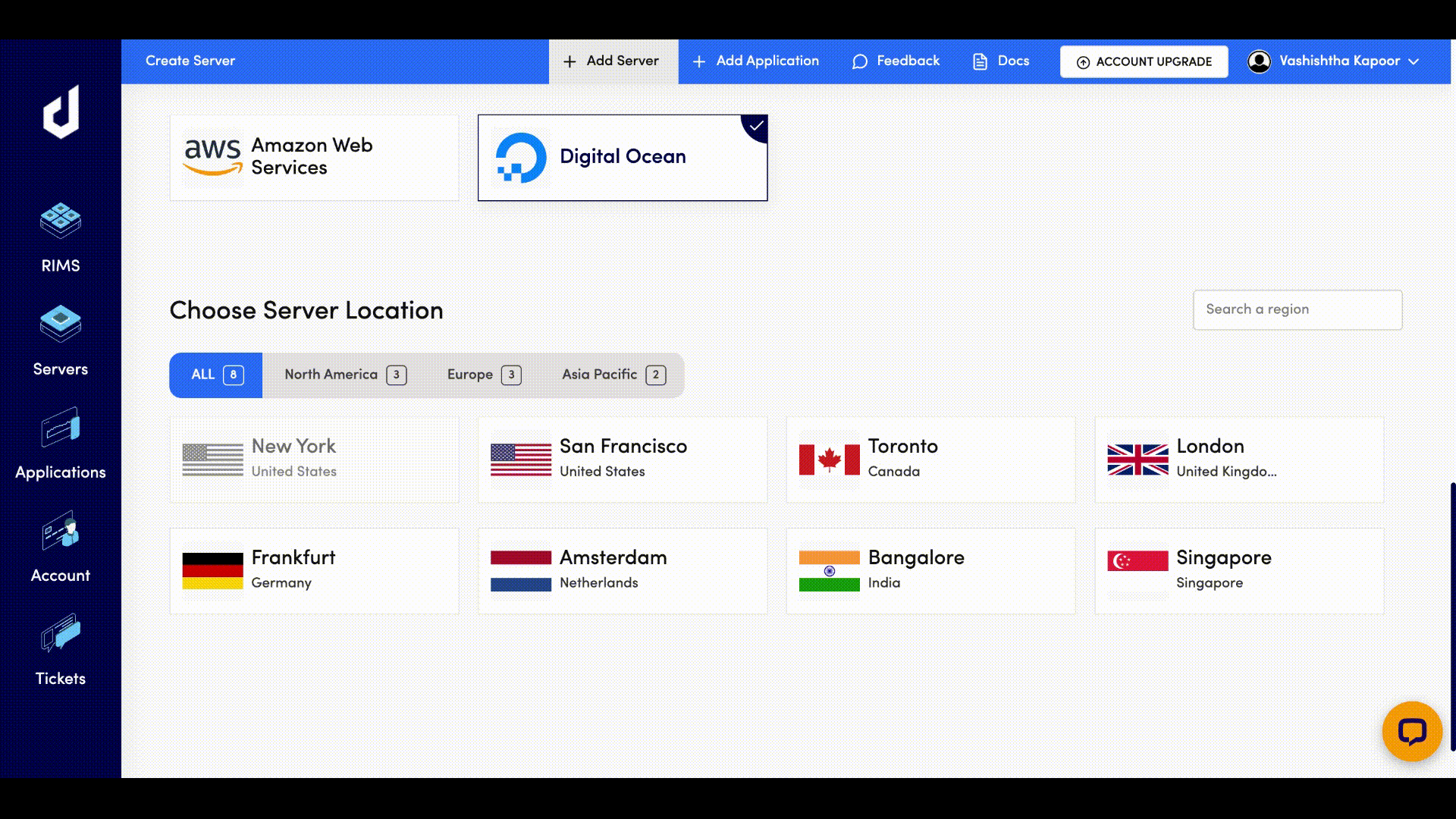 As per your infrastructure choice, you can choose an available location for your server.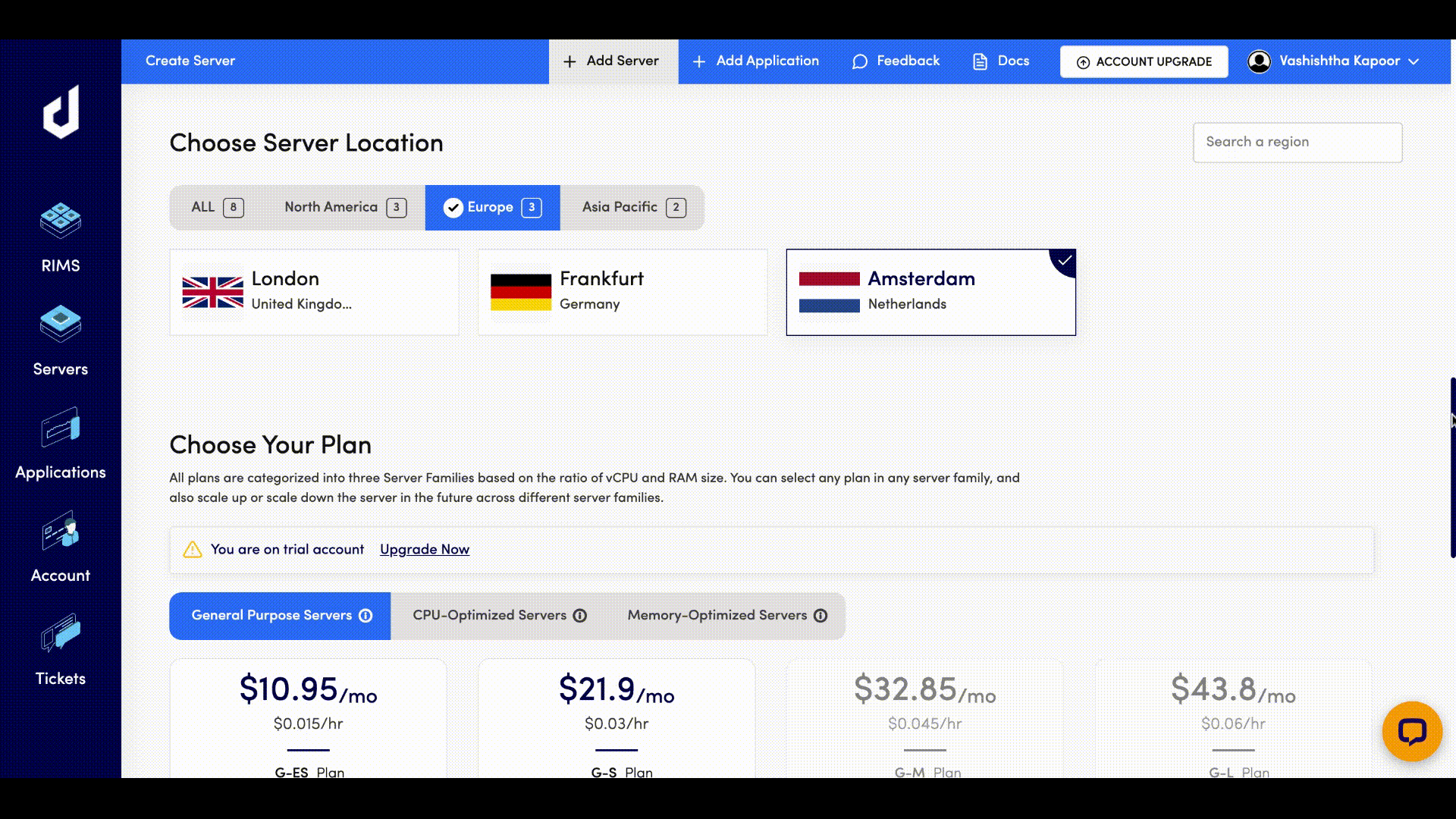 Next, decide how many resources you need for your web app (WordPress)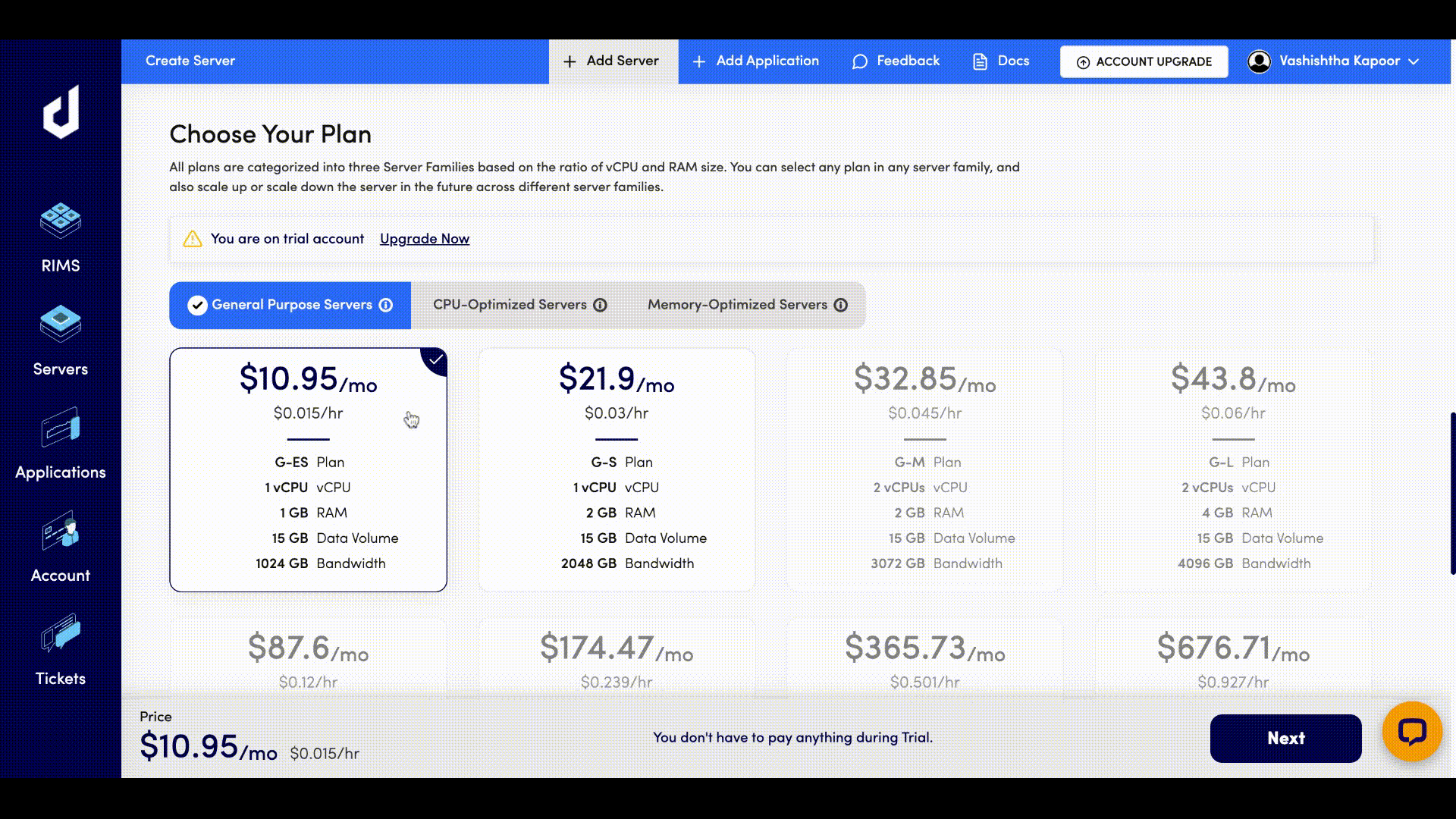 Once ready, click on Deploy.
You need to fill up a few more details about the web app to initiate the deployment.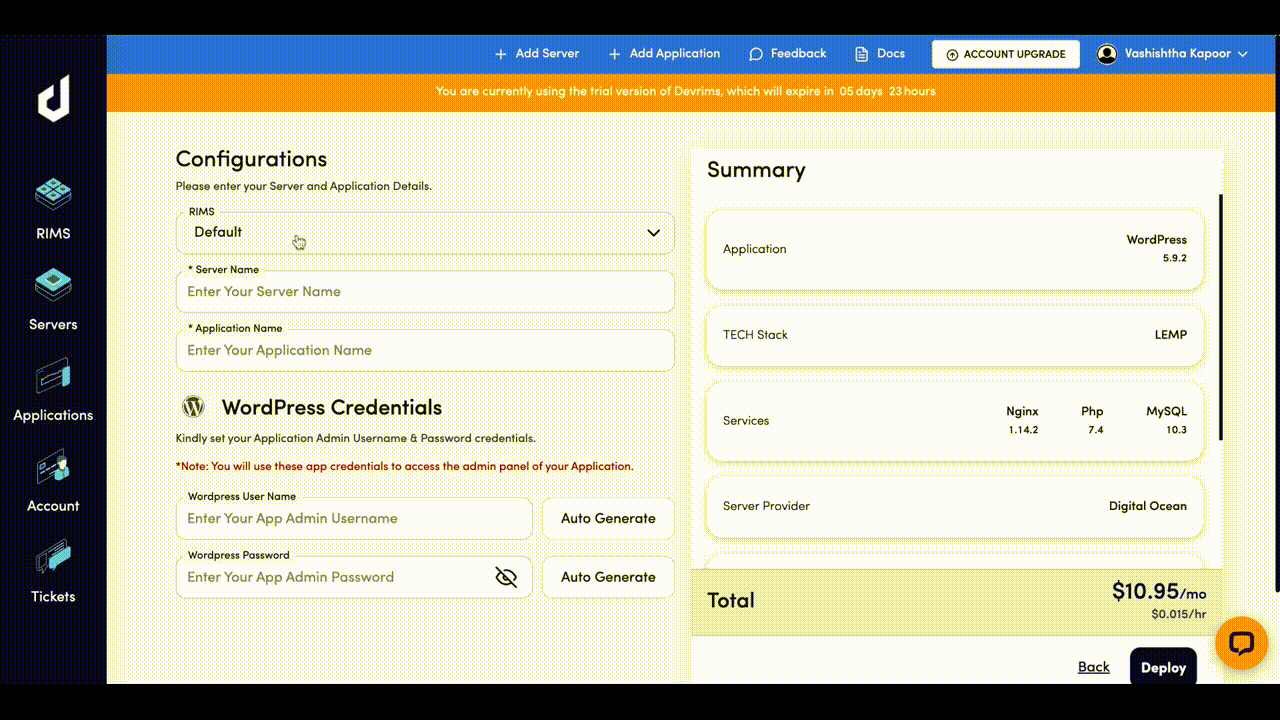 The server is now ready and active in my dashboard, as you can see below.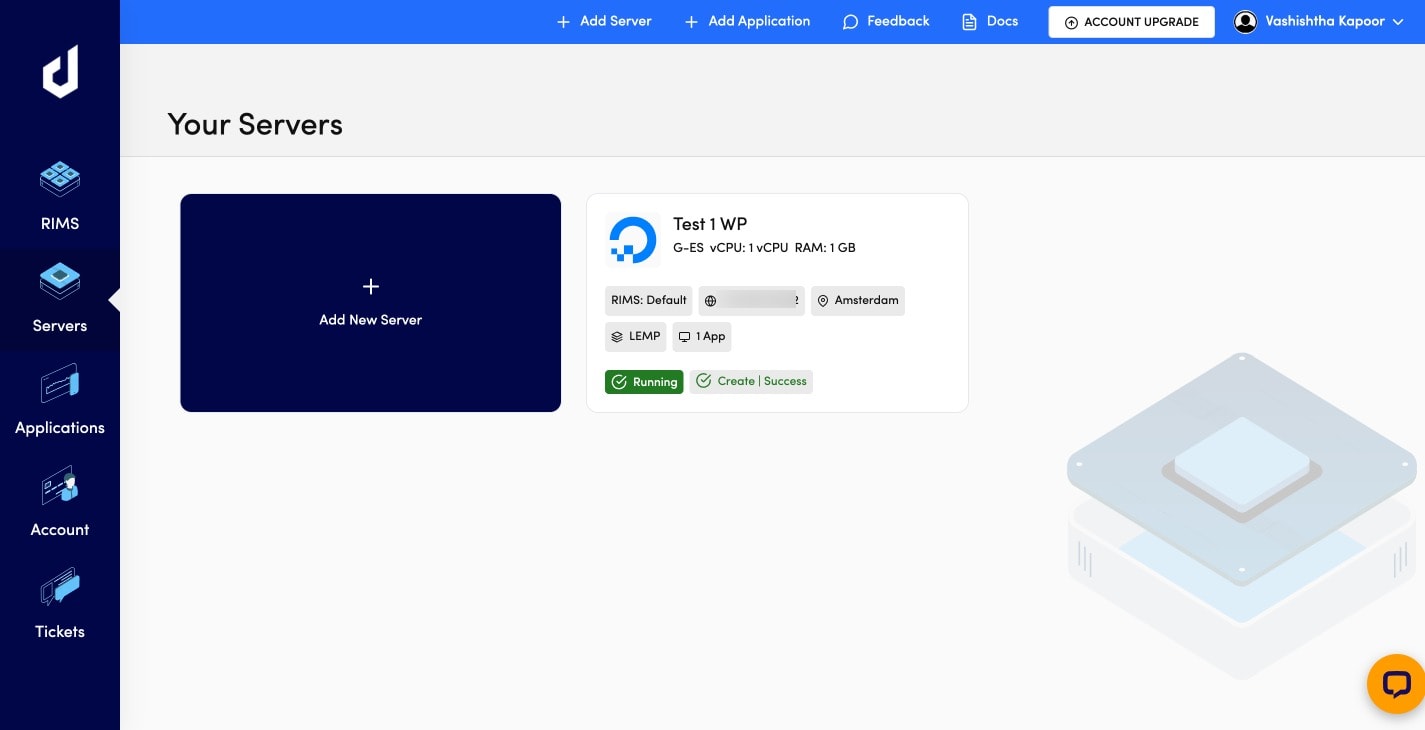 If you go to the Applications menu, you will see the application details. When you deploy more applications on the server, all applications will be visible here.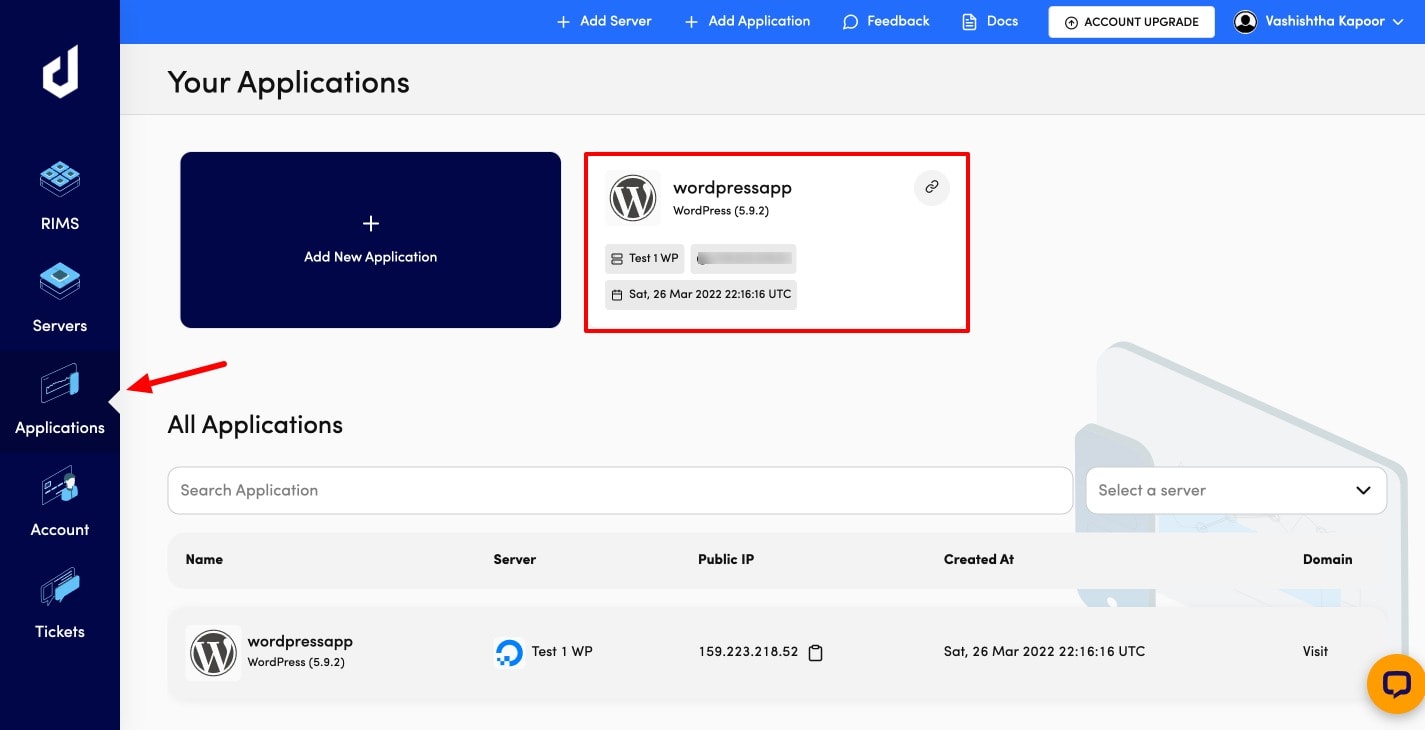 All set.
Start Free Trial of Devrims WP Hosting
How to Login to Web Apps?
Even if you forgot to copy the auto-generated password while deploying the application, it is easy.
Here's how you do it.
Go to Applications list >> Click on the application you want to log in >> See in Access Details >> Copy/show the password.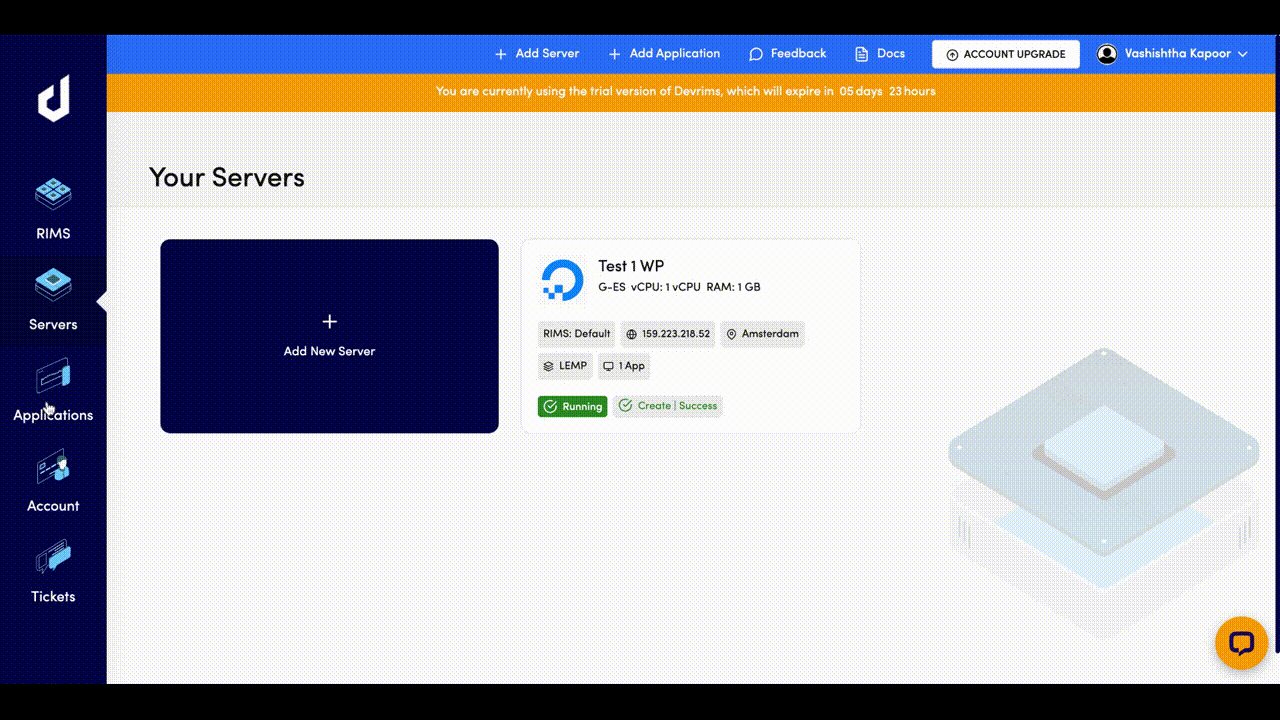 Easy. 😎
Easiest Server Scaling (General Purpose to CPU-optimized)
Servers are classified into three categories based on their technological specifications: memory-optimized, compute-optimized, and general-purpose. You may begin by selecting the most appropriate server type.
However, if you choose to migrate to a different server in the future, the server-scaling option is available with a simple click.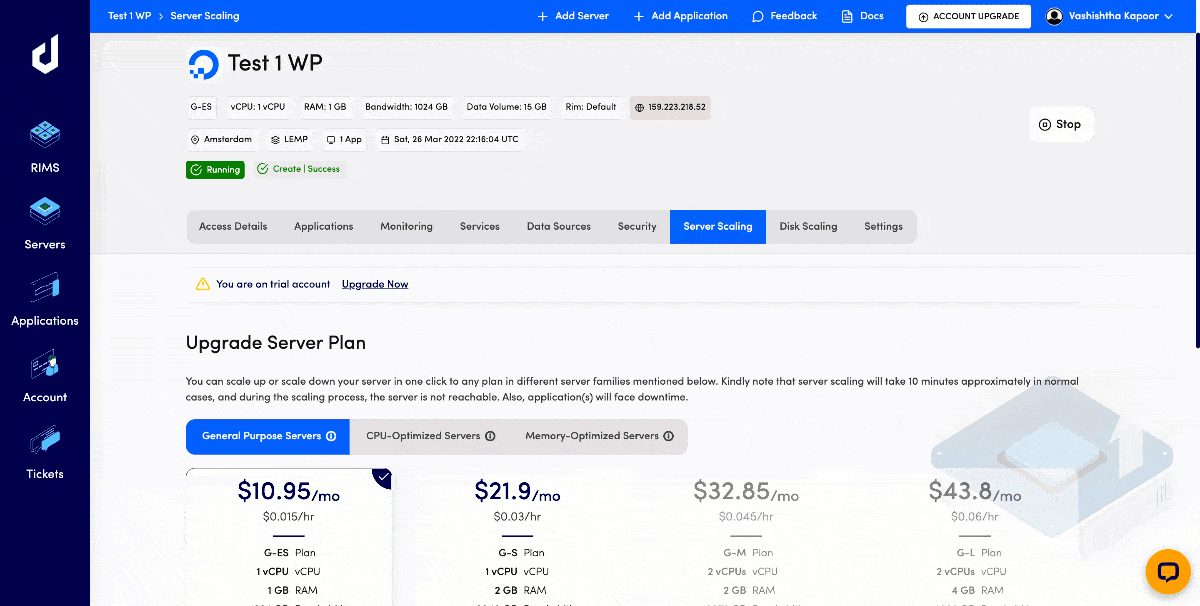 If more computational power is required, the compute-optimized server family delivers the necessary application resources. Nonetheless, if you are unsure which server family is suitable for you, the Devrims team will assist you. They will even help you select the most appropriate plan for your application's resource requirements.
Devrims Pricing
Depending on the number of resources supplied, dependable and excellent WordPress hosting services cost between $ 5 and $ 50 per month. Devrims provides various cloud hosting services that vary according to the server type. There are memory-optimized, computer-optimized, and general-purpose versions available.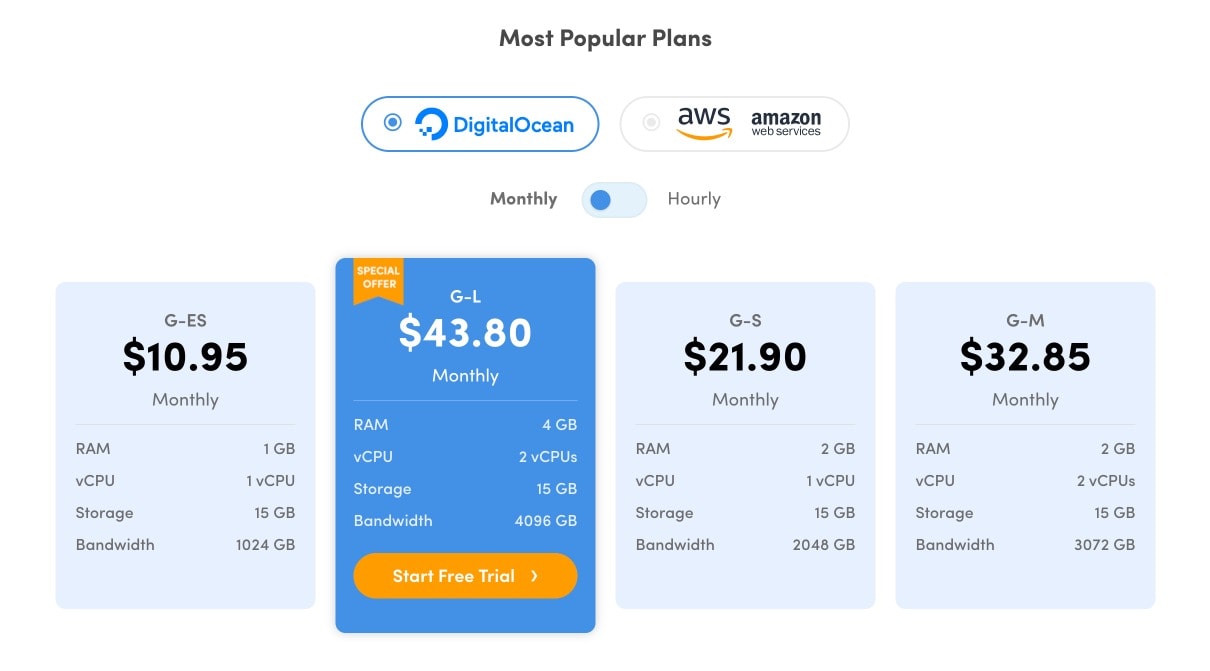 The most affordable option is $ 10.95 per month on DigitalOcean infrastructure. This plan includes
1 TB of bandwidth,
40 GB of storage, 1 virtual CPU,
and 1 GB of RAM.
Get Started with Devrims Now
Additionally, you have the option of paying monthly or hourly. Hourly rates for the same plan are $ 0.015 per hour. The best part is that you can easily host multiple websites on a single server.
If you do not have any unique hosting requirements for your website, the G-L plan is perfect. The cost per hour is $ 0.060, or $ 43.80 per month. This plan includes 4096 GB of bandwidth, 95 GB of storage, two virtual CPUs, and 4 GB of memory. Devrims provides a six-day free trial period with unlimited apps and no feature limitations on certain subscriptions.
Why do I recommend Devrims?
1. Managed Cloud Services
Fully managed cloud servers that are optimized for your website's requirements. I only need to choose a server and then forget about it. However, the majority of hosting companies already provide this service.
2. Fast SSD Storage and Network
SSD Cloud Storage optimized for I/O-intensive and mission-critical applications, coupled with a lightning-fast worldwide network. This is a vital feature for any cloud hosting provider, and hence I anticipated this.
3. Pre-Configured Services
The system automatically proposes the best-supported software services and versions according to the application type and version. This is particularly advantageous for less-experienced customers who want to access most services.
4. Unlimited Applications and Domain names
I may utilize various programs here, including WordPress, Woocommerce, and others.
5. Global Cloud Infrastructure
Over twenty data centers are strategically positioned across the world. This, in my opinion, is crucial for any organization with a global presence and something that many hosting options do not supply.
6. Super-Easy Management
This tool is simple to use and administer. I must admit that I have worked with various more advanced hosting options.
7. Next-Gen Server Security
Devrims seems to take security extremely seriously, having implemented a technique called Fail2Ban that immediately blocks any unauthorized request or brute force assault by default. This is another must-have item, in my opinion.
8. Proactive Support
Devrims is the ideal hosting option for entrepreneurs and enterprises seeking a dependable and quick hosting service. On the other hand, other possibilities include email hosting and phone support. And, although their help is responsive, it would be unfair to award them five stars when some of its rivals do not.
Devrims Customer Support
Along with superior server performance, security, and page load speed, they also provide 24/7 customer assistance. They deliver exceptional and prompt client service. However, please keep in mind that this help is only available through chat. There are no contact telephone numbers available. You must communicate with them through chat or email.
Devrims promises to provide all users with 24/7 ticket and chat assistance. It is backed by technical and qualified specialists. Additionally, it includes a comprehensive knowledge base containing almost all documents about the technical aspects of the managed cloud hosting services. The Devrims blog is another way for the firm to help and facilitate engagement with its users. The average time required to get the first answer was barely one minute.
As a newcomer to the sector as a Managed Cloud hosting provider, they have an exceptional response time. Their personnel is always available to answer your questions. Numerous well-known providers are also included, including Cloudways, Namecheap, Dreamhost, Hostinger, and BionicWP. They all provide good customer care but only through email and live chat. Mentioning these names demonstrates that the absence of phone assistance is insignificant unless your email and live chat function quickly and efficiently.
Conclusion – Should You Choose Devrims?
There are several WordPress hosting options available on the market today. Devrims easily competes with established industry leaders regarding premium features and comprehensive management over servers.
With Devrims' simple-to-use control panel, you can effortlessly set up or transfer your WordPress website to their servers and make modifications as required. The servers are supported by a dependable and well-trained support crew. With the option to pay hourly, you avoid exorbitant monthly subscription fees even during low-usage months.
If you're looking for a managed WordPress hosting service for your website, I suggest giving Devrims a try. You may sign up for a six-day free trial to see whether the service meets your requirements.
Get Started with Devrims Now
FAQs
How many websites can I host on one server with Devrims?
You may host an infinite number of websites on a single server without incurring additional costs for website installation.
They do not restrict your freedom; moreover, they provide limitless website hosting, unlimited domain names, unlimited free SSL certificates, and the ability to run a different PHP version for each website on the same server if necessary.
Do I need to give them my credit card details to start the free trial?
During the Free Trial period, no credit card or payment information is necessary. They provide a six-day free trial period with no restrictions on features but limits.
Is Devrims secure?
Nothing is more essential to them than the security of their customers and the maintenance of their websites and cloud servers. Nothing is more distressing than a hacked website or hosting server. They take security extremely seriously and have installed security firewalls on all servers and prohibited access to your servers from any blacklisted IP addresses. Their technique prevents server brute force attacks against SSH and SFTP access. Devrims gives a free SSL certificate from Let's Encrypt to safeguard your websites. They have a specialized staff of security specialists responsible for resolving security issues.