If you want to purchase expired domains, then read Domain Hunter Gatherer review.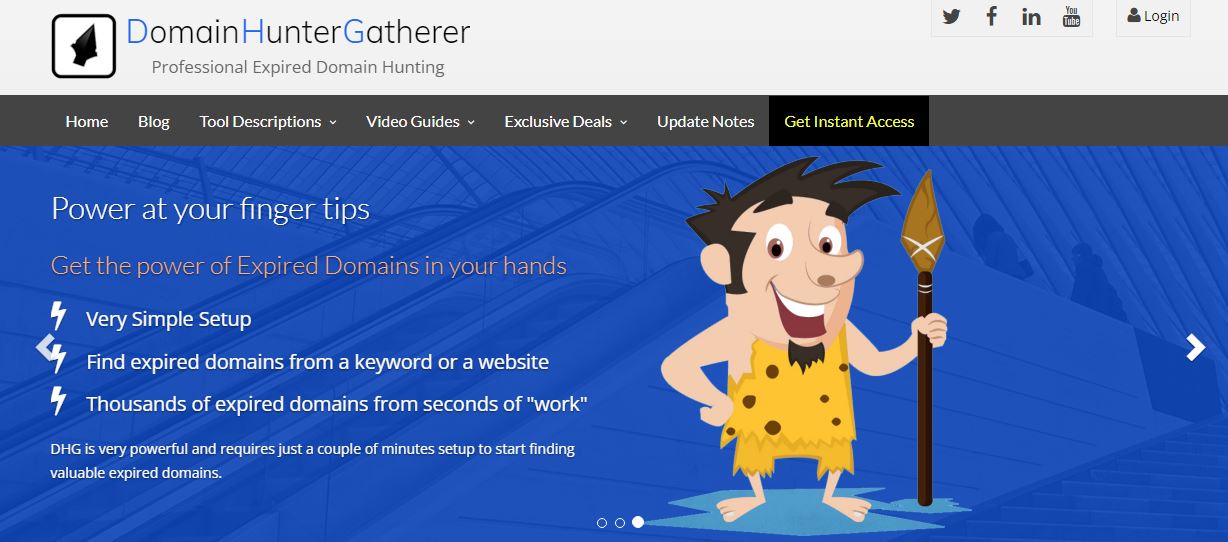 When you are building authority sites or private blog networks, or when handling 301 redirects, expired domains are helpful. Alternatively, they can assist in improving your search engine rankings by helping you develop your own unique authority site.
It is very challenging to find expired domain names that meet your needs. Aside from the domain name itself, you need to examine metrics such as age, DA, and trust flow to ensure that the links on the site are not spammy. The next step is to check if the website has been blocked by Google or any of the other search engines.
Buying expired domain names can be time-consuming and tiresome. Just because a domain name is available doesn't mean it should be grabbed. It is also important to remember that most business owners do not have the time to search for quality expired domains. An expired domain name needs to be found quickly and efficiently.
With Domain Hunter Gatherer, you don't have to guess what expired domain names are. Using a single dashboard, all the essential metrics and other functions are easily accessible.
I will summarize the features of Domain Hunter Gatherer in this review. Pro and Premium plans will also be compared.
Using domain hunting tools like Auction Hunter, DomRecovery, Web 2.0 Hunter, and more, Domain Hunter Gatherer helps you locate expired domain names in a short period of time.
Let's see whether Domain Hunter Gatherer is the best resource for expired and aged domain names available today. Go on and read the Domain Hunter Gatherer review to find out more about this platform.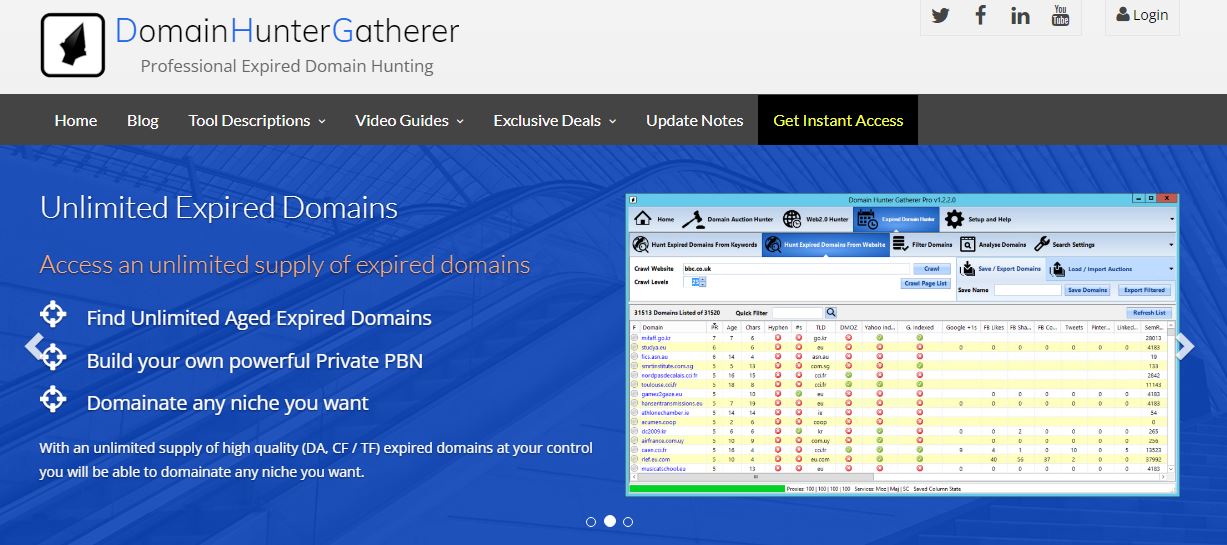 You can search a nearly unlimited supply of high quality expired domains with Domain Hunter Gatherer's desktop-based tool in real time.
Majestic, Moz, and other backlink checkers provide all the necessary metrics. A site's quality can be determined by this.
You will be able to avoid all of the common pitfalls while purchasing expired domains with this tool.
Domain Hunter Gatherer Features

There are multiple features in DHG that make finding aged domains easier. It offers a number of tools and key metrics to ensure that you have access to well-aged and high-quality domains. It allows you to run everything on autopilot.
DHG's top features are listed below.
Clean User Interface
Through DHG, you can streamline the entire process of hunting domains. The user interface is easy to use and has a friendly feel. Here's an example of what's on offer.
You can easily filter domains with multiple metrics by using the interface's domain filtering option. You can save and load these filters for use at a later date.
By comparing domains, you can locate what you are looking for. The domains quality check allows you to identify metrics like price, age, and other characteristics of the domains that you found in your research.
Is there another date when you can utilize the domains you found for further analysis? Sure, no problem. Domains can be exported and imported through the interface. By doing this, you can easily save the domains that you find and load them again when necessary.
In DHG, multiple threads can be run simultaneously so you don't have to wait for long periods of time before your results can be analyzed.
Domain Auction Hunter
DHG offers you unlimited usage of this tool for free. It is included in all three plans. This tool streamlines the process of searching for domains on auction sites. It filters domains according to multiple metrics and allows you to save and load a list.
There are multiple domain auction sites online, and it will take you a long time to examine each one. Manually performing this task can become repetitive, redundant, and time consuming. It is easy to find the best deals across the entire internet using the domain auction hunter tool.
If you want to refine your search even further, you can check or uncheck which domain trading sites DHG should use when doing its search.
Domain Auction Hunter currently offers the following trading sites:
GoDaddy

Snapnames

Flippa

DynaDot

NameJet

Huge Domains

Bido
You can use DHG's domain auction hunter to search all the domain auction sites with a single search. It will show and provide you with all the domains for sale that are related to the keyword you have entered from the major auction sites.
The dashboard allows you to quickly check the quality of all the results and compare them with each other to find the best ones.
Web 2.0 Hunter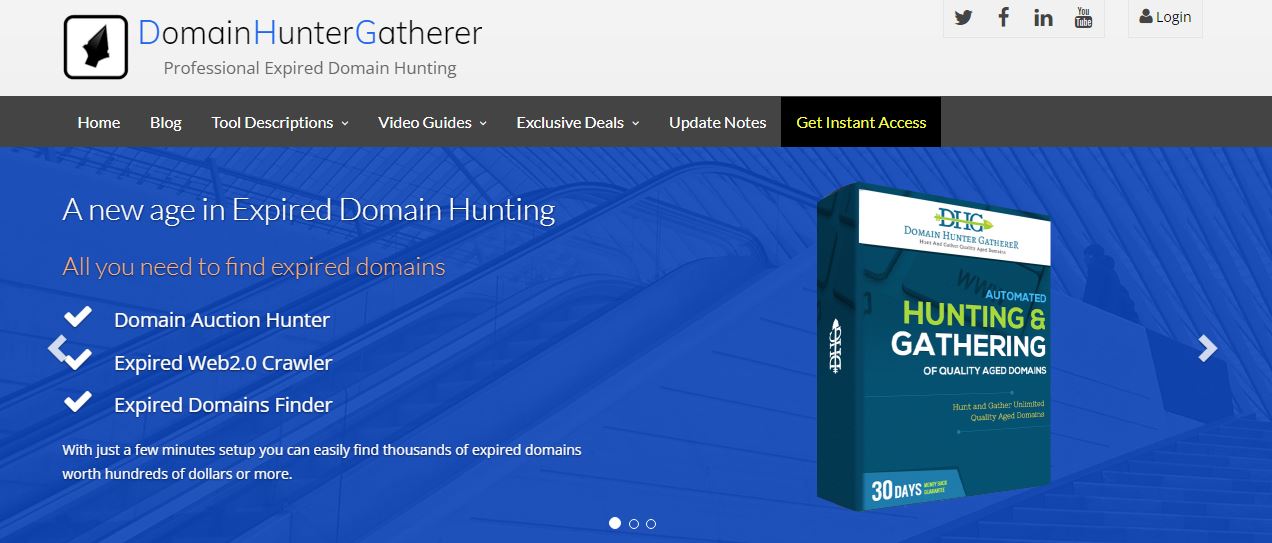 The tool is available in premium and professional plans. This tool shows you which accounts are available on Web 2.0 and blogging platforms.
Web 2.0 links from high authority sites have a huge impact on ranking. For those familiar with this game, there is power in owning accounts that have strong backlink profiles and strong social media signals. This tool helps you find accounts that you can buy and use to your advantage using the Web 2.0 hunter.
All you have to do is enter a keyword and DHG will show you the available accounts within seconds. You can easily compare the results, as they come with key metrics.
Using the Analyze Web 2.0 tab of this tool, you can determine the quality of any domain with a single click of your mouse. This tool shows you metrics and analysis, along with checking if your site is indexed in search engines.
Moreover, it displays the domain's social media interactions and signals including Facebook likes, tweets, and more. By sorting by domain quality, you can even choose a domain that is more appropriate for your business.
Also, you can modify the search settings and make your search even more specific by checking or unchecking the web 2.0 and blogging platforms you want DHG to search from. If you do this, you will be able to search for specific platforms from which you want to search.
DHG can search the following blogs and web 2.0 platforms:
Tumblr

Blogspot

Weebly

WordPress

Blog.com

Svbtle

Webs

LiveJournal

Typepad

OverBlog

Blurpalicious

DrupalGardens

Tripod

Jigsy

Jimdo

NewsVine

Postagon

Wikidot

HubPages

SnapPages
Similarly, you can easily save and load your results for future use as with domain auction hunter. In addition to settings, you can also save and load filter settings.
Expired Domain hunter
A professional plan is required to use this tool.  It is basically a tool that searches for expired domains.ly. You can select a niche by using keywords to search for specific domains or you can be more general. It also crawls any website and finds any aged domains linking back to a high-authority site or your competitor.
The tool provides complete metrics and analytics that are similar to the domain auction hunter and web 2.0 hunter, including domain age, PR, Social Shares, Moz stats, Majestic stats, and whether or not the domain has been indexed in the top search engines. Additionally, you can save your list and filter settings for future use.
All the best webmasters know you can save years of work by purchasing domain names that have already established themselves online.
 Many webmasters go to auctions in order to acquire premium domains worth thousands of dollars. Most of them are unaware that you can register and reuse thousands of expired aged domains, which can offer the same benefits.
The Expired Domain Hunter tool from BHG can help you identify old domains that are the same price as they were when they were registered.
Expired domains can be found using four types of tools in this tool. The hunt expired domains from keywords tab allows you to search using a niche-specific keyword or conduct a website crawl from the hunt expired domains from website tab.
DHG will also be able to check which domains are available by importing and exporting your own list of domains.
Extra Features for Professional Plan Users
In addition, you have additional features in the professional plan that can make using your aged domain even simpler. There are also features such as DomDetailer, DomRecovery, and Easy Expired Domains.
DomDetailer
DomainDetailer is a piece of software that gets its statistics from Moz and Majestic. Links, CFs, TFs, referral domains, DA, PA, rankings, and trust ratings are included in this list. With the pro plan, this tool is included for free despite being valued separately at $39 per month. With the professional plan, you get 50k API calls per month for Majestic and Moz without registering or holding accounts with either company.
DomRecovery

With this tool, you can view how the expired domain appeared before it was taken offline. All content and theme settings can be saved. Building a private blog network will be a lot quicker this way. The internet archive's Wayback machine can help you restore the old appearance of a domain you have purchased instead of spending hours reconstructing it. As if you were Dr. Frankenstein, you're reanimating the Frankenstein monster. Professional Plans include this tool.
Easy Expired Domains
By typing in a niche keyword into the scraper, you will get thousands of expired domains in a few seconds. It is valued at $47 per month, but subscribers to DHG pro plans receive it for free.
Domain Hunter Gatherer Pricing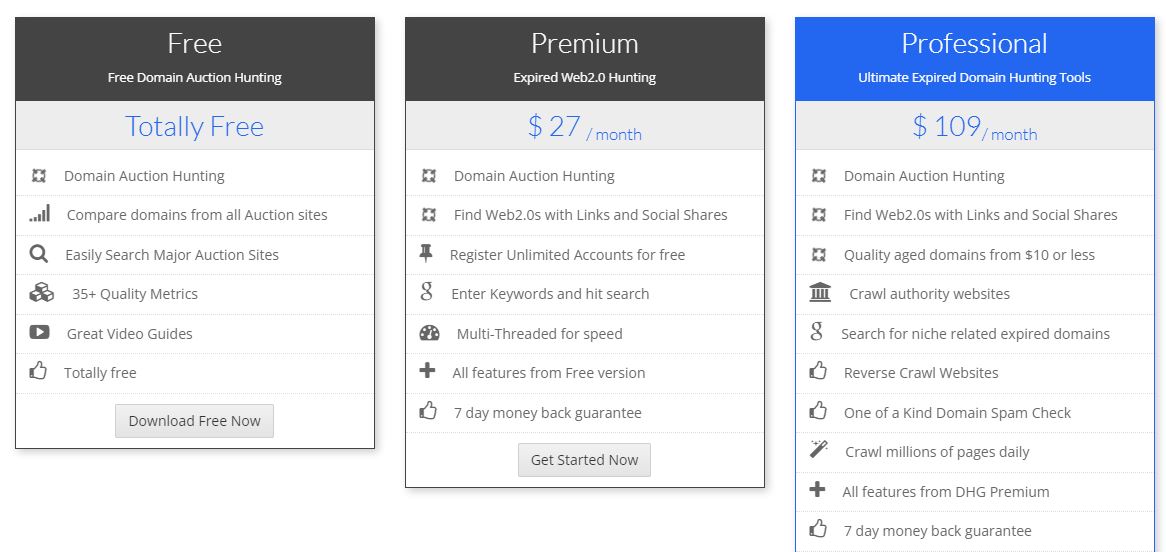 You can choose from three different plans at Domain Hunter Gatherer. Each plan has a different set of features and a different price.
1. Free
Price: N/A
Designed specifically for Ad-Supported Domain Auctions

Comparing domains across all auction sites

View Age, DA, CF/TF, and Backlinks

More than 35 quality metrics

Videos that are great

It's totally free
2. Premium
Price: $17 per month
Designed specifically for Expired Web 2.0 searches

Includes all the features of the "Free" version

Unlimited free accounts registered

Hit "Search" after entering keywords

Faster due to multi-threading

They offer a 30-day money back guarantee
3. Professional
Price: $87 per month
Expired Domain Mining in addition to the features in "Free" and "Premium" versions

Domains under $10 that are quality and "aged"

Websites with authority are crawled

Expiring domains related to a niche

Crawl websites in reverse

Spam checker for unique domains

Thousands of pages are crawled every day

Money back guarantee of 30 days

Stats checking by Moz and Majestic (50K per month)

Dom Recovery (worth $97 each)

You can now access easy expired domains for $47 a month 
You can also try out the DHG Professional plan for free before purchasing it so you can see if it is worth your money. To learn more about DHG's services, plans, prices, and features, please visit the official website at www.domainhuntergatherer.com.
Frequently Asked Questions
What is Domain Hunter Gatherer?
With Domain Hunter Gatherer, businesses can grab quality domains in one click using an expired domain scraper. It is often unrenewed or unused domains that attract quality backlinks.
What makes a Domain Hunter Gatherer the best among its competitors?
In the market, Domain Hunter Gatherer stands out from any other software because of the 30-day guarantee and the promise of quality aged domains and backlinks.
Is domain hunter gatherer worth using?
There is a free version available, if you are still unsure if you should buy it or not. However, it is recommended that you use the premium or professional one to achieve successful SEO.
Domain Hunter Gatherer accepts what types of payments?
In the meantime, Domain Hunter Gatherer accepts payments through PayPal, Credit Card, Debit Card, Pay by mail, fax, or telephone, and Local Bank Transfer, Skrill / Moneybookers, and Wire Transfer.
Also Read:
Conclusion
If you want to streamline the "Aged" domain hunting process, Domain Hunter Gatherer is one of the top choices. You are able to get all the features you would desire when hunting for old and expired domains that you would like to acquire. This company has been around for a long time and offers 24/7 support.
You can compare domains from one dashboard using multiple metrics and analytics. The sleek and optimistic interface is easy to use.
Even if you intend to use aged domains for a variety of purposes, you cannot ignore their power when you repurpose them. Domain Hunter Gatherer makes it incredibly easy to acquire the best-aged domains to meet your needs.