Are you confused about whether eFax is worth it or not? I can help you out with this eFax review. eFax is a virtual fax service that allows users to send and receive faxes using an email address or through their website. 
Their slogan is "Send Faxes From E-mail", which they aim at small business owners who rely on e-mails to communicate with clients, suppliers, etc. They are the most popular service, available worldwide.
Here, in this article, I will tell you everything about eFax that will help you make an informed decision of whether it is worth it or not. So, stay with me till the end.
What is eFax?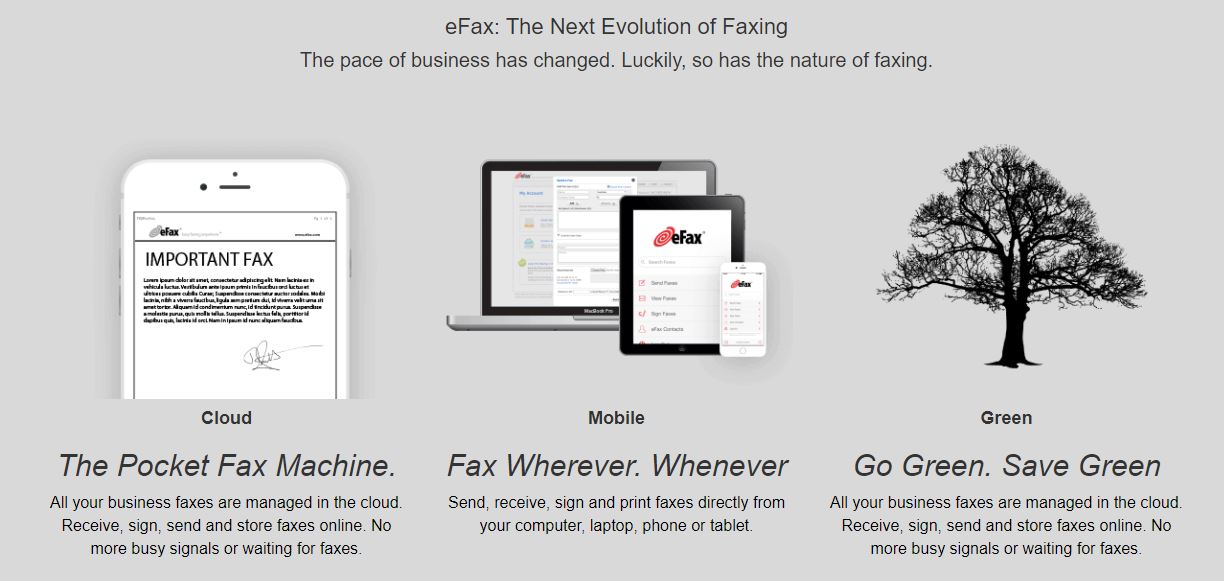 eFax.com is the world's most popular online fax service, and they let you send and receive faxes via email. It couldn't be more simple than that.
With their service, you can instantly send and receive real fax using your existing email account (Gmail, Hotmail, Yahoo!, etc.).
The email with the attached fax will arrive directly in your recipient's inbox just like any other email – no complicated software or equipment to set up.
They offer toll-free fax numbers for U.S. and Canadian customers, plus 30+ country-specific eFax numbers if you need to send fax outside North America.
You can also use a personal eFax number with a local area code to avoid long-distance charges on your faxes. eFax is very easy to set up and use, I think it's the simplest virtual fax service on the market.
It's compatible with all major e-mail programs and popular web browsers, including Internet Explorer, Firefox, Google Chrome, and Safari. 
You can also send faxes directly within Microsoft Outlook. The official website is well organized and features some informative video tutorials if you need them. They also have a support team available by phone or email.
What Are Some Ways I Can Use eFax?

eFax.com provides faxing services to individuals, small businesses, and large corporations like Sony, Toshiba, IBM, and others. Their service can be used for everything from sending a fax to running your home-based business by faxing quotes, orders, or invoices to clients/customers – even report cards to parents.
eFax also has several features which can help you stay organized and save time, including being able to scan and fax documents directly from your PC/Mac.
You can also send a fax directly from LinkedIn, Gmail, or Outlook with their feature-rich email to fax service. In addition, they have several tools that allow you to track and manage your faxes online, and even view them on your mobile device!
How Does eFax Help You?

Everybody with a phone these days is familiar with the voice mail services offered through their service providers. These are usually pretty good attempts at simulating the telephone answering machine concept but as anyone who has used them can attest to, they don't do what you want for receiving faxes.
For those of us who receive a lot of faxes, keeping track of them all in a paper form is not only cumbersome but also nearly impossible at times. So it's no wonder that these services are being widely ignored by fax users.
With the advent of email, faxes were set to become just another one of those annoying junk emails that you have to weed through to get your important messages. But the simplicity of faxes makes them ideal for use in email, especially with the widespread availability of free email accounts these days.
Faxing through email is truly where it's at now, and it's revolutionizing fax technology. Today I'd like to introduce you to eFax which allows you to easily send and receive faxes through email.
The idea of faxing through email might at first seem a little bit strange but it's quite simple. When you send someone an eFax, they receive the message in both HTML and plain text forms.
The HTML form is usually displayed using a web browser, while the plain text version can be easily viewed with any text viewing program including editors, fax software, and more. Here are some situations when you might want to use eFax.

You've got a low-cost phone line with your ISP where you get a free voice with your email account but not email access with your regular telephone number. By sending outbound faxes through your email account, you can use your low-cost phone line to send faxes for free.

You've got a separate voice line with your ISP where you get a free email but not voice access. By sending all of your faxes through email, you can use the more popular common service (email) rather than the less popular one (voice).

You're able to take advantage of high-speed ADSL, Cable Modem, or other broadband services which allow you to go online with your ISP but don't have voice service. By using eFax in conjunction with a separate Internet fax email account that you subscribe to, you can send and receive faxes at any time without tying up the phone line for voice calls.

You're a business that's got an ISDN, T1, or T3 line where you can receive faxes on your voice line but not email messages. By forwarding any incoming faxes to your Internet fax email account, they'll show up in the same inbox as all of your other emails rather than having them go directly to your voice inbox.

You can list multiple email addresses on your account so that you can send faxes to any destination desired. eFax has an automated process for signing up new accounts which is simple and easy.
eFax Reviews: What People Say About eFax?
According to the reviews, eFax does a good job in this area. Some companies fail when they attempt a global expansion into new markets because they don't hire enough people who speak the language, or they don't provide resources to translate between languages.
The reviews, though, show that eFax can provide service in many different languages for their customers worldwide.
Another question that comes up when looking at reviews about an international company like eFax is, whether or not they are regulated by government organizations in various countries.
When Google's Gmail went global, it wasn't regulated by any one agency in the United States but was subject to regulation in other countries.
When a service is not regulated, then that means that there are no standards for ensuring the privacy of messages sent through the service. The lack of standards also makes it difficult for people who send messages through Gmail to know what their rights are as a customer, or what the rights of their customers are.
In eFax's case, though, they have been regulated by the U.S. government since they began business in 1996. According to reviews, eFax provides strong encryption and security for all faxes sent through their service to ensure that there is no way that anyone can access the information without having authorization.
eFax also has a longstanding reputation of being very cost-effective. Many of their customers mention this in reviews, and it's clear that eFax's services are priced reasonably for what they offer to their customers.
People who use eFax also appreciate how easy it is to sign up for an account. Typically, people can sign up with their existing email address, which can save them time and energy by not having to go through the process of creating a new username and password for an online fax service.
Some services, however, are inundated with spam emails after they have released information about their users. Customers who use eFax appreciate how easy the process is, and there haven't been many reviews about spam emails like there are with other services.
eFax also offers a variety of features to accommodate different types of faxing needs. People who need occasional fax will be able to use their service much more affordably than someone who has to send multiple faxes per day.
People who send faxes daily also will appreciate the fact that eFax can provide service around the clock, so there's never any interruption of service when it comes time to send or receive messages. The availability of service all the time is very useful for people who are running their businesses and need fax services for their customers.
Overall, it seems as though eFax is doing everything right. Their customer support team may be one of the best teams in the industry as far as responding quickly and accurately to requests from customers.
Sending a fax doesn't have to be difficult, but it can be time-consuming enough without having to worry about accuracy, security, or service availability. The company aims to take care of all of these concerns for their customers so that they can focus on the more important aspects of running a business.
eFax Pricing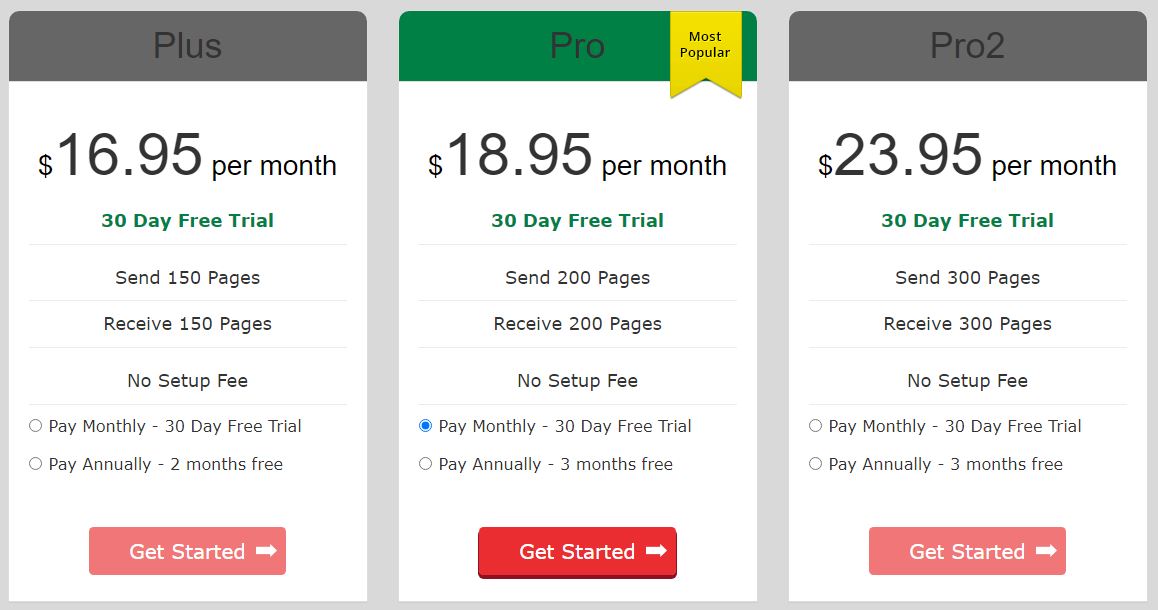 eFax has three pricing plans to offer –
Plus Plan: This one will cost you $ 16.95 per month and with this one you can send 150 pages and receive 150 pages as well. In case you wish to pay yearly, this plan will cost you $ 169.5 per year i.e. you will get 2 months free.
Pro Plan: This one will cost you $ 18.95 per month and with this one, you can send 200 pages and receive 200 pages as well. In case you wish to pay yearly, this plan will cost you $ 170.55 per year i.e. you will get 3 months free.
Pro2 Plan: This one will cost you $ 23.95 per month and with this one, you can send 300 pages and receive 300 pages as well. In case you wish to pay yearly, this plan will cost you $ 215.55 per year i.e. you will get 3 months free.
Keep in mind that eFax offers a 30-Day free trial.
How To Get Started with eFax?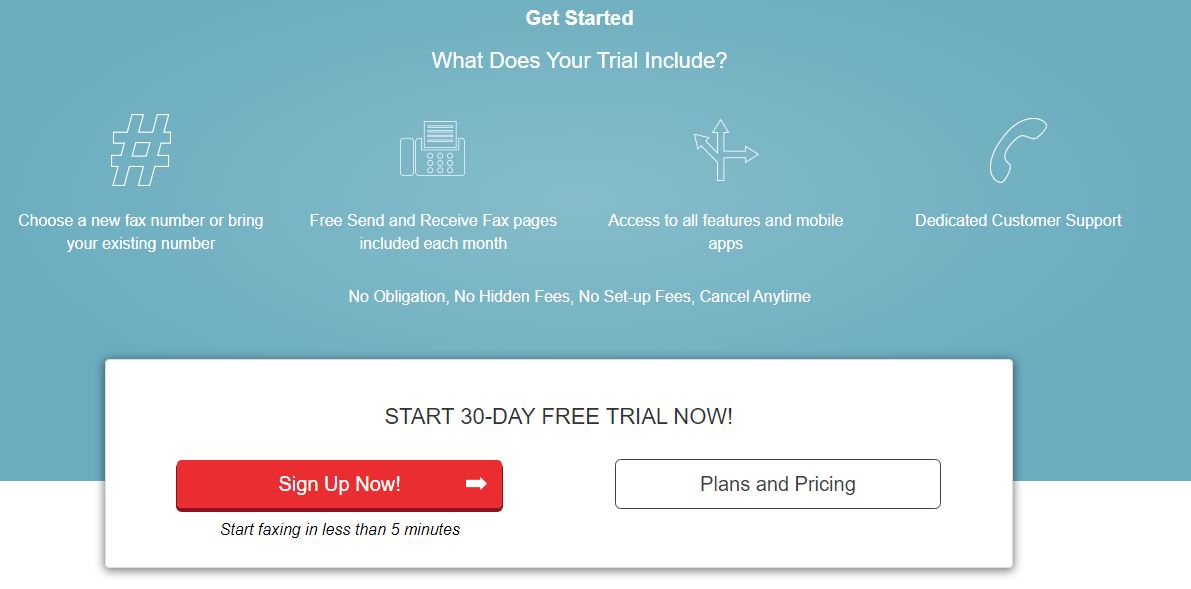 eFax is a free web-based online fax service. By using this service you can send and receive faxes through your email account (Gmail or Google Apps).
You simply go to their website, signup, and choose the type of fax account you would like (personal, business, etc). Choose to pay either monthly or annually and click on Get Started.

Now enter in your personal information such as your name, phone number, email address, and fax number. You will then be sent a confirmation email that you must respond to activate your new eFax account.

Once you have activated your account it's time to send your first fax!  When sending a fax, simply place the document or page face down in the scanner and click scan.

Next, choose your fax service provider. Enter the recipient's fax number and address in the "To" field. You can then send a test page to yourself to make sure everything is working properly before sending any important documents. Finally, attach the document you want to send to your email and click send.
eFax Review Verdict: Why do I Recommend eFax?
Not only do you get to rest at night without being disturbed by caller ID, but with a fax service such as eFax, you'll be able to sleep even better knowing that your confidential information is secure. Just because this is a fax service does not mean that the security measures are any less stringent than other businesses' security measures.
For example, unlike some other fax services out there, eFax does not allow customers to send faxes to any number they choose. Instead, each number must be verified before it can receive faxes through this service.
Even if the eFax customer is attempting to send a fax within the same country as themselves, eFax will still verify the number before allowing it to receive faxes through their service. Since only people who are supposed to receive your faxes will be receiving them, you'll never have to worry about sensitive documents ending up in the wrong hands again.
FAQs About eFax Review
Is eFax the right fax service for me?
Of course, it is. If you need to send and receive faxes quickly and inexpensively, they're confident that their online fax service will be a perfect fit. Try it today and see for yourself!
Is eFax safe?
Your security is their top priority. They offer multiple levels of security to ensure that you feel protected when using their service. Their fax servers are protected by Symantec (McAfee) for the virus, spam, and phishing protection - not to mention state-of-the-art firewalls to keep hackers out. They never sell or give their customers' personal information to third parties and they employ a team of professionals who monitor the eFax network, sniffing out viruses and malware before they ever reach your inbox.
What if I don't have an email?
No problem - they have plenty of options for you as well. They offer their Basic FAX software so you can send and receive faxes via your desktop computer. Also, you can choose to send your faxes via SMS (text) message through their eFax.com Mobile app. They also offer easy-to-use SoftFAX for Windows and Mac users which lets you use your favorite fonts, colors, logos, and other graphic elements when faxing on the go.
How Does eFax Work?
You can send and receive faxes without a fax machine. It's easy! Just sign up for an eFax account, buy some credits and you can send or receive faxes from your home computer. Make sure to check the system requirements before signing up so that you know whether or not eFax will work on your computer. eFax is easy to use, just sign up for an eFax account and buy some credits.
Is eFax legit?
Yes, eFax is legit. If you are looking for an easy-to-use, reliable, and inexpensive way to send faxes, then eFax could be the solution you are looking for. eFax is an online fax service that allows you to send faxes without having to use a fax machine or phone line. All eFax has is internet access. Anyone can use eFax, regardless of your fax machine. All you will need is a computer and internet access. eFax offers a 30-day free trial so you can try it out before you buy anything.
Also Read:
Conclusion – Is eFax Worth it?
eFax is a high-quality service that offers value for money with its competitive rates & easy to use interface. The software included or available for download is also one of the best I have seen and puts many other similar services to shame.
Considering the inexpensive price, eFax does give fantastic value for money and you can get up and running within minutes.
For compatible systems, eFax is a service I can easily recommend to anyone requiring an easy way to send & receive faxes via email or their online portal. It may not be 100% perfect but the advantages far outweigh the disadvantages and it's worth checking out.
I experienced a few quirks with some of the other 3rd party software, but these were not major issues at all. I have been using eFax for several years now and would never look back. I have saved hundreds of dollars, so I can recommend it highly enough.