If you're curious about FeetFinder and wondering if it's a legitimate platform for selling foot pictures or a scam, this review is for you. 
FeetFinder is a popular platform for foot enthusiasts and sellers alike, with a reputation for being safe, user-friendly, and secure.
In this comprehensive FeetFinder review, we'll take a closer look at what FeetFinder offers, how it works, the pros and cons, and what you need to know to get started.
Whether you're interested in selling foot pictures or just curious about this unique corner of the internet, read on to learn more about FeetFinder.
FeetFinder is 2019 launched online platform that has gained popularity among foot devotees and those who sell photographs of their feet.
The platform's user-friendly interface and secure transaction system have earned it a solid reputation within the community, making it a popular option for individuals interested in purchasing or selling foot photographs.
The platform's TrustPilot rating of 4.8 demonstrates the high level of user satisfaction with the service offered. This rating indicates that users feel safe and comfortable purchasing and selling foot photographs on the platform.
FeetFinder offers a variety of foot images for purchase, ranging from simple images of toes and soles to adorable images of feet in various poses and settings. 
The platform accommodates a wide variety of preferences and interests, ensuring that there is something for everyone.
The user-friendly interface of FeetFinder makes it simple for customers and vendors to navigate the platform and browse, purchase, and sell foot photographs.
In addition, the platform includes a messaging system that facilitates communication between customers and vendors, thereby providing a secure and expedient method of conducting transactions.
FeetFinder Review – How Does FeetFinder Work?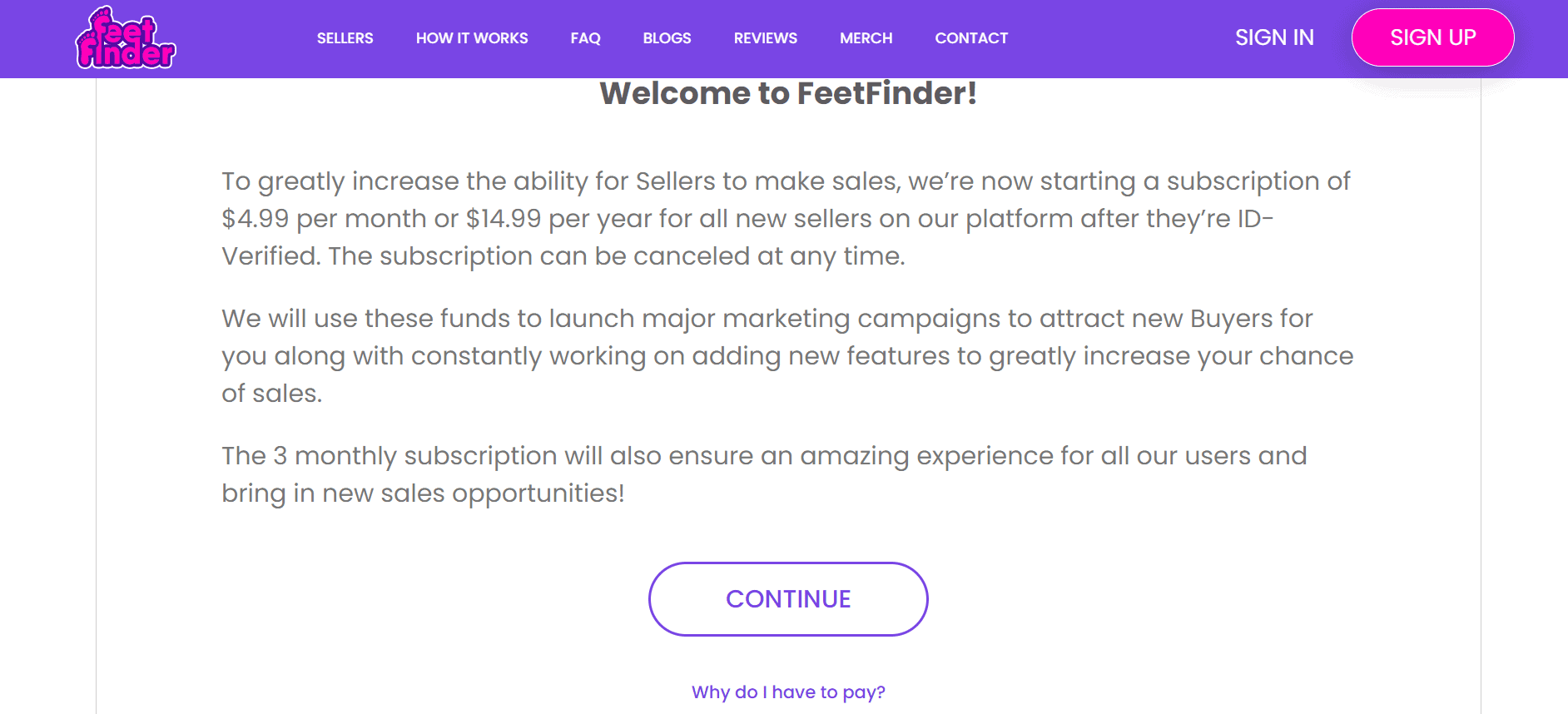 📌 Sign-up process
The sign-up process for FeetFinder takes at least 5 minutes to complete. During registration, users are required to provide their email address, username, and password.
Additionally, all sellers must go through an ID verification process before they can complete the sign-up process.
The verification process helps ensure that all content available to buyers comes from real people, which is important for maintaining the authenticity and trustworthiness of the platform.
📌 Purchasing content
Buyers can browse through the list of sellers on the platform and select the ones they are interested in. Once the buyers find a seller they like, they can purchase individual photos and videos from the seller.
To buy foot pictures or videos, the buyers will need to have an account on the platform.
📌 Acceptance of offers
Once an offer is made by the buyer, the seller can choose to either accept or reject the request. If the seller accepts the offer, they will deliver the content to the buyer. If the seller rejects the offer, the buyer can make another offer or look for another seller.
📌 Blurred preview images
FeetFinder automatically blurs the sellers' feet images on the platform, but it allows buyers to see a preview of the feet images. This method helps ensure that sellers get paid, and buyers get what they pay for without question.
This is essential because it helps to maintain trust and credibility on the platform.
📌 Secure payment processing
To ensure that all transactions on the platform are fully secure, FeetFinder partners with Paxum and Segpay, both of which offer secure online payment processing.
US-based sellers receive payment through Segpay, while international sellers receive payment through Paxum. This ensures that sellers receive their payment safely and efficiently.
FeetFinder Review – How To Earn Money 💰 From FeetFinder?
Step – 1: To begin using FeetFinder, you must create an account. Click "Sign Up" in the upper right corner of the website.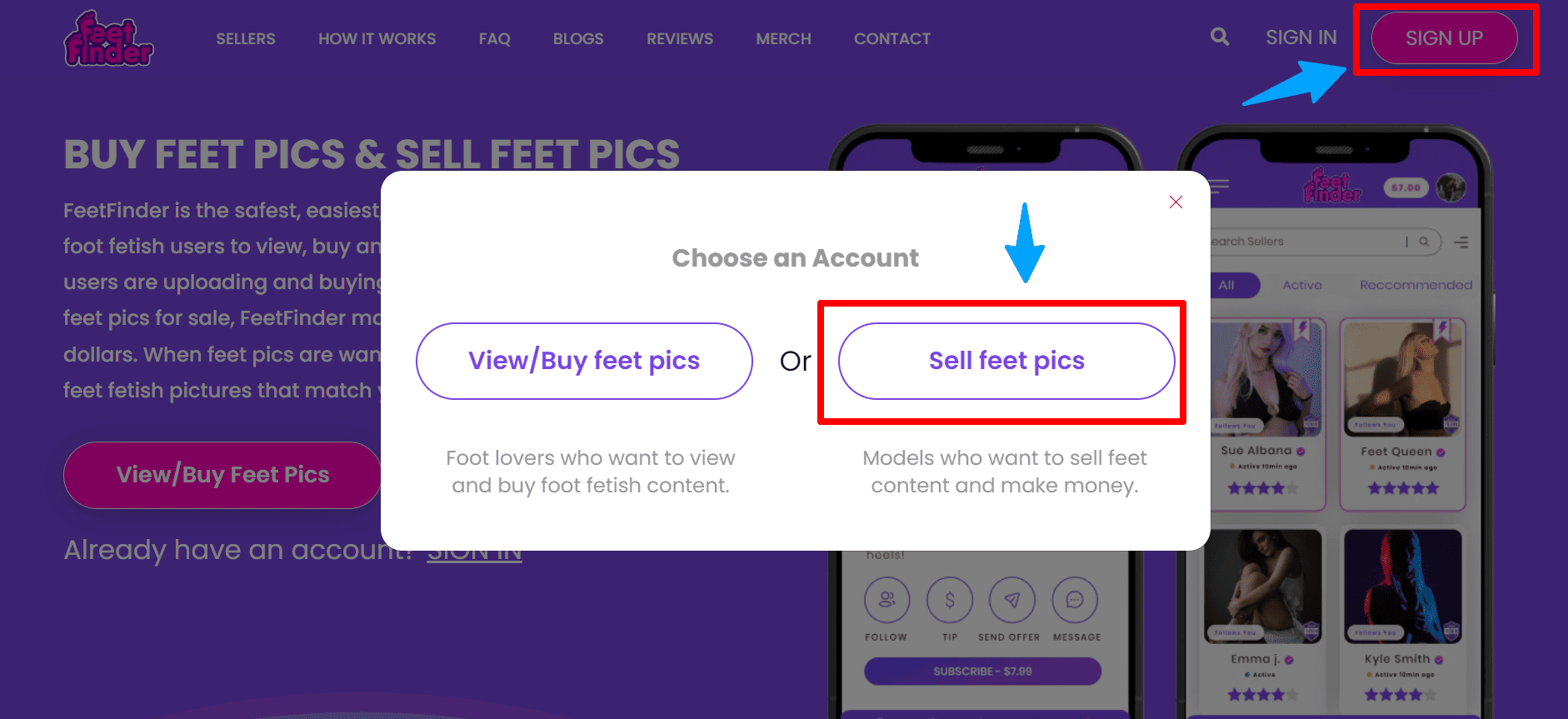 Step – 2: Check out the pricing that allows you to choose a monthly or yearly plan. Click on Continue to proceed further with account registration.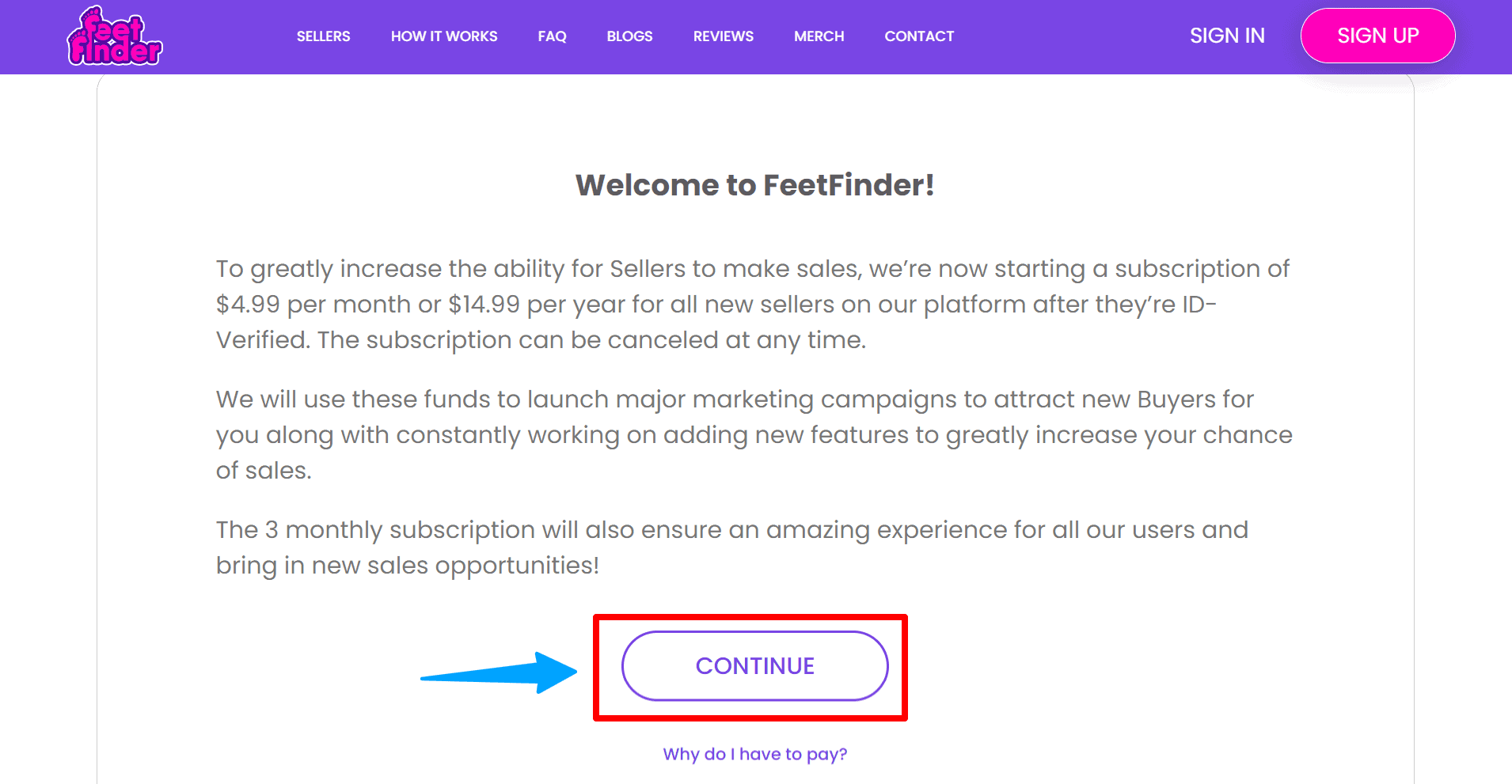 Step -3: Complete the form with your email address, username, and password. It is mandatory to upload your ID proof. Your Birthday should match your ID proof. Click on Sign up.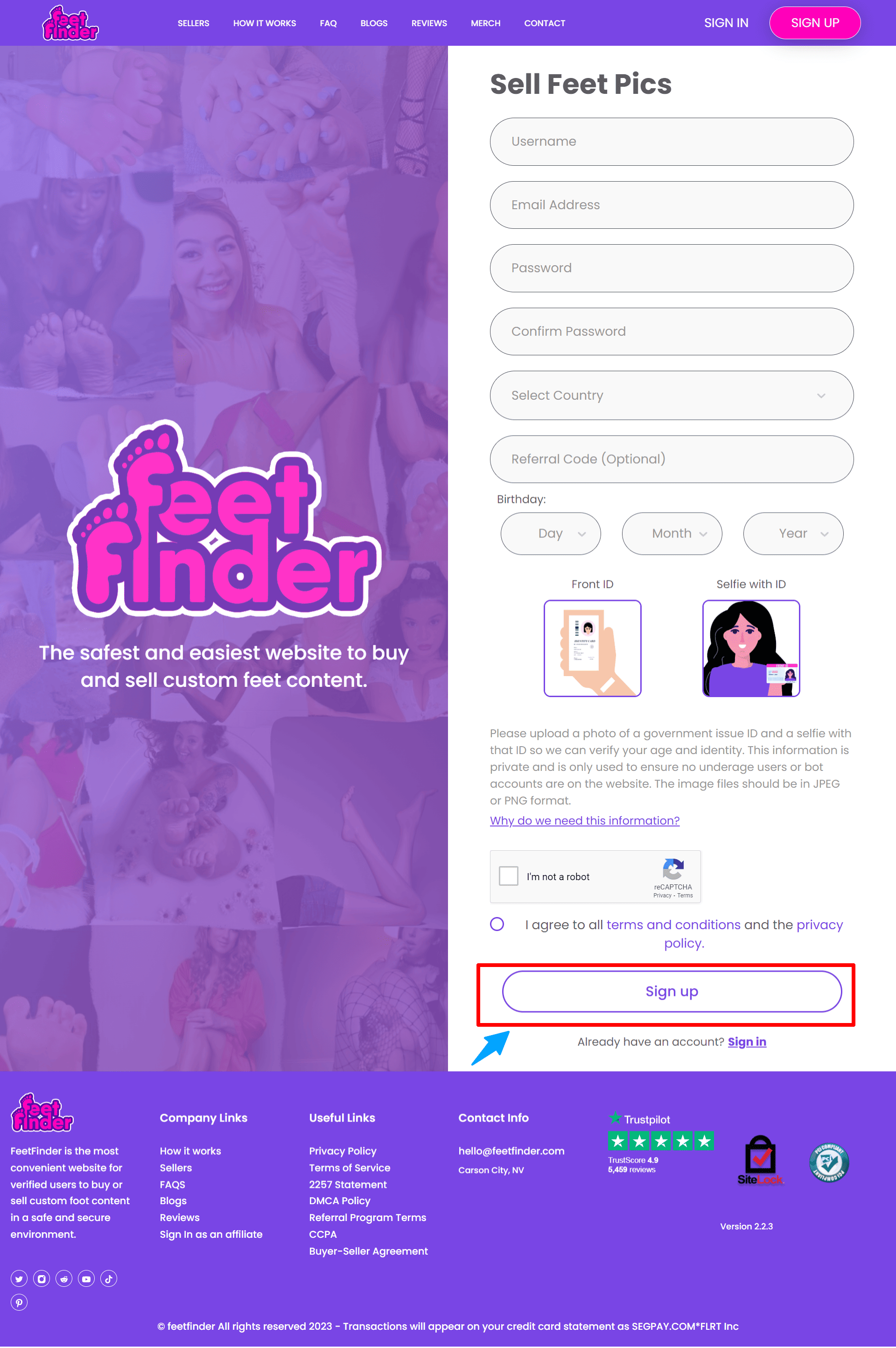 Step – 4:
After registering, you must establish a profile by completing your bio and uploading high-quality images of your feet. This will help you attract customers and differentiate yourself from the competition. You can also establish your selling prices for content and services.
Step – 5:
If you are a vendor, you can peruse the website's inventory of consumers to determine if any requests meet your services or content. If you are a consumer, you can peruse the list of vendors to determine if any of their profiles reflect your interests.
Step – 6:
Once you've identified a prospective customer or vendor, you can instigate communication by sending them a message through the website's messaging system. It is essential to communicate professionally and courteously.
Step – 7: Negotiate terms:
If the buyer or vendor is interested in collaborating with you, you can negotiate the transaction's terms, including the type of content or service, price, and delivery method. Ensure that you both concur on the terms before proceeding.
Step – 8: Payment:
Through its platform, FeetFinder facilitates payments between consumers and vendors. As a vendor, you can receive payments through the website's payment processing system, which deducts a commission from each sale. As a customer, you can use a credit card to pay through the platform.
Step – 9: Delivery:
Once the payment has been processed, the vendor can deliver the product or service to the client via the website. The consumer can then evaluate the performance of the vendor and provide feedback on their profile.
If the transaction was successful, the buyer and vendor can continue to work together via FeetFinder, establishing a relationship and completing additional transactions in the future.
FeetFinder – Charging & Cashing Out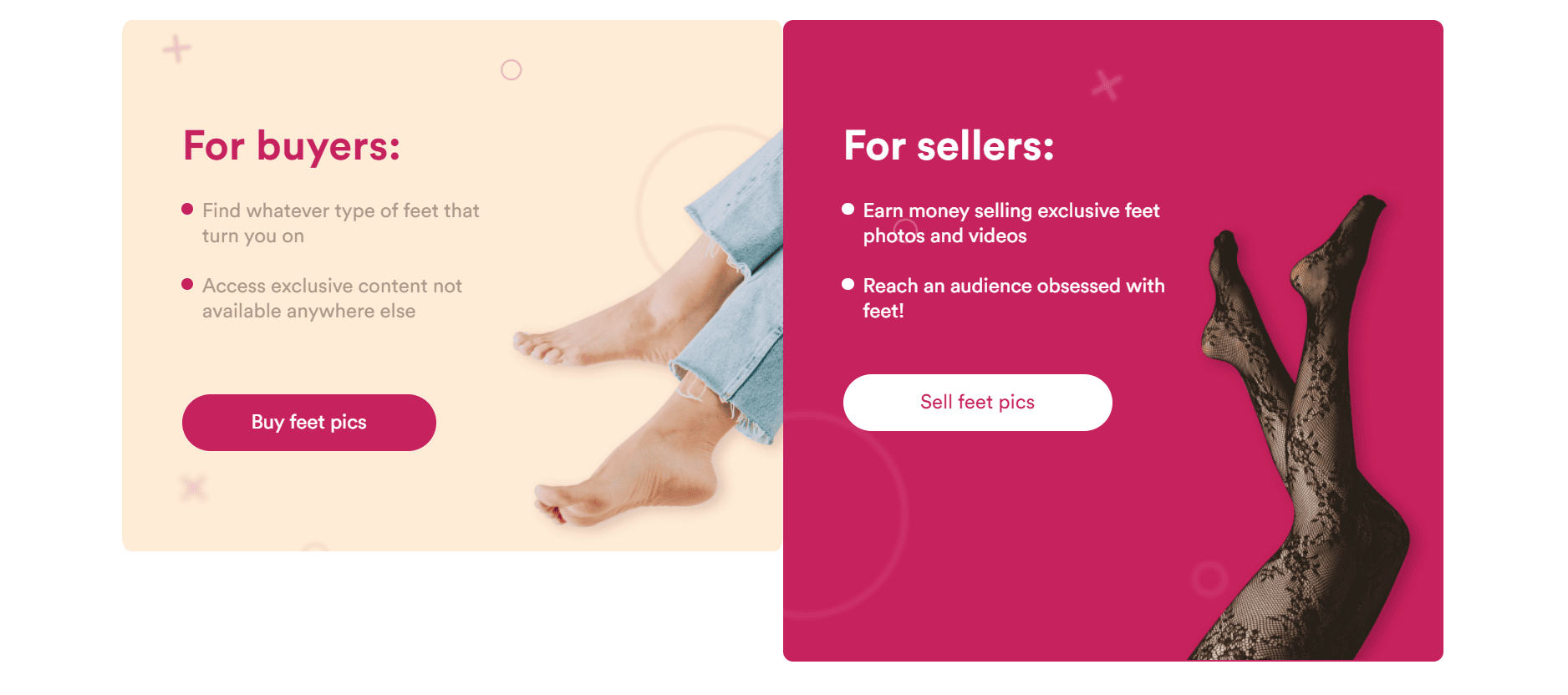 🏷️ Creating a price range:
FeetFinder encourages online vendors of feet photos to establish a pricing range. When purchasing foot photographs, offering a variety of albums at varying price points ($5, $10–$15, and $20+) provides consumers with numerous options. This can increase sales by accommodating purchasers with varying budgets and tastes.
💸 Premium pricing:
Customers may be willing to pay a premium price for a seller's foot photos if they revere them. Depending on the caliber of the photos, a merchant can earn anywhere from $5 to $100 for a single image. It is crucial, however, not to limit oneself, as one may be able to earn more money.
🤑 Payouts:
Once a seller's account balance reaches $30, weekly payouts are initiated. This contributes to the efficiency and profitability of transactions for both consumers and merchants.
💳 Payment methods:
FeetFinder's payment methods vary based on the seller's location. For US-based sellers, disbursements are made via Segpay, while international merchants are paid via Paxum.
These platforms provide secure and dependable online payment processing, ensuring that all FeetFinder transactions are secure for both customers and merchants.
Who Buys 🐾 Feet Pictures on FeetFinder?
📰 Newspaper or magazine publishers
Newspaper and magazine publishers are always on the lookout for amazing feet pics that can make the covers of their publications. They often purchase images that are striking and can attract the attention of their readers.
👣 Feet model agencies
Feet model agencies often purchase foot images from candidates who have the right foot features for different marketing campaigns. They use these images to market products and services that require feet models for advertising.
👣 Feet fetishists
Feet fetishists are buyers who buy foot content for sexual gratification. They are attracted to their feet and often look for content that satisfies their fetishes.
👩‍💻 Bloggers
Web content creators who blog about feet, shoes, health, and so on often source foot pics from sites like FeetFinder. They use these images to supplement their content and make it more visually appealing to their readers.
🤵 Advertisers
Advertisers are brands that purchase images and videos for their advertisement campaigns. They use these images to advertise their anklets, cosmetics, footwear, nail polishes, or any other products that are worn or applied on their feet.
👣 Feet picture collectors
Feet picture collectors are individuals who have a passion for collecting different kinds of pictures and storing them as valuables. They often look for unique and rare feet pics to add to their collections.
🤑 How Much Money Can You Earn With FeetFinder? 🤑
FeetFinder is a platform that allows users to make money by selling photographs and recordings of their feet. The answer to the question of how much you can earn on the platform depends on the quality of your content and the number of your followers.
Jessica Gould, a Canadian woman, earns more than $90,000 annually by selling her foot content on Instagram.
Although this may appear to be an impossible objective, it is important to note that Jessica has worked on this for years, so it is not something that can be accomplished overnight.
On a more basic level, suppose you have ten monthly followers and charge them $15 to follow you. In this circumstance, you can earn $150 solely from your followers.
Suppose two of them are interested in purchasing two of your foot photographs for $19 each, resulting in an additional $76 in revenue. Therefore, your gross monthly income will be $226.
Nonetheless, FeetFinder retains 20% of your earnings, or $45. Following this deduction, you will be left with $180. This is a reasonable number, particularly for someone just beginning out.
It is crucial to note that there is no fixed price for foot content and that anyone can easily earn between $5 and $1000, or even more if the quality is high.
Therefore, the amount you can earn is proportional to the quantity of content you produce. The more photographs and videos you upload, the more money you can earn.
This means that there is no maximum amount that can be earned on FeetFinder.
Best Poses for Legs 🦵🏻 & Feet For Posting on FeetFinder
👣 Your Soles:
One of the most effective poses for selling photographs of feet is to position your feet near the camera and either shot directly on or at an angle. This pose emphasizes your feet's soles, a popular request among foot fetishists.
🦵 The Bow Leg:
The bowed leg is another popular yoga pose in which the feet are turned slightly inward and separated by about an inch, with the rear leg slightly flexed and the other leg entirely erect. This pose accentuates your feet's curves and arches, making it visually alluring to potential purchasers.
🦶 The Invisible Tightrope:
Try the invisible tightrope for a more unusual pose. As if you were beginning to walk on a tightrope, place one foot in front of the other as if you were walking in a single file. This pose elongates the ankle, foot, and limb of the front foot while creating the illusion of movement.
👣 The Pose:
The term "The Pose" refers to a woman or man reclining on their stomach, facing the camera or viewer, with their ankles raised behind them. This pose reveals the soles of the feet, which is appealing to fetishists who are interested in the bottoms of the feet.
The feet can be crossed or uncrossed, arranged side by side, one up/one down, soles facing the heavens, soles compressed, toes spread, etc. The Pose is one of the most frequently requested foot fetish positions in history.
What You Will Need To Earn With FeetFinder?
🤳 A way to snap pics without hands
Attempting to hold the phone and capture specific images on your own is nearly impossible. Therefore, you need a photographer acquaintance or a ring light combo package (with a tripod and remote shutter) to capture photos.
The inexpensive Sensyne 10″ Ring Light with Extendable Tripod Stand (phone holder & remote shutter) has over 55,000 reviews and 4.6 stars on Amazon. This is the one used by the majority of foot models, and it is very simple to set up and use.
💥 Some soft lighting
Natural light is ideal for photographing feet because it reveals more detail. If natural light is unavailable, you can purchase a cheap ring light from Amazon. A ring light illuminates your feet evenly and softly, highlighting their contours and arches.
📷 Camera
You may choose to use either a point-and-shoot or a DSLR camera. You can also use your iPhone, but you'll need to experiment with all the filters and options to achieve the best results.
Set your camera to the maximum resolution possible to capture every detail of your feet if you're using one.
FeetFinder Pros 👍 and Cons 👎
😊 PROS 😊
Wide variety of buyers: FeetFinder has a diverse range of buyers, including magazine publishers, feet model agencies, bloggers, advertisers, feet fetishists, and feet picture collectors.
Secure and reliable payment processing: FeetFinder partners with Paxum and Segpay, both of which offer secure and reliable online payment processing.
ID verification: FeetFinder requires all sellers to go through an ID verification process before they can complete the sign-up process. This helps ensure that all content available to buyers comes from real people.
Blurred preview images: FeetFinder automatically blurs the sellers' feet images on the platform, which helps ensure that the sellers get paid and the buyers get what they pay for without question.
Easy-to-use interface: FeetFinder offers a user-friendly interface that makes it easy for buyers and sellers to navigate and communicate with each other.
Range of prices: FeetFinder encourages sellers to create a range of prices for their albums, which can increase sales by catering to buyers with different budgets.
Opportunity to earn high prices: If customers adore a seller's foot photos, they may be willing to pay a premium price for their feet images. This can result in sellers earning between $5 and $100 for a single photo depending on the quality of the pictures.
Weekly payouts: Payouts are made weekly once a seller's account reaches a minimum of $30, which helps ensure that transactions are efficient and worthwhile for both buyers and sellers.
Opportunity to build a customer base: Successful transactions can lead to repeat customers, allowing sellers to build a customer base on FeetFinder.
🙁 CONS 🙁
Niche market: FeetFinder caters to a very specific market, which may limit the number of buyers and sellers on the platform.
Limited content: FeetFinder is limited to the sale of foot pictures and videos, which may not appeal to sellers who want to offer a wider range of content.
FeetFinder Review Conclusion
FeetFinder is a legitimate and trustworthy platform for both foot enthusiasts and sellers. With its easy-to-use interface, strong reputation, and secure transaction system, it's no wonder FeetFinder has quickly become a go-to destination for those interested in buying and selling foot pictures.
While there are some cons to the platform, such as the 20% commission and the potential for inappropriate behavior from buyers, the pros outweigh the cons for many users.
If you're interested in selling foot pictures, FeetFinder could be a great opportunity to earn extra income. Just be sure to take the necessary precautions and set boundaries to protect yourself.
FeetFinder is a unique and interesting platform that's worth checking out for those with a passion for feet.