Would you like a comprehensive and unbiased FindNiche review? You have come to the right place because we have the right and updated information for you!

There is no doubt that FindNiche is one of the most famous free dropshipping niche finder tools on the market but I wonder if such appropriate methods will succeed in the competitive world of today.
Due to the availability of the goods and the ease of obtaining the goods, the market and business out there is quite vibrant. Different businesses are conducted across the world based on their location and people's preferences.
There are over 2 million products on Ali-Express that FindNiche evaluates in over 11,000 different niches. In addition, it evaluates more than 700,000 different shops on Shopify.
In today's digital market and business, it is an analytical tool built with the latest technologies. Many new startups have found the tools beneficial since it was created as a way to empower startups with very limited resources and capital to break into the eCommerce industry.
It appears that this tool covers over 40 countries spread across several continents. So let us begin the FindNiche review and cover as many aspects as we can in this article.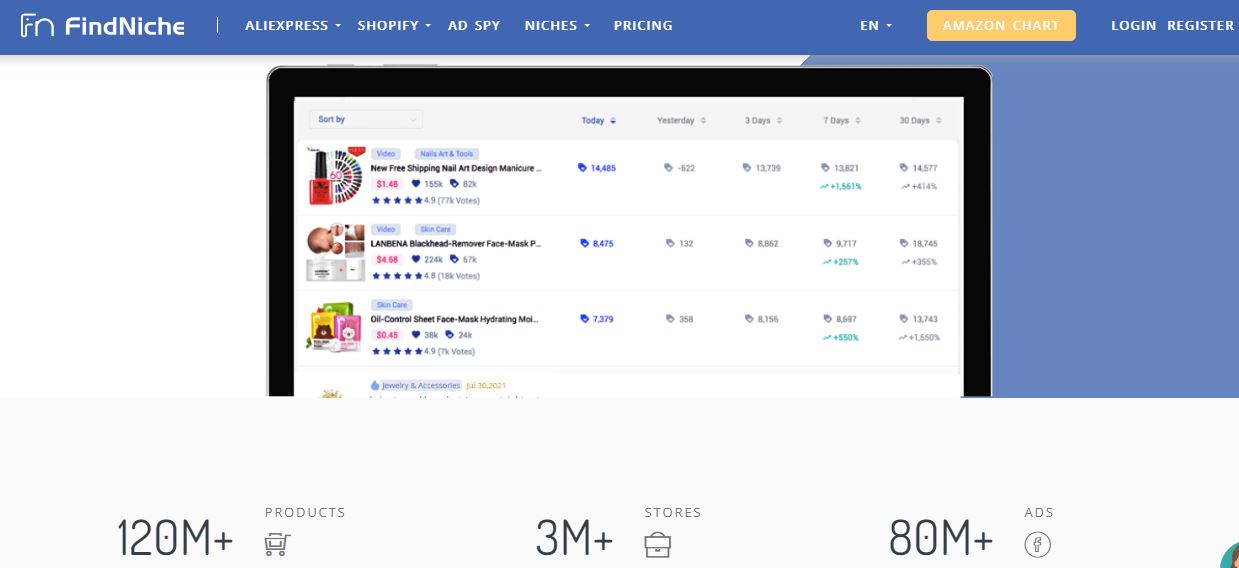 Discover the best-selling AliExpress products and profitable dropshipping niche ideas with FindNiche, a dropshipping research tool founded in 2019.
Specifically designed for dropshippers who are new to the world, FindNiche provides over 20 million AliExpress products, as well as a daily updated list of 20 handpicked products, and over 14 million products from Shopify.
Finding profitable products with a high return on investment is easy with FindNiche. It's a free tool. When you are setting up your eCommerce store or dropshipping on platforms like AliExpress or Shopify, the first hurdle you need to overcome is how to identify a profitable niche.
In the traditional approach, one might check social media for trending products, ask friends and family what they think will be profitable.
FindNiche Review: Key Features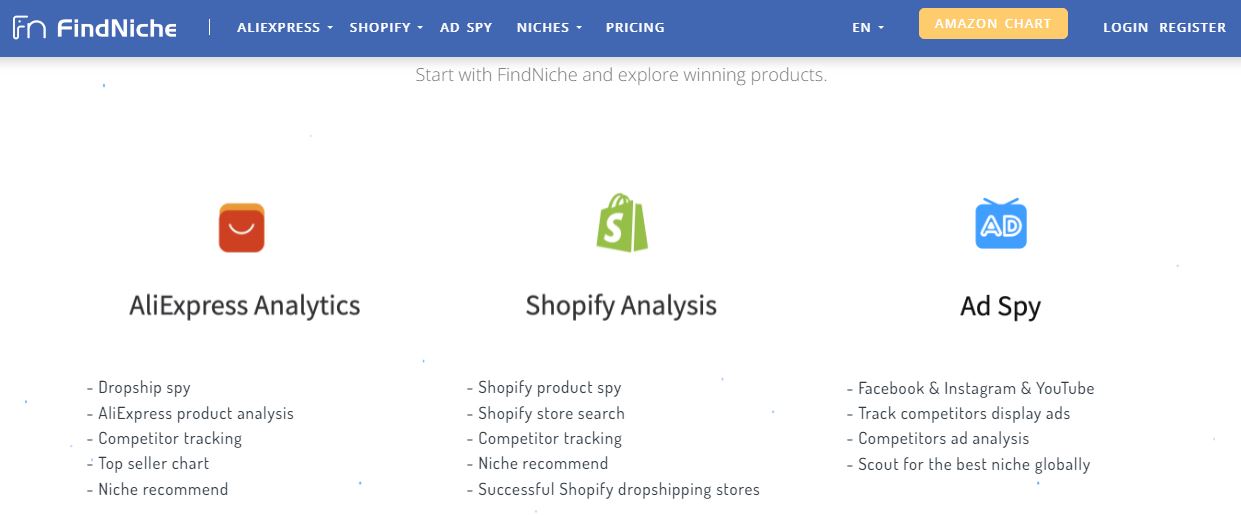 Niche Research and Shop Analysis
It is very useful to analyze 11,000 niches, 700,000 stores, and millions of competing products using FindNiche, which is highly intuitive. As a FindNiche pro user, you'll be able to store hundreds of products in various niches.
Big Data Analysis
Taking action based on information obtained from big raw data is what eCommerce is all about. Finding products to invest in is one of the most useful features of FindNiche.
Smart Product Picking

When there are a multitude of products on the market, how do you decide what to buy? With FindNiche, you can identify products with high sales margins that are trending. Aside from gaining insight into well-known products, you can also find new products with high potential. These are the high-profit products that other sellers ignore but which are highly profitable.
Niching Down
Sorting products by hand can be stressful. Users of FindNiche can filter hundreds of products based on functional search methods. Hence, you can narrow down a particular niche and category to a sub-niche while not sacrificing quality.
Compatibility
Shopify and AliExpress are both compatible with FindNiche. Alternatively, FindNiche can be used to find dropshipping products to sell on ecommerce platforms such as WooCommerce, BigCommerce, Ecwid, and online marketplaces such as eBay and Amazon.
It is important to keep in mind that FindNiche is designed primarily to find the best-selling products on AliExpress, the largest online marketplace in China.
Usage & Settings
It is a very easy-to-use dropshipping research tool with a modern and user-friendly interface. You can access (daily updated) handpicked products immediately after creating a free account, which includes access to more than 20 million AliExpress products.
Free accounts allow you to view only a limited number of products and performance analytics, whereas premium accounts offer access to all products and data.
Click on the AliExpress link in the menu to access the database of the best-selling products on AliExpress. The site offers a huge selection of products, as well as comprehensive performance information, including sales statistics and customer reviews, and links to AliExpress's top suppliers.
In addition to category and price, customers can filter by total orders, customer reviews, growth rates, shipping locations, and competition strength.
Simply click on a listing to view more details when you find a product that interests you. On the following page, you will see detailed analytics, including sales totals, customer reviews, average ratings, wishlist additions, and sales price breakdowns.
In addition to multiple AliExpress suppliers, there are links to average seller ratings and sales history further down the page. You can find links to successful Shopify stores that sell the same product if the data is available.
Click the Niches link in the main menu to see the handpicked list of winning dropshipping products. This list consists of the 20 best-selling dropshipping products, chosen by market research experts based on analysis of their competition, growth potential, and profit margins.
The products are linked to useful information including product cost, selling price, margin, and links to AliExpress suppliers and Shopify competitors, as well as successful social media advertising campaigns with engagement statistics.
In addition, the FindNiche Elite plan gives you access to more than 10 million Shopify products. The database is accessible via the Shopify tab in the main menu.
Products can be filtered based on location, competition, orders, and AliExpress suppliers. You can view more details on any product by clicking on it. This includes sales history and links to AliExpress suppliers and other Shopify sellers.
With FindNiche's higher premium and VIP plans, you can access additional features.
An innovative tool called Ad Spy allows users to identify successful social media campaigns, as well as API integration and more seller platforms.
In addition, Premium and Elite plans are the most popular choices for new dropshippers looking for an easy way to find AliExpress dropshipping products to sell online.
The database of FindNiche contains over 600,000 top Shopify stores with detailed analytics including total products, categories, and social media engagements.
FindNiche members have access to a database of top Shopify stores, making it a great resource to generate unique niche ideas by researching successful eCommerce stores.
The tool is also helpful for learning how to run successful social media campaigns.
For listing products on your online store, FindNiche allows you to export them to a CVS file. After bulk importing the products to any online store that supports CVS file importing, you can then export the products to other online stores like Shopify, WooCommerce, and BigCommerce.
You can also directly list the products from FindNiche's database in your Shopify store using Oberlo, a free (third party) application.
Shopify users can import AliExpress products using Oberlo, a free dropshipping app. Oberlo also automates inventory control, repricing, and order fulfillment.
Dropshipping software can be used to import products from AliExpress and automate repricing and order fulfillment for eCommerce platforms such as WooCommerce or BigCommerce.
To browse FindNiche's AliExpress dropshipping products, you can select from millions. As well as curated daily lists, FindNiche Elite users have access to a list of 20 handpicked dropshipping products selected by market research experts.
From the main menu, click the Niches link to view the curated list.
Listed in this section are handpicked products that are updated on a daily basis by dropshipping experts.
The products have been selected from a vast selection based on profitability and marketability.
Free and paid users alike can take advantage of FindNiche's unique features and benefits. Databases of top Shopify stores are accessible to free users, whereas databases of best-selling Shopify products are accessible only to Elite members.
In addition, the Ad Spy tool, which can be used to find successful dropshipping campaigns on Facebook, is reserved for premium members.
Finding profitable dropshipping products to sell is easy regardless of your subscription level with FindNiche.
How does FindNiche Work?
In this section of the FindNiche review, I am going to tell you how this tool works for AliExpress and Shopify stores.
Aliexpress Product Analysis
With FindNiche, you can access the data for over 100M AliExpress Products and check their sale numbers, competition levels, and the countries/regions where they are performing the best. Based on your requirements, you can easily filter this data.
Shopify Store Analysis

You can access the best-selling products on AliExpress and Shopify; right from your FindNiche dashboard.
Filtering is also possible based on ranking, country, number of Facebook or Instagram likes, and advertising shown. This might be helpful to gauge the competition in the marketplace.
Pricing & Billing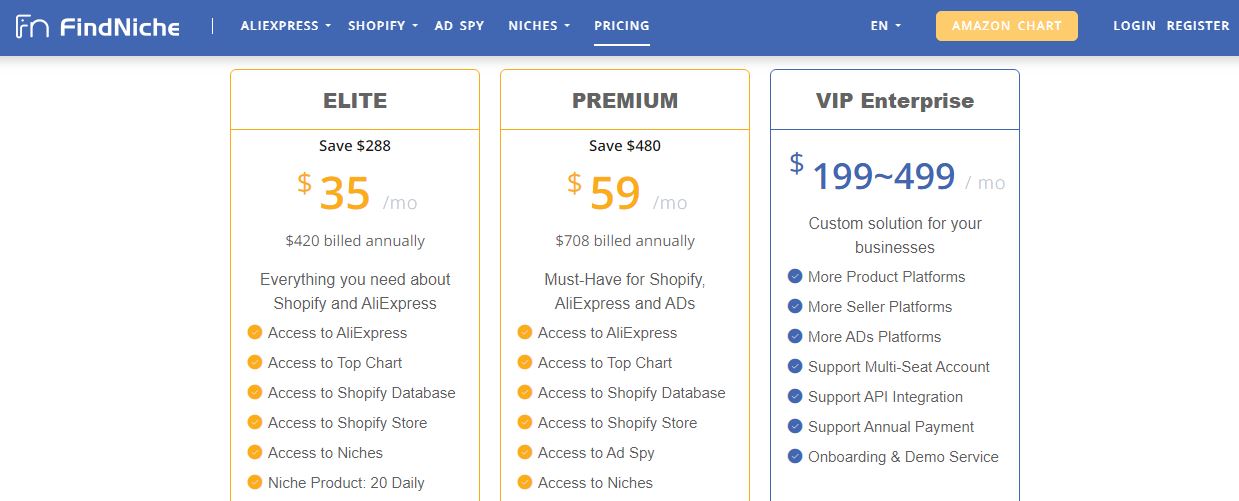 FindNiche's low pricing makes it one of the most affordable dropshipping research tools on the market. Sign up for free and you'll be able to access a limited number of products and performance analytics, including the list of best-sellers handpicked by our experts.
For just $29 a month, you can browse the database of over 20 million AliExpress products.
Several advanced features are included in the Elite plan, including access to a list of handpicked winning products and a database of Shopify products that have been successful.
A number of exclusive features are also included in the Elite plan, such as the ability to track up to 500 products and export up to 600 products.
Professional Plan – $29/month
Access to the AliExpress product database
You'll have full access to the Shopify store database
Keep track of up to 20 winning dropshipping products
You can export 12 winning dropshipping products
Elite Plan – $59/month
Access to the AliExpress product database
You'll have full access to the Shopify store database
Access to the Shopify product database
Full access to the curated daily list of products
Analysis of total sales and performance data
Track up to 500 successful dropshipping products
Up to 600 dropshipping products can be exported
Premium Plan – $99/month
Full access to AliExpress products database
You'll have full access to the Shopify store database
Access to the Shopify product database
A daily curated product list is available
Analysis of total sales and performance data
Access to the innovative social advertising tool Ad Spy
Up to 500 winning dropshipping products can be tracked
Up to 600 dropshipping products can be exported
Pricing Overview
FindNiche is one of the most competitively priced dropshipping research tools in the industry with free access to a limited number of products and paid plans starting at only $29/month.
No matter if you are a newbie or an expert seller, FindNiche is affordable to everyone. Additionally, you can downgrade, upgrade, or cancel your subscription at any time.
To unlock the full features and true value of FindNiche, start with the Professional or Elite plan.
FindNiche Pros and Cons
Pros:
Ad Insights are provided from a variety of sources
Products Scout on AliExpress
Scout all Shopify products
Additionally, the Shopify Store update is unlimited
Making decisions based on data
Filtering and exporting data is easy
A graph illustrating individual product performance over time
Cons:
There are a limited number of products
Also Read:
Conclusion
Finding niches for dropshippers and eCommerce owners is easy with FindNiche. It provides a lot more detailed data than the average niche tool which is why its elite plan is more expensive. Using such data, one can make more informed decisions about which niches, stores, and products to invest in.
We highly recommend the FindNiche tool to all startups operating in the e-commerce space, especially those utilizing AliExpress and Shopify. Maximizing returns on investment is simply too good an opportunity to miss.