Are you looking for the best GRIN alternatives? This post is the list of the top influencer marketing platforms that provide comparable advantages of GRIN at affordable costs.
Due to Grin's lack of pricing transparency and no automated payment tools, you might be looking for Grin's Alternatives as I did.
To save you time, I have curated this list of top Grin Alternatives that will surely suit your requirements.
List of Top 10 Grin Alternatives of 2023
BuzzGuru is the best influencer marketing platform for managing your influencer marketing initiatives from start to finish. Ad campaigns for Instagram, YouTube, TikTok, and Twitch can be planned, collected, analyzed, and optimized in one location.
Just like any other Grin alternatives, You may complete each step using a campaign management tool while obtaining data and current statistics with a single click.
Begin your influencer discovery, look for the most appropriate influencers for your campaigns, filter them using more than 50 data breakdowns, learn about your competitors' influencer marketing plans and budgets, and do market research.
You can grow your campaign success, eliminate manual duties, and support your influencer marketing efforts using the platform's automation features. Put all the components of your advertising campaigns in one location.
💳 BuzzGuru Pricing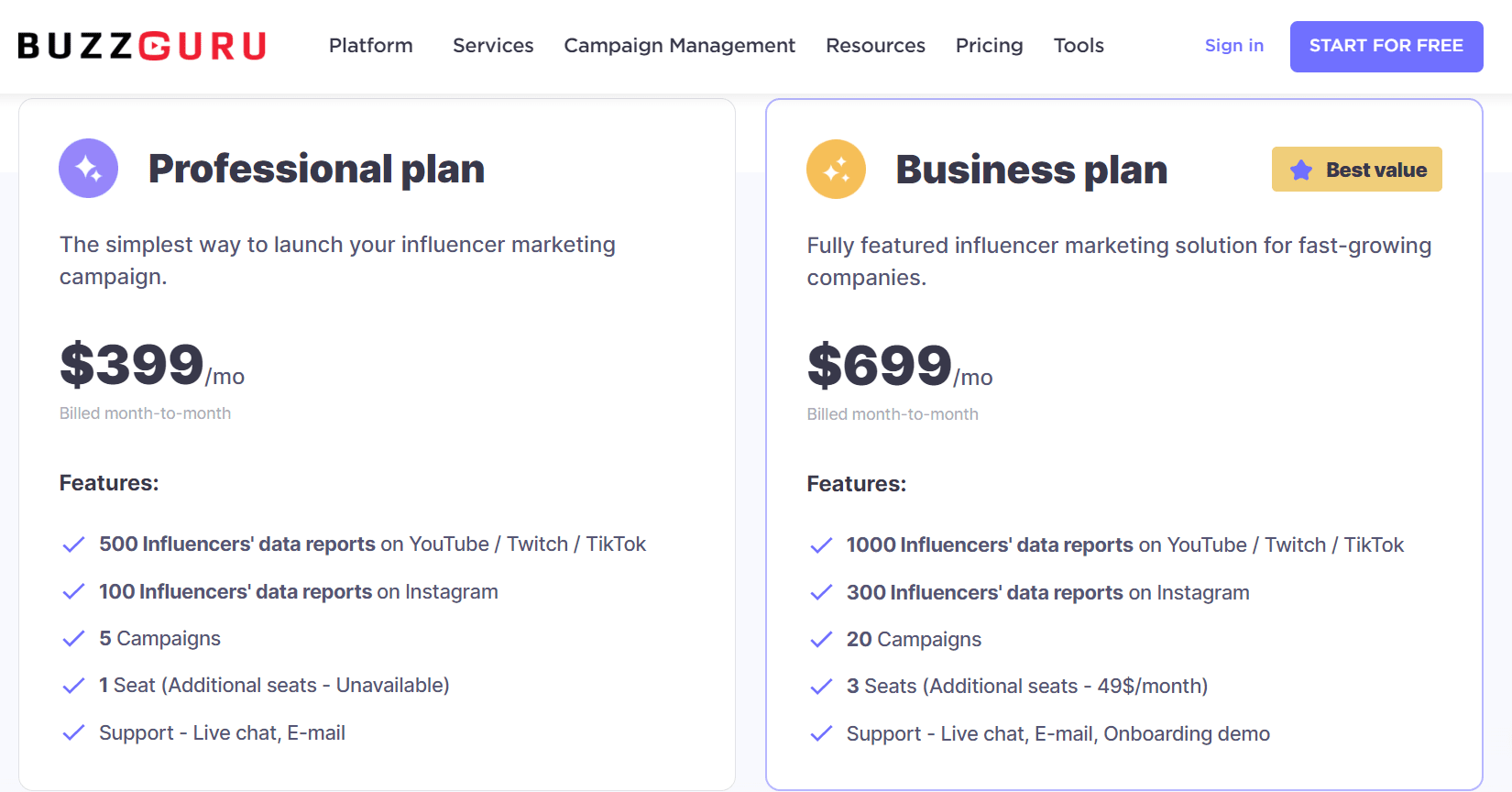 BuzzGuru is so far one of the best Grin alternatives and competes really well with the Grin influencer marketing platform.
Also Read
Is BuzzGuru #1 Influencer Marketing Platform? – 2023 Review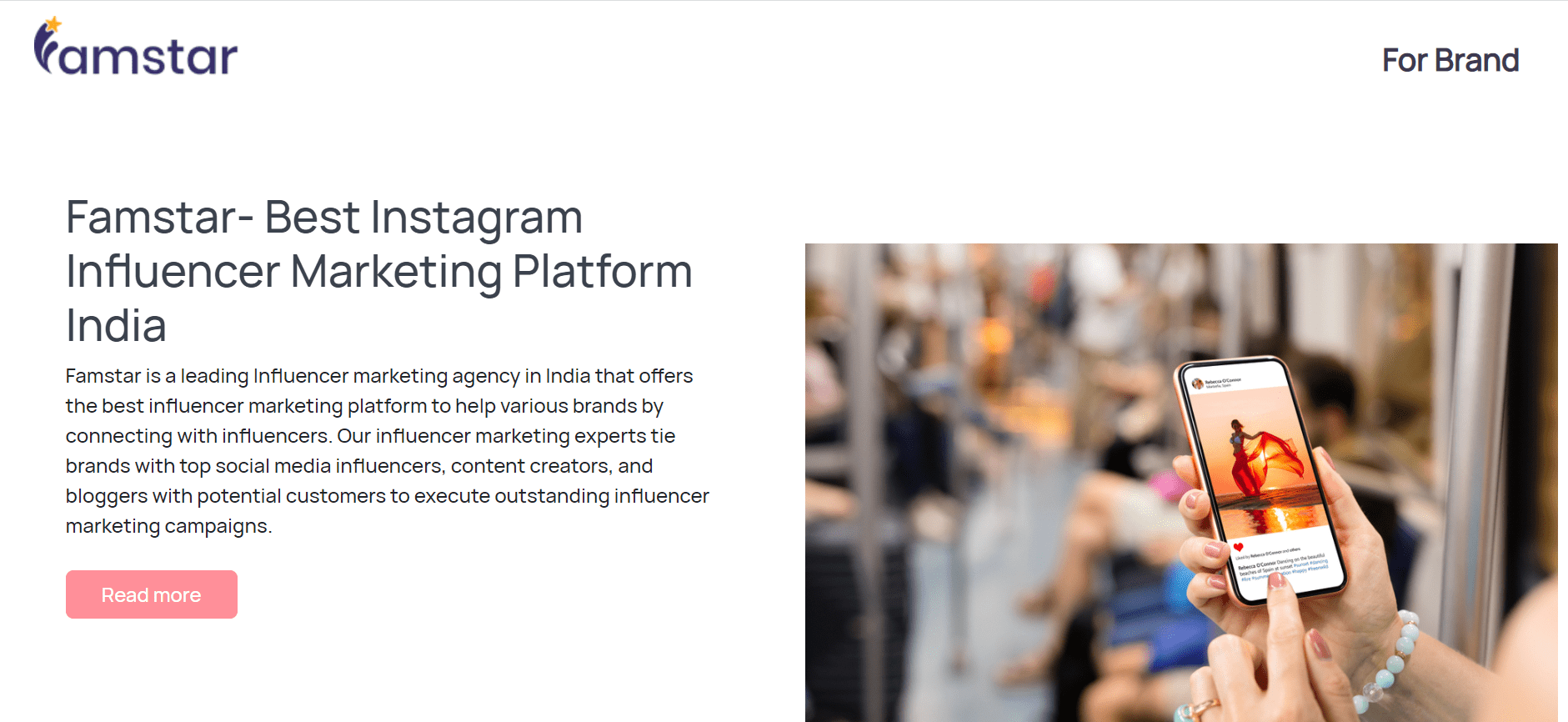 Famstar enables up-and-coming companies (brands) to locate relevant influencers to sell their goods and services on different social media platforms. Just like several other Grin alternatives, Famstar has an influencer discovery platform and a collaboration tool to make influencer marketing a breeze.
With more than 50k verified artists, Famstar allows companies to identify, contact, and work with real influencers for tailored influencer campaigns. You can locate the ideal match using keywords and filters that include age, city, region, specialty, and many other factors.
💳 Pricing
Additionally, Famstar includes user-friendly statistics that let marketers monitor the development of influencer marketing initiatives by measuring views, reach, social value, and conversion rates.
Since every influencer profile is carefully reviewed, you (as a brand) can be confident that your partnerships will be with real artists and influencers.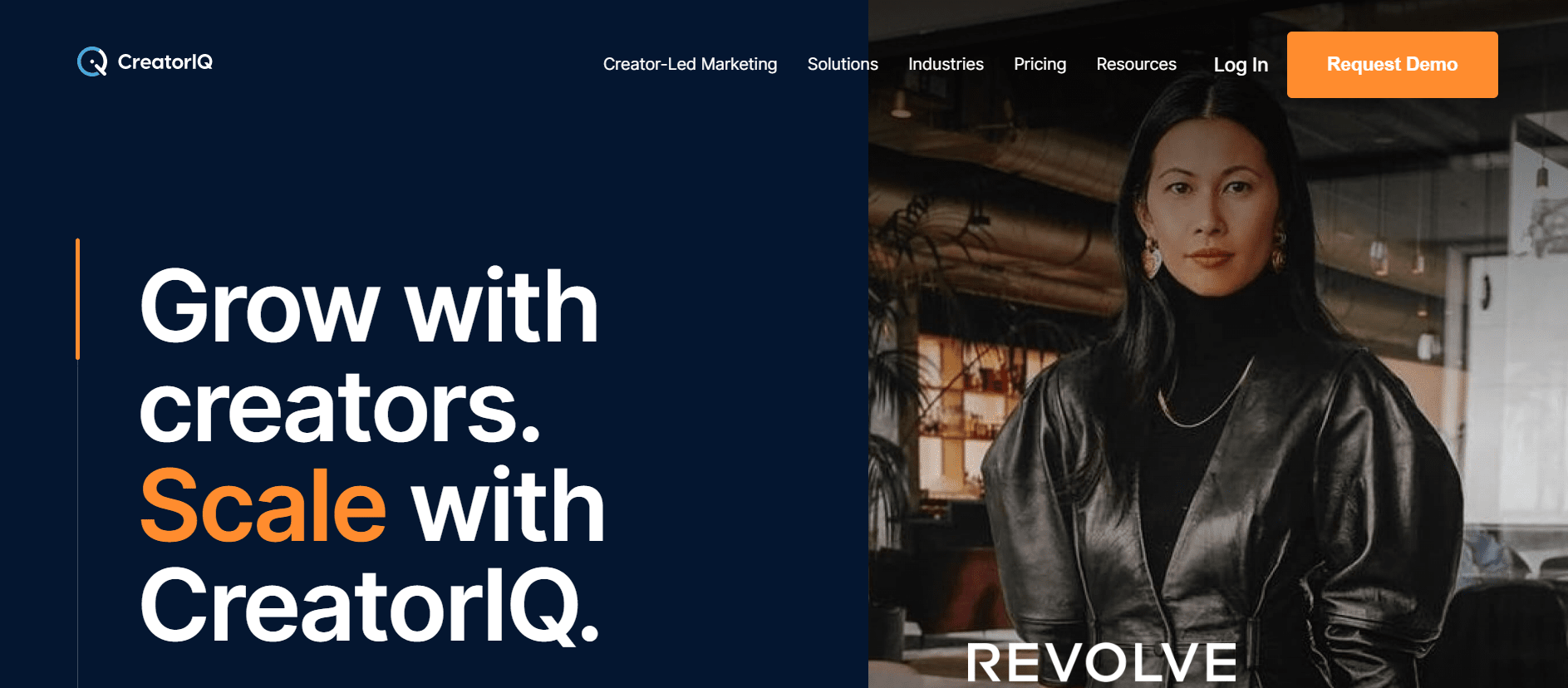 CreatorIQ offers a smooth method for international enterprises to optimize their marketing potential as a cloud-based influencer marketing platform.
Accessing and managing influencer data is its main use case. You can search through over 1 billion social media accounts using it in real-time based on audience characteristics, growth patterns, and brand affinity.
The user interface is straightforward to use and includes several visual displays driven by Google AI imagery.
Brands may use the software to start automated processes for creative marketing. This platform can monitor the whole campaign life cycle, from content production to publishing progress.
The dashboards created with CreatorIQ are very dynamic and utilized to communicate real-time information with various teams and systems. Applications and the API work together seamlessly to provide top-notch security. It's the ideal platform for large, international businesses.
💳 Pricing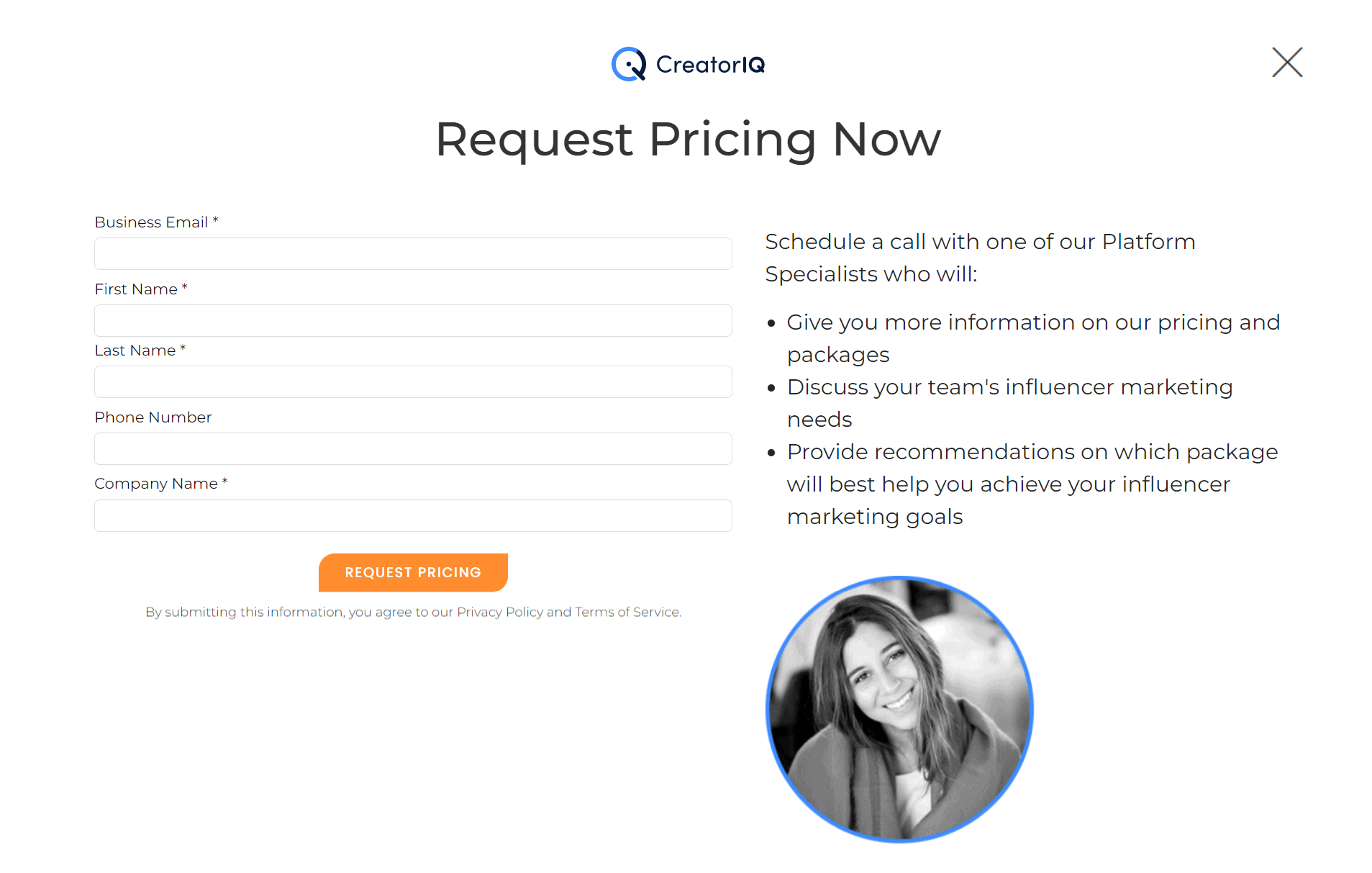 4. Upfluence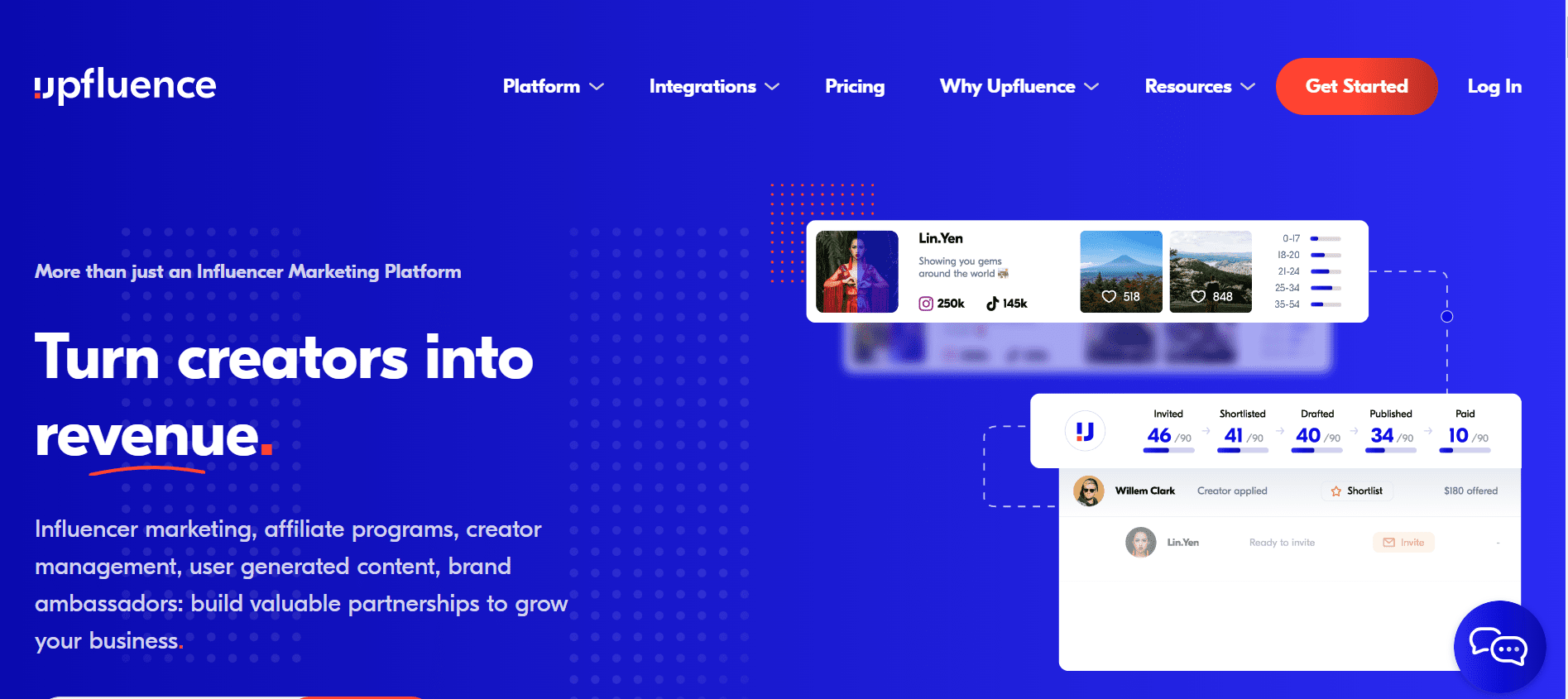 A specialist influencer marketing tool called Upfluence assists eCommerce company owners in improving lead generation so they may increase sales.
Companies can quickly filter alternatives to identify the perfect influencers for their bespoke campaigns. Thanks to the software's availability of over 4 million influencer profiles from different social media networks which is there in almost any other Grin alternatives.
The platform enables businesses to seek out natural influencers within their audience and clientele and engage them for cooperation.
Additionally, online retailers can gather, analyze, and utilize visitor data for their affiliate marketing activities.
Using this program, it is also feasible to assess the influencers' overall performance level by looking at their audience size, engagement rates, posting patterns, and more.
AI-powered capabilities are included in the Influencer Relationship Management dashboard and can send in-app emails, manage negotiations, handle payments, and much more.
💳 Pricing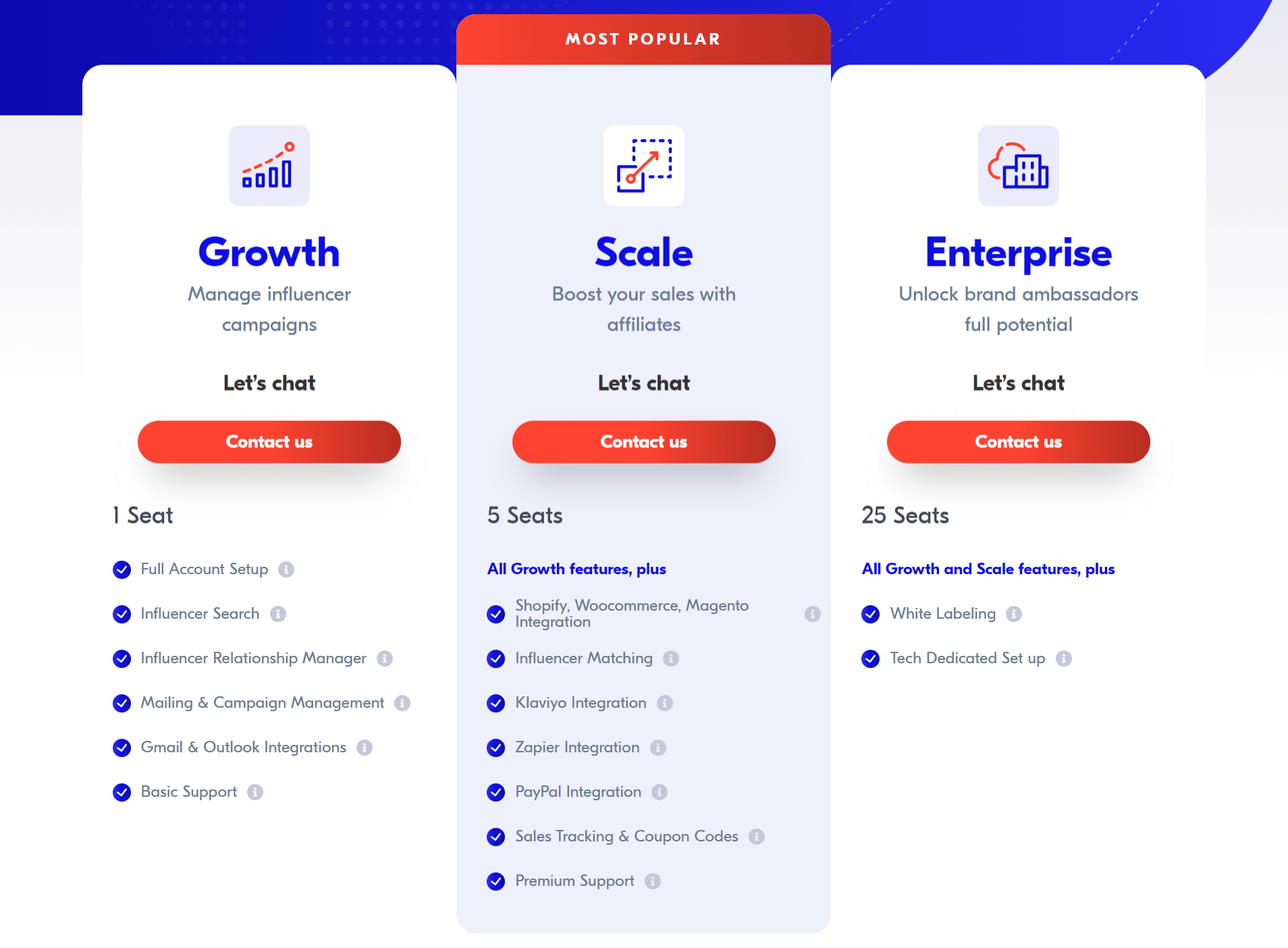 A very few Grin alternatives have a pricing plan for their software. Most of them work on a custom quote basis where you tell them your requirements and the software provider gets back to you with a quote. They do the same and their plans are based on the number of seats you want.
5. Klear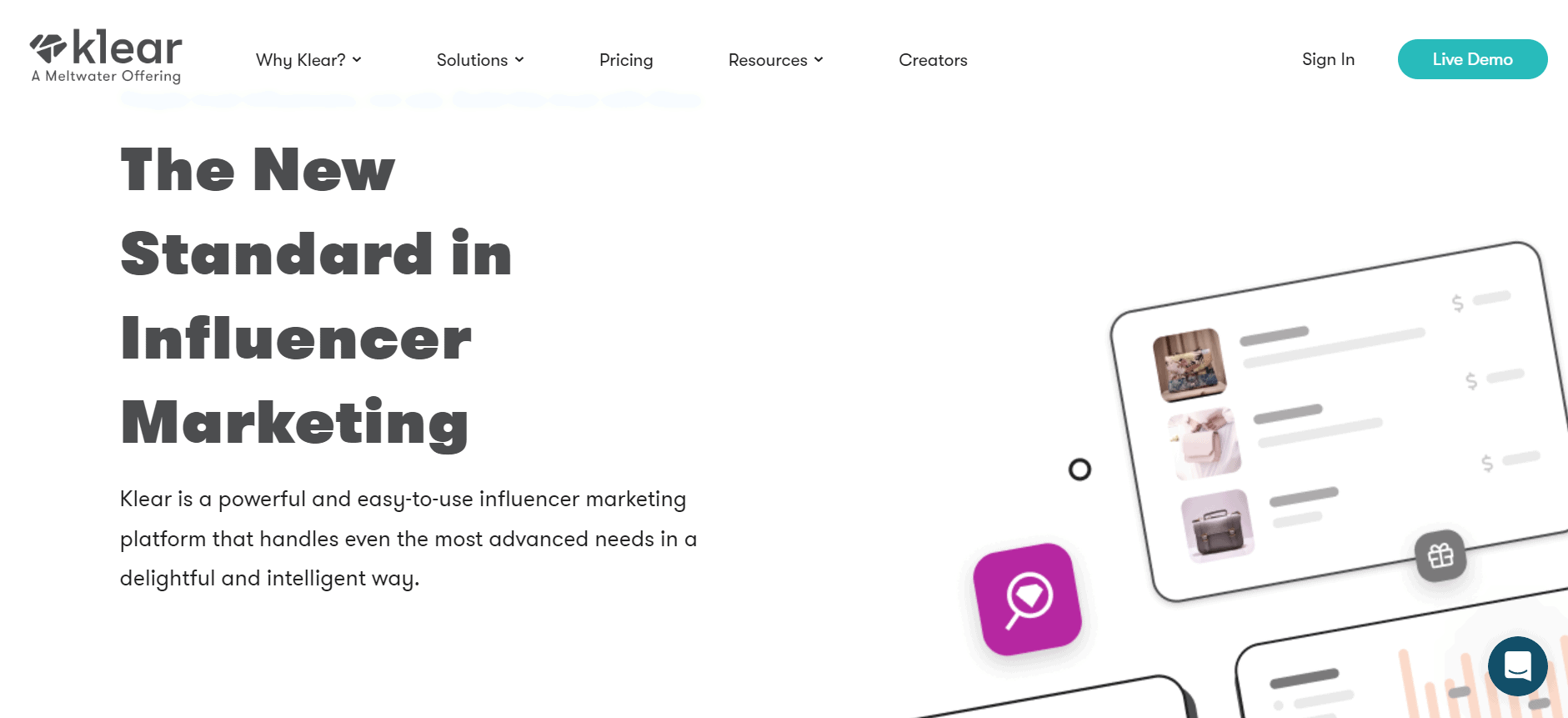 Klear is one of the top influencer marketing platforms designed to boost social media growth by using the power of influencer marketing rather than alternative strategies like ad marketing.
It enables marketers to thoroughly investigate and assess engagement and reach to choose the most suitable influencer for their brand. The tool helps communicate with the target audience, administer influencer campaigns, and track their expansion.
Klear wants to assist companies in finding the perfect talent that aligns with their values and target market. Segmented creator discovery is used to help businesses actively seek influencers following their particular needs.
Users may search through many influencer profiles to locate the one most appropriate for the brand's image. With Klear's FakeSpot Technology feature, marketers can steer clear of dubious influencers who typically use bots to generate bogus interaction rates and followers.
Additionally, it aids in completely centralizing influencer communication. Klear is the ideal influencer marketing tool for online companies of all sizes, offering fantastic insights and a free sample.
💳 Pricing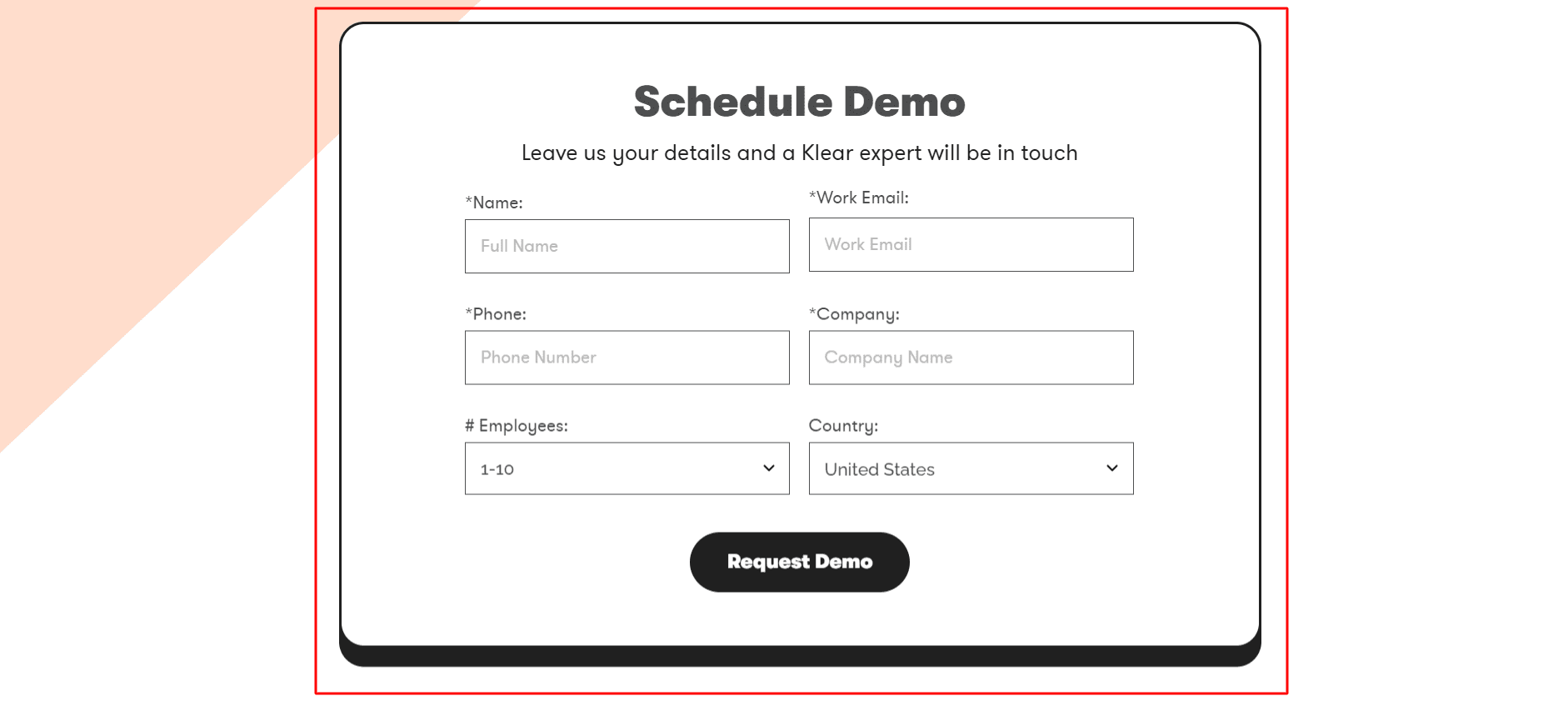 6. Traackr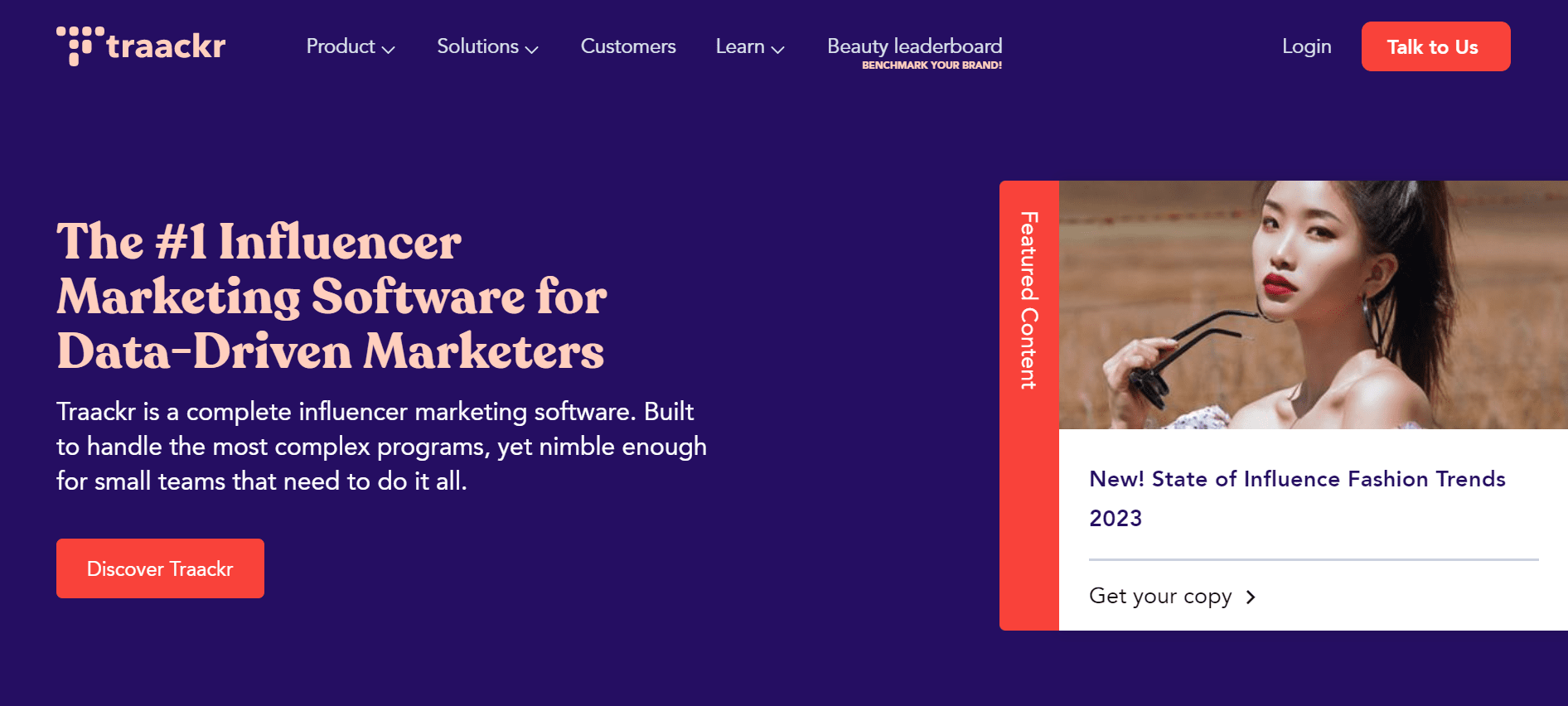 With the help of the data-driven influencer marketing tool Traackr, advertisers can simplify their campaigns and maximize the effectiveness of their investment-scale initiatives.
This platform can provide reliable insights by analyzing more than 6 million profiles based on detailed demographic information, past performance, and fraud detection.
Running creative campaigns benefits from influencer analytics and customized processes for various activations, such as sponsored partnerships, product giving, and organic propagation.
Emerging companies and promoters like to rely on Traackr to make wiser selections about influencer marketing. It is a tool that, with the use of activity performance data, helps in the optimization of influencer investment.
A grading system provided by Traackr allows for the identification of new influencers via the use of authentic influence.
7. Brand24

Brand24 is a social listening tool that collects and examines all publicly accessible Internet mentions of your keywords.
All of them are accessible from the same dashboard. Brand24 offers coverage for websites, blogs, online publications, press releases, news sites, discussion forums, social media platforms, podcasts, newsletters, and video hosting services.
Many PR professionals can keep an eye on their brand's online presence and remain up to date with industry news via Brand24.
Additionally, you'll be able to develop PR clippings, assess target audiences, gather information to enhance your PR strategy and gauge the success of a PR campaign. You can learn much about your brand through Brand24, including where and how it is mentioned online and what people say about it.
In addition to gathering mentions, Brand24 provides a wide range of analyses to assist you in assessing the success of your online presence and PR efforts.
💳 Pricing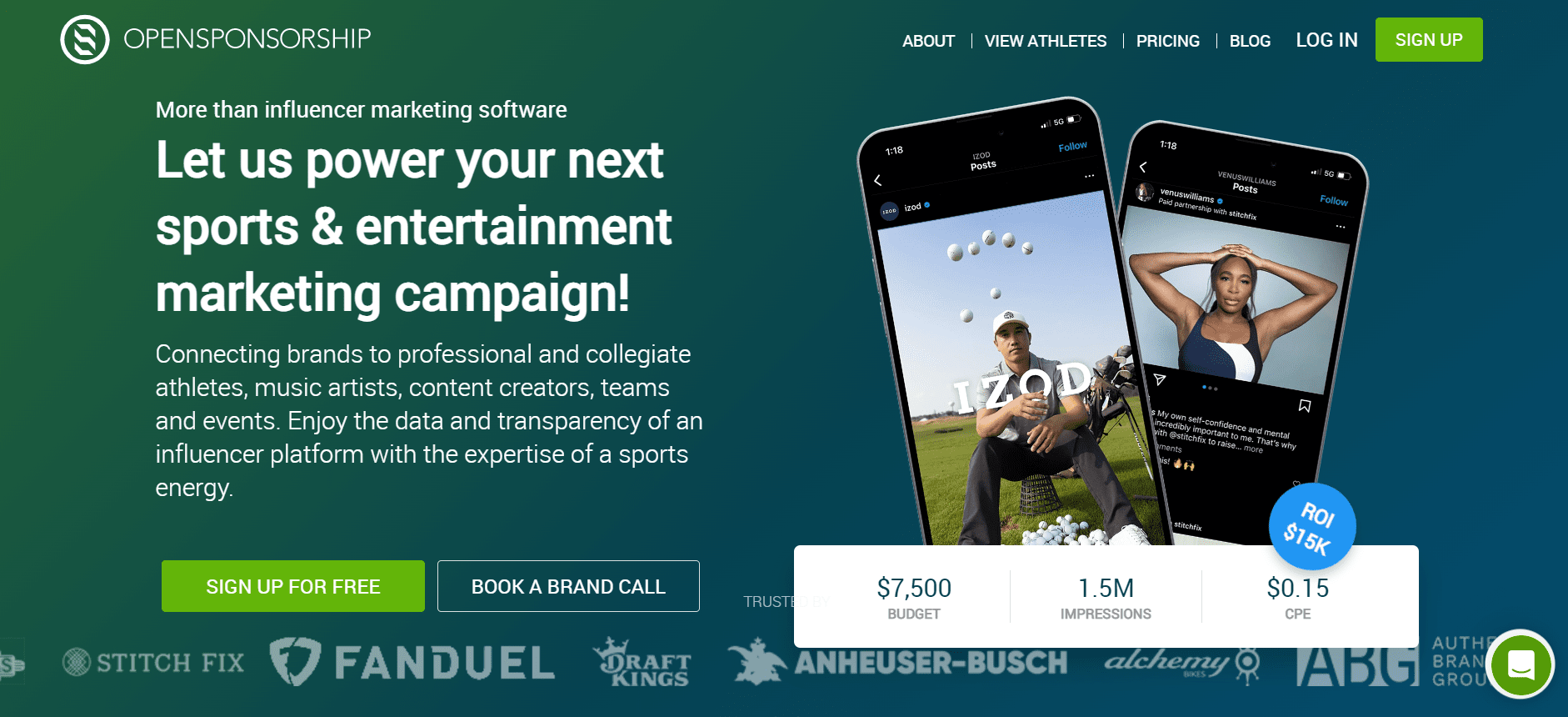 OpenSponsorship is an influencer marketing software that helps businesses partner with athletes. With the influencer marketing tool OpenSponsorship, companies can collaborate with athletes to develop and distribute campaigns.
The platform allows administrators to submit bids, discuss specific questions with athletes, and oversee transactions from a single dashboard. Administrators may learn more about fan demographics, social media interests, sponsorships, and other demographic data through athlete profiles.
In biweekly calls, OpenSponsorship enables teams and athletes to discuss marketing plans. Supervisors may also monitor and evaluate the rate of interest (ROI) from several initiatives using a single interface.
With the help of OpenSponsorship, participants may make payments, create invoices, and text athletes and teams. Pricing is based on monthly subscriptions, and customer assistance is offered via chat, email, and the knowledge base.
💳 OpenSponsorship Pricing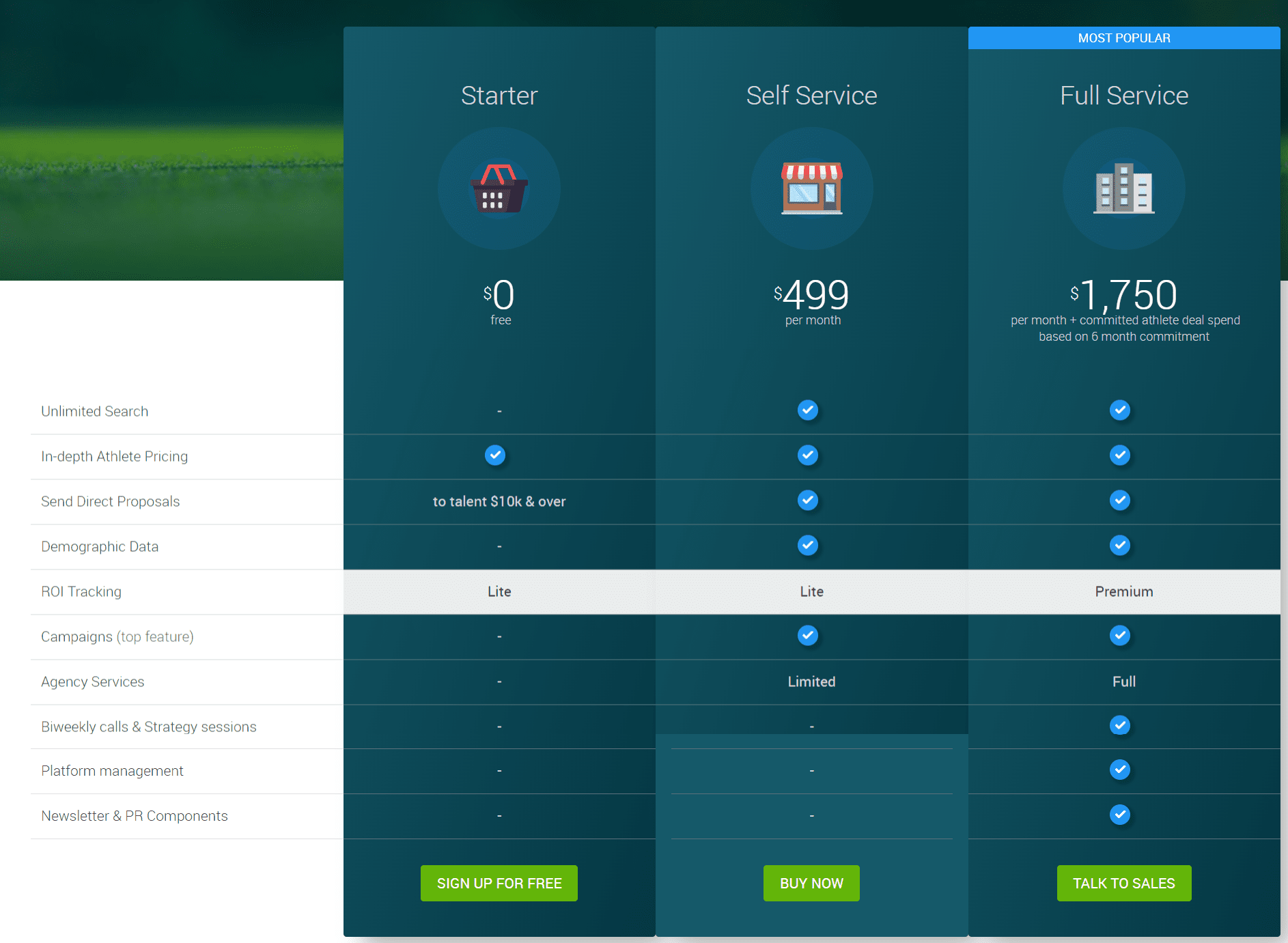 9. Trend.io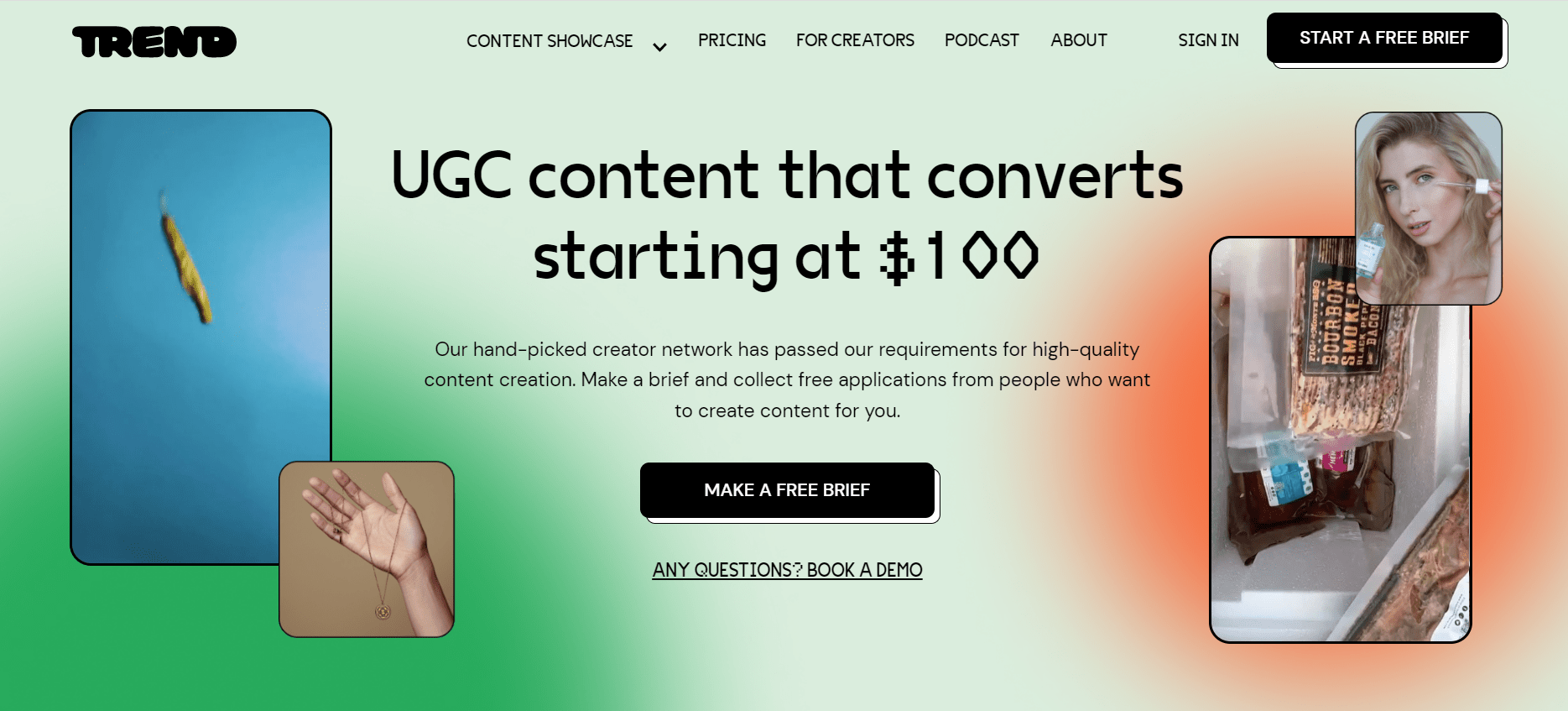 With the aid of Trend, social media influencers can better manage their content creation and marketing efforts, increasing the value of their brands across all platforms.
It has a single dashboard where users may examine, accept, and reject applications submitted by relevant influencers.
Trend enables businesses to work with influencers to create expert content that you can use for commercials, websites, and social media accounts. It lets users get real-time insights into postings, including vital stats like likes, comments, and impressions.
Users may also design campaigns for events, product debuts, and brand recognition to boost online sales and engagement. Trend offers chat features inside the app to assist marketers in streamlining conversations with influencers.
Monthly memberships are available for pricing, and live chat, email, and other internet tools are accessible for customer assistance.
💳 Trend.io Pricing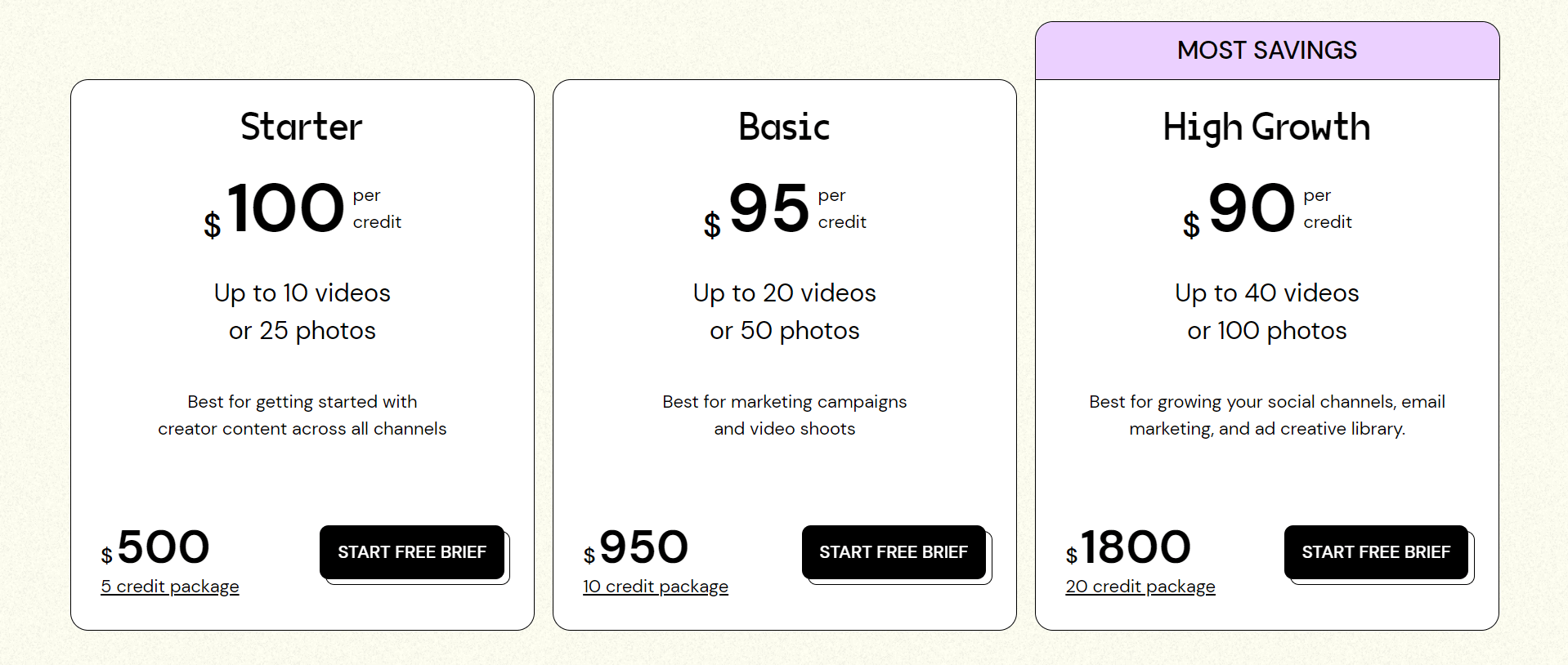 10. Heepsy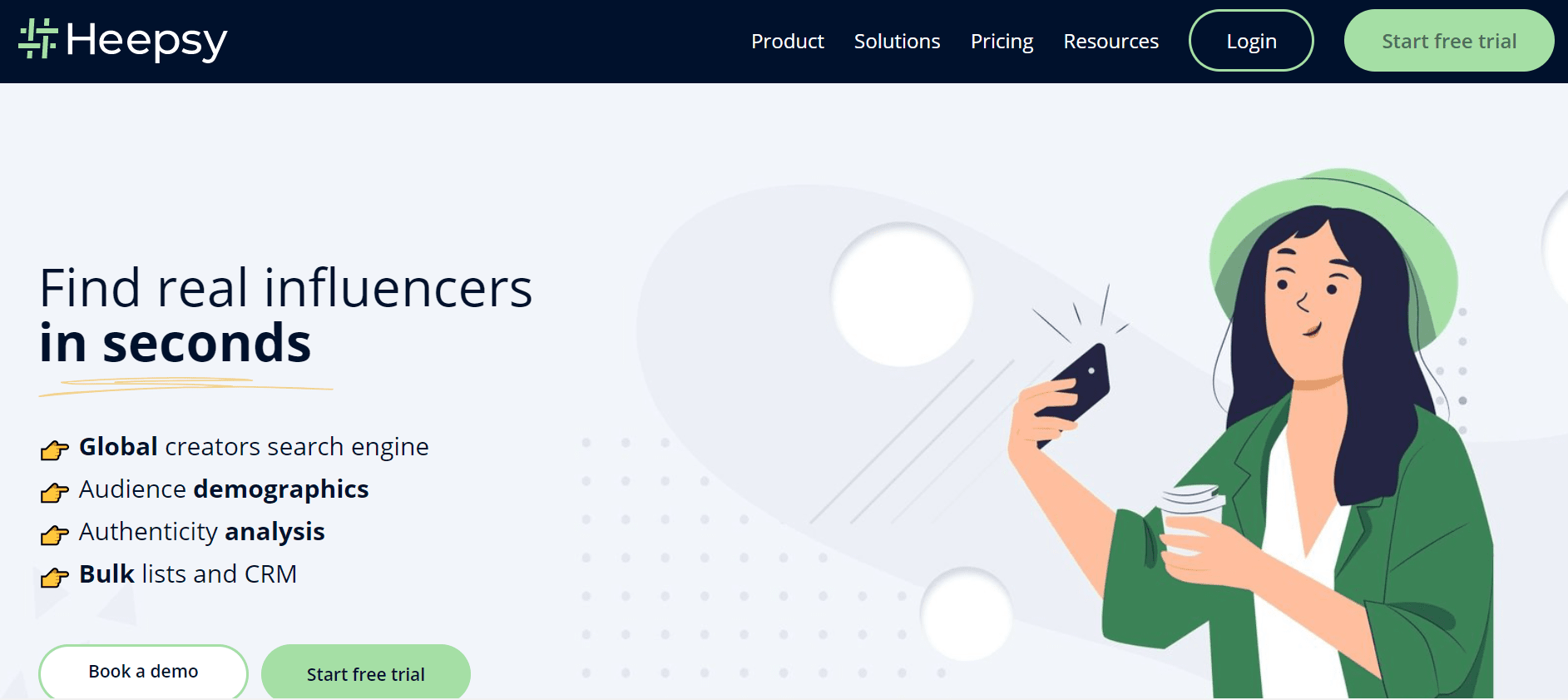 Heepsy is an influencer search and analytics platform driven by artificial intelligence for companies and agencies looking to launch influencer marketing campaigns. On Instagram, YouTube, TikTok, and Twitch, you may find social media influencers from all over the globe.
Use filters to focus your search and locate influencers in certain regions, industries, follower counts, or engagement rates. For each influencer profile, Heepsy also provides you with comprehensive analytics data.
Look at their long-term growth to see if it is organic. Check whether the demographics of their audience match those of your target audience by analyzing them. And a lot more.
After that, add lists of your favorite influencers. Download your lists as CSV or XLS files to receive influencer contact information and all performance statistics locally saved in one place.
💳 Heepsy Pricing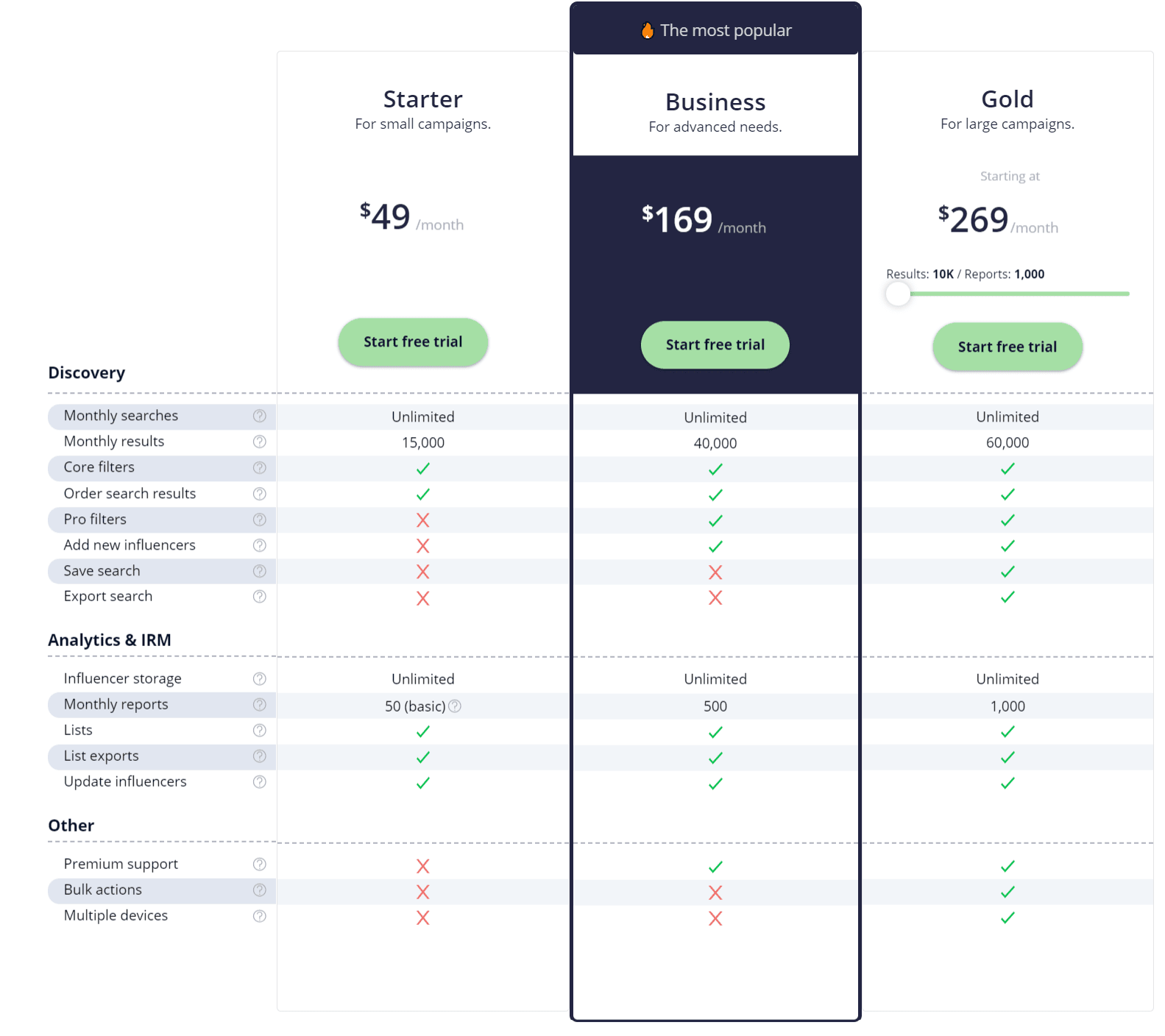 FAQs & Conclusion – Grin Alternatives
Can I trust Grin?
Grin is a trusted influencer marketing software platform. Thousands of brands use Grin for their influencer marketing needs. But because of no pricing transparency, users look for Grin alternatives and competitors.
Is BuzzGuru better than Grin?
All though BuzzGuru has a complete set of automated tools, one thing that clearly makes it better than Grin is pricing. BuzzGuru pricing transparency is what makes users choose it over Grin.
There are many Grin alternatives in the market. Apart from the ones listed above, Dovetale is one more good option you can think of. Given its outstanding features and accessibility for companies, I suggest BuzzGuru as the ideal choice for brands in India. You are granted complete control over your campaigns at an affordable cost.