Writing a new article from scratch is not everyone's cup of tea. It takes a lot of time to research and writes on a particular topic. How great would it be if you could get articles written in under 5 minutes?
I am here to tell you about AI copywriting software that helps you generate unique blog articles quickly. Read the Hypotenuse review, and learn how to get great titles and descriptions in minutes.
Now you can bring your thoughts to the screen faster with the Hypotenuse AI writer.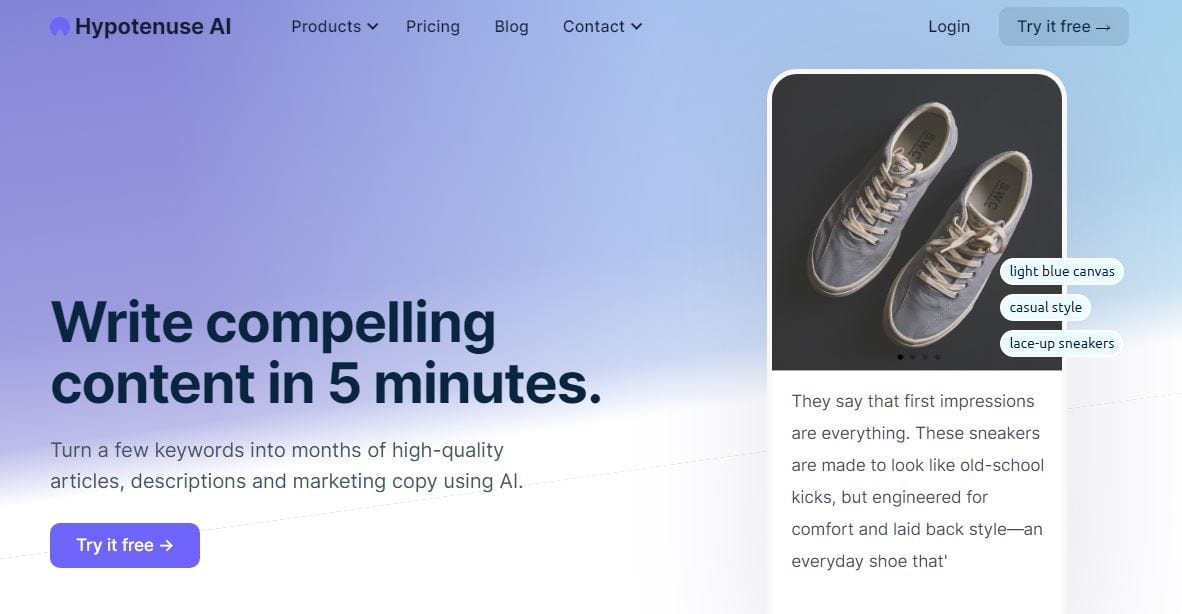 Products Offered by Hypotenuse.ai
Blog Article Writer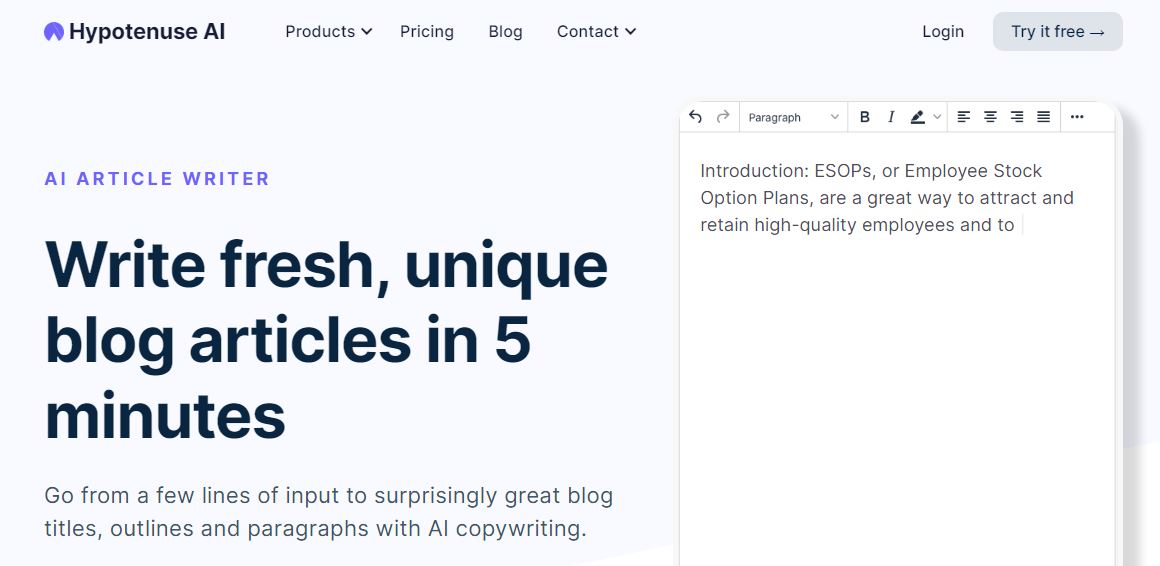 Bloggers have a hectic time writing long blog posts. Since you alone cannot write a lot, you tend to hire writers, which is a high cost. To save your time and money, Hypotenuse.ai is a savior. It helps you generate long blog posts, so you don't need to hire anyone.
Simply provide your topic or background, and the system will generate blog idea titles. Provide the introduction so that the system generates outlines that you could choose from.
You can now generate and regenerate drafts for different outlines.
AI Product Description Generator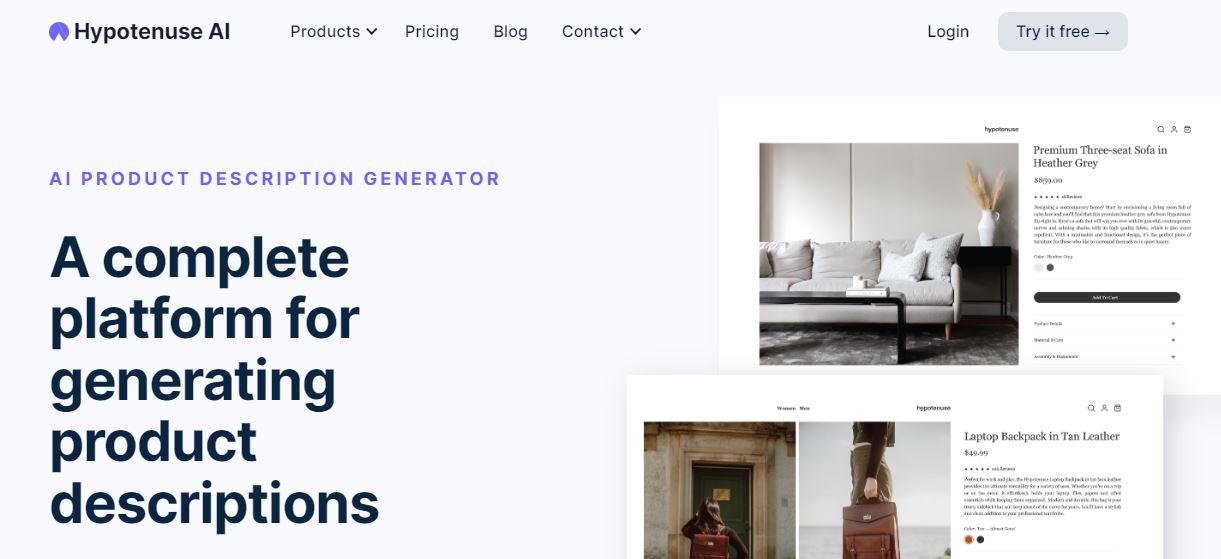 Hypotenuse can generate thousands of product descriptions. Simply upload your product images, add attributes for your photos, and go with a flattering product description.
The Hypotenuse AI product description generator allows you to import attributes through CSV or API. Once the description is generated, it will enable you to edit the description. You can export the products into your CMS in the same format you imported.
Instagram Caption Generator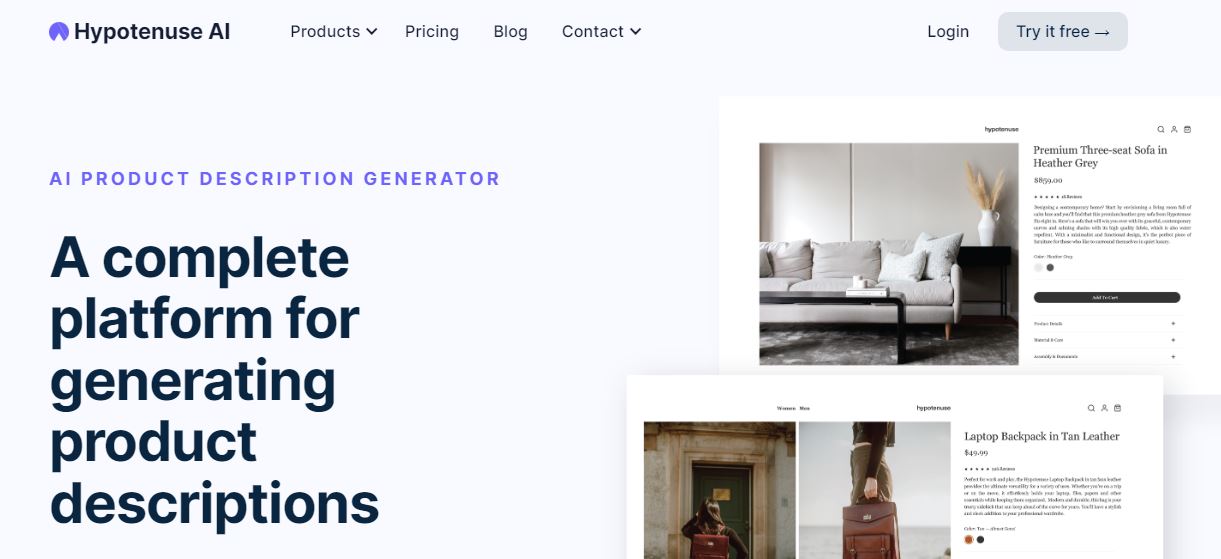 Awe your Instagram followers with eye-catching Instagram captions generated by AI. You need to tell the AI about your brand and target audience. The more information you provide, the better caption would be generated. Click on Generate, and the caption is ready for you.
The AI generator provides several captions to be chosen from, so select the preferred one.
Shopify Integration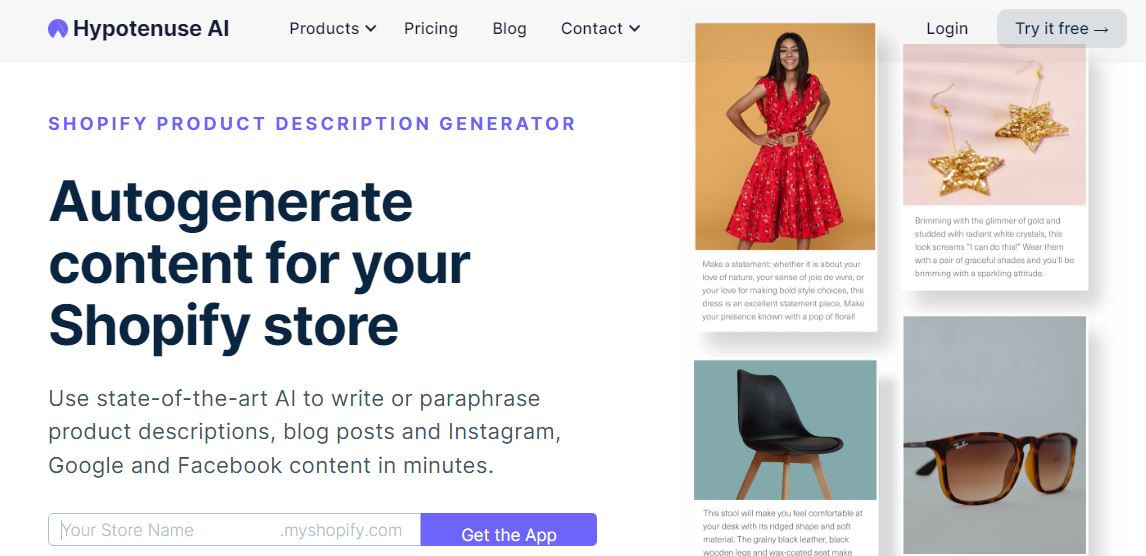 If you are an eCommerce brand, you need to focus on content generation. This could be product descriptions, blog posts, and social media marketing.
With the rise in Shopify users, Hypotenuse realizes this opportunity and provides integration to Shopify stores.
You can connect to your Shopify store in a few clicks and get your product information generated. With one click, you can import attributes of all the Shopify products. You can choose a copy from different product descriptions variations.
No need to upload CSV files, simply hit publish, and the descriptions will be updated to your store.
Hypotenuse Pricing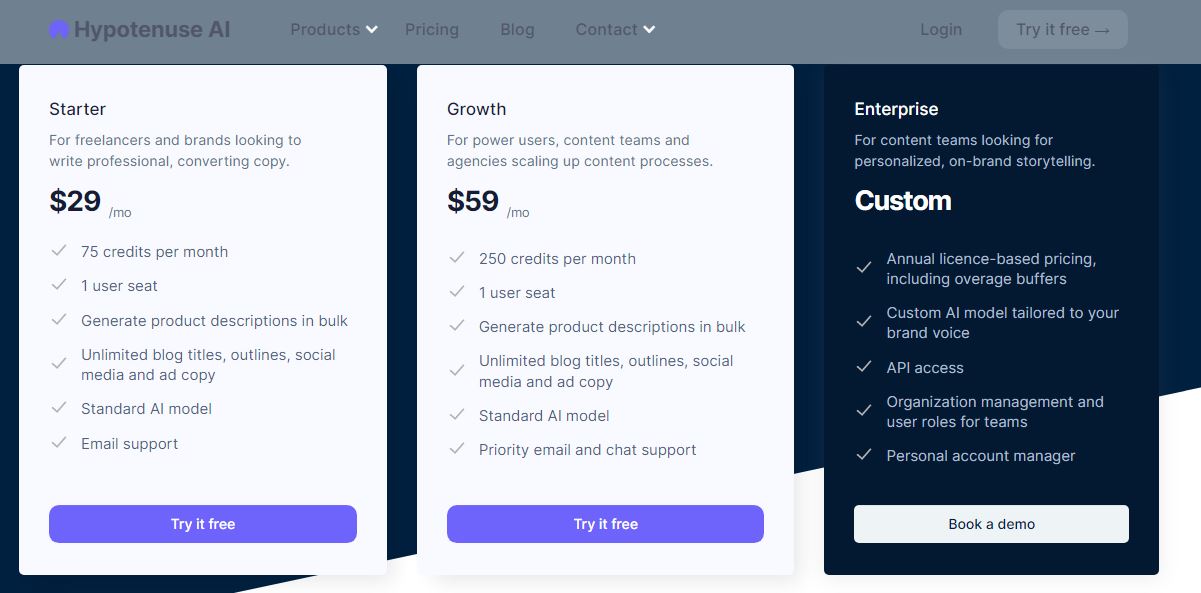 Three simple plans to choose from and you get your writings supercharged.
Starter: $29 per month
If you are a freelancer, then this plan is perfect for you. You get 75 credits per month, 1 user seat, bulk product descriptions, generate unlimited ad copies and blogs, and get email support.
Growth: $59 per month
For agencies and teams, this plan is most suitable. Get 250 credits per month, 1 user seat, and all the same features as in the Growth plan. This plan also offers email and chat support.
Enterprise
If you need a personalized plan with customized requirements, then you can go for the Enterprise plan. This plan gives you a personal account manager to assist you all the time.
Hypotenuse Pros and Cons
Also Read:
FAQs
Is there a free trial offered by Hypotenuse?
Yes, Hypotenuse offers a free trial. You can sign up for free without any credit card details required and get 3 credits free.
Can I generate unlimited content?
No, you can generate content depending on the plan you choose. With the starter plan, you can generate approx. 19000 words, and the Growth plan allows you to generate 63000 words each month.
Do I have to sign any contracts?
There are no long term contracts. All plans are monthly subscriptions. If you choose the Enterprise plan with a custom model, then the minimum period is of one year.
Which payment methods are accepted?
You can purchase any plan via popular payment methods like Visa, MasterCard, wallets, bank transfer, etc.
My Verdict – Hypotenuse.ai Review
AI writing can save tons of hours indulged in writing blog posts. You must have understood how easily it works and generated quality content.
Whether you are an eCommerce brand, blogger, or agency, you can use Hypotenuse AI writing software for all your writing needs.