Chatbots have changed the way people communicate on websites. So, here's one of the best Chatbot solutions provider Intercom and today I am here with the Intercom review.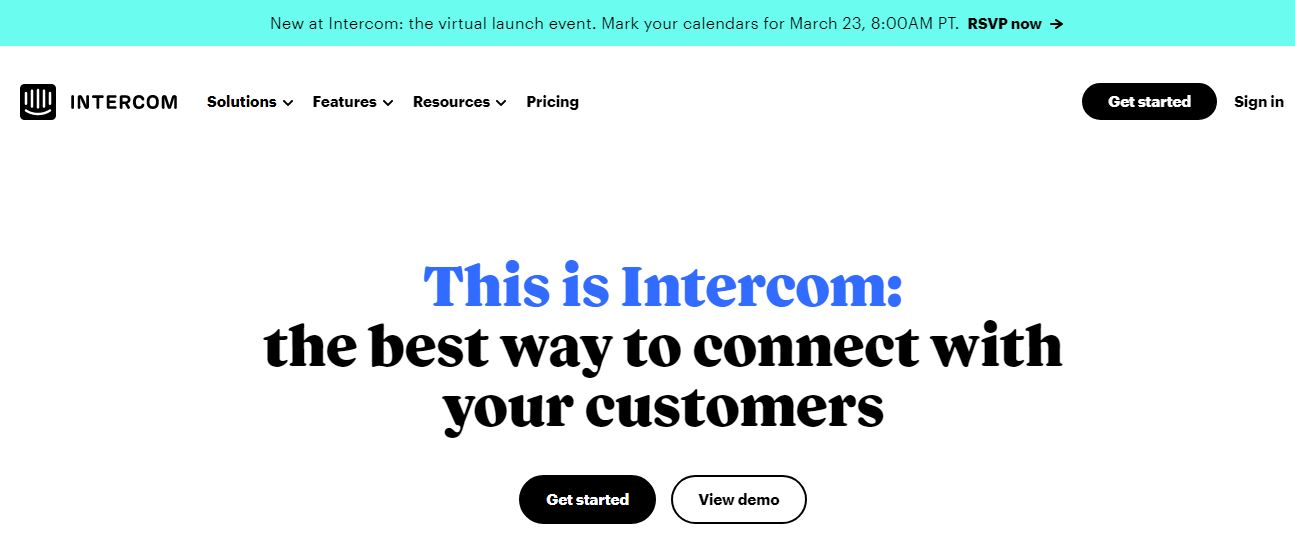 Given the avalanche of information people receive every day, brands need to do everything they can to be distinguished from their competitors. Once, all you needed were a good price and an effective marketing campaign.
To stand out in today's market, you need to engage your customers on a personal level in addition to using simple marketing tactics.
The price a buyer pays for a product or service will increase by 68% if the buyer sees personal value in it. No matter if you're a B2B or B2C company, you must show your customers that you're there, you're listening, and you're committed to getting the job done right.
It can be challenging to communicate with customers even if you have a full suite of digital tools at your disposal. Regardless of where your customer is in their journey, there seems to be a wall between you and them.
A video intercom eliminates this barrier. There's so much more to this customer communication platform than a simple chatbot.
Your customers can be acquired, engaged, and supported by Intercom's entire suite of messaging products. I've outlined some of Intercom's best features (and why I love them).
Intercom is a chatbot and live chat solution for websites and apps. Is Intercom the right platform for creating chatbots? Read the Intercom review to learn more about its platform.
Let's get started!
Intercom Features
In this intercom review, I am sharing Intercom's features. So, when you buy this tool, you know what's inside it.
User Interface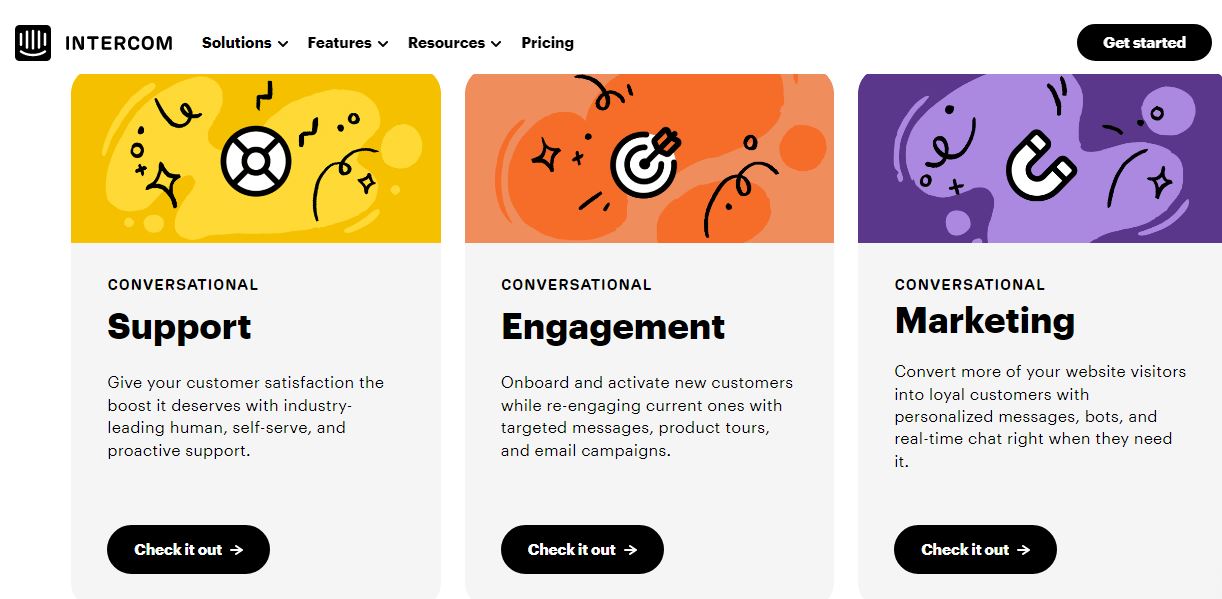 A "quick-start guide" is provided by Intercom when you sign up for their platform, which helps you get started:
Once you have setup Intercom, you can create two types of chatbots: Task Bots and Custom Bots.
In the absence of live chat agents, TaskBot interacts with you, sending you automatic messages such as "We usually respond in two hours":
Intercom uses a Block builder to create custom Bots (chatbot flow with elements). The blocks are displayed on the left and the block content on the right:
By adding Rules, you can determine where to display your chatbot flow once you have determined the content of your Custom Bot:
In the end, you want to determine the chatbot flow goal (that you can use for analytics):
Furthermore, you can preview your chatbot flow before launching it:
Because Intercom is such a large product (with chatbots, helpdesks and more), it can be somewhat difficult to set up your chatbot at first.
In addition, there is no explanation of terms such as "outbound" or "operator" (unless you search for them). You will also have to determine which chatbot you need first – Task Bot, Custom Bot and Resolution Bot.
In general, I really like the interface, but configuring your chatbot can be a bit tricky at first.
Chatbot elements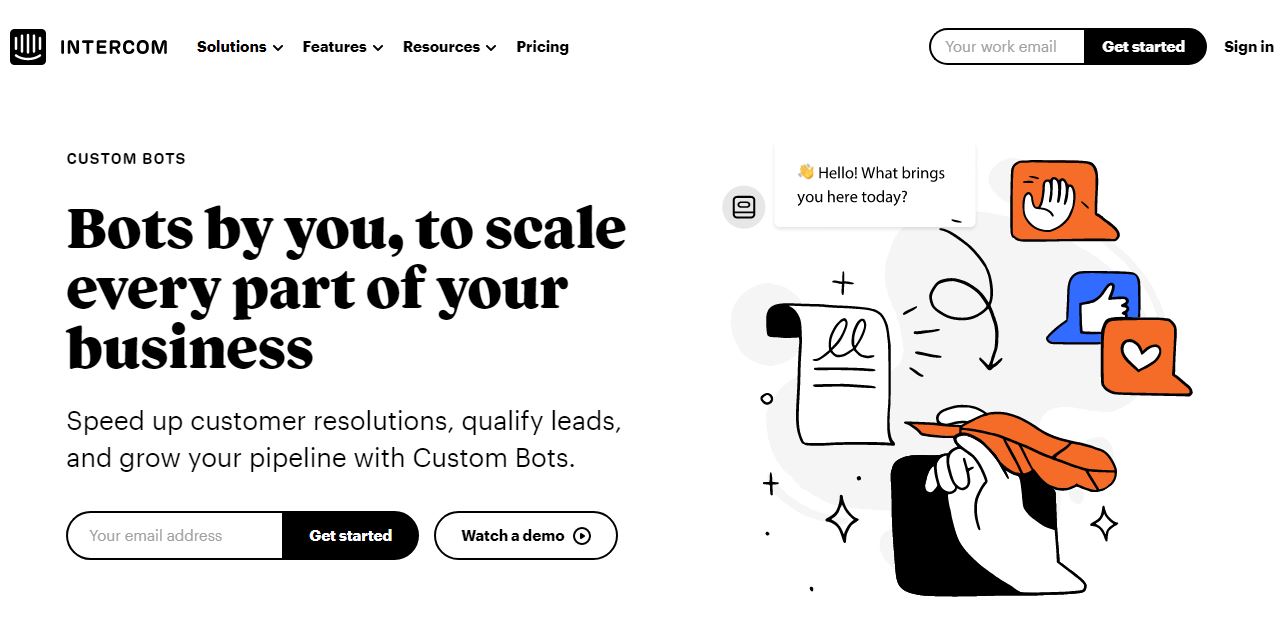 It is possible to create a good chatbot with Intercom's chatbot elements. Audio files, attachments, and galleries aren't included, but these aren't deal-breakers either.
Intercom's elements allow you to display Helpdesk articles inside your chatbot, which I love the most. Also, it has a Super Slick Chat Window.
Today, most websites have a chat window. For example, there are a few companies that provide website plugins.
You can have a conversation with a chatbot, find answers in a knowledge base, or speak with a human. Intercom, however, is hands down the best chat application.
Intercom's chat window is familiar, so that's its best feature. Through SMS, Facebook Messenger, WhatsApp, and other chat services, your customers already communicate with friends, family, and coworkers. Don't they have to use the same features when they chat with you?
Video, images, and articles can be embedded into Intercom's chat window. Chat participants can attach files, send GIFs, and even use emojis.
The app is called "Business Messenger," and it includes the same features as a chat window. Using bots to qualify leads for you and embedding easy-to-use tools on your site can help your website visitors accomplish the goals they set for themselves.
All they need to do is select a menu option and start typing – whether they want to serve themselves or talk to you personally. Intercom claims that letting visitors chat on your website can increase conversion rates by 82%.
Chats can be tracked and triggered by custom events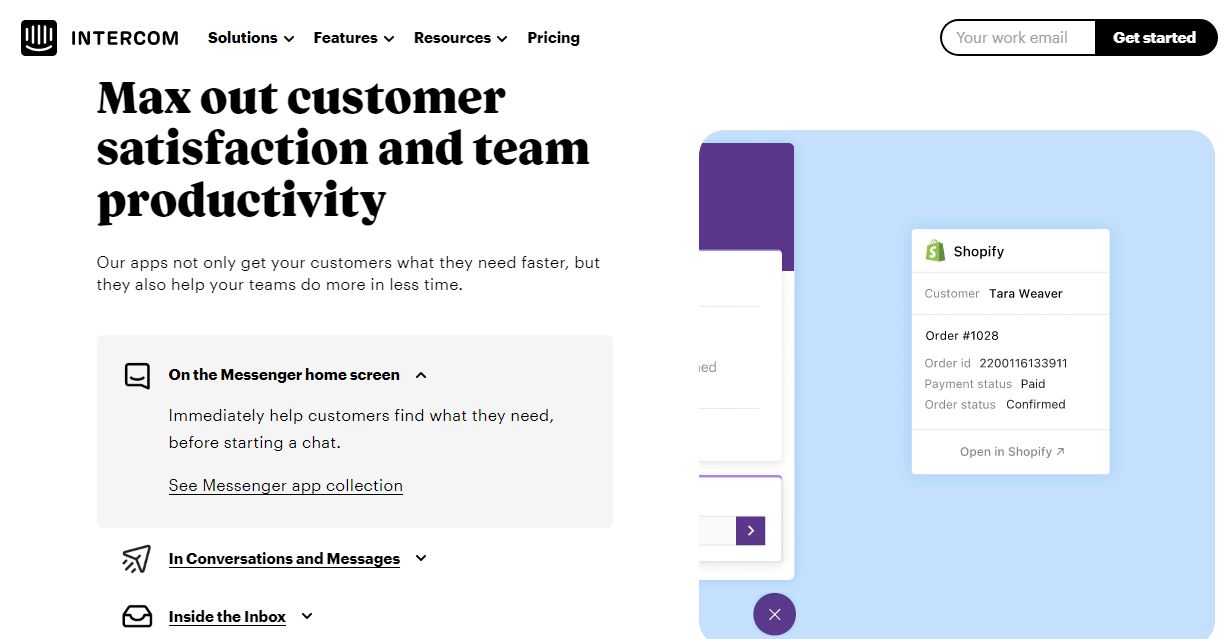 In addition to communicating rules-based, Intercom serves as a communications tool. Chats can be triggered based on user behavior and events.
You can activate Intercom chat automatically when a visitor views a certain number of pages on your website:
A representative will be immediately assigned a conversation if the conversation warrants it. You can send an automated response if you can't respond immediately. Or you can prepare responses ahead of time to answer the most frequently asked questions.
Updates for Product Releases can be sent directly to users
Intercom has a number of features that will help you communicate directly with your customers when you're releasing a new app or SaaS product. If users haven't logged in for a while, you can use these tools to motivate them to do so.
Sending in-app messages is also possible with Intercom. While your users are using your product, you can prompt them to take action or provide them with tools to enhance their experience.
Messages are delivered according to your preferences. Among the options are:
Posts

: for longer articles

Notes

: Less disruptive, smaller updates

Chats

: to initiate one-on-one conversations
Regardless of the message type, Intercom offers great messaging features and formatting options. Videos, images, and buttons can be shared, for instance.
In order to give Spotlight users easy access to new release notes, Ladder has integrated Intercom with Headway:
One place to manage multi-platform communications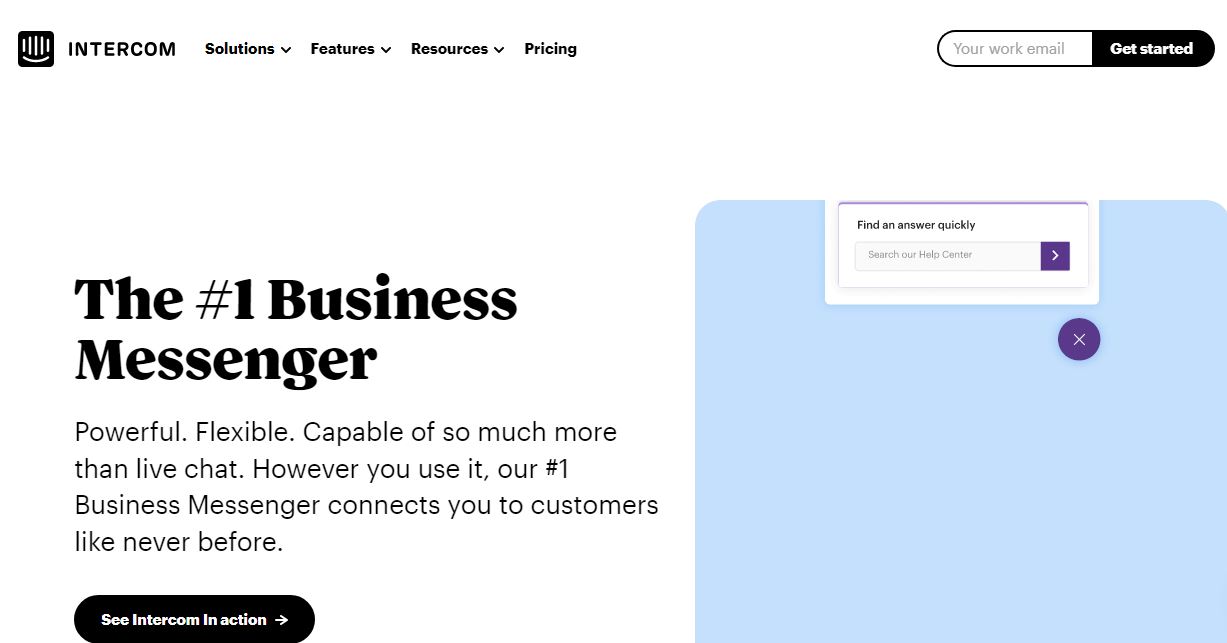 Intercom is not just for your website, as we explained previously. Additionally, you can use it to send emails and send messages in-app.
And do you remember those behavioral trigger messages we mentioned earlier? You can use them with in-app messages, too.
Intercom lets you manage all your communications from a single location, preventing your team from cycling through multiple interfaces.
With Team Inbox, you can collaborate more easily between departments (like sales and support), save time, and respond to leads and customers more quickly. Additionally, it provides you with helpful analytics to measure and improve your team's performance.
The Targeting Options Are Sophisticated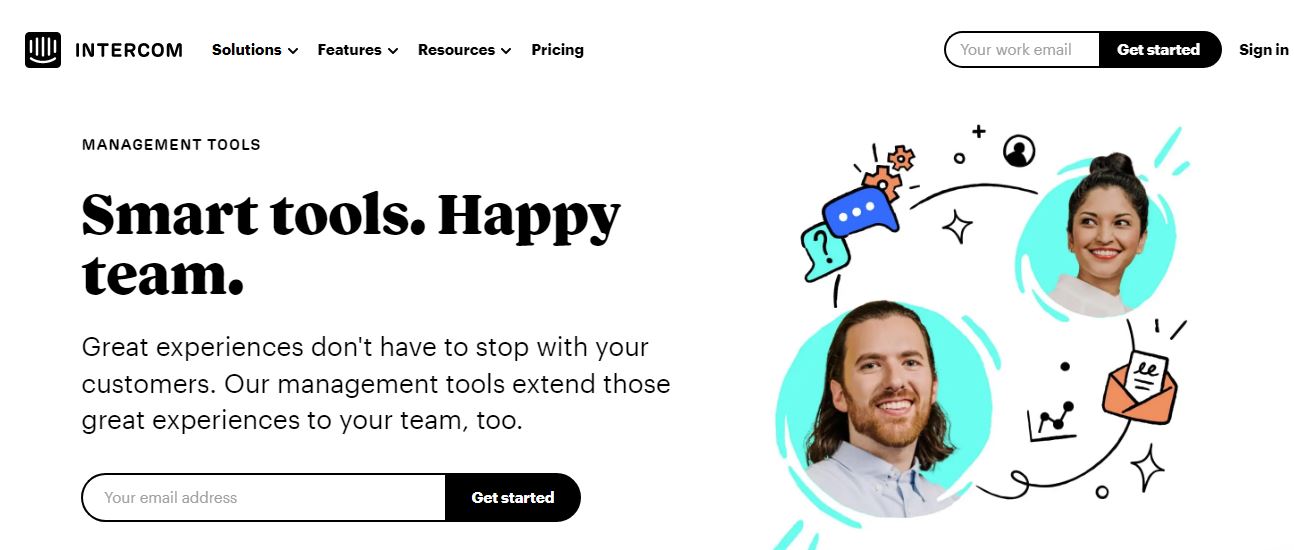 Personalization would, of course, complete any customer communication tool.
Messages can be tailored to fit the context of the recipient with Intercom's wide range of tools. To assist you in viewing and leveraging lead intelligence, your messaging suite comes with a free platform for viewing customer data. Your messaging suite and CRM software will integrate together seamlessly.
Intercom Pricing

It's unclear how much Intercom costs.
There is only one plan offered by Intercom, which is the Start plan, which is $39 per month. In terms of the Grow plan, it costs $99 a month, and it includes live chat, five agents, email integration, help desk articles, mobile carousels, banners, a lead qualification bot, and an article suggestion chatbot (but not enough to create a complete chatbot).
Starting at $499 per month, Conversational includes 10 live chat agents, several types of chatbots, along with analytics and other features.
These last plans are strange in that they do not give you access to everything the platform has to offer. For example, in the Conversational Customer Engagement plan, you have the Series feature, but not in the Conversational Marketing plan. It is not clear how much paying for all the features would cost.
In addition, how does the price change if more than 10 agents are needed? Is it more expensive? Their website does not provide information about that.
The last question is this: is $499 a month worth it? It depends on how many people use your chatbot and how our business is doing. If your website or software application has enough users, this could be a great deal.
Your company can save valuable time by using a chatbot for customer service and automatically qualifying leads that enter the chatbot.
Intercom Pros and Cons
Also Read:
Conclusion: Is Intercom the best tool for creating chatbots?
Intercom provides many features and many marketing possibilities, which make it totally worth it to buy this chatbot builder.
So what did you learn from the Intercom review?
Share your thoughts with us so more people get access to the right tools.