Webinars are a thing in today's time that is successfully grabbing the attention of everyone ranging from small businesses to bigger enterprises. As the result of the ongoing pandemic, numerous professional trade shows and events got canceled, and thus the businesses are not looking out for digital ways in order to reach out to the masses as well as connecting with them. This is where Webinars gained their importance.
Get LiveWebinar Now
To put it simply, webinars are nothing but seminars on the internet. These online events are attended by the audience on the web. Webinars can prove to be great when it comes to reaching out to a wider audience, boosting awareness regarding a brand, generating new leads, and increasing engagement with the audience.
In this curated article, we will be reviewing one such trending solution that offers its users to conduct webinars in a smooth and subtle manner; LiveWebinar. Here we will be trying to cover almost every aspect of this platform so that you can make a well-informed decision about investing your time and money here. 
Let us get started with basics and know more about LiveWebinar.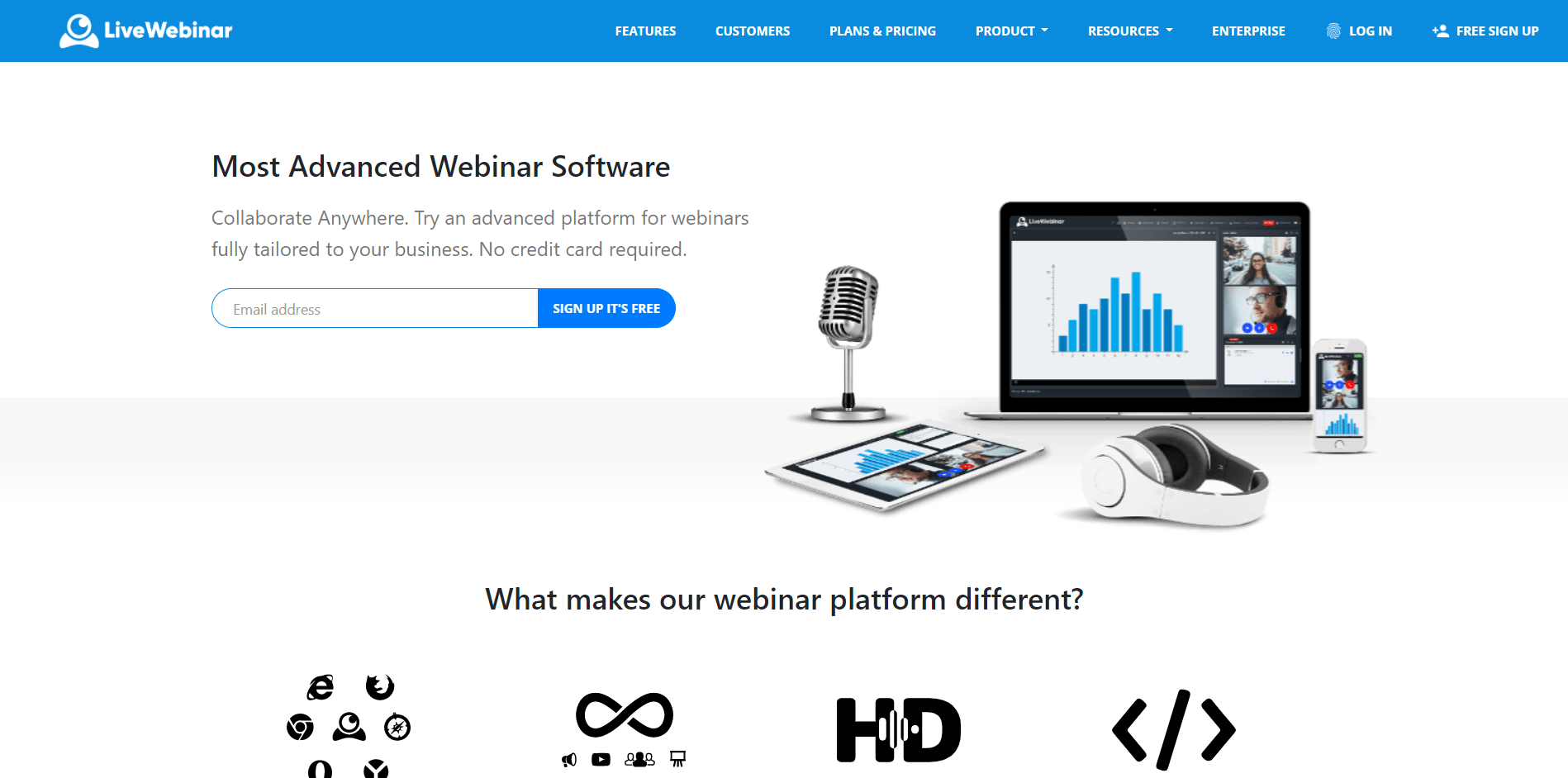 Knowing More About LiveWebinar…
LiveWebinar, in simple terms, is a cloud-based webinar platform that is helping both the massive enterprises as well as the small teams in managing their webinars and the online meetings. The user can perform their online events for the audience with ease owing to the LiveWebinar platform. It offers extensive tools in order to make sure that the users can share as well as present the content in an efficient manner and also interact well with the audience attending the webinar. 
With LiveWebinar, the users can undertake their interactive and personalized webinars, training, and e-learning sessions for the audience. You can both host as well as join the meetings from smartphones, laptops, tablets, and also through a smart tv. This platform works best for those who wish to conduct webinars, online meetings, e-learning sessions, helpdesk and customer support, sales and marketing, finance and banking, HR, etc.
Keep reading ahead to know what makes LiveWebinar a must-have solution for your webinar needs.
The Top-Notch Features Of LiveWebinar That Makes It A Must-Have
→ Easy-To-Use
You can get started with your webinar with just a single click.
→ Screen Sharing
With LiveWebinar, you can easily share your desktop with others in real-time.
→ Storage
Here you can store as well as share all your files securely and safely with the use of the personal cloud.
→ Live Streaming
Using the LiveWebinar, you can broadcast your webinars as well as meetings to the various social media platforms like Facebook, Youtube, Periscope, and Vimeo.
→ Remarkable Collaboration Tools
The excellent set of collaboration tools offered by the LiveWebinar platform ensures that you get better participation and greater results. They offer Polls and Surveys to boost the engagement of the audience and also let you have feedback that can help you make changes. Their chat option will help the users communicate with the participants easily, along with the complete control for moderation. The call-to-action is helpful in converting your leads to sales by encouraging the participants to purchase the products and services that you have to offer. 
→ Whiteboard
With the Whiteboard feature, it becomes super easy for the user to express their ideas in an efficient way. They can draw on the videos as well as the documents and also give their participants the power of joining in and drawing so that they can explain themself better. 
→ Collaborate Anywhere You Want
Here on LiveWebinar, users can invite their participants using phone calls, text messages, or emails. The participants can join the meetings with ease by either clicking on the link or by answering the call. Its Phone Bridge feature lets users expand their online reach by letting them share a toll-free custom number with the partners so that they can join irrespective of their location across the globe.
→ Assign The Roles
You can both assign as well as manage the roles for the people who will be taking the charge of your online meetings and webinars.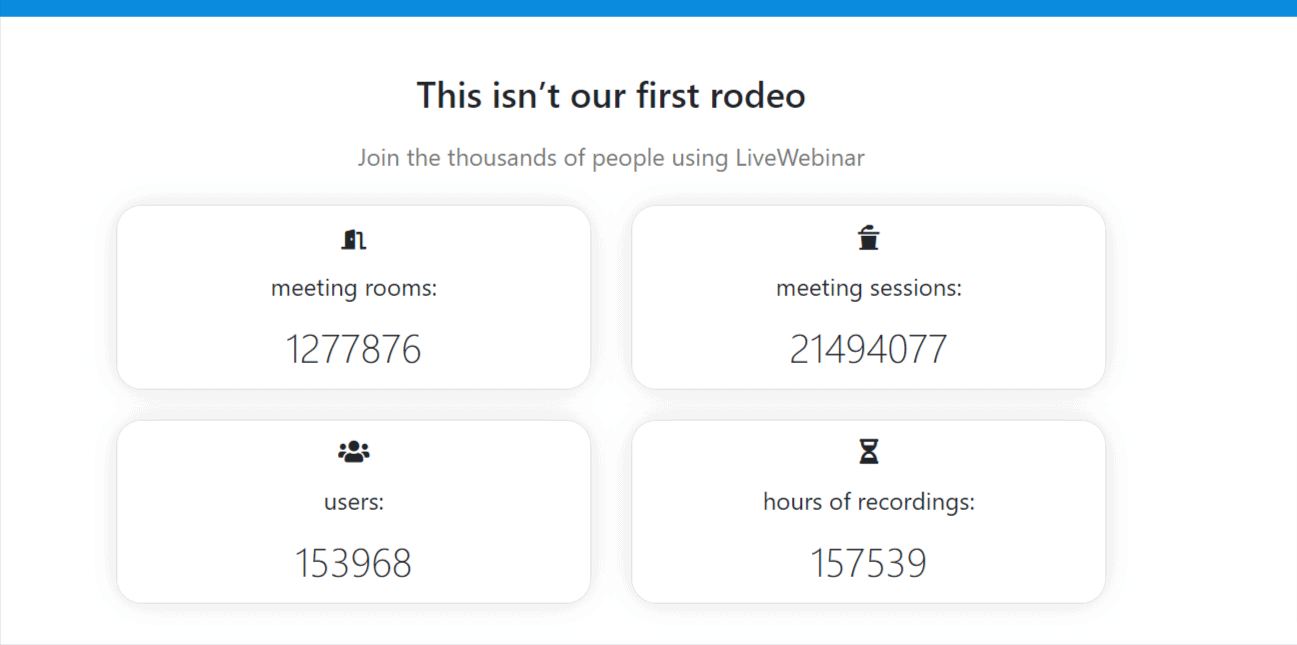 → Breakout Rooms
The Breakout Rooms lets you split the main meeting room into smaller rooms during the live online meeting for the ease of management.
→ Record The Sessions In Full HD
You can create an incredible webinar experience with LiveWebinar by recording the session in Full HD and then storing them on the personal cloud space.
→ Freedom To Customize
LiveWebinar lets you customize everything just the way you want it to be. You can customize the session with the colors and logo of your choice. That's not all; here, you can also arrange your forms, events, and survey into automated events.
→ A Wide Array Of Integrations
With the use of the API interface, you can integrate this platform with your system. LiveWebinar platform is known for working well with various marketing automation tools like Mailchimp, Constant Contact, Campaign Monitor, iContact, SALESmanago, Active Campaign, FreshMail, AWeber, Klaviyo, Zapier, Moosend, HeySummit, MailerLite, Moodle, SendFox, HubSpot, GetResponse, and Integromat.
→ No Plugins Or Downloads
The platform is completely a browser-based one, and thus, you do not have to install any plugin or software. This way, downloading an update right before any meeting will be the least of your worries. LiveWebinar is well supported by almost every browser. 
→ Sub-Account
This feature lets you manage various accounts under a brand by creating multiple accounts for the trainers, teammates, and co-workers. 
→ Generate High-Quality Leads
By using the Webinar Registration forms, you can gather user data as well as great leads. You can also use the New-Leads form for gathering valuable data that can be used for the sales campaign.
→ Waiting Rooms
The LiveWebinar waiting rooms let your participants have space before the meeting begins. This will help in promoting a professional image of your venture. It can also be helpful in securing your meetings as you can let in only the participants you want.
→ Embed Code
LiveWebinar's Embed Code lets you stream the live events as well as end-to-end webinars right on your website. 
Along with these top-notch features, you can also lay your hands-on 
Ad Banners

Adjusting the audio modes

Chat moderation options

Friendly URL for your meeting room

Choosing the layout of the room

Tracking the attendance of participants

Vote Manager

Language Interpretation

Thank You, Page, for redirecting the attendees to your website

Statistics And Reporting for getting insights about your meeting

and a lot more… 
Let's get down to the hardware and software requirements of using LiveWebinar.

Get LiveWebinar Now
Requirements For Using LiveWebinar
[wp-review id="16603″]
For LiveWebinar to work smoothly, you will need:
2 GHz dual-core processor or higher

2 GB RAM though it is recommended to have 4GB or higher

Operating systems like Windows 7 (Recommended: Windows 10), Mac 0s 10.13 ( Recommended: latest version), Chrome OS, Linus, Android, or iOS.

Internet speed of 1 MBPS or higher.

in-built microphone and speakers (professional equipment for broadcasting, wireless ones, or USB plug-in.)

In-Built Camera (professional camera for broadcasting or USB plug-in.)
The list of supported browsers are as follows:
Safari 11 or higher

Chrome 80 or higher

Firefox 75 or higher

Opera 60 or higher

Edge 75 or higher

Yandex 18 or higher

Vivaldi 3.0 or higher
LiveWebinar can work with all the webcams, in-built cameras, and laptops. 
Keep reading ahead to read more about the pricing plans that LiveWebinar offers.
Pricing Plans Offered By LiveWebinar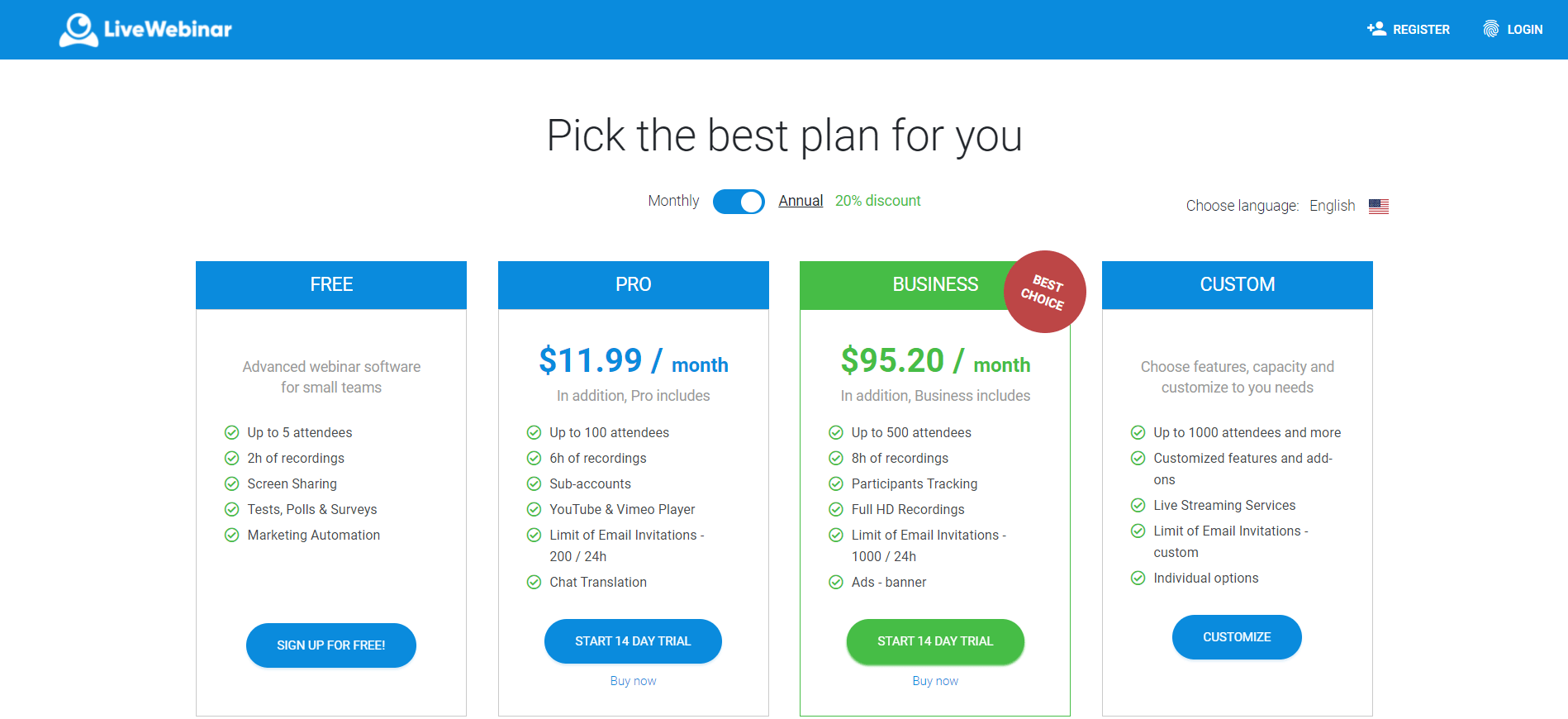 LiveWebinar offers four pricing plans for its users to choose from, viz: Free, Pro, Business, Custom, and Enterprise plans.
Get LiveWebinar Now
→ Free Plan
The free plan offers its users:
Maximum of 5 attendees

2 Hours Of Recording

Screen sharing

Marketing Automation

Survey, Polls, and Tests
This plan can prove to be great for the small teams who are looking for a limited set of features.
→ Pro Plan
Along with the features of the Free plan, Pro Plan offers:
Maximum of 100 attendees

6 Hours Of Recording

Sub-Accounts

Vimeo and Youtube Player

200 email invites per 24 hours

Chat Translation
The Pro Plan costs $14.99 per month (monthly plan) and $11.99 per month (annual plan). 
→ Business Plan
Along with the features of Free plan and Pro Plan, Business Plan offers:
Maximum of 500 attendees

8 Hours Of Recording

Ads Banner

FHD Recordings

1000 email invites per 24 hours

Participant tracking
The Business Plan costs $119 per month (monthly plan) and $95.20 per month (annual plan). 
→ Custom Plan
Custom plan, as the name suggests, lets the user customize their plans by choosing the capacity and features according to the needs of the user. 
With this plan, the user gets: 
Maximum of 1000 attendees

Customized add-ons and features

Customized limits on email invitations

Individual Options

Live Streaming Services
The plan lets you customize the recording hours, room capacity, storage size, and break-out rooms. You can also add features like Language Interpretation, Friendly Event URLs, Phone Bridge, HQ Live Streaming, Recording Editor, and Broadcasting to Vimeo, YT, FB, and others.
→ Enterprise Solution
If you like all the functions and features offered by LiveWebinar and are looking for something that is fabricated just for you, then they have the Enterprise Solution to offer. They create a platform for you that is based on the LiveWebinar but covers all your needs and requirements.
With the Enterprise plan, users can customize more than 1500 elements which include the look of your dashboard and waiting room to all the functions you need and want. What makes it the best is the fact that you can get it all right under your domain, and this way, you literally become a part of the brand.
Enterprise lets you have customized analytics and reports of your events, and you also get personal technical support along with an account manager. Things become a lot easier for you here because you can integrate all the applications that are currently a part of the company ecosystem.
With this reliable and remarkable platform, security concerns and data breaches are the least of your worries. Getting down to the specifics:
→ With the AES (Advanced Encryption Standard) 256-bit algorithm, double encryption means that the meetings are completely secure. To further boost this security, all your communications are protected with the 256 bit-TLS.
→ LiveWebinar is GDPR Compliant and uses HTML encryption as well as industry-standard SSL.
→ To enhance security, it is possible to log in through a single sign-on in SAML 2.0 standard.
You just need to fill a form with details of what you require, and their team will get back to you.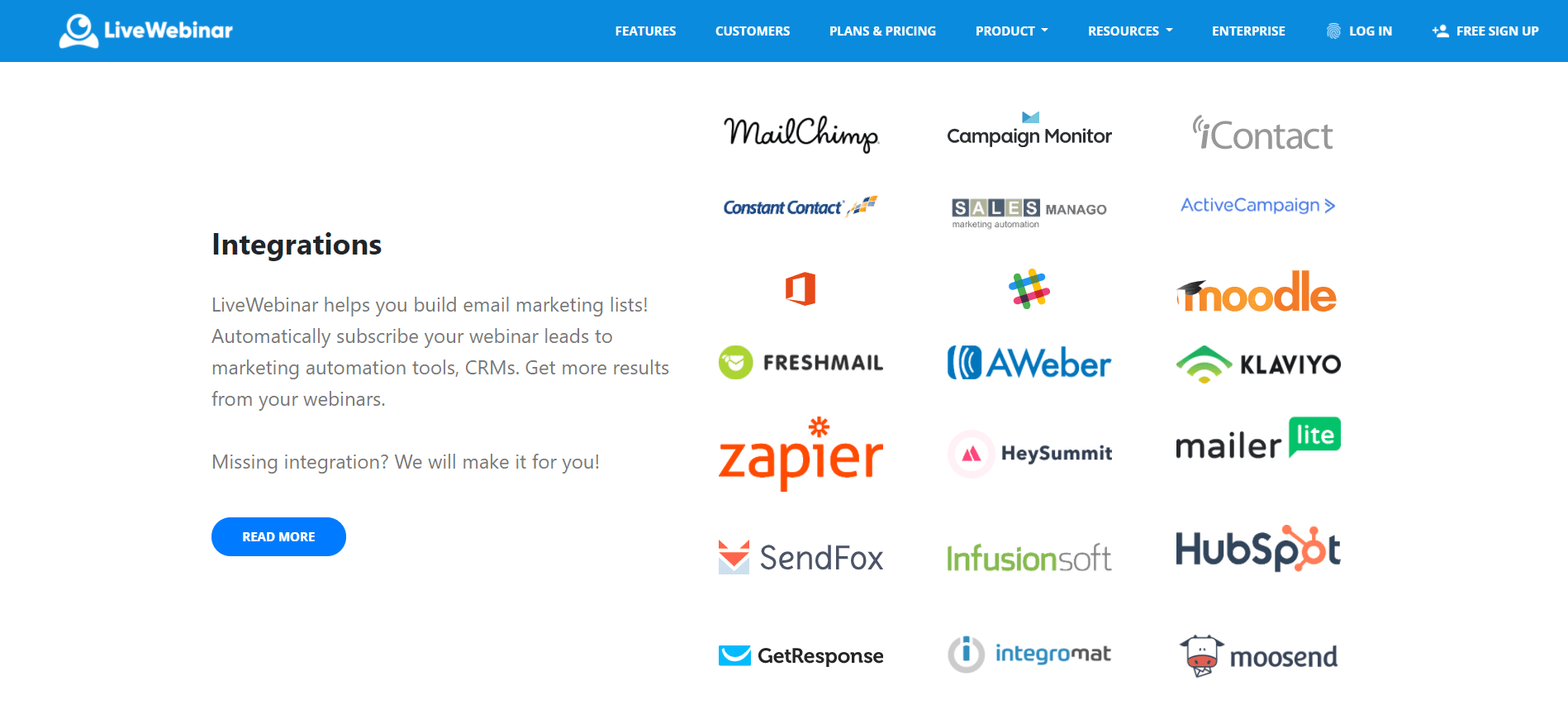 Wrapping It Up
Webinars, as we all know, have become a necessity in today's time when it comes to carrying out work, may it be corporate or education-related. Considering the importance webinars hold in today's time, LiveWebinar can be called a torch-bearer in this arena. This feature-packed solution has everything one needs for their webinars, making it a must-try. Hopefully, this holistic article will help you in deciding if LiveWebinar can fit your business-related needs and is worth your time as well as money.
Get LiveWebinar Now
Frequently Asked Questions
How Can The Meetings Be Customized With Your Backgrounds, Fonts, Colors, and Logo?
The branding tools let you replace the logo of LiveWebinar with yours, as well as change the backgrounds, fonts, and colors. You can create your branding template, make it default for the account so that all the rooms can use it.
Can Screen Sharing Be Used On Mobile Devices?
Screen sharing is not allowed on mobiles as it is limited by the browsers. This feature is not apt for sharing any dynamic content like the videos. It is best to upload it from the storage or share it via YouTube.
Can Attendees Share Their Camera During The Webinar?
When you enable the option for discussion, you can ask the attendees to activate the microphone and webcams. As they turn it on, they can then be visible on the screen and heard through the speakers.