WordPress has been essential to internet services for quite some time now. While you decide to get a WordPress website, the thing you require is a hosting service. These WordPress hosting service do provide a variety of services that you can choose from, example, cloud hosting, shared hosting, VIP hosting, dedicated hosting and importantly managed WordPress hosting.
Managed WordPress Hosting is a service designed so that a content or website builder can be free from all the technical aspects of running a WordPress website. The main reason that the managed WordPress hosting is a successful service is due to the fact that user can get away from all the hassle of the technical and inner working.
Other than that some of the other aspects that a Managed WordPress Hosting service takes care of include performance, speed, security, and software updates, etc. The emergence of these has been possible due to the growing popularity of the WordPress websites. Though, generally a bit expensive than the shared hosting services, managed WordPress hosting services end up providing more benefits to its users.
The Managed Hosting Providers at a glance
Some of the best Managed WordPress Hosting Services that can help you take your website to the next level are listed below:
Managed wordpress hosting comparison
In this comparison table, you can see the comparison based on the smallest plan these managed hosting providers offer. These are great plans to kickstart a website without worrying much about the technical aspects (speed, updates, bugs and troubleshooting) of your wordpress site.
A managed wordpress hosting plan around $100
If you've been running your online business for a while and want to move to a performance ready hosting plan to sever your audience better, plans around $100/mo would be the best match for you. Most providers will let you host more than a single site on such plan with additional resources and features too.
[List] Top Managed WordPress Hosting Companies of 2023
WP Engine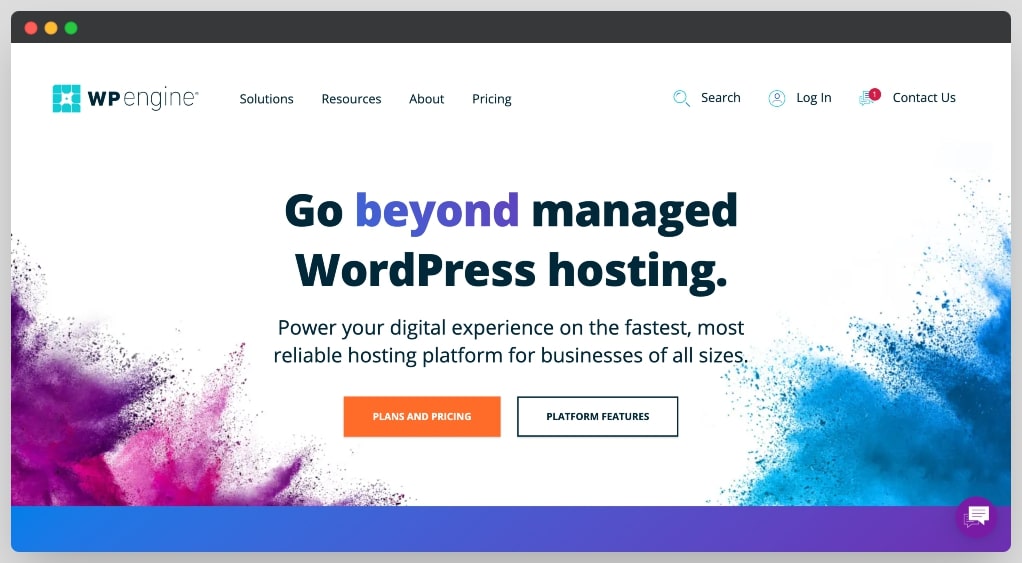 WP Engine is definitely one of the best if not the best Managed WordPress Hosting service. They provide quite a number of features and options to make it easier for the users. They also provide different type of hosting services like cloud hosting and shared hosting. Many websites prefer WP Engine because of the speed and speedy support that they provide. 
You can not just consider the number of sites you want to host on WPEngine. You also would require to see the amount of storage each website requires. Because, in the startup plan, you get 10GB storage for a single site. However, when you need to host 10 websites on the Growth plan, You will have to make sure that the overall storage requirement is also under 20GB.
WP Engine allows you to have a certain 'staging area' where you can create a replica of the live website. This allows you to check and see how various changes whether big or small would perform.
Another feature that is quite helpful even if it is to be used rarely is 'hacking scan'. If ever, your website gets hacked, the support team of the WP Engine will fix it for free.
Creativity can sometimes make things messy and to avoid such a problem, a great feature called 'one click restore point' can be used. It will take you to the last preferred point where the site was working efficiently.
Some great features and options that are free include free SSL certification and CDN ready to go with just one click, and also free migration to WP Engine.
Depending upon your level in website usability and experience, the lack of cache plug-ins might be a blessing as well as a curse to have. WP Engine has its own Ever Cache technology which might reduce the flexibility for some users.
The support team of the WP Engine can be considered as the best in terms of speed and reliability.
With all these features, the price does get a bit high. But, considering its class, being a little expensive isn't a deal breaker.
Kinsta
Kinsta has made a name for itself as a dependable managed WordPress hosting service in a last few years. The company has been around for a long time but after making their prices more pocket friendly and their packages more robust that they found themselves in the top bracket of WordPress hosting services. Apart from all the features that a user can get from a Managed WordPress Hosting service, you also get access to the Google infrastructure as the hosting service is built on Google Cloud Platform.
Also, Kinsta is the top-recommended (as No. 1 managed-hosting company) hosting for WordPress. Furthermore, you get amazing security and blazing fast speed on the top of the Google cloud platform.
Kinsta like WP Engine offers free migration to its network and even going ahead, they have offered unlimited migration since last few years.
Kinsta has one of the best security models one can get for a WordPress website. Apart from general security features such as DDoS detection and firewalls, they also have uptime monitoring and login hardening features present.
Kinsta also provide custom holding dashboard which is quite easy to use and manage the website.
Due to being powered by Google Cloud Platform, the other technologies used in the service are also the latest like PHP 7+, HTTP/2, and NGINX etc.
Kinsta also provide good back up options, which also work great alongside the production and staging features.
Though the support staff of the Kinsta mostly helps via live chats, they seem quite capable in solving your problems. Still, addition of some phone service would be great.
The prices have come down in last few years, also the reason for its recent success in the market, still the hosting service is not as wallet friendly as it should be.
Templ.io
In business from 2017, Templ.io still managed to put their name forward when talking about WordPress Hosting service. Based on Google Cloud Platform, the users using this service have access to many Google services and features.
Migration service are free if you want to migrate your WordPress website to Templ.io
Like other popular hosting services, Templ.io also provides the users with free SSL certificates.
Backup and restore function of this service work very efficiently and backups also use different servers to store and do not count against your main storage plan.
Options like free trial are present to use in Templ.io and in case you like the service, it is quite easy to move here by choosing any one of the designated plans.
Usage of features such as 'quic' decreases the website load up time and also enhances performance on portable devices.
Understanding expensive and complicated pricing is quite a irksome process.
Cloudways
Cloudways provide you with a cloud hosting service where you can keep your content of WordPress websites. Where Cloudways is ahead of the competition is that the data is replicated among your chosen centers and when something goes wrong with main or the chosen server, the website is up and running from another one. The Cloudways is unique in terms of service reliability and high performance.
Easy website migration and high speed server improved by Cloudways CDN are some basic features of this hosting cloud.
Advance options like staging URLs, GIT integration and managed back ups are also present in this service.
Quite unique for a cloud, Cloudways also offer a robust and user friendly control panel which is quite useful for beginners and non- beginner alike.
Cloudways is also a good option as cloud hosting is more reliable and has better performance than traditional VPS.
Cloudways help you deploy the WordPress by any of your chosen cloud like Amazon Web Service and Digital Ocean, etc. This also has a downside though, as being built on other cloud hosting facilities, the control over hardware is an issue.
Cloudways require quite a lot of understanding of technical issues. A beginner is almost certain to find it very difficult.
Also Read: Cloudways Review: Pricing, Performance-Test & Setup Tutorial
WPMU DEV Hosting
WPMU DEV Hosting is the perfect platform for you are looking to change things up. This is not a traditional managed WordPress Hosting service and does not sign users for hosting services. Being a new company in the WordPress hosting market, they sure knew how to make name for themselves by changing the way hosting services work. Essentially they provide a user with different membership limits that is decided by the money user us willing to spend.
WPMU DEV Hosting provides very easy migration option and also have simple user interface to navigate while beginning.
Restore option and daily back ups are handled very well and the staging environment is provided to test the features before they go live.
WPMU DEV has its own security features such as Defender and Automate services for any security issue.
There are many ways to get support from the helping team including live chat and ticket support.
The plans are expensive as a user just can't get a hosting service but also a membership of sort with all the options and features.
Due to having so much features and membership details, the pricing structure can be very confusing for the beginners and sometimes even for semi-experienced campaigners.
Flywheel
If creativity and designing prowess is what you require, Flywheel is the perfect fit for you. Being a new player in the Managed WordPress Hosting services, Flywheel differ themselves from others as the hosting service for non-developers or beginners. Freelance bloggers, personal website holders, small and medium business owners who want robust designs, tend to use Flywheel.
Being very easy to use is its main feature as it is very popular among the beginners.
It also has automatic nightly backups and provides easy options for going back to a certain point.
The security issue is dealt with immediate response and the remedial work is done for free.
It provides very high speeds for page load time and gives the option to use any plug-ins.
It also has a good enough team of experts that help you to take down any type of problem which arises while working.
It can get expensive especially if you look to expand your business from the opening phase. Also, some extra features and services are charged additionally.
WPX Hosting
WPX Hosting is the service that is useful for anyone who wants a hassle free experience with WordPress website. Previously known as Traffic Planet Hosting service, it is often used to host medium or large e-commerce websites. Now, since this service is generally good with e-commerce websites is because it deals with the ebb and flow of the internet traffic perfectly.
WPX Hosting gives free migration and the limit is dependent on the plan you had chosen.
This service also provides with free SSL certificates and activates them quickly.
Security is high on agenda as the security checks are performed daily, in addition with DDoS protection.
Apart from being simple and effective, it also supports e-mails and other management systems.
Price is not too high, in fact when compared with its competitors, the price do stand out in a good way.
Being easy to use as its disadvantages too, as it is not an advanced hosting service with every feature present.
Pantheon
Pantheon is another contender for the Managed WordPress Hosting service that helps the user to put less effort in the technical aspects of WordPress website running. Pantheon is optimized for both Drupal and WordPress service.
Pantheon provides automated backups thereby reducing the need of server administration or management.
Pantheon has an easy way to test the different versions of websites and also apply changes to the live as well as back up servers.
Due to being based on Google Cloud Platform, several Google features can be used to optimize the functions and performance.
The importance given to productivity is very high and it is easier to reach a work flow state due to less distracting and user friendly controls.
Themes and plug-ins cannot be installed directly to the live environment. Also, novice users generally find it difficult especially coming from other easier platforms.
Support team communication can be a frustrating experience and sometimes even luck is involved in getting them to help you.
SiteGround
SiteGround is the perfect Managed WordPress Hosting service for those who don't want to spend too much money on expensive hosting services. Being not as expensive as other mentioned WordPress Hosting services is not the only thing that gives SiteGround a name for itself, they also have a good security system in place and a ton of other features to rely on.
They have various plans which range from Starter pack to Super Power pack and you can choose any one depending on the level and stage of your business.
Some other self governing features include 'auto updater' which is for automatically updating all plug-ins and core files.
Reliable features such as 'unique WordPress auto installer' helps in the setup process by making it easy and 'WordPress super catcher' is used for improvement in website speed and performance.
Like other Managed WordPress Hosting services, SiteGround also provides with a 'WordPress staging' to check new features before going live.
Security seems to be the priority for SiteGround as they quickly sort any sort of problem irrespective of the security update cycle.
Requiring the help of support team for basic package holders can get frustrating sometimes.
Due to its allegiance with Cloudflare, you have to get a third party plug-ins for more features.
Bluehost WP Hosting
Bluehost WP Hosting is a good service especially if you have a good enough traffic on your venture. It gives many benefits such as 100 million visits even with its base plan.
Management and migration activities are made very simple for the first time users.
System such as SiteLock and advanced CDN takes care of the security and often help in getting rid of any slip ups.
Support team is one of the most consistent in this service and can help you anytime you want.
Modes of hosting can be changed quite seamlessly as the control panel is designed keeping usability as focus.
It is expensive even with its basic plan as the service tends to provide more benefits and dependability.
For some users, it may seem a little low in terms of features and options, but will only be the case with experienced ones.
EasyWP
EasyWP by Namecheap is a popular choice among people who want their work to be effortless. Namecheap being a company in business for more than two decades have had its fair share of experience and with the help of that experience is what they managed to launch EasyWP. As the name suggests, it is a service specifically designed for people who are first timers in this WordPress website business.
Since, primarily being run by Namecheap, the Managed WordPress Hosting service provides with almost free domain name and migration.
Also, it has a money back guarantee claim which can be useful if you just want to see how cold the water is. If it's too cold for your liking, the loss will be minimal.
They also provide other regular features like SSL certificate which they also provide with their cheapest plan and bi-weekly backups.
Other features such as providing 50 MySQL databases and 50 e-mail addresses along with a couple of websites in one cheap plan.
Having a poor uptime is definitely a problem with the original Namecheap and EasyWP does show some improvements in this regard but there is still scope for more.
Customer support is not as good as it should be and this is one area where it behind its competitors.
More Topics To Read:
I have also prepared lists of my favorite hosting companies of several types and purpose.
FAQs
What is Managed WordPress Hosting?
A managed wordpress hosting is not like a standard shared hosting. It gives you much more resources and power to host an authoritative site that matters to your business. If you consider the performance of a website as the most important factor, managed WordPress hosting ensures the top gear for you.
Is Managed WordPress Hosting Costly?
Indeed, A managed hosting plan will cost 10 times more than a shared hosting plan. Furthermore, managed wordpress hosting cost is affected by the site storage and the number of sites as well.
Where to buy cheap Managed WordPress Hosting?
If You're readying this, you've already got the right place to find, explore and compare the top managed hosting plans for your website. The cheapest one out of all is Bluehost. However, WPX is yet another affordable and effective hosting plan.
Over To You: Did you find the best Managed WordPress Hosting?
These are some of the best Managed WordPress Hosting companies present in the market. Being in the same niche, many features are similar but it their differences that you have to take into account while choosing the best one for you.
Over to you 🙂 😊