I love to use automation tools to automate different parts of every day marketing tasks such as posting on social media, writing content, sending emails to the customers and potential business partners or writing this post. Today I am going to talk about this automation tool which will help you to automate your PR tasks as well as clients /blogger outreach. NinjaOutreach is a very good tool to 1st start prospecting the right person to reach out and then sending them your outreach campaign with triggered follow-ups.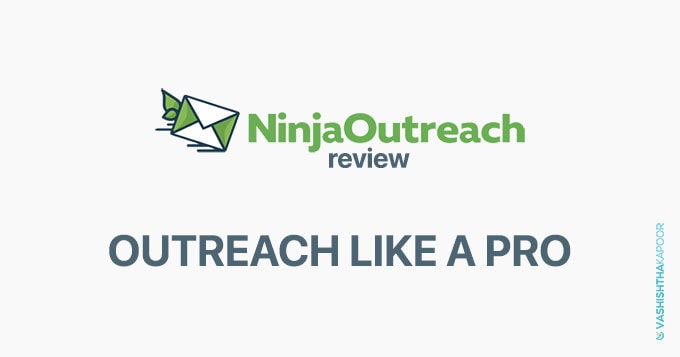 Ninja outreach improves your productivity when it comes to automating your communications and finding people to reach out. If you ever thought of sending emails to journalists to get your product featured on their website or publication, You would have figured out that it is not an easy task to reach out to a lot of journalists in one go. Ninja outreach makes it easy for you. This Ninjaoutreach review is my honest review of the tool as I order the lifetime deal in the last Black Friday. I have been using this tool for more than 2 months now and have figured out that Ninjaoutreach is very useful for my day to day tasks.
What is ninja outreach
It is basically a web-based application to help you prospect the right people, reach out to all those people at once and further automate the process of following up with them again and again.
Let's discuss what all this tool can do for you.
Discover new prospects or find emails by domain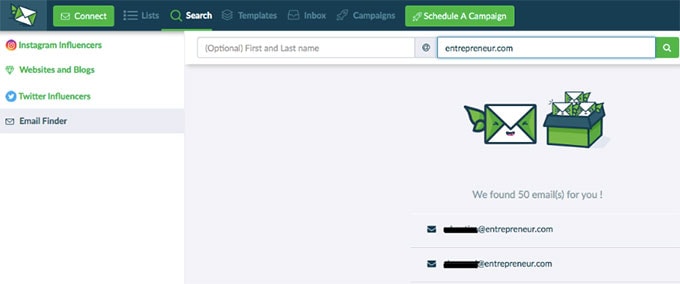 With the help of the Ninjaoutreach chrome extension, you can find emails attached with a domain with just a single click. Also, you can find relevant people, blogs, websites, and influencers, journalist and associates to reach out to by advanced search tools.
Pre-written email templates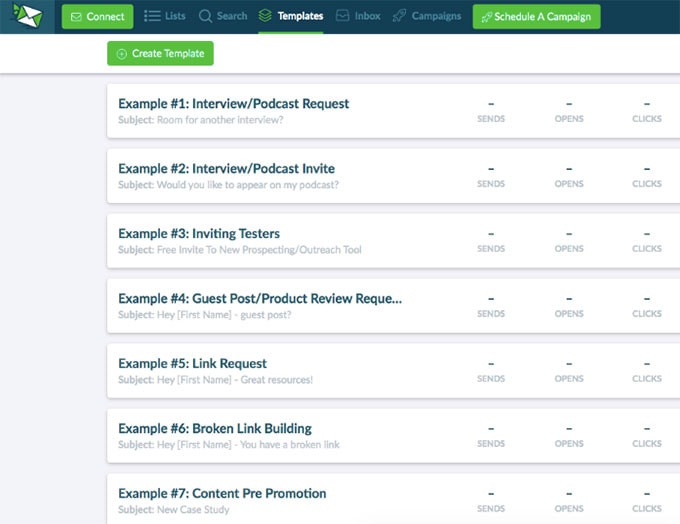 When you buy a subscription of NinjaOutreach, you also get access to a huge repository of pre-written cold emails and professional follow-ups to improve your outreach strategy. You can use this tool to
Send your cold-emails for business development
Plan your hunt of guest posting opportunities
Automate an Expert roundup campaign
Reach out to people for brand mentions
Send emails to influencers to recruit affiliates for your affiliate program
Ask bloggers to review your product/service
And Lot more.
Email Drip Campaigns
I know it is not easy to remember who replied and who to follow up with when you're having a large outreach campaign. By saying large, I mean more than 200 contacts.
In Ninjaoutreach, after connecting your email account, you can send the first cold outreach email and further plan your follow-ups. The best part is – you don't have to remove the people who reply to you from the follow-up list. Once a contact replies to your email, it is automatically marked as done and removed from your Email drip campaigns. I like this feature because I would never want to spam a contact again and again even after they have replied to me already.
Whom You can Reach out?

Custom Contact List
If you have a list of people who you want to reach out to and launch your drip campaign with, you're good to go with Ninjaoutreach.
Instagram/Twitter Influencers
You can also find influencers from Instagram and twitter with a search inside our Ninjaoutreach Dashboard. It provides you with all the relevant data that you may need to actually evaluate and review the profile to see if it fits with your brand or not.
Website/ Blogs
I could easily find blogs in my niche and prepare a list of top bloggers in the niche. Now I can decide whether to outreach all of them for a guest post on their blog or to ask them to participate in my next expert roundup.
Pricing
If you actually understand the power of outreach and automated follow-ups, you will find the prices very affordable.
The plan starts from 49USD/month when you bill annually. This pricing goes up to 120USD/month when you are willing to pay monthly.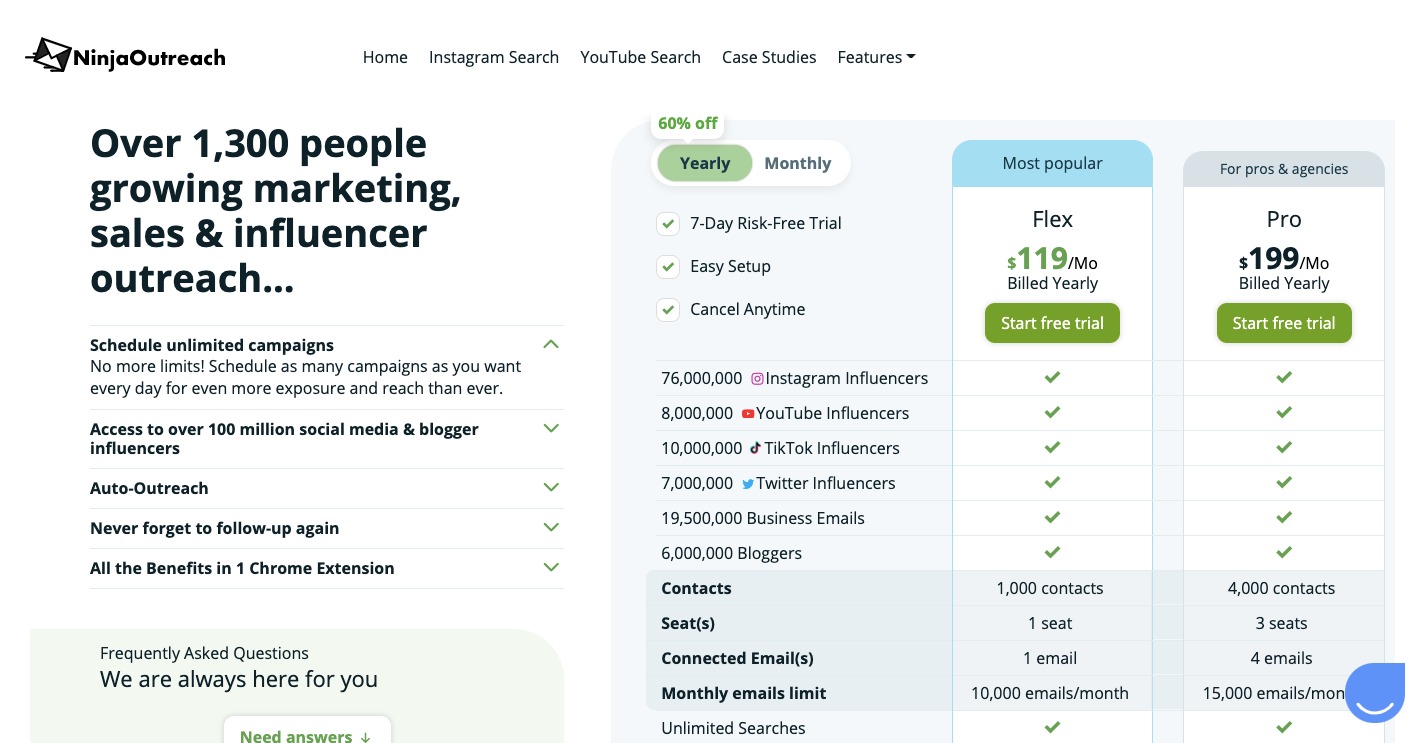 Since there is a free trial available, you can check the features and try it in real. After having your hands on the tool, you can decide (which I am sure you will buy it because of such awesome features).
Now let me tell you about some cool facts about NinjaOutreach.
Past.
I used to reach out to 20 clients in a month.
I was not able to follow-up with them effectively.
As a result, I was not making more than a few hundred $$ a month.
Now.
I have automated the task of sending out cold-outreach emails
I don't worry about remembering whom to follow-up with
I get 3-4 client replies in my inbox
Adding a few new prospects to the list every week
Now my earnings have increased to 4x.
Guess what I spend to acquire these clients, just 49$/month.
The best part of this process is "Ninjaoutreach Chrome Extension". Once I purchased the subscription, I got an API key which now can be added into the browser extension's settings to fetch contact details of any website I am visiting. (with a single click).
Conclusion: Ninjaoutreach review
Are you wondering if Ninjaoutreach is legit and working or a scam?
Let me tell you that it is one of the best outreach tools I have ever used.
Automation is the future of marketing. You can tap into the future of marketing by using such advanced marketing tools. Ninjaoutreach is one of those tools that help you succeed on the internet.
Get Ninjaoutreach Now and outreach like a pro