Email-to-fax is nothing new. It has been around for almost 20 years and it's still a pretty popular service among small businesses, freelancers, and individual users that want to fax something without touching a fax machine.
I've been using RingCentral for the past eight years or so, but I was recently introduced to eFax by an associate. At first, I didn't think much of it, but the more I looked into their service and compared it to RingCentral, the better it seemed to get.
Let's find out more about both these online fax services in the comparison of RingCentral vs eFax.
There are some key differences between the two services that prospective customers should consider before making a decision. Below is a comparison of RingCentral vs. eFax, including pricing, features, customer support, and more.
RingCentral (and other online phone systems) may be more expensive than the traditional fax service offered by your telecom provider. However, some customers may find that they can save money after talking to their current telephone company and seeing what options are available.
RingCentral phone service includes many features that eFax does not, including the ability to integrate with business apps like Dropbox and Zendesk.  Their cloud solution has built-in video conferencing, call recording/playback, Greeting Card voicemail, Time & Attendance, and multi-party conferencing.
eFax also offers these features, but they are either an additional charge or require the purchase of a different product.
Another difference is how each company markets its products to customers. RingCentral's marketing focuses more on what makes using RingCentral so great for businesses. They also focus on how RingCentral can be used to help other business tools.
eFax's online marketing focuses more on the many ways businesses can use eFax.  In addition, they offer a full library of eFax videos on their YouTube channel.
RingCentral provides 24/7 live phone and email support, as well as an extensive knowledge base, tutorials, and other resources on their website.
eFax also provides customer support through a variety of ways including live chat online, over the phone during business hours, and via email.
In addition, they have a searchable support section on their website. Both RingCentral vs eFax support has received mixed reviews.
What is RingCentral?
RingCentral is an online business phone system that helps companies of all sizes communicate more effectively. RingCentral provides cloud-based VoIP (Voice over Internet Protocol) services that integrate voice, text messaging, conferencing, and collaboration tools into a single platform.
An example would be if you are a small business, you can get a toll-free number that can be called from within your state. As well as being able to forward calls directly to your cell phone. You also can add extensions for each member of your staff or office location.
RingCentral offers features such as "Click-to-dial" which allows you to click on any phone number in your browser and instantly dial it. Which is perfect for anyone who makes a lot of cold calls or other business-related phone calls.
Another feature would be "Click-to-conference" which allows you to go into a conference call while staying on the line with another caller (without making them hold). RingCentral even offers voicemail which you can forward to your email, or download it as an mp3 file.
How Does RingCentral Work?
A lot of people ask about how RingCentral works, and what they're getting if they sign up. It's a reasonable question since all of their competitors sell voice as an add-on to another business service (like web hosting or PBX phone systems).
They don't do that. They integrate into your best-in-class technology whether you're a best-of-breed provider or a monolithic hosting service.
When you sign up for RingCentral, they give you phone numbers that work from anywhere your employees are located. They also supply all the SIP/Proprietary phones and features so your employees can have an awesome experience from day one of your service with them, and every day thereafter.
RingCentral gives you a platform that supports all your phone needs (like extensions) that you can configure via the web or through the mobile app. You can use their directory to look up employees by name or extension, and they allow exporting of your directory to billing systems for added convenience.
RingCentral also has a multi-tenant architecture so it can scale with your company as you grow, and they have the unique ability to add or remove phone numbers on your fly when you need them or don't. They pride themselves on being able to provide these services at a price that's easy to swallow without sacrificing quality, or features.
RingCentral also has a SIP Trunking offering that allows you to use their phone numbers with your PBX systems, and this includes support for SIP Phones from multiple manufacturers. In addition, RingCentral users can connect to others via B2B calling utilizing the power of VoIP Cloud-Based technology!
Why Choose RingCentral?
RingCentral is a cloud-based business phone system that allows users to make local and international calls from computers, smartphones, tablets, or traditional telephones.
RingCentral offers 99.99 % reliability, which means downtime is practically nonexistent. RingCentral also monitors the quality of its service 24×7 to guarantee seamless communications.
The price of RingCentral depends on how many phone extensions you need, but generally it is more affordable than traditional business phone systems. RingCentral offers features that include a personal phone number, unlimited extensions, multiple call routing options, and detailed reports.
RingCentral offers round-the-clock support over the internet via email or chat. The system also allows businesses to push out software updates automatically without getting IT to help. In addition, RingCentral provides online tutorials and webinars to teach users how to get the most out of the system.
RingCentral integrates with several notable business services, including Microsoft Office 365, Google Apps for Work, and LinkedIn Sales Navigator. The system also includes apps that are compatible with both Apple and Android devices.
RingCentral offers mobile applications for Apple iOS and Android devices. The apps provide the same functionality as a traditional business phone system and allow users to make local and international calls from phones, tablets, and other mobile devices.
RingCentral also offers an app for landlines that allows users to make outgoing calls with their office number while traveling or on vacation.
RingCentral supports browsers such as Chrome, Firefox, Internet Explorer and Safari. In addition, the system works on both PCs and Macs.
RingCentral Vs eFax: Pricing Comparison
RingCentral Pricing:
The pricing plans for RingCentral start from as low as $ 19.99 and go up to $ 49.99 and more. The Essentials plan offers only 20 users. Whereas, all other plans offer unlimited users.
eFax Pricing: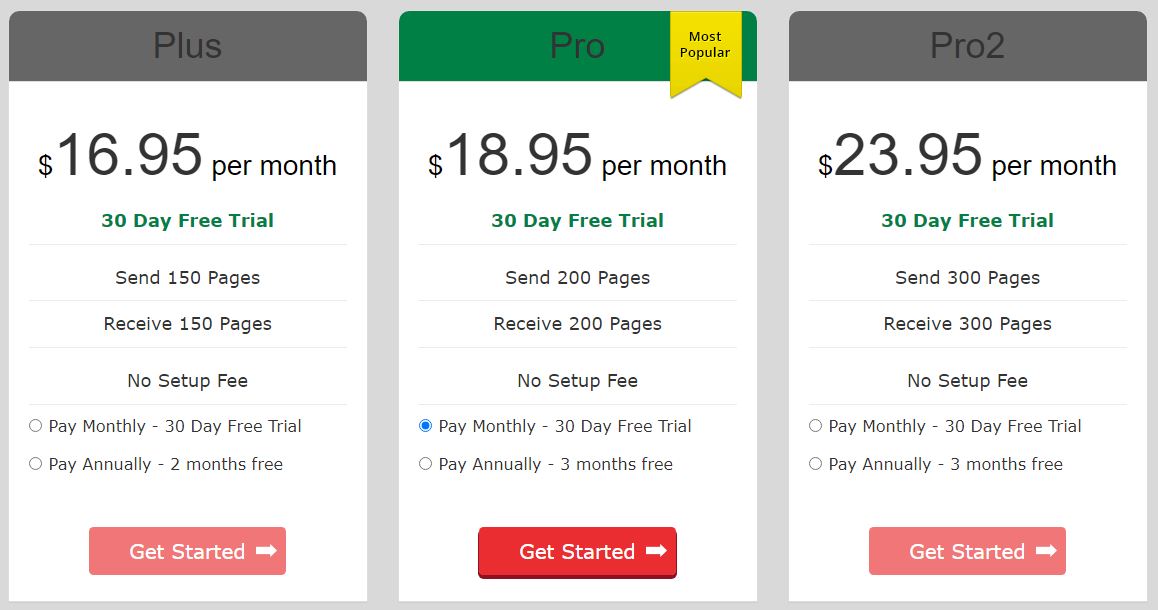 On the other hand, eFax will cost you somewhere around $ 16.95 per month to $ 19.95 per month. As you can see, eFax is significantly cheaper than RingCentral we can say that when it comes to pricing, eFax is better than RingCentral.
RingCentral Vs. eFax: Pros and Cons
Here's the lists of pros and cons for both services. Make your choice on that information (I chose RingCentral on mine). 
RingCentral Pros and Cons
Pros:
RingCentral offers many useful features, including call routing, voice mail transcription, conference calls for up to 100 participants, call forwarding with personalized auto attendant. You can use RingCentral on the web, iOS, and Android, call recording, faxing with optional OCR for conversion to searchable PDFs.

One of the best features is their international DIDs which can be used inside your PBX or directly through RingCentral. You can receive (not terminate) calls from over 40 countries at low prices. They also offer many premium direct lines for international and domestic calls.

Many of the features such as professional call recording, faxing with OCR, conference calling, etc. can be used without having to pay extra if they are not used during a billing month.

The service is cloud-based and has many apps including iOS, Android, Mac OS X, Windows desktop.

RingCentral has good customer support via email and phone with an average response time of 1 hour or less. You can also call their sales line for more information without being tied down to a contract.
Cons:
Even though they have many useful features, you can only use a limited number of features without paying extra. For example, if you don't have RingCentral Pro, call routing is disabled.
FAQs
What is RingCentral?
RingCentral provides Virtual Private Cloud (VPC) and Hosted VoIP Phone Systems, hosted desktop collaboration products via the browser, and cloud-based business continuity and disaster recovery solutions for enterprise businesses. RingCentral also offers collaborative tools such as voice, video chat & conferencing, client contact center agent productivity tools, video conferencing with HD virtual meeting rooms, online storage & file sharing, and more. RingCentral is headquartered in Belmont, California.
Is RingCentral cloud-based?
Yes. RingCentral phone systems are hosted on the cloud via their partner Voxeo's multi-tenant servers/data centers. RingCentral does not require any onsite equipment, cabling, or software to install and maintain. With RingCentral Cloud PBX, you'll never experience downtime because there are no necessary hardware upgrades required for the system to function properly.
What is eFax?
eFax is a service that allows you to send and receive faxes via email, instead of using an analog line. The idea is very simple: your computer replaces the telephone handset. There are no extra equipment fees or installation charges with eFax. It works with any analog phone, including home phones, cell phones, office phones, etc. eFax is very easy to use. You can send faxes by email - just attach your document and click the eFax send button.
What kinds of fax services does eFax offer?
eFax offers several types of fax services including sending and receiving faxes over the internet using your email address as well as receiving faxes directly to your email account. eFax also offers a toll-free number, additional phone numbers, and more.
Also Read:
Getresponse VS Sendpulse: Are you Wasting your money in Email Marketing?
Conclusion
Price, quality of service, and features are what made me choose eFax. Although both services are fairly similar in terms of price, eFax offered more for my money.
eFax has reasonable prices, their servers seem to be faster and more reliable, customer service is better and you can speak with a human being on the phone.
I used both services for at least three months each. I tried faxing multiple times per day, multiple times per week, and even multiple times per month.
In all, eFax came out on top. I think it's pretty clear that they are a superior service when compared to RingCentral.
eFax also has a lot more features than RingCentral. They have their mobile app for both iOS and Android devices, so you can send faxes directly from your phone during those important meetings.
They also have their fax machine that you can use (I tried it out, works like a charm). You may be thinking that an in-house multifunction printer/fax/scanner would be much more expensive than eFax's online solution, but it's not.
So after this comparison of RingCentral vs eFax, you might have made your decision to choose anyone.