Pros/Advantages
Discover the top keywords
Explore the advertising copies
Magically generate keyword ideas
Search & Display Ad Analysis
Track your position in SERP
Keyword research like a pro
Advanced analysis graphs
Content Optimization Tool
Compare multiple domains
Cons
Complicated to use
Keyword Volume data is inaccurate sometimes
Keyword CPC can actually be higher or lower
What is Semrush, and how does it work? Is it reliable to use? Can it be used for free?
This article aims to provide you with a complete review of one of the most famous and oldest SaaS tools in the world of SEO (search engine optimization): Yes, I'm talking about Semrush. And in this Semrush review, I will be talking about how to make the best use of the tool.
Anyone who knows the basics of search engine positioning cannot help but know the main tools to be used to facilitate their work.
And among these main tools, there is certainly Semrush. The major tasks for any SEO executive/specialist will be centered around keyword research, backlink monitoring, competitor analysis, and content optimization.
So, if you are interested in intensifying any aspect inherent to the Semrush suite, below you will find all the details you need.
In particular, I will illustrate a series of fundamental aspects: what Semrush is in practice, how it works, what are the costs and some opinions on the service.
What is Semrush
Semrush is a complete tool for anyone involved in online marketing, SEO or advertising. It is one of the tools par excellence that you will need in your attempt to position the content on the first pages of Google and to get visits to your sites in an organic way and without any expenditure of money.
In particular, you can use this suite for:
Monitor the SEO progress of your internet domains
Analyze keyword searches for google users
View the main competitors in your field
Create SEO-friendly content quickly and easily
Do Gap analysis with other rivals in your niche
Create personalized dashboards with the reports you prefer
What is important to highlight right away is that you can use Semrush to analyze over 130 countries and in many different languages.
You can, therefore, use it for your international and multilingual projects without problems.
In this sense, it is one of the most complete (if not the most complete) tools from the languages ​​and countries supported, providing you with versatility that you would hardly find in alternative tools.
Also, the Semrush team works hard to regularly present new features and always provide you with the best possible analysis to make your business fly.
Must read: Which SEO tool is the best Alternative to Ahrefs
Ultimate features of Semrush
Not just for backlink research and keyword planning, you can use Semrush to be the best at a lot of aspects. The range of tools is huge.
I think you should be using each one of them and will definitely need some time to spend learning how to make use of it. I will cover that up further in this review of Semrush. However, lets go ahead and read a bit about the features Semrush offers.
Keyword Research
One of the most important and fundamental needs of any SEO's life. Keyword research has to be top-notch if you wanna get the best results from your website's content.
I strongly believe that if you're not targeting the right keyword, there is no need to do SEO or build backlinks.
First get your root strong with a perfect Keyword research. Based on the same, build a content plan and then get started with on-page SEO and link building etc.
Semrush keyword research feature is much more detailed and predictive to help you reach your web traffic goals.
Within Keyword research, Semrush has several options for you to explore. You can start with a keyword overview and use the magic keyword tool to magically suggest a number of potential keywords.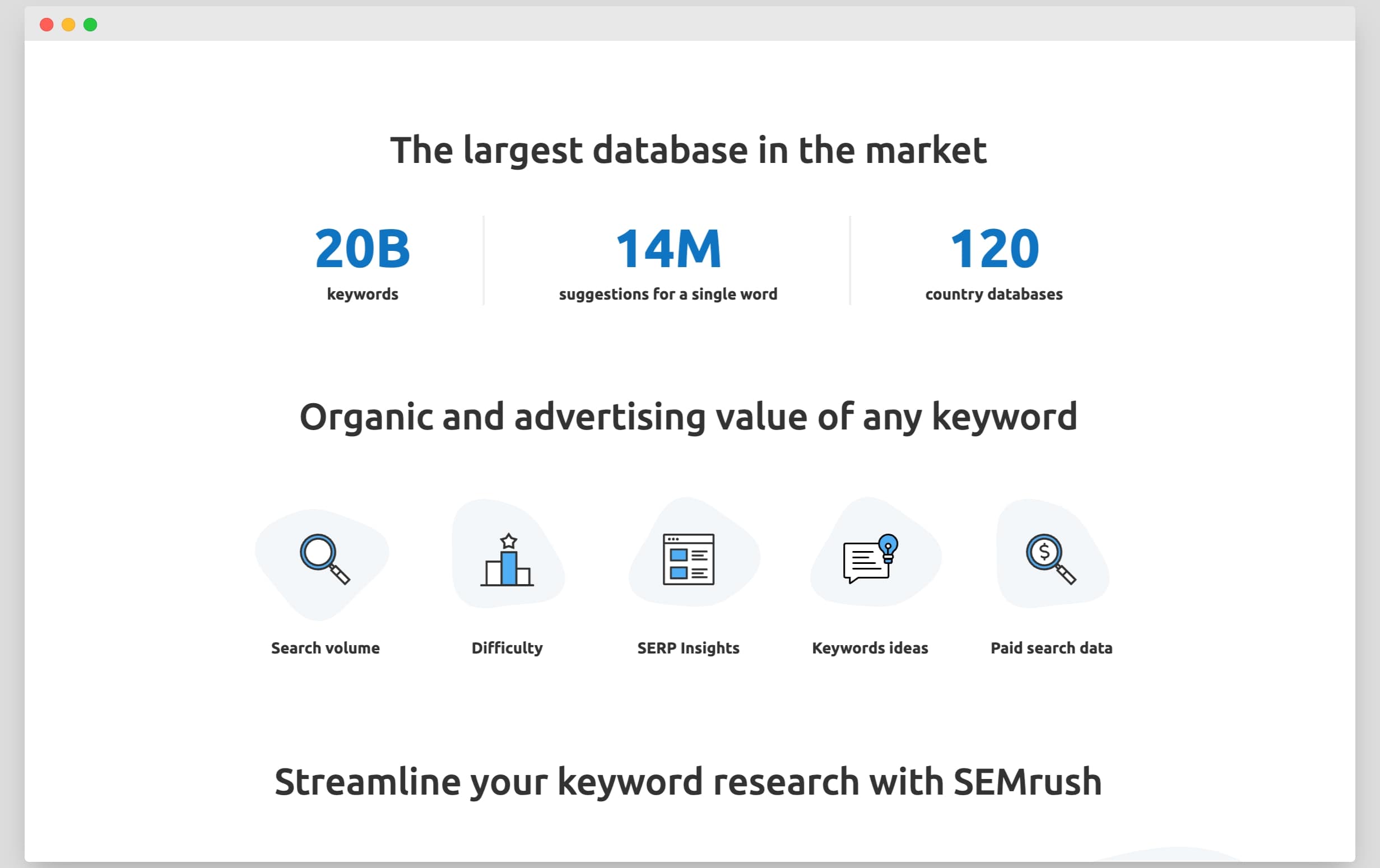 The stats, on the first hand, are really cool and impressive. Making use of that is way more pleasing and easy.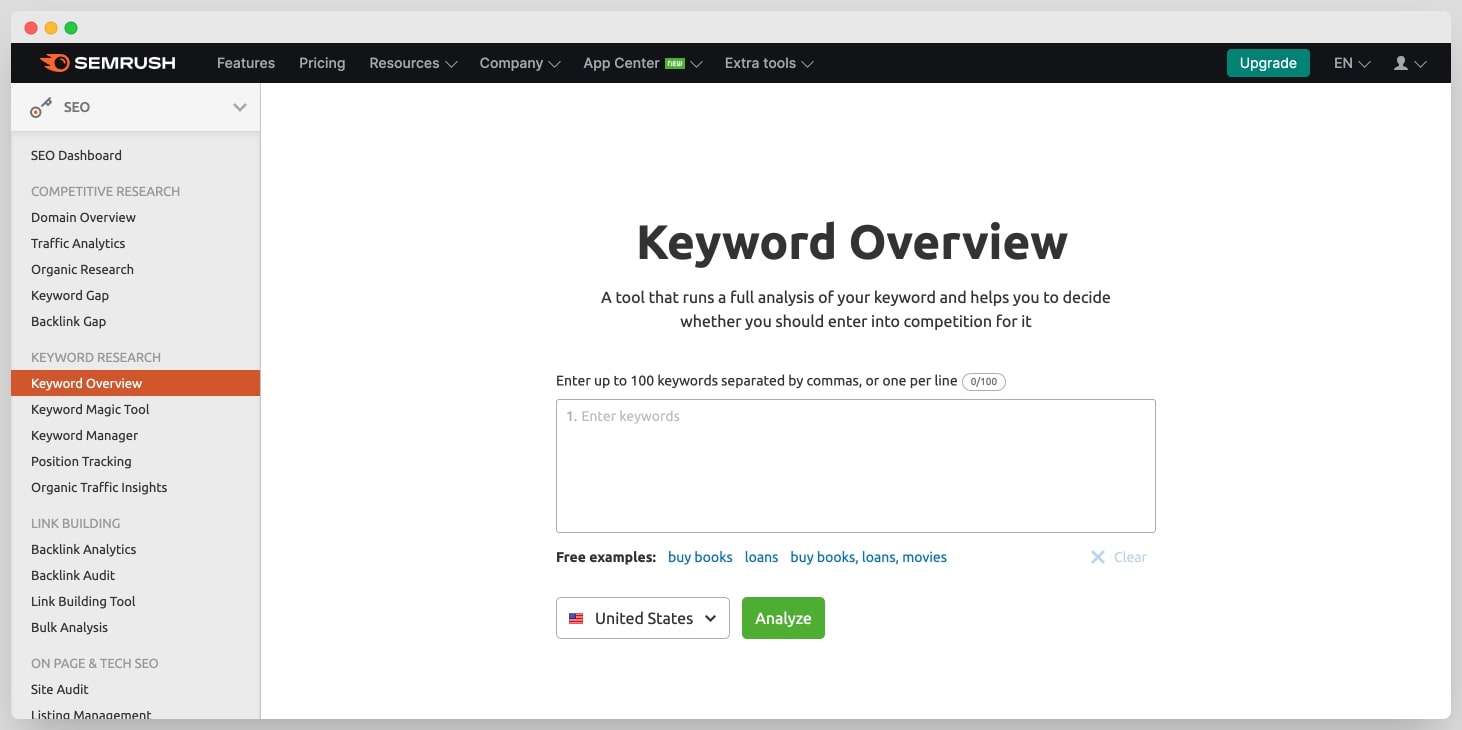 Once you type the keyword and hit analyse for the first time, the dashboard will come up with detailed overview of the search term. The data representation again is very easy to understand.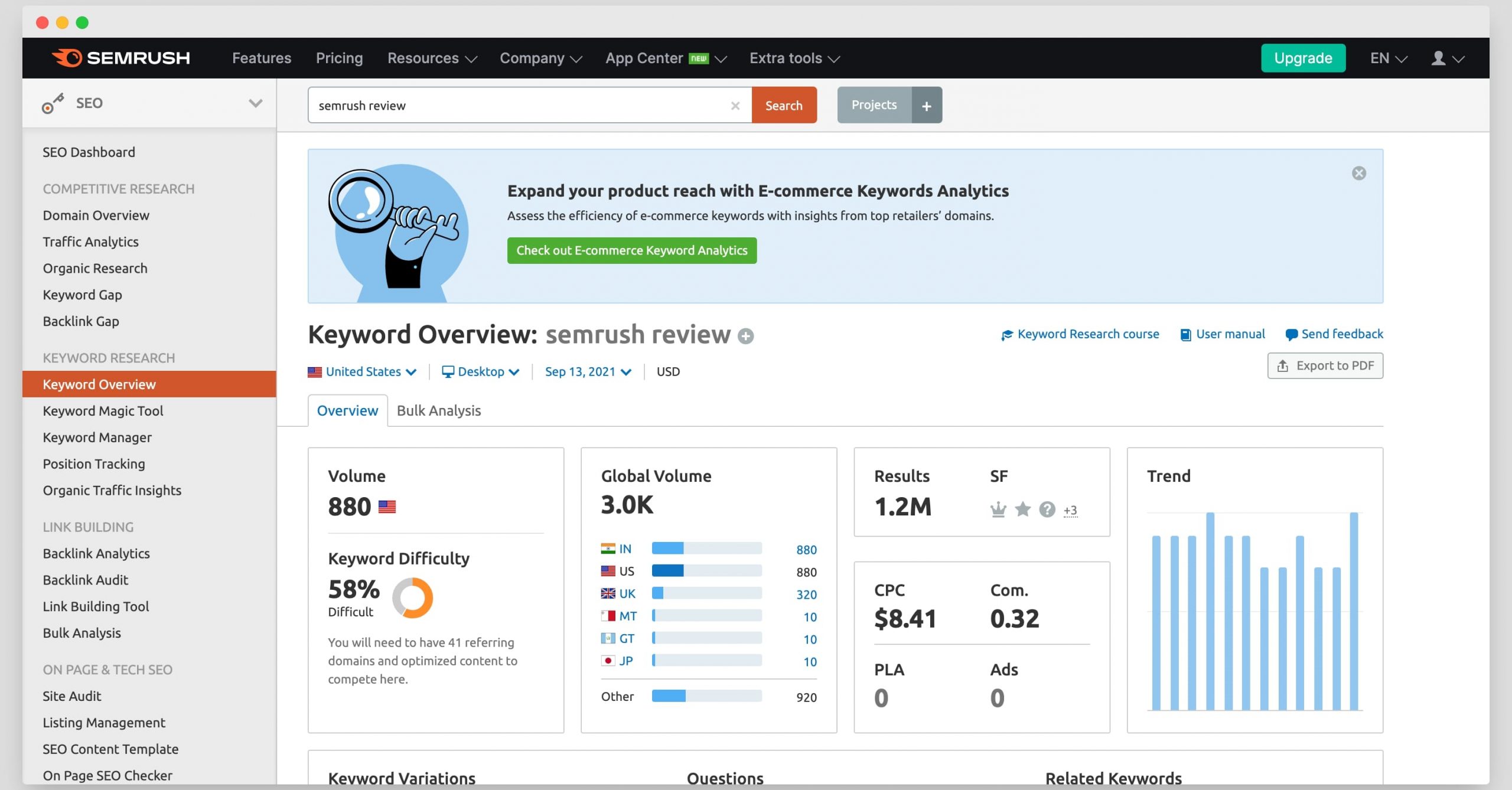 Keyword difficulty is a great metric to consider while you're picking up keywords for your content plan.
Global volume explains how many times people look for that keyword in a month on an average.
The data represents a breakdown of global volume of that particular keyword. This is helpful for you to target the location wisely for the maximum traffic.
Scrolling down on the screen, you can find several variations of the search term. These variations will help you generate further creative ideas for your content plan.
The data analytics does not end here. You get going further and generate ideas after ideas.
SEO Audit & Reports
Semrush lets you add websites to your SEO audit tool. This SEO audit tool further crawls the whole website, analyses its backlink profile, understand the meta data and every technical SEO aspect.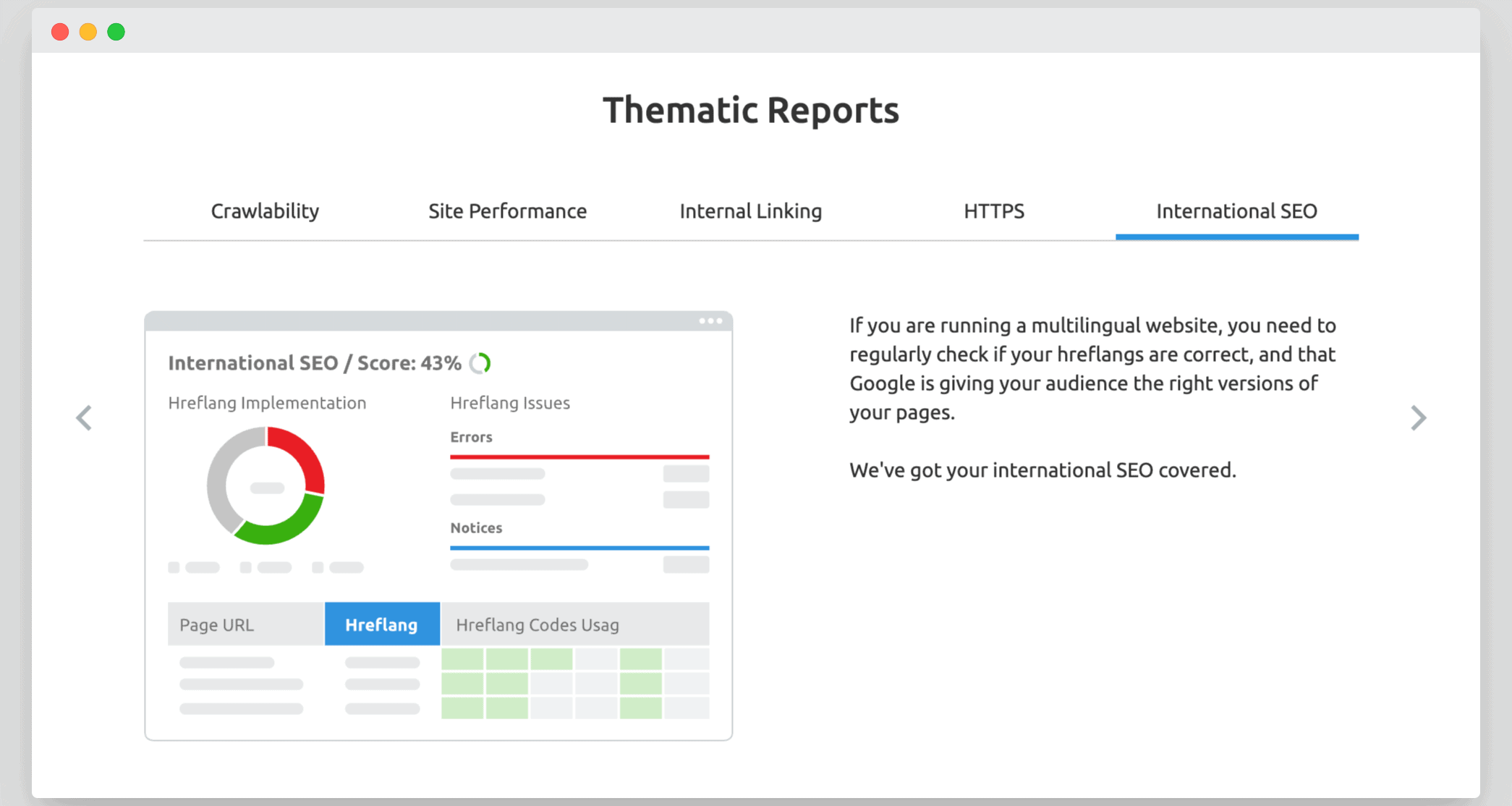 Once the scheduled audit is completed, you get a beautifully presentable SEO audit report.
Pricing plans of Semrush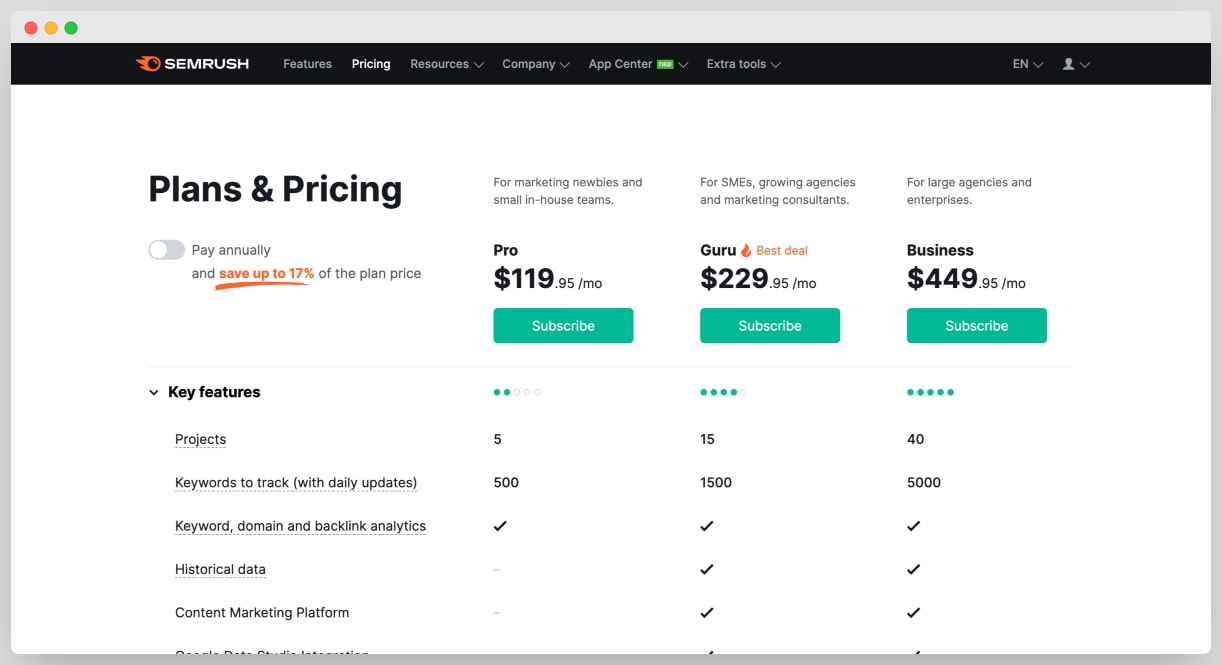 Pro
For freelancers, startups and small businesses. It costs just $119/month on a monthly billing cycle.
Guru
For small to medium-sized companies and growing marketing agencies. It gives you access to add up to 15 projects (websites) to analyse and 1500 keywords tracked. Along with Historical data, Content Marketing platform and more perks.
Business
The plan costing $449/month is a perfect fit for agencies, projects, and e-commerce with a large online presence. This is a really great plan for brands or agencies managing up to 40 SEO projects. The capacity of tracking rank for 5000 keywords is yet another amazing feature of the plan.
For specific and custom needs, usually related to business contexts, you can also request a personalized quote.
Furthermore, if you decide to purchase the annual package, you will be entitled to an approximate discount of 16.5%.
Get Semrush
Start Free Trial
How to signup for the 14 days free trial
Before deciding whether or not to purchase the service, you have the opportunity to take advantage of a free trial that lasts for 14 days!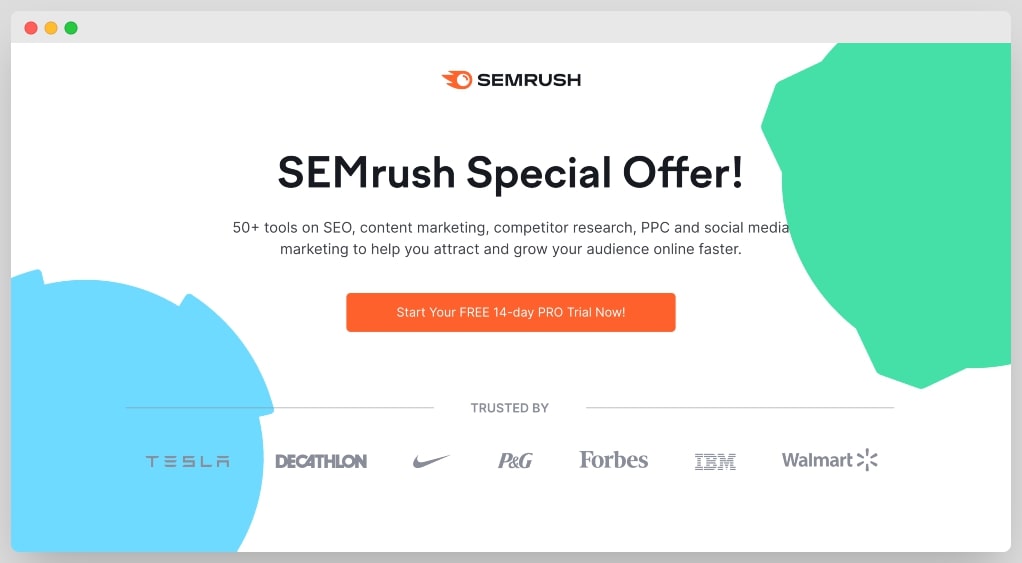 In this period, you will be able to access all the Semrush features and evaluate if it is right for you.
Get Semrush
Start Free Trial
For transparency, I would like to specify that you will be asked for your credit card details: but don't worry, you can unsubscribe at any time if you decide that Semrush is not for you and you will not pay further.
There are more deals and Free trial of Semrush offer that you can use to have your hands-on with the amazing SEO tool.
Semrush: How does it work?
Do you need more information to understand how Semrush works? Do not worry! Below you will find a guide to its main features.
Domain analysis

One of the most important screens on the Semrush dashboard for you would be the domain overview. By typing the URL of a website you want to analyze, you will access all a series of very important information, such as:
Organic traffic
Paid traffic analysis
Backlinks overview (the most powerful tool for SEO)
Advertisements by the domain
Traffic trend over time
Organic keywords and their ranking
Sponsored keywords
External links
This tool is essential to monitor the growth of your projects and evaluate any possibilities and ideas for further development.
Keyword analysis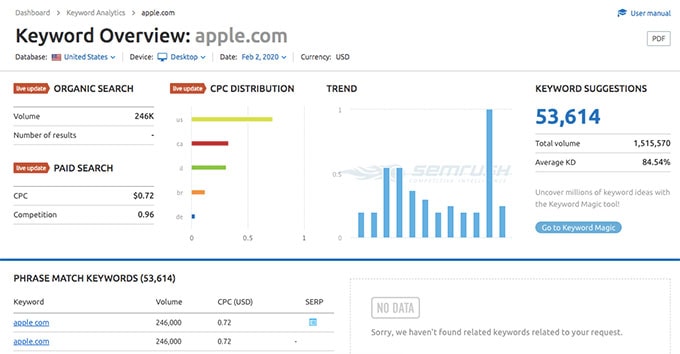 Through the keyword analysis tool, you can check a lot of data related to keywords, such as the monthly search volume, the CPC for paid search, the corresponding and related keywords.
Furthermore, you get to see the trend graph as well for the keywords.
A fundamental tool in the production of new content and to verify what users search for on google, this is exactly what marketers need.
We are on the verge where we find ideas after analyzing what's working for our rivals. In this competitive world of internet marketing, such SEO tools that offer competitor's analysis also are like boon.
Marketing insight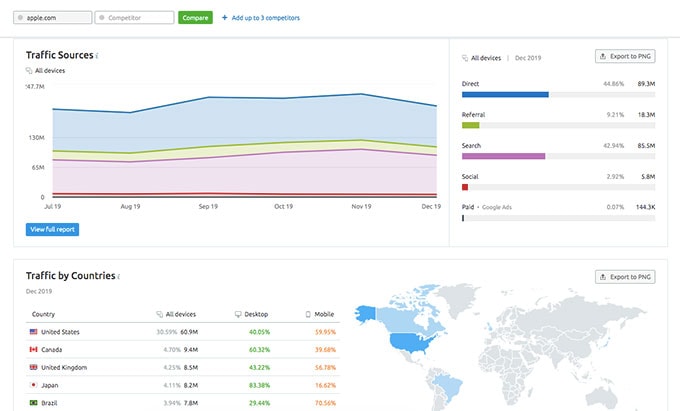 In marketing insights, you can check the traffic trend of a specific domain, checking its progress over time. This allows you to decide how to set up your SEO strategy in the coming months.
There is also a section dedicated to the ranking of the best sites. Below you will find an extract of the top five in the world, but the search can be limited to one country only. You can see, for example, the best Italian sites in terms of traffic.
Gap analysis

Gap analysis is a very useful tool for comparing the performance of various sites, in terms of traffic and backlinks. You can compare five domains simultaneously, checking the common keywords and the number of backlinks for each.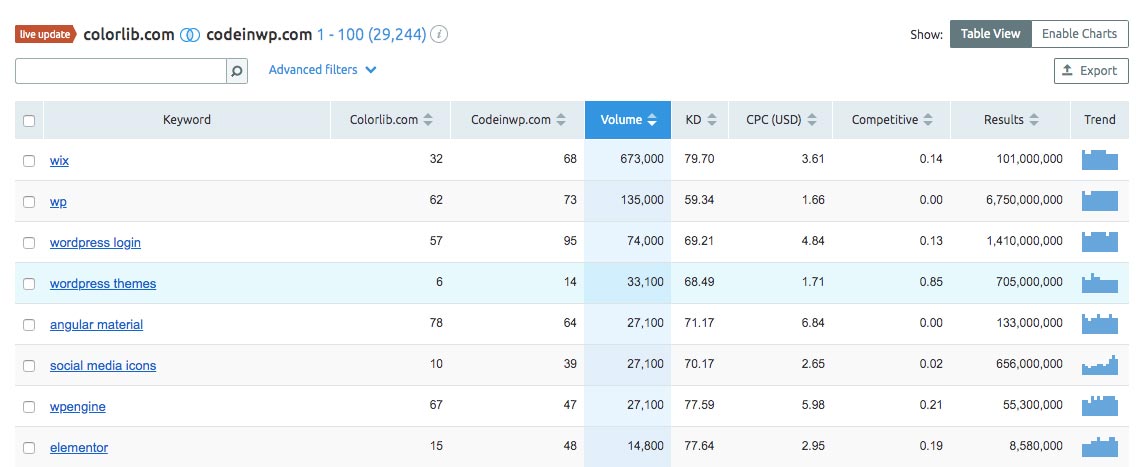 In this way you can check how you place yourself in your niche about your competitors, evaluating the areas in which you need to improve.
SEO content template

The last tool I want to talk to you about here and which I consider very useful is the so-called SEO content template.
In practice, it is an assistant in the production of new content. Just type in the keyword you want to deal with and they will be provided:
The list of main competitors
Words semantically linked to the selected keyword
Recommended backlinks to be acquired
The recommended content length
Very often, when making new content, only related keywords are used, but in reality, it is also fundamental to use those related semantically.
In this sense, this is one of the few tools that it provides you, saving you a lot of time in long manual searches.
Pros & Cons of Semrush
Talking about the advantages and the non-advantages of the tool, there is a huge list of the good things. Since the tool is so much developed and has a large list of features, it is really hard to have missed out on any of the important aspect.
Pros
Not just search ads, get insights also on the display advertising
Magically generate keyword ideas for your content plan
Even after your subscription expires, use with limited access
Track keyword ranks and much more with rank tracker
Spy on your competitor's backlink profile and find new opportunities
Understand how tough would it be to rank for a particular keyword
Keep an eye on the performance, ups and downs of your website with scheduled SEO audit report
Optimize your content further with SEO content template
Pay monthly or choose an annual plan for discounted pricing
Analyse multiple competitors and explore how you can make your website more relevant for the industry
Training videos in Semrush academy to learn how to use the tool and further become a pro in SEO game
Cons
It can be further made easy for use/understand to a newbie
Improvements required in the traffic data algorithm
Also Read: Comparison of Semrush with similar SEO tools
Want to Save On Semrush plans?
Try Semrush coupons to get a free trial and discount on annual pricing.
My Verdict – Conclusion of Semrush review
As far as I have used it for my websites, the tool does a great job in finding relevant potential keyword opportunities. Further, the competitive analysis tool is up to the mark that helps me outrank the rivals; sometimes. 😀
So what do you think about the Semrush review?
Do share your thoughts on Semrush review so I can help my audience understand the tool better.