SEOpressor Review
Summary
SEOpressor is my favorite on-page WordPress SEO plugin that optimizes webpages for keywords and get it ranked on the first page of Google.
On Page Suggestion

LSI Suggestion

Over Optimization
The Business success highly depends on visibility on Search Engines and the more visible you're on SE's the more revenue you earn. Every newbie like me spends days and nights in spilling the beans from the secrets of White hat SEO techniques. Even after understanding the basics of Search Engine Optimization, one is unable to rank high in Google. Even One of the Top 10 premium SEO optimized WordPress themes is unable to get his website ranked on Google. Here is my SEOPressor Connect Review for you to know more about this tool and decide whether to buy it or not.
The root cause is performance evaluation. Whatever he is writing and however he is executing SEO tricks like Meta tags, keyword density, and other SEO signals, has to be satisfactory or under the boundaries of 100% perfect SEO score.
You can make sure that every on-page SEO factor is followed with SEOPressor.
Magical Features of the plugin (Critical SEOpressor Connect Review)
On-Page SEO Score for up to 3 Keywords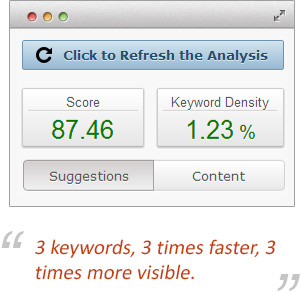 On-page SEO deals with all factors affecting the optimization of your web pages for a keyword. On page SEO factor including keyword density, word count, plagiarism, meta tags, meta keywords, image alt tag and LSI keywords are the crucial part of an SEO approach and even after sweetening due attention to all these, you may lead to over optimization unknowingly.
SEOpressor is a premium WordPress search engine optimization utility that not only retains you away from over optimization but also gives your optimization exercises a score based on some predefined algorithms. It evaluates how cool are you at SEO. You can add three keywords to check your SEO execution score.
Get Free Trial
Buy Now
Over Optimization Indicator
SEOpressor is the most powerful tool that warns you whenever you meet overuse of keyword, LSI, keyword in headings or bold text etc. Over optimization is the worst thing which occurs when we write our articles on notepad or WordPress. You can't judge whether it is optimized or not and if it is optimized then how much optimized it is. SEOpressor is smart optimization tool that will warn you about the critical optimization warning.
This feature helps me very much when I have no time to audit my article again and again on grounds of SEO standards. I use it to get my 100% and all set.
Rich Snippets: Your key to Better CTR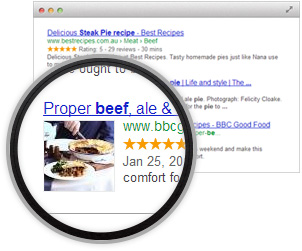 Even after getting ranked on the first page, you may get fewer clicks and traffic than you actually deserve. Rich snippets actually make-up your link snippet in SERP and help in grabbing the attention of the user with a view to getting clicked among 9 other search results.
If you do reviews on your WordPress blog, this will help you get more clicks from search engines. And the more clicks, the more affiliate sales. I don't think it is a bad deal for any blogger.
LSI Keyword Suggestion to Achieve your 100%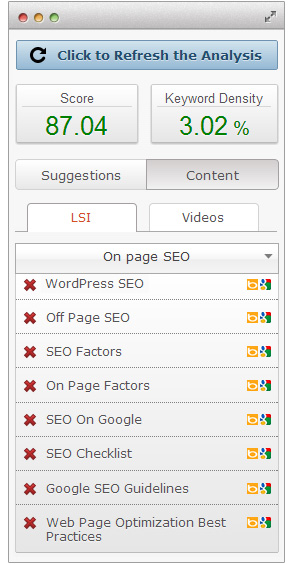 here are so many related keywords at the end of the page when you search something on Google(if any). those keywords are called LSI keywords. This plugin works on Bing API and can suggest you up to 5000 LSI keywords in a month for free. More depends on the plan of Bing webmaster API you purchase.
By using LSI keywords, you can rank for your main keywords as well and that too for a good period of time.
LSI simply increase possibilities and get you closer to your target. Don't believe me. Just try this and you'll be amazed to use this awesome plugin. Order your free trial now.
Social SEO to attain high Social Signals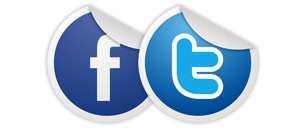 As we all know that social ranking signals are much needed for any website or blog, it is easy to do social media optimization with this fascinating plugin. You can set snippet images for social media channels also.
Social signals, especially Google + shares, are the essence of ranking any web page on the top of the search result page.
For a number of keywords I am ranked, I worked and bought a few social signals and it really worked for me. But you really need not buy social signals. SEOPressor alone can help you generate more social shares easily.
SEOpressor works great with WP SEO by Yoast
The first month I installed this plugin was passed without any result and I came to know that the fault was in my own strategy. I forgot filling out Yoast plugin details for each. I added meta, keywords, titles in both of the plugin areas and traffic started touching the peaks. Yoast is also an On-page SEO plugin and works seamlessly with SEOPressor.
I don't know about others but it worked for me. I am not sure if it does for you too. Genesis Framework is recommended to be used with SEOPressor, SEO by Yoast and WP Super Cache to bring your site to the top of Google SERP.
SEOpressor Review: Final Verdict on SEOpressor
I am pretty much impressed with the performance of SEOPressor. I treat it as my SEO companion which guides me through the overall process of search engine optimization and social media optimization along with some additional features like LSI and Over optimization. 3 month have passed using this plugin and all I can say is, "You can not find any SEO consultant for less than $47 per month and SEOpressor is all just $47 one time.
Download SEOpressor Now (Discounted link)
Incoming Search Terms : SEOPressor Review, WordPress SEO Plugin SEOPressor Review