Dropshipping is definitely not an easy job, as it requires an efficiency of managing various tasks all right at the same time for a smooth functioning. This Shopbase Review is for you.
Start Your Business with ShopBase Now
From managing the supplies and tracking the process of fulfillment as well as its status to keeping an eye on the smooth functioning of the software of your storefront, Dropshipping is a hectic task. Building an eCommerce website is a daunting task. It requires you to get your hands in the coding and design which takes a lot of time. 
While you struggle and juggle around with these aspects, you may still face issues like the unacceptable quality of products coming from the suppliers, long time for shipping in cases where the supplier is far or inefficient packaging of products if you are working with the sub-standard suppliers.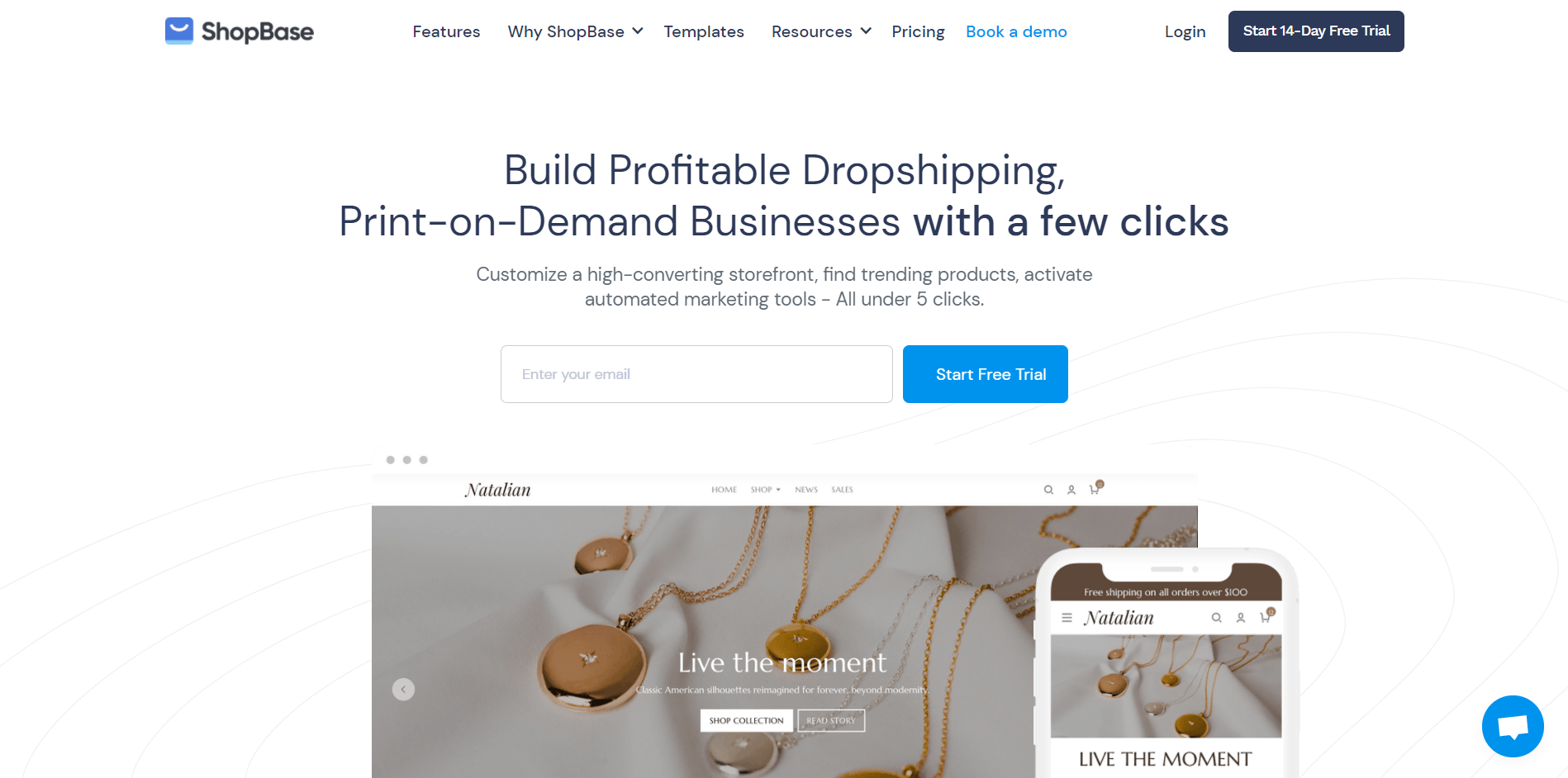 This is exactly where the platforms like ShopBase come into the picture. ShopBase is basically an all-in-one platform that works towards overcoming all the operational complexities when running the dropshipping business. ShopBase has a Store Builder wizard that requires no coding skills to launch your high-converting eCommerce store within minutes.
Here in this post, we will be reviewing ShopBase and get into the details of the features and the overall platform. We will try to cover all the crucial aspects in order to figure out if ShopBase can prove to be the right choice for the eCommerce requirements.
Let us get started with knowing more about the platform.
Knowing More About ShopBase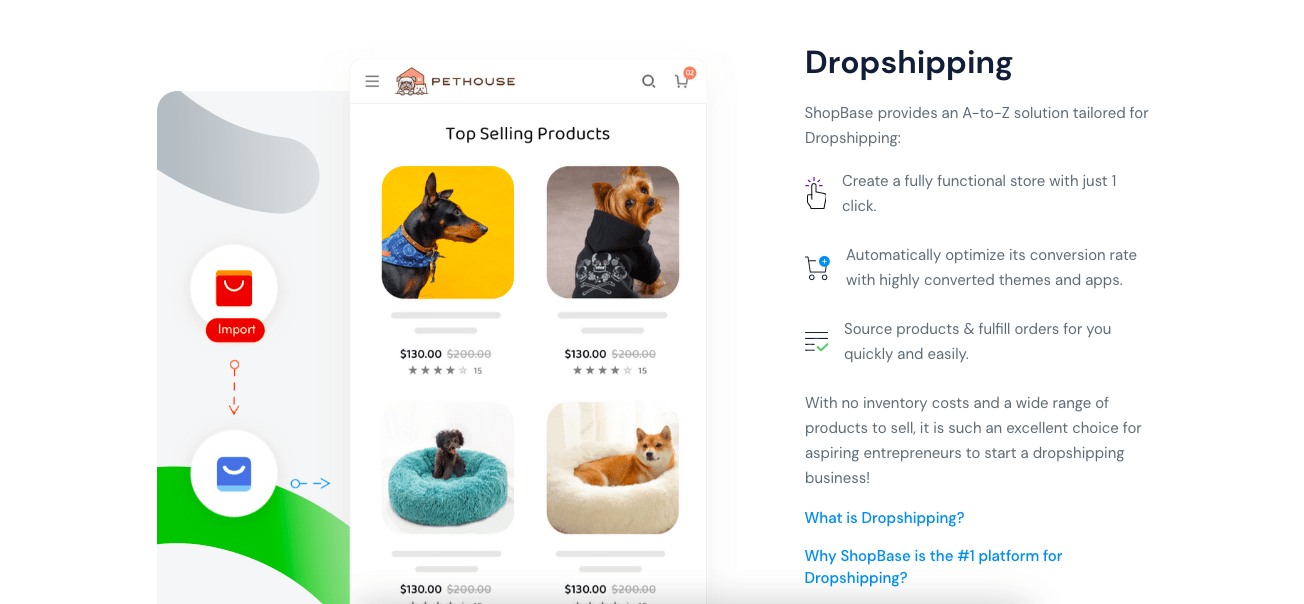 To put it in simple terms, if you are in search of an eCommerce platform in order to build your online business, then ShopBase is the perfect solution for you. 
This platform is well-renowned for the comprehensive ecosystem it offers, where the sellers can focus on both building as well as selling the products, and ShopBase manages the rest of the aspects ranging from setup and optimization of the store to fulfilling the order and the payment gateway. 
The supporting integrations and apps aiming towards helping the seller earn much more sales and profit are completely free on this platform, whereas the Shopify sellers have to end up paying extra for the same.
Though primarily it might look the same to significant platforms like BigCommerce, Wix, and Shopify that enables the entrepreneurs to sell the products online, ShopBase stands different as it is focussed on the 2 primary business models viz Print On Demand and Dropshipping. 
Keep reading ahead to know more about Print On Demand and Dropshipping offered by ShopBase.
How to Start an eCommerce site with ShopBase
The signup process is very well guided where you can set up your store easily.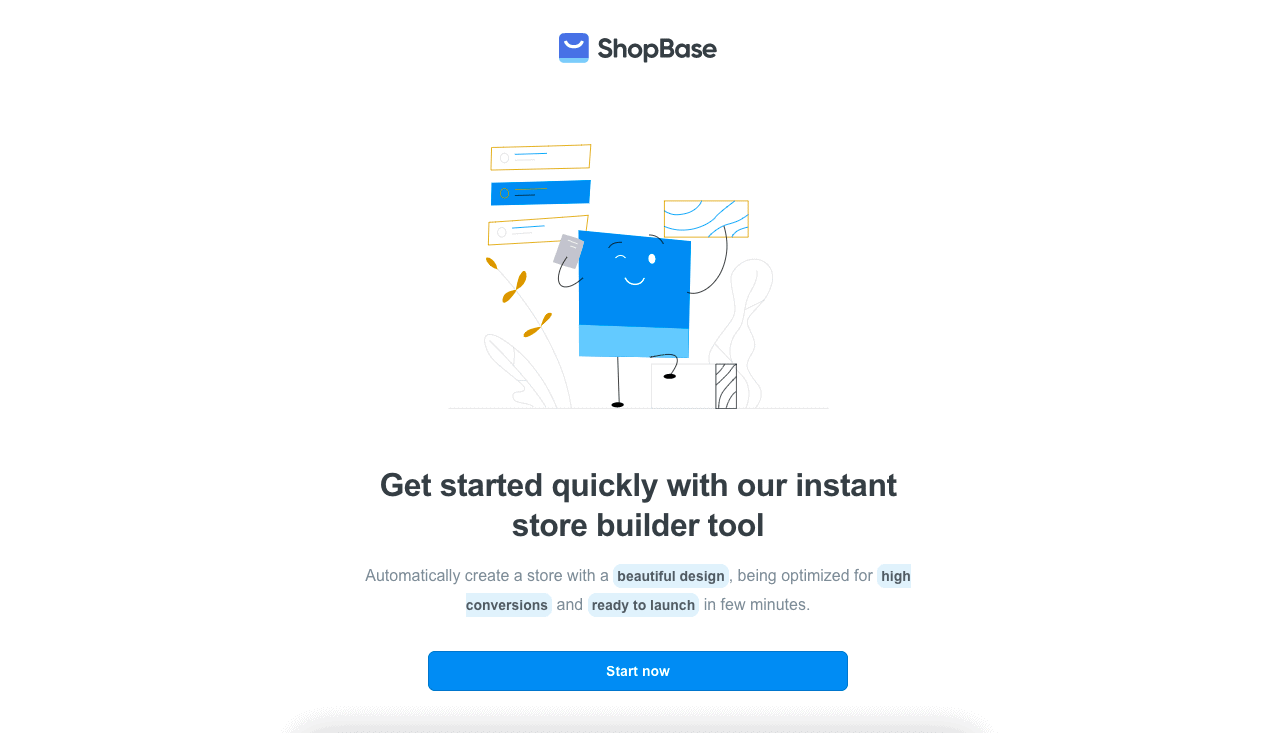 The 14 days free trial will give you the freedom to test the platform before you actually start paying for it.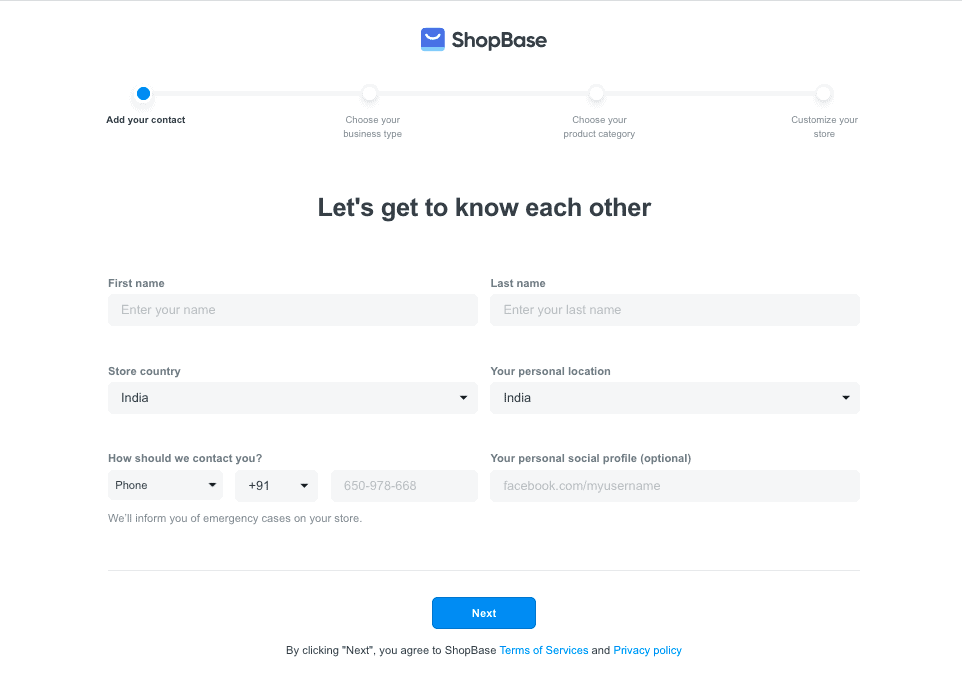 Once you fill up the extra information about yourself, you will be taken to the next screen to choose your business type.

Just by choosing from the options (Print on demand, Dropshipping, White Label, Manufacture or Others), Shopbase wizard will automatically optimize your first ecommerce site.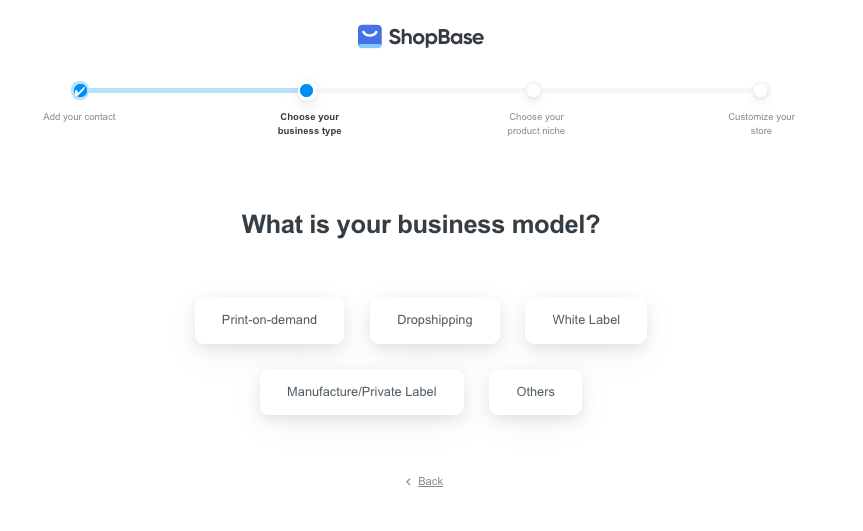 Just in case you have a specific requirement to run a Print-on-demand business, choose the relevant option in the next screen.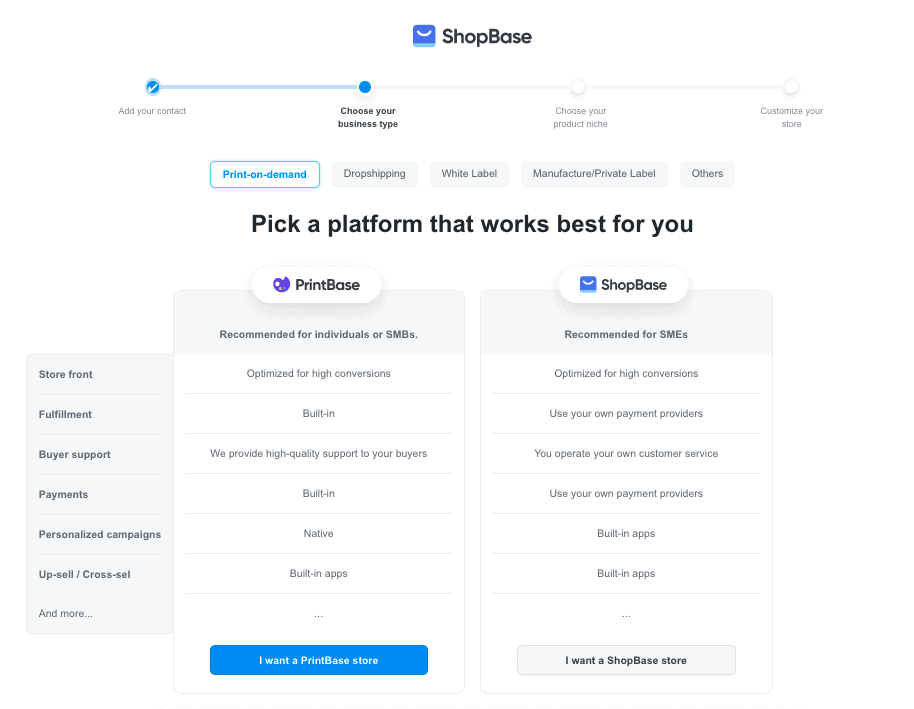 Choose the category of your products and it will bring the demo products and setup for you.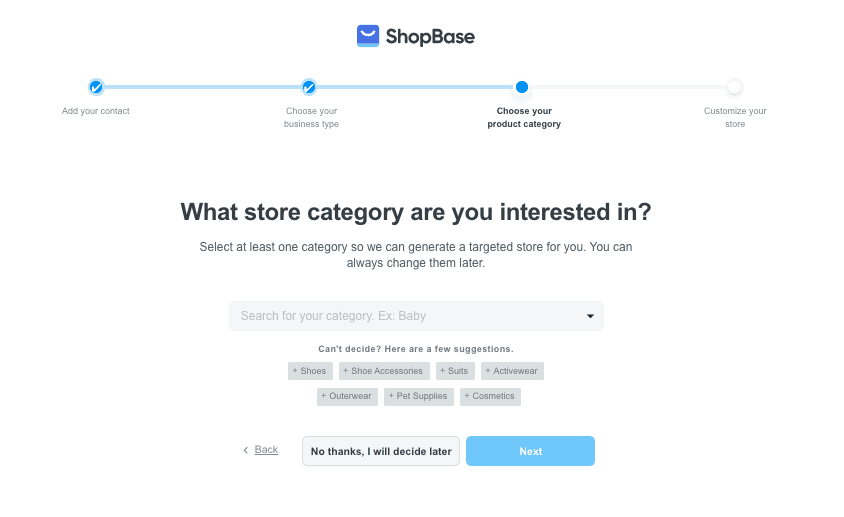 Now this option will be to test your nerd level. 😛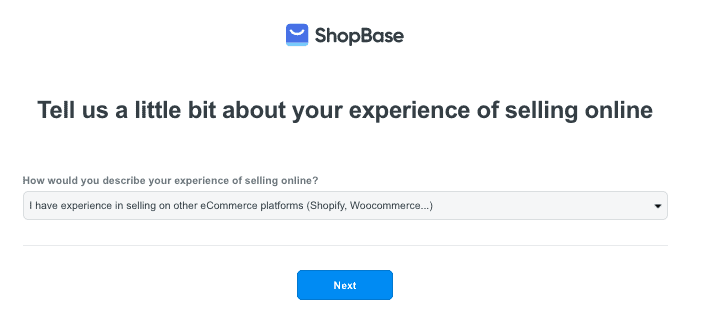 Once you're done with the signup process, go ahead and add products.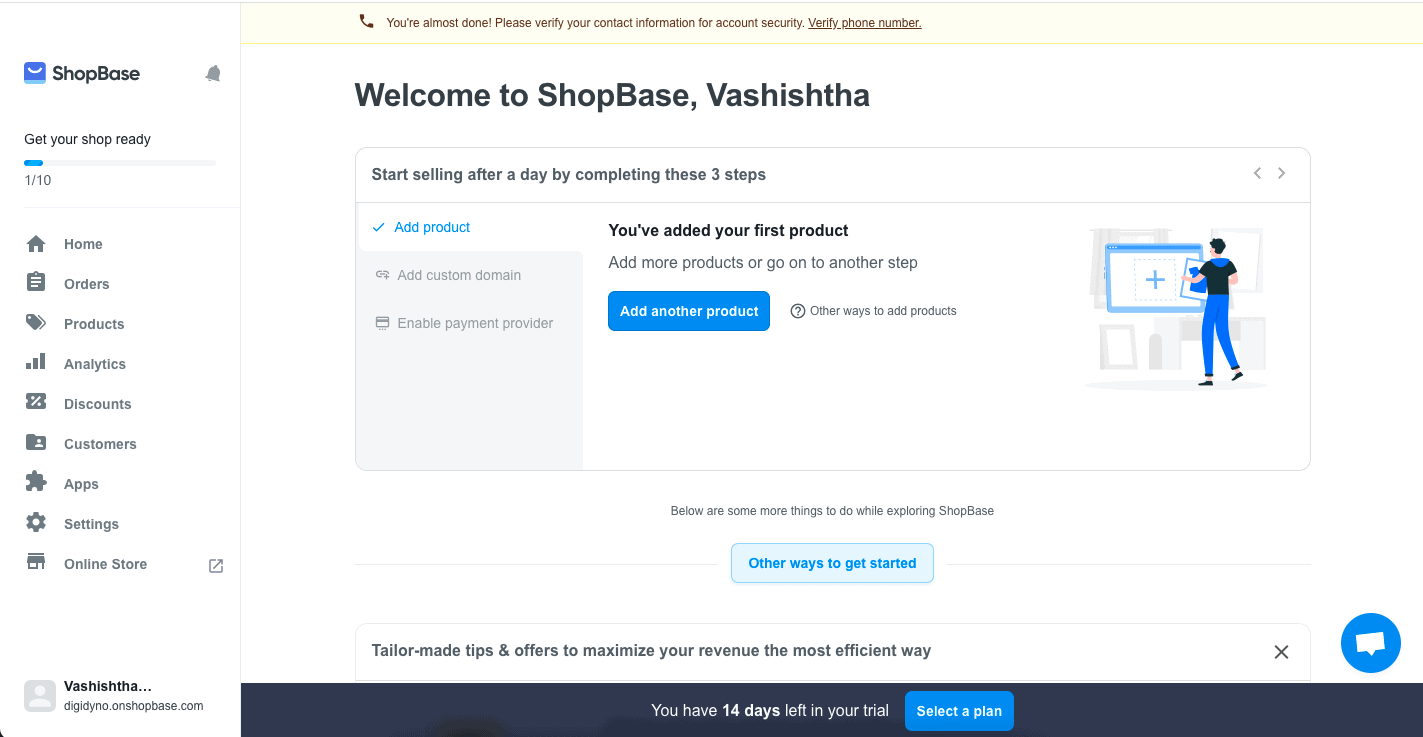 The guided checklist is all you need to follow to be able to launch your first ecommerce site on ShopBase.

To add the product, you can take help from the demo products. Edit them and it will give you an idea of how you can add more.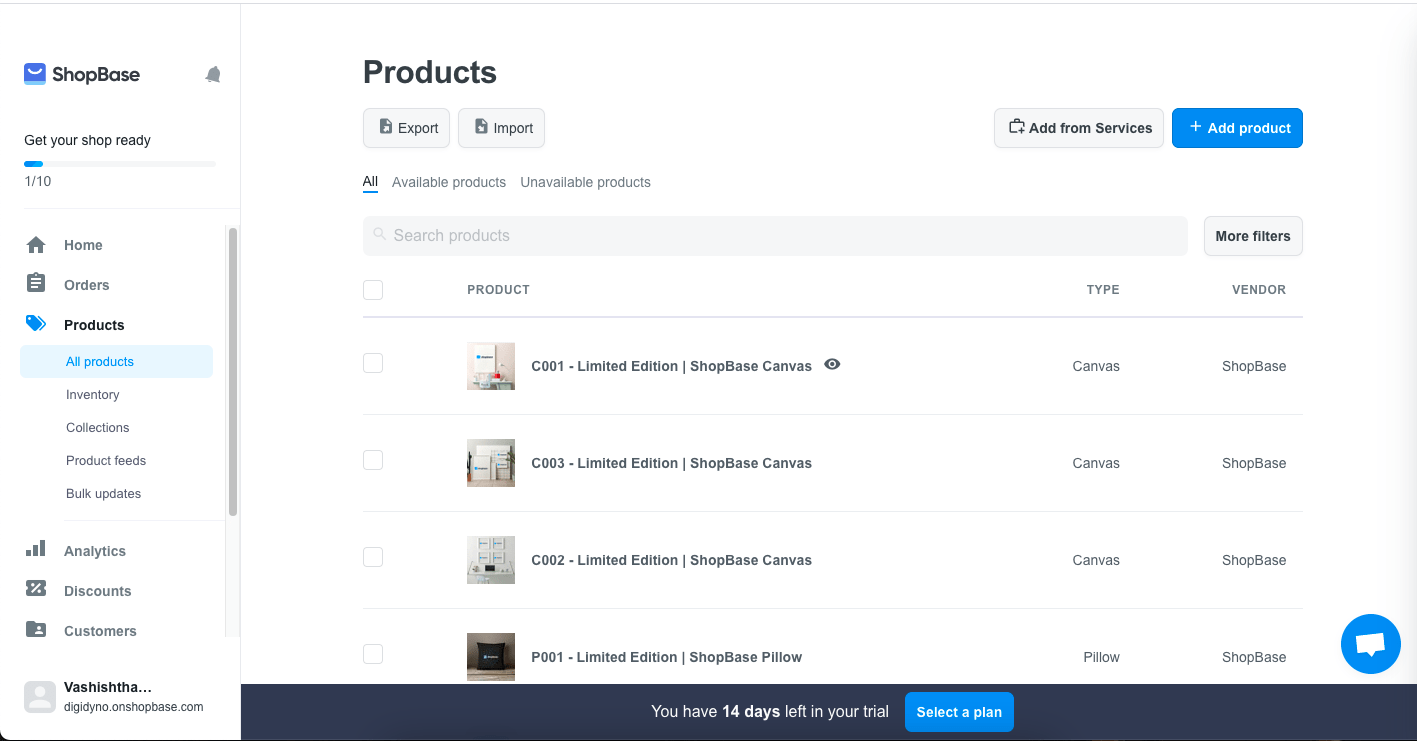 Next, Add the discount coupons for your launch campaign.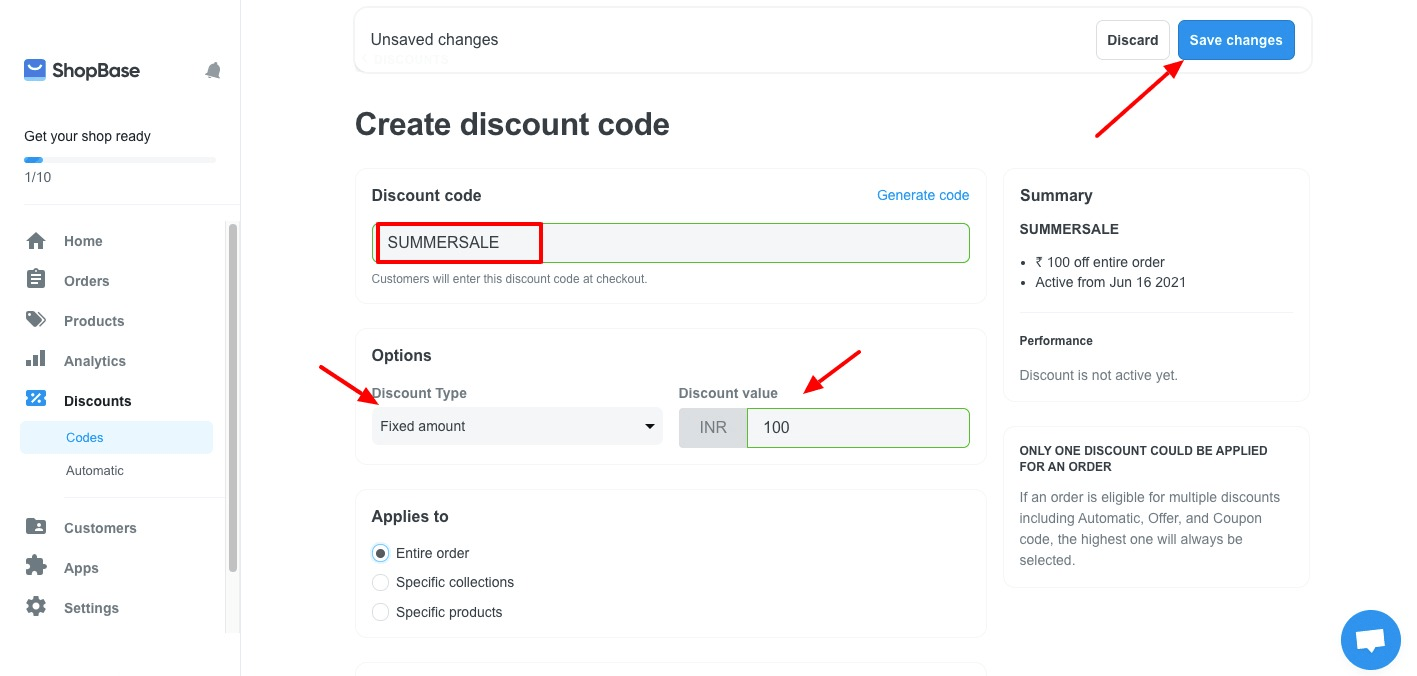 Choose a discount code, configure it to use as a fixed amount discount or a fixed percentage discount and save it.

You have more options in the coupon configuration to customize the code functionality further. 
ShopBase has 3 dropshipping themes and 12 templates, all for free, which are the best option for users to create optimized online stores with an eye-catching look.
Here's how my store looks like with one of the default templates.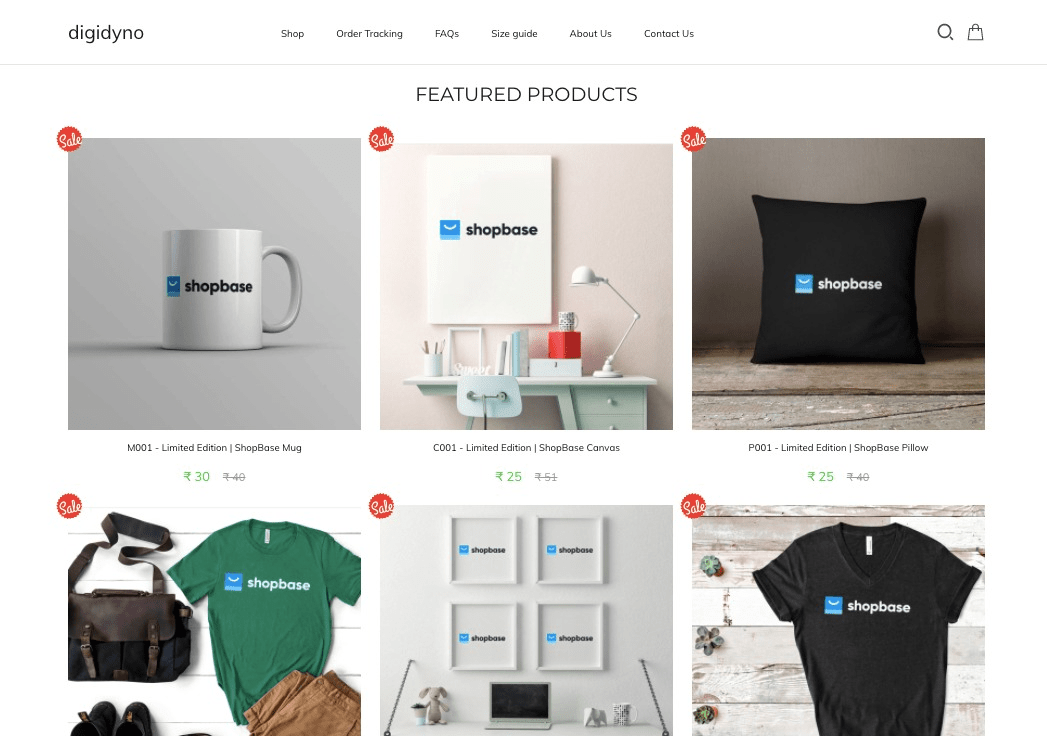 Order fulfilment for Dropshipping
If you want to fulfil the order with CrossPanda, Go to orders and choose the order fulfilling option.
It will make your eCommerce life easier to become a professional dropshipper. Connect your store with any of the Dropship connector and enjoy hassle-free dropshipping.
Start Your Business with ShopBase Now
Print On Demand And DropShipping By ShopBase
Summary
Get your very own online store in minutes with shopbase. With simple pricing and support from a team of experts, it's perfect for those just getting started in the world of entrepreneurship. Small Batch? No worries! There are unlimited product listings to cater to any size company or business idea you may have. And don't worry about hosting our site: we do that for you so that all you have left to focus on is selling stuff–and having fun doing it!
Print on Demand

eCommerce

Dropshipping
On ShopBase, you can run your thriving and profitable Print-On-Demand as well as Dropshipping store and effortlessly grow a successful top-tier revenue without any hassle. Here it is super easy to create and set up a completely optimized storefront that can convert very well, thanks to the amazing templates they have to offer. 
You can boost your sales with ease because of the free, yet robust applications for both cross-sell and up-sell, bulk pricing, quantity discounts, and a lot more that helps in maximizing the profits that come from the traffic. 
ShopBase helps you in earning more on all your orders by offering to cross-sell and up-sell items on the cart page or detail pages of a product. You can also boost the AOV with the up-sell on your thank you page as the customer checkout. Here you can also motivate the customers to buy more with the quantity and bundled discount.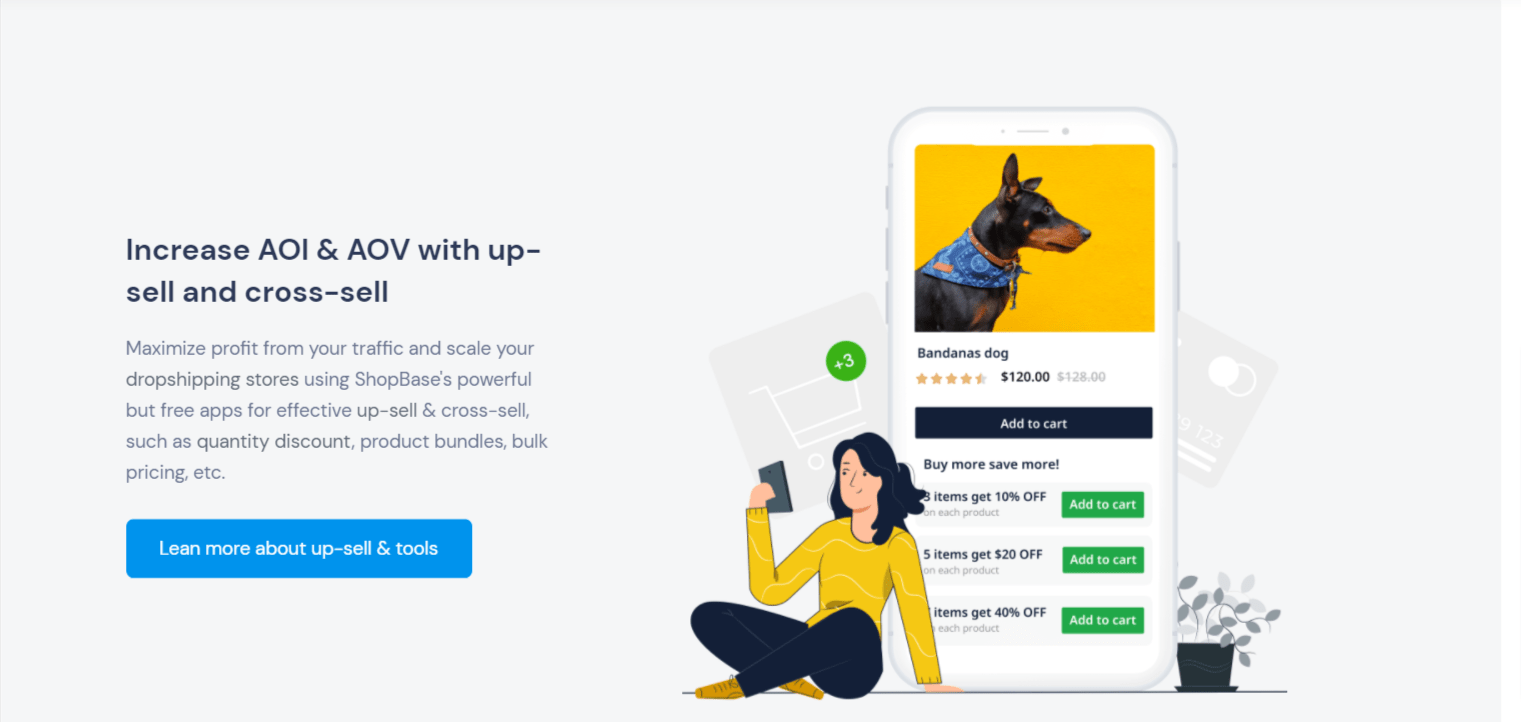 It becomes easy to boost the sales using the native marketing automated tools as well as the tactic of urgency marketing for skyrocketing the sales. Here you can gain the loyalty of your customers using the personalized products as they visualize the final product before they place their order. You get to lay hands on a wide array of templates and mockup generators for making your artwork stand different.
What is more, you can save a lot and maximize the profit thanks to the competitive base prices on trending products. The processing time, as well as the fulfillment, is really quick. You also get to show your customers live tracking of their orders. It also lets you track the sales and get updates on all the vital metrics right on a single dashboard. 
The international level storefront can automatically detect the location of your customer and show them prices and languages of their native countries. 
The Top-Tier Features Of ShopBase
ShopBase offers all the powerful features that your business needs for growing, maximizing the profits, getting leads from the traffic that exists already, and scale the business up. 
Start Your Business with ShopBase Now
→ Storefront
It offers an absolute shopping experience for the buyers as well as optimizes the conversion rate of your store with the storefront of ShopBase that can be easily customized. ShopBase has a Store Builder wizard that requires no coding skills to launch your high-converting eCommerce store within minutes.
→ Up-Sell And Tools
ShopBase helps in elevating the sales as well as generating much more revenue with the proven strategies for up-sell and tools for the optimization of conversion rate.
→ SEO And Marketing
With ShopBase, you can boost the search engine rankings, thus making the store much more visible to the potential customer base, thanks to their SEO optimization and advanced marketing tools.
→ Product
ShopBase lets you create new products with multiple variants with ease. You can also import and export a plethora of products to the store by using the CSV file format. It lets you sell without any limitations.
→ Store Management
Here you can easily manage the inventory, manufacturing as well as fulfill multiple orders and also do a lot more all in one place and with just a single click.
→ Shopping Cart
The platform lets you recover all your lost sales because of the abandoned carts, thanks to the completely automated SMS system. ShopBase also reduces the eCommerce risks because of its compliance with PCI/DSS standards.
→ Ecommerce Hosting
The platform offers comprehensive and reliable eCommerce hosting without any restrictions on the bandwidth.
→ Analytics
ShopBase offers in-depth analysis for your eCommerce, integrating the store with Google Analytics in order to help you in making data-driven decisions real quick.
→ Mobile eCommerce
Here on ShopBase, it becomes super easy to effectively manage the online store right at the click of your fingers as well as create an exceptional purchasing experience on mobile owing to the mobile eCommerce features.
→ Supplier And Fulfillment
With ShopBase, you can quickly fulfill the orders accurately and quickly without any damage with the warehouse network across the globe as well as worldwide fulfillment services.
→ Conducive Ecosystem For Ecommerce
You can grow the eCommerce business as well as boost the satisfaction of the customers by integrating with the external services and also extending the functionality of the store. 
→ Sell Across The Globe
You can reach out to shoppers across the globe with reliable suppliers from the US and China on ShopBase. It is guaranteed by the global-level payment providers.
→ 24/7 Customer Support
ShopBase is known for its award-winning top-tier customer support as well as account managers that are 24/7 available through email and live chat for solving all the issues.
As far as I have used Shopify, there are so many third-party apps that can easily increase the cost of running your eCommerce store. That's where you may spend more and have less ROI.
However, ShopBase has an app store that lets you add more features to your eCommerce site without paying any extra money. There are more than 200 such extensions/apps to help you build a successful online store and eventually increase your revenue.
Best apps: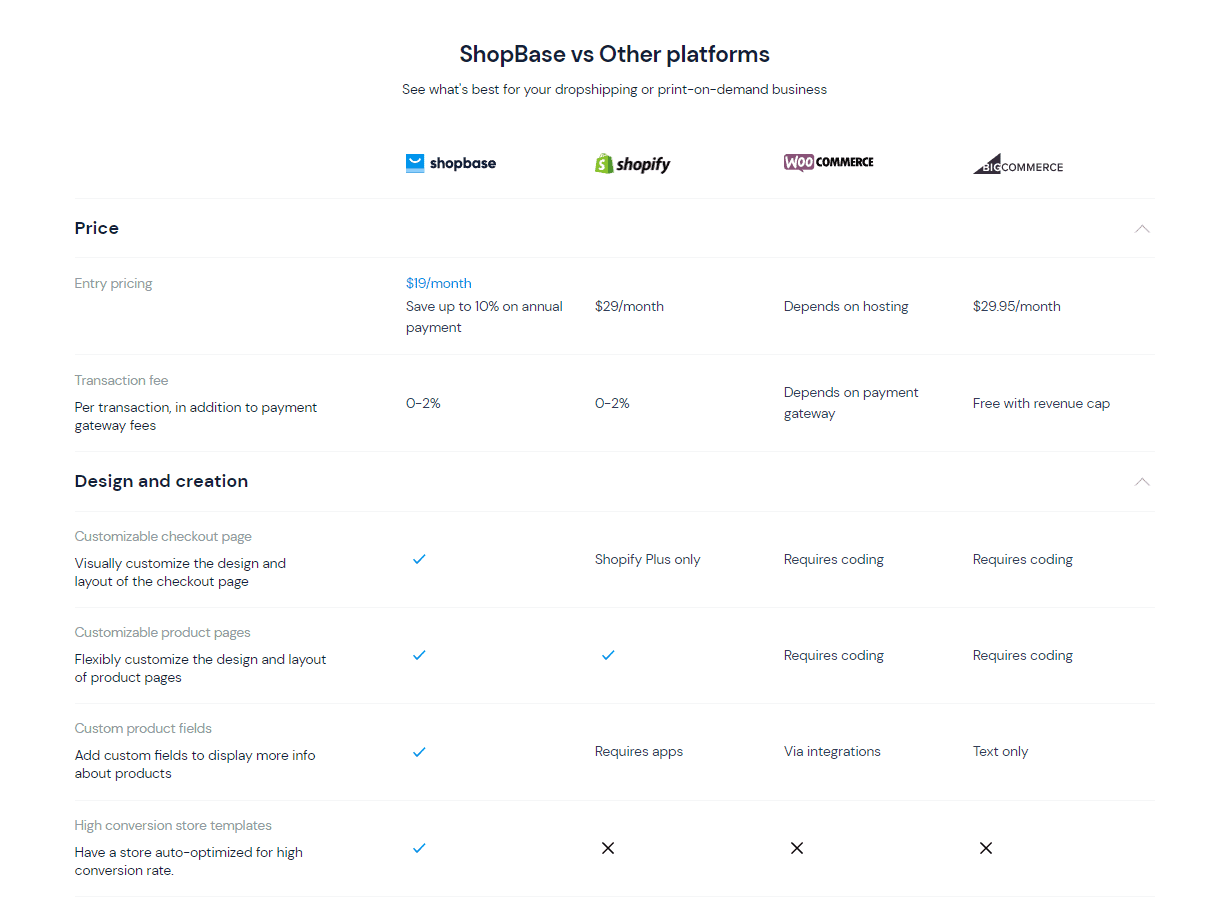 You can use this app for making more revenue by cross-selling or upselling more to your customers. An existing happy customer is the key to a successful business.
This app will help you tap the customer who left the website before checkout. With the help of this amazing extension you can send them an email or text message with a link. That special link will land them to a page where they actually left your website. This is where you win the game of selling-online.
Advantages Of ShopBase
It is fast and super easy to set up a shop here on ShopBase and add the products.

Integrations and applications do not cost extra.

Incredible features for upselling.

Recovery system for abandoned carts and a high rate of recovery.

Localized support channels for responsive support 24/7.

Pre-Made templates for shipping, return as well as refund.

No limits on the product listing.

Robust tools for tracking across all the advertising platforms.

You can change your domain quickly and easily to avoid getting your domain disabled by the advertising platforms.

Automated tool for shortening links in order to avoid rejection in advertising and increase brand awareness.

Automatically generated feed for the products to get advertised on Google and Facebook. 

It is easy to modify a humongous quantity of products at a time.

The feature for data export makes the process of duplication super easy.
Disadvantages Of ShopBase
Strict prerequisites for the payments.

Limited themes and demo templates
ShopBase is for?
Someone who is on a tight budget
The premium plan is cheaper than that of Shopify. You can start for as low as $19/mo with ShopBase and run a premium eCommerce site.
Someone who is new to online selling
When you're new to selling online or dropshipping, ShopBase has a guided wizard to help you set up your store. It is easy to use; even for non-technical users.
Someone who is not too tech-savvy
ShopBase has enough integrations and free applications to add to your store which makes it easier for you to add features without any charge.
Pricing Of ShopBase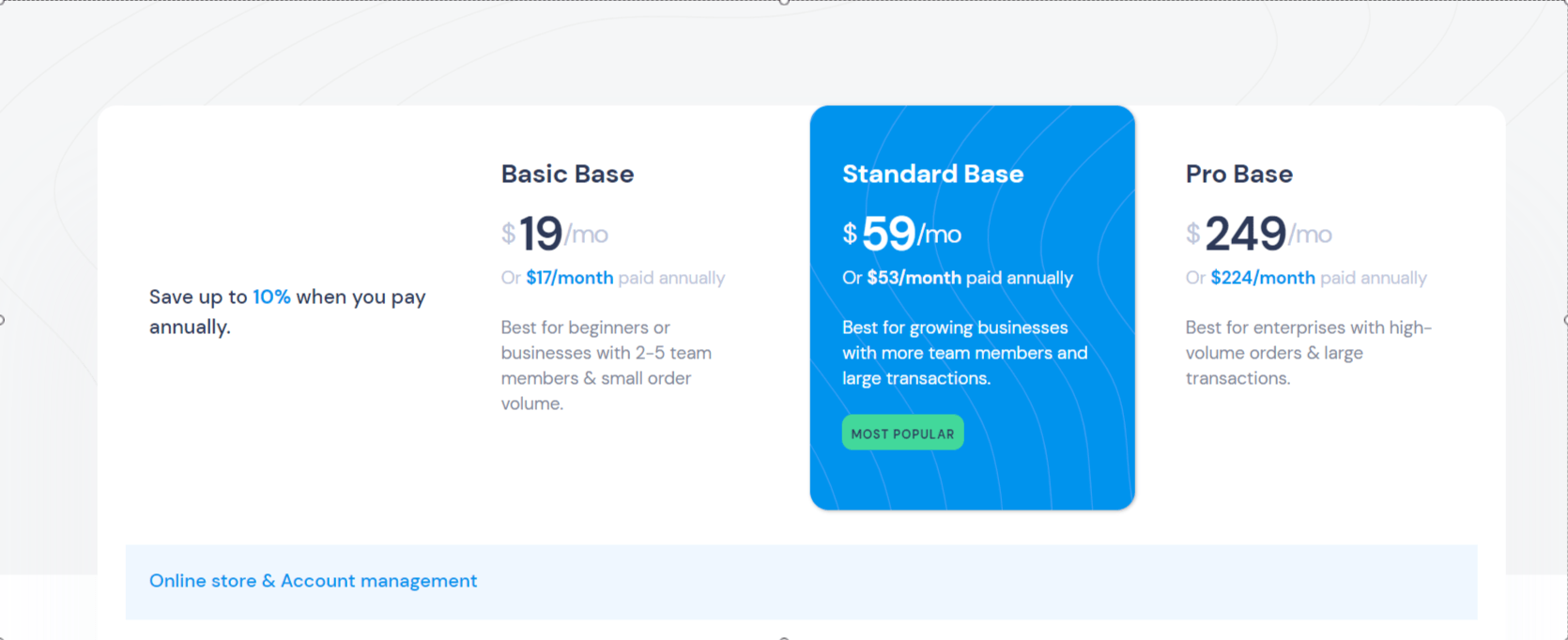 ShopBase is available in three pricing plans viz: Basic Base, Standard Base, and Pro Base. The platform offers a free trial for a period of 14 days.
Basic Base
This plan is best for beginners or small businesses with just a team of 2 to 5 members and a small volume or order. It costs $19 per month or $17 per month when paid annually.
Standard Base
It is best for the businesses that are growing and have larger transactions and more team members. It costs $59 per month or $53 per month when paid annually.
Pro Base
This plan works best for the enterprise that has huge level transactions and orders in high volumes. It costs $249 per month or $224 per month when paid annually.
Start Your Business with ShopBase Now
Is ShopBase worth using?
When it comes to generating massive revenue, a cross-border channel is a pretty robust solution. All in all, ShopBase is probably the best all-in-one platform for users who are interested specifically in print on demand and dropshipping. 
ShopBase manages to keep the entry barrier low by maintaining a very low monthly cost and keeps all apps and integrations free to use, including the 2 best ones (abandoned cart recovery app & upselling app) that are proven to boost the total profits by 90% of ShopBase-based businesses by around 10%.
You can test all the key features of the platform for 14 days in its trial plan. The platform definitely deserves a chance owing to its feature-packed yet stable functionality.

Frequently Asked Questions
Q.1. Is It Compulsory To Put In The Credit Card Details For Signing Up?
A: No. It is possible to sign up to ShopBase for a free trial of 14 days, and you do not even have to enter the credit card details for the same. When your trial ends, you can decide if you wish to launch the store, and for that, you will need to pick up a plan as well as enter the details of your credit card.
Q.2. Is It A Web Host Needed?
A: No, You do not need a Web Host. In all its plans, ShopBase includes unlimited and secure eCommerce hosting.
Q.3. Can You Cancel The Account Anytime You Want To?
A: Yes, you can very easily cancel your account if you feel the ShopBase is not the perfect platform for your Dropshipping or Print On Demand business. 
Start Your Business with ShopBase Now