Having an English-language Shopify website would be much better than having a Shopify store in another language. 
It would not impose any language barriers on your potential customers because a multilingual Shopify website would be easily understood by everyone. To have a multilingual website, you need Shopify multilingual apps.

If you are targeting global audiences, a multilingual Shopify website is a necessity. Having foreign customers visit your online store will boost your performance in foreign markets. 
This will also provide you with multiple language SEO indexing and marketing techniques that are unique. 
You can also make your website multilingual in just a few minutes with the Shopify App Store. 
 Shopify offers many Apps, so choosing the one that's best for you out of the many that are available takes a lot of time. 
Please, be assured that I am here to provide you with a list of the best Shopify apps for converting your website into a multilingual Shopify website, accompanied by a detailed description.
5 Best Shopify Multilingual Apps in 2022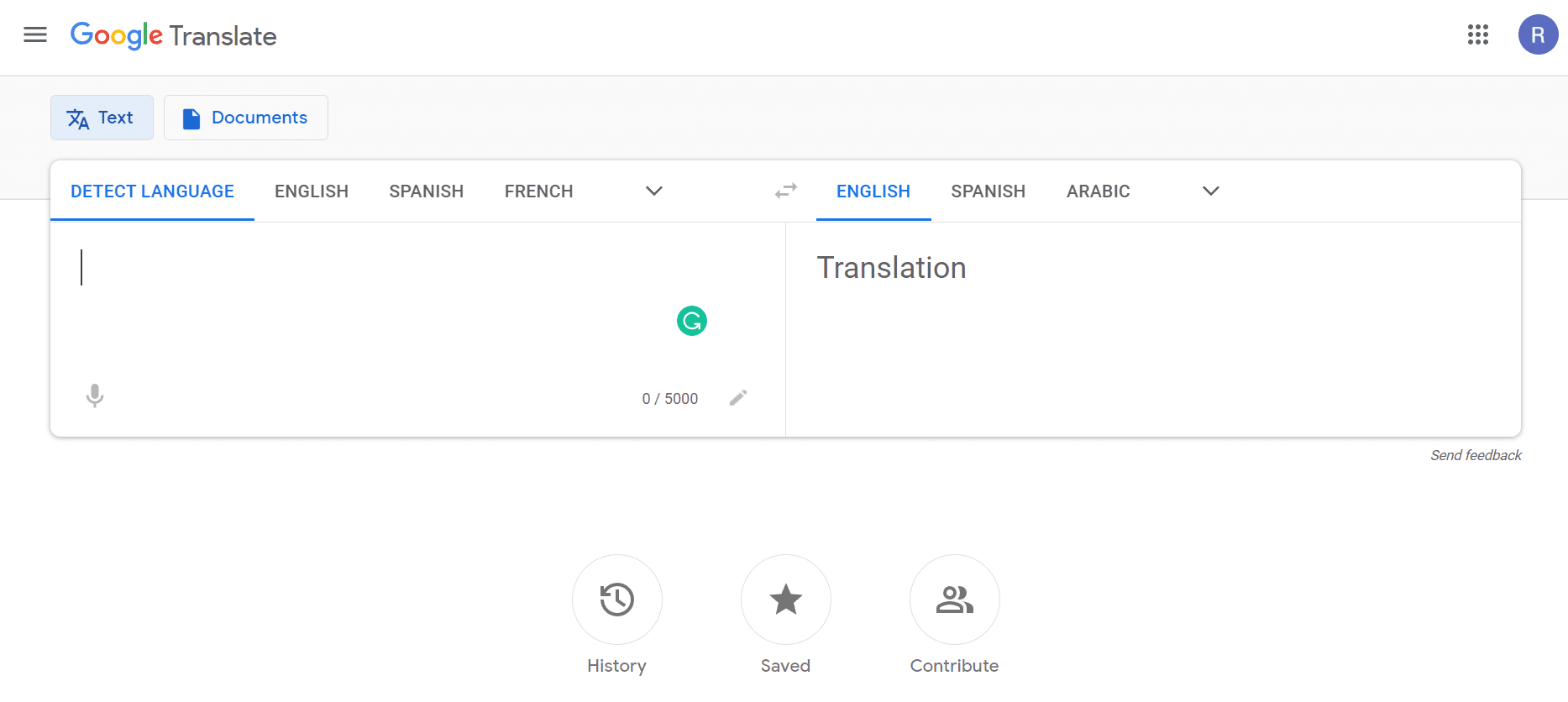 My first choice as the best Shopify multilingual apps is GTranslate. Shopify Stores can be translated with GTranslate, a great app. GTranslate automatically translates your website with Google Translate.
In a few minutes, it provides the automatic translation in more than 100 languages, enhancing your global market and reaching large audiences.
You can translate many of the third-party apps on Shopify using GTranslate. Apps like this typically offer a wide range of free features, but some premium features are paid.
By assigning specific subdomains to different translated language contents, it allows your website to receive complete SEO optimization.
By doing so, you can rank better in search engine results for foreign languages and gain more foreign customers. The number of words to be translated or the number of page views is not restricted in GTranslate's paid plans.
Moreover, you can track your translations, which may be useful if you are unsatisfied with the automatically translated content.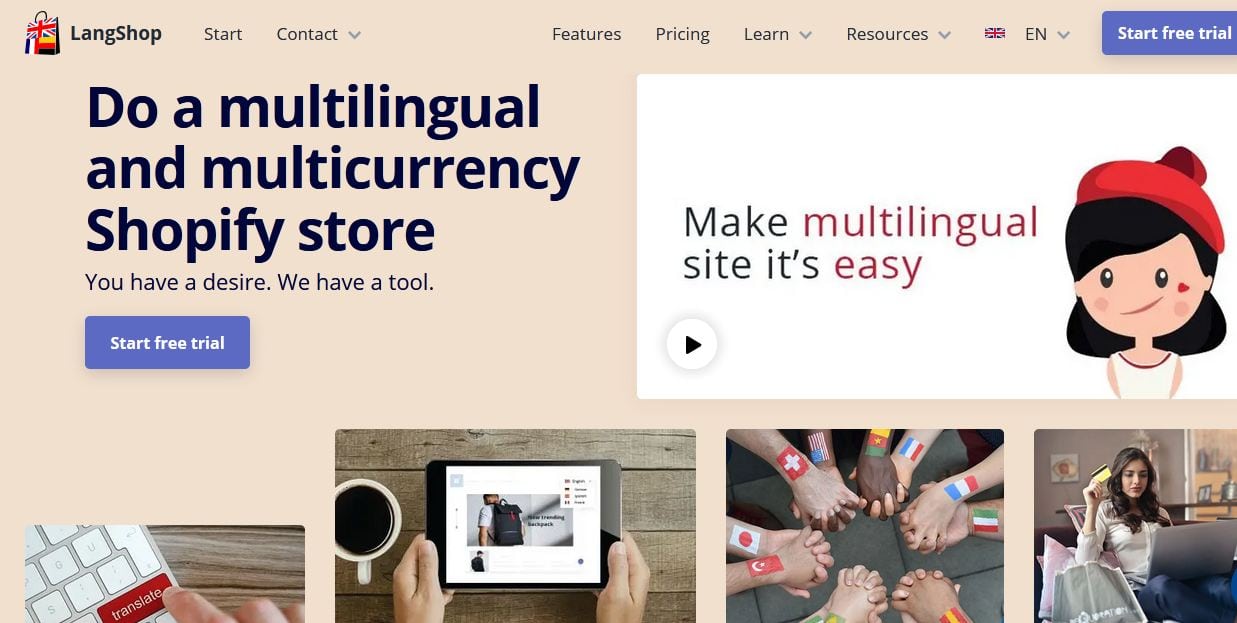 You should take advantage of LangShop if you want to translate your Shopify Store into multiple languages. The Shopify App Store supports 10K+ translated Stores and LangShop has been part of it since 2016.
Foreign markets and customers can also access your website because it is accessible and understandable. With this app, you can customize your website to the point where it looks, feels, and functions as a unique website, unlike other websites with the same look and feel. 
LangShop offers automatic translation of your website in an unlimited number of languages and also provides SEO optimization services. 
Translations are provided for every page of your website including the description, title, currency, etc.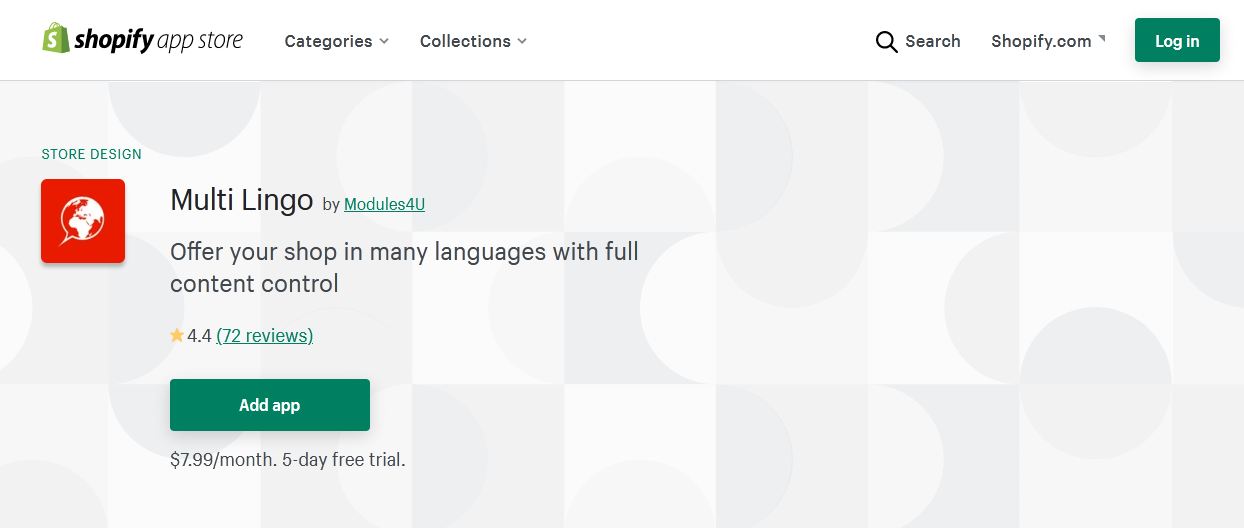 Translate any Shopify website into multiple languages with Multi Lingo. The theme can be translated into multiple languages.
The Multi Lingo tool allows you to translate any Shopify theme as well as the entire website, including text on the homepage, pages, checkouts, products, and menus.
Yandex Translation engine is used by Multi Lingo to provide an automatic translation. If you choose a theme for your multilingual website, Multi Lingo will then create a multilingual version of that theme and install it in your shop. You won't have to touch the original theme.
Multi Lingo allows you to add new language support and have your translations done automatically.
The app is very easy to install and navigate, and it is hosted on Amazon's cloud servers, so it is never going to have any uptime issues or load times. 
Several aspects of your Shopify store can also be customized with its RTL support. 

Easily translate your Shopify website with the help of Langify because it is easy to use and set up. The moment you install Langify, you can start translating directly, without wasting time in theme creation.
For displaying your translated content correctly, Langify will create the theme on its own.  Among other things, you can translate your products, themes, blogs, pages, page titles, navigation, page descriptions, etc.
The products that appear in your confirmation email and on the checkout page cannot be translated and will only appear in the base language.
However, there are no translation options for the shipping or payment text on the checkout page. With Langify, your customers can automatically be redirected to the language in which they are most comfortable.
Using Langify, you can manage already translated pages systematically, rather than using automatic translation. With a personal touch and your own manner, you can translate your content manually.
With Langify, you can translate meta tags as well as get full SEO support.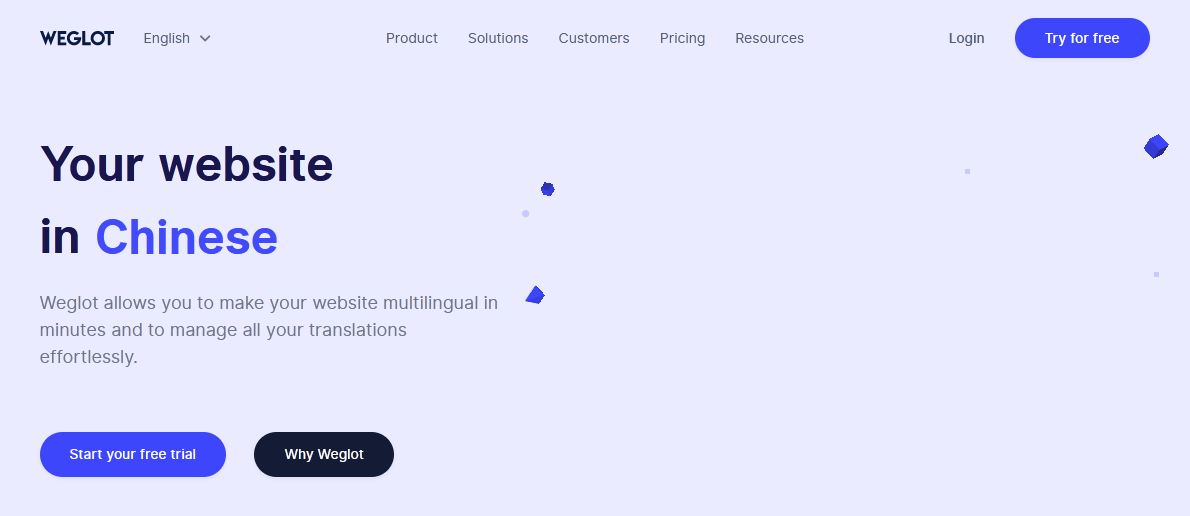 Last in the list of best Shopify multilingual apps is Weglot. Shopify users are able to simplify the translation process using Weglot, an incredible translation app for Shopify.
Easily convert your Shopify store website to a multilingual website using this convenient and dependable service.
It quickly and efficiently manages all translations for your website in only a few minutes. In no time at all, Weglot integrates it seamlessly into your website, increases its technology, and then quickly translates it into any desired language. 
Weglot supports more than 100 languages for automatic translation as well as the option of collaborating with a team or hiring a professional translator to translate your website.
Furthermore, it's very easy to manage all translations in one place with its translation management. Translations can be optimized for SEO.
Whenever translations are updated, Google automatically includes them in its index. Over 50k businesses trust it to manage their content, and it is compatible with different web technologies and content management systems.
Also Read:
Conclusion: Top Shopify Multilingual Apps

This article has given you an overview of different Shopify multilingual apps. In different ways, each of the above apps is superior to the other.
When choosing the best Shopify multilingual apps for your Shopify store, you need to consider various factors.
If you choose one of the above options, it is up to you and your requirements.
But please keep in mind that choosing an application that you think would meet your website's requirements would enhance your foreign presence and increase your conversion rate.