There are many e-commerce solutions out there, sure. We've tried some ourselves. So, here's a comparison of Shopify vs Square to find the best eCommerce solution providers.
However, we also have another group of entrepreneurs. A hybrid strategy is preferred by a particular class of individuals who prefer to go for the long ball. They set up both an online and a brick-and-mortar store instead of just one.
Shopify is the market leader with the most advantages if you run an online business. With Shopify, you can get almost anything done with their best-in-class platform that leverages their app marketplace. Still, if you have a POS system primarily at a brick-and-mortar storefront with a limited digital footprint, Square is the more intelligent choice.
Shopify vs Square: Overview
| | | |
| --- | --- | --- |
| Details | Shopify | Square |
| | | |
| Price (eCommerce) | $9 per month | Free |
| Transaction fee | 2.9% + $0.30 | 2.9% + 30¢ |
| POS Subscription | $89/month | 2.6% + 10¢ (Per tap, dip, or swipe) |
| POS Hardware | Starts at $39 in the United States | $0 Hardware with free reader |
| Best Used for | Managing an eCommerce store online | Online and in-store payments |
| The USP | Handle unlimited traffic, orders, and Inventory | Handle POS payments seamlessly |
| eCommerce Plugins | Massive repository of free and paid add-ons | Limited add-ons for more features |
| Store Designs | Find a Shopify theme online and install it on the store | The primary function is to accept payments. |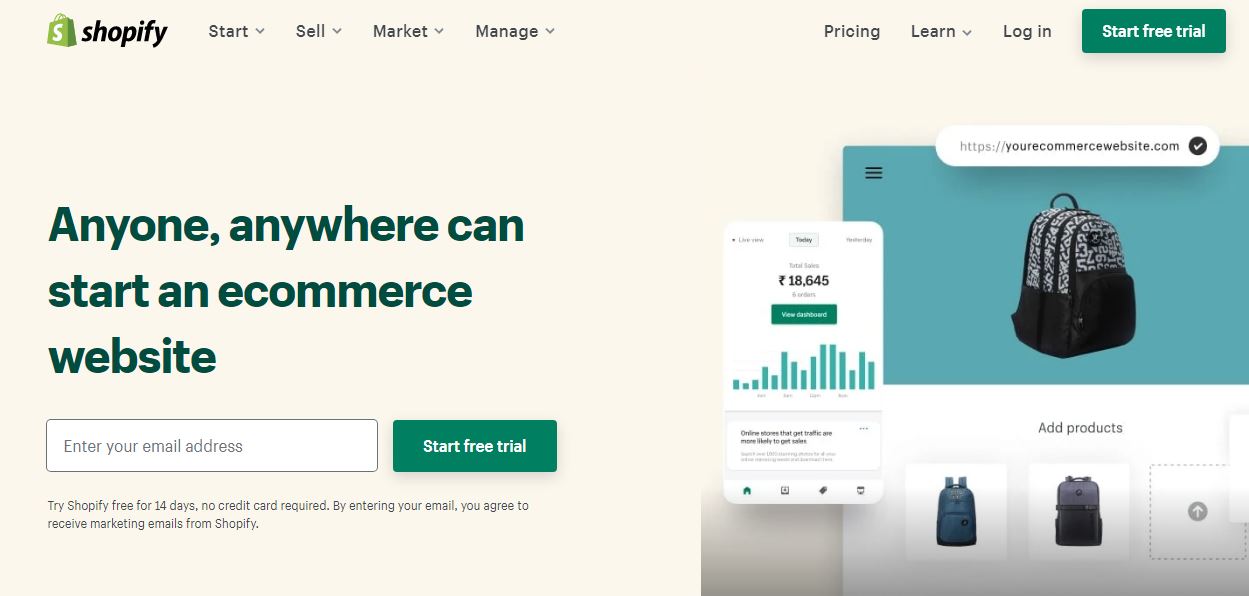 As an eCommerce solution, Shopify started out in 2006 with a humble beginning. Over the years, the company has grown immensely and even managed to develop comprehensive point-of-sale software.
Today, Shopify offers a fully integrated suite of commerce tools to entrepreneurs who wish to do business online, in-store, and on the go.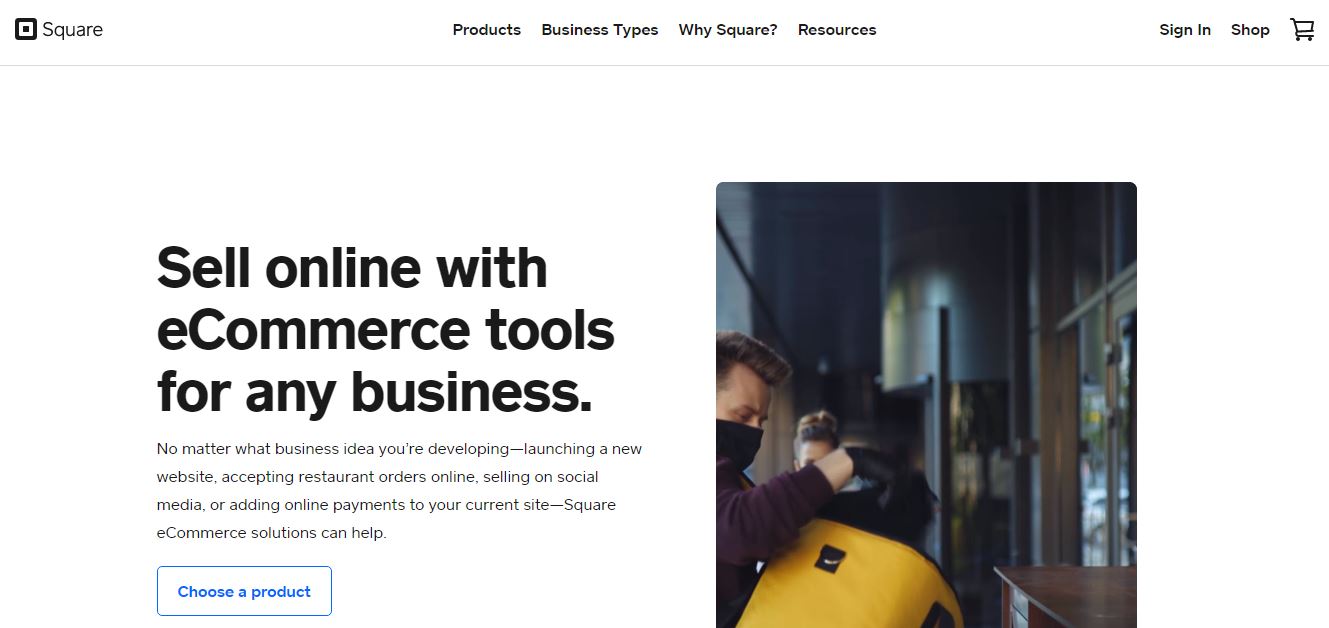 Contrary to that, Square was introduced in 2009 as a point-of-sale system. Through the smartphone and a free card reader, it was subsequently the first solution to widely offer card processing.
Square is more than a mobile POS system at the moment. The company's platform now facilitates merchants who are expanding their online businesses.
Shopify vs Square: eCommerce Feature
Come on, let's be honest. Due to the differences in approaches, it is hard to compare their eCommerce features directly. In contrast to one of the solutions, Square is more of a payment processor.
You can integrate other solutions to complement Square Payments and its limited capabilities as an online store.
So there you have it!
Square's online eCommerce store templates are less customizable than Shopify's, so it can compete fairly against eCommerce giants like them. Let's compare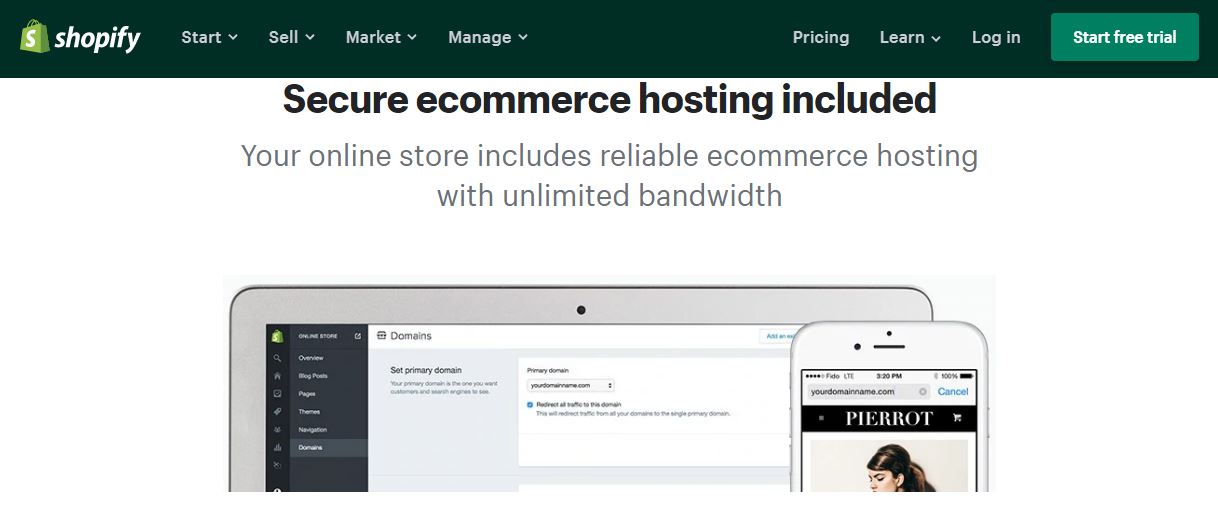 Shopify is a jack of all trades, but eCommerce has always been its primary focus. The company began its business with this product, then added other products to its business suite.
eCommerce website hosting is the first of the eCommerce functionalities offered here. What's more? With an eCommerce platform that offers unlimited bandwidth, you can sell an unlimited number of items and products. This is where scalability is.
If you have no domain to migrate, you can buy one from Shopify or acquire one from another domain name provider. The choice is yours. Many people buy an expired domain to quickly leverage its existing backlink profile.
The next stage is the design of the site. Numerous e-commerce website themes on Shopify cater to a wide range of industries. They are also highly customizable, especially if you know to code.
Top Pick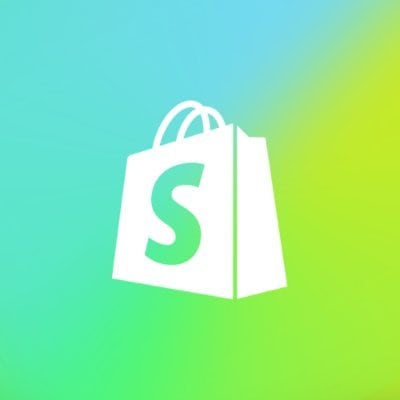 Pros
It's easy to use.
The templates are attractive and fully responsive (mobile friendly).
Abandoned cart recovery functionality is available on all plans, even the cheapest $5 Starter plan
It's an excellent option for anyone interested in dropshipping
Its automatic tax calculation tools are sophisticated and have the potential to save merchants a lot of time and admin.
True multi-currency selling is possible with Shopify
Cons
Depend on third-party apps for more features (enhance your store)
More professional design requires a developer or an external theme
Pay more for the full-reporting function
Shopify Payments is available only a few countries
However, if you're a beginner, don't be worried. Despite minor tweaks, Shopify's default theme designs still look attractive.
The order management features of Shopify can be used as soon as you begin managing the online store. These regulations apply to all sales levels- inventory, order processing, and shipping. Both the dashboard and Shopify's additional apps provide access to these provisions.
Syncing processes in the background support most of the entire order chain here. Keeping the whole business structure streamlined and current is easy with real-time order and inventory data exchange between sales channels.
Shopify's abandoned cart recovery tools will come in handy when you begin processing orders. Leads who suddenly leave right before checkout will be reached out to, and the prospect will be compelled to get back on track.
Through Shopify's reporting features, you'll be able to track even the unconverted leads. Our platform has an incredible tracking engine that monitors all aspects of your store, analyzes them accordingly, and reports on the critical metrics in real-time.
There are several ways in which follow-up reports can be adopted. CSV files can be exported or imported.
If you are a Shopify merchant, you can add Shopify's buy buttons anywhere on the web, through emails and apps. Then, you can sell anywhere, anytime.
Indeed, Shopify can even extend to social media. Your primary online store can be built directly on Facebook via its Facebook extension. Like an ice cream vendor in a stadium, you can sell your stuff right where your prospects hang out.
Shopify's third-party integrations are what set the platform apart from the rest. Almost every eCommerce feature you can think of is available in its app market. Moreover, they will come in handy when you need to expand your store or adjust to keep up with market trends and business goals.
Shopify's app store offers some free apps, but the best often comes with a price.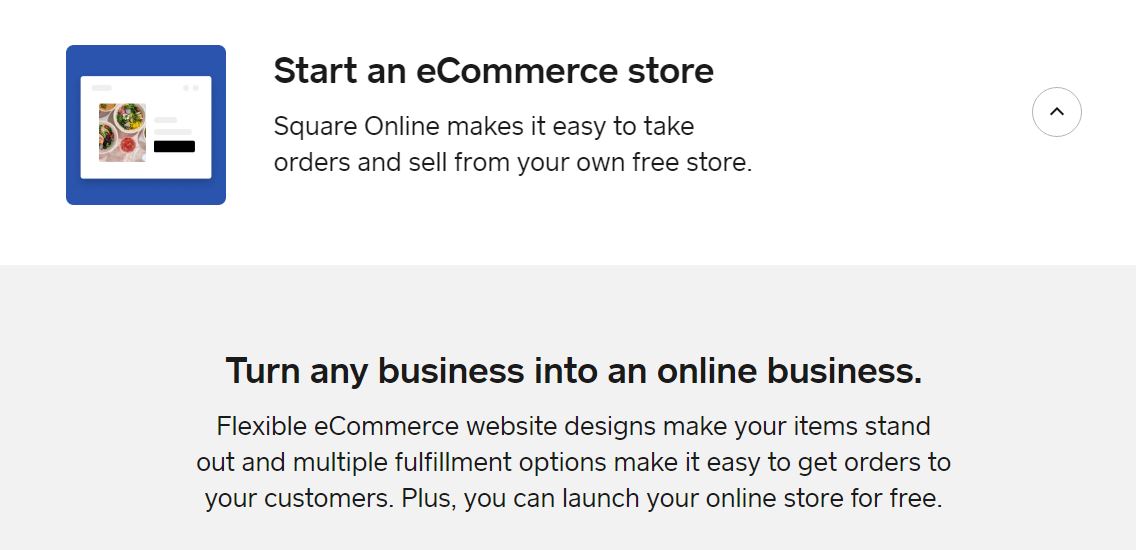 Startups should take advantage of Square's offer to host their stores on its domain. For your online store, you may still choose to source an independent one.
Whatever template you choose, Square offers a wide selection that can be tailored to your needs. There is a simple integration process that works well for eCommerce stores. However, their customization capabilities are limited.
However, a coding novice would not be concerned with tweaking various site features. Therefore, if you haven't studied programming before, you'll benefit from it.
Top Pick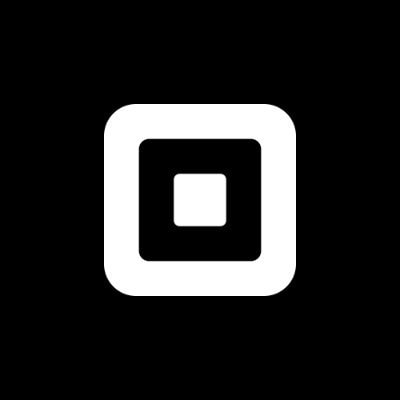 Pros
Great features at a reasonable price
Starts for free
Good reporting to keep track of sales, abandoned carts, payments, etc
Paid marketing features are in-built
Email marketing and Paid ads are guided features
Guided setup to get your store online and start selling
Cons
Limited customization options
Integrates with Square payments only for the cheapest transaction fees
Design flexibility
You will import products, arrange them as needed, and edit the shipping options during the setup process. You're ready to start as soon as you are done setting up. That's all there is to it.
The Square web dashboard will allow you to coordinate the corresponding processes as soon as the orders start coming in. Square's mobile app does not feature this order management feature.
However, Square has automatic data syncing, so you will enjoy having it even when you don't manage the orders. When a sale or change occurs, it automatically updates your inventory. This update usually spreads across all platforms, including Square POS.
Your inventory may be depleted when you upload as many products as possible as quickly as possible. Square's support for CSV will let you import all the CSVs at once, thus saving you time. Yes, exporting through CSV also works in the opposite direction.
Every business owner wants to review sales figures and customer information at the end of the day. Square provides relevant information about online stores in its business reports. The information is accessible from Square's main dashboard.
That's fine. Can you embed other features in the store to extend its functionality?
While Square doesn't offer as many third-party integrations as Shopify, it has a decent selection of third-party tools. You can boost your business quite quickly with some of the functionality we get here. Lastly, you can use Square's custom API if you cannot find an appropriate integration.
Square's ability to integrate with other eCommerce platforms is Square's eCommerce strength. There are various ready-to-go options for online stores, including Ecwid, ZenCart, OpenCart, Drupal, Magento, Wix, BigCommerce, 3dCart, WooCommerce, GoCentral, and Weebly.
You must admit, that's a very robust set of tools. Through the API, you will still be able to create your own e-commerce integration. However, that will only be possible if you know how to code.
Verdict:
Shopify's name is synonymous with e-commerce store functionality, so it should be no surprise. If we had held this contest years ago, Square would have been completely destroyed.
Even though Shopify is the market leader in e-commerce, Square has made some progress recently and can beat it out.
If you want to build a site quickly, you should choose Square. When you need to expand beyond Square's capabilities, its eCommerce platform integrations will be helpful.
Shopify was built for dynamic eCommerce sellers, on the other hand. All types of online stores can be supported, and they can be tailored to fit your needs.
Social media and other platforms can be used without establishing a Shopify store. As a bonus, it offers a broad range of third-party integrations that support a holistic eCommerce process.
The Shopify app is much better than Square when it comes to eCommerce.
POS System
Indeed the main point of contention. Even though both Square and Shopify come with robust POS software, the two firms remain competitive in this area.
How does each of them perform individually?
Shopify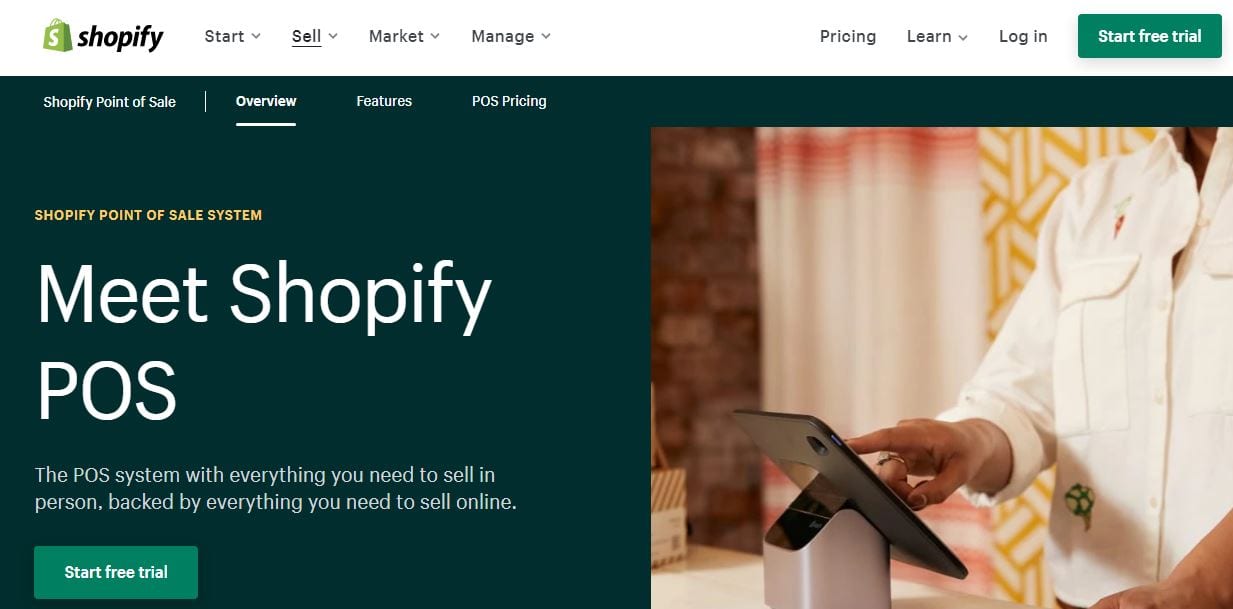 Shopify only supported POS systems on iOS previously. The company then released an additional Android app at the beginning of 2016 once it realized the market's sheer size. With Shopify's POS app, tablets and iOS devices are both supported.
That's great. It is interesting to note that Shopify's POS app does not operate the exact same way on all of these devices. In general, the iPad has been the best choice since it has superior functionality over the rest.
After you've set up the app, you'll notice it can accept any type of payment (including contactless). How do your customers prefer to pay? Easy. Does the shop prefer to accept checks or cash? No problem. There is also the option to create a custom payment processing option with the Shopify POS system.
The fact is that you can implement a framework for the processing of multiple payment methods. Moreover, Shopify facilitates split tendering, which allows customers to make a single payment using two or more methods.
As a result, Shopify Payments is the default method here. You may, however, switch to another payment processor that offers better features.
You will be required to pay Shopify extra fees (transaction fees or other) for each transaction. That's not very loyal.
Despite integrating third-party processors, Shopify still tries to streamline payment procedures. Taxes, for example, will be charged automatically to each transaction based on the local tax rate. Select items from your inventory can have overrides applied if you prefer.
Here is the kicker- Shopify does not handle taxes for international purchases. Each additional country your business expands into leads to an increasingly complex web of tax regulations.
Shopify POS can, however, accommodate orders from international customers thanks to some features. Unlike gift certificates, which can only be used in the United States, gift cards can also be used internationally. Shopify's iPad app, however, is the only one that supports this feature.
Local and international clients can receive a full or partial refund if a sale is not successful after payment processing. It would be strategic to offer it as a store credit, which Shopify POS also offers.
Additionally, you can offer discounts on multiple products simultaneously, which will help you retain customers. As for percentages and static amounts, you can deduct them from the original price.
Despite this, some of your customers may not be impressed if they learn that their payments can still be processed even if the system is offline. It turns out that credit card processing is not available offline during an outage, so don't stretch your store too much.
The system creates receipts upon completing a sale, which can be printed on the iPad app or through Shopify's retail package. Your customers can also receive digital receipts via email.
In addition to printing, you'll also be able to create barcodes for various products from the system (and barcode scanners).
You can access this feature through Shopify's inventory management, which is bundled with many powerful features. A similar feature to that of its eCommerce sibling allows stock progress to be tracked and synchronized between all channels.
We combine data from your business with the resultant numbers to create detailed reports. As a result, you can monitor your sales and traffic, profile your customers, and make informed decisions based on that information. The system lets you build custom reports for those who don't like that.
Square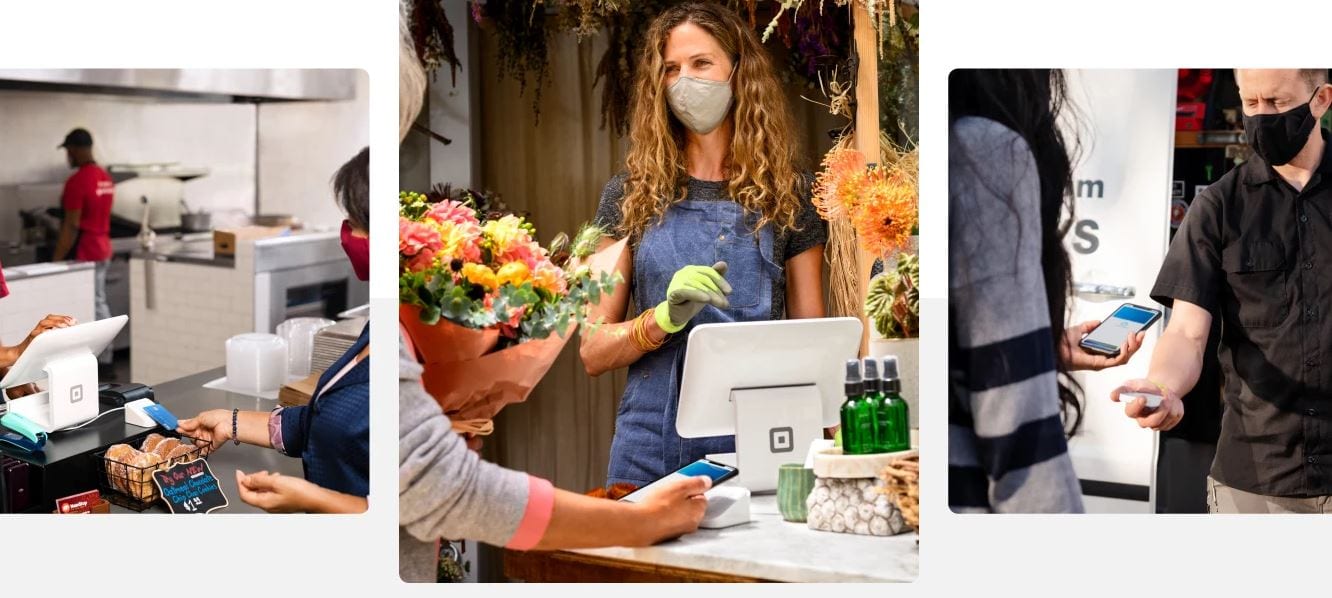 Square also manages offline sales amazingly well. You can use its accessible Point of Sale app on a smartphone or tablet since it is available on Android and iOS.
On the other hand, a premium version of Square for Retail is only compatible with iPads and is built exclusively for retailers. This makes it highly optimized for retailers.
Despite this, the POS app version of the former remains popular.
The payment options are pretty flexible to begin with. The system facilitates payments with credit and debit cards, checks, and cash transactions. But sadly, Square falls short of Shopify's more advanced payment features.
Do not misunderstand me. The Square might have a slight disadvantage but makes up for it with other features. With its split tender feature, you can pay with checks and cards, cash and cards, or both. Cross-selling and up-selling are incredibly effective ways of enticing your customer to spend more.
Square's discounts feature can be used to trigger additional sales and customer retention if that strategy fails to work. In a similar fashion to Shopify, you can create percentage-based discounts and fixed reductions on single and bundled products.
The loyalty program offered by Square is closely related to this. You'll be charged $25 monthly for the feature once you've moved past a free account. In contrast, your customers will only be required to accept digital receipts. Once you set the qualification criteria, the system will evaluate their rewards.
Those aren't the only things. We also offer gift cards for added customer attraction. The fact is, subscriptions and redemption fees are free. All you need to do is pay for the cards! They can then be issued online or in physical form to customers offline with different redeemable values.
Here's what's most fascinating about offline. With Square POS, credit card payments can quickly be processed, even offline. To regain full functionality, you only need to resolve the issue within 72 hours.
The kicker is that offline payments are all your responsibility. The consequences of a failed credit card payment are ultimately your responsibility.
In addition to full and partial refunds, it is also possible to issue them. What's more? The processing fees are refunded by Square.
After a successful transaction has been processed, square POS will generate receipts that can be printed physically, emailed, or forwarded by SMS.
Let's talk about taxes, shall we?
Depending on your preferences, you'll have to pay the corresponding taxes. This is not an option with Shopify. When you choose the first option, you can decide whether to charge it separately or embed it directly into item costs.
In the meantime, Square's automatic syncing will update all of your inventory as the transaction is processed. Products sold on your online store will be deducted immediately.
These sales progressively deplete your stock over time, of course. Thanks to the system, any item that decreases significantly or goes out of stock will be flagged, and an email alert will be sent directly to you. Automatic alerts regarding low stock levels are generated according to your set thresholds.
Which one are you guessing? Adding a new product to your list is relatively simple and straightforward. Your products can be priced, styled, and colored however you want with Square POS.
Moreover, the corresponding inventory management system is adequately robust and accounts for all items simultaneously. However, if you require additional features, upgrade to Square for Retail or embed a third-party inventory-management system like ShopVentory.
Square's reporting system is made up of all these features combined. They essentially cover the basics of analytics in the subsequent reports.
As we've seen with a Shopify store, there are no customization and advanced filtering options.
Verdict
In the battle between these two, point of sale makes a much more incredible showdown than eCommerce.
That said, it's interesting to note that many of these features apply to both Shopify POS and Square POS. In terms of compatibility, for instance, both Shopify and Square have produced iPad and Android versions for smartphones and tablets – although the iPad app is clearly preferable.
Shopify POS and Square POS both offer powerful inventory management tools that enable you to track and sync inventory in real-time across all of your stores. Regarding payments, both of them support a variety of payment options, split tenders, and tax calculations. However, Shopify's custom payment options give it a competitive edge in this area.
However, Square makes a comeback with offline transactions as well. It may be possible to process credit cards with Shopify, but it does not. In contrast, Square facilitates even credit card payments during outages.
Overall, we would say both are highly effective at driving in-store sales. Square has more POS features than Shopify, even though Shopify is better at customization.
Shopify vs Square: Pricing
Pricing options for Shopify

Shopify offers four basic plans, each with its own set of features. As you move up, you'll be able to access more features for running your business.
As a result, here are your options:
Pricing for Shopify Lite is $9 per month.
Selling on Facebook
Selling on a third-party website
For in-person credit card swipes, there are 2.7% + $0.00 transaction fees
For online payments, there is a 2.9% + $0.30 transaction fee
Prices start at $29 per month for the Shopify Basic plan
Certificates for free
The website with a blog and an e-commerce store
Codes for discounts
Manually creating an order
Assessment of fraud
Customer service is available 24/7
File storage is unlimited
No limit to the number of items
There are two staff accounts
For in-person credit card swipes, there are 2.7% + $0.00 transaction fees
Payments made online incur a 2.9% transaction fee + $0.30
Shopify Plan – Costs $79 a month.
Shopify Basic features
Recover abandoned carts
Reports for professionals
Cards as gifts
There are five staff accounts
The transaction fee for in-person credit card swipes is 2.5% + $0.00
Online payments are subject to a 2.6% + $0.30 transaction fee
Costs $299 per month for Shopify's Advanced Plan.
Shopify's entire feature list
Shipments from real-time carriers
Build advanced reports with ease
There are 15 accounts for staff
In-person credit card swipe fees are 2.4% + $0.00
Online payments are subject to 2.4% + $0.30 transaction fees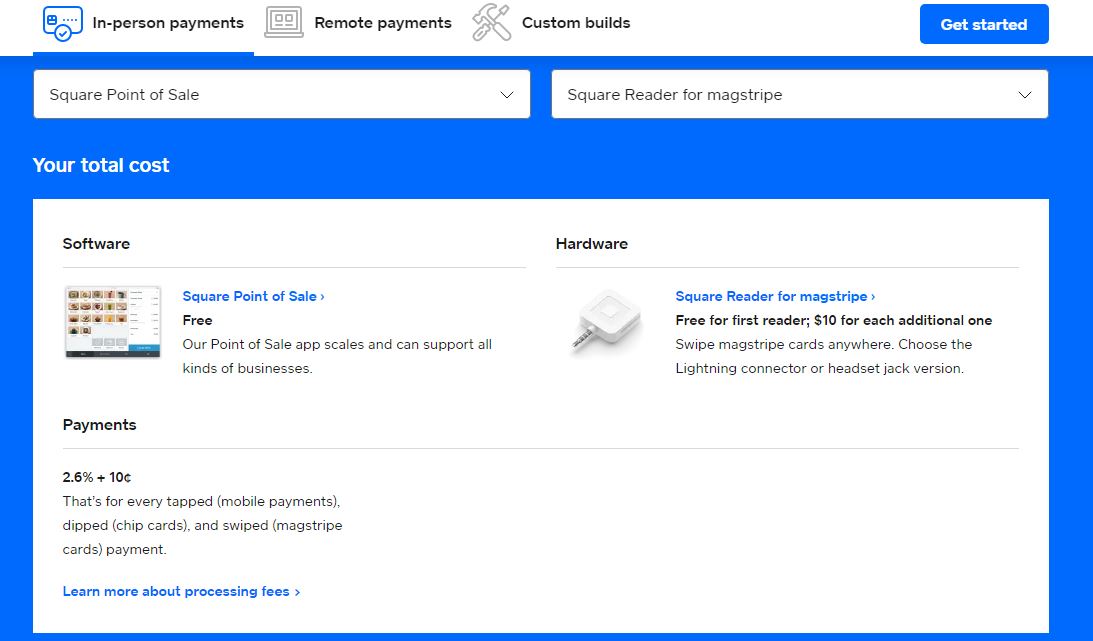 There are fewer plan options with Square than there are with Shopify.
The eCommerce and POS services are free of subscription fees. You won't even be charged for PCI compliance.
Weird? The only costs you will incur if you're using Square POS on a tablet or smartphone are the transaction fees on credit cards. This does not apply if you complement your framework with secondary POS hardware solutions like Square Register, Square Reader, and Square Stand.
As a payment provider, how much do you charge for transaction fees?
Point of Sale Square
Online payments for eCommerce are 2.9% + $0.30
For keyed-in card transactions, add 3.5% + $0.15
In-person swipes, inserts, and taps of cards incur a 2.7% fee
If you are interested in viewing another POS, you can compare Square vs. Stripe to get a direct comparison between these two payment processors.
In-person swipes, insertions, and taps are 2.5% + $0.10
Square For Retail
In-person swipes, insertions, and taps are 2.5% + $0.10
Verdict
Shopify and Square charge nearly identical transaction fees for online and in-person card payments. Shopify's additional monthly charges are significantly more expensive than other options.
Shopify is more suitable for merchants who prioritize their online sales, while their offline stores are only supplementary to it.
In contrast, Square is ideally suited to merchants more focused on offline sales, while the eCommerce websites serve as auxiliary stores.
Main Differences Between Shopify vs Square
Shopify and Square differ in the following ways:
In addition to Shopify's monthly fee, Square also charges a processing fee, while Shopify is free to use
As an online POS system, Shopify is distinct from Square as an offline-online hybrid
With Shopify, you have access to thousands of third-party apps, while Square offers a smaller selection of tightly controlled integrations
Why does Shopify Win?
eCommerce platforms abound. Only one can catapult your growth through a true NETWORK effect. Many developers build apps for Shopify, and their ecosystem of integrations is robust. We cannot ignore this.
Also Read:
Final Verdict: Who's the winner between Shopify vs Square?
What's better, Square or Shopify?
The best choice depends on your type of business and what works best for your model. One thing we can say for sure is that both have their own unique e-commerce benefits and features.
Still, Shopify has a few more advantages than Square regarding selling. Let me summarize:
With Shopify, you can upload an unlimited number of items.
A website builder that offers multiple templates (for eCommerce) and the ability to customize them.
Automatic data synchronization is used to coordinate inventory.
Recovery tools for abandoned carts
Integrations with a wide range of third-party merchants.
We have an ever-expanding app store universe with tons of add-ons
Advanced customer support and customized features with a deep bench of Shopify specialists
In contrast, Square also has a lot of advantages.
Sites can be hosted on Square's domain.
Syncs data across all platforms automatically.
It generates analytical reports with critical information about online stores.
Integrated with other eCommerce platforms is Square's strongest suit.
Through Square's API, you can develop your own integration.
If you choose this option, you can easily create an online store with Square.
Due to its extensive flexibility and deep pool of apps and talent (Shopify experts) for customer support, Shopify, on the other hand, is the ideal solution for the dynamic eCommerce seller or digital merchant.
Additionally, Shopify's POS system provides much more customization options, while Square's offers a wide variety of features