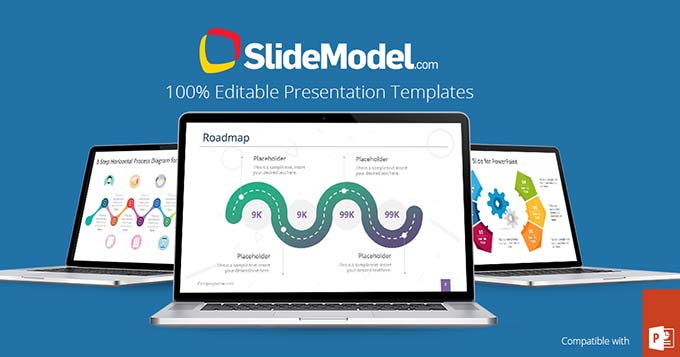 For someone who has to make a killer presentation, there are so many reasons for using a professionally designed PowerPoint theme. PowerPoint presentations have emerged as a vital part of the initial branding of any brand, product or service. A carefully designed business template theme is right up there with your company's logo, letterhead, business cards, and even the website. Since presentations are one of the primary tools which your company uses to communicate with clients, leads and prospects, having the right PowerPoint theme in place can revolutionize the whole marketing and sales process.
Having an amazing PowerPoint theme specifically crafted for objectives matching your presentation can do wonders for you. The desired theme will not only help you with great effects, colors, layouts, and backgrounds, but it will also help you craft informative, effective and interesting presentations. One should understand that even the smallest things in a presentation such as inactive region color, box border, size and type of bullets, color schemes, matter a lot. Effectively using a PowerPoint theme can ensure higher audience engagement while a lesser attrition rate.
With the help of SlideModel and its PowerPoint themes, you can make effective presentations to deliver your message and information clearly and lucidly. Here are some useful tips for presenters preparing presentations:
1. Coherent Images
Source: Invictus PowerPoint template by SlideModel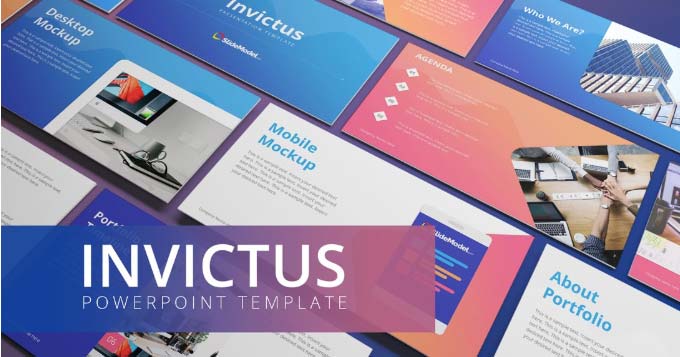 While preparing your presentation, the images you pick can have an incredible impact on your audience's attention, retention & esteem, respectively. For the overall success of your presentation, picking the right set of images is essential. Coherency while choosing the images is important as well. Rather than picking a different kind of images, one should make use of PowerPoint themes having unifying or consistent images. In short, PowerPoint themes containing coherent images can encourage emotional connections, they can enhance the understanding of your audience further as well. One can even uphold the integrity of a business or brand by ensuring consistency throughout the presentation.
2. Stylish Backgrounds
Crafting a striking presentation involves carefully considering and inculcating visual elements in the slides. An amazing slide background can help your presentation in ways you'd never imagine. From focus, attraction to understanding & retention, presentation background is related to all. Stylish backgrounds that come handy with PowerPoint themes fully compliments the principles of design.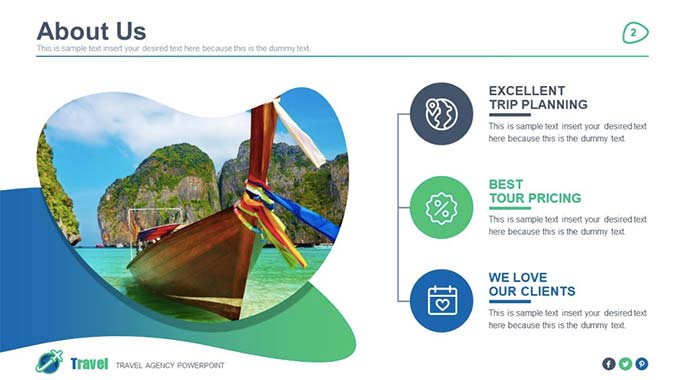 Source: Travel PowerPoint template by SlideModel
Backgrounds are as important as the content of the presentation. Rather than playing with the darkness and lightness, you can easily get stylish backgrounds that offer mindful contrast schemes. A presentation's background can be a pattern, photo or solid color, the same should be selected in such a manner that it complements your content.
3. Professional Layouts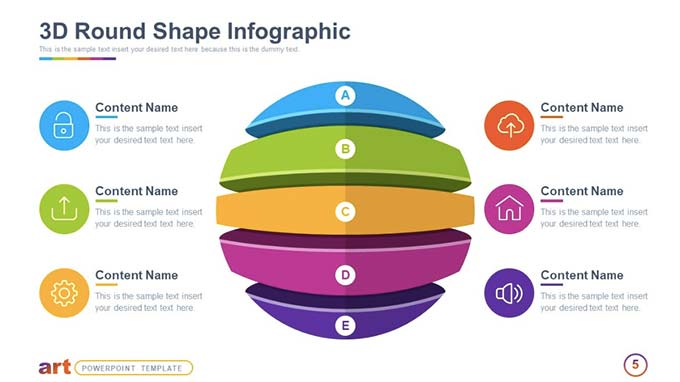 We all have seen presentations containing cluttered content. It goes without saying that jam-packed slides can be overwhelming. But you still have to showcase the data, right? Dedicated professional presentation layouts are there for your help. Professional layouts can significantly boost the engagement of your presentation! How? Well, using a grid of columns directly leads to an excellent slide organization. You can easily break your presentation into absorbable and balanced chunks that make sense to your audience. Align the text correctly and get images to display in the same location on all sides with the help of a professional presentation layout.
4. Good Fonts Combinations
The design choices such as the icons, the colors, illustrations or the typography act as a shorthand to bridge the gap between your presentation and the audience. Selecting a good font combination is as important as the presentation itself. Fonts can have a tremendous impact on the design style of any presentation. A poorly-chosen typeface can undermine that beautiful typography and those well-designed icons. Having a font in-place that naturally aligns with the design aesthetics of the presentation is important. In short, you require a font with the right voice. It is only how your audience will get to know that you're trying to communicate.
5. Designed Color Palettes
Saying that color plays a big role in the design of a presentation might be an understatement. It plays a significant role. It is the color that is known for evoking a range of emotions in people. Establishing a color scheme and utilizing the same throughout the presentation is your way forward. Professional PowerPoint themes often have a unifying color scheme which can help your presentation stand out from the rest. 
Source: 7 Step Mountain Journey Diagram for PowerPoint by SlideModel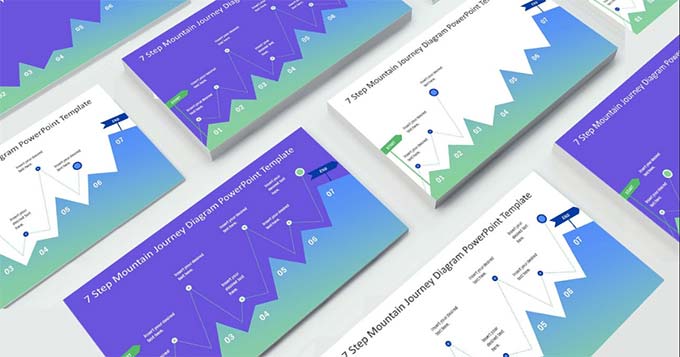 You need colors that will work together once they are on your slides. Choosing the best colors for your presentation one by one can be time-consuming. Plus, without any help, it gets practically impossible to match a certain shade of color with the other. PowerPoint themes come handy with the best possible color combinations suitable for your task.
6. Infographics
When it comes to cutting through the overload of information of data, infographics can be of great worth. Infographics are highly shared and liked. Instead of simply reeling off numbers and other data in your presentation, you can make and include infographic about it and just focus on communicating your facts right. The best thing is that using infographics in PowerPoint helps you retain the attention of your audience for a long time. It will also help people visualize and remember the facts for a long time. While making an infographic might require you devote some time. If you're in a hurry, don't worry! You can easily make use of a PowerPoint theme or template to get your hands on an infographic.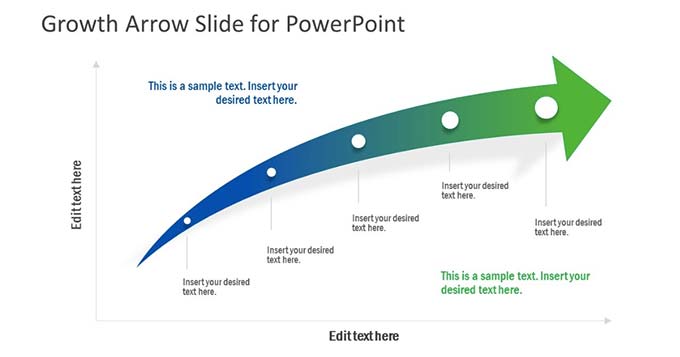 Source: Growth Arrow Slide PowerPoint template by SlideModel
7. Data-Driven Charts
Delivering a data-heavy presentation has emerged as a crucial skill for many. Today, data storytelling is not just limited to written communication. You can leverage data-driven charts that make your data look more credible & visually compelling as well. When you're using charts for data projection, you enable your audience to quickly grasp it all. Not only you simplify the presentation, but you also make it easy for others to compare and contrast. In short, avoid death by PowerPoint and include some attractive data-driven charts in your presentation, now!.
We can say a PowerPoint theme is a silent and powerful tool that works behind the scenes. A dedicated PowerPoint presentation requires a theme containing fonts, color schemes, master slides, layouts, all correctly defined. With the help of PowerPoint template resources like SlideModel, you can grab high-quality themes and backgrounds for your presentations that will help to prepare your slides in less time, deliver your message with a modern style and higher quality.