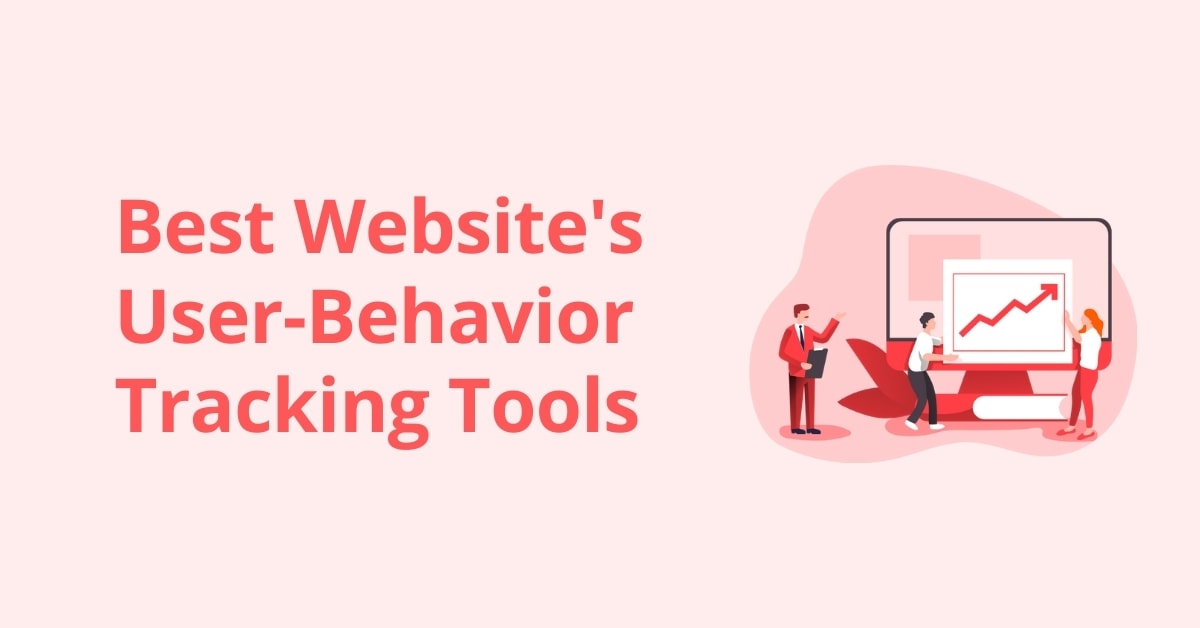 The Internet is full of tools to view user behavior in every channel, from web pages to landing pages, emails, or social networks. You can use several website visitor tracking tools to understand how users who come into contact with your brand online, which will help you improve your marketing strategy.
Each tool has a particular focus and objective. There are applications focused on information related to clicks and others that, instead, focus their efforts on aspects more related to SEO and how users act about your ads.
Best Website User Tracking Tools
It is a question of choosing the best tools to visualize users' behavior in the channels you use regularly. Below we analyze 7 standard website visitor tracking tools, created to monitor user behavior.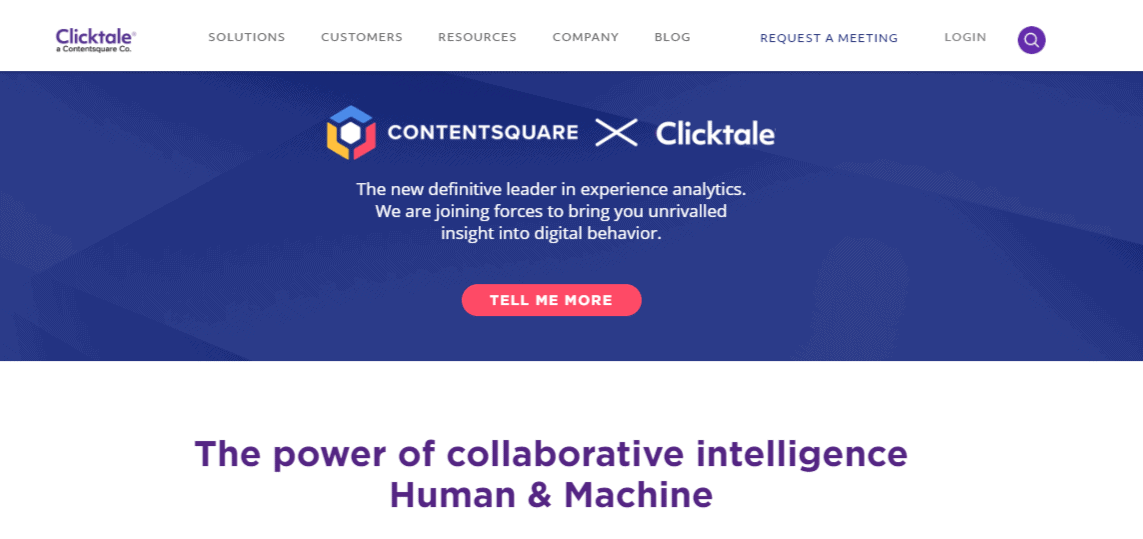 Among the tools created to monitor user behavior, Click Tale stands out. It is one of the most comprehensive tools in the industry.
Even if it is a paid tool, it allows you to activate a free trial with some limitations. It is a web analysis tool that shows user behavior within a specific site.
The tool generates videos and analyzes the sessions of visitors on a site. It is ideal for controlling conversions and user behavior in front of a form and explains how they navigate your landing pages or on your website.
Activating the tool is simple. The only requirement is to have access to the site code you want to track. You will first need to create a user on Click Tale to configure it. The platform will ask you for data verses such as the conversion rate or daily visits.
You need to place a javascript code on your website. Once all the information has been provided, Click Tale will provide you with a javascript code that you must include within the Html code of your site to activate tracking.
If you have followed the process correctly, it is time to start collecting the data recovered by Click Tale.
The system will begin to analyze immediately and provide you with data regarding the sessions and possible errors detected.
Among the data that Click Tale can provide you are:
The heat map: tracks the movement of the mouse, the clicks, the scrolls, or the points of highest attention.
Click Tale shows information through which you can perceive the movement and interest shown by the user.
Recordings: the tool records the different user sessions. By registering, you can monitor user behavior on your site.
To check how exactly he moves, which elements he clicks and which points attract his attention the most.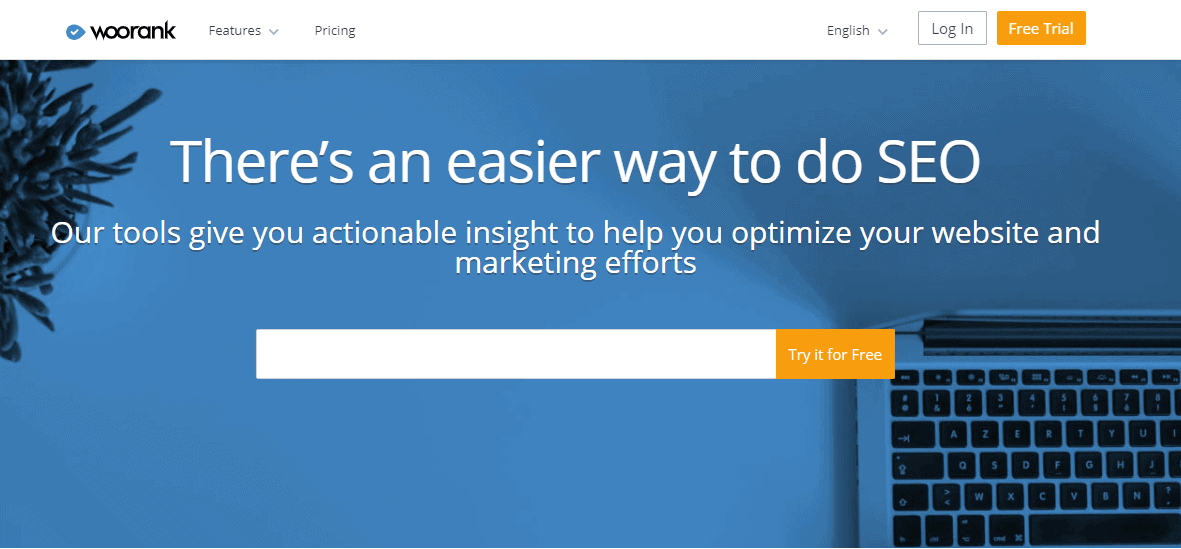 Woorank is second on the list of website visitor tracking tools that provide data about your site and offers you tips and recommendations for improving it.
These data are of great help for positioning on search engines and will allow you to improve conversions, improve ROI, and monitor competitors.
Over 75,000 websites are analyzed by Woorank every month. Its effectiveness also depends on the analyses provided in real-time. The main novelty of Woorank compared to competitors is its list of recommendations.
Woorank aims to allow its customers to improve their situation. That is, Woorank shows you the current status of your site and advises you what changes to make.
It offers detailed reports that will allow you to understand how to improve your site. It offers you a simple site evaluation and provides you with information that will help you understand if you are acting correctly or not.
The presence on social networks, the usability of the site, the interaction with users, SEO is fundamental aspects to which Woorank gives value.
Thanks to the data collected, this application offers an indicator in the form of traffic lights. The correct elements show up in green, the items to be improved in orange, and all the wrong points in red.
Another element that makes Woorank an excellent tool for visitor tracking and user behavior is the analysis of competition. It can compare and analyze your site with your target market.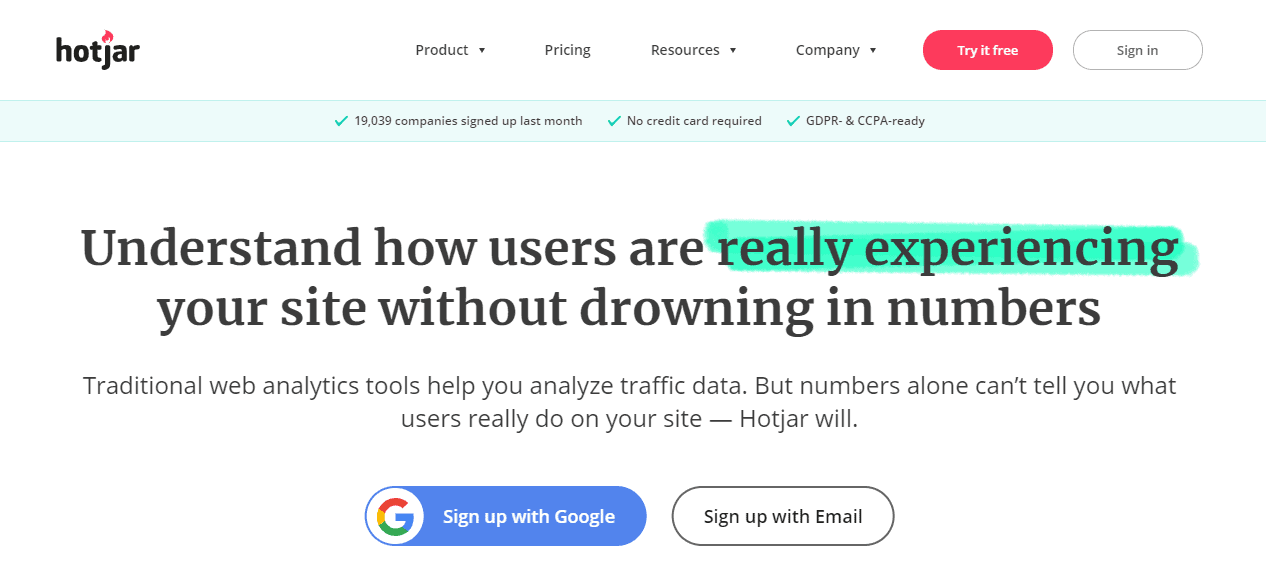 Hotjar is a multipurpose platform and addresses different aspects of web analysis.
It has several website monitoring tools, such as:
Heat maps indicate the places on your web page where users click, what movements they make, and which pages they visit most.

Form: analyzes the impact of each field of a kind, filled in the most and discarded.

Registrations: as with other platforms, Hotjar records users' browsing on your site.

Contextual interviews that help understand user experience

Conversion funnels determine the steps that users must take to arrive at conversion and carry out the related analyzes.

Recruiting beta testers can test the changes you make on your site, giving you an opinion about it.

Hotjar has a free version and paid plans ranging from 29 to 89 euros per month.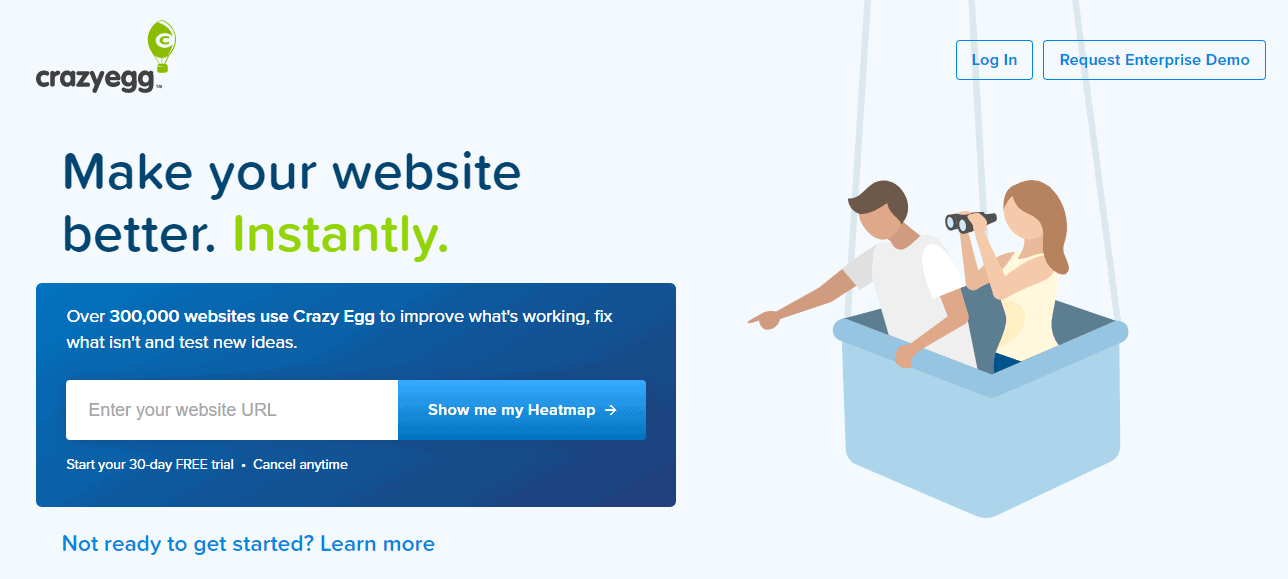 CrazyEgg is another among the website monitoring tools created to visualize user behavior. Digital marketing professionals widely use it. The platform has the following types of analysis on heat maps:
Scroll map: allows you to check the data on the appropriate length of your web page.
Clicks Map: determines the areas of the page where the links are most clicked.
Cursor map: identifies the most exciting areas for users by following the movement of the mouse.
CrazyEgg is a paid tool that has rates from $ 9 to $ 99 a month.
The tool connects to Google Analytics to extract additional information. The configuration of this tool is straightforward, and you can do it in a few minutes.
As with other platforms, once a code is installed on your web page, you will start receiving data in real-time. CrazyEgg is a smaller tool than the first ones but offers several heat maps in high demand.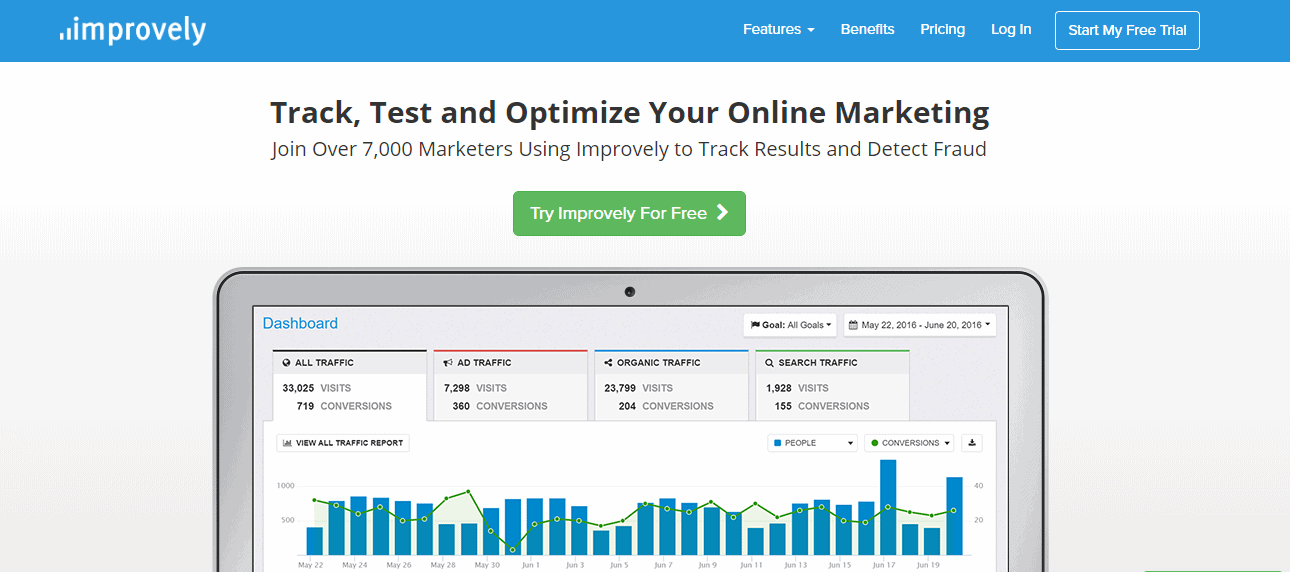 Improvely is a tool created to monitor user behavior on your site and allows you to check clicks and sales through your online ads.
For this, it analyzes the ads from Google AdWords, Facebook, Bing Ads, Twitter Ads, Taboola, or AdRoll. It is one of the most comprehensive analysis website monitoring tools that exist.
With Improvely, you will be able to identify the ads, keywords, landing pages, and areas that convert and those you need to edit. Hence, it is a perfect tool to continually monitor your site's status and how visitors react to the different elements that are part of your online marketing campaigns.
Improved track, test, and optimize your digital marketing strategy. Over 4000, marketing managers use this platform to track and monitor their results, detecting possible errors.
Like other tools designed to monitor user behavior, Improvely optimizes your digital marketing by identifying incoming user sources and conversions.
So your marketing campaigns improve, and you can optimize the channels that do not bring the desired results, focusing on the channels they make.
Another exciting aspect of Improvely is that it allows you to better track clicks. Some websites have many clicks which, however, do not convert.
To monitor this type of fraud, it is useful to take an instantaneous measurement, detecting the problem, and taking action.
In addition, this application allows you to identify the customers who are visiting your site on a map. An activity profile will be automatically created for each visitor to track the best-performing customers.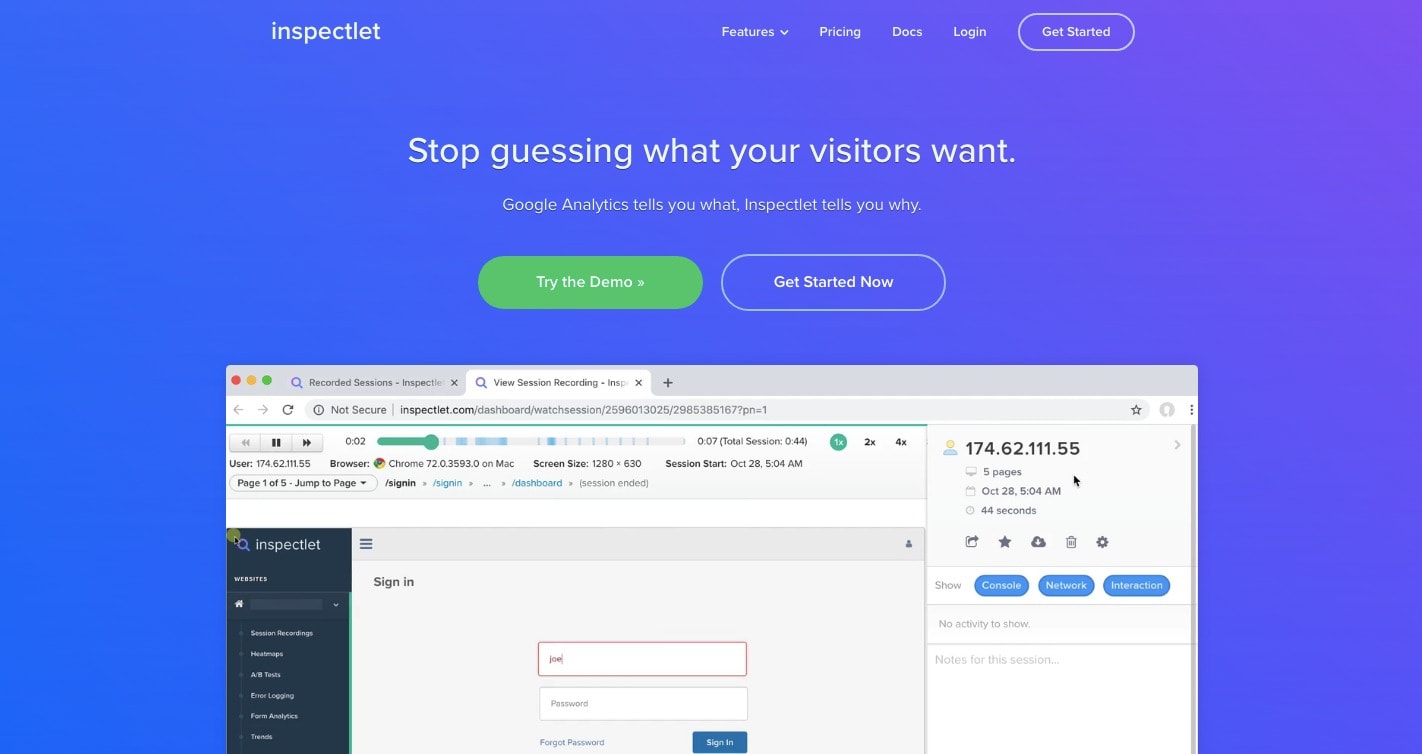 Inspectlet is yet another website user activity tracking tool that I have used on one of my website for a long time. The best use of this tool is to use the heatmaps and analyze what you need to do to improve your landing pages.
Especially landing pages because you might be leaving a lot of money on the table by advertising on the internet and not analyzing the usability of your pages. Mostly when you create landing pages, you make sure the UI is good and appealing. Not only on a desktop or laptop but also on a mobile or tablet.
When you advertise a website, the user might be coming from any device and your website will be served to the audience. Inspectlet helped me in determining
Which call-to-action gets the most clicks
What interests my audience and entices them to click somewhere
How does a user interact with my website and understand the structure of the website
How good I am in implementing the user-journey I initially designed
It is such a great tool to have as it brings the bigger picture (about the success of your content, design and optimization) in front of you.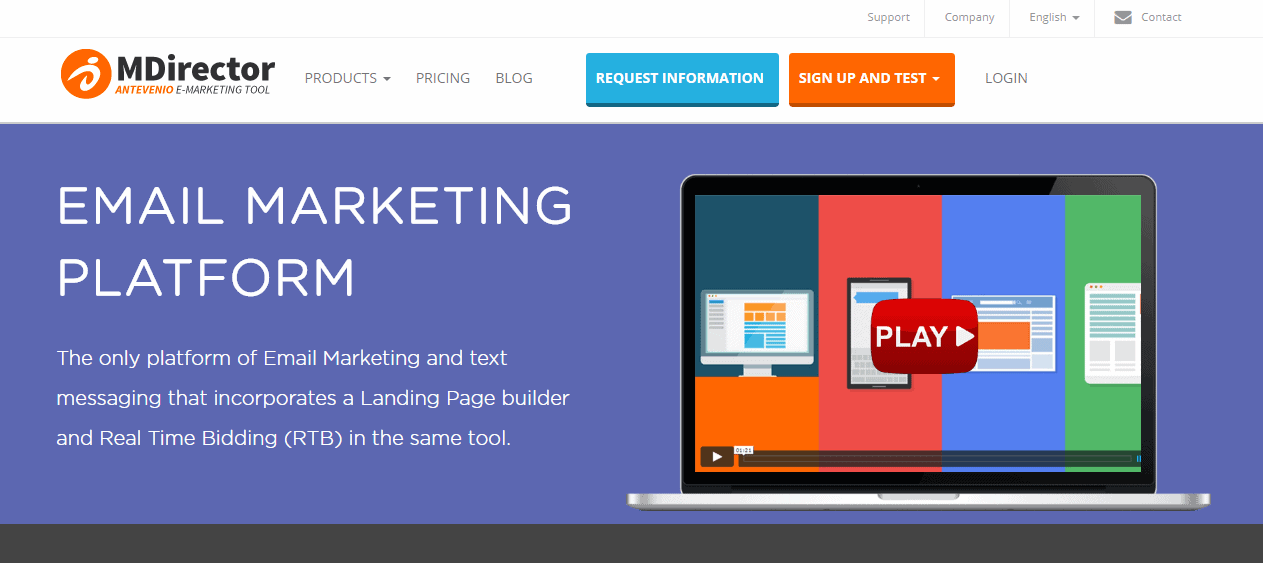 The previous tools all focus on analyzing user behavior on your site. But other channels can be part of your digital marketing strategy.
MDirector is a digital marketing platform that offers the possibility of cross-channel marketing, working on email marketing, mobile marketing, landing pages, retargeting and social media. For all these channels, MDirector offers real-time graphical reports. Some of them can be exported to CSV and Excel and can be sent via email.
Among them are:
The emails sent.
The emails delivered.
The Bounce Rate.
Feedback loops.
Unsubscriptions.
Unique users who opened an email.
Open emails.
Bounce report (hard bounce, soft bounce, spam …)
Results of mass mailings by day, month, hour, operating system, etc …
Campaign results by ISP domain, country, gender, age, etc …
Reputation report of each user.
In addition, MDirector has a heat map of clicks that analyzes the creativity of your messages sent via email. The heatmap will help you identify which links and which call to actions work best.
To get the most useful information from the heat map it is important to consider the following metrics that it can provide you with:
1 – Net clicks
2 – Gross clicks
3 – Net clicks for sending
4 – Net clicks per opening
5 – Gross clicks per submission
6 – Gross clicks for opening
With all this data, you can get a real idea of ​​the call to action that works best in your emails, which will allow you to improve your future email marketing campaigns. Register, and in a few minutes, you can try MDirector, one of the complete email marketing platforms on the market.
Using the Best Website visitor tracking tools?
If your website is having good traffic and yet you're not getting any conversions, these website visitor tracking tools will certainly give you hints for improvements. You can try the suggestions and analyze the CTR after the changes made.
With this detailed guide, we're wrapping up our list. Do let us know in the comment section, which one are you using and how it helped you.