According to the International Telecommunication Union, 69% of the world's population is active on the Internet. This proves the impact the internet has played on our lives.
The Internet today is a basic necessity for every individual and an influential tool for researchers, scientists, and anyone working towards R&D.
While the Internet offers a wide range of data for people to get their desired results, it also has some common cons. One of them is the overload of details and information it offers. Trust me when I say this it's a real struggle to scan a vast set of data only to find valid and reliable information.
Considering the amount of information available on the internet, Data scraping has played a significant role in our lives. So, in this article, I am covering the Bright Data Scraping Browser platform for all your web scraping needs.
Table of Contents
What is Data Scraping?
It is the process of gathering information from digital platforms or websites by using tools, and software to automate the data collection process. The data gathered is used for multiple reasons, like research, analysis, or automation.
The process of data scraping is extremely useful to gather quick information efficiently, and ethically.
If you're someone who is dedicated to extracting information from online sources and wishes to ease your work, then you're reading the right article. We're going to discuss the Bright Data Scraping Browser.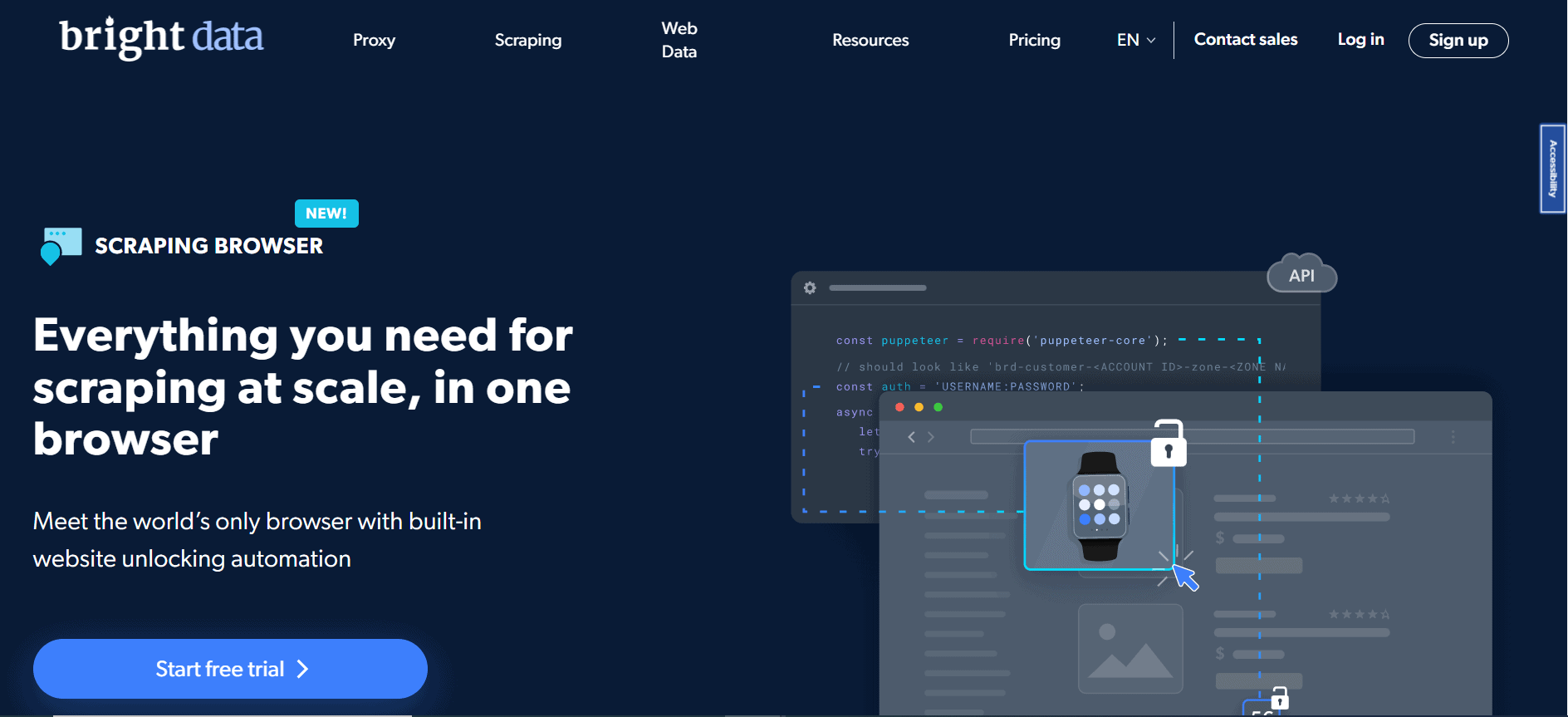 Bright Data Scraping Browser is one of the leading platforms in the field of web scraping. This platform offers services and tools that are used by individuals, researchers, as well as businesses from various fields.
This browser is indeed a reliable and legit tool for your data scraping work. Powered by top ranking proxy network Bright Data Scraping Browser offers more than 72 mn IPs and the flexibility to target any carrier, city, or country.
It uses bot detection and AI-driven captchas, like advanced technical know-how to offer a smooth data extraction process to its clients.
With our research, we find Bright Data Scraping Browser highly considerate and competitive amongst the other web scraping tools or platforms.
It is compliant with GDPR as well as CCPA which ensures that all the data is safeguarded and kept secure.
What makes Bright Data Scraping Browser interesting?
🛡️ Access blocked websites in an easy go

Data scraping can sometimes be a hideous process that involves unlocking websites with processes like solving CAPTCHA's, automatic retries, cookies, Javascript rendering, browser fingerprinting, and so on.
The Bright Data Scraping Browser makes your process simpler by automatically dealing with these tasks. This feature makes data scraping secure, fast, and easy.
🚀 Scale your web scraping potential effortlessly

With Bright Data Scraping Browser, you can use multiple websites to scrape data all at once. With this, you can seamlessly increase your speed, efficiency and also save a lot of time.
This platform hosts browsers on highly scalable infrastructure, which results in limitless resources for your research. This feature is surely great for anyone working on large-scale projects related to data scraping.
⏱️ Save time with the bot detection software

This AI-equipped feature automatically adapts and reacts to the bot detection systems and bypasses them. With this feature, you not only save time but can also successfully access any website's data.
You also save money as you do not have to update your scraping tools timely due to changes in the bot detection systems. This feature of the Bright Data Scraping Browser is better than using proxies.
😊 Revolutionize your web scraping job with compatible playwright and puppeteer

Puppeteer and Playwright are some of the tools that assist you in interacting with web applications and websites. By using these tools, one can obtain great results and perform varied tasks like scrolling pages, clicking buttons, adding texts, and so on.
This feature is surely useful for jobs that involve a lot of interaction with websites.
⚙️ Smart debugging capabilities
The Bright data scraping browser offers exceptional debugging capabilities when compared to the other browsers. Developers can make use of the GUI interface and check for real-time issues or errors encountered.
With this feature, they can easily determine the problems that are encountered during data scraping. With this, one can swiftly troubleshoot issues and gather legitimate data.
🏷️ Bright Data Scraping Browser Pricing & Sign-Up Steps

💳 The pay-as-you-go plan
This plan is designed for small-scale users or users who browse occasionally. As the title states, this plan offers you the flexibility to pay for your usage.
Costs $20 per GB and $0.1 hourly.
💳 Growth Plan
This plan is a great pick for mid-sized businesses that scrape data recurringly or in massive volumes.
Costs $500 monthly.
Costs $17 per GB and $0.1 hourly.
Dedicated account manager
Get access to more than 2 mn phone proxies across 120+ countries.
Get access to more than 72 mn residential proxies across 180+ countries.
Support available on calls, texts, or live chat round the clock
Seamless integration with API access
💳 Business Plan
This is one of the most popular and most purchased plans of all.
Costs $1000 monthly.
Costs $15 per GB and $0.1 hourly.
Get access to all the features and perks, as mentioned in the growth plan.
💳 Enterprise plan
This plan is unquestionably for large-scale businesses and can be customized based on their needs, and projects. The pricing for the plan is quoted based on the requirements of the clients.
Get access to premium SLA
Custom prices per GB
Get access to unlimited scaling.
All these plans are available for a free trial. Follow the steps mentioned below to avail yourself of a free trial plan.
Step 1: Visit the official website of Bright Data Scraping Browser and click on the pricing section.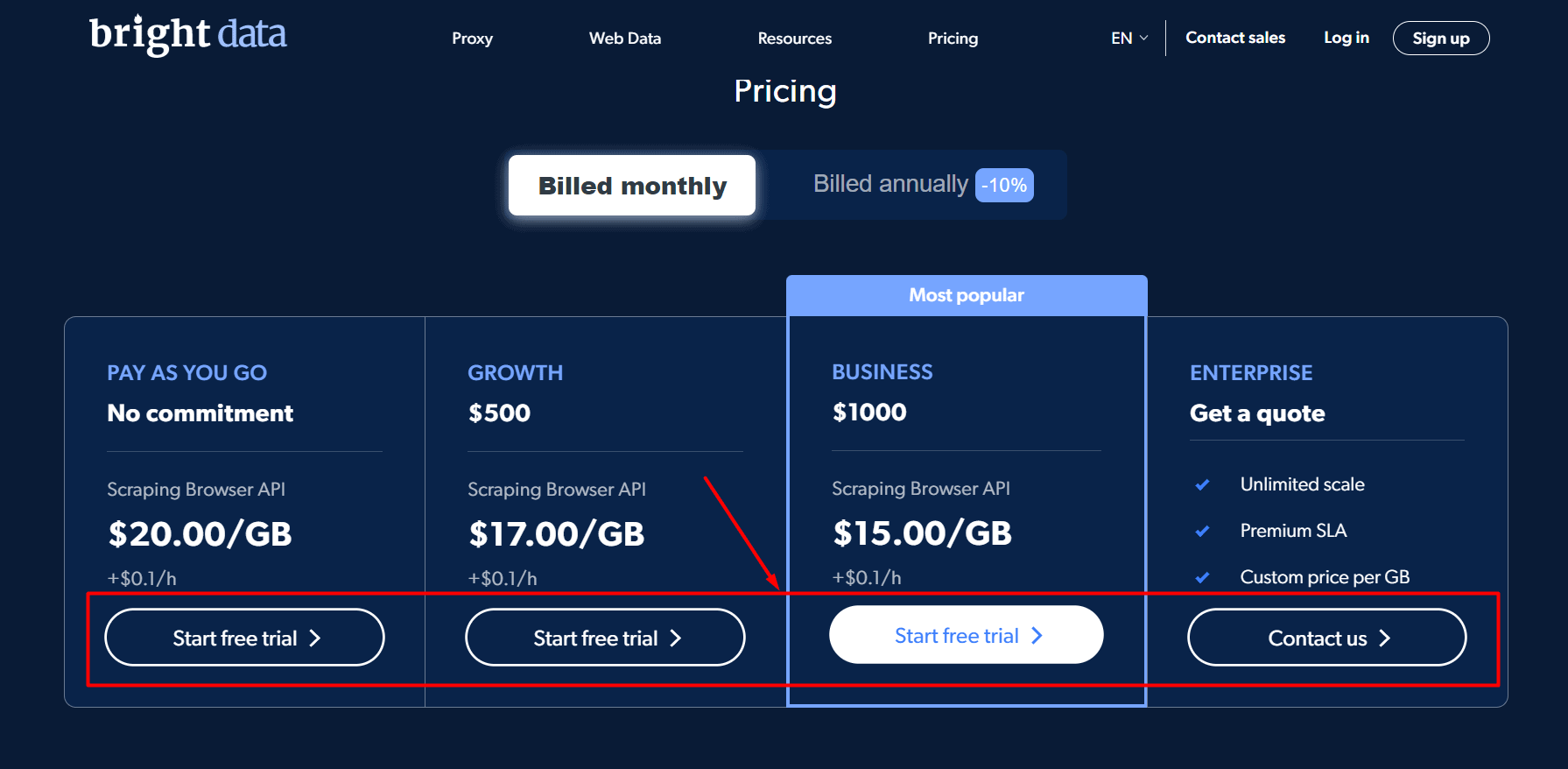 Step 2: Once you're done selecting the plan of your choice, fill in the requested details to create your account.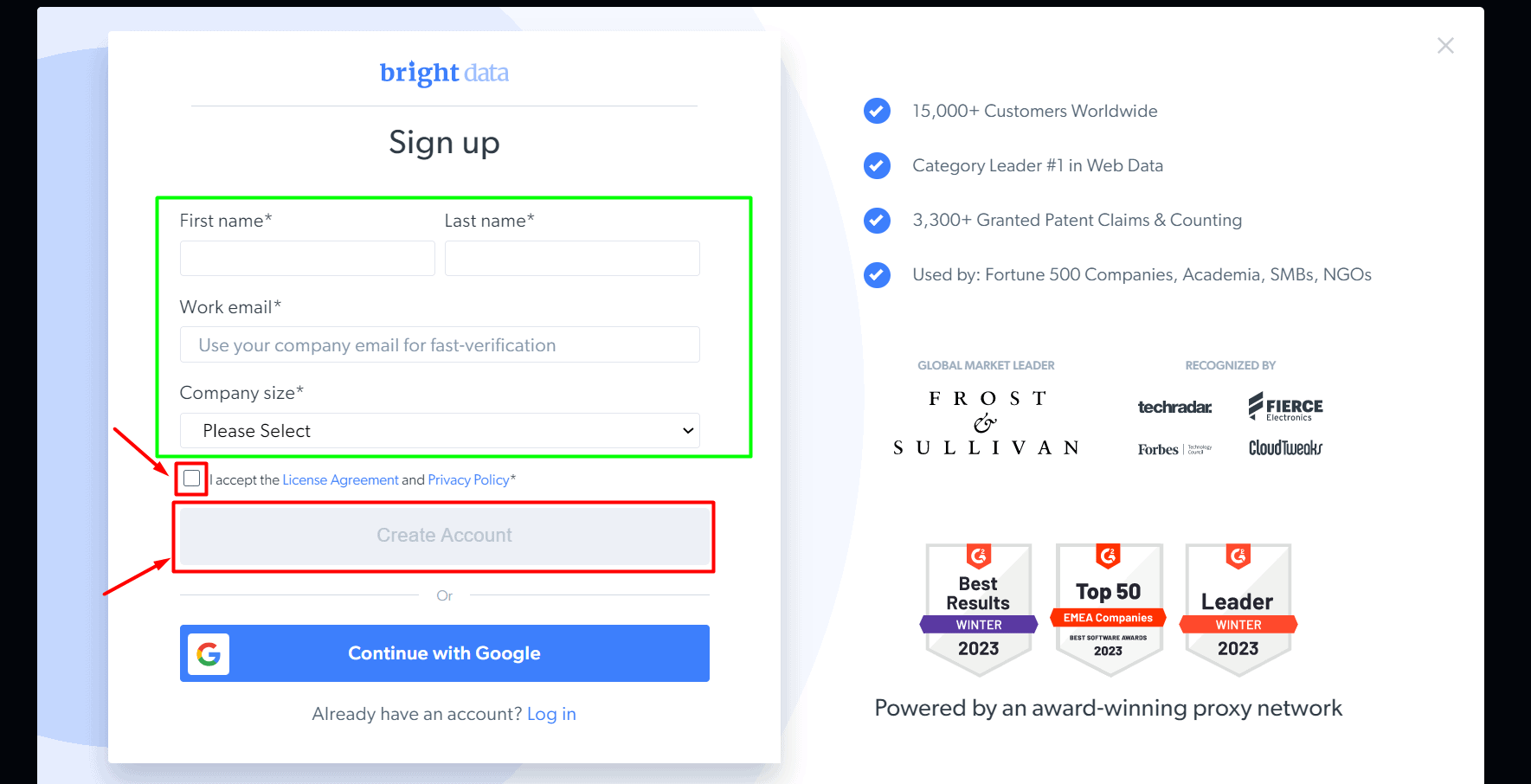 Step 3: You will now be able to sign up on the Bright data scraping browser.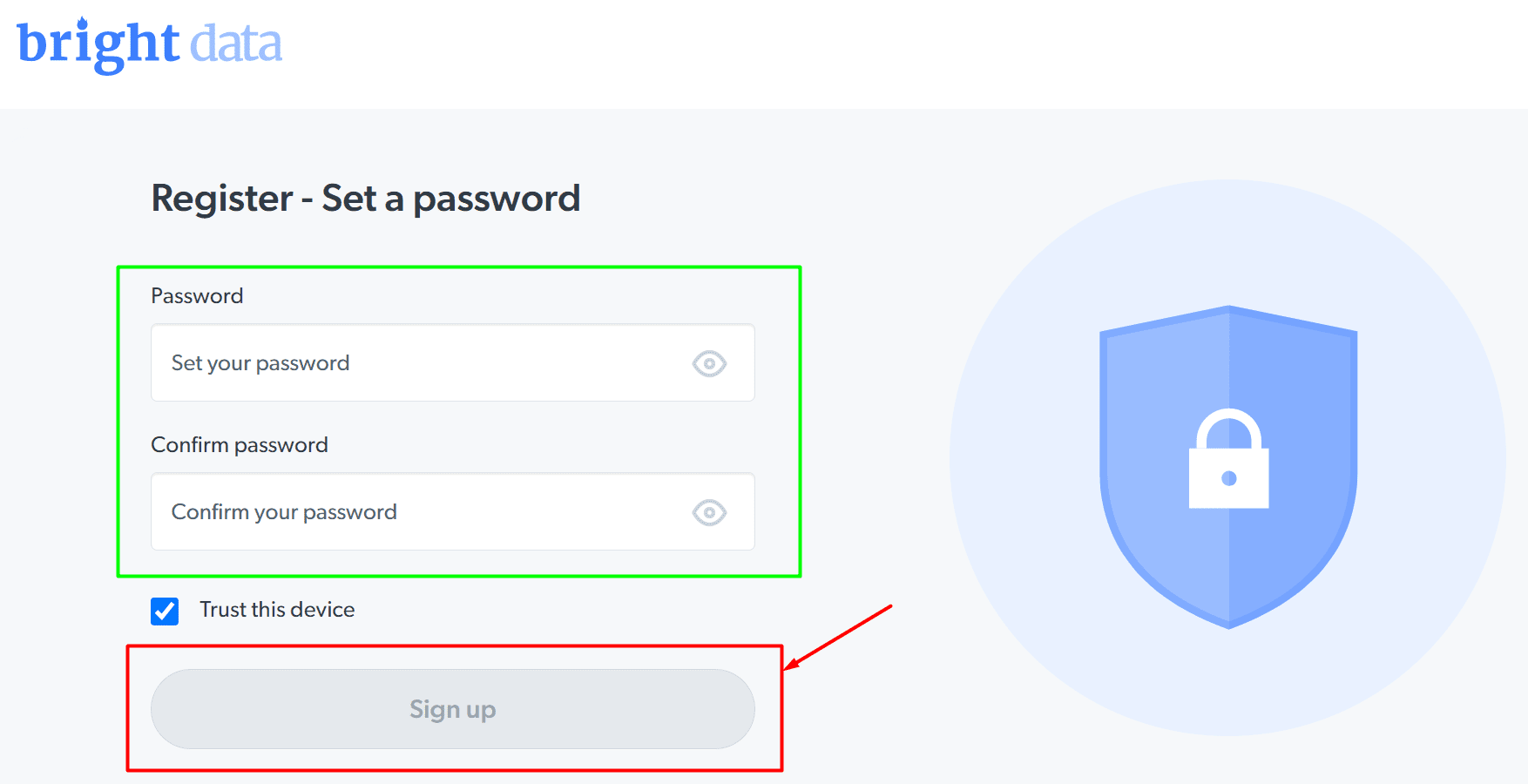 Step 4: Once you sign in, you need to go to My Proxies and click on Get Started.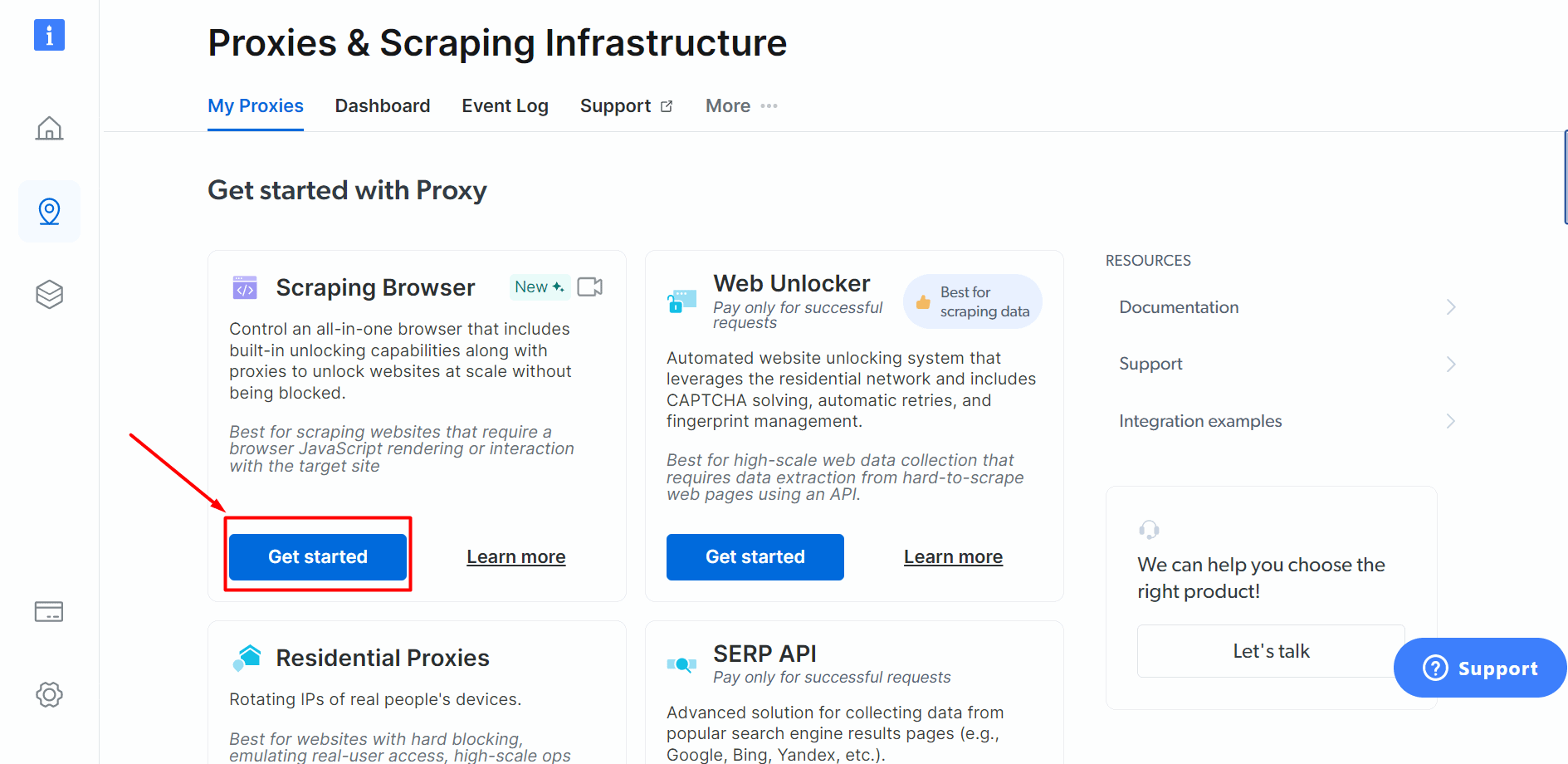 You will then check the estimated costs. Review the same and activate your plan.
Step 5: You will now have to fill in your address details and complete the payment.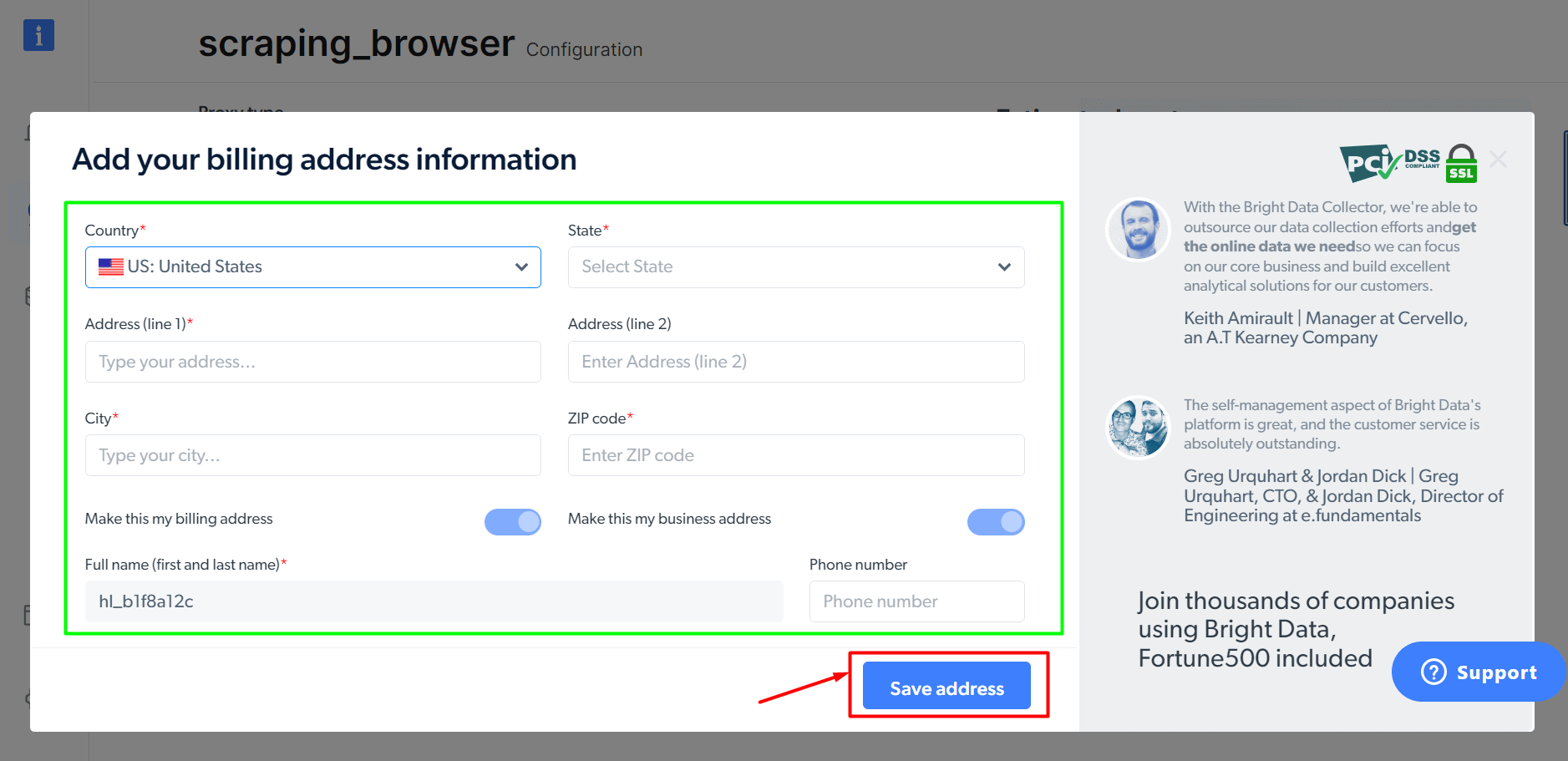 That is it. With this, you can begin with your data scraping.
Bright Data Scraping Browser Pros & Cons
PROS 👍
Compatible with Puppeteer
Appear as a real user by unblocking sites.
Optimized browsing sessions.
Saves time & resources along with the cost.
Powered by premium proxy service.
Better than headless browsers.
Pay-as-you-go pricing
CONS 👎
Only 10% discount on Annual plans.
FAQs
How does the Bright Data Scraping Brower function?
Bright data scraping routes all the requests by a network of proxies. These proxies let users scrape data from any website without being blocked. This tool also offers additional features that can make data scraping easy and insightful.
Is the scraping browser compatible with Playwright?
Yes, it is compatible with the playwright and puppeteer.
Does Bright Data support both residential and phone proxies?
Yes, Bright Data supports both residential and phone proxies.
What support or helplines does Bright Data offer to its clients?
You can reach them through texts, calls, or live chats 24/7. They also offer a wide range of resources that can help you troubleshoot issues.
How do you differentiate a headful browser from a headless browser when it comes to scraping?
This browser is dedicated to data scraping that is powered by Web Unlocker's unlocking technology. These scraping browsers are vital when a user needs to engage with websites to gather data.
Conclusion
With all our research and experience, we're certain that the Bright Data Scraping Browser is an ideal platform for everyone right from individuals to huge business enterprises.
It is one of the most legal and secure ways of scraping data, with proven results. With its puppeteer and playwright feature, it is an ideal solution that can handle unlocking complexities swiftly.
Bright Data scores 90 out of 100 according to Crozdesk and has also been awarded the Quality Choice Award.
A significant number of users rated this platform with positive remarks on their official website.