If you are wondering here and there in search of best golf affiliate programs then this is the right place for you.
Golf is the world's seventh most popular sport. The game has a lot of fans, and it's growing.
Millennials make up over 6.4 million golfers, indicating that the sport is not going away anytime soon.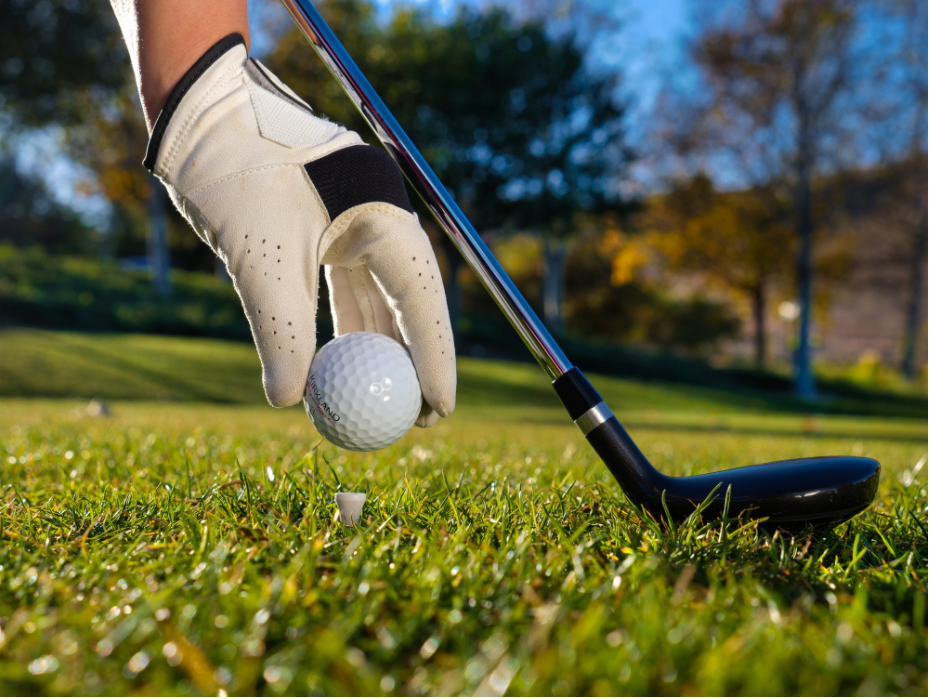 You may, for example, concentrate on golf tourism. 
Alternatively, you may target a specific segment of the golf market, such as millennials.
You may even build an income stream focused on an emerging market.
Furthermore, monetizing that traffic as an affiliate is relatively simple. Companies provide appealing commissions on a variety of products at varying pricing points.
Looking for the Best Golf Affiliate Programs?
The importance of obtaining the correct equipment and attire for golfers cannot be overstated.
When golfers discover a brand they enjoy, they like to stick with it since it appears to be the most dependable. 
You will be able to guide them and assist them in finding a brand that is a good fit for them as a golf affiliate.
7 Best Golf Affiliate Programs in 2023
Here we have mentioned the  best golf affiliate programs an individual should go through if he/she is interested in it.
Global Golf Affiliate Program

Callaway Golf Affiliate Program

Taylormade Golf Affiliate Program

The Golf Warehouse

Austad's

Golf Affiliate Program

Swing Man Golf Affiliate Program

Nike Golf Affiliate Program 
Now , it's high time to read it in more depth !
1. Global Golf Affiliate Program :
Global Golf is a reputable online store where golfers may buy practically any type of equipment, including luxury clubs, balls, and apparel.
The company takes pleasure in having one of the most extensive selections of new and used golf clubs in the industry.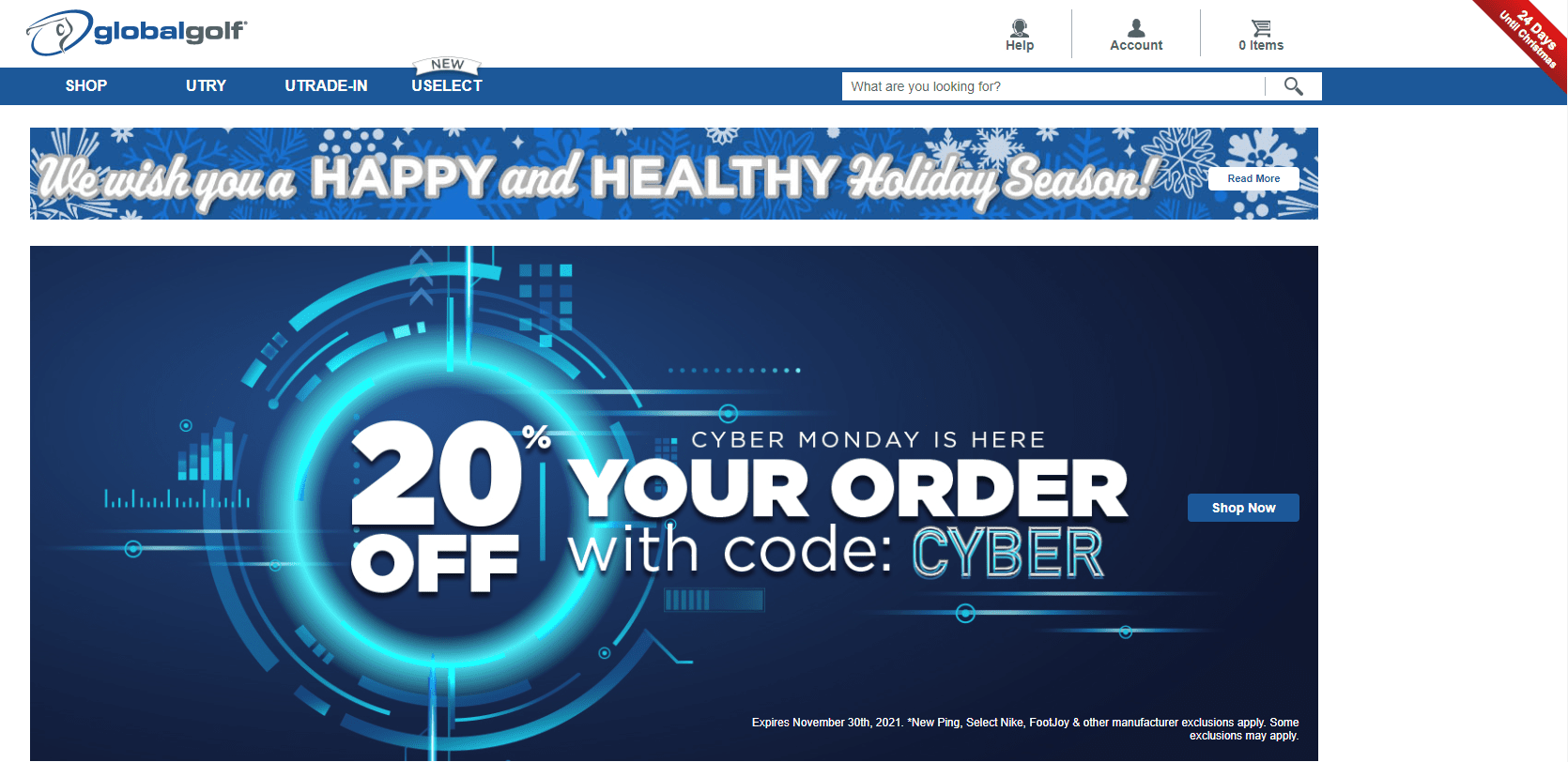 Global Golf uses Link Connector to manage their affiliate programs.
You can access tools such as bespoke banners as an affiliate.
They also offer tracking tools, technical assistance, and marketing guidance from their team.
Commission: 8%

Cookie Duration: 30 days

Products/Services Sold: Equipment, clubs, balls, bags, shoes, accessories, clothes, etc.

Payment Options: PayPal, bank transfer, or cheque
The website has a diverse selection of things at reasonable pricing.
TaylorMade, Titleist, Callaway, and Footjoy are some of the brands available.
A trade-in program is available through Global Golf.
As an associate, you can market the trade-in program as a unique selling point.
2. Callaway Golf Affiliate Program :
Callaway Golf is a well-known golf brand that sells clubs, balls, and other golf equipment.
They support numerous great players, including Marc Leishman and Francesco Molinari, to maintain their high profile.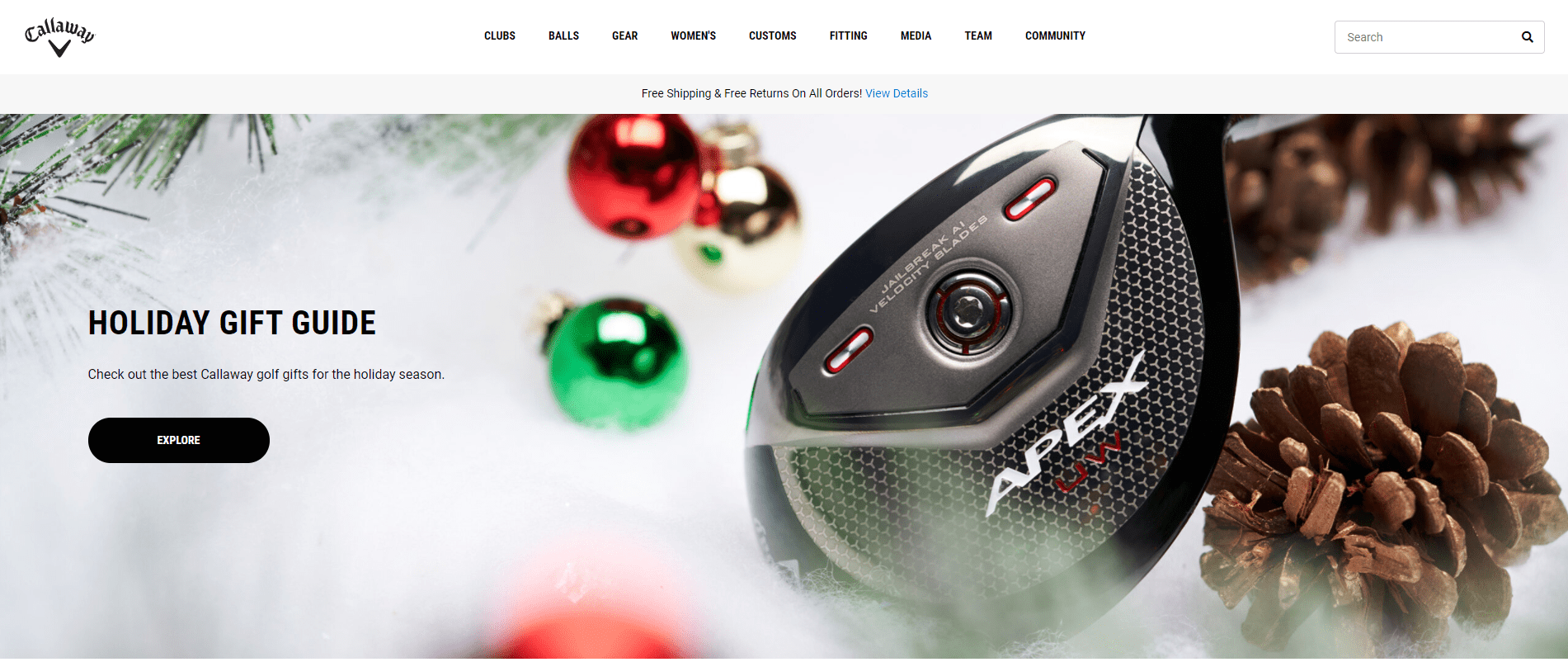 Many golfers are fans of their equipment. 
Commission: 6%-9%

Cookie Duration: 45 days

Products/Services Sold: clubs, golf balls, women's golf; drivers, fairway woods, putters, etc.

Payment Options: Payout is made by direct deposit, cheque, or through Payoneer.
If you're into golf affiliate marketing, the brand's prominence, along with the expensive cost of the equipment, makes it an obvious company to support.
3. TaylorMade Golf Affiliate Program :
TaylorMade Golf is one of the industry's most well-known and successful brands.
Colin Morikawa, Matthew Wolf, and other professional golfers are among the company's sponsors.
Golf bags, premium clubs, and other golf accessories and equipment are all available from TaylorMade.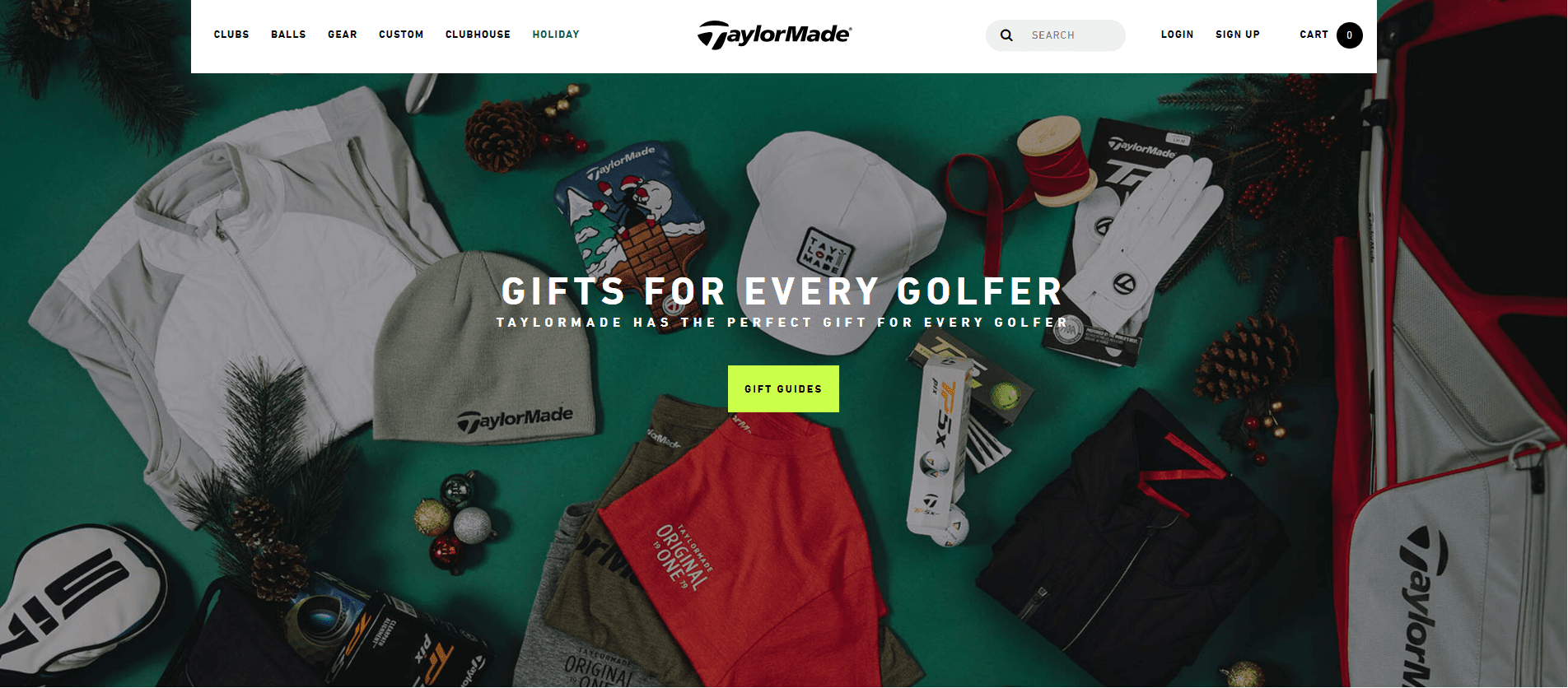 Their cookies are good for 30 days, and they have a marketing team ready to help if you need it.
Commission: 6%

Cookie Duration: 30 days

Products/Services Sold: golf clubs, balls, clothing, bags, and accessories.

Payment Options: PayPal
They supply customized items and equipment in addition to their conventional lines, which is a good marketing point to emphasize.
Also, Read This:
4. The Golf Warehouse :
The Golf Warehouse was one of the world's earliest online golf stores.
You may buy almost anything from the store, which has over 40,000 things available for purchase. 
A flat 6.5 percent commission is offered by the company.
Golf Warehouse has clubs ranging in price from $200 to $1,000.
It's a price point where you can get a lot of bang for your buck.
Commission: 6.5% per sale.

Cookie Duration: 30 days.

Products/Services Sold: golf balls, shirts, pants, irons, rangefinders, putters, and shoes.

Payment Options: PayPal
Balls, putters, shoes, and golf irons are among the items sold by the company.
They also provide excellent customer service.
5. Austad's Golf Affiliate Program :
Austad's Golf Customers can expect competitive pricing from the brand, which strives to provide the greatest bargains possible.
It also offers a 20/20 Playability Guarantee, allowing customers to return items even if they have been used.
As an affiliate, you can earn commissions starting at 7.5 percent and increasing to 9% for sales of $5,000 or more.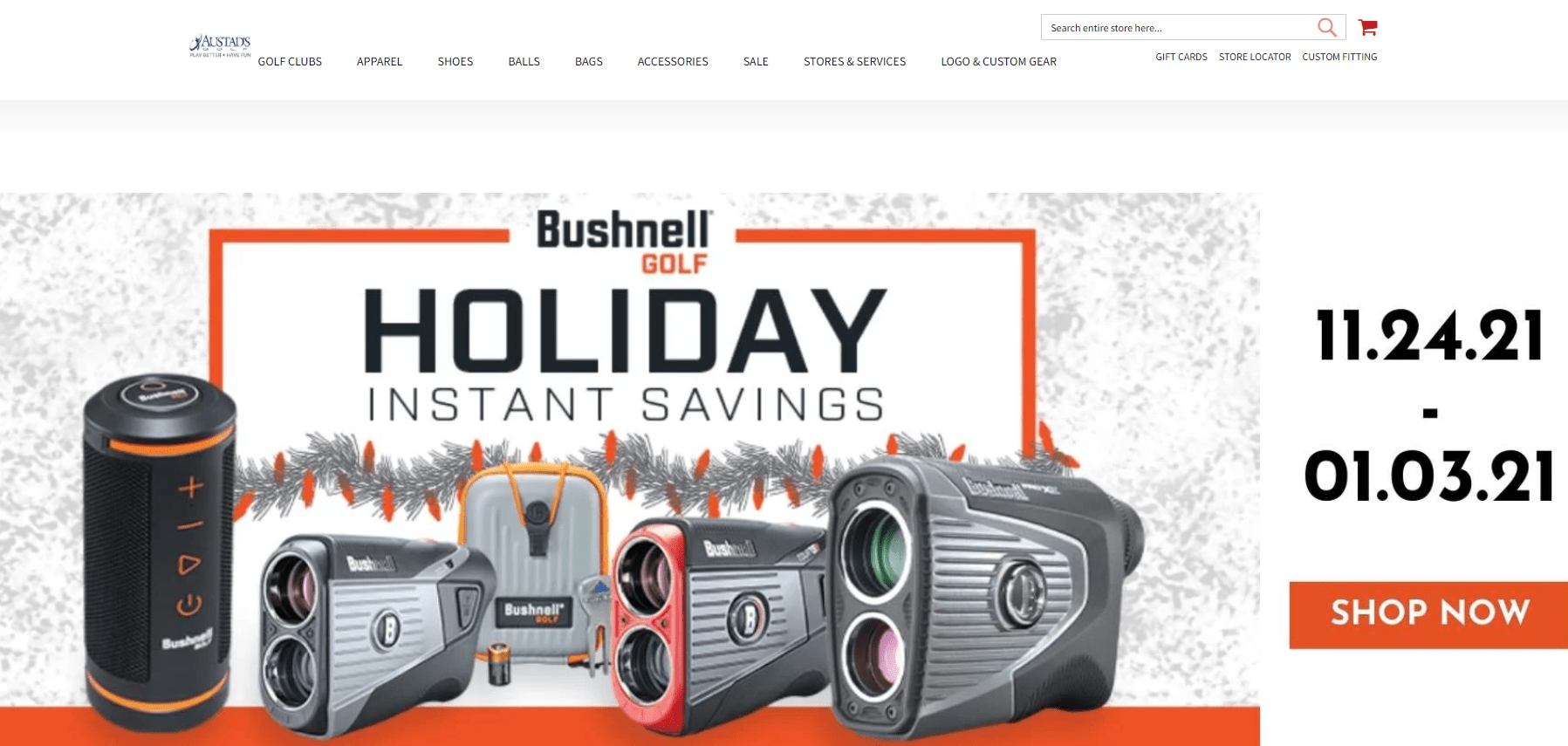 The average order value is $145, and the commission that can be earned is substantial. 
Commission: 7.5% flat commission

Cookie Duration: 60 days

Products/Services Sold: sets, clubs, carts, apparel, balls, accessories, and equipment

Payment Options: Wire transfer, eCheque, or PayPal
As an affiliate, you can take advantage of special deals, sales, promotional tools, banners, and text links on a regular basis.
6. Swing Man Golf Affiliate Program :
Swing Man has become the go-to golf site for anyone looking to improve their game since its inception in 2007.
Golfers can improve their swing by taking use of the site's superb online golf classes. 
They sell golf launch monitors and resistance bands in addition to their golf course and other training programs.

Swing Man should be in your mix because educational content like golf courses is in high demand and generates excellent returns.
Commission: 10% – 50%

Cookie Duration: 30 days

Products/Services Sold: Golf simulator, launch monitors, hitting bays, golf mats, accessories, etc.

Payment Options: PayPal
You'll get a unique referral link when you sign up for the Swing Man Golf affiliate program.
If someone buys something after clicking on your link, you'll get a 10% or 50% commission.
7. Nike Golf Affiliate Program :
For such a well-known company, the Nike Golf Affiliate program is rather substantial.
They have an 11 percent commission rate.
You only need to apply and be accepted to gain access to the company's extensive library of banners and affiliate links for use on your golf websites.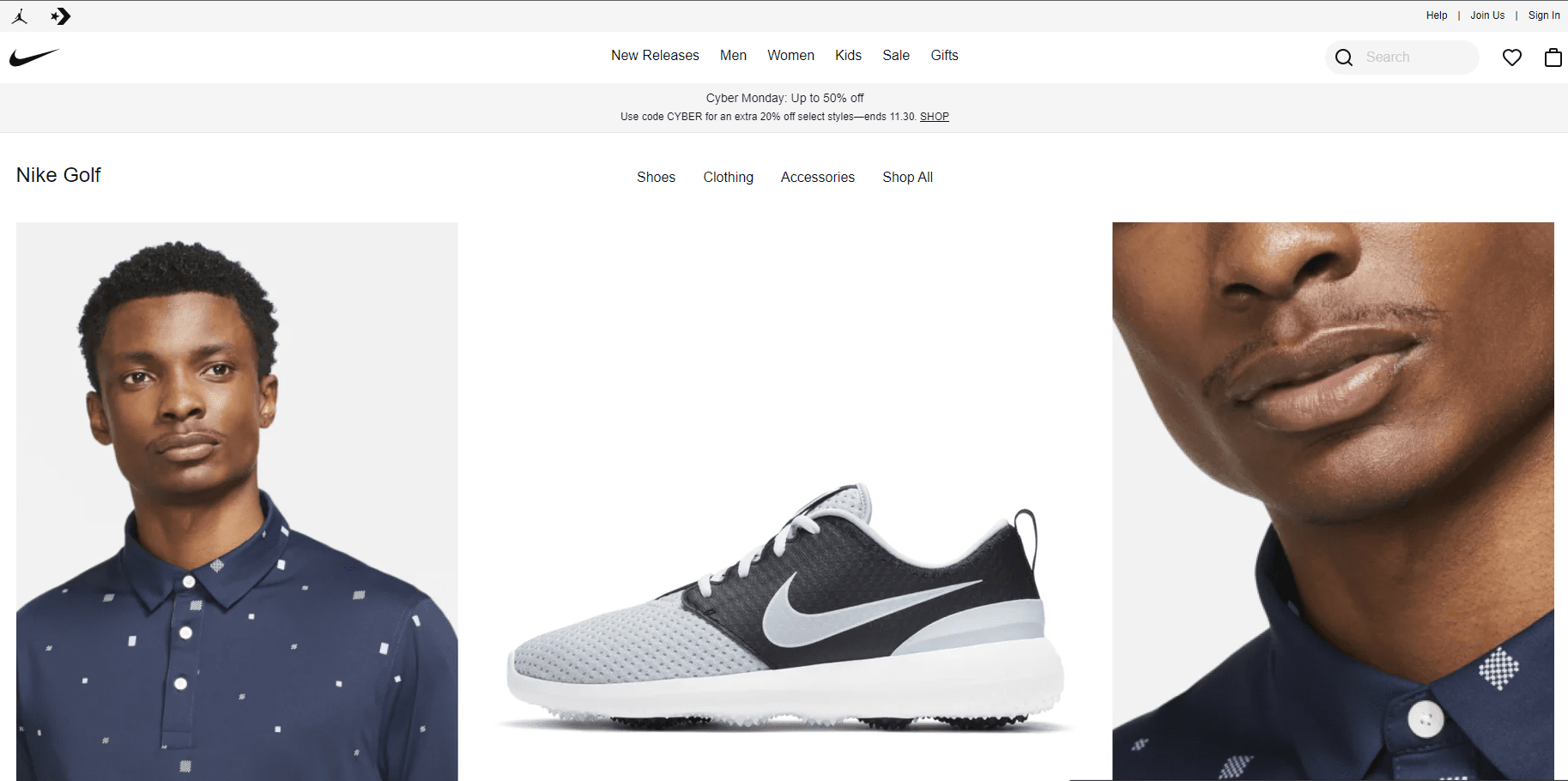 You'll also have access to exclusive Nike By You marketing materials.
Commission: 11%

Cookie Duration: 7 days

Products/Services Sold:

Payment Options: Wire transfer
Your customers will benefit from a variety of perks after you become an affiliate, including free delivery on qualified orders, periodic sale periods, customer specials, and lower free delivery thresholds.
Quick Links:
Conclusion: Best Golf Affiliates Programs in [year]
This article includes the top golf affiliate programs for affiliate marketers.
Consider the commission rate and brand familiarity when choosing affiliate programs.
Conversion rates may be higher in companies with lower commission charges. You should put that to the test. 
The majority of the golf websites on this list are online shops.
Of course, it makes good to vary your sources of revenue, which is why our list includes golf courses and equipment for amateurs.