You've come to the right place if you're looking for high-paying affiliate programs. As a blogger or expert in your field, targeting programs that offer the best returns makes sense. We've compiled this list of five great affiliate programs that pay big commissions. So whether you're just starting in affiliate marketing or looking to level up your strategy, check out these top-paying programs!
Each program has been carefully selected for its high commission rates and generous payouts. And with a wide range of offers and products, you're sure to find a program perfect for your audience. So what are you waiting for? Start promoting these high-paying affiliate programs today and earn more commission on every sale!
What Are Affiliate Programs?
An affiliate program is a marketing arrangement by which an online retailer pays a commission to web publishers for referrals that result in sales of their products or services. Essentially, it's a way for companies to outsource their marketing efforts to passionate individuals with large followings.
Affiliate programs track the internet activity of the people visiting a company's website. When a potential customer clicks on an affiliate's unique link, a cookie is placed on their computer that contains information about the affiliate and the merchant. If that customer goes on to make a purchase, the affiliate gets credit for the sale and earns a commission.
It's important to note that affiliates are only paid when their efforts result in a sale, so choosing programs that offer products or services you know your audience will want is crucial.
Now that we've answered the question "What is an affiliate program," let's look at some of the highest-paying affiliate programs available today!
Top 10 Highest Paying Affiliate Programs For Bloggers
1. PureHealth Research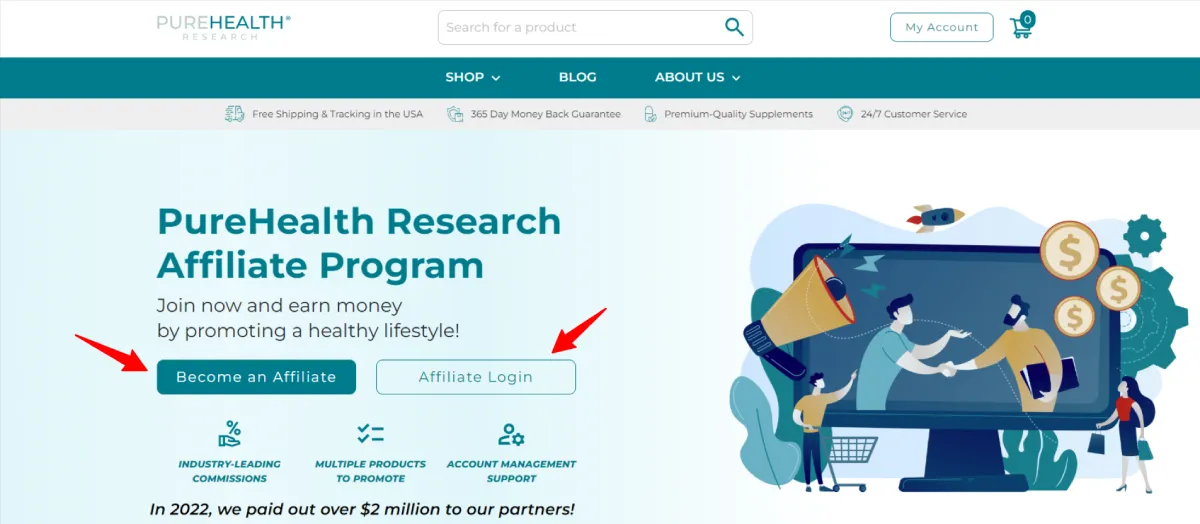 Choosing a supplement could be daunting, but not when you landed on the PureHealth Research website. If you are confused, just take the quiz designed by health experts, and you will be able to choose the right supplement. Live your life stress-free with PureHealth Research Gluten-free, dairy-free, and SOY-free supplements. When you become their affiliate, you can earn huge money by recommending an excellent product to your audience.
Affiliate program info:
🔗 Program landing page – https://www.purehealthresearch.com/affiliate
⏳ Cookie duration – 1-day
💲 Product's price range – $55-$69
💰 Affiliate payment method and frequency – Bi-weekly or monthly, depending on the volumes. Wire.
🤑 Minimum payment threshold (if any) – For wire $2500. Direct deposit or PayPal – none.
Pros
Full body supplements
Organic
Backed by expert doctors
Phone and Email support
365 Day Money Back Guarantee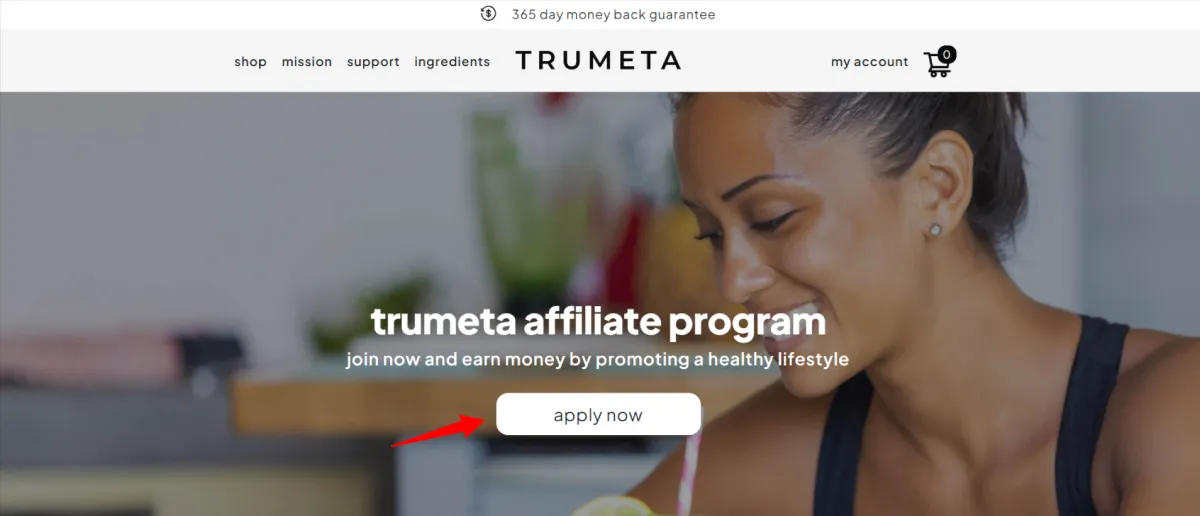 If you are a health expert, a blogger, or a fitness freak, the Trumeta affiliate program is rightly suited for you. Trumeta not only ships its products in the USA but also ships internationally at international shipping rates.
Trumeta is an easy-to-mix superfood blend that comes in red and green. Trumeta is free from Gluten, Dairy, SOY, Nut, Shellfish, and Sesame. If your customers, readers, or audiences are vegan lovers, you can refer Trumeta to them.
Affiliate program info:
🔗 Program landing page – https://www.trumeta.com/affiliates
⏳ Cookie duration – 1-day
💲 Product's price range – $39-$59
💰 Affiliate payment method and frequency – Bi-weekly or monthly, depending on the volumes. Wire.
🤑 Minimum payment threshold (if any) – For wire $2500. Direct deposit or PayPal – none.
Pros
Contains 25+ superfoods
Mixes easily in less than 30 seconds
365 day money back guarantee
US and international shipping
Email and Phone support
Monthly and One-time subscription
3. Bluehost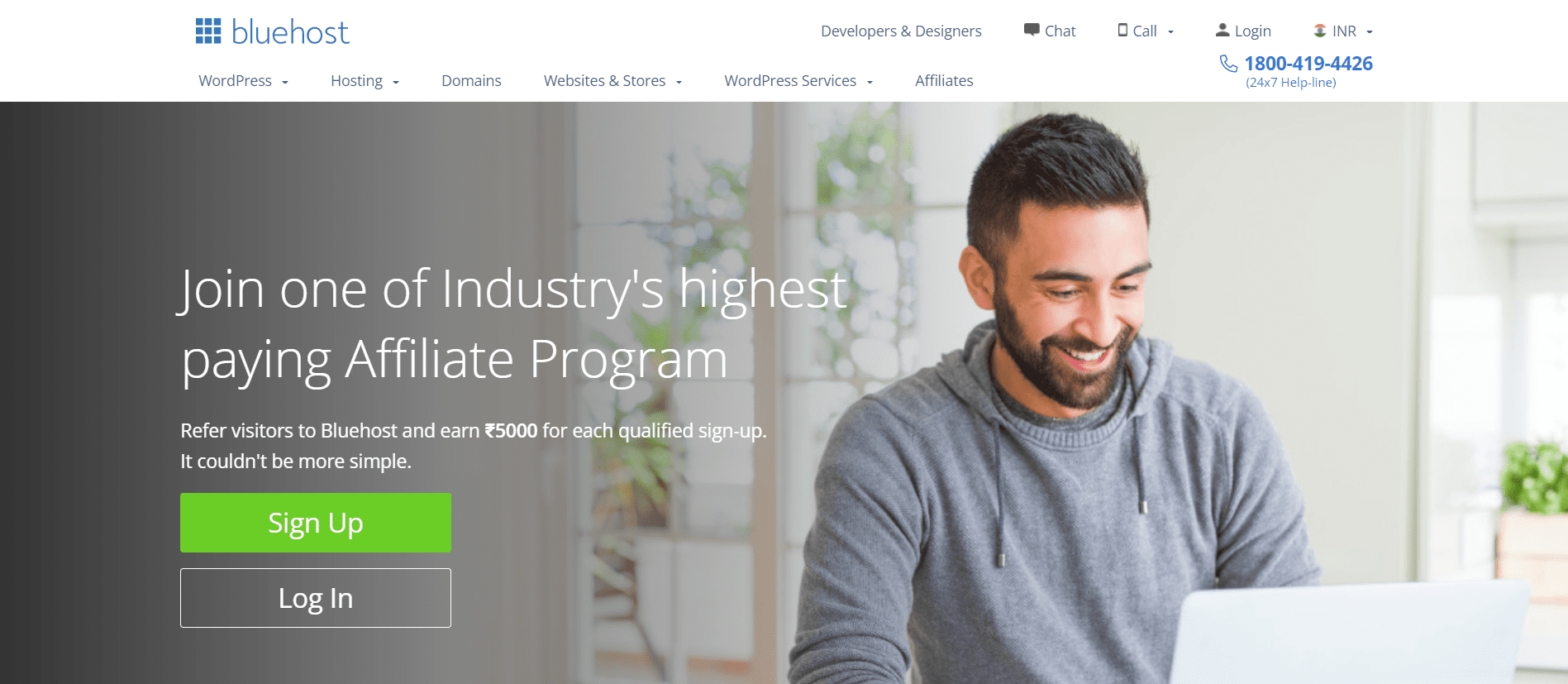 Bluehost is one of the top eCommerce hosting providers and the host of choice for WordPress. As the plans are cheap ($2.95), you can easily get customers. In fact, according to its website, it paid out more than $5 million in commissions in 2020 alone.
Minimum payment threshold – $100
$65 for each sale.
Large One-Time Payouts.
Tiered Commission Structure.
Strong Conversion rates.
Pros
No

restriction on entry to the program

The Best Tracking system

Frequent discounts
Pre-designed Banner Ads for PPC
A perfect choice for beginners
Free SSL and domain for 1 year
Cons
Withdrawal limits
User Downgrade Penalties
Tough for those inexperienced with SEO
While this threshold is not unreasonably high, it is something to keep in mind if you are counting on Bluehost affiliate commissions to provide a significant source of income. Nevertheless, the program remains a great way to earn extra money if you can generate a lot of referral traffic.
4. Liquid Web
Like many of the companies on this list, Liquid Web is in web hosting business. And also like many of the companies on this list, Liquid Web has an affiliate program that pays out handsomely to its partners.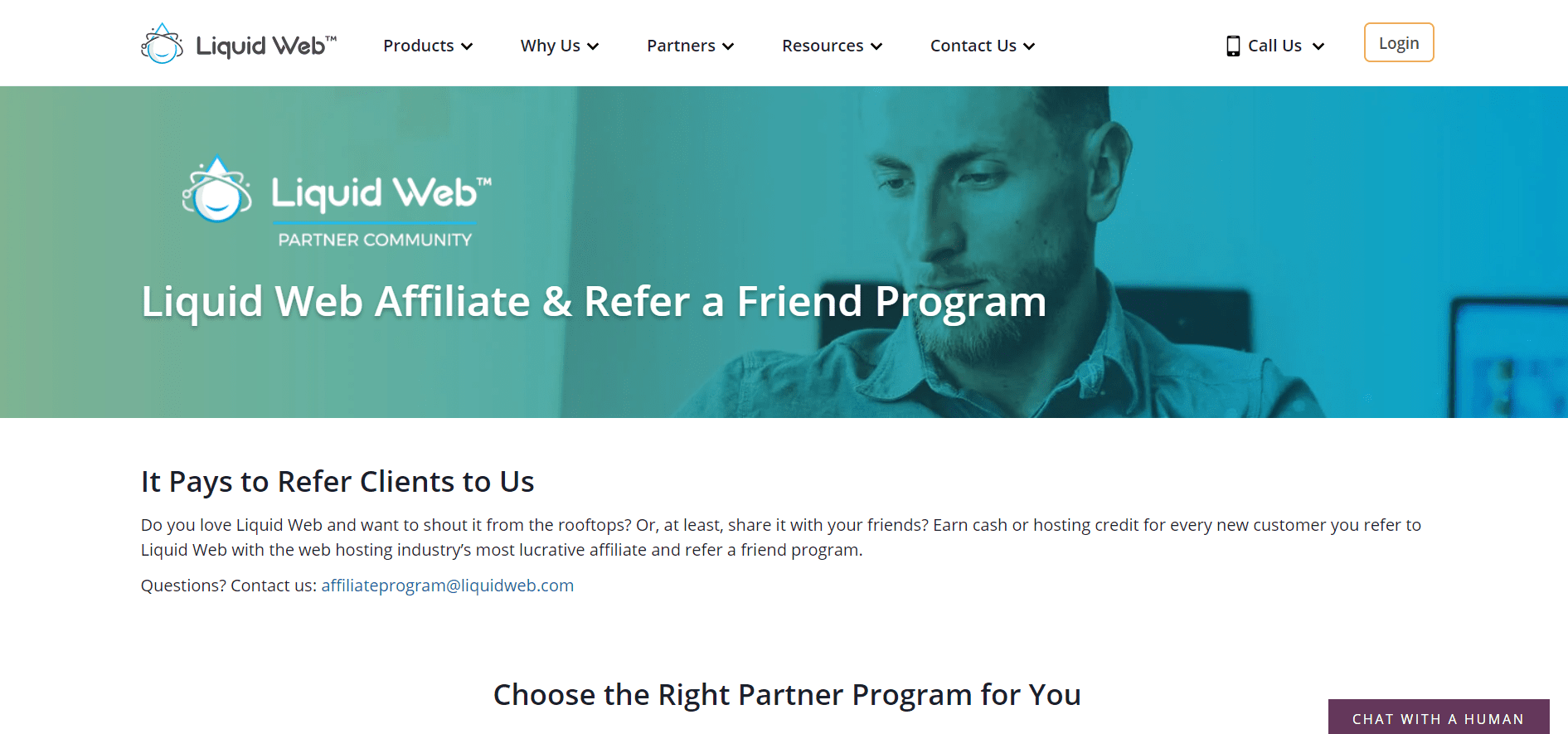 Its in-house affiliate program is powered by the Impact Radius affiliate network and pays commissions worth 150% of the monthly hosting cost, with a minimum payout of $150. That means that if you refer a $29 Managed WordPress customer with one site, you'll earn $150. Or if that customer chooses a $400 per month package, you'll pocket $600.
Not too bad!
So if you're in the market for a web hosting solution for your business – or know someone who is-Liquid Web is definitely worth checking out. And if you have a website or blog yourself, their affiliate program could be a great way to earn some extra cash.
Custom content & links.
Dedicated affiliate managers for personalized support.
Make $150 or more each month, or 150 percent of the monthly hosting fee.
Pros
Dedicated account managers
Up to $7,000 commission per sale
90-day tracking cookie
Cons
Quite competitive if you want to rely on organic search
5. Elementor
Undoubtedly, Elementor isn't a hosting platform. Instead, it's a web development tool for WordPress websites.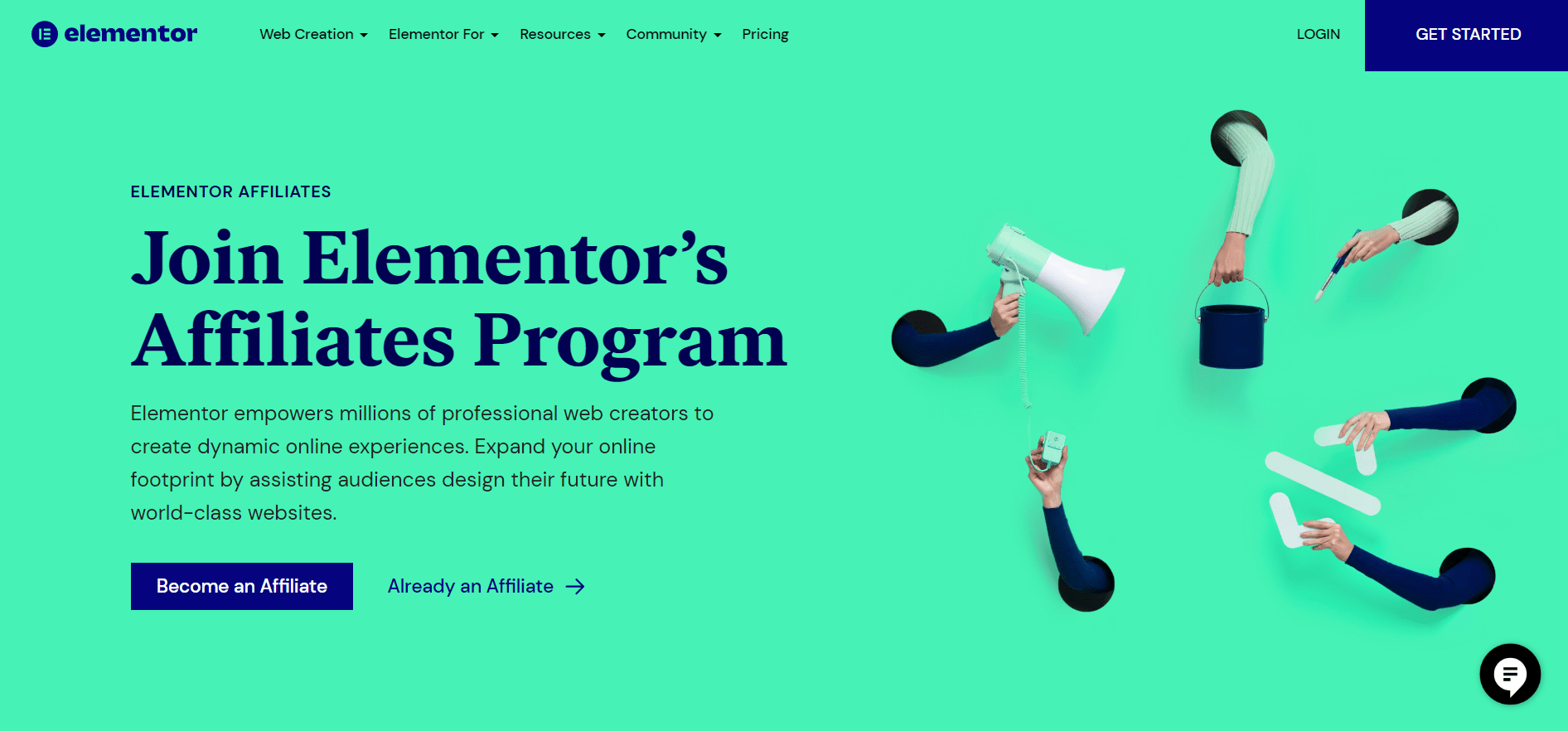 With over five million active installs, the software as a service tool is one of the top 15 most popular WordPress plugins and has racked up more than 3,000 five-star WordPress reviews.
That means it has a widely recognized brand name, which makes it a much easier "sell" for an affiliate marketer. Just as Elementor's page-building tool is simple to learn and use, its affiliate program commission rates couldn't be easier to explain — you earn 50% of the sales you drive.
For example, if you refer someone who spends $100 on Elementor Pro, you'll earn $50. If they spend $1,000, you'll earn $500. There's no limit to how much you can earn; payments are made every two weeks via PayPal. So if you're looking for an easy-to-use affiliate program with high commission rates, Elementor is definitely worth checking out.
Full Professional Support.
Track Your Growth.
Extended platform for development.
Various integration and widgets.
Pros
Early Access To News & Updates
Ultimate designs
50% commission per sale
6. HubSpot
If you're not familiar with HubSpot, it's basically the Rolls-Royce of marketing software. It's used by over 113,000 customers in 120+ countries to attract leads and convert them into sales. The company was founded in 2006 by Brian Halligan and Dharmesh Shah, two guys who literally wrote the book on inbound marketing.
HubSpot is not a cheap tool, but it is worth the price. And there's lots of scope for cross-selling products through the affiliate program. For instance, if you refer a customer who buys the Marketing Starter and Sales Professional packages simultaneously, you'll earn $250 + $500.
Marketing materials
#1 CRM platform
Monetize content
Pros
90-day generous cookie window
15% or 100% commission rate
7. Teachable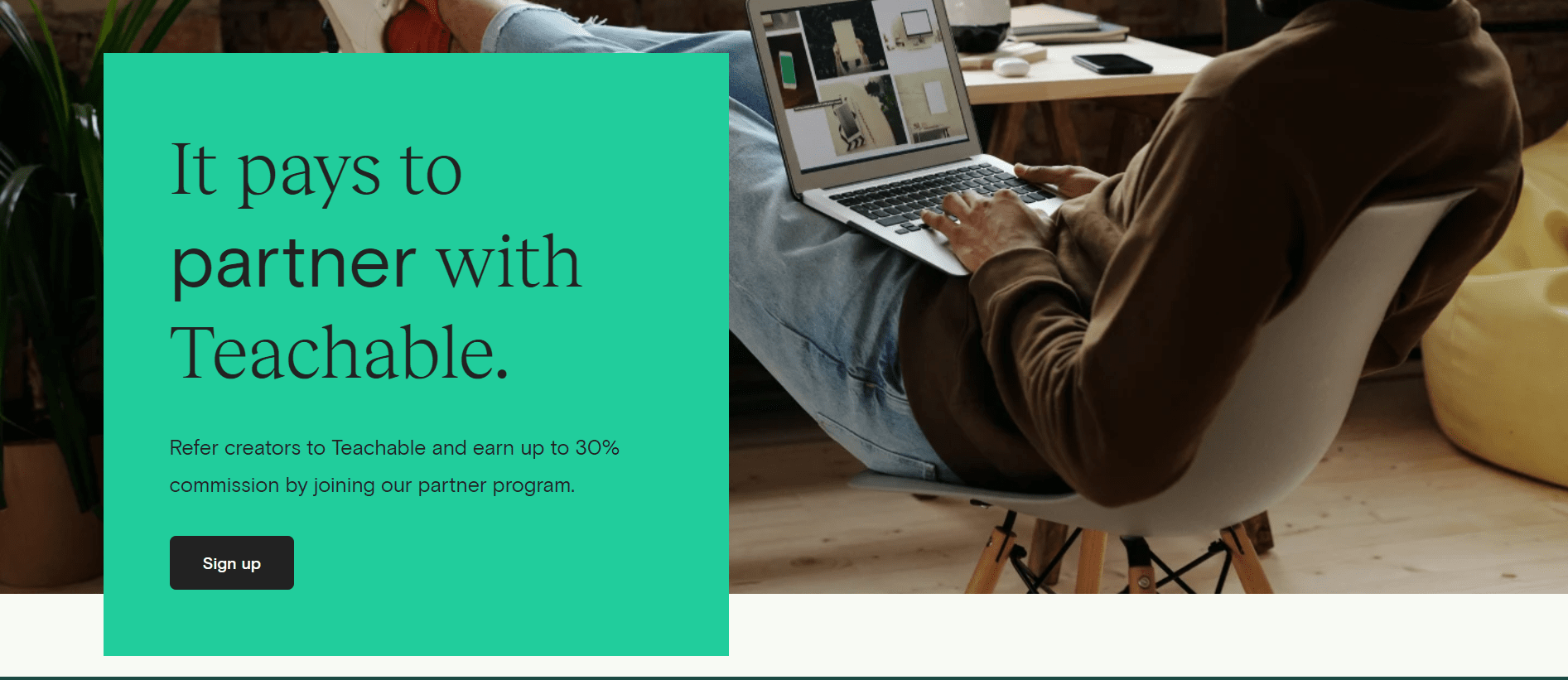 Teachable is a software-as-a-service tool that helps budding entrepreneurs build online training courses. That's a brilliant space, with the online education industry expected to be worth an astonishing $350 billion by 2025.
Of course, it's not just about building any old course – it must be a high-quality, engaging, and valuable course that your students will want.
That's where Teachable comes in, with various features and tools designed to help you create the perfect online course.
Monthly emails regarding updates to their platform.
Recurring commissions.
Grow on a budget Reliable payment and tracking gateway.
Pros
Robust campaign reporting
Up to 30% commission
Reliable source of passive income
90-day cookie window
Cons
Takes time to reach the 50% commission benchmark
8. GreenGeeks
GreenGeeks is a hosting company with a difference. Not only does it provide reliable and affordable hosting services, but it also takes an eco-friendly approach to its business.
For every unit of energy consumed by its data centers, GreenGeeks offsets the environmental impact by buying three times as much in Renewable Energy Credits.
This ethical approach to hosting appears to resonate with consumers, as the 15,000+ members of its affiliate program have earned more than $6.5 million in commissions to date.
Pros
Advanced Real-Time Statistics
Dedicated Affiliate Team
1 sale: $50 /sale
9. AppSumo
AppSumo is a daily deals website for digital products and services that made its name by partnering with big-name tech brands like Evernote, MailChimp, and Depositphotos.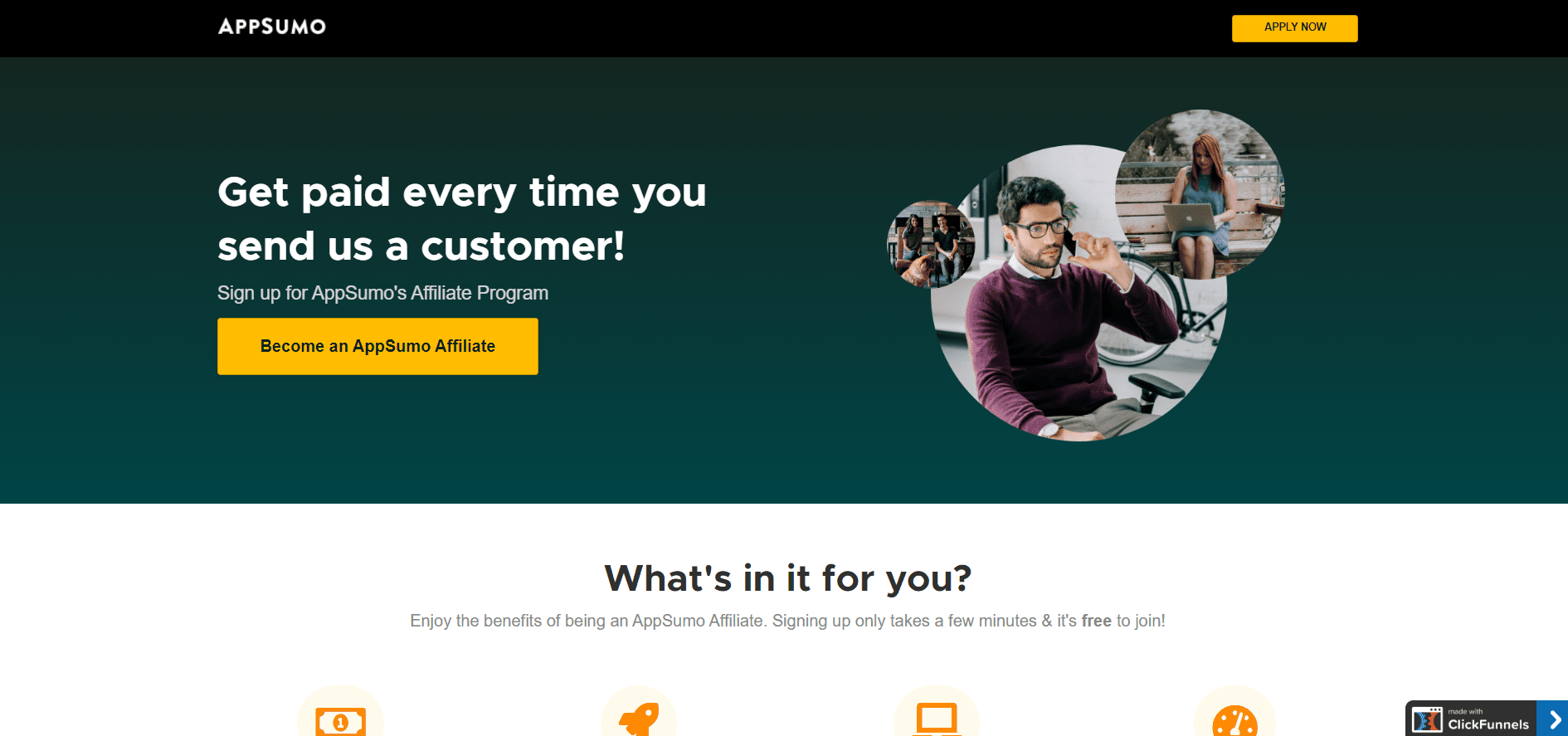 In addition to these partnerships, AppSumo has also built up a large and loyal following among web developers, online marketers, and other tech-savvy users.
Thanks to this devoted audience, AppSumo has become one of the most trusted sources for software deals and discounts. And if you're looking to earn some extra cash, AppSumo's affiliate program is worth checking out.
Up to 100% commission for new customers.
Up to 5% on sales to existing customers.
Maximum of $50 commission per order.
Pros
Robust campaign reporting
Up to 30% commission
A unique affiliate URL for tracking all of your referrals
10. Kinsta
If you're looking for a premium WordPress hosting company offering high commission rates, you should definitely check out Kinsta.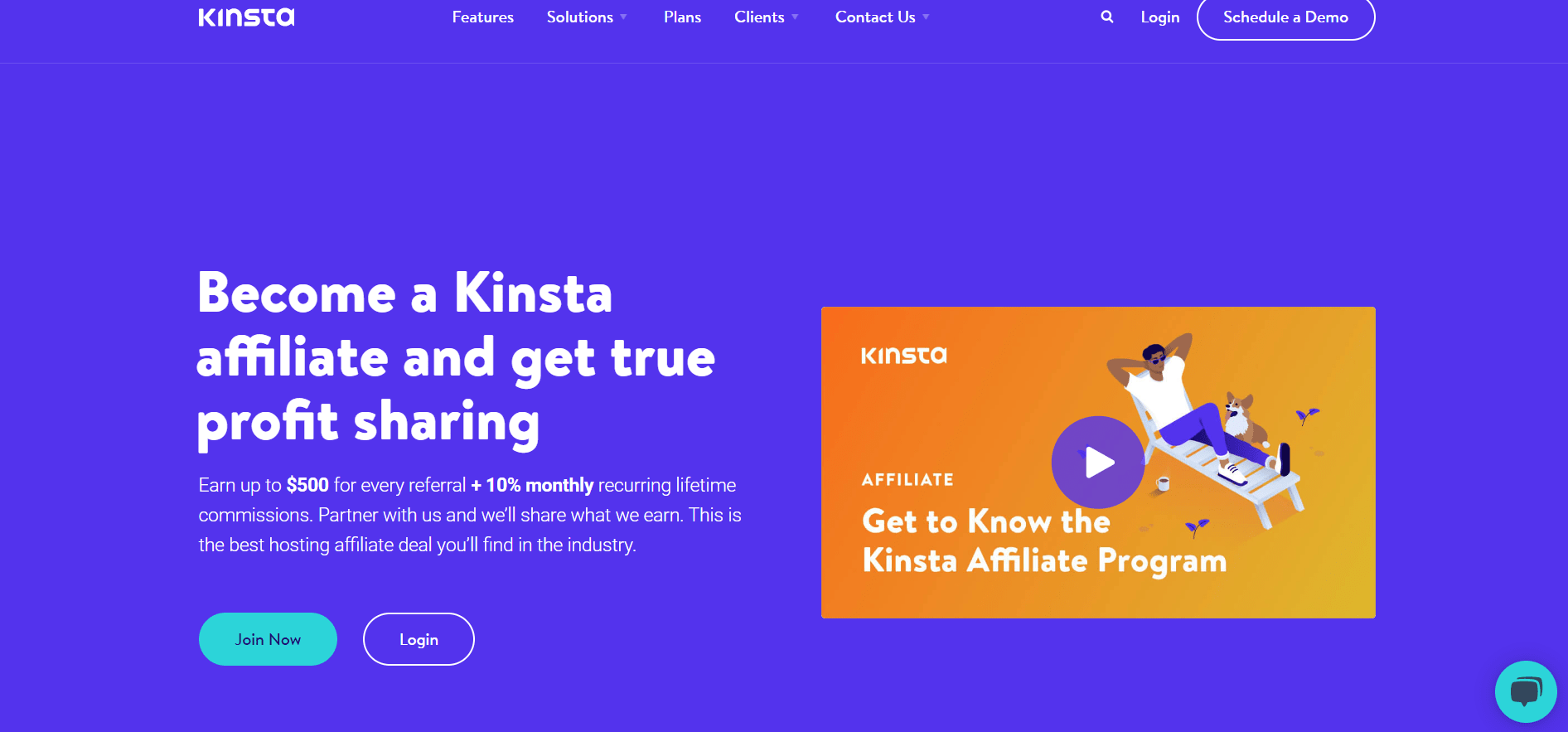 Its client list reads like a who's-who of tech and digital companies — think Buffer, Tripadvisor, and Ubisoft, to name a few.
And Kinsta's commission rates are equally impressive. In fact, it's unquestionably one of the highest-paying affiliate programs we've seen.
So if you have a blog or website with a WordPress audience, joining the Kinsta affiliate program is definitely worth considering.
10% recurring commission
Earn up to $500 for every referral + 10% monthly recurring lifetime commissions
Pros
Less than a 4% churn rate
Recurring commission
Payment directly sent to PayPal
Cons
Earnings are paid in a 60-day conversion window
60-day tracking cookies
Conclusion
These are some of the most popular affiliate programs for bloggers that you can sign up for. None of these plans cost any money to join, and they have fantastic upside potential if you know how to promote your blog correctly. As a blogger, you can offer potential customers something they can't find anywhere else: honest, reliable information. By becoming an affiliate for one of these companies, you can help promote their products while earning a commission on every sale you generate.
Remember, seeing is believing. When reviewing affiliate items on your blog, be as descriptive as possible and provide valuable information to your readers. People need straightforward, reliable information, and their opinion of you will increase as you continue to offer it to them.
Don't just focus on generating affiliate income.
Instead, focus on providing the truth to your readers. Your credibility will automatically increase. By becoming an affiliate for one of these companies, you can make money and build a reputation as a trusted source of information.
Frequently Asked Questions
Are Affiliate Programs Safe?
Affiliate marketing is a great way to earn money online. You can find affiliate programs for just about any product or service you can think of, and if you can promote those products or services effectively, you can earn a commission on every sale. While some people are concerned about the legality of affiliate marketing, it is perfectly legal. In fact, it's been a highly successful customer acquisition channel for many years. According to recent studies, 80% of brands have affiliate programs. So, if you're looking for a legitimate way to earn money online, affiliate marketing is definitely worth considering.
Who Is The Highest Paid Affiliate Marketer In The World?
Ralf Schmitz is one of Germany's most successful affiliate and online marketers, called "Affiliate King" by colleagues and friends. He has succeeded by building a loyal subscriber following who appreciate his humor and tips on making money online. Schmitz's down-to-earth personality and willingness to share his secrets have helped him to become one of the most respected figures in the German affiliate marketing scene.
In addition to maintaining a successful YouTube channel, Schmitz offers coaching services and has authored several books on online marketing. With his vast experience and insight, Ralf Schmitz is, without doubt, one of the most qualified people to advise on how to make a success as an affiliate marketer.
Can I Join More Than One Affiliate Program?
There's no doubt that affiliate marketing can be a great way to earn money online. After all, who wouldn't want to get paid for promoting products and services they're already interested in? However, many people hesitate to start affiliate marketing because they assume there must be some catch.
Indeed, there's a limit to the number of programs you can join, right? Wrong!
No restrictions exist on the number of affiliate programs you can sign up for. In fact, joining multiple programs can actually be a great way to boost your earnings. You'll be able to make more money by having multiple income streams. Plus, you'll have a better chance of making sales if you promote various products and services. So if you're considering getting into affiliate marketing, don't let the fear of signing up for too many programs hold you back. There's no limit to the number of programs you can join, so go ahead and get started today!