Pros/Advantages
Multiple use cases
Supports browser automation
Works for iOS and Android both
Useful resources with knowledgeable insights
Browse with multiple profiles
Good customer support & security
I was searching for a trustworthy private browsing solution. After contemplating a fast, reliable, and private browser, I found Kameleo.
Kameleo is the perfect private browsing solution because it's fast, reliable, and, most importantly, private.
The Kameleo browser keeps my information safe by hiding my IP address and preventing tracking cookies from being installed on my computer.
In my Kameleo review, I will share every detail, including features, pricing, and browser activity.
Table of Contents
What is the need for an Anti-Detect Browser?
It's almost impossible to guarantee online privacy, but an Anti-detect browser leaves minimal traces on the web. It does this by customizing your digital fingerprint.
Thus, by using an anti-detect browser, your chances of being tracked & detected becomes less severe. By using anti-detect browsers like Kameleo (#1 anti-detect browser), you can open a new account with different browser tabs.
This way the cookies do not overlap with and remain different for each separate account on different browsers.
An anti-detect browser looks and works just like other browsers. Except for the fact that an anti-detect browser protects you against WebRTC. With Kameleo's fingerprinting technology, you can change your mobile device fingerprint. Websites will never know that you are using a proxy connection.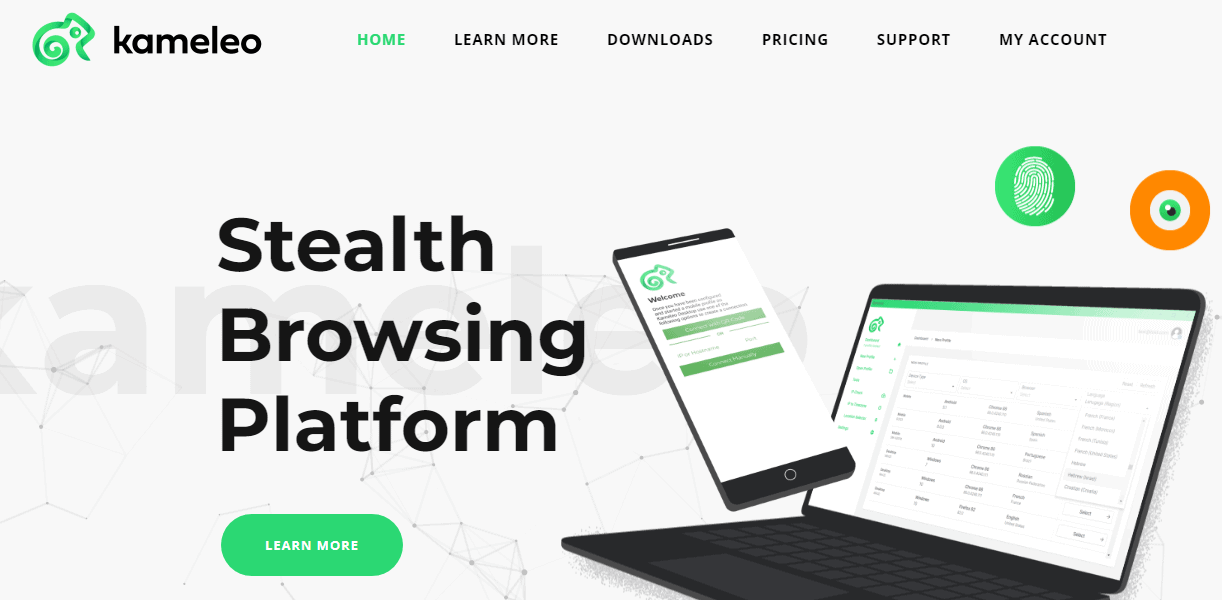 Kameleo is an incredibly easy-to-use but powerful application that helps you build, store, and load different profiles while removing the possibility of disclosing your browser fingerprint by modifying it organically.
After installing Kameleo, websites will interpret your fingerprint differently. Create as many browser settings as you'd like – with Kameleo, you have complete anonymity.
Kameleo is an excellent choice for anyone who cares about online privacy and security.
It offers a comprehensive suite of features that make it easy to protect yourself from potential threats while giving you access to geo-restricted content without compromising your anonymity or safety online.
Major Features & Benefits of Kameleo

🚷 Bypass Account Restrictions
When it comes to granting Internet access to individuals, certain websites and platforms are inaccessible. If you are using many fake accounts, they may immediately ban you or restrict the number of accounts you can establish.
With Kameleo, it is possible to circumvent this. The application enables you to have several profiles without moving between devices. Therefore, administrators will need help to discover your use of several accounts. Additionally, you may browse the website or utilize the platform at any time using any of the accounts or profiles you established.
Kameleo's multi-accounting makes teamwork easy. With Kameleo, you can share browser profiles with your colleagues conveniently.
🛡️ Ensures Secure Browsing
Kameleo ensures that you are anonymous, unnoticed, and untraceable when browsing websites and processing transactions online. The internet privacy tool keeps you fully anonymous, mainly if you exchange sensitive business information or pay for items and services.
🚀 Improves Marketing Efficiency
The advantage above does not preclude organizations and professionals from using Kameleo to create and deploy Internet-based marketing initiatives. Indeed, this instrument has a function that may be used by anybody involved in Internet marketing.
Utilizing numerous personas allows you to conceal your genuine digital or online identity. Multiple profiles may be created and operated concurrently on the same workstation or device.
With this, websites will be unable to recognize you, and you may execute your marketing efforts effectively.
👨‍💻 Prevents Targeted Ad Campaigns:
Kameleo prevents you from getting personalized advertising campaigns produced by organizations, businesses, and marketers using the browser fingerprinting approach.
This method gathers information about a site visitor, such as the sort of device, operating system, or browser he/she is using and its parameters.
The visitor is then recognized based on the collected data, and a unique profile is formed, allowing corporations and organizations to send him/her tailored advertisements.
Kameleon can defeat this move. No one can collect information about you that discloses your identity, the websites you're visiting, and your Internet activities to send you unwanted advertisements.
🔒 Protect Your Data & Transactions
The online privacy tool conceals your digital identity and stops anybody from acquiring your unique Internet user information. No one can determine who you are or what you are doing online, allowing you to feel protected and secure.
🎦 Avoid Targeted Advertising
When you browse a website, view a movie, or click on a page or content, it is frustrating when advertisements appear on your screen. Worse, you may discover several of these advertisements belong to the same firm or business. The advertisements follow you everywhere you go online.
The term for this is targeted advertising. The organizations or persons that give you these advertisements can collect data about you.
At the same time, you use the Internet, so they know your devices, which websites you visit, and what online activities you engage in the most. You can avoid targeted advertising with Kameleo, keeping your device, operating system, and browser information hidden from advertising agencies and enterprises.
📱 Kameleo Mobile
Using Kameleo on your smartphone, you can access thousands of real-world Android and iOS mobile profiles. You may customize them according to your preferences and surf the web anonymously. Websites have more confidence in mobile browsers. Therefore, Kameleo Mobile users are subject to fewer CAPTCHA and security checks.
Their Android application does not need root access. Install and set up the SOCKS5, HTTP(S), or SSH proxy by connecting your PC to Kameleo. You may use any proxy service, even if it is only designed to run on Windows! Incredible, right?
Access to Kameleo Mobile capabilities requires purchasing either the Advanced or Automation subscription. These packages include mobile profiles.
How to Sign Up and Use Kameleo?
Step – 1: Visit Kameleo and click on 'PRICING'.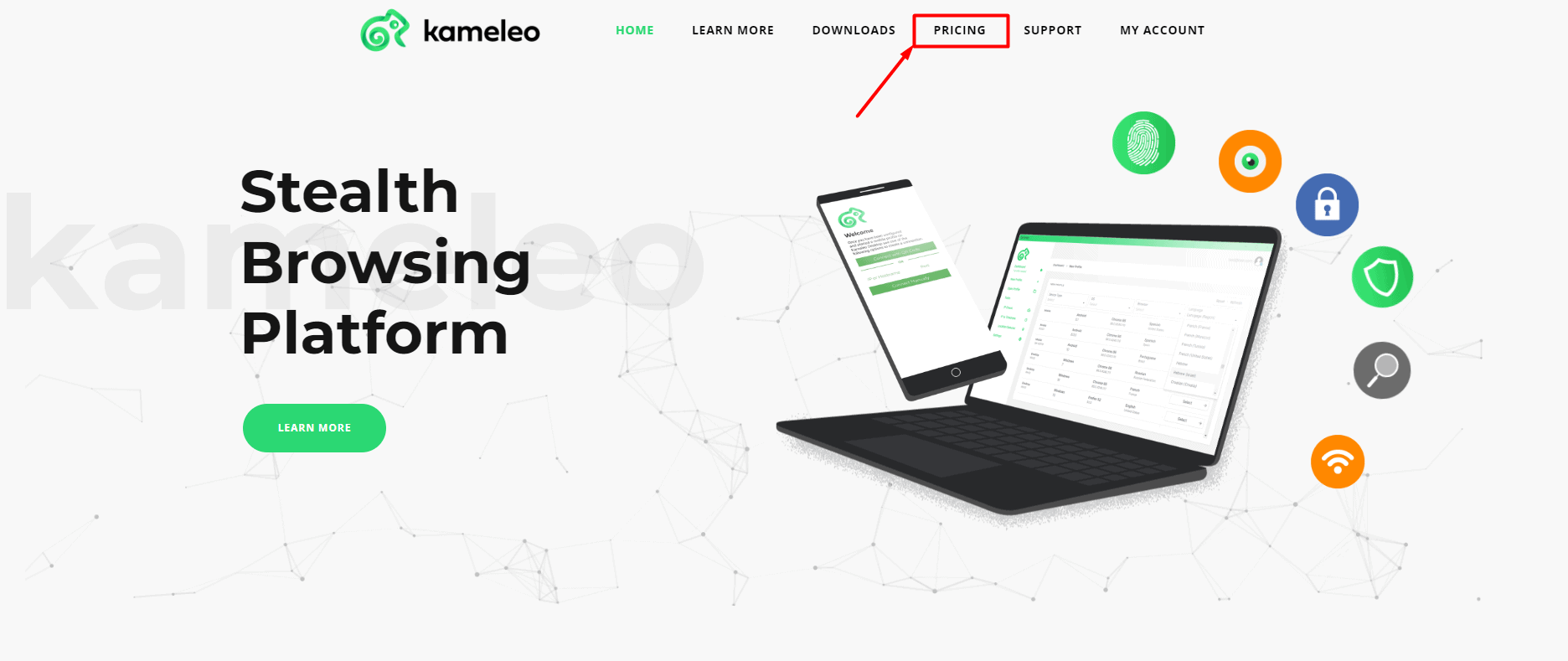 Step – 2: Choose either Monthly or Semi-Annual plan and click on 'PURCHASE'.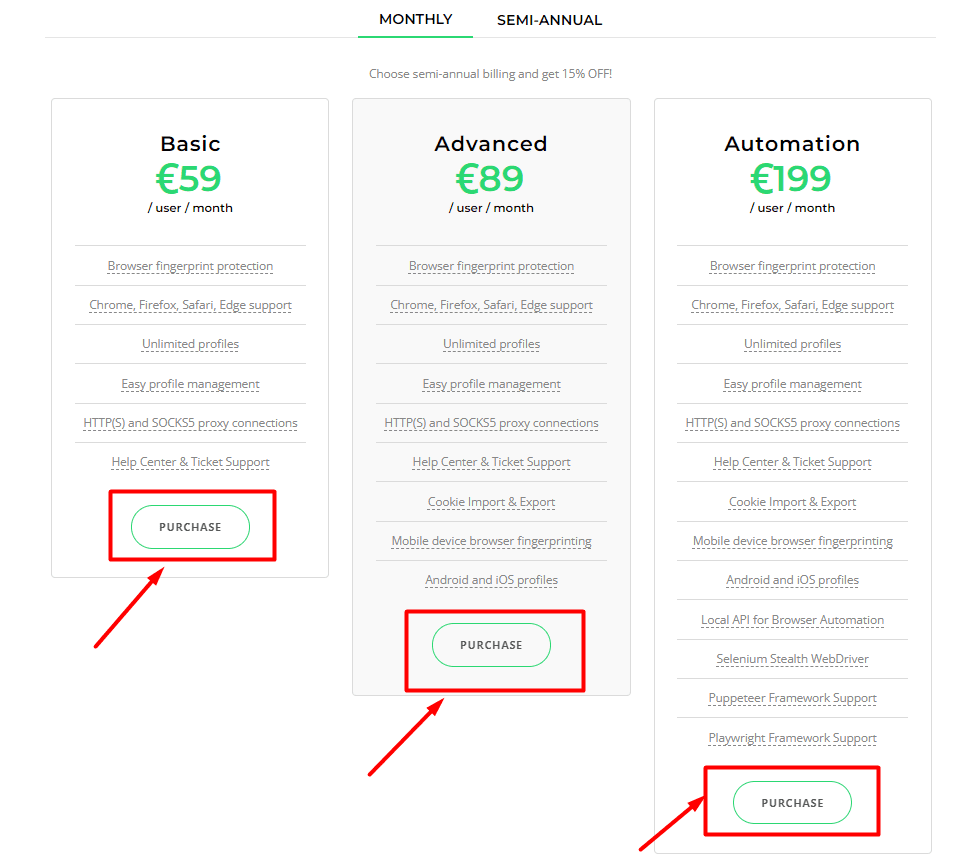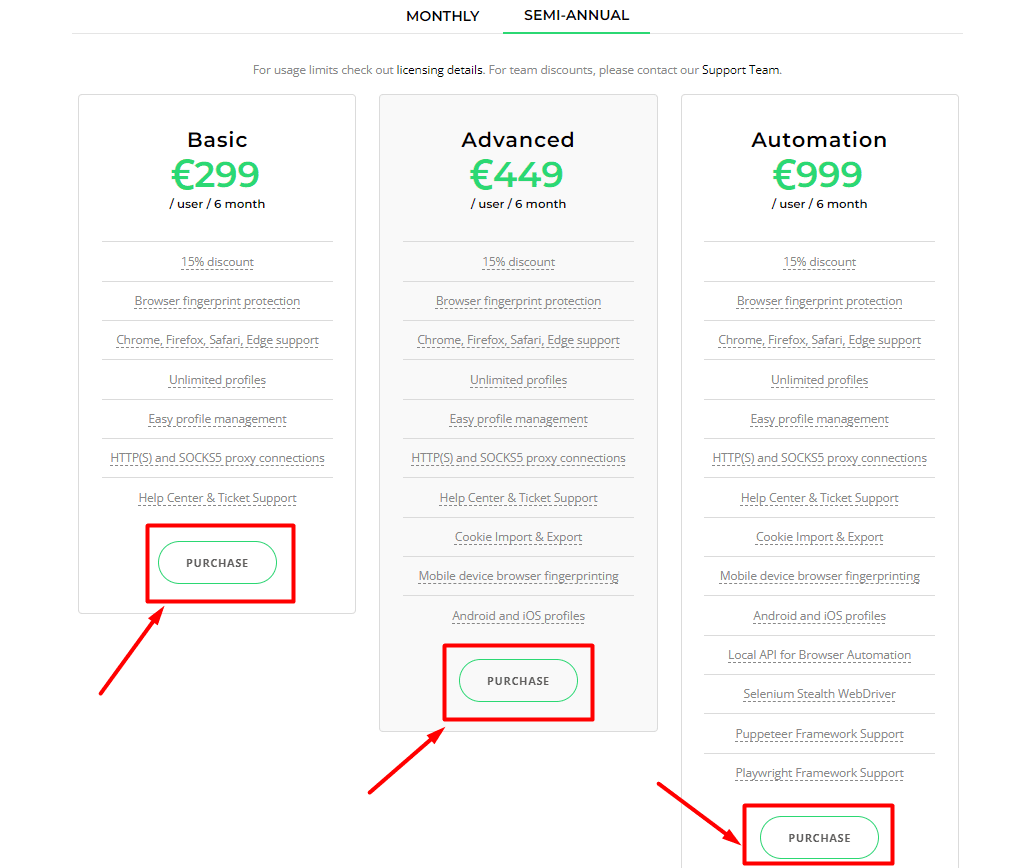 Step – 3: Price will change if you add more than one user. Fill up the details asked for and click on 'PURCHASE NOW'.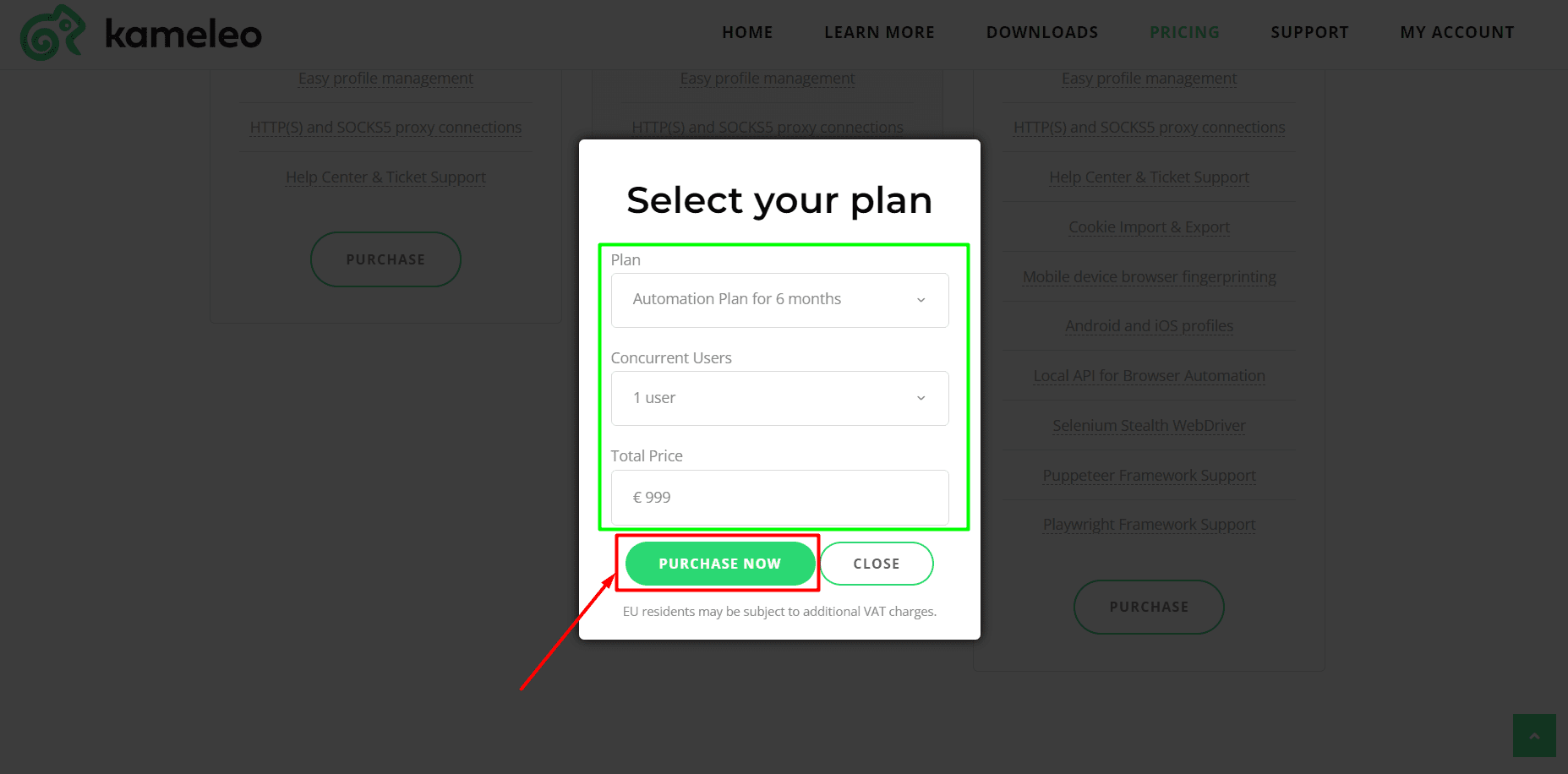 Step – 4: Enter your email address that will be used for login and click on 'Continue'.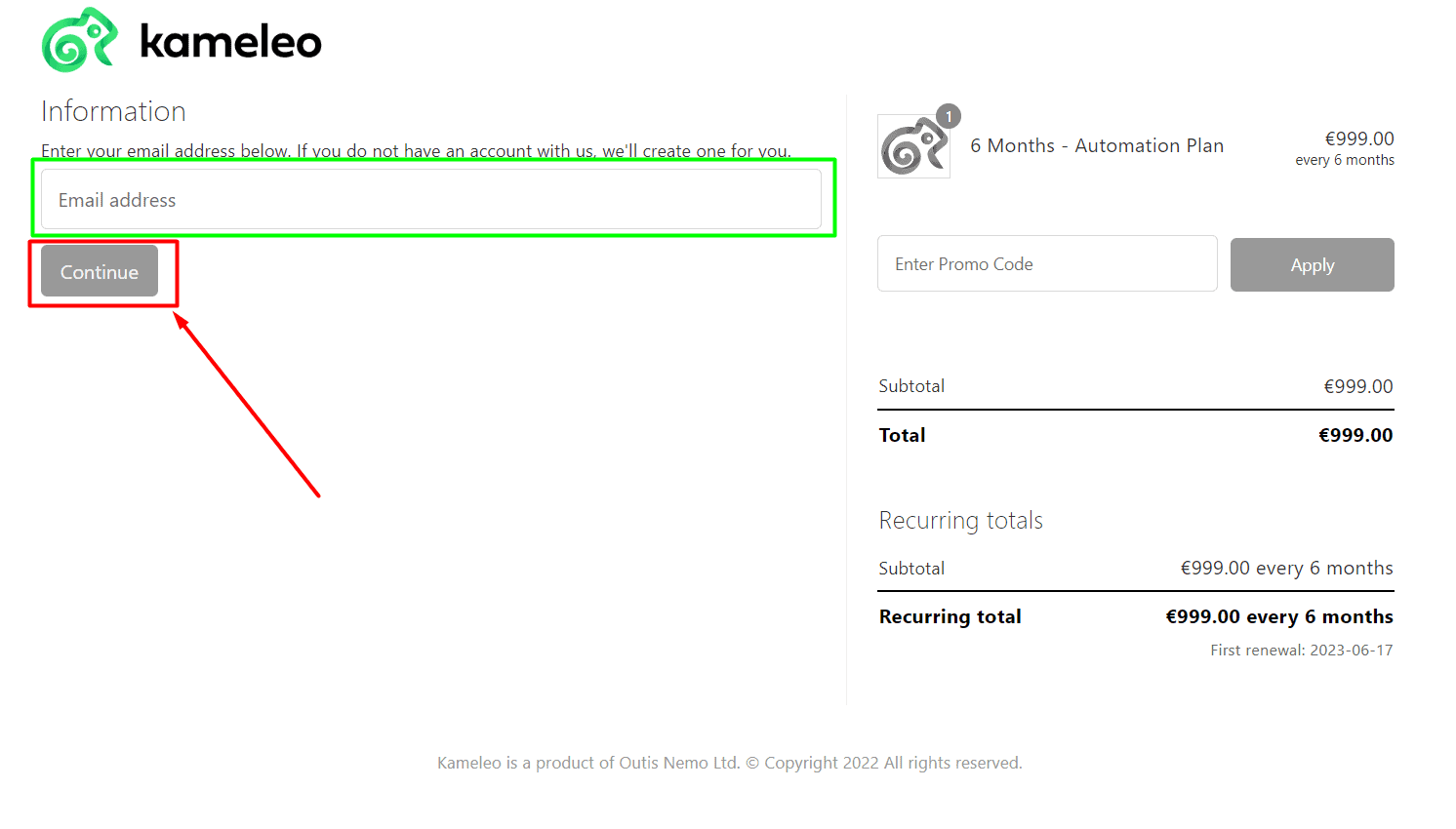 Step – 5: Set up a password, check the box, and click on 'Register'.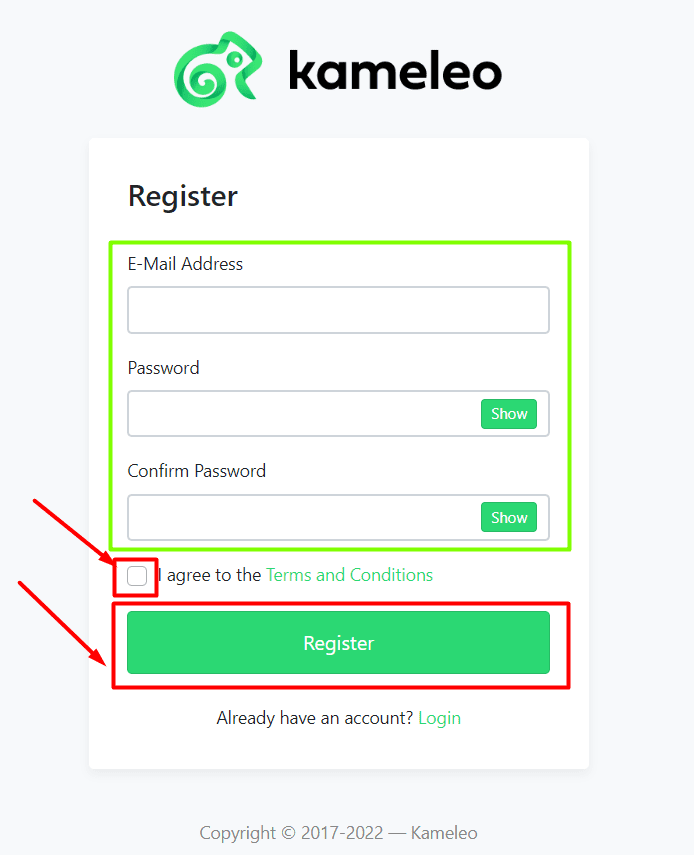 Step – 6: Fill up the payment details asked for, check the box, and complete the payment. You can pay via cryptocurrencies too. All payments are protected by Stripe.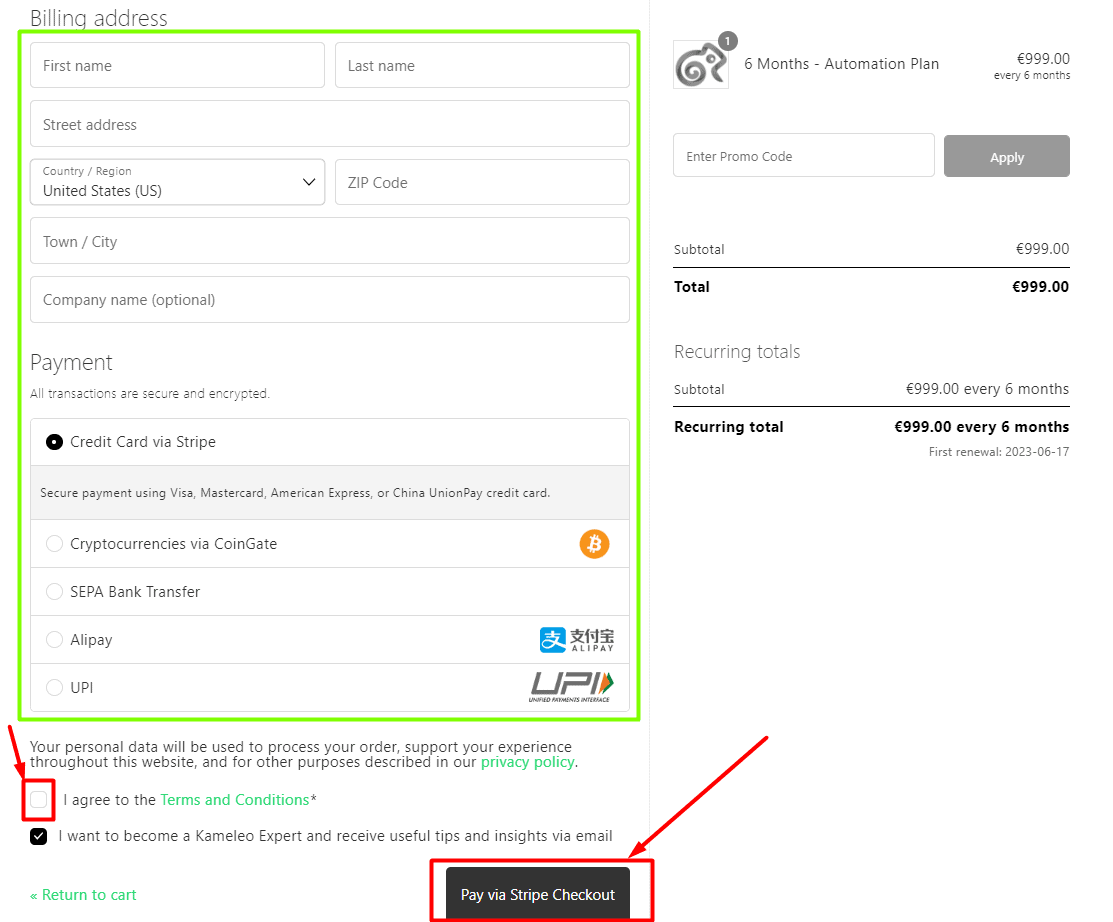 Step – 7: Now Download the Kameleo Installer. To download the installer, go to Kameleo Downloads. Click on Downloads and in a few seconds the download will be complete.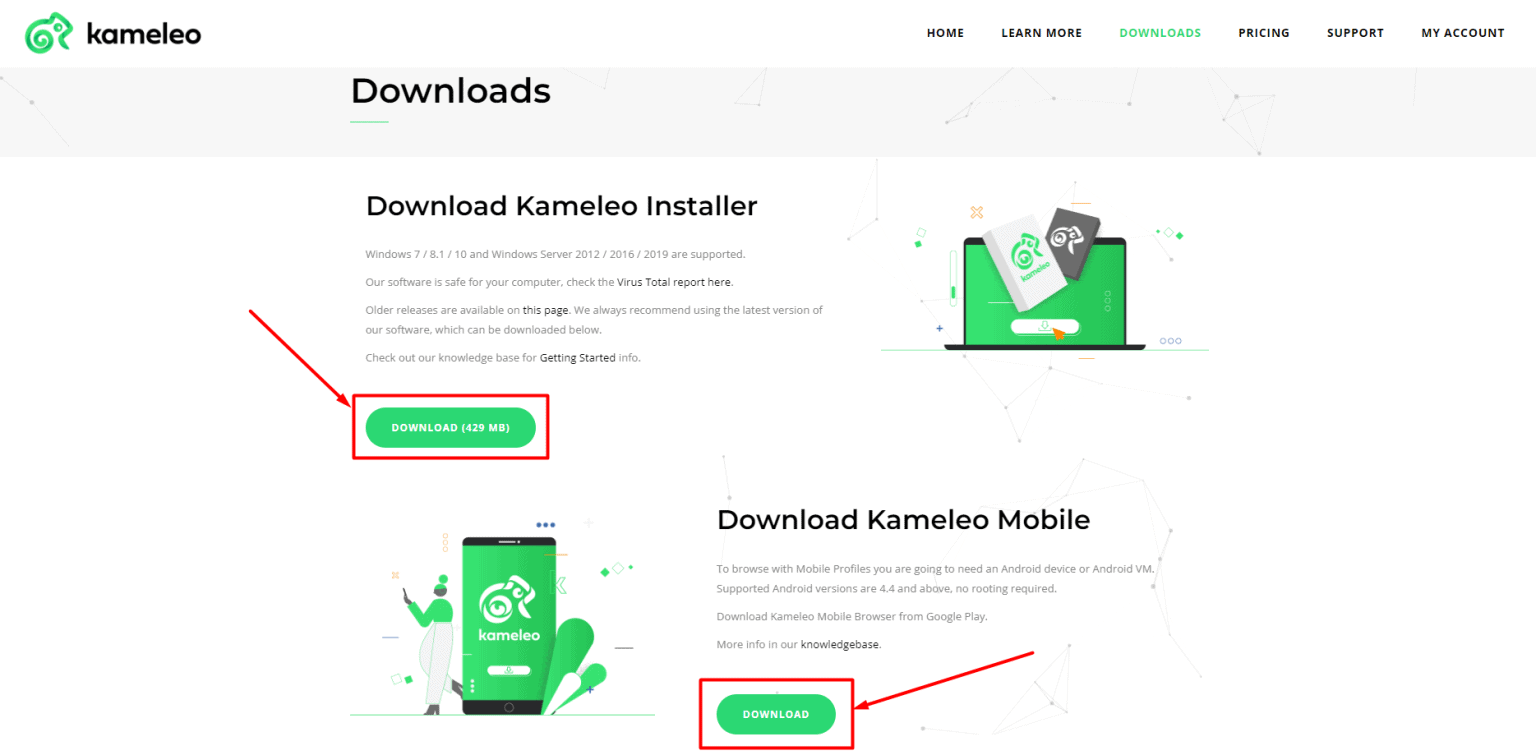 Step – 8: Now install the Kameleo installer and log into your Kameleo account.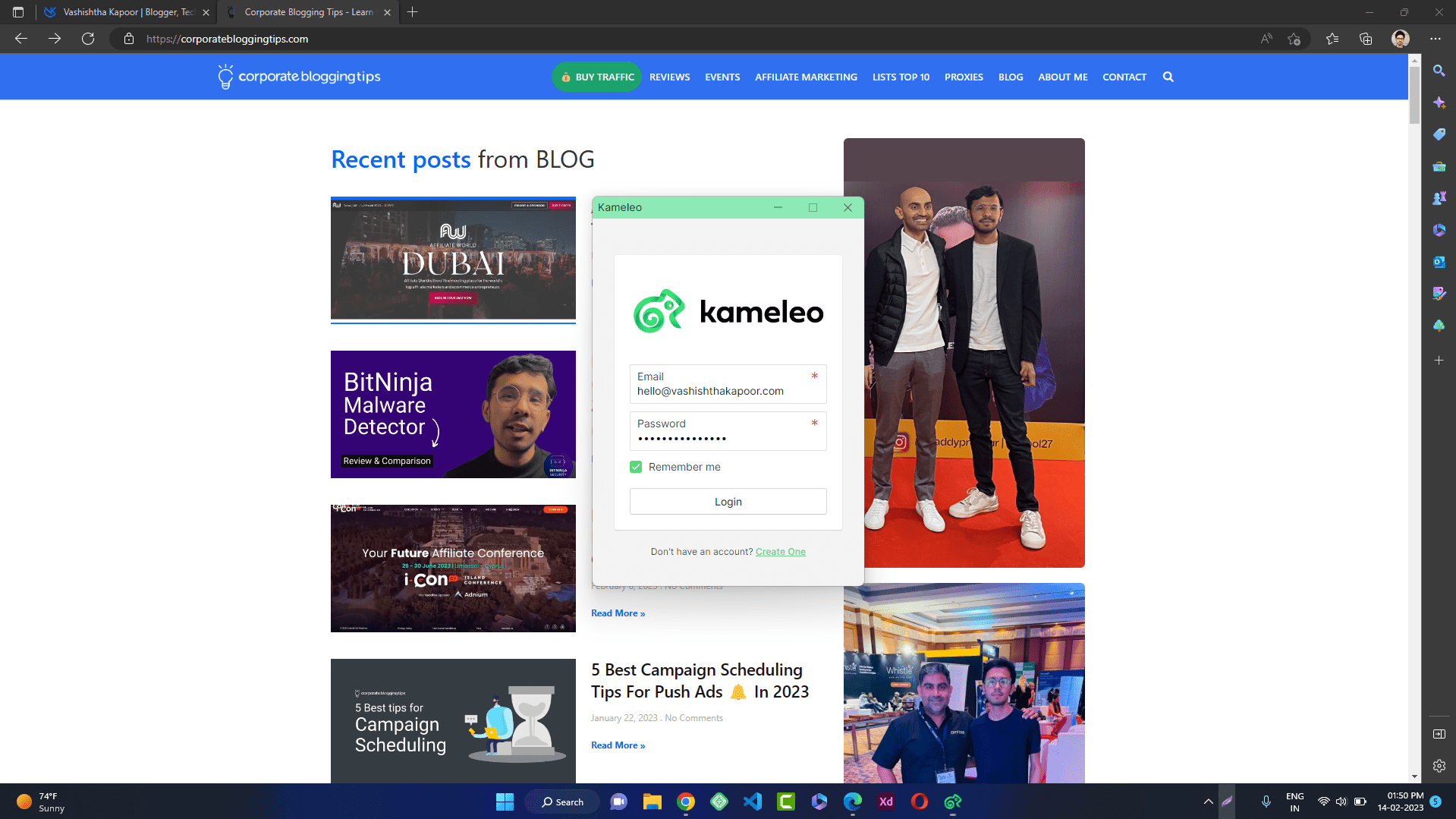 Step – 9: When you are prompted with a Windows Security Alert, allow access to the app to enjoy all the features.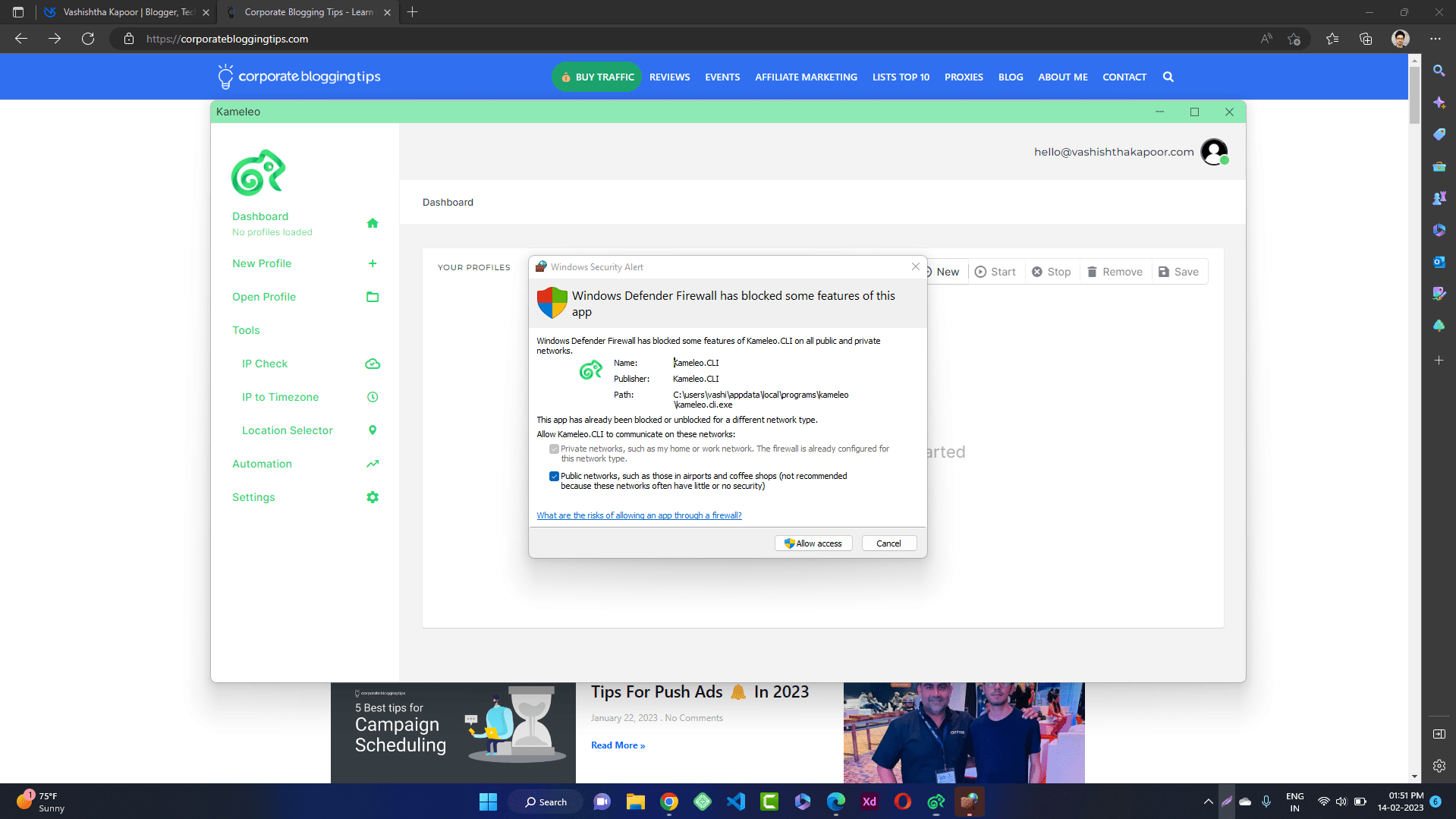 Step – 10: Click on New Profile to configure the browser settings.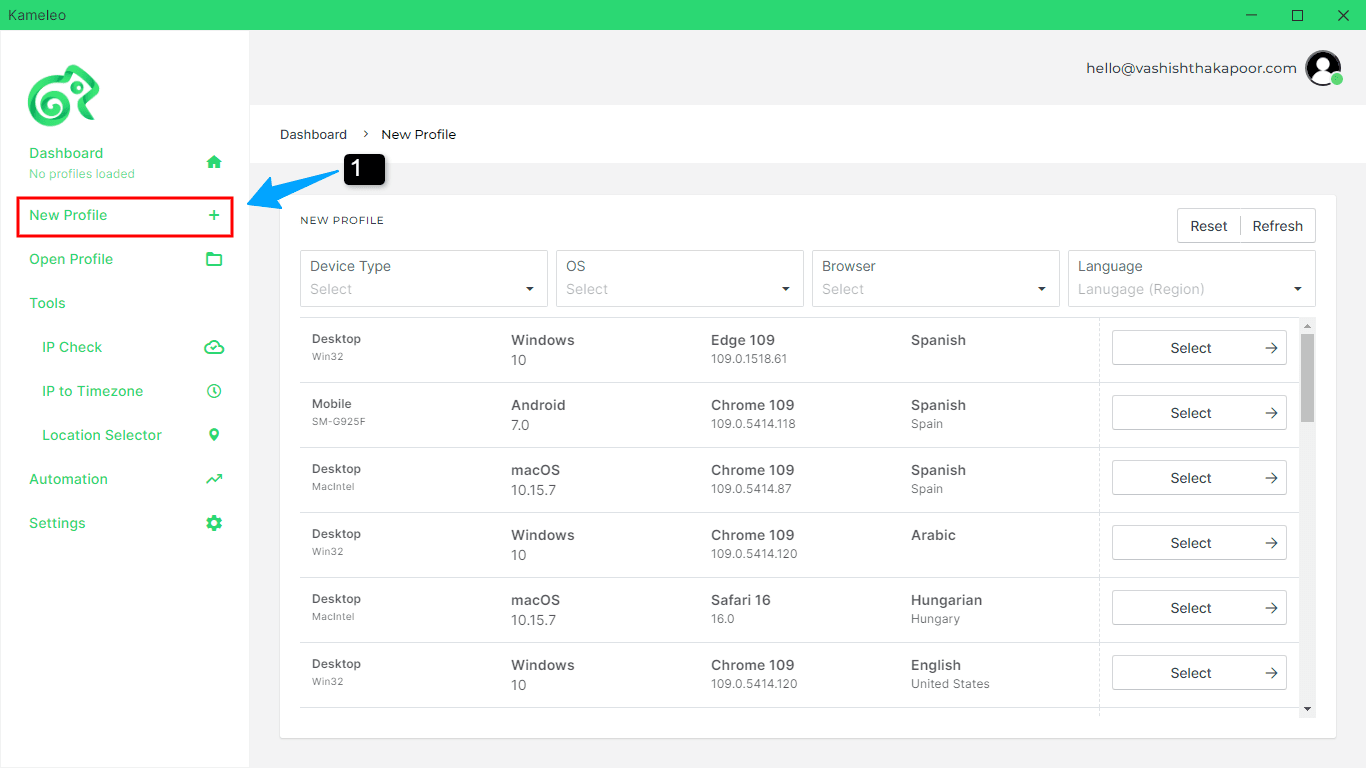 Step – 11: Then select the Device Type, OS, Browser, and Language. Here, I have selected Device > Desktop, OS > Windows, Browser > Chrome, and Language > English.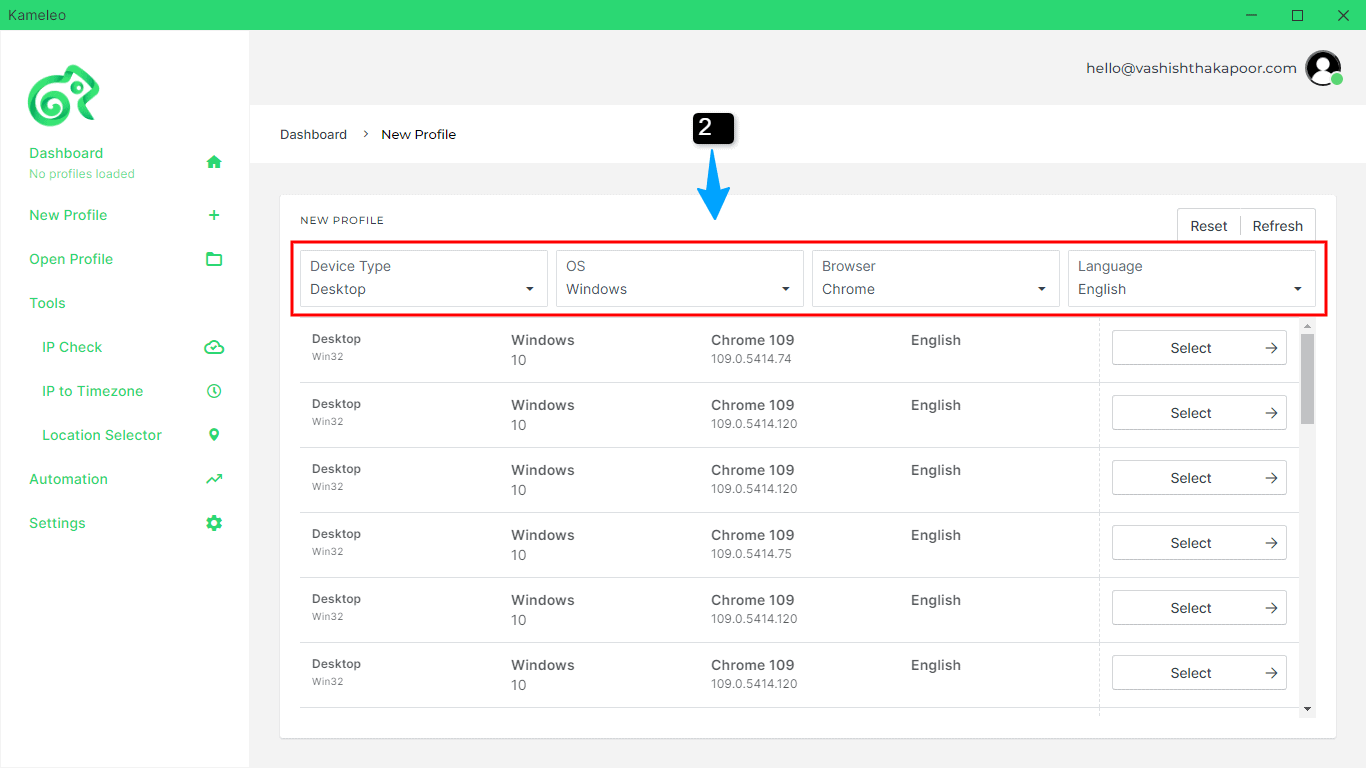 Step – 12: Now proceed further by selecting any one browser configuration and click on Select.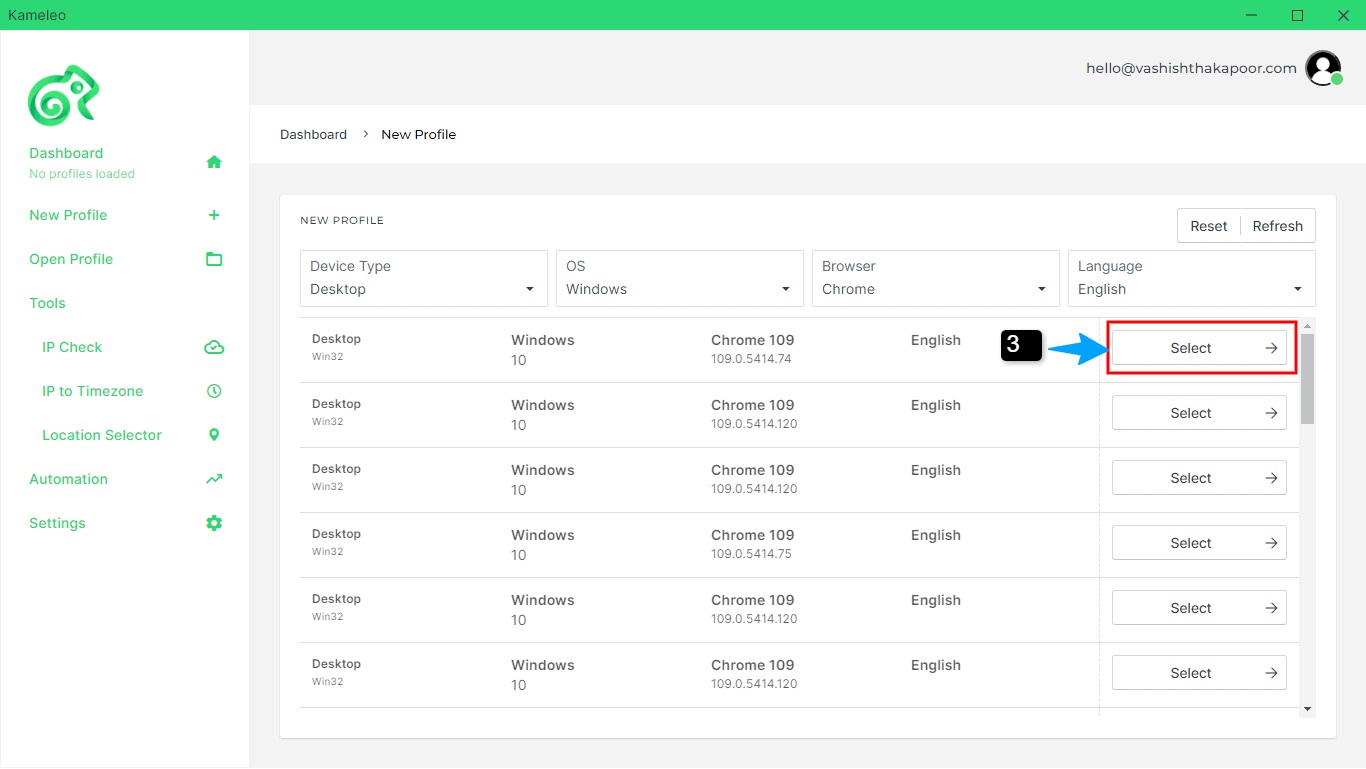 Step – 13: Kameleo allows you to connect a proxy service like HTTP, SOCKS5, or SSH. Finally, click on Start.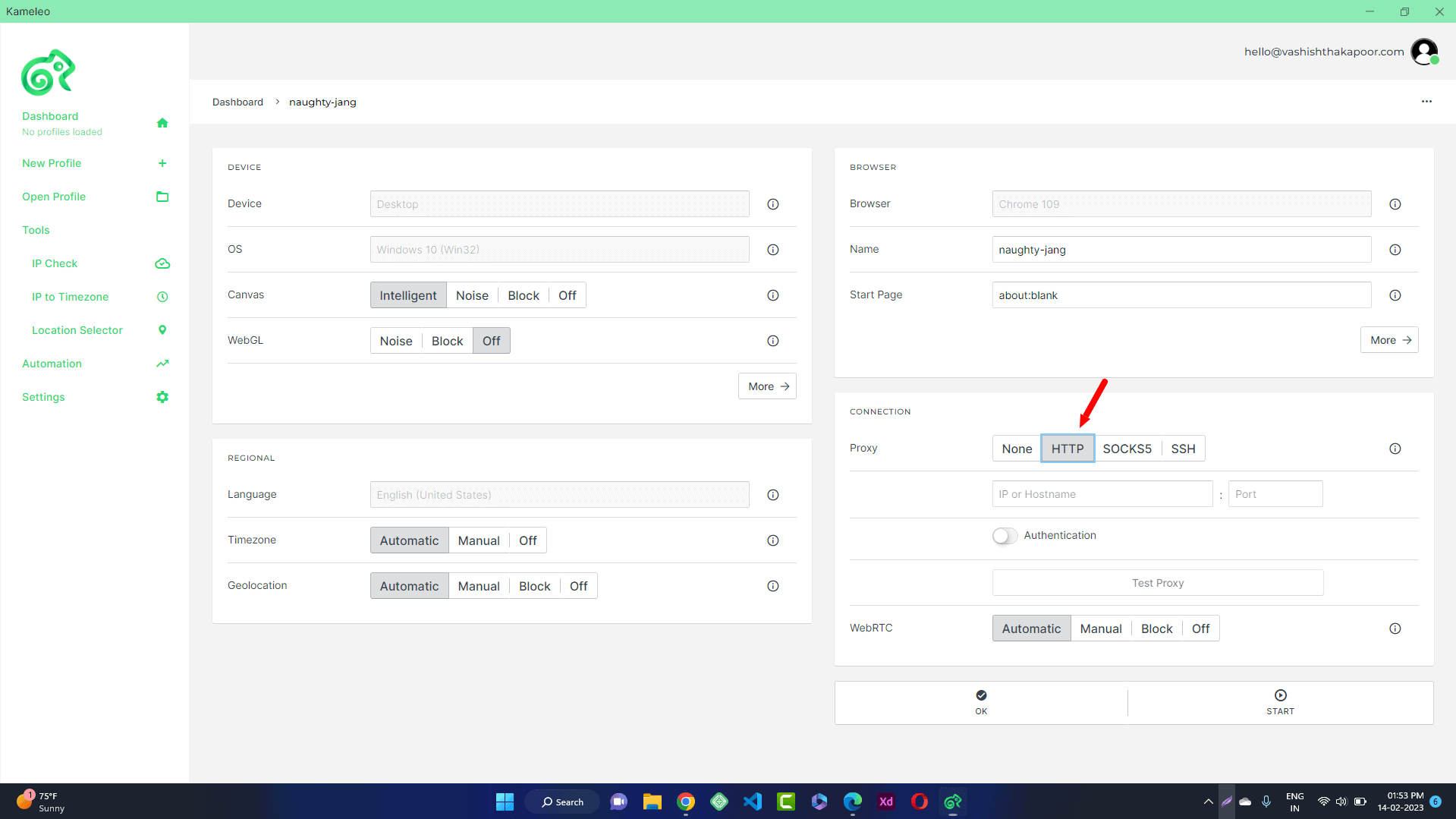 Step – 14: I am using the HTTP proxy of ProxyEmpire.io, so I will enter the Hostname/IP, and Port. Enable the Authentication toggle button to green.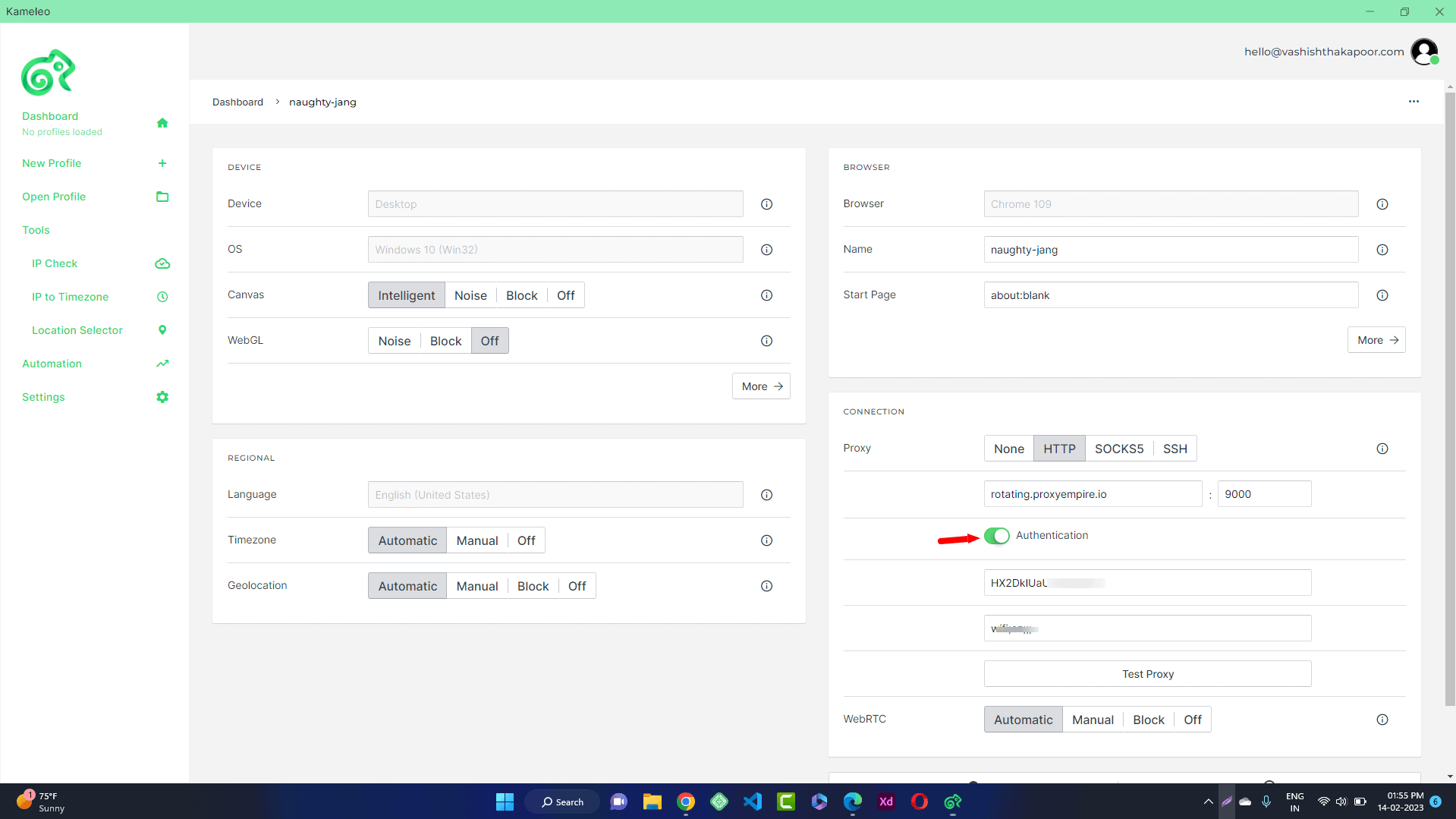 Step – 15: Change the Browser name and Start page.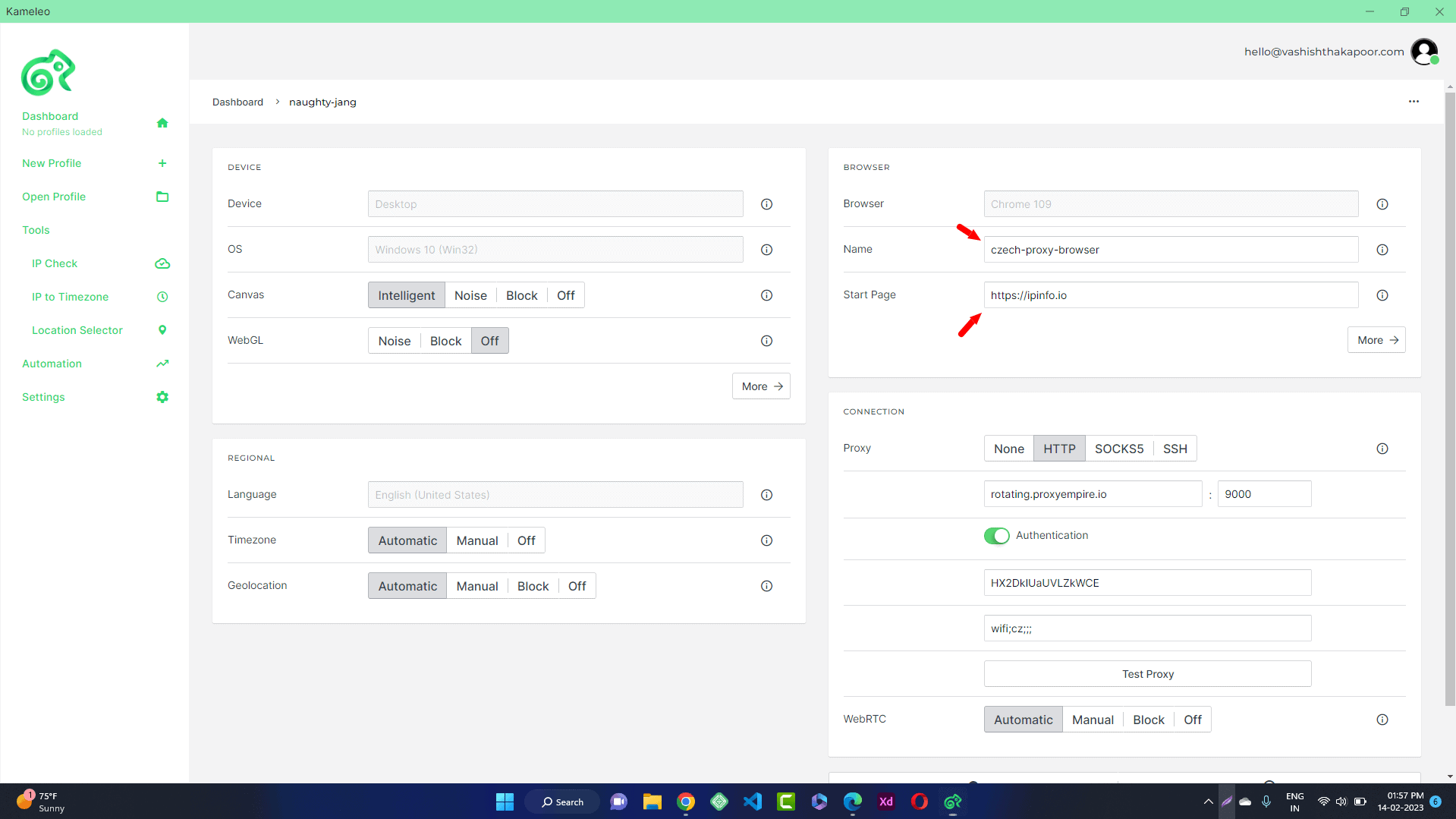 Step – 16: You can see that the settings have been configured. Click on Start to start browsing.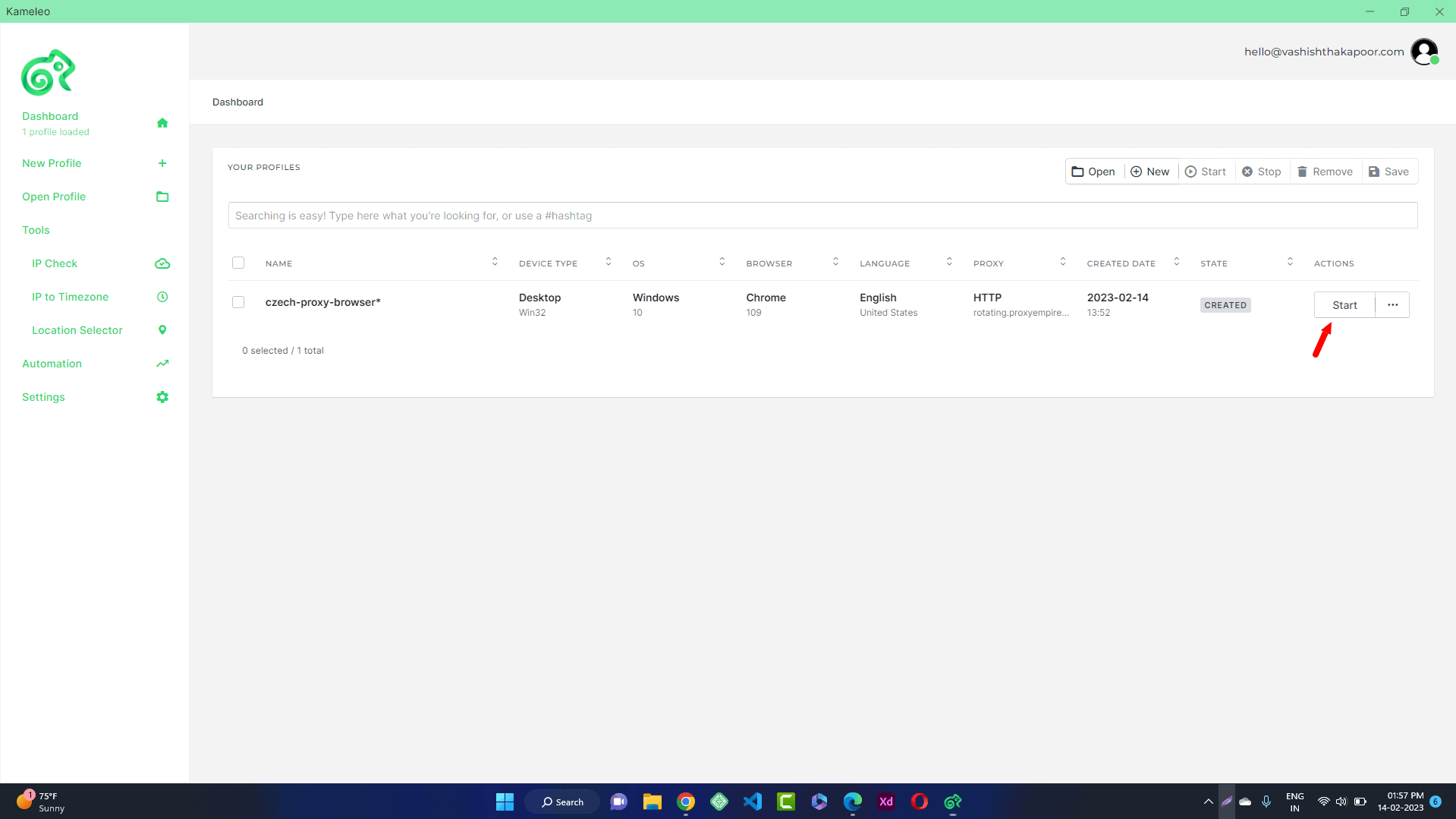 Step – 17: A new Chrome browser Window opens up from where you can browse anonymously.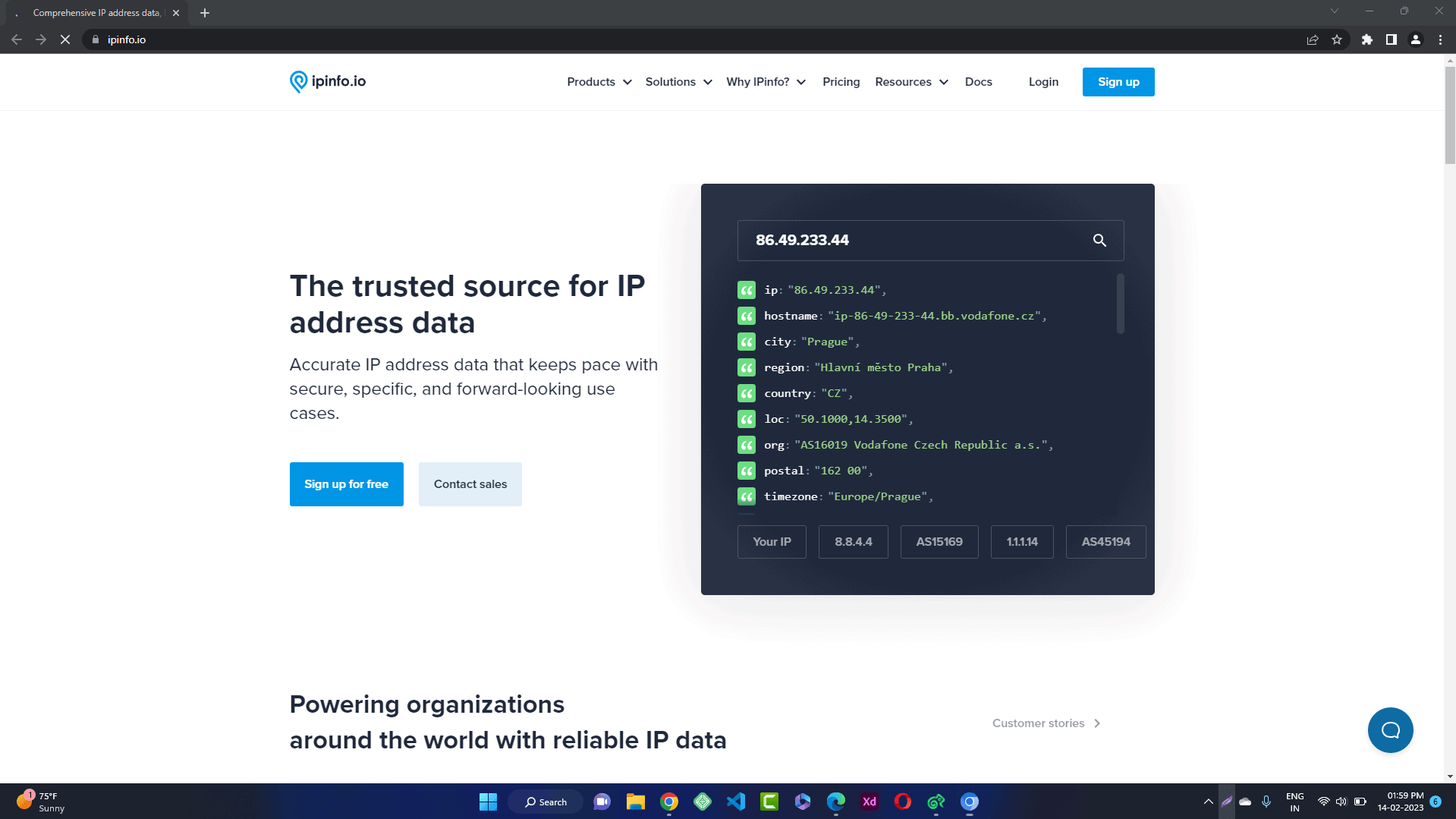 In the Tools section, you can check the IP address, IP To Timezone, and select a location.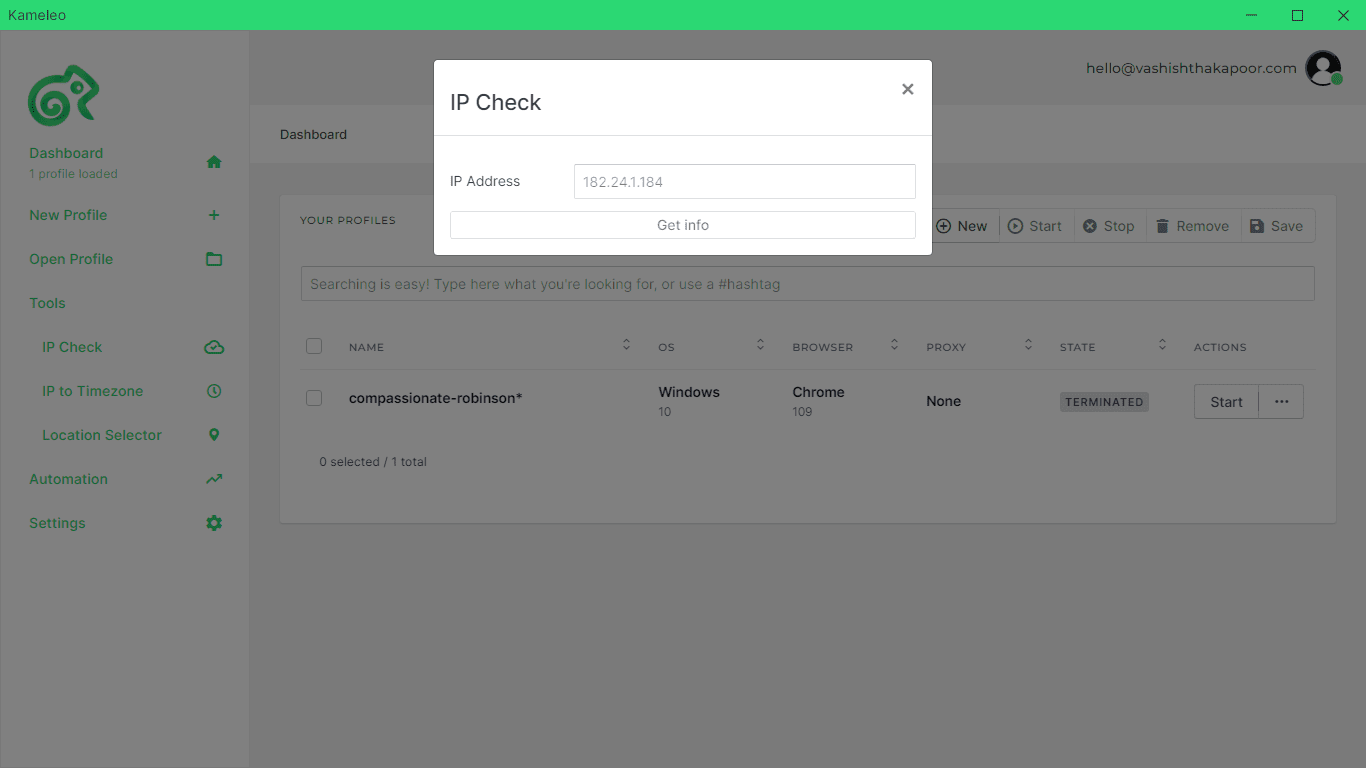 The Automation feature allows you to automate your browsing tasks. This includes account & profile creation, online purchases, and more.
Kameleo supports three frameworks for automation which you can choose for your virtual browser profile. This includes Selenium, Puppeteer, and Playwright.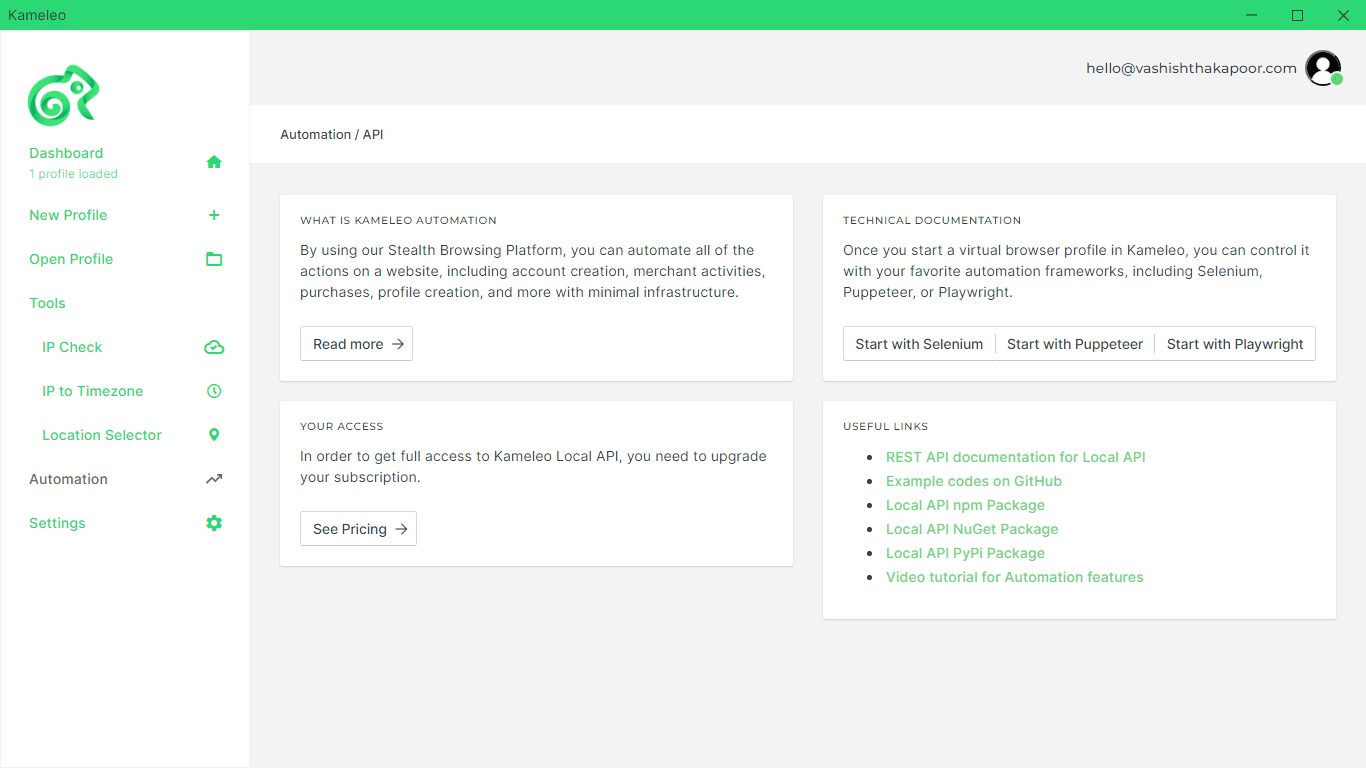 Explore the Kameleo browser platform as you want.
Kameleo Speed Test Results
Let us check the real speed test of how Kameleo browser performs. I visited speedtest.net to check the real-time speed of the browser.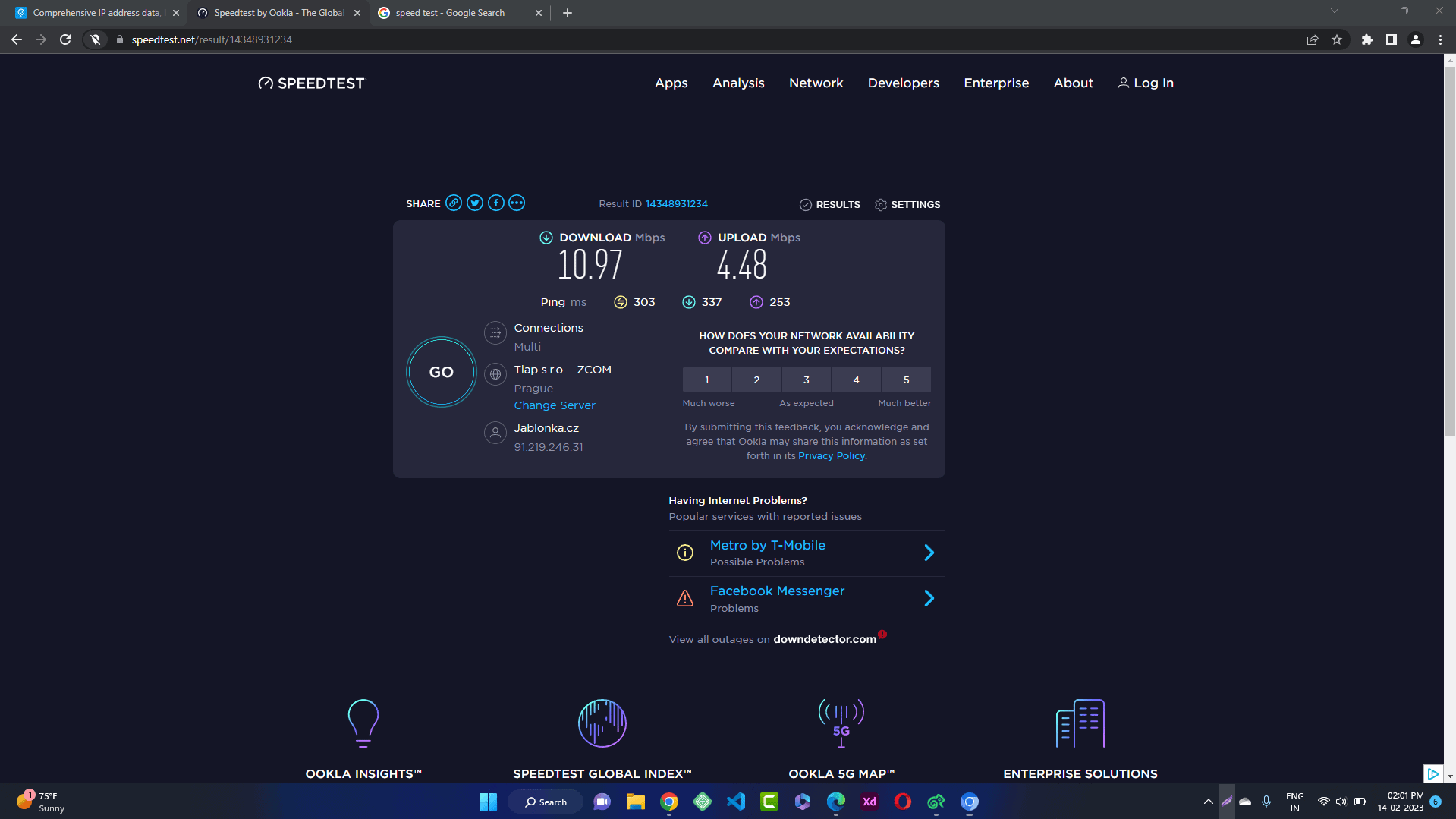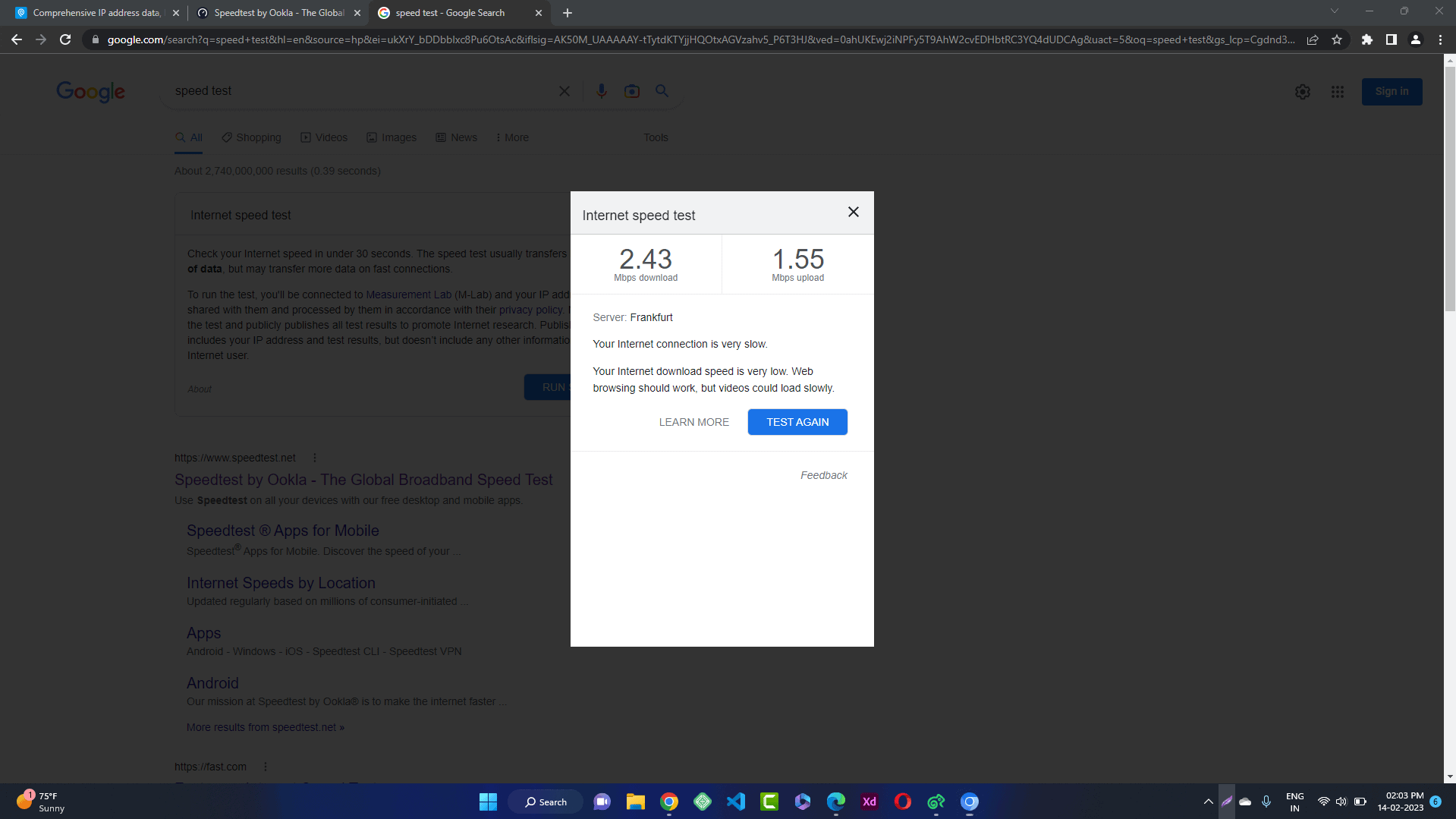 Kameleo Key Mobile Features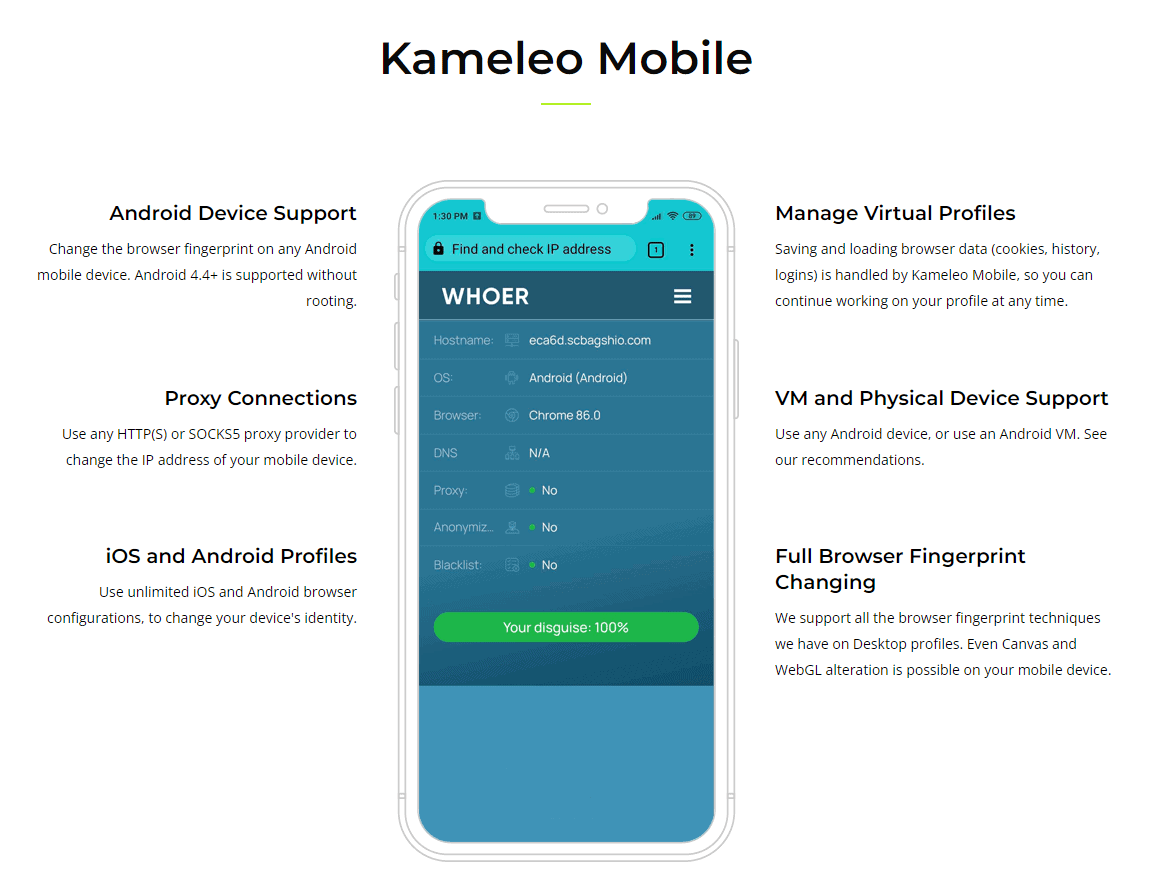 Manage Virtual Profiles
Kameleo Mobile is here to help you stay connected and productive – no matter where your day takes you! With its ability to save and load important browser data like cookies, history, & logins, Kameleo ensures that all your hard work will follow.
Keep on top of what matters most without disruption!
iOS & Android Profiles
You can control your device's identity with just a few clicks using unlimited iOS and Android browser settings. So make sure to explore these options for the ultimate user experience!
Proxy Connections
Need to be happier with your IP address? Switch it up by using a proxy provider. You can give yourself an entirely new digital identity with any HTTP(S) or SOCKS5 connection. So, get creative and explore the possibilities.
Android Device Support
Update your anonymity on Android with a few easy steps. Make sure you have 4.4+ and start changing up that browser fingerprint – no rooting required!
Now enjoy total peace of mind while browsing the web from your mobile device.
VM & Physical Device Support
Ready to experience the world of Android? Get your hands on any device that runs Google's Operating System or even go for a Virtual Machine, and you can unlock all the possibilities. They've got some suggestions to help with getting started.
Kameleo Automation
Browser automation is a dynamically complicated field. Nonetheless, Kameleo offers a realistic answer. Their stealth surfing software simplifies the administration of virtual browser profiles and modifies your browser's fingerprint to improve the accuracy of scraping results. This avoids scraping obstacles like reCAPTCHA and anti-bot procedures.
Once you launch Kameleo on your PC, you will have access to a local API that you can use to automate all of your Kameleo actions. You may easily use the REST API from your code (C#, NodeJS, Java, Python, Javascript, etc.) to execute graphical interface operations such as creating, launching, and storing profiles.
After launching a virtual browser profile in Kameleo, you may control it using your preferred automation frameworks, such as Selenium, Puppeteer, and Playwright. Their Stealth Browsing Platform conceals your use of automated technologies, preventing websites from detecting you.
Their development team produced NuGet, NPM, and Python packages to interact with Kameleo Local API to simplify the integration process and enable you to begin working on Kameleo as soon as feasible. Less than ten lines of code are required to start a profile using these libraries.
Why Do I Recommend Using Kameleo?

Automation
Avoid online risks with Selenium Stealth WebDriver! Quickly and easily create hundreds of profiles, eliminating the daunting task of manual entry. Stay safe in today's digital world while maintaining your privacy every step of the way!
Mobile Profiles
With just a few taps and clicks, you can completely redefine how your device interacts with the world. Unlock new levels of security and freedom by changing up your mobile's fingerprint plus proxy connection today!
Multi accounting
Make collaboration more accessible and faster with Kameleo's user profile management. Easily share, access, or update all your browser profiles with your team in just a few clicks.
Protection
Enhance your privacy by ensuring you have a different IP address and fingerprint for each web browser. This will help keep your identity under wraps so no one can track you online!
Developer Documentation

Looking to make the most of Kameleo? Their team has worked hard to ensure it's as flexible and easy to use as possible.
To get up and run in no time, follow some simple steps. Also, check out their top tips for taking your experience with Kameleo to a whole new level!
Python, NodeJS, and NuGet Package

Their developer team has crafted a straightforward and efficient way to get up and running with Kameleo.
Thanks to their handy NuGet, NPM & Python packages, your profile is just a few lines of code away.
So, you will only have a short time before taking advantage of the full power of their Local API.
Use Your Favorite Framework

Kameleo's Stealth Browsing Platform allows you to go undetected on websites, so your browsing experience stays smooth and secure.
With virtual browser profiles, take control with Selenium, Puppeteer, or Playwright – whatever automation framework best suits your needs!
Local API

With Kameleo, you can access a local API that will enable you to control your experience programmatically.
No matter what coding language is at hand – be it C#, NodeJS, Java, or Python – the REST API allows you to have full authority over creating and managing profiles without leaving the comfort of your keyboard.
Stealth Browsing Platform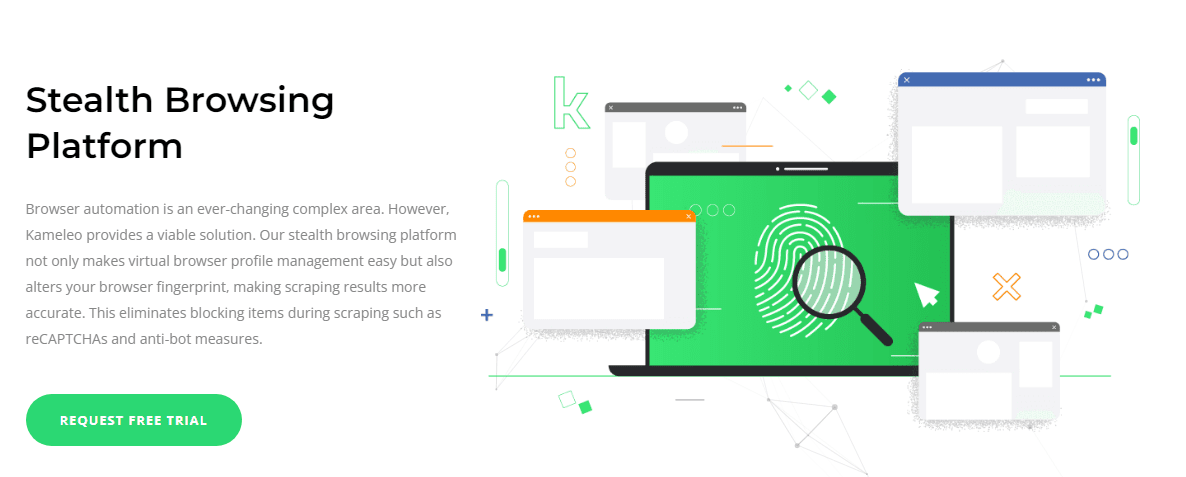 With Kameleo, you can take the complexity out of browser automation. Their sophisticated platform makes virtual profile management effortless while upgrading your browsing fingerprint to increase accuracy during scraping activities.
No more getting blocked by those pesky reCAPTCHAs or anti-bot measures!
Kameleo Pricing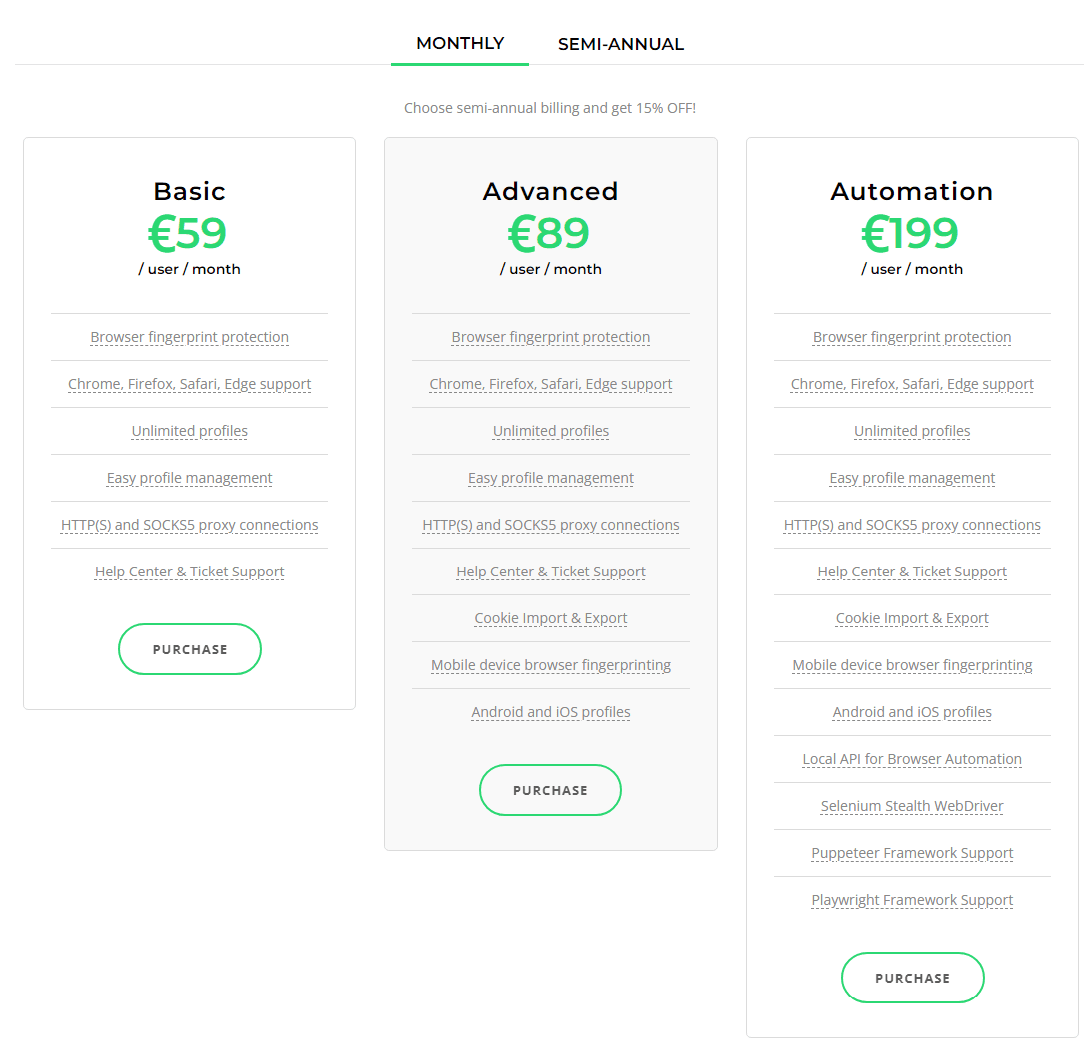 Kameleo only offers monthly and semi-annual plans. Choosing the semi-annual plans entitles you to a 15% discount.
You can buy any of the three plans and use them on as many devices as you want. But, you cannot log in to multiple devices at the same time.
One license can be used at one instance on one device.
The best part is that you can pay via cryptocurrencies like Bitcoin, Ethereum, and USD Coin.
Kameleo Pros and Cons
PROS 👍
IP address & browser fingerprint changing for anonymity. This can be done even for a mobile device.
Multi-accounting feature for profile management.
Selenium Stealth WebDriver platform keeps you under the radar when you use a browser automation framework (Such as Selenium, Puppeteer or Playwright).
Seamlessly use for social media marketing, eCommerce, web scraping, etc.
Local API to automate all your tasks.
CONS 👎
Only monthly & semi-annual plans. No annual subscription plan is available.
Can't see any technical support via phone. But the knowledgebase is extensive. Moreover, you can submit a request and expect to be contacted via email.
FAQs
How does Kameleo work?
To get started, quickly purchase a plan. Once your subscription is activated, you can install the Kameleo desktop application in a few seconds. The default configuration saves you time. That's it! You are ready to enjoy the automation browser platform.
Does Kameleo accept bank transfers?
Yes, Kameleo does accept bank transfers for the purchase of any plan. But the order value should be above 1000 EUR. Wire transfer requires time for plan activation and could take up to 2 business days.
Is Kameleo safe?
With Kameleo, you can browse with peace of mind knowing that your identity is safe and secure. Additionally, since all of your data is encrypted before being sent over the internet, no one else will be able to access it, even if they somehow intercept it.
Conclusion – Why Use Kameleo?
The most obvious reason you should use Kameleo is multi accounting or web scraping without any limitations.
With Kameleo, you also get increased privacy and security online. When you connect to Kameleo, your web activity will be invisible to governments, ISPs, advertisers, and hackers.
Another great reason to use Kameleo is that it helps you bypass regional censorship and access geo-restricted content worldwide.
With its extensive server network spanning 60 countries worldwide, you can easily switch between different locations at any time to gain access to content that would otherwise be blocked in your current location.
If this sounds like something you need, then definitely give it a try.