Pros/Advantages
Expertise in dating verticals
Direct advertiser relationships
Postback tracking
Dedicated support team
High and exclusive payouts
Cons
Limited vertical focus
Potential competition
In the fast-paced world of affiliate marketing and advertising, finding a reliable and effective platform is crucial for success. In this comprehensive review, we delve into the capabilities of Mirelia Networks, a leading player in the industry.
By exploring its innovative features, specialized expertise, and commitment to delivering exceptional results, I aim to provide a detailed analysis of why Mirelia Networks stands out among its competitors. Join me as we dive into this in-depth review, examining the strengths, advantages, and potential drawbacks of partnering with Mirelia Networks in the dynamic landscape of affiliate marketing and advertising.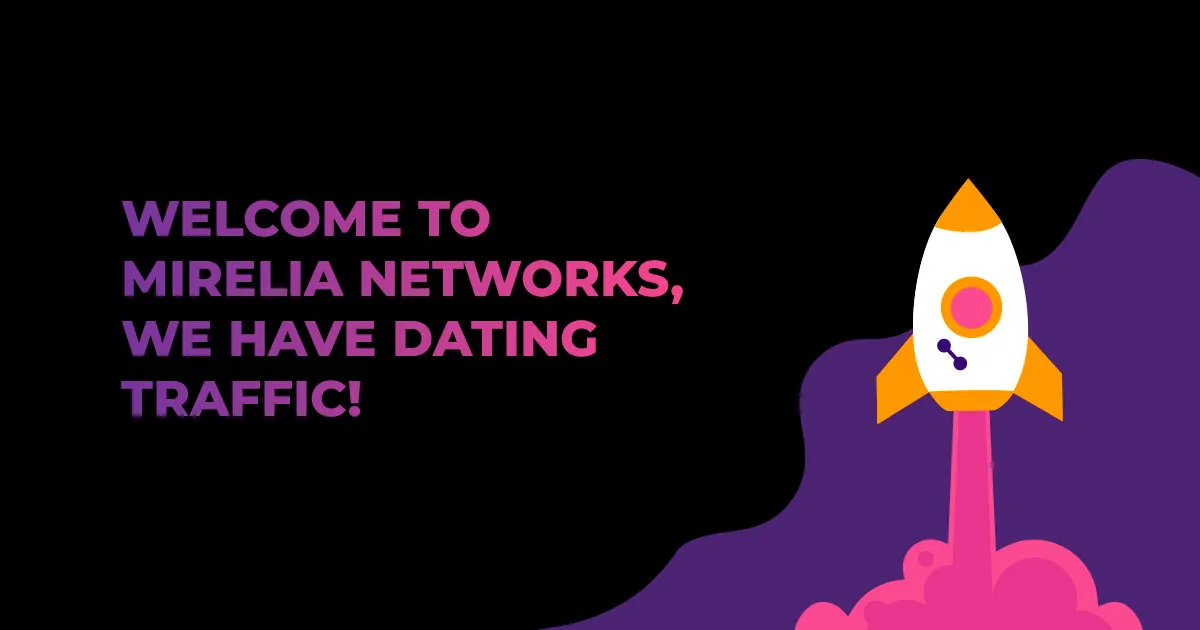 Mirelia Networks is a leading provider of smart advertising solutions that leverages its extensive experience in affiliate marketing and advertising. As a user of Mirelia Networks, I have witnessed firsthand the effectiveness of their technological solution in helping advertisers reach their targeted audience in the most convenient and efficient way.
When you choose Mirelia Networks, you gain access to a vast amount of high-quality mobile, desktop, and tablet traffic for your offers. What sets Mirelia Networks apart is its unwavering commitment to using only the highest-performing creatives and implementing smart targeting strategies. This ensures that your advertising campaigns are optimized for success.
One of the key advantages of working with Mirelia Networks is their real-time statistics and integration with leading market trackers. This means that as a user, I have access to up-to-date and accurate data that empowers me to make informed decisions and optimize my advertising strategies accordingly.
However, Mirelia Networks is not just focused on delivering exceptional results for its clients. They also have a social mission to transform modern digital advertising into a more engaging, creative, and effective platform. Through their unique optimization technology, they strive to make every advertising experience personalized and tailored to meet the precise needs of their partners.
What truly sets Mirelia Networks apart is its dedication to building strong relationships with its partners. They believe in adding a personal touch to everything they do, working directly with each partner to understand their specific needs and provide customized solutions.
As a user, I am impressed by the scale of Mirelia Networks' operations. With 30 million clicks per month, 1.5 billion impressions per month, and 1.5 million active daily users, they have a vast reach that ensures your advertising messages are seen by a wide audience. Furthermore, Mirelia Networks covers over 20 tier GEOS, which means they have a global presence and can help advertisers target audiences in various regions around the world.
Who is Mirelia Networks For?
Ad Networks: Increase your profits through direct link integration –
As an ad network, you can significantly boost your profitability by leveraging Mirelia Networks' advanced technologies. Through seamless direct link integration, you gain access to Mirelia's vast inventory of high-quality traffic. This integration allows you to expand your reach and target specific audiences, resulting in increased revenue for your network.
Agencies: Select a desired audience through their smart targeting solutions and get detailed statistics on your side –
For agencies looking to run successful advertising campaigns, Mirelia Networks offers smart targeting solutions that enable you to reach the right audience. By leveraging their advanced targeting capabilities, you can define specific demographics, interests, and other relevant criteria to ensure your campaigns are delivered to the most receptive audience. Additionally, Mirelia Networks provides detailed statistics and real-time data, empowering you with valuable insights to optimize your campaigns for maximum effectiveness.
Direct Advertisers: Promote your own website effectively by driving their high-quality traffic directly –
If you are a direct advertiser seeking to promote your own website or products, Mirelia Networks is the ideal partner for driving high-quality traffic. Their extensive network of users, consisting of millions of active daily users, ensures that your message reaches a large and engaged audience. By leveraging Mirelia Networks' expertise in optimization and creative performance, you can effectively drive traffic to your website and increase conversions.
Affiliates: Drive traffic to different verticals and optimize your campaigns to get higher profits –
Affiliates can take advantage of Mirelia Networks' comprehensive platform to drive traffic to various verticals and maximize their profits. With their vast inventory of mobile, desktop, and tablet traffic, you can effectively target specific audiences and optimize your campaigns for better performance. Mirelia Networks' real-time statistics and integration with leading market trackers provide you with fresh data to make informed decisions and refine your strategies for higher profitability.
Mirelia Networks – Supported Ad Formats
Native Interstitials:
Native Interstitials are a highly engaging ad format that combines captivating images and compelling headlines. These ads seamlessly blend with the design and content of websites, creating a natural and non-disruptive advertising experience for users. By targeting an already engaged audience, Native Interstitials have proven to deliver higher conversions. When utilizing this ad format through Mirelia Networks, I have experienced the benefits of engaging users effectively and achieving better results.
Display Banners:
Display Banners are a classic yet highly effective ad format supported by Mirelia Networks. These banners can be strategically placed at the top or bottom of a content page, ensuring maximum visibility to website visitors. Display Banners capture attention and deliver targeted messages, promoting brand awareness and enticing users to take action. As a user of Mirelia Networks, I have utilized Display Banners to effectively communicate my offerings and attract potential customers.
Native Ads:
Native Ads are another popular ad format offered by Mirelia Networks. Similar to Native Interstitials, Native Ads engage users through compelling images and headlines, seamlessly blending with the website design and content. This integration allows for a more organic and non-intrusive advertising experience, resulting in higher conversions. By leveraging Native Ads through Mirelia Networks, I have been able to target an already engaged audience and achieve better campaign performance.
How To Sign Up For Mirelia Networks?
Step – 1: Go to the official website of Mirelia Networks and click on 'Register'.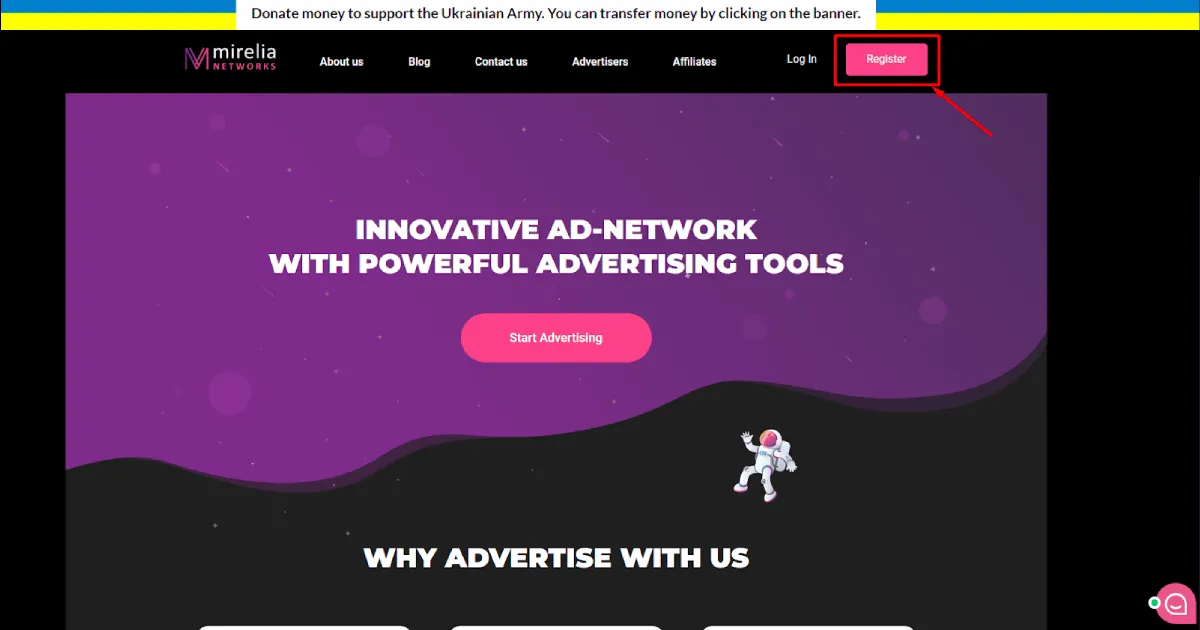 Step – 2: Fill in the details asked for, check the boxes, and click on 'Register'. You can also sign up through Google.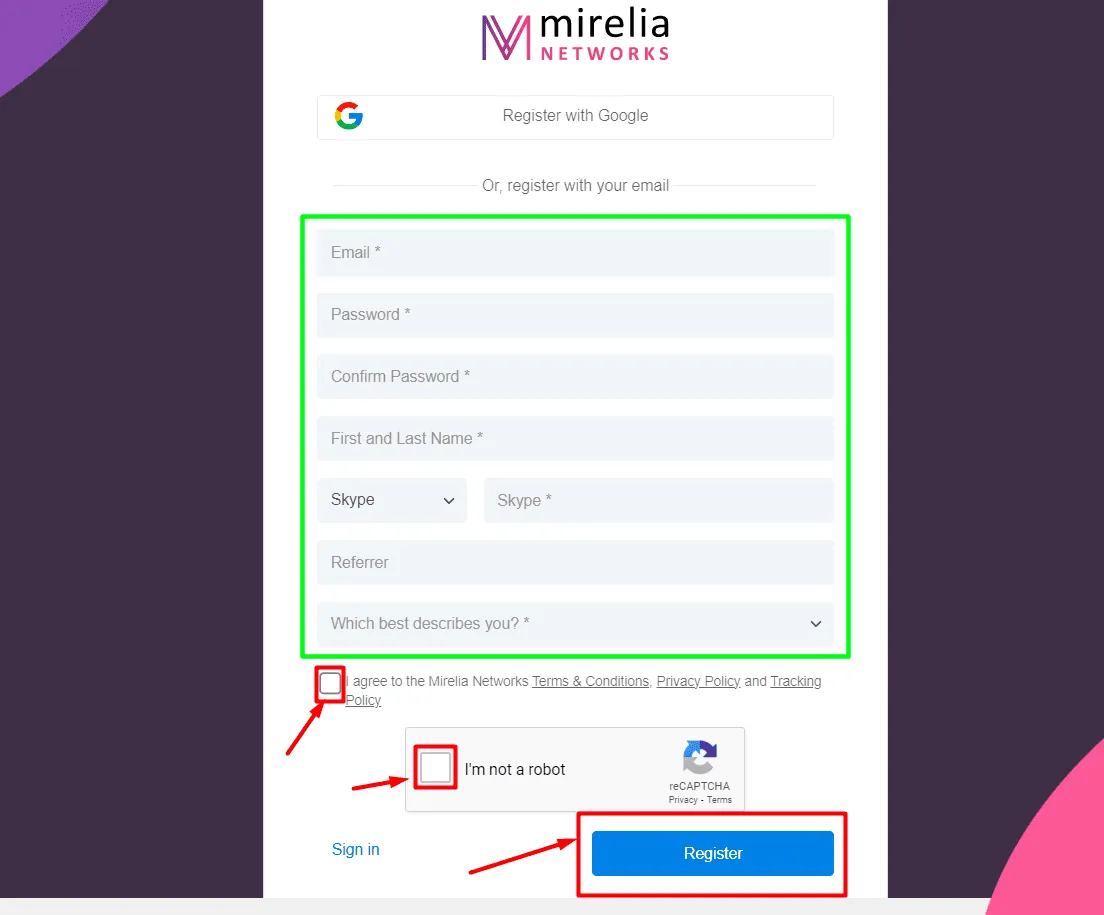 That is it. You are good to go.
Mirelia Networks for Advertisers
Split Test: Mirelia Networks understands the importance of optimizing advertising campaigns. With their Split Test feature, advertisers can test their offers on low volumes of traffic, allowing for experimentation with different traffic segments and landing pages. This invaluable feature enables advertisers to gather data-driven insights and make informed decisions to enhance campaign performance and increase conversions.
Fraud Protection: It prioritizes the integrity of their traffic. They employ powerful in-house and third-party filtering tools to scan their traffic for bots, viruses, and malware. This robust fraud protection system ensures that advertisers like me receive genuine and high-quality traffic, minimizing the risk of fraudulent activities and optimizing the effectiveness of my ad spend.
Personal Account Managers and Fast Live Support: Mirelia values its advertisers and provides dedicated Account Managers who are readily available to assist with any issues or questions. The presence of a dedicated Account Manager ensures that advertisers receive personalized and timely support, allowing for the smooth running of campaigns and effective resolution of any concerns.
Variety of Payment Methods: This network offers a variety of payment methods, making it convenient and easy for advertisers to top up their account balances. This flexibility ensures that advertisers can choose the payment option that best suits their preferences, enabling a seamless and hassle-free experience.
Innovative Self-Service Platform: They provide an innovative self-service platform that is easy to use and navigate. With their intuitive Demand-Side Platform (DSP), advertisers can create and manage campaigns with ease. The platform's fast campaign creation and approval process ensures quick deployment, allowing advertisers to swiftly launch their campaigns and start driving results.
Traffic from Member Area: Mirelia Networks sources traffic from its own member area, ensuring reliability and quality. With large quantities of high-quality (HQ) traffic available, advertisers can reach a broad and engaged audience, maximizing the potential for conversions and success.
Competitive Rates: They offer competitive rates for quality traffic from top-tier GEOs, starting as low as 0.01$. This affordability allows advertisers to optimize their advertising budget while still accessing high-quality traffic from desirable locations.
Time: Mirelia provides the flexibility for advertisers to choose specific times and dates to run their campaigns. This feature allows for greater control over campaign scheduling, enabling advertisers to target their audience at the most opportune moments.
Bid Recommendation: Mirelia assists advertisers by providing suggested minimum bids based on campaign specifications. This guidance helps advertisers set competitive bids that are aligned with their goals, optimizing their chances of success.
Budget Cap: Their network empowers advertisers to control their expenditures by setting a budget cap for each campaign. This feature allows advertisers to allocate their advertising budget effectively, preventing overspending and maintaining control over their financial resources.
Frequency Cap: Mirelia Networks offers advanced frequency capping on each campaign, allowing advertisers to manage the number of times their ads are shown to individual users. This feature ensures that ad frequency remains at an optimal level, preventing overexposure and fatigue among the target audience.
Mirelia Networks for Affiliates
Dating Vertical Expertise: Mirelia Networks specializes in the dating vertical, and their expertise in this field is unmatched. With over 9 years of experience in the dating industry, their team has developed unique insights and strategies that drive exceptional results. Mirelia Networks has established exclusive relationships with top affiliates and advertisers, boasting a portfolio of high-performing dating offers in Tier 1 GEOs. This specialization ensures that affiliates have access to the best offers and can tap into the lucrative dating market.
Direct Advertiser Relationships: Mirelia prioritizes direct relationships with advertisers, creating a seamless and efficient affiliate experience. With over 70% of their partners connected via API, affiliates can benefit from real-time tracking and reporting, ensuring accurate and up-to-date campaign performance data. This direct integration enhances efficiency and allows for the effective optimization of campaigns.
Postback Tracking: Their network offers postback tracking, a crucial feature for affiliates. With postback tracking, affiliates can accurately track conversions and attribute them to specific campaigns, sources, or traffic channels. This level of tracking granularity empowers affiliates to optimize their campaigns and maximize their earnings.
Expert Support: It provides expert support to its affiliate partners. Their team of experienced professionals is dedicated to assisting affiliates with any questions, issues, or concerns they may have. This hands-on support ensures that affiliates receive the guidance and assistance they need to achieve success in their campaigns.
High and Exclusive Payouts: Mirelia Networks values its affiliate partners and offers high and exclusive payouts for its top-performing offers. By working with Mirelia Networks, affiliates can expect competitive commission rates and the potential for significant earnings. The focus on exclusive offers ensures that affiliates have access to premium campaigns that yield excellent returns.
Flexible Business Models: They understand that every affiliate has unique needs and preferences. That's why they offer flexible business models that cater to various affiliate marketing strategies. Whether it's CPA (Cost Per Action), CPL (Cost Per Lead), or CPI (Cost Per Install), Mirelia Networks provides the flexibility to choose the business model that aligns with each affiliate's goals and preferences.
Personal Relationships: Mirelia believes in building personal relationships with its affiliates. They prioritize direct communication and collaboration, ensuring that affiliates receive personalized attention and support. This level of partnership fosters trust, enhances cooperation, and ultimately leads to long-term success.
Why Do I Recommend Using Mirelia Networks?
Innovative DSP:
Mirelia Networks offers an innovative Demand-Side Platform (DSP) that is incredibly user-friendly. Their Self-Serve Platform allows me to easily create and manage my advertising campaigns, with fast campaign approvals ensuring that my ads are up and running quickly. The intuitive interface and streamlined workflow make it a breeze to navigate and optimize my campaigns effectively.
Competitive Rates:
Mirelia Networks provides highly competitive CPC (Cost-Per-Click) and CPM (Cost-Per-Thousand-Impressions) rates, particularly in Tier 1 Geos. This means that I can maximize my advertising budget and achieve a higher return on investment (ROI) compared to other platforms. With Mirelia Networks, I have peace of mind knowing that I am getting great value for my advertising spend.
HQ Traffic:
One of the standout features of Mirelia Networks is their own high-quality traffic from the member area. This ensures that the traffic you receive is genuine, engaged, and relevant to my target audience. By leveraging their HQ traffic, you can effectively reach and engage potential customers, resulting in better campaign performance and conversions.
Integration Options:
Mirelia Networks offers flexible integration options to suit different needs. Whether it's integrating via API (Application Programming Interface), RTB (Real-Time Bidding), or utilizing their White Label solution, Mirelia Networks provides the necessary tools and support to seamlessly integrate their platform into existing systems or workflows. This level of integration flexibility allows me to work efficiently and effectively within my preferred setup.
24/7 Support:
Mirelia Networks values its customers and provides excellent support. Their dedicated support team and account managers are available 24/7 to address any questions, concerns, or technical issues that may arise. I appreciate having a reliable point of contact who can assist me promptly and efficiently, ensuring a smooth and seamless advertising experience.
Security Measures:
Mirelia Networks takes security seriously. They implement manual monitoring, anti-fraud software, and alert systems to protect advertisers and maintain a secure advertising environment. This gives me peace of mind knowing that my campaigns are safeguarded against fraudulent activities, ensuring that my advertising budget is utilized effectively.
Mirelia Networks Pros and Cons
Mirelia Networks Pros
Expertise in dating verticals
Direct advertiser relationships
Accurate conversion attribution
Personalized assistance
High payouts for top affiliates
Flexible business models
Convenient payment methods
Easy campaign management
Trust and long-term collaboration
Mirelia Networks Cons
Conclusion
The availability of postback tracking, flexible business models, and dedicated support further solidify their position as a reliable partner in the industry. While its focus on the dating vertical may limit some affiliates' options, the exclusive high-performing offers and competitive rates ensure ample opportunities for growth.
Mirelia Networks' commitment to fraud protection, variety of payment methods, and personal relationships with affiliates contribute to a seamless and fruitful collaboration. By leveraging its innovative DSP, real-time tracking, and optimization features, affiliates can tap into Mirelia Networks' HQ traffic and achieve impressive conversions. However, it is important to note the potential competition among affiliates for exclusive offers as a possible drawback.