Pawns.app (formerly IPRoyal Pawns) is a website that says you can passively make additional money online by sharing your internet connection. But is Pawns legitimate and a terrific passive income opportunity, or is it a scam to avoid? This is vital information, so let me handle it immediately.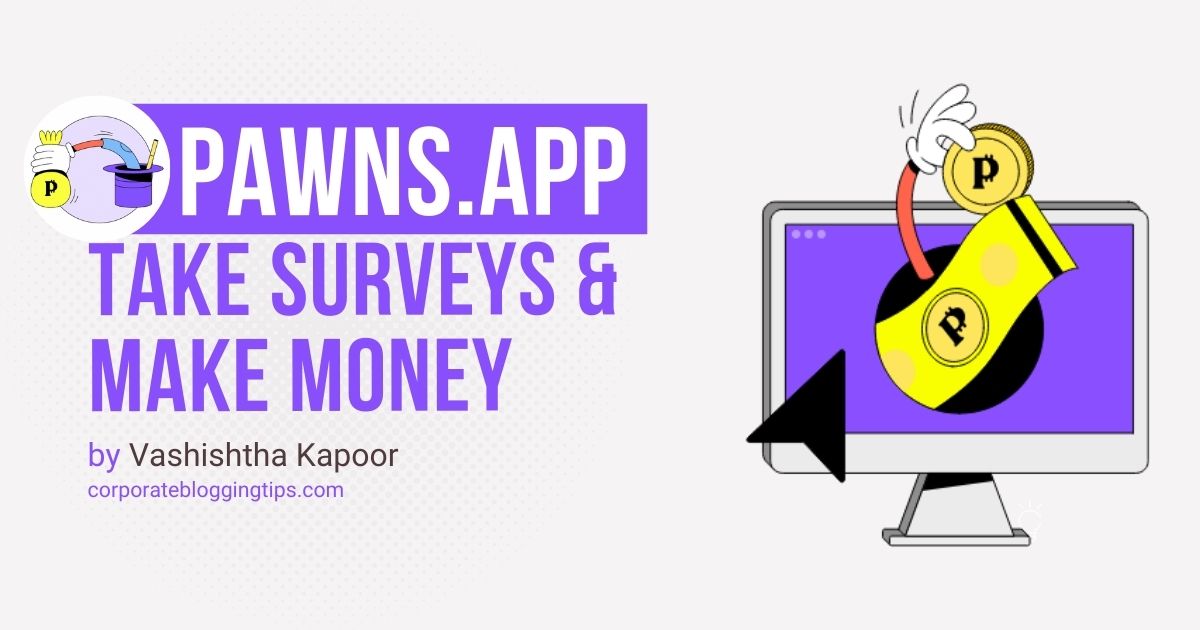 Yes, Pawns.app is a legitimate Get-Paid-To (GPT) website that will pay you for completing surveys.
This Pawns.app review will provide comprehensive information so you know what to anticipate before signing up. Thus, you can assess whether the site is appropriate for you.
What is Pawns.app?
OVERVIEW
Install the app/software on a PC or smartphone and complete surveys to earn cash and gift cards

For all ages (Under 18, please do get permission from your parents/guardian before use)

$0.20/GB (1 device per IP)

(1) Taking Surveys, (2) Affiliate program & (3) 10% from every invited user (every time they withdraw their earnings)

PayPal or Bitcoin and Gift Cards (Surveys only)

Generally in a day or two
Pawns.app is a "Get-Paid-To" application that enables anybody to earn a passive online income by taking surveys. You can also earn money by sharing internet bandwidth. This bandwidth is used by Pawns.app customers for various commercial operations, including price research, trademark protection, and content distribution. Your home IP address, which is advantageous for this kind of usage, is the determining factor.
How To Earn Money by Taking Surveys using Pawns.app?
Initially, Pawns.app was only compatible with desktop and laptop computers. Pawns.app has nonetheless just developed an Android app. Installing the application from the Google Play Store lets you instantly make money with your Android phone.
As long as the linked devices are on separate networks, there are restrictions on the number of allowed devices. One network and one device are the norms. Thus, it is compatible with laptops and mobile devices.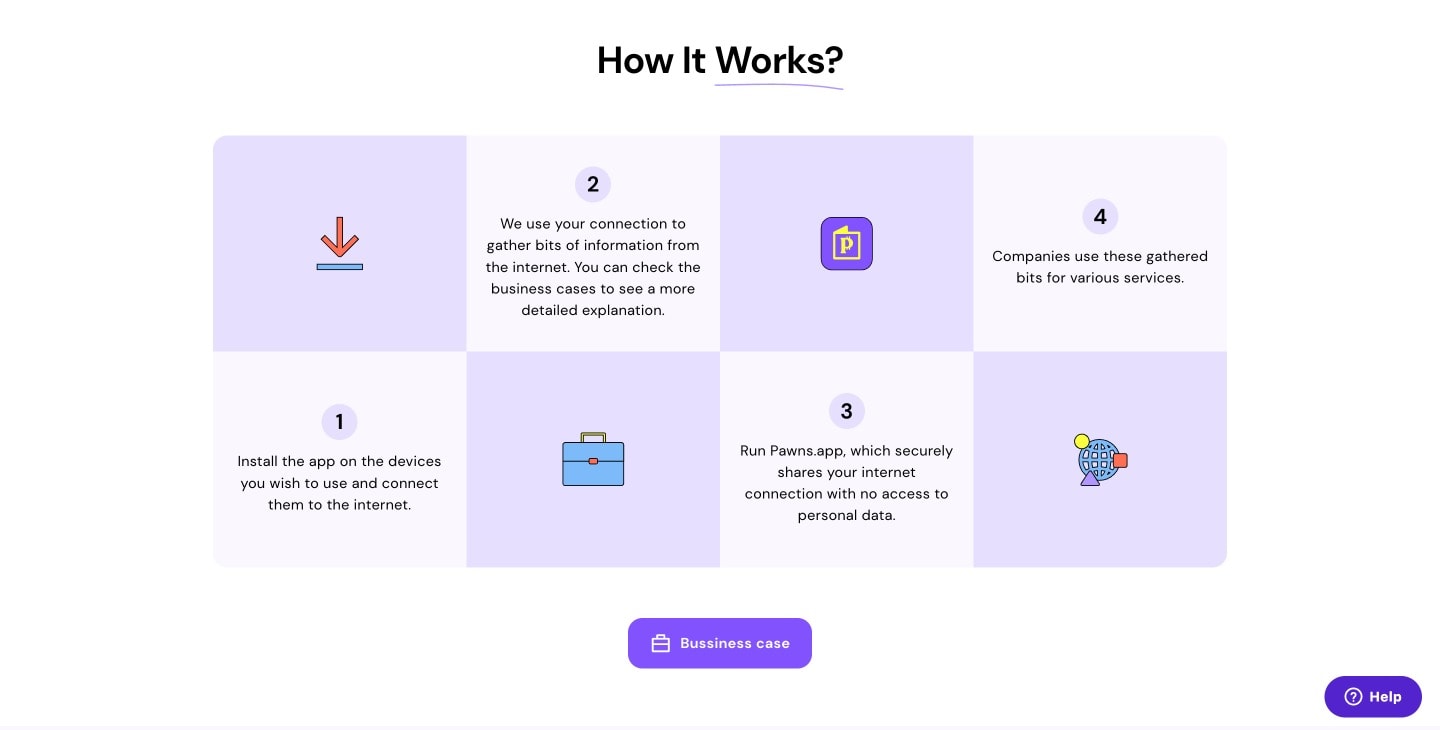 Your revenue is mainly influenced by the number of surveys you participate.
Here's how you can start.
Simply download the app from Google Play store.
Once downloaded, open the app.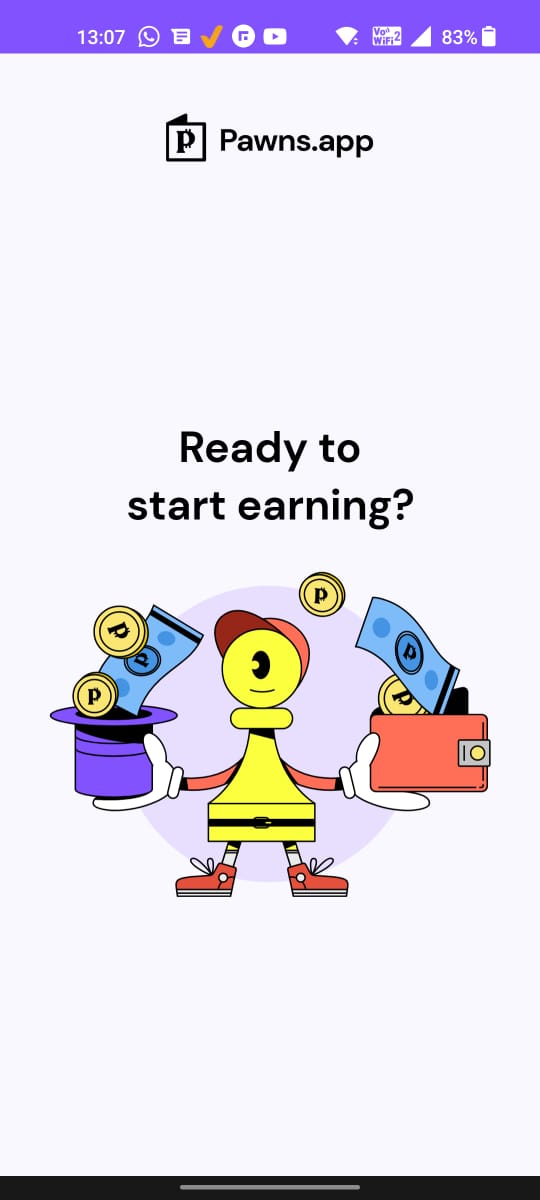 Click on the button where it says "Start Earning".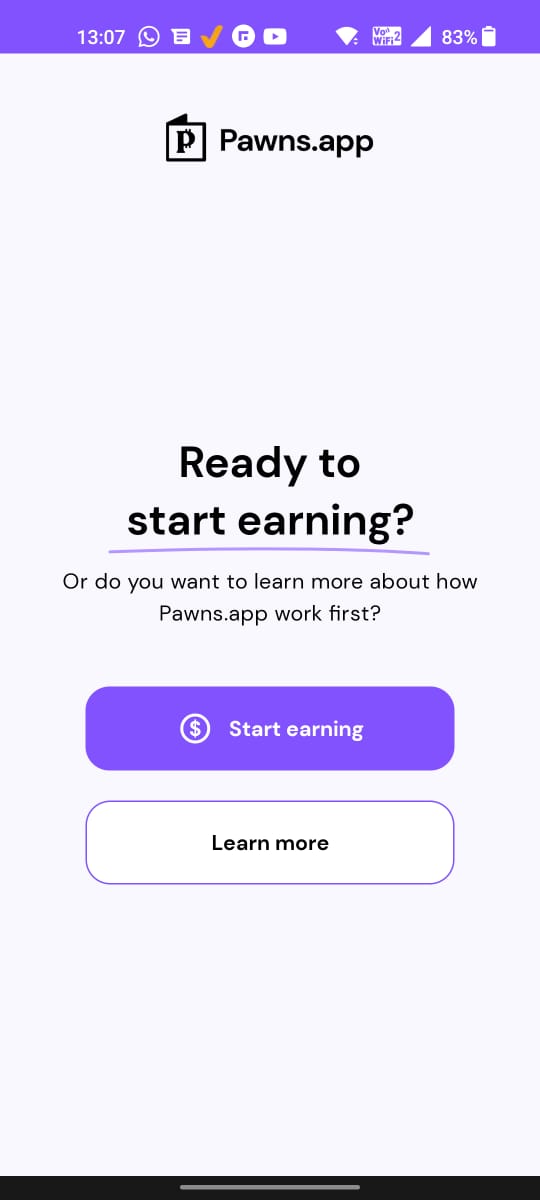 Sign in with your Pawns.app account or create one.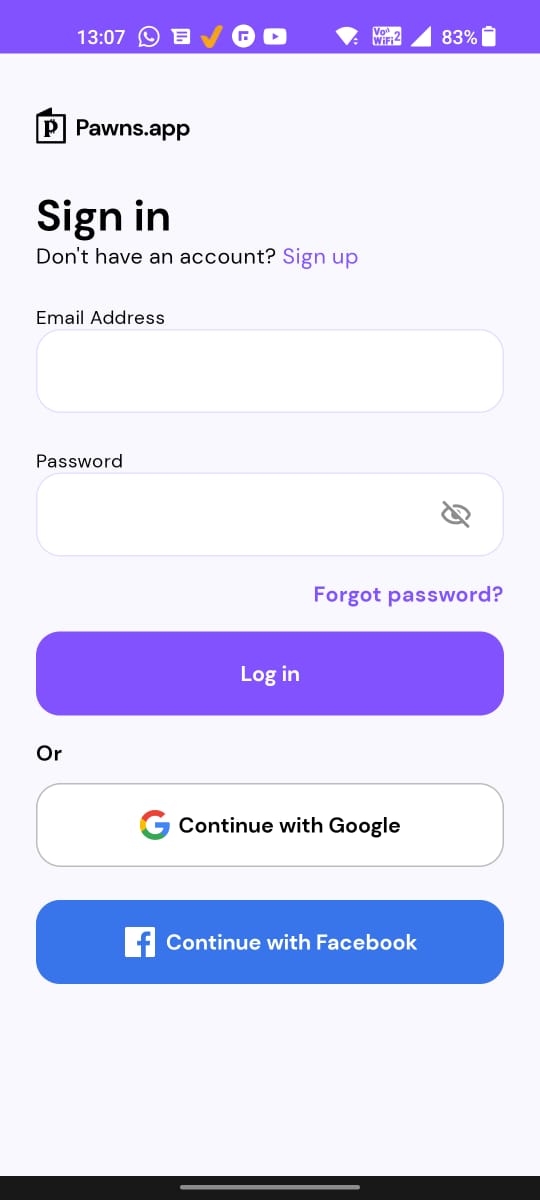 After successful login, you can see the middle tab for Surveys.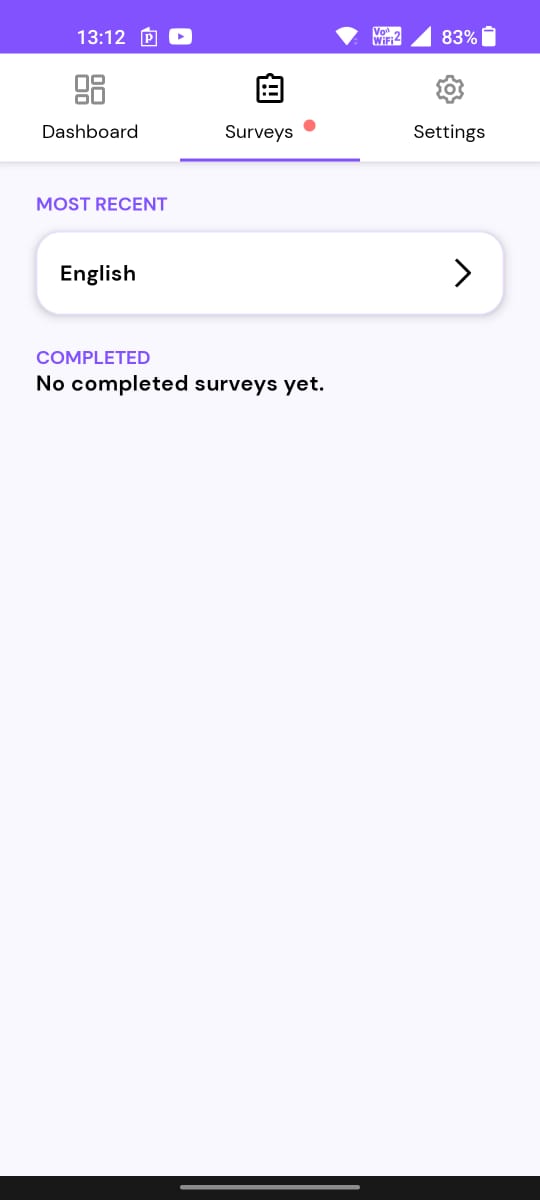 Availability of Surveys depends on your profile. So, make sure you complete your profile to become eligible for surveys.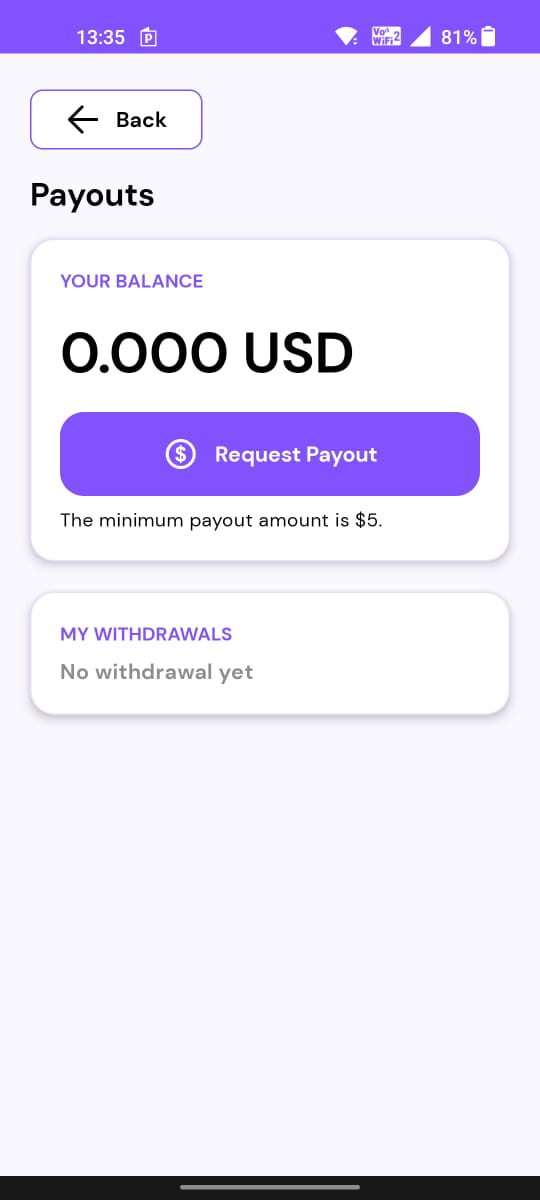 You may earn money by convincing people to join Pawns.app website through an affiliate program, often known as a referral scheme. You will get 10% of any revenue from a referral via the website.
Lastly, you can earn money by completing accessible surveys and receiving rewards. Users in select countries may now earn credits by completing surveys. The credits may then be used to buy gift cards.
How Does Pawns.app Work?
It is pretty easy to work with Pawns.app. Still, let me take you to step by step.
Step – 1: Go to Pawns.app's official website and click on 'Sign up or Log in'.
Step – 2: Fill up the details asked for and click on 'Sign up'. You can also choose to sign up using FaceBook or Google.
Step – 3: When done, you will see a dashboard like this.
In the 'Payment Methods' section you can check out all the payment methods accepted by Pawns.app.
Looking forward to earning more? Just invite your friends.
You will see all your referral statistics here.
You can also make referral banners from here.
You can download Pawns.app on multiple operating systems and devices.
Different Methods Of Earning Money Using Pawns.app
Strive Surveys to Generate Revenue
Not only can you start making passive income online by sharing your Internet connection, but you can also do it with this app, which is one of several high-paying survey applications that create income. There are familiar surveys you may do, and you get compensated for each.
Now, Pawns is comparable to the top paid survey applications currently available. After making an account, you must complete the test(s) you are comfortable with. When you complete the survey and submit your responses, you are eligible for a prize depending on the survey's circumstances.
Earn $5 to $140 per 30 days
The minimum amount you may withdraw at once is $5 from this app, which is among the highest-paying survey applications. Therefore, you should earn and wait until your IPRoyal Pawns minimum payment hits $5 before withdrawing.
With this top-earning app, $140 per month is the most amount you may earn. Suppose you're wondering how to withdraw cash from IPRoyal Pawns. In that case, the payment options provided by this one of many high-paying survey applications are PayPal, Bitcoin, and digital present playing cards.
Earn Money through Referrals as Successfully
Pawns.app also offers an engaging referral scheme.
When you suggest the app and bring in new customers, the referral program enables you to earn 10% of all revenue generated by those clients. This strategy guarantees an additional source of passive income.
How Much Money Can i Expect To Earn Using Pawns.app?
As stated in a previous portion of this review, you will receive $0.20 each gigabyte of unused bandwidth sold, plus extra based on the number of hours you remain connected.
Even though this is not a substantial sum, it will accumulate over time, allowing you to earn a respectable amount.
The good news is that it is a passive method of income generation. According to the website, you can earn anywhere from $10 to $500 every month.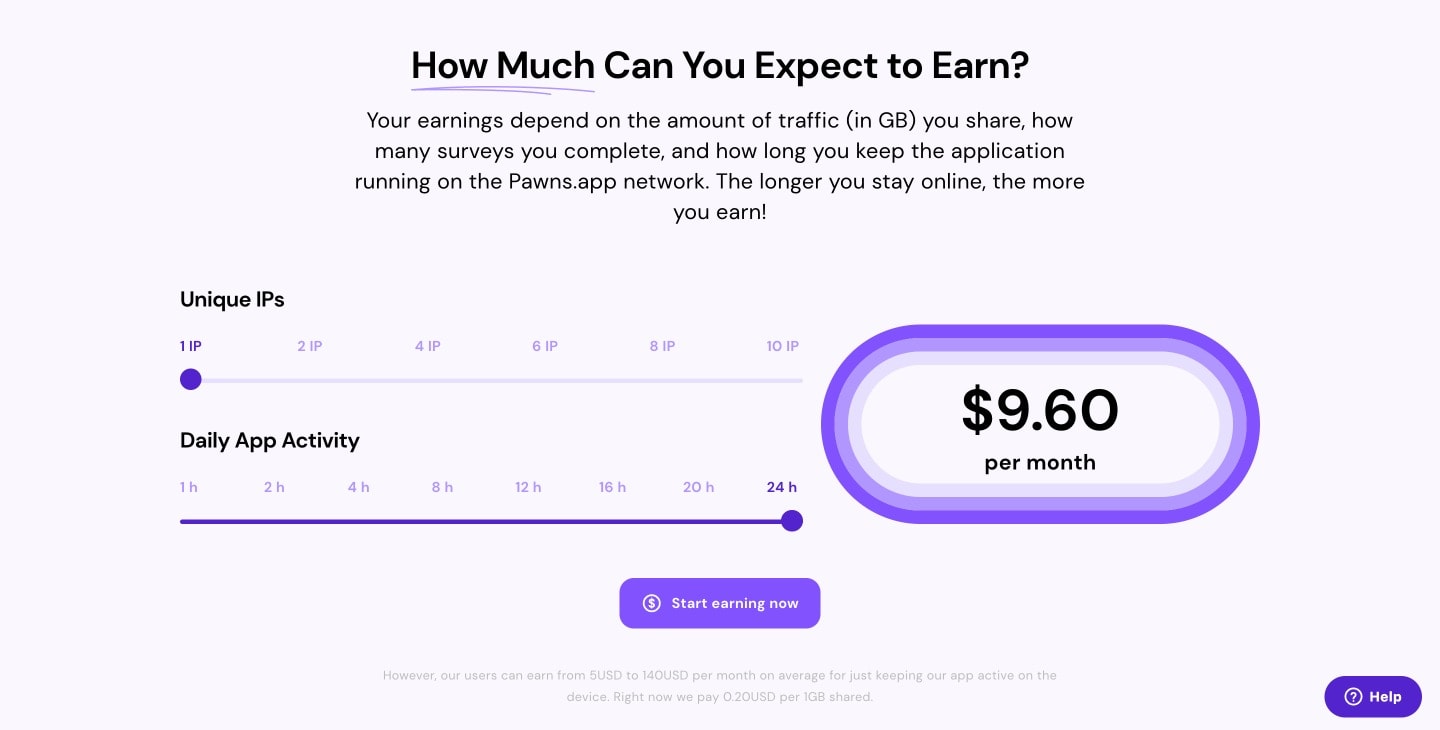 However, this relies on many factors. The amount you may make will depend mostly on your location, network speed, and latency.
You have a greater opportunity to sell more bandwidth if you have a high-speed Internet connection. Regarding geography, countries like the United States and Europe have more income potential than other nations.
Additionally, their platform is structured to reward you more as you continue to utilize their program. Every hour the program is active, they will charge an additional $0.02 per gigabyte shared. If you keep the software running for 12 hours, you will get $0.34 for every gigabyte shared.
This fee is much greater than other sites that provide the same option. I would conclude that IPRoyal has a substantial income potential in some specific countries.
Is Pawns.app Secure?
Yes, Pawns.app is definitely secure. It is a product of IPRoyal, which is a highly reputed company itself. You must be worried about where your bandwidth will be used. So, here are the places Pawns.app uses your bandwidth at –
Social Media Management
Businesses commonly use several accounts to promote their brands. However, the vast majority of platforms prohibit or disapprove of this activity. Their technology circumvents these restrictions since it has many IP addresses.
Purchasing Special Edition Items
Rare editions and special items are usually difficult to locate. Whether it's the most recent video game console or a pair of brand-new sneakers, their system can help you reach the front line.
Finding and acquiring talent
As working from home becomes the norm, businesses depend more than ever on internet recruitment. Utilizing web scraping and having unrestricted access to global talent can save businesses time and money.
Market Analysis
Frequently, the price of goods, digital goods, and subscriptions varies from country to country. Their system enables customers to obtain the best product deals.
Conveying Content
Using someone else's IP, their system allows users to circumvent these restrictions and access content without restrictions. Everyone has encountered the iconic notice, "This material is not accessible in your country."
Computer testing
Testing applications across numerous operating systems, resolutions and connection types may be time-consuming. Access to global IP helps programmers to expedite their testing procedures and ensure that their software performs as intended.
Brand Protection and Awareness
Businesses may gather and assess market-related data without being impeded or misled by unrestricted internet access. This knowledge is an invaluable asset that offers businesses a competitive edge.
Corporate Intelligence and SEO
Businesses may gather and assess market-related data without being impeded or misled by unrestricted internet access. This knowledge is an invaluable asset that offers businesses a competitive edge.
Conclusion
This concludes the IPRoyal Pawns app review I intended to share with you.
This legitimate software to generate money is ideal for earning money quickly. With more frequent survey availability and a lower withdrawal limit, this one of the finest money-earning applications will be more compatible with more users.