Pros/Advantages
Advanced SEO configuration
Track KW Rank Positions
One Click Import from Other Plugins
Highly Compatible
Dynamic Schema Templates
Unlimited Personal Sites
Cons
Free version has limited Content AI credits
In this Rank Math Review, I have summed up everything you need to know about Rank Math, discussing its key features, pricing options, and overall effectiveness in helping you improve your website's search engine rankings. I am writing faster no
If you're looking for a powerful SEO plugin for your WordPress website, you're very likely to come across Rank Math. Since its launch in 2019, this plugin has rapidly gained popularity among bloggers, webmasters, and digital marketers for its impressive range of features and ease of use.
What is Rank Math?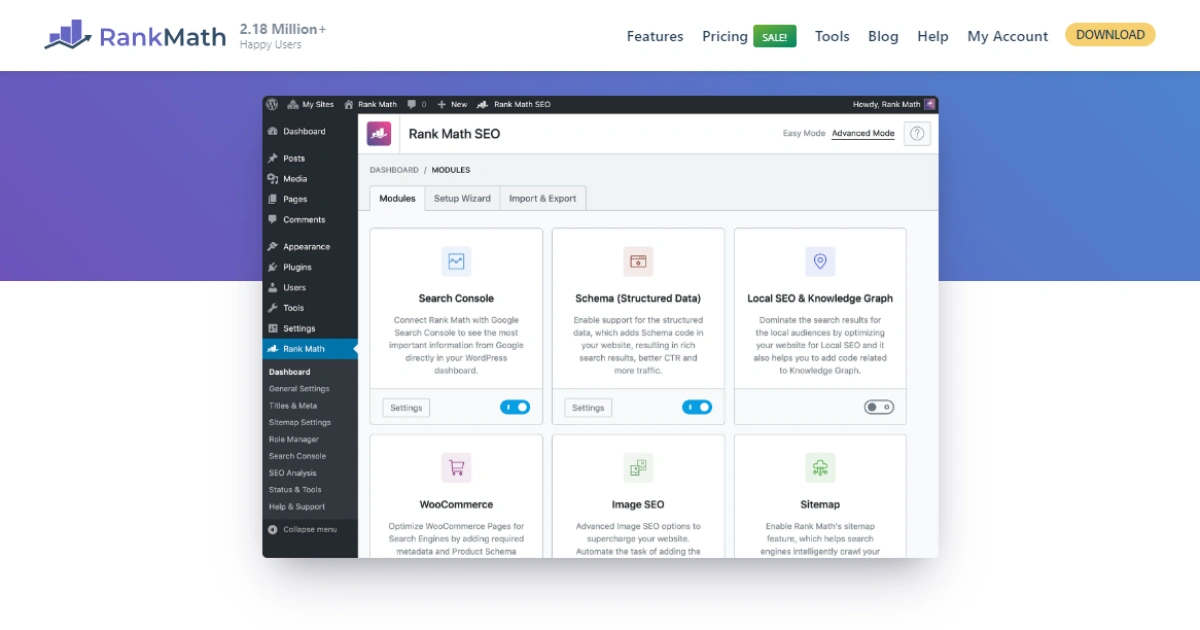 Rank Math is an SEO WordPress Plugin full of advanced features to help you outrank your competitors. But what if your competitor also uses Rank Math. Worry not, Ranking depends on lot more factors.
🚀 Over 1 Million Installs
💛 I use Rank Math on all my sites – my personal favorite
💰 Paid version costs $59 per year
🎉 Easy Integration with GA4, and Search Console
Rank Math is the real Swiss Army Knife of WP SEO and it really works for every type of site.
In addition, Rank Math supports WooCommerce, a prominent eCommerce platform for WordPress. Users can optimize their WooCommerce website for search engine optimization (SEO) with Rank Math, ensuring that their products appear in relevant search engine results.
Rank Math Features
There are more features than I am listing here. So, make sure you check them as well.
Canonical URL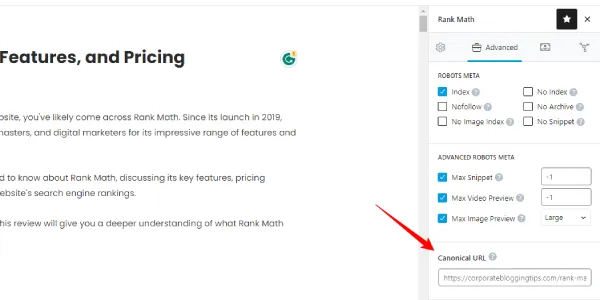 If you ever heard of keyword cannibalization, you can avoid multiple keywords ranking on the same keyword. You can rank one URL for one keyword and keep that one URL as a Canonical URL for all other pages that rank for the same keyword in the SERP.
404 Manager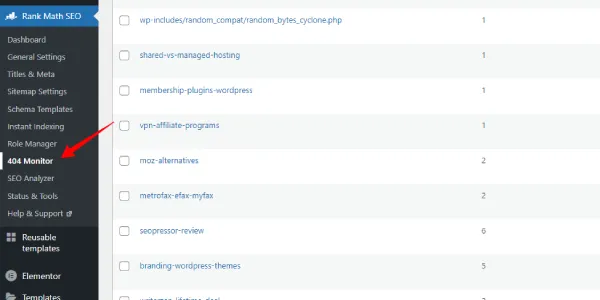 Rank Math also includes a 404 manager that allows you to identify and repair damaged connections on your website. Using this utility, you can ensure that your site's visitors enjoy a seamless user experience and can navigate your site with ease.
SEO Analyzer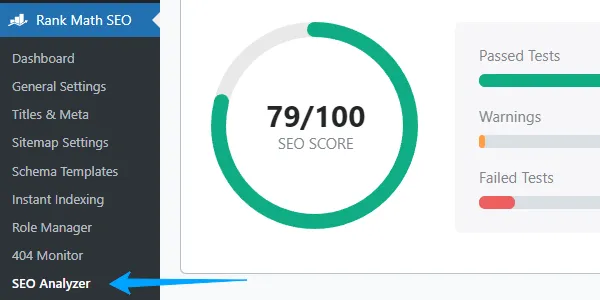 Unlike other SEO applications, Rank Math measures SEO on a scale from zero to one hundred. This feature makes it simpler to comprehend how your site's SEO is performing and helps you identify any problems. With Rank Math, you can measure SEO based on various metrics and view the results on a scale from 0 to 100.
Search Console in Dashboard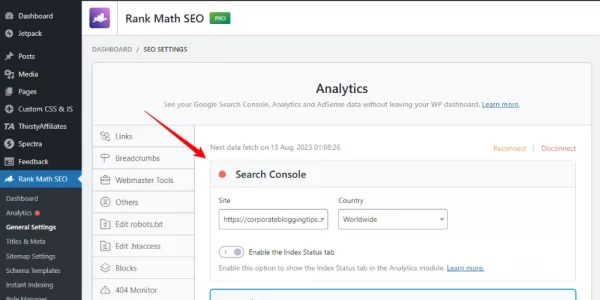 You no longer need to manually enter into Google Search Console to check the organic growth of your website. You can easily filter results by date to view your site's aggregate CTR, impressions, interactions, and positions.
Google Analytics Integration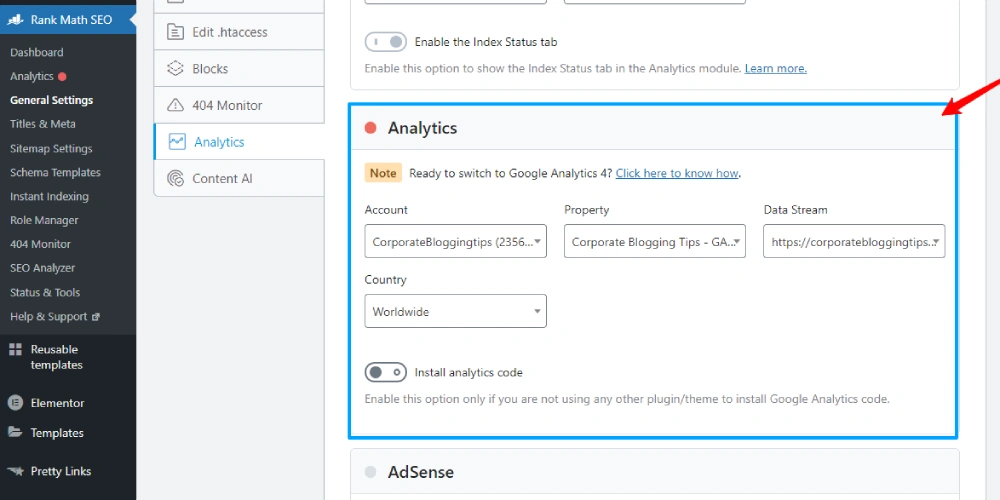 Not just Search Console, Direct integration with Google Analytics is also available if the GA account is also associated with the same gmail.
Advanced SEO Analysis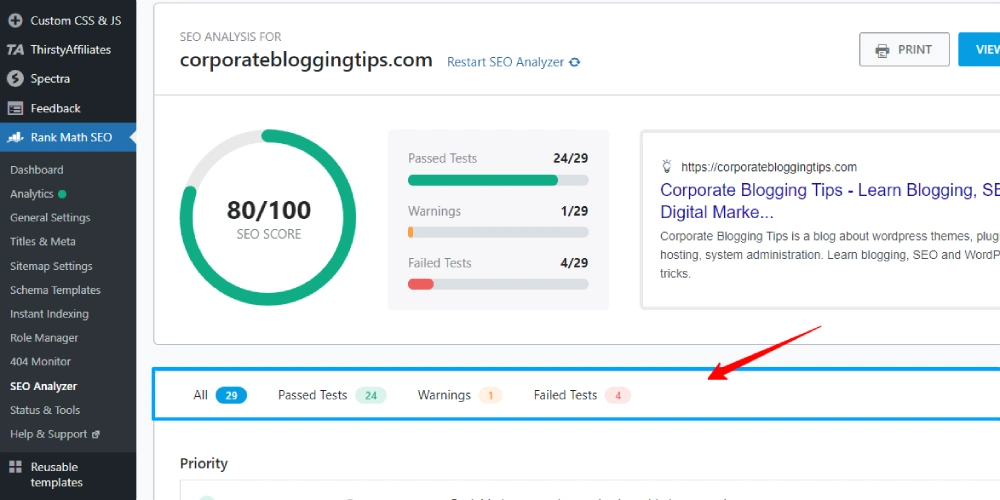 Not only does Rank Math's SEO Analyzer provide you with an overall SEO score, but it also suggests all the necessary adjustments to enhance your website's SEO.
Role Manager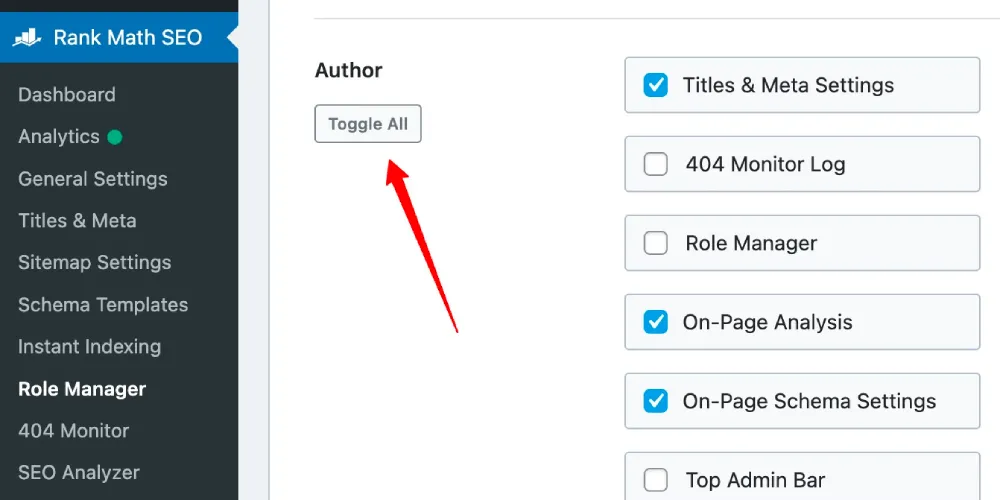 With the Role Manager feature of Rank Math, you can configure who controls your website's SEO. Maintain control over your site's SEO by disabling options for specific responsibilities, such as contributor or author. This feature provides you greater control over your site's SEO and restricts modifications from unauthorized users.
Schema Templates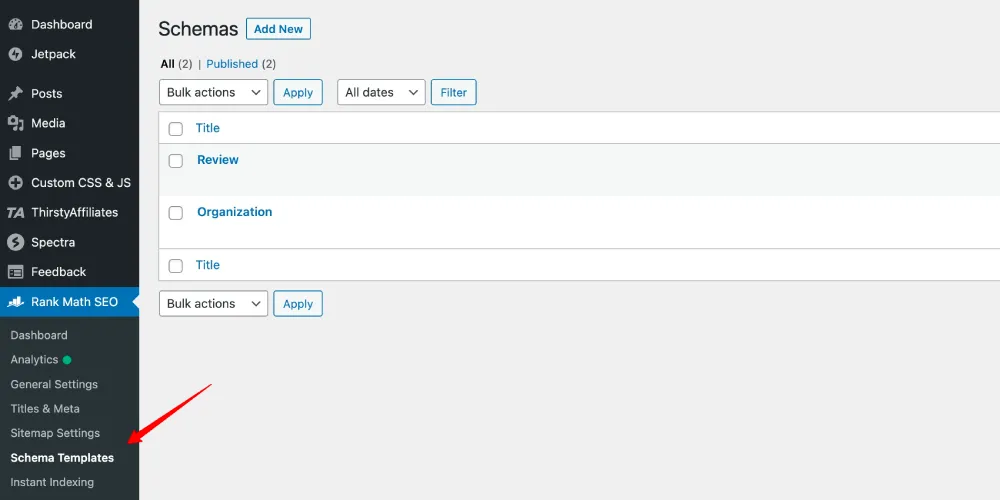 You can manage your website's schema dynamically with Rank Math schema templates. If you use custom fields in your WordPress and want your field data to somehow form a rich snippet, you no more require to code it.
Social Snippet Editor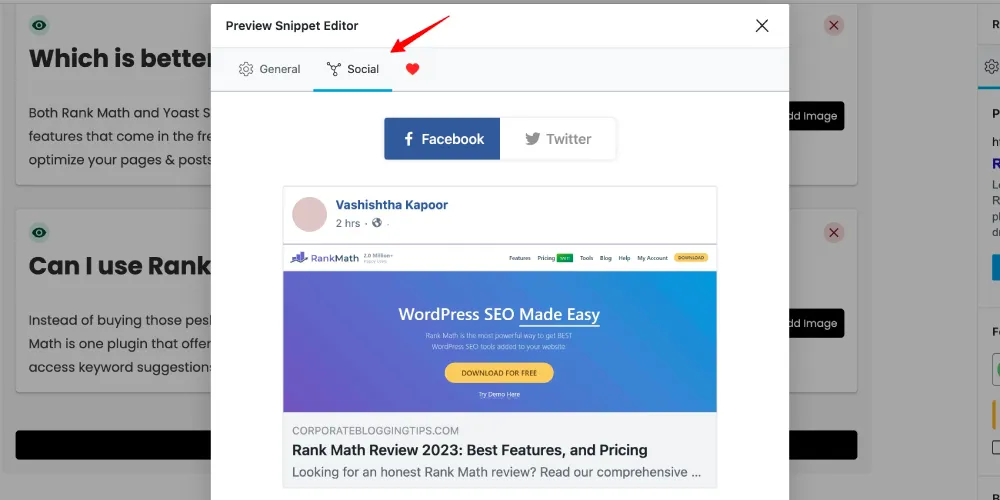 The Snippet Editor feature of Rank Math allows you to control how your website's pages and posts appear on social media. You can modify the description, add a social media-specific image, select the card type for Twitter, and much more.
Local SEO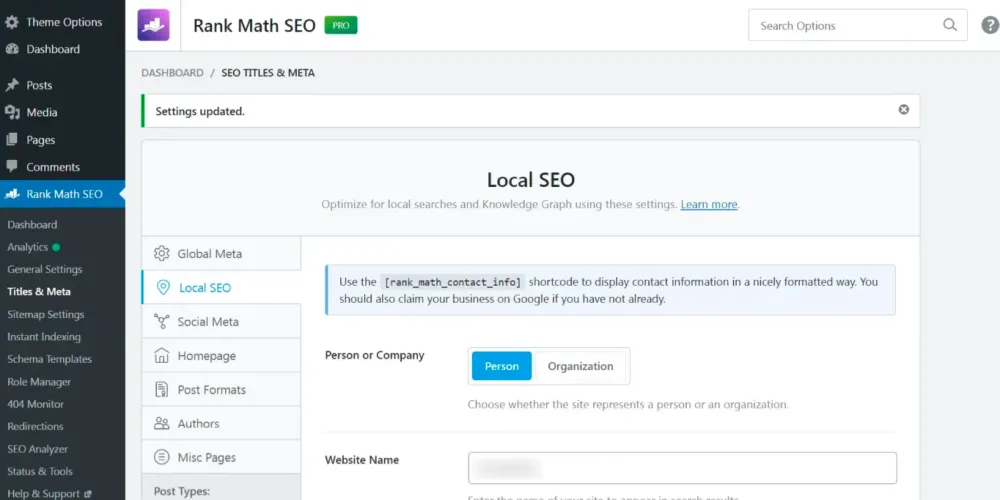 Rank Math is the finest free SEO plugin for WordPress, featuring local SEO support for 193 regional business categories as well as extensive snippet support.
Comparatively, Yoast SEO's free plugin lacks any local SEO features or options and requires the $69.00 purchase of an additional Local SEO plugin.
Multiple Focus Keywords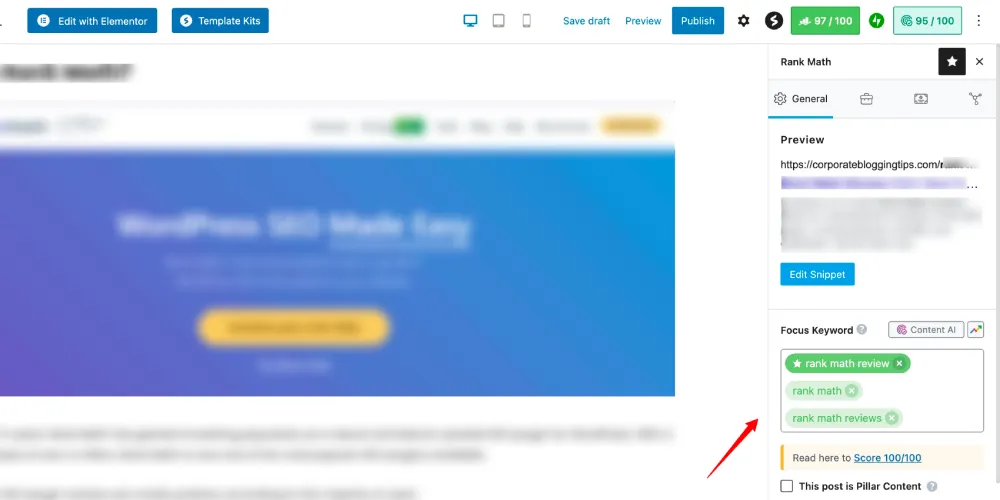 You can use and analyze multiple focus keywords with Rank Math, thereby increasing your odds of ranking higher in search engine results.
In contrast to Yoast SEO's free version, Rank Math enables you to optimize your content for up to five keywords, including LSI (latent semantic indexing) keywords that support your primary keyword.
Elementor SEO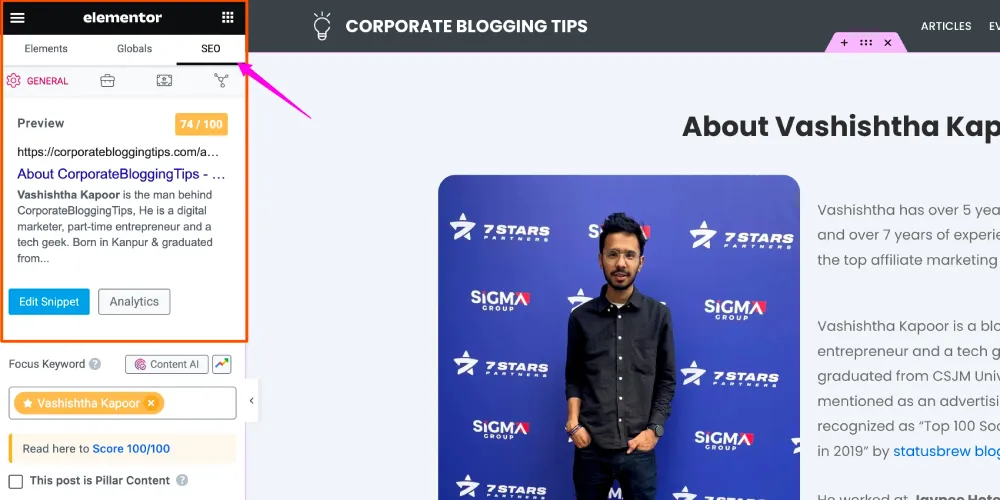 If you use the Elementor page builder plugin for WordPress, you may have discovered that Yoast SEO does not integrate well with it. Rank Math, on the other hand, allows you to optimize your site's SEO directly from the Elementor interface, without any additional steps or back-and-forth.
This is not a Rank Math vs Yoast SEO article where I am comparing everything with Yoast SEO. But still, I am enlighting where the Rank Math plugin stands out.
Redirection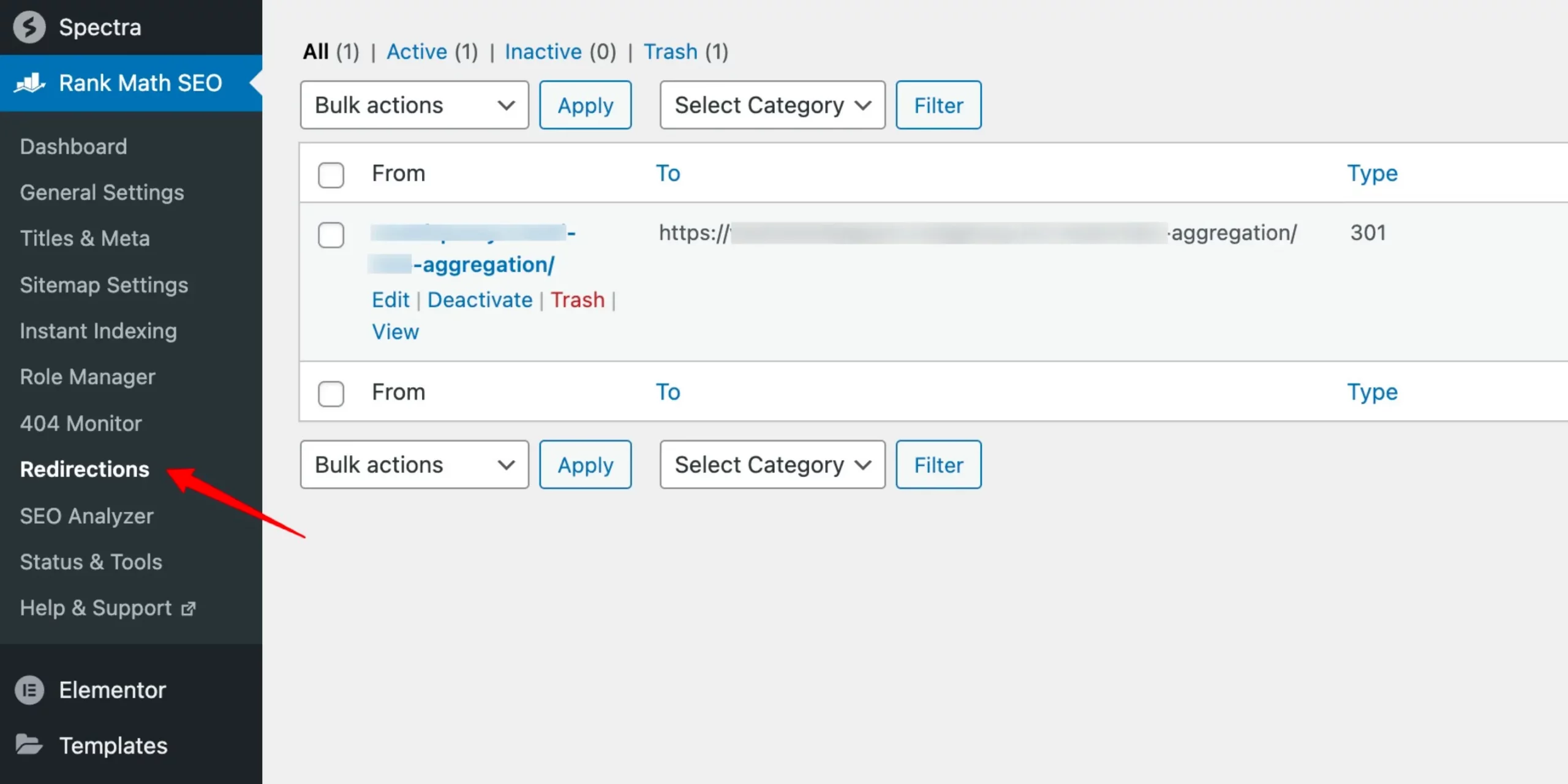 Last but not least, Rank Math includes an entirely free redirection feature. This feature enables you to redirect faulty or out-of-date links on your website, thereby enhancing the user experience and SEO of your site.
KW Auto Suggest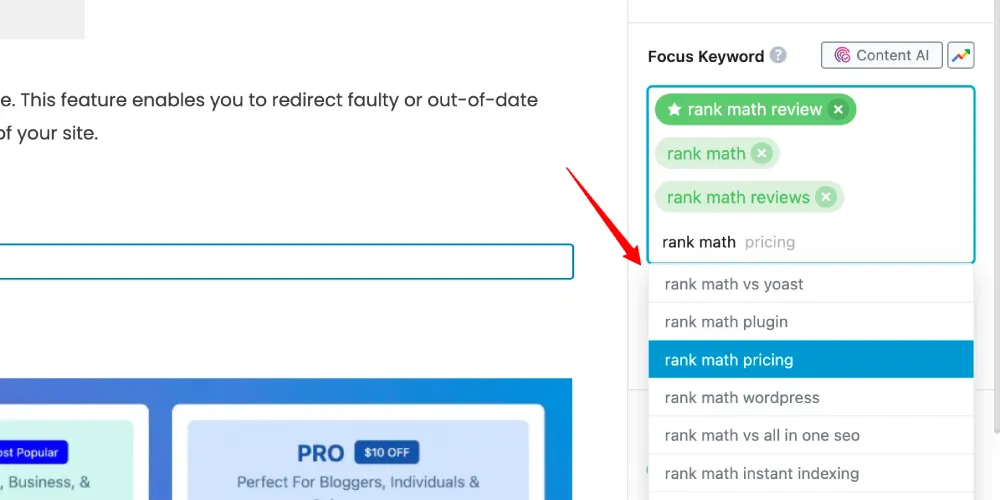 Another interesting feature is that Rank Math gives you automatic suggestions relevant to the KW you type in the focus keyword box. It is like an intelligent autocomplete feature so you do not have to go and copy keywords from the Also Asked section in SERP.
Keyword Comparison & Google Trends Tool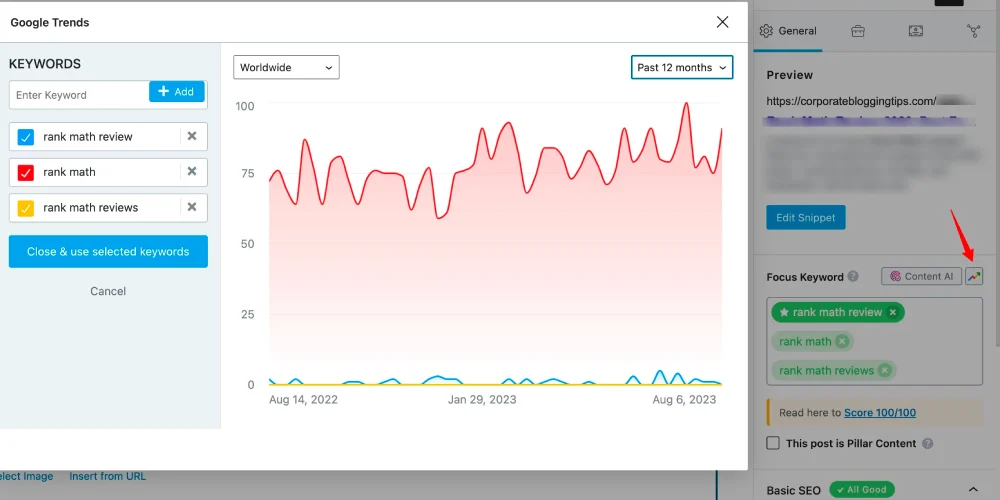 If you've multiple keywords set as the focus keyword and want to choose one primary keyword, simply compare it with this feature.
Content AI – The Superpower of SEO
This feature is very much like Surfer SEO integration inside your WordPress post editor. However, Rank Math Content AI is within your budget as long as you only need to use SEO Content Editing. Type your keyword, let Content AI generate the list of suggestions, and rate your current optimization based on other top-ranking articles for that keyword.
Control your Sitemap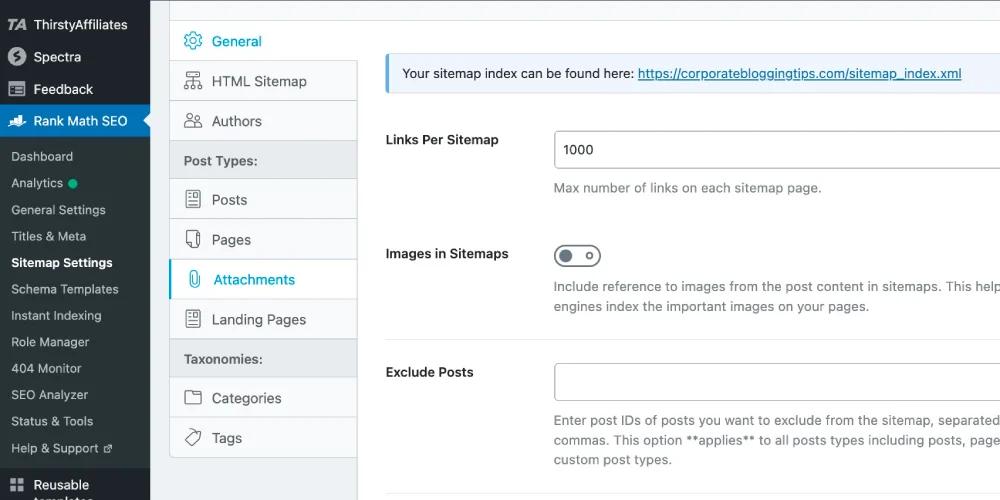 Say Goodbye to Manual HTML sitemaps. Rankmath gives you the freedom to choose between XML or HTML sitemap. That too would be automatic and you can control what would be included in the sitemap. Wanna exclude authors from the sitemap? Go ahead, and configure in Rank Math with just one click.
Edit Htaccess File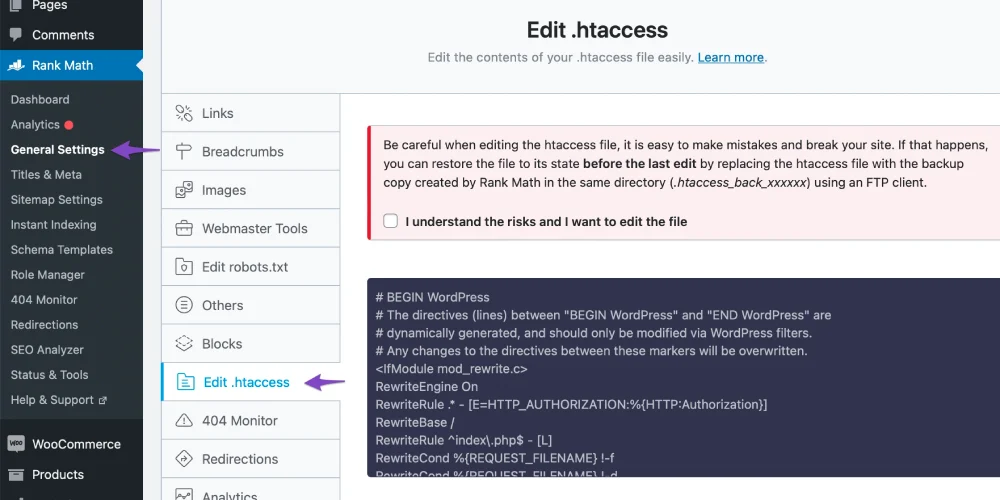 Not just the Sitemap, you can also control(edit) the main .htaccess file within your Rank Math General Settings.
Rank Math Review- Pricing Plans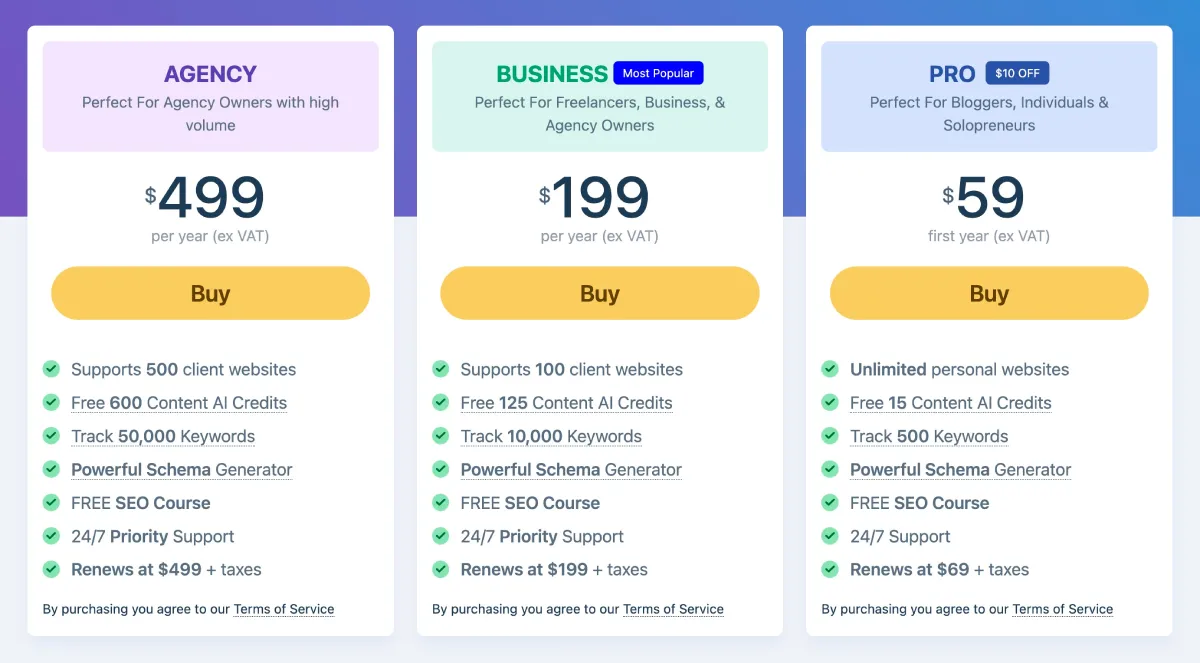 Rank Math is a comprehensive and powerful SEO plugin for WordPress that offers a free plan with a wide range of features. However, for those who require more advanced functionality, Rank Math also offers a PRO plan with additional features and benefits.
💸 Starts at just $59
🚀 Use on Unlimited Sites – Pro Plan
💰 For Businesses, use the appropriate plan if you run the client site's SEO
However, there is a fair usage policy that applies to the personal license. This means that you cannot use the PRO on a client website or share it with your friends or family.
🔔 You must not take unfair advantage of the freedom to add unlimited personal websites to your Rank Math license. Add only those sites that you own personally.
If sharing of the license or client use is detected, your websites would be blocked from using the PRO license. Additionally, if you made a purchase in the last 30 days, the entire amount is refunded.
Rank Math Review – Reasons To Choose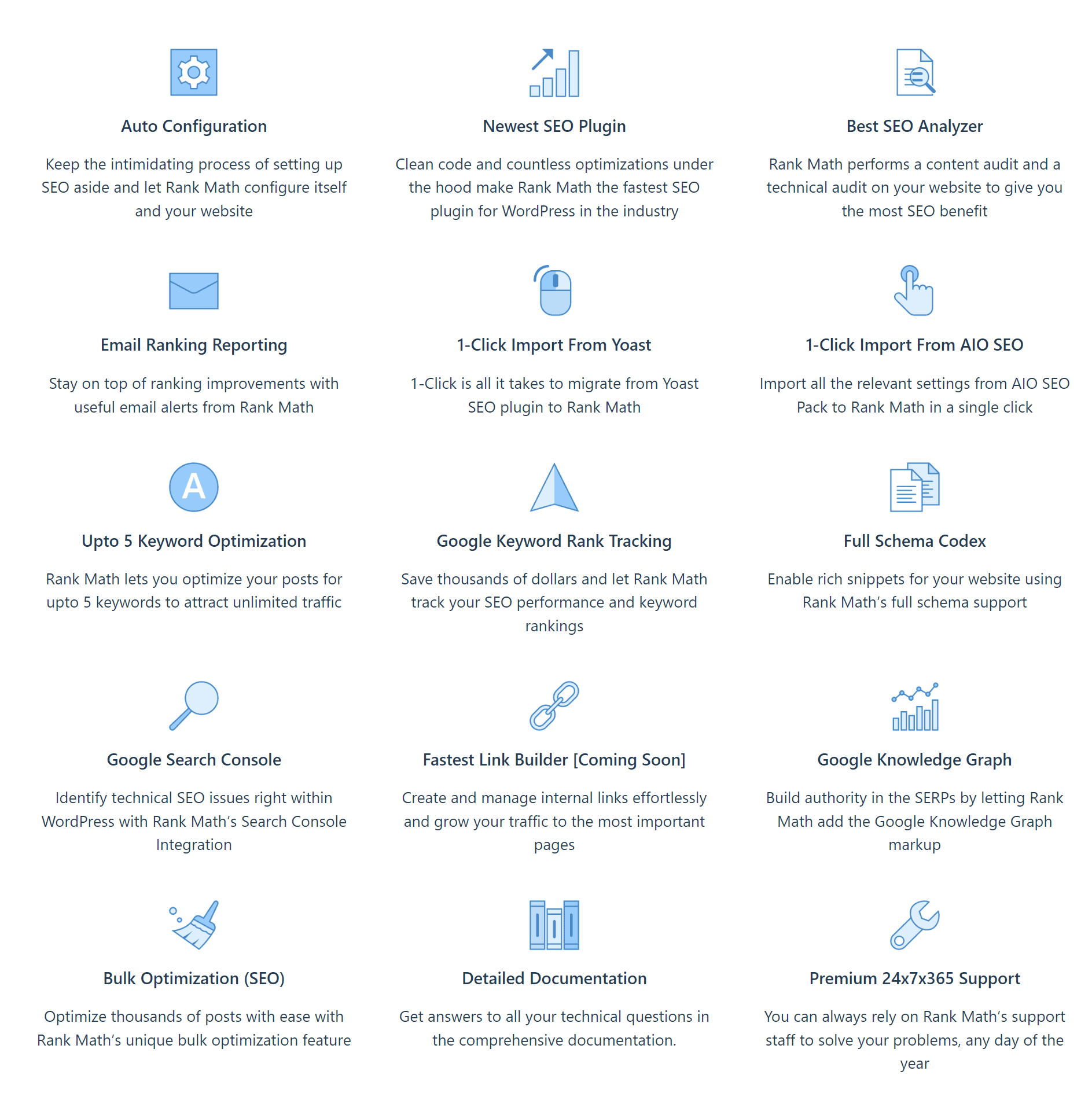 ✨ Free Plugin
One of the best things about Rank Math is that its features are entirely free. This means that you can get access to a comprehensive suite of SEO tools without having to pay a dime.
✨ Detailed Documentation
In addition to its support, Rank Math also offers an extensive knowledge base with detailed documentation. This means that even if you encounter an issue outside of regular support hours, you can access helpful information that will guide you through the problem.
✨ Full Schema Markup
This feature is crucial, especially now that voice search is an integral part of Google search. By making it easier for Google to understand your content with Schema, you can improve your site's SEO and user experience.
✨ Google Keyword Rank Tracking
With Rank Math, you don't need to use another plugin or server to track your website's keyword rankings. You can add your keyword directly to Rank Math and track how it is ranking in search engine results pages (SERPs). This feature can help you identify which keywords are driving traffic to your site and adjust your content accordingly.
✨ Auto Configuration
Rank Math's plugin is intelligent enough to detect which SEO settings are best for your website after you tell it what kind of site you have. It considers industry research while automatically configuring many of the options, making it easy for you to get started with optimizing your site's SEO.
✨ Advanced Functionality
Rank Math offers advanced functionality that gives you full control over all aspects of your on-page SEO. You can index or noindex everything manually or use auto-pilot, ensuring that your site's SEO is optimized to your liking.
✨ Better than the Competition
While other SEO plugins may offer only one or two features, Rank Math handles everything related to on-page SEO, including adding schema, redirections, sitemaps, and meta information. With Rank Math, you can rest assured that all aspects of your site's SEO are covered.
✨ Easy to Use
Finally, Rank Math is easy to use, with an intuitive layout and very-defined options. You don't need to be an SEO expert to get started with Rank Math, making it a great option for beginners and experienced website owners alike.
Frequently Asked Questions (FAQs)
Is Rank Math Free?
Yes, Rank Math is a free SEO WordPress plugin for a lifetime. There's a pro plan that comes with premium features, support, and updates. If you are low on budget, you can start with the free version and later upgrade to the pro plan.
Is Rank Math better than Yoast SEO?
Both Rank Math and Yoast SEO offer a free WordPress plugin. But Rank Math beats Yoast SEO in terms of free features that come in the free version. For example, Rank Math offers free Content AI credits that help you optimize your pages & posts with advanced settings.
Can I use Rank Math for keyword research?
Rank Math is not a keyword research tool. It helps you generate insights and optimize your website's SEO at the same time. However, for generating keyword ideas, I will recommend you buy Semrush, Ahrefs, or Ubersuggest.
Why I use Rank Math on All my WordPress Sites?
I use Rank Math on all my websites because I like using it to optimize my articles. Also, all my personal sites require no extra license. Within the $59/year subscription, I use Rank Math on more than 50 personally owned sites.
Rank Math Review- My Verdict
After an in-depth Rank Math review, it's clear that Rank Math SEO plugin is a powerful and feature-rich tool for WordPress websites.
With a wide range of features and benefits, including detailed documentation, 24×7 support, advanced functionality, and a full schema codex, Rank Math offers an exceptional user experience for website owners and digital marketers looking to improve their website's search engine optimization.
What others are saying about Rank Math?
The Rank Math plugin is recommended by several SEO experts. If you are wondering which one to go for, close your eyes and get the Rank Math Pro Plan.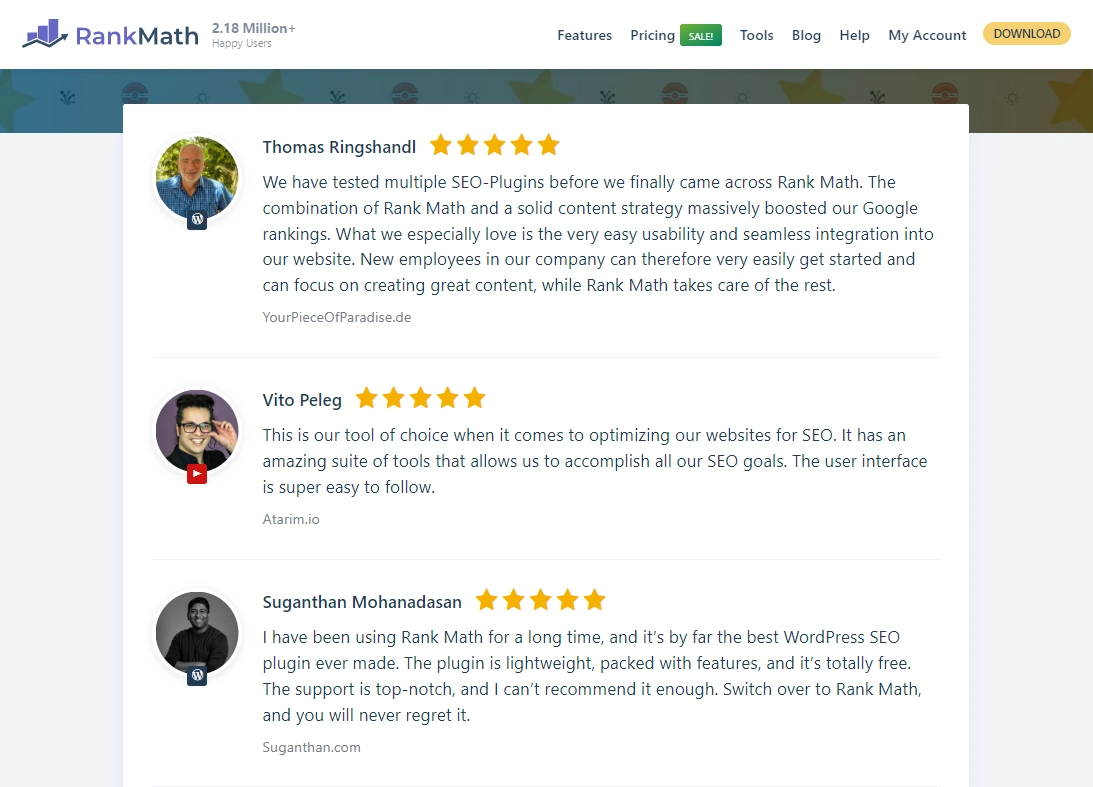 Rank Math SEO reviews have been overwhelmingly positive, highlighting its user-friendly interface and powerful features.
Additionally, the fact that Rank Math is entirely free to use is a major advantage over other SEO plugins that require paid subscriptions. If you ever feel that you no longer need the premium features, simply cancel your pro/business subscription and uninstall the Rank Math SEO Pro plugin from your WordPress site.