Are you looking for a reliable web hosting service that won't let you down? If so, then you should consider using Rocket Hosting. Look no further than Rocket Hosting. Their services are top-notch, and their prices are unbeatable. Read our honest Rocket Review to get detailed insight.
The Rocket Hosting is a system that helps you keep track of your documents and their revisions. You can also add notes about the project for future reference, so it's easy to see what needs updating when changes are made!
This company offers a range of features that are sure to meet your needs, and their customer service is outstanding. In this blog post, we'll take a closer look at what Rocket Hosting has to offer. We'll also discuss some of the pros and cons of using their service
Rocket Hosting is great for bloggers who need a simple, well-designed website. They have tons of features and excellent customer service – what more could you ask for?
So, if you're thinking about switching to Rocket Hosting, or if you're just curious about what they have to offer, keep reading!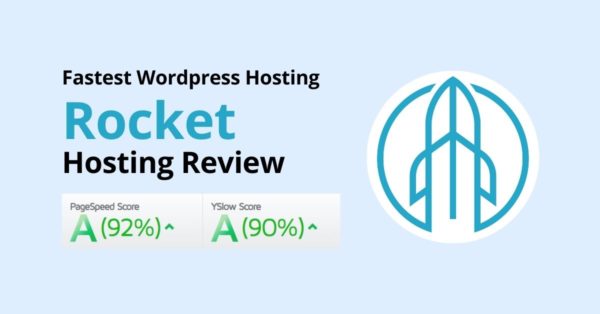 Rocket Pricing
Compared to any other managed WordPress hosting pricing, you get enough value for your money when you host your website with Rocket. Rocket pricing is a clever way to get your product out on the market and into customer's hands as quickly as possible
Rocket Pricing will take care of all that pesky haggling in a way you can trust, and at rates so affordable they'll make your boss green with envy!
The pricing plans are pretty much affordable not only for a small-scale business website but also for a huge enterprise. The agency plan covers the maximum of it.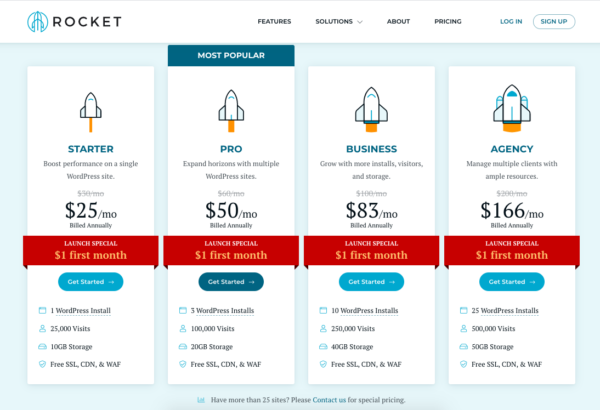 The pricing feels more comfortable when you host more than 1 website. 
Get Started With Rocket Hosting
How to Set Up a Website with Rocket?
Let's go ahead and create a website. 
Open rocket.net and select your plan. If you're not sure about the plan you want to start with, just click on "Get started".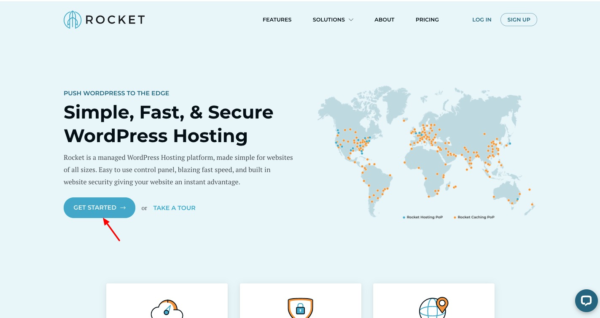 As you can see that I have selected the Agency plan that costs 200$ per month. However, with the limited time promotion, I got it for just 1$ for the first month which is a good enough price to test things out.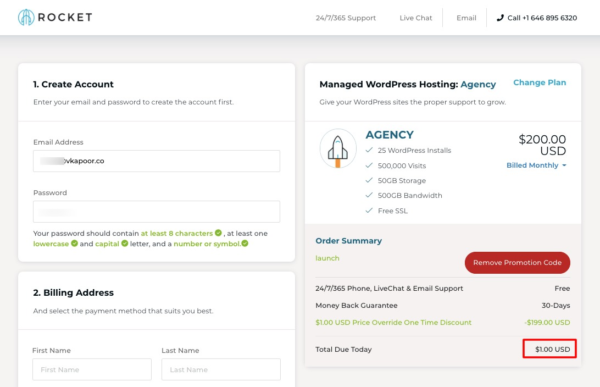 Once you complete the signup process and log in to your account, you see a dashboard like this.
Click on the "Create site" button in the middle of your screen.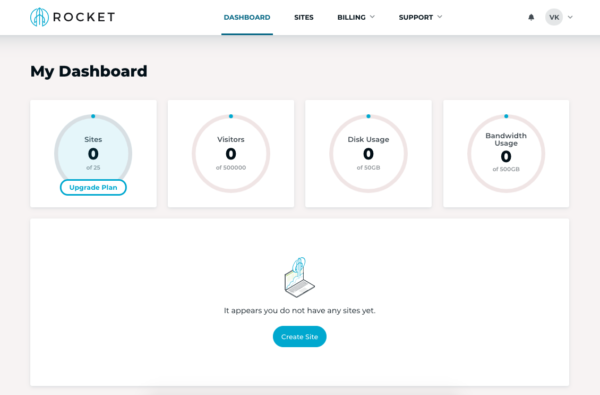 The onboarding process is so easy. You only need to type in the name of the website and choose the region where you want to host your website.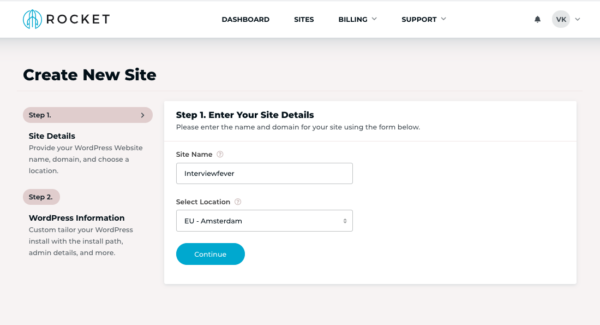 In the next step, you will be asked to provide more information to set up your WordPress administrator account.
As you can see that you have the option to install a multi-site network or an eCommerce store with woo-commerce instead. 
Choose an administrator username and set a password. Type in your Email address and click on the "Continue" button to proceed with the wizard.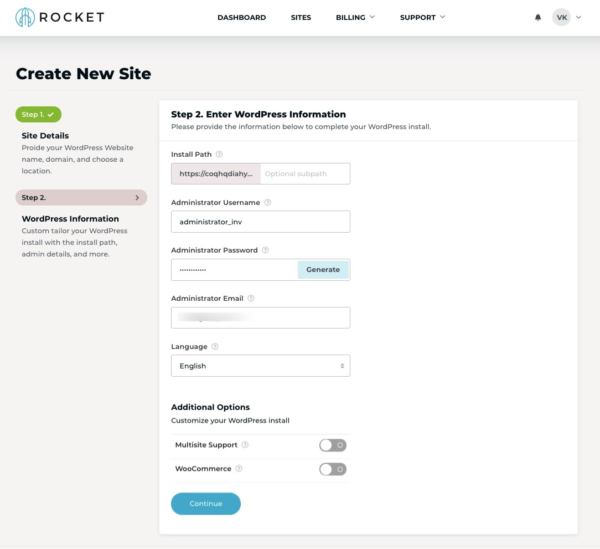 Once you click Continue, it will take a while to set up a fresh WordPress installation for your website. 
At this stage, you have created a website on Rocket hosting. However, it is not your domain.
But you need not worry about that and you should now go ahead, log in to your WordPress site, and start designing your dream website. Once you're ready with the launch, you can set the domain for it.
This will keep you safe from the wrong indexing on Google.
Get Started With Rocket Hosting
Rocket.net Features 
Panel Control
Rocket's panel control makes it a breeze to manage your WordPress site. With features like deploying websites and plug-ins, you're never left wanting in terms or functionality from this one-stop shop for all things web promotion!
With the panel control of Rocket, you can deploy WordPress websites and also manage plug-ins. The entire process is made easier with its intuitive interface that provides instant feedback to avoid any bugs or errors in coding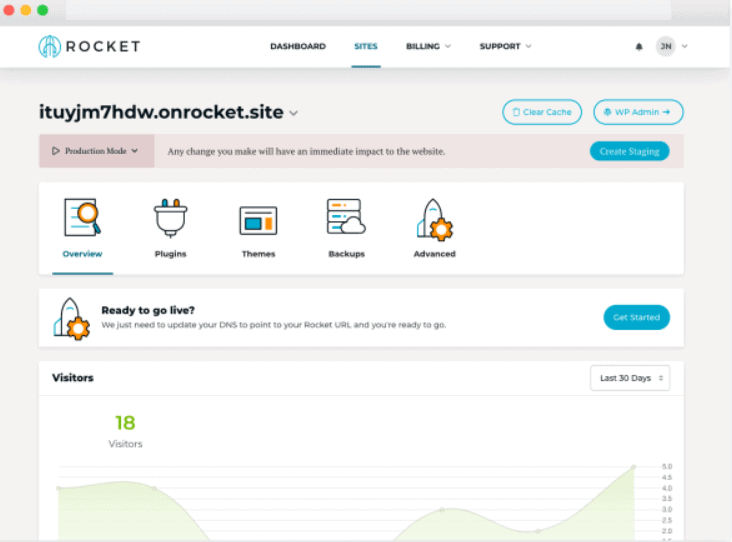 Security Of The Applications
Rocket.Net's hosting is protected by an advanced level of security to ensure that your website stays safe from malicious tools and online threats while also providing you peace-of mind as a valued customer!
Rocket.Net's tech team ensures that your website is always safe with their hosting services, which are powered by the latest in security technology to keep you protected against all sorts of threats like viruses and hackers alike!
As the security of our applications is important to us, Rocket.Net's hosting has been made with advanced levels in mind – making it very safe for you!
To make sure that your website is always safe, we use advanced security tools to protect it 24/7.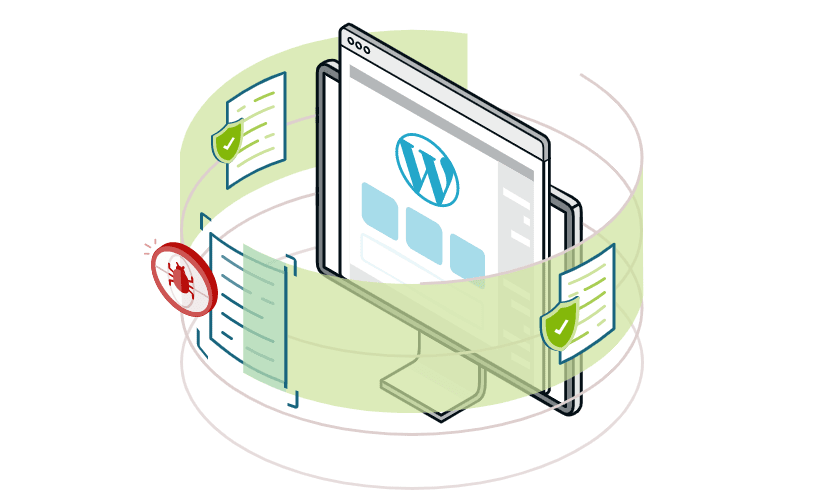 Offers A Robust Server Stack
Rocket.Net Hosting offers a robust server stack that can handle traffic with ease and grace, powered by the latest PHP version 7.4 which makes websites work quickly even on sites where they are busiest!
With a robust server stack, Rocket.Net Hosting is built for speed! The company's proprietary software enables the use of PHP Version 7 which makes websites run smoothly and quickly
Their cloud hosting services with high availability thanks to its dual-purpose hardware design that includes Nvidia GPUs as well from other vendors like Microsoft or IBMPearson cozy.
Performance
Rocket.Net offers the fastest Managed WordPress Hosting in North America, with an average page speed of 2 seconds and a loading time as low at 0.15 seconds!
On top that, Rocket provides you all popular features like 99% uptime SLA (Service Level Agreement)
So your site is always available when needed most – even if we're experiencing high traffic periods due our own free TTFB managed WordPress hosting plan which includes 24/7 support via phone chat or email response within 1 business day during regular hours & extended weekend coverage
Rocket.Net's managed hosting service offers the world's fastest WordPress performance and also has an outstanding page speed to offer, with an average loading time of 2 seconds.
Your site will be built on one great server that takes care of all its needs for you – not just delivering content fast but ensuring your website loads quickly too which is what we really want as consumers nowadays right?
Rocket Hosting Alternatives
1. WPengine: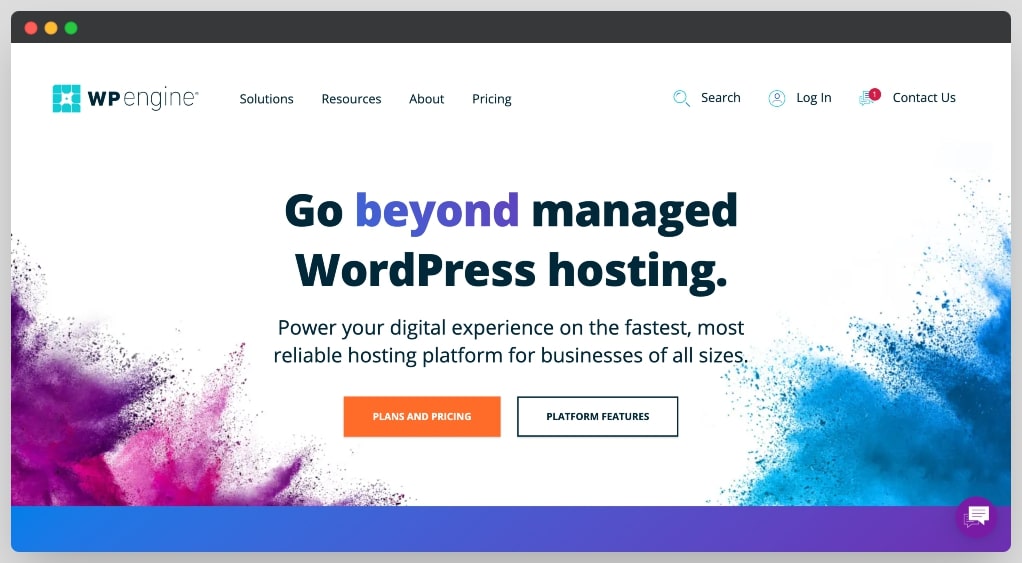 There are a number of reasons to consider switching from WP Engine. The company has been notorious for offering "unlimited" plans that allow customers to push what they want through their servers, and somehow expecting them to actually deliver the extra traffic without penalty.
This allows some lazy or under-qualified developers and novice website managers and bloggers to host massive amounts of traffic with WP Engine without much worry.
2. BlueHost:
BlueHost was founded in 2003 by Matt Heaton, who previously worked at HostMonster. He conceived the idea of BlueHost after changing hosting companies and deciding it would be easier to start his own than go through the trouble of transferring all of his sites over to the new system.
Heaton designed BlueHost to address issues like sluggishness on the part of competitors' servers, unclear pricing structures, and inaccessible support teams.
Today, BlueHost is known for its reliability and affordability. The company offers shared hosting plans as well as other services like private virtual networks and reseller hosting.
As stated earlier, BlueHost has earned generally high ratings for its services. BlueHost is recommended by WordPress, which has helped it become one of the most popular website hosting providers in the world.
The service has been recognized for its great customer service and technical support; on G2Crowd, it averages 4.9 out of 5 stars (based on 2,564 reviews).
3. SiteGround
SiteGround is a WordPress hosting company that provides superior WP performance and security. These features include automatic updates, CDN, GIT version control, one-click installation, caching, and more.
SiteGround's greatest strength is the ability to provide location-specific website hosting solutions Data centers in the US, Asia, and Europe make this possible. SiteGround is a professional hosting website that offers affordable prices to help customers build WordPress sites
The company utilizes highly advanced technology up to date, which guarantees superior performance and security.
This site hosts the most popular CMS in the world where users can create websites filled with fresh content quickly and efficiently. SiteGround's primary goal is to ensure that your website is always available, easy to use, and secure.
4. HostGator:
HostGator also offers advanced software such as PHP, Python, and Ruby on Rails. Since 2002, Hostgator has been providing reliable website hosting for countless individuals and businesses across the globe and know-how to handle anything that needs to be done within a website or business.
You can be sure that you and your site will be kept safe and secure with HostGator because they offer multiple server authentication, shared SSL, and daily data backups. If you are looking for hosting that is reliable and scalable, HostGator has the plans you need
Depending on whether or not you are hosting a root domain, file transfers vary from unlimited to around 4.5 million per month. You can also expect quick page load times that average around 1.5 seconds.
5. Nestify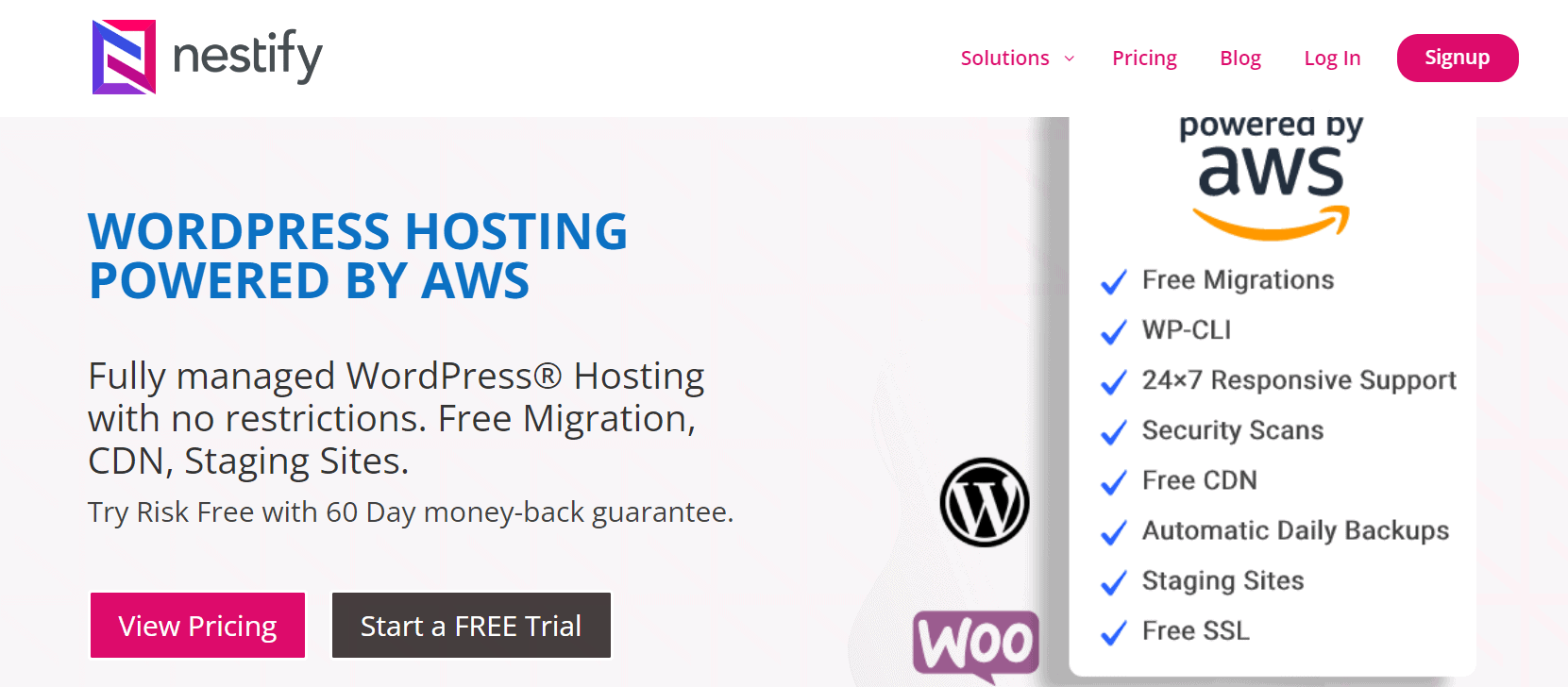 Nestify is a web hosting company that promises fast loading times and excellent performance. The company caters to corporations and anyone who needs a host for a mission-critical webpage.
Nestify is proud of the fact that its services are optimized for performance. They offer a 55-second launching process that is perfect for WordPress sites.
Nestify is a company that has been providing WordPress sites optimized for performance since 2008. The primary focus of Nestify is to enable users to set up a high-performance site at an affordable price.
Nestify has optimize servers for the significant performance. The professionals working with Nestify are very qualified and have worked hard towards achieving stability, high speeds to meet your needs as a business or personal user of their services!
Configuring your domain with Rocket hosting
Rocket Hosting makes it easy to get started with your domain. The configuration process is fast and simple, so you can focus on what matters most: Your business!
Once you're ready to go live and have a fully qualified domain name ready for your website, Click on "Get Started" button on your site's dashboard
Now is the time when you type your domain name and configure the DNS records.
When you click the continue button, the screen will appear instructing you to set TXT records for your domain. This setting is important to configure and install an SSL certificate for your domain.
Rocket hosting is perfect for creatives and entrepreneurs, giving you the freedom to easily set up your own website without having any technical skills.
Follow the instructions and click on the "I've added TXT records, Continue" button after a few minutes.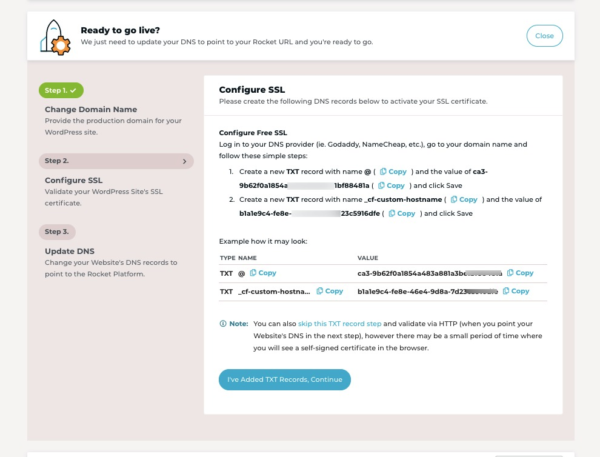 The next step is where you add the CNAME record of your domain to the rocket site subdomain.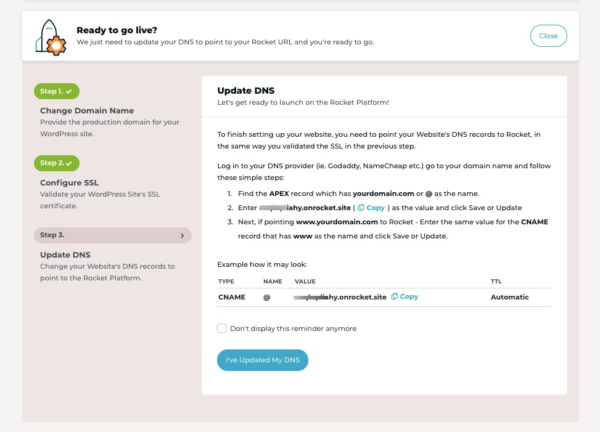 Once you add the CNAME records, your site will be live and your Rocket dashboard will show your domain on the site. 

Creating a Stagfing Site
When you host a business website, you may not want to test a few plugins on a live website. Neither you would want anyone to change any piece of content before proper testing and approvals.
Staging sites are great for testing new features or redesigns without hurting your live site. The staging environment helps you get all of the kinks out before launching them on a public platform, so it's never too late to implement changes!
The staging site helps you do all the testing in an environment where you won't harm the live site. This is helpful when you're redesigning your site or testing some new features using a plugin.
You can create 1 staging environment with each number of sites you host on the rocket platform with just a single click.

Once your staging environment is deployed, you get the option to switch between them right from your dashboard. 

Speed Test
As a usual process of testing the website speed, let's do a test on time to the first byte for this website which has SSL enabled already. 
The server sent the first byte within 20ms which is amazingly fast enough. This was after a long time after I saw a website scoring Green 5 stars in this TTFB checking tool.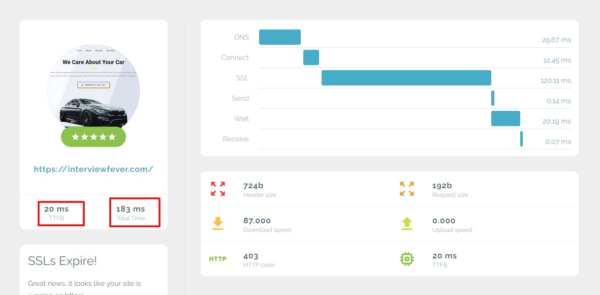 Furthermore, let's check the performance score and loading time in GTmetrix for the domain I just hosted on rocket. Before I check speed, I imported a demo website using starter site plugin.
Below is the test screenshot without any optimization plugin installed. 

I believe that the first page view will build the page caches. Once I click retest, I would be able to see the real speed of my website. 

Just to confirm that this speed will not fluctuate much, I retested it couple of times. 
And wow, I got even faster pages. 

So, to conclude this, you get to host a website with speed like a rocket when you deploy with Rocket.
Dynamic content delivery and its smart server level caching makes it seamless for you. You may never need to install any optimization plugin.
Taking a manual backup, Never been this easy
When you host your website with a managed wordpress hosting provider, you worry less about the backups. When you host with Rocket, you get free manual and automatic backups. 
This means that you can create a snapshot of your whole website using the manual backups option. The feature proves to be helpful when you need to keep a snapshot of your production website at a specific stage on your local machine. 
To do this, simple go to Backups, Click on Create backup.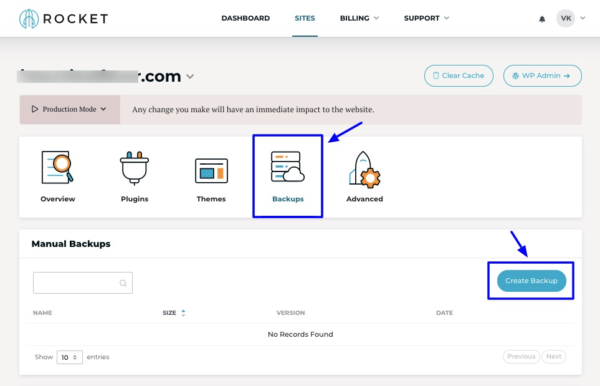 The popup will open asking you to choose the components that you want to include in the snapshot. Choose everything and click "Create".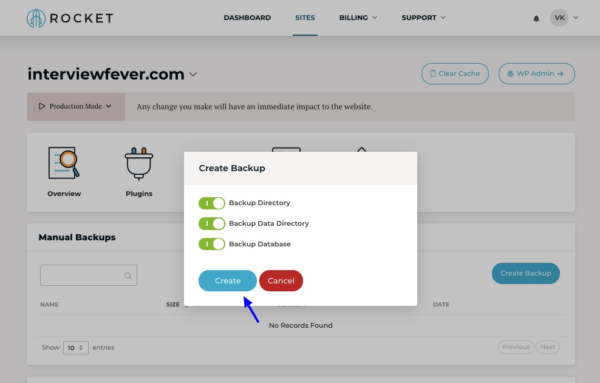 You should see a manual backup entry on your dashboard in a while.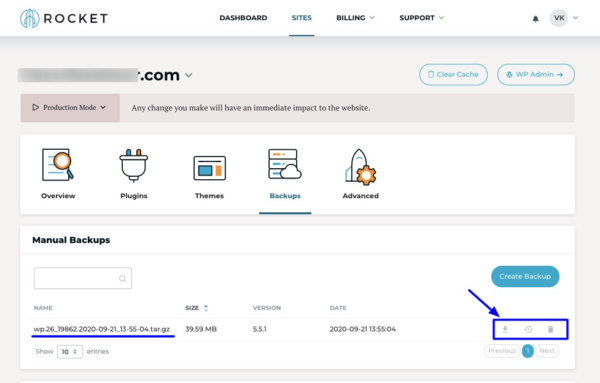 Now you can download this to your local machine or restore this to the production side in the future. 
Advanced options
When you build and develop your website on WordPress, there are certain situations where you require a specific version of php to support various plugins.
Luckily, you have the option to configure this in the Advanced tab in your dashboard.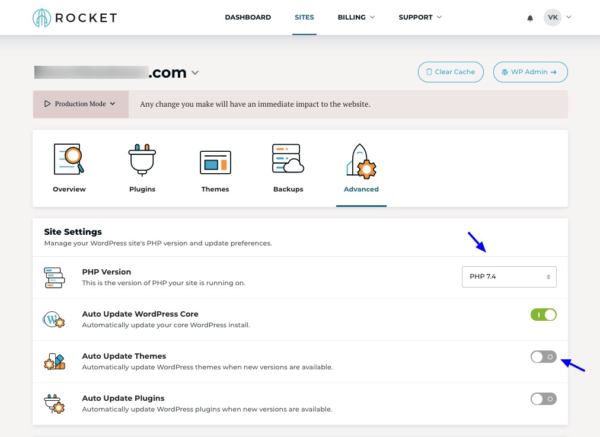 The advanced section contains more than just the php version. You can enable or disable auto-updates for WordPress core, themes, or plugins.
If you want to monitor your website further and see what all crons are running on your site, you can see a list of them in the advanced settings only.
Additionally, to automate more tasks, you have the option of creating a custom new cronjob from your rocket dashboard.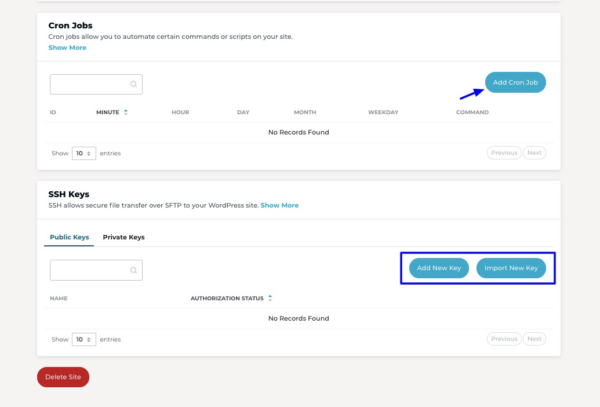 Analytics Of Your Visitors
The Rocket is a customer engagement and conversion analytics tool that gives you in-depth insights into how your customers interact with and respond to your website.
Analytics helps you better understand who your visitors are and what they're interested in. It's a great way to get an idea for which parts of the site need improvement or if there is anything new that needs added so it can be seen by all users as well.
You can track their movements around the site, see what pages they visit most often or which offers receive the highest conversions rates from leads coming through email campaigns all this information will help improve future marketing strategies!
FAQs Related to Rocket Review
👉 What is Rocket Hosting?
Rocket Hosting is a fast, reliable hosting service dedicated to providing WordPress website owners with an efficient hosting option.
What are the payment methods available to pay for the hosting?
The site uses Stripe and PayPal as their payment options. Hence, the cards working with these services are accepted here.
What if a WordPress update prevents the hosting from working properly?
The support team at Rocket Hosting constantly works towards providing updates so that these kinds of issues are not faced by the user.
Can I get any discount for Rocket.net?
Yes, they are currently offering an initial offer of $1 for the first month. This means you only pay $1 for the first month.
Is there a discount if I buy an annual subscription?
Yes, you can get 2 months of FREE hosting on Rocket.net with an annual subscription to each plan.
Does Rocket.net have a money-back policy?
Yes, Rocket.net offers a 30-day money-back guarantee in case you are not satisfied with your purchase. You can request a refund within 30 days of your purchase.
Is Rocket.net Right For me?
Yes, if you are looking for higher SEO rankings, high customer experience on the website, and good security, then Rocket.net is a perfect choice for you.
Does Rocket.net offer phone support?
Yes, they provide help via phone, chat, and email 24 hours a day, seven days a week.
Does Rocket.net offer free WordPress migrations?
Yes, they will free of charge transfer an infinite number of WordPress sites to their platform.
Can I use Rocket.net with a caching plugin?
Yes, Rocket works seamlessly with all WordPress plugins, including caching plugins.
Will the Rocket.net service provide my website with real-time security?
Yes, indeed. This will be handled by its built-in website security package.
Which paid plan of Rocket.net is best?
This will be determined by the requirements of your website. You can choose from four different paid options depending on your needs. However, my recommendation is to get one of its annual subscriptions to save two months on the price.
Is it possible for me to get the domains for free?
No, it's not true. They do not offer domain registration.
How can a website's speed be measured?
Checking the loading time of a website can be used to determine its speed. This function also includes checking your website's uptime.
Is Rocket compatible with all types of browser?
Yes, you can use Rocket with all available browsers.
Is there a trial version of Rocket available?
Yes, they offer a 14-day trial period during which you can request a refund if you are unsatisfied.
What Is the Speed of Rocket.net Hosting?
The fastest page speed is guaranteed by Rocket.net. This is accomplished through their free CDN, which comes included with all plans, as well as full-page caching. Additionally, Enterprise Servers and Fewer DNS Lookups are available. Basically, Rocket.net guarantees that your website's PageSpeed and YSlow Scores will be improved fast, or your money back.
What is the Uptime Rate of Rocket.net?
According to their website, Rocket.net has a 99.99 percent uptime. This implies that your website will be up and functioning almost all of the time, ensuring that sales and visits are never affected. You'll have a hard time finding a service with a higher up time.
Is Rocket.net Something We Would Recommend?
We would strongly advise you to use Rocket.net. In any Hosting Service, we look for two primary indicators: Uptime and PageSpeed. Rocket.net has a 99.99 percent uptime guarantee and lightning-fast speeds. Not to mention their built-in security suite and round-the-clock customer service.
Quick Links
Conclusion- Rocket Review 2023
Rocket Hosting is a great choice for those that need hosting for their WordPress website. With this service, your site will be protected and you won't have to worry about any downtime or data loss.
However, if you don't use WordPress as the host of your site, then it's not an option available to choose from when signing up with them. The rest of our blog has more information on how they work and what other options are out there in case you want something different.
If you want to host your WordPress site with Rocket Hosting, this is a great option. However, if you are looking for hosting for non-WordPress sites such as Magento, the company only offers shared hosting and not VPS or dedicated servers.
This makes it difficult for those who don't use WordPress websites to find an affordable solution that fits their needs. Consider these points before deciding on which type of hosting plan will best suit your business's needs and budget requirements.
Get Started With Rocket Hosting