🔥 Bottom Line UpFront
🔥 Smartproxy
Smartproxy has the best self-serve platform to buy residential, private and mobile proxies. The Pay-as-you-go option lets you keep a tap on your budget.

🔥 40M+ real device IPs
🔥 195+ locations
🔥 24/7 instant epic support
🔥 Full anonymity and security
🔥 Unlimited connections and threads
🔥 Advanced rotation
🔥 Pay As You Go option
Finding the right proxy provider can be challenging, especially if you're unsure what to look for. There are a lot of proxy providers out there, and it can be tough to figure out which one is right for you.
Not all providers are created equal. Some offer better speed and security, while others have more features or a lower price point.
SmartProxy is the perfect solution for anyone looking for a high-quality proxy service. SmartProxy proxies are fast, reliable, and secure, offering a wide range of features to make your experience as smooth as possible.
As discussed further in this Smartproxy review, their prices are unbeatable – you won't find a better deal elsewhere. Let us check out the SmartProxy review in detail.
What is SmartProxy?
In 2018, "a group of four multinational entrepreneurs" created SmartProxy. It began in response to premium proxy services such as Luminati and GeoSurf, which were exclusively available to corporate clients and required laborious onboarding.
The firm first resold addresses from other parties. Today, its proxy pool is comprised of proxies from numerous sources. According to SmartProxy, they're well verified, although the service doesn't disclose many specifics.
SmartProxy's revenue model is based on residential and data center proxy rotations. At the time, they were able to bridge the gap between premium providers and inexpensive but subpar services such as Storm Proxies.
The IPs functioned well and were less expensive than their high-end equivalents. SmartProxy's substantial investment in customer experience, including high-quality documentation, quick assistance, and an intuitive interface, was also significant.
This, combined with some focused marketing efforts, enabled SmartProxy to swiftly attract many sneakerheads, Instagram managers, and small-time scrapers seeking inexpensive residential addresses.
Even though its website remains primarily focused on these demographics, the corporation has been progressively increasing its reach.
Today, SmartProxy is one of the significant proxy service providers, maybe the third largest behind Bright Data and Oxylabs.
Rotating proxies remain the service's foundation, but there are now other products to pick from (such as dedicated proxies and a web scraper), and there are plans to include mobile and ISP proxies.
SmartProxy Review – Their tools
Proxy servers are advantageous due to their versatility and the fact that they enable users to access data from any place on the globe. SmartProxy provides free proxy administration tools and services that make the task simpler.
No-Code Scraper
An innovative scraper enables users to plan and save scraping operations. In addition, a premade scraping template eliminates the need to create a single line of code.
Address Generator
With user: pass, you may get quick proxy lists (up to 49,999) in three clicks and less than one minute, regardless of the session type (sticky or rotating proxy).
Browser extension
Proxy functionality without the hassle of configuring it in your browser. With the Chrome and Firefox Smart proxy extensions, you can create sessions with only two clicks.
X Browser
The anti-detection browser is designed to operate with residential proxies and allows you to manage several accounts and browsers simultaneously. It avoids IP prohibitions and CAPTCHAs by using unique fingerprints for each profile. My Smartproxy review is especially for proxy users, I will do the anti-detect browser review also very soon.
Proxies Offered by SmartProxy
SmartProxy Review of Residential Proxies
A residential proxy is a server that sits between you and the website you want to visit. This server's IP address was assigned by an Internet Service Provider (ISP) instead of a data center.
Each residential IP identifies a genuine mobile or desktop device with a specific geographical location.
To any website, traffic originating through residential proxies resembles a request from a regular user located in any part of the world.
Thus, the SmartProxy residential proxy network is very effective and impervious to blockades.
Uses of SmartProxy Residential IPs
Verify ads
Residential proxies from SmartProxy will allow you to improve CPA and defend yourself intelligently against scammers.
A worldwide reach on mobile devices is a game-changer since it will enable you to test advertisements on other continents.
Additionally, they provide numerous authentication methods and session kinds.
Scale your marketing
Register and manage an unlimited number of social media profiles! Residential IPs seem identical to those of standard devices, and they do not share subnetworks. Therefore, they cannot be banned in mass.
This is your best choice for social media marketing at scale, advertisement verification, SEO research, and affiliate testing, among other digital marketing use cases.
Cop sneakers
Shared proxies allow you to save money and utilize an infinite number of IP addresses simultaneously.
It implies that several users may use the same proxy, but it will not affect the success of your projects. SmartProxy does not restrict the number of IP addresses you may use!
Premium quality, low price: Combine SmartProxy residential proxies with your sneaker bot and start sneaker copping! Get the most recent limited-edition releases, monitor sneaker drops, and test out bulk purchasing without breaking a sweat.
Sneakerheads use residential proxies from SmartProxy to access Nike, Supreme, Yeezy, FootLocker, and other renowned brands.
Access data anywhere:Target more than 195 worldwide areas, including major cities and 50 US states! Utilize simple-to-configure endpoints and prevent IP blocking. Obtain local information, verify localized websites, do market research, or quickly investigate overseas rivals.
Web scrape freely: SmartProxy does not charge per proxy, so you may use the whole pool with unlimited connection requests and maximize the performance of your scrapers. Use concurrent connections to scrape many sources at once.
SmartProxy Review of Datacenter Proxies
Datacenter (DC) proxies are the traditional proxies that modify your IP address to protect your location and personal information. DC proxies are IP addresses that are established virtually in data centers.
They have been on the market for decades but added a new level of excellence with innovative technology.
DC proxies share subnets, making them simpler to block compared to residential proxies, which are more durable.
However, because DC proxies operate on high-speed computers, their connection speed is unquestionably superior to residential IPs, and speed is often the most crucial element for scraping operations.
SMARTPROXY REVIEW
The SmartProxy proxy pool for the next generation has 400 subnetworks. This makes IP detection very challenging.

With the powerful rotation algorithms of SmartProxy, each connection request is assigned a unique proxy.

Shared proxies allow you to save money and utilize an infinite number of IP addresses simultaneously. 

Premium quality, low price

With any price plan, you get access to the whole IP pool. One hundred thousand US and EU proxies are immediately accessible, and the number is continually expanding.
SmartProxy Review – Dedicated Datacenter Proxies
If you use dedicated data center proxies, no one else will share your IP address. You will reduce the danger of IP blocking and have complete control and ownership over your IP's surfing history, acceptability, trustworthiness, and health.
Consider the shared proxies that allow several users to access the Internet simultaneously. Yes, they are less expensive, but not everything is flowers and butterflies.
What if you want to target information that everyone simultaneously scrapes? With shared proxies, you and others will be more likely to be blocked. Especially if you're not an expert in proxies yet.
But do not get depressed! Dedicated US data center proxies will prevent you from suddenly being blocked or banned.
Dedicated Datacenter Proxies Features
Easy management
Using the SmartProxy dashboard, you may arrange, download, or copy a list of premium dedicated IPs to the clipboard.
Speed and stability
Forget about abused proxies and IPs that vanish amid your scraping operation; DDC proxies operate on high-speed computers, so you get both speed and reliability.
Randomization option
You can change your IP addresses anytime and as often as you choose by renewing your membership.
IPs that belong to you
As long as you use an IP from their 400K DDC proxies pool in the United States, no one else will be able to access the same IP.
Why Do I Recommend SmartProxy?
No-code data collection:
There is no need to worry while scraping and processing data. I have written this Smartproxy review after due testing and having my hands on the product for a long. The No-Code Scraper addon, their most recent product, allows you to filter data with a single click and download it in seconds without writing a single line of code.
Intuitive setup:
SmartProxy believes in self-service; thus, configuring its proxies is straightforward. All main software setup methods and integrations are covered in their literature with helpful images and clear instructions for your convenience.
Separate Proxy Users for any task:
If you want to employ proxies for various projects or activities, you may distribute them through Proxy Users. Each Proxy User has unique login credentials and traffic measurement, allowing you to restrict the amount of bandwidth a particular project uses.
Unlimited connection requests:
The SmartProxy residential proxy network permits an infinite number of simultaneous connection requests. This implies that your scraper can quickly access all the required pages. And if you get shoes online, you will be invincible.
How To Sign Up For SmartProxy Free Trial?
Step 1: Go to SmartProxy.
Step 2: Click on the red button that says "Get Started".
Using SmartProxy Rotating Residential Proxies
Here, I have shown the regular plan for Residential proxies.
Buy SmartProxy Subscription Now
Now you will have both ways of authentication to be able to use the Residential Proxies.
First, Go to authentication methods and create your username and password for the Residential Proxy.
Now, you need to generate the endpoints. This will give you the command to use the residential proxies in your bot/software.
In the above screen,
You need to put your username and password to automatically generate the proxy list with User:Pass authentication method.
For a random location, it uses gate.smartproxy.com. However, you can choose a specific Proxy location as well.
You can choose Stick or Rotating Proxy here.
Once ready, you can copy the command and put it in your automation bot to start using it.
If you want to use it in a browser, The below screenshot shows you how to configure it in Ghost Browser.
I used the Identity manager feature of Ghost browser. You can see that the active tab has a unique color and identity name in the bottom right corner.
The best way to use it is – to set up a static residential IP in your SmartProxy dashboard and use it with your Ghost browser (or any other anti-detect or privacy browser).
SmartProxy Pricing
If you're unfamiliar with proxies, SmartProxy helps you understand what you can and cannot do and how to do activities directly from your dashboard.
It's reassuring that assistance and information are so easily accessible, which expedites learning to utilize SmartProxy.
You will primarily use the service to monitor and enhance SEO, check advertisements, enhance internet security, conduct market research, investigate the competition, locate travel offers, and safeguard your brand.
For web scraping, residential proxies are the best option overall. The sophisticated proxy rotation avoids bans and blocks, allowing your project to continue operating. Monthly plans start at $75 for 5 GB of traffic.
Not only are datacenter proxies cheaper for sophisticated users that want quicker proxies, but they are also faster overall. These proxies have a slightly higher likelihood of getting banned, but they are the most cost-effective solution for large-scale operations. Monthly plans begin at $50 for 100 GB of traffic.
Dedicated data center proxies provide limitless bandwidth and threads through private IP addresses. Plans begin at $39 per month for 25 IPs.
The search engine proxies provide essential information from Google, other major search engines, and critical e-commerce websites like Amazon, AliExpress, and Wayfair.
Scraping data from any of them is difficult, but SmartProxy's comprehensive solution guarantees success. Plus, you only pay for successful requests. Plans begin at $100 per month for 35,000 successful requests.
SmartProxy Salient Features
3-day money back option
24/7 customer support
Unlimited threads
HTTP(S) unlimited connections
IPv4 high-value proxy pool
No subnets with Residential Proxies
Datacenter proxies with 100 subnets
Backconnect proxies let you use unlimited sticky IP sessions
Residential Proxies for mobile and desktop devices
All SmartProxy Proxies are anonymous proxies
Any location from 195+ locations
Rotating proxies with advanced proxy rotation
SmartProxy Pros and Cons
Pros
Great customer support
Good session control
High proxy connection speed
Quick response time
Excellent scraping performance
Promising Search Engine Proxies
Easy to use
Enough Residential IPs and location
They are cheaper than many of their competitors
Cons
Email support is slow sometimes
FAQs and Conclusion
Is SmartProxy good?
SmartProxy is a great platform that offers a plethora of proxy capabilities and functionality for a very reasonable fee, even though it lacks the notoriety of some of its larger-scale competitors.
Will I get a dedicated IP list with SmartProxy?
Instead of offering dedicated proxies, static proxies, and IP lists, they provide you with access to their whole global IP pool. SmartProxy uses proxy addresses (endpoints) instead of IPs for convenience of usage since IPs are automatically rotated and do not need to be changed. Choose the proxy address (endpoint) that represents the nation or city of your choosing and configure it on your application or operating system.
Does SmartProxy support SOCKS protocols?
Currently, only HTTP/S protocols are supported by SmartProxy. The HTTPS communication protocol employs a proprietary algorithm for encryption.
There are several proxy kinds, and SmartProxy provides four of them. Residential and data center networks are the most frequent.
SmartProxy also offers Search Engine proxies, a comprehensive scraping API that incorporates a proxy network, web scraper, and data parser, in addition to other varieties. If you want private IPs, SmartProxy provides a vast range of static dedicated data center proxies from the United States.
For more informed decision, you can also look for Smartproxy reviews on other platforms like G2. I have included some of the most trusted and practical Smartproxy Reviews below.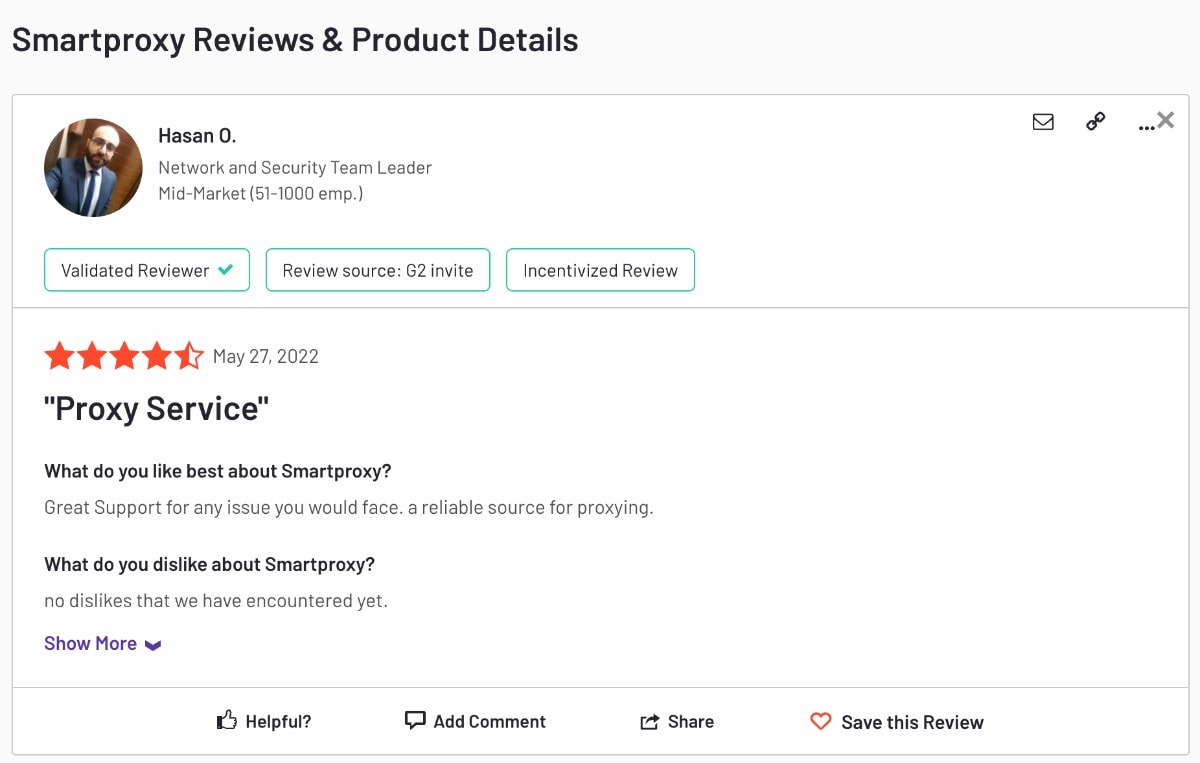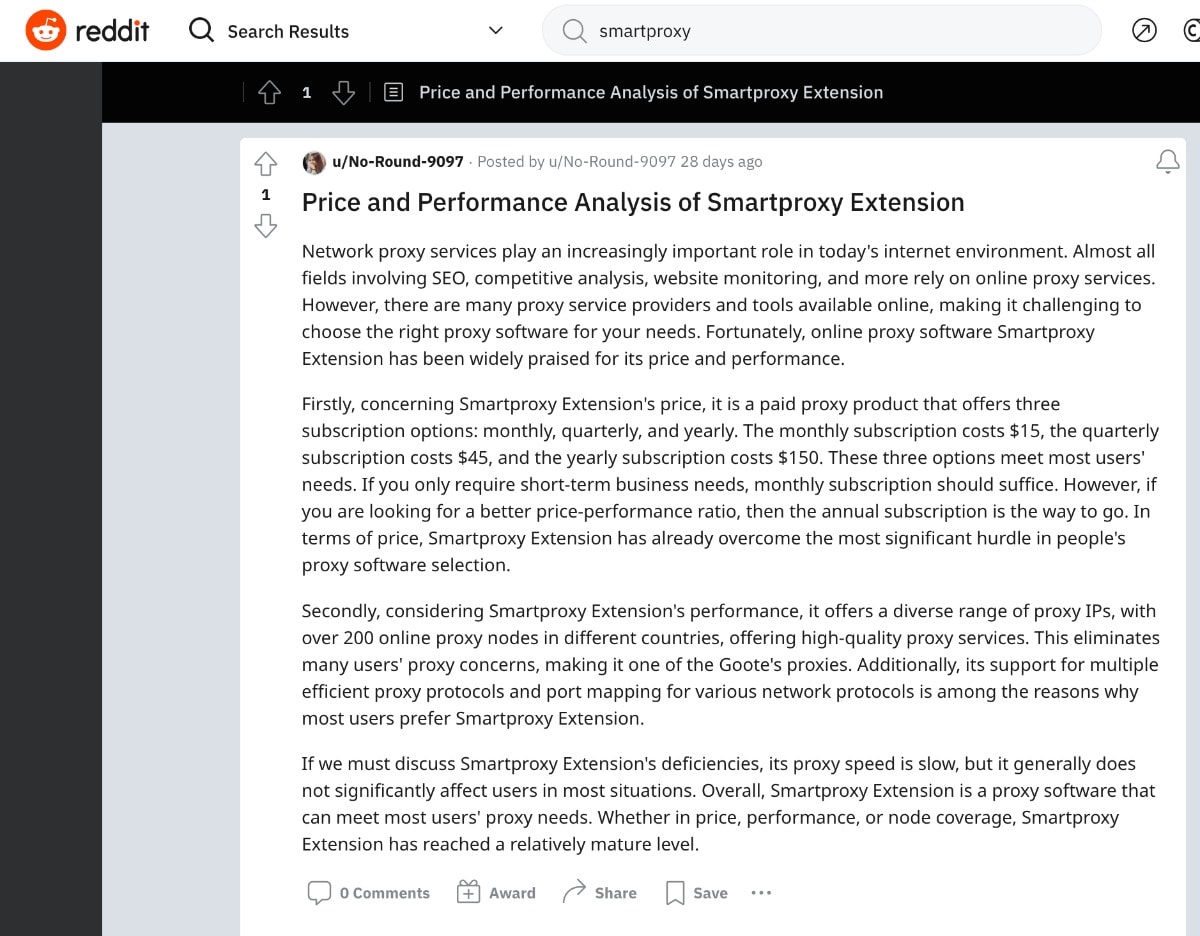 It offers an excellent price-to-features ratio, so you receive a tremendous amount of value. In addition, each plan provides access to the free tools required to manage proxy duties. X-Browser, a multi-profile anti-detection management tool, and Smart Scraper, a code-free data harvesting tool, are examples.
SmartProxy is a good alternative if you want a user-friendly data access solution and effective proxy administration capabilities. With it, you can compete equally with more prominent organizations that gather vast data and more technically adept rivals.