The latest ad mediation technology enables publishers to connect to and manage campaigns across different networks. Considered a relatively new idea, ad mediation operates as a middleman between publisher and network, negotiating the best possible prices for the webmaster's inventory.
AdSpyglass is a strong ad mediation network created in 2014. It is already a well-known truth that advertising via ad management services is considerably more practical and cost-effective than handling many advertising networks all by yourself.
First, we'll look at how easy it is to implement AdSpyglass into your project. Then we'll delve into its features and see how it compares to other ad mediation services. Finally, we'll give our verdict on whether or not you should consider using this service in your next project. So without further ado, let's get started!
Who is AdSpyglass Good For?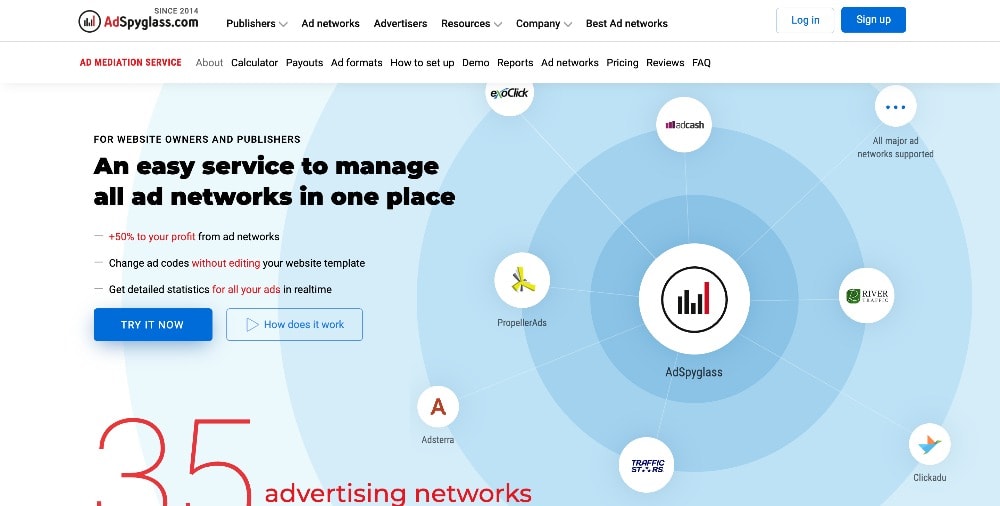 AdSpyglass is an ad management software that enables you to increase your earnings from adult and non-adult ad networks by two. It is targeted at publishers and website owners rather than advertisers and is ideal for anybody wishing to increase revenue from website visits via ad serving.
The system is linked with over 35 advertising networks and supports various popular advertising formats. If you operate with ad networks such as Adsterra, JuicyAds, AdSupply, PopCash, or ExoClick, you may utilize this strategy to boost your earnings by up to 100 %.
Simply bear in mind that the platform works only with CPM ad networks and performs better on high-traffic websites. Therefore, if your website has more than 50k daily visitors, you are OK to proceed. However, if you create a new network of websites and your traffic volume is tiny, you may still utilize AdSpyglass. In this manner, you'll start with a foolproof monetization approach.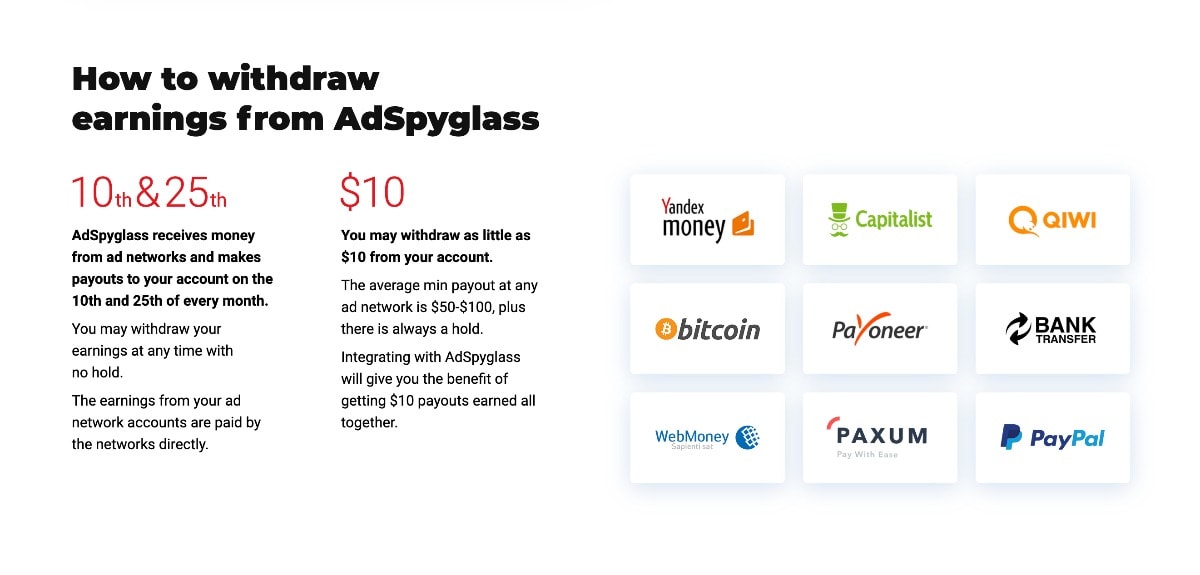 The software scans advertising from reputable networks in real-time to deliver you the most lucrative offers and the highest CPM display ads for your website. You can quickly manage all of your advertisements from one location, allowing you to optimize your website earnings during the first month of usage.
AdSpyglass is ideal if you wish to get the following –
Increased operational efficiency via centralized control of your ad stack.
A complete view of your ad inventory, AdSpyglass reports, and more, providing you with a complete picture of the state of your websites.
Increased competition and increased cost per thousand impressions (CPMs) from extensive ad networks.
Transparency about the performance of partners.
The ability to effortlessly add/remove partners.
Automatic double increase in ad revenue.
Most importantly, AdSpyglass fills 100 % of all ad views. The more networks you include in your list, the higher your fill rate. This platform offers several significant benefits. If you're a webmaster who lacks the time or resources necessary to locate high-CPM ad networks, this is an excellent solution to explore to prevent ad strategy failure.
AdSpyglass Features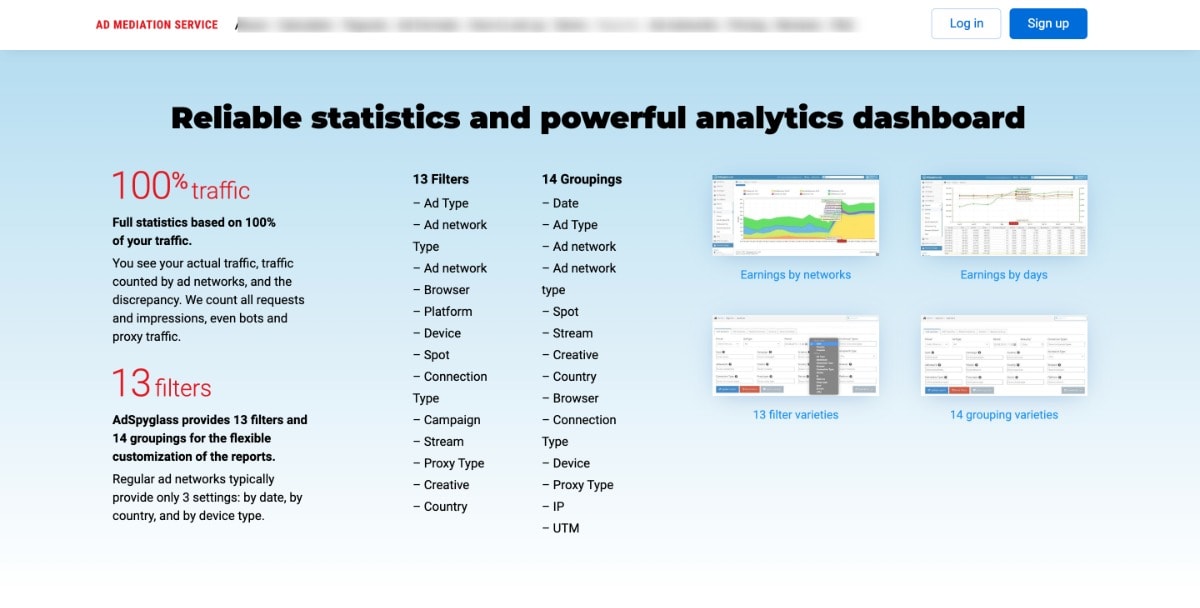 AdSpyglass has a plethora of functions aimed at maximizing income for your organization. Let's dissect the platform's multiple features to understand what you may anticipate from this ad mediation service.
1. Anti-Blocking Solution:
Ad blockers are a significant barrier to income for publishers, and AdSpyglass delivers an anti-blocking solution that enables you to generate more cash from your site. As more individuals use adblocking technology, the platform has developed powerful anti-adblocking technologies to combat this. You'll be able to circumvent most ad block techniques, allowing you to earn more cash from advertisements.
2. Support for Desktop and Mobile Traffic:
AdSpyglass monitors traffic on both mobile and desktop devices. With most people nowadays connecting to the internet through smartphones, it's critical to target mobile traffic if you want to optimize your results and swiftly raise income.
3. Advanced Stats Reporting:
AdSpyglass has a sophisticated statistics reporting system that you may use to monitor your networks' performance. The dashboard is simple to use and displays all of your critical KPIs at a glance. The robust analytics dashboard will show you your real traffic, traffic counted by ad networks, and any disparities. The software keeps track of all requests and impressions, including those from bots and proxy servers.
4. Earnings Calculator:
If you're unsure if this mediation platform will be lucrative in your instance, you may use the profits calculator to determine. The tool is simple and will offer you an instant estimate of how much money you may earn using the service.
In other words, this simple earnings calculator will forecast your future wages. Slider settings enable you to customize your priorities based on traffic, current revenue, etc. This straightforward program will then forecast your future revenue for you automatically.
5. Wide Range of Supported Ad Networks:
This ad mediation service will provide you with the most profitable offers from several ad networks, enabling you to choose the one with the highest cost per thousand impressions. It's the ideal solution for anybody struggling to monetize their website. It will provide you with many ad networks to select from, and an automatic method will filter out those with high CPM rates.
The platform's blog has a wealth of educational materials and tools for anybody interested in learning more about the various ad networks. Several reviews and comparison articles for all the major networks, including Adsterra, TrafficForce, TrafficShop, and ClickAdu.
6. Maximized Profits:
AdSpyglass works by automatically identifying the most profitable offers from high CPM ad networks using ad mediation technology. The value of ad mediation cannot be emphasized in optimizing your business's ad revenue.
This technique has a lot of advantages for both publishers and ad network operators. Publishers have access to more lucrative deals, while ad networks benefit from more manageable payments. The platform integrates with over three dozen ad networks, which means you'll have no trouble finding a handful that is a good fit. One of the primary advantages of AdSpyglass is that it provides real-time ad activity, extensive data, and a variety of additional features to assist you in optimizing your advertising income.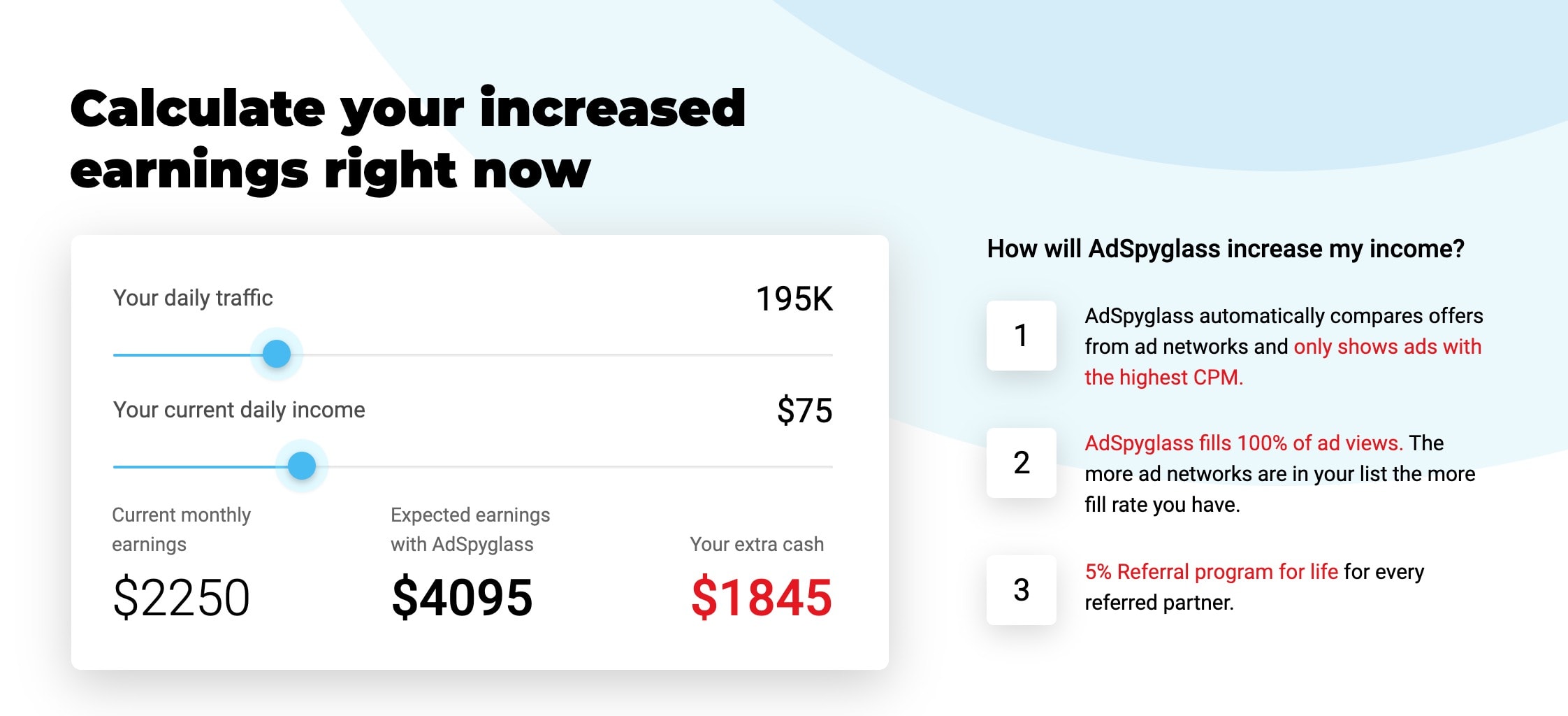 You may show your advertisements on the platform and sell leftover traffic or direct buyer advertisements to any of your ad networks. You no longer have to endure the time-consuming procedure of switching ad tags between ad networks and then waiting at least 24 hours to see your revenue and compare it to the prior network. With AdSpyglass, you may monitor the advantages of many networks concurrently.
Simply add all of your networks and quickly check which one gives the most excellent price. All computations are performed in real-time, and the platform switches traffic automatically to the most lucrative network. Simply looking at the bottom line will cause your income to rise.
If you wish to update the ad tags regularly, you do not have to alter your site layouts. All changes are made immediately via the admin panel, which helps you avoid expensive errors while modifying your website's template and saves you a lot of time, which is especially beneficial if you have many websites.
7. Ease of Use:
The single reporting dashboard enables you to search for the most exemplary ad networks to maximize ad income. At a glance, you can evaluate advertising networks to determine which ones can provide the most value to your advertising stack. To begin using AdSpyglass, just create an account on the website. Log in to your dashboard using your username and password to add your website.
Once complete, click the "Add" button to be sent to the "Add Websites" page, where you may see all of AdSpyglass's advertising websites and begin adding advertising spaces to your website.
The choices for modifying or removing the edit website are located on the right side of the site list. To add a position on your site for the ad campaign, just click the "+" symbol in the upper right-hand corner of the page.
Next, you may give the spot a name and choose the ad type (pop-under, banner, slider, etc.). Additionally, you may select the maximum number of times an ad can be shown to the same visitor.
AdSpyglass Pricing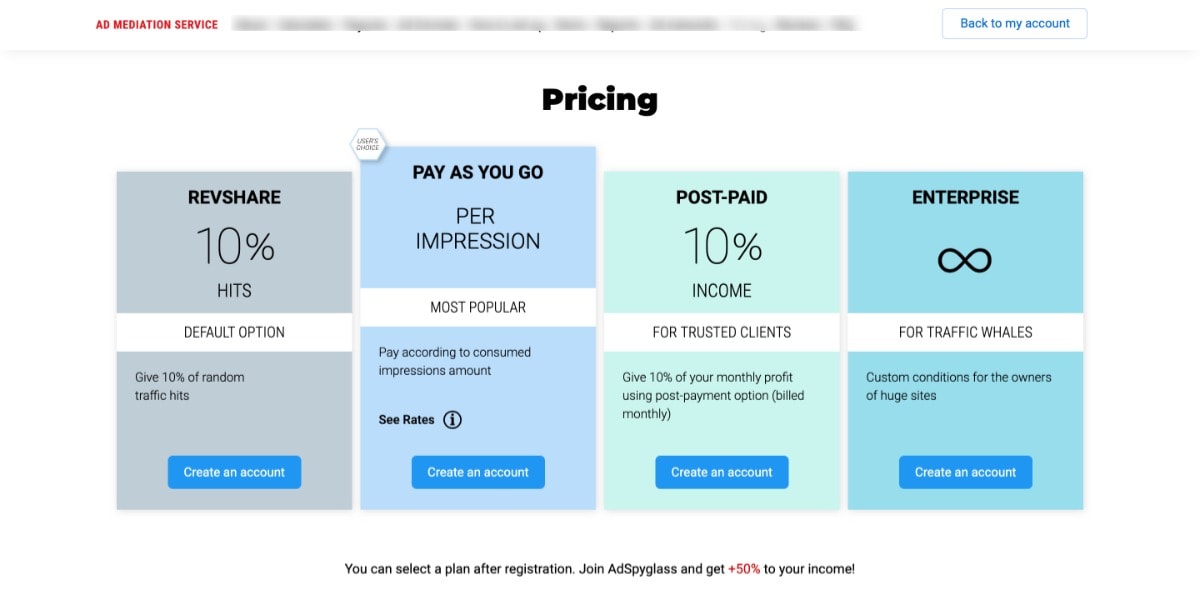 AdSpyglass is a very cost-effective tool, so it is famous for marketers. By signing up for a trial offer, you may try out all of the platform's features for 14 days for free. You will be automatically upgraded to the paying plan based on your consumption (unless you cancel the trial).
The following choices are available to webmasters –
RevShare: Provide 10 % of random traffic hits.
Pay As You Go: Pay for impressions.
Post-Paid: Contribute 10 % of monthly profit.
Enterprise: Conditions tailored to the needs of large-scale site owners.
What Makes AdSpyglass The Best Ad Mediation Services?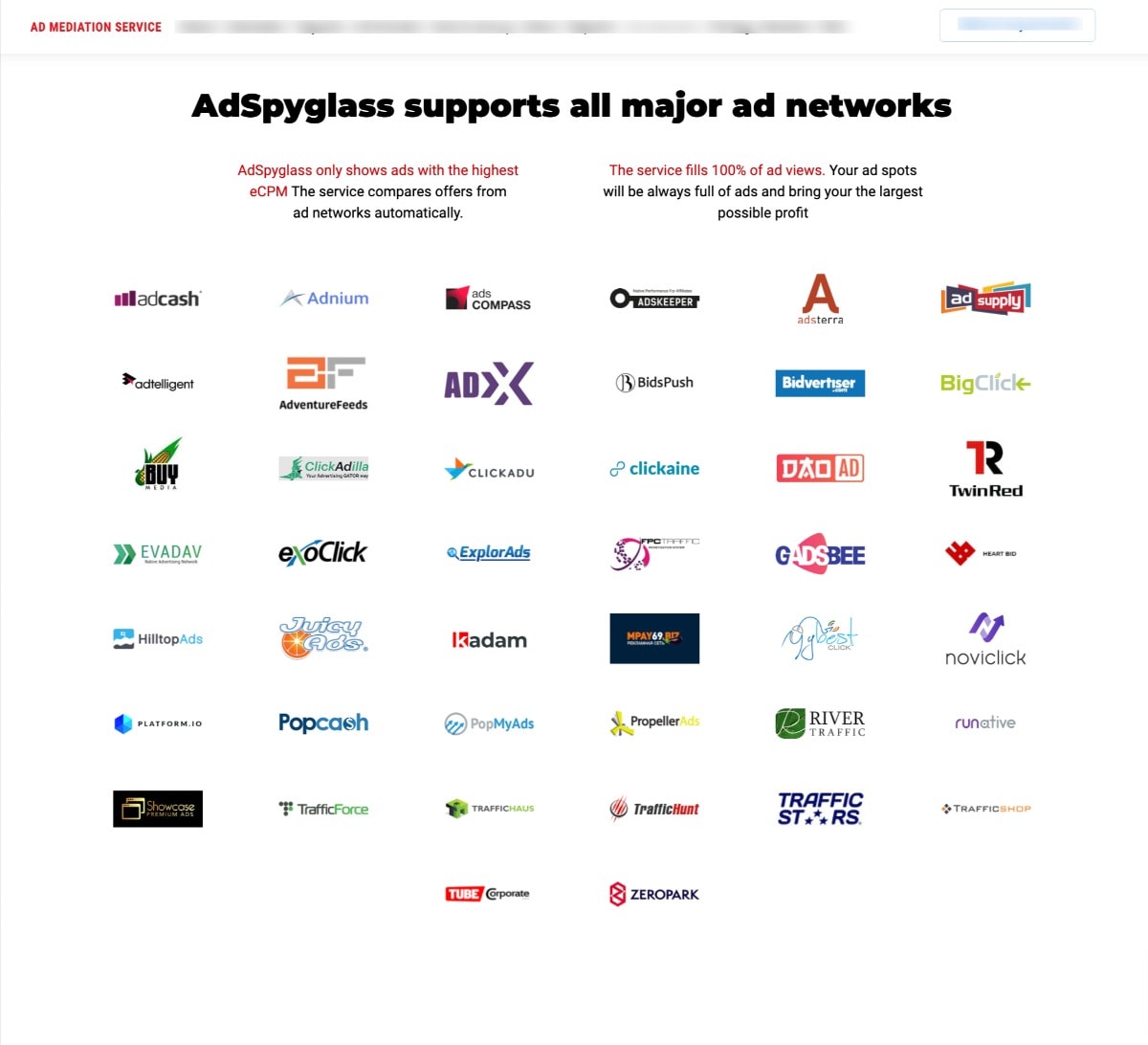 AdSpyglass is most renowned for being customer-centric. It effectively filters out adverts from other networks with higher CPM prices. Publishers and advertisers may filter the most popular ad forms and combine them to increase income.
However, marketers often struggle to identify advertisements with a high CPM and fail to strategize the ad objectives. With AdSpyglass, you receive all the key characteristics for advertising targeting, such as geolocation, demographic, and time-related data. Additionally, it is pretty straightforward to manage all ad networks from a single dashboard.
The critical component for any mediation service is to avoid overlooking mobile advertising, the primary source of money. AdSpyglass performs well across all platforms.
Conclusion – Should You Choose AdSpyglass?
It should go without saying that publishers should use mediation ad sources to maximize their website's income potential. Separately managing each ad network is ineffective and unproductive; doing so is a waste of time and effort. However, even after acknowledging this truth, you will struggle to locate the most suitable and cost-effective mediation platform. AdSpyglass is a fantastic fit for your objectives. It is reliable and beneficial; after joining up, you can anticipate an immediate increase in income of up to 100 %.
The number of advertising networks with which AdSpyglass partners is exceptionally significant. The link with well-known networks such as PropellerAds and Exoclick ensures that you get lucrative ad offers of the highest quality.
This solution makes it very simple to manage all of your advertising networks from a single dashboard. Working several dashboards to monitor the performance of each network may be a nuisance, even more so when time is limited. AdSpyglass enables you to monitor your campaign's statistics and profits across all ad networks from a single, easy-to-navigate interface.
Not to be overlooked is the previously stated anti-AdBlock method. If it works for you, your earnings will increase significantly. AdSpyglass, in general, distinguishes out greatly from other comparable services. It is continually evolving and growing and is most certainly worth a go.
FAQs
What is Ad Mediation?
Ad Mediation is a service that allows online publishers to discover and show adverts from ad networks, direct advertisers, and other sources on their websites. Mediation services for ad networks send out ad requests on your behalf to identify the ad networks that are most likely to optimize fill rates and monetization possibilities. The effectiveness of advertising networks varies according to their geographic location and business type. As a result, some ad networks will perform well for certain publishers while ineffective for others. Ad network mediation assists in identifying the networks that will perform optimally given the site's unique features.
Does AdSpyglass display its ads?
Contrary to popular belief, they do not.
How many ad networks should I be using for the best results?
I advocate connecting four or more ad networks for optimal ad income optimization. However, it is dependent on the originality of your traffic; the less distinctive it is, the more ad networks you will need. They will choose the most appropriate advertising network for each visitor, and they will need more selections to get the most remarkable results.