Monetizing websites with push ads is becoming more and more popular monetization methods. This is because once the user subscribes to push notifications, you will start earning till the user unsubscribes.
One such global push advertising network is ClickStar, and in this ClickStar.me review, you will learn more about this network.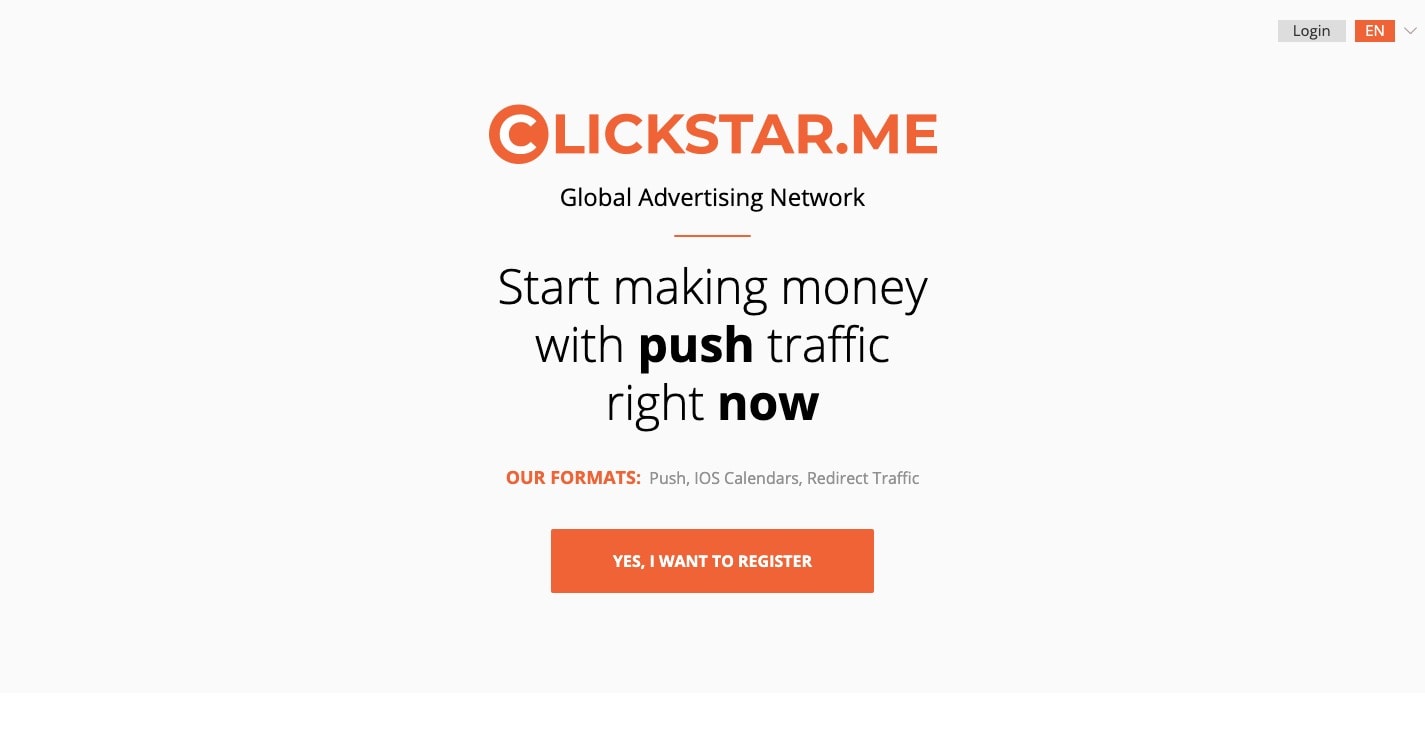 About ClickStar.me
For Publishers/Affiliates
| | |
| --- | --- |
| Ad Network: | Clickstar (Clickstar.me) |
| Commission type: | Revshare |
| Payment Threshold: | $1 |
| Payment Frequency: | Daily, Weekly |
| Available Payment Methods: | PayPal, WebMoney, Capitalist, Paxum, QIWI |
| Referral Commission | 3% |
| Contact Details: | Support (partner@clickstar.me) |
| Joining Link (aff): | Join Now |
For Advertisers
| | |
| --- | --- |
| Ad Network: | Clickstar (Clickstar.me) |
| Advertising formats: | Push, Redirect, Native, iOS Calendar |
| Cost: | CPA, CPM, CPI, CPL, RTB, CPC |
| Minimum Topup: | $100 |
| Available Payment Methods: | PayPal, WebMoney, Capitalist, Paxum, QIWI, Юmoney |
| Top Verticals | Sweepstakes, Mobile App, Forex, Gambling, Mainstream |
| Daily Impressions | 1 billion |
| Joining Link (aff): | Join Now |
Targeting & Optimization
Self-serve Platform
GEO Targeting
Device Targeting
OS Targeting
ISP/Carrier Targeting
Broswer Targeting
IP Targeting
Website Targeting
Language Targeting
Time Targeting
Category Targeting
Demographic Targeting
Retargeting
Black/White List
Frequency Capping
Token
Anti-Fraud
Adult Ads
Gambling Ads
Personal Account Manager
ClickStar.me provides push traffic to monetize your website and start earning money with push subscriptions. You simply have to register as a publisher at ClickStar.me and upon approval, you can start making money.
Once your account gets approved, you have to place the code on your site and push ads will be displayed to every user visiting your site.
If the user agrees and subscribes to push notifications, then push notifications will be delivered on the user's mobile and desktop. When a user clicks on the ads relevant to the search, the user will get redirected to the advertiser's website.
[wp-review id="15526″]
Push notification is the best monetization ad format as it is unavoidable and the user tends to click on it. Also, the user clicks on the push ads only if interested resulting in a targeted audience.
This way publishers can earn big money with push notification ads, and advertisers can grow their brand globally.
Ad Formats Supported by ClickStar.me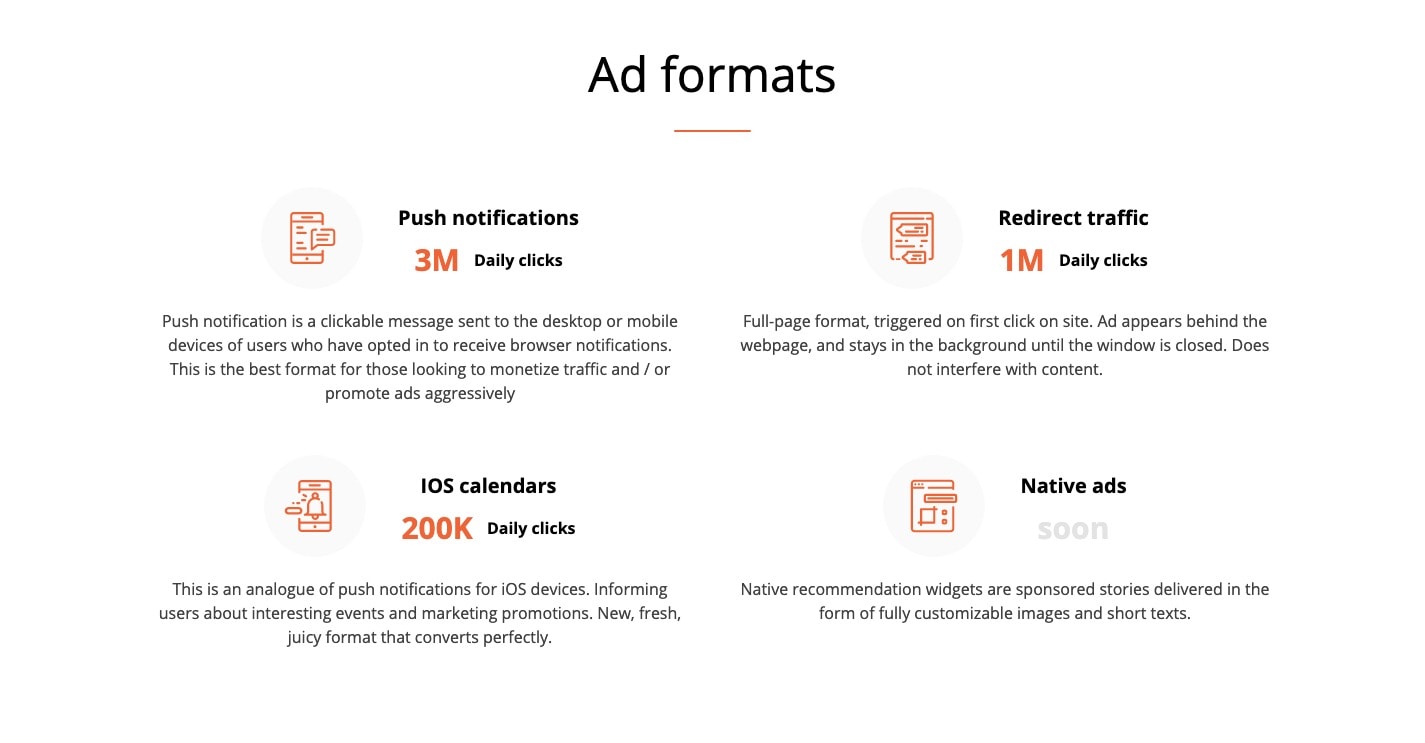 Redirect Traffic: This ad format appears in the background without interfering with the content. The ad is triggered when the user clicks for the first time on your website.
A full-page format receives over 1 M daily clicks and is considered to be a good monetization ad format.
IOS Calendars: This ad format is expected to receive 200K clicks daily and is an analog of push notifications for iOS devices. It is one of the newest ad formats you would have ever known and converts well.
It displays information regarding interesting events and marketing promotions. Such kind of information receives a huge amount of clicks and publishers get to earn a lot.
Push Notifications: The highest number of clicks received by any ad format is push-notifications. It receives 3M clicks daily. Push notifications are sent to only those users who have agreed to receive browser notifications.
It is a high-converting ad format for publishers to promote ads aggressively and earn big money.
Native Ads: Native ads are yet to be provided to ClickStar.me users, but will shortly be available. It is a fully customizable ad format with images and texts based on users' intent.
ClickStar.me Review: Why Choose ClickStar.me?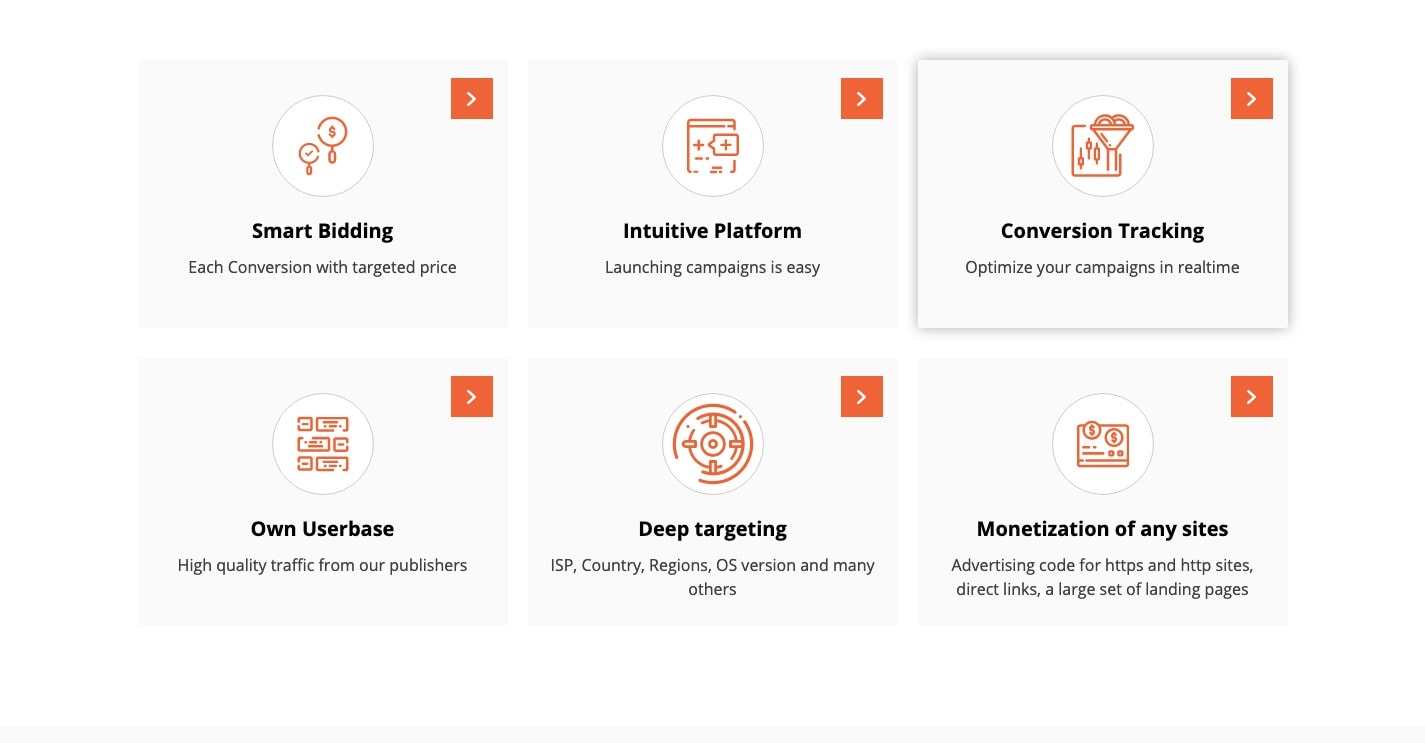 The very important section of ClickStar.me review is the feature section that helps you understand more about its technology. Knowing these reasons would help you make a decision on whether to join this ad network or not.
Smart Bidding: Automated bidding utilizes machine learning for each conversion with a targeted price. You can earn more with smart bidding rather than manual bidding due to an automated bidding strategy.
Easy To Use Platform: An intuitive and simple-to-use platform allows you to quickly launch your campaigns with no rocket science. Sign up as a publisher or an advertiser for free, and start generating revenue with the most advanced push notification ad format.
Real-time Tracking: Real-time campaign optimization allows you to identify your campaign performance. You can start or stop campaigns based on their performance. Campaign optimization allows you to adjust the settings in real-time to improve campaign performance.
Exclusive User Base: ClickStar has its own unique push user base with only high-quality traffic from premium publishers.
Advanced Targeting: Target audience by ISP, Country, regions, OS, device, and more to get flooded conversions.
Integrate any site: Whether your site is HTTPS or has HTTP, you can easily integrate the code into your website. You can monetize direct links and landing pages.
Advantages For Publishers
Still, sailing in two boats and don't know which one will let you reach your desired goals? Publishers joining ClickStar have excelled and earned a lot with great push traffic. Joining ClickStar as a publisher will benefit you in the following ways:
A large pool of advertisers looking for high-quality traffic.
Payments are processed regularly every day via Visa, MasterCard, WebMoney, Paxum, Bank Transfer, and more.
Integrate push notifications that don't require any additional space on your website.
No penalties on displaying push notifications ads as all the ads are bot-free and clean for your audience.
Monetize any kind of blog or website that does not break the rules and regulations.
Easy to use dashboard with real-time conversion tracking.
Works for both mobile and desktop users globally.
There is no limit on your earnings. With huge visitors, you can earn somewhere around $100 per day.
Also Read Similar Affiliate Network Review:
ClickStar.me Review Conclusion: Is It Worth Joining?
ClickStar.me review is for publishers who want to maximize their revenues by monetizing their site traffic with push notifications.
The payouts are high and on time, so you will love to see money flowing in your account.
For any queries or issues related to policies or any other matter, publishers can reach out on Telegram: @clickstar_me, Skype: live:clickstar.me, or email: partner@clickstar.me
Happy monetization, and happy earnings!