Looking for the top Ahrefs alternatives? Read on to find the top SEO tools like Ahrefs (free and paid). In the realm of SEO, Ahrefs is one of the most famous tools many SEO marketers use. Ahrefs is undoubtedly a perfect tool for an SEO guy or a savvy marketer.
But some might think it's too expensive and are looking for cheaper or free alternatives. When it comes to SEO tools, there are few as widely used and respected as Ahrefs. However, the cost of the tool can be prohibitive for smaller businesses or bloggers on a tight budget.
In this article, we'll explore a few Ahrefs alternatives that offer similar functionality at a fraction of the price. Keep in mind that no single tool is perfect for everyone, so be sure to try out several before settling on one. Happy blogging!
Ahrefs
Ahrefs is a powerful tool for SEO professionals. It allows you to track your website's ranking, research competitor websites, and find profitable keywords.
The site also offers a variety of other features that can help you improve your website's visibility online. If you want to improve your website's SEO, Ahrefs is your tool.
Ahrefs features
✅ Site Explorer
✅ Keywords Explorer
✅ Site Audit
✅ Rank Tracker
✅ Content Explorer
✅ Web Explorer
— More
Ahrefs Pricing
| — | Lite | Standard | Advanced | Enterprise |
| --- | --- | --- | --- | --- |
| Monthly billing | $99 | $199 | $399 | $999 |
| Yearly billing | $83 | $166 | $333 | $833 |
Ahrefs Pricing Table
Ahrefs Pros & Cons
✅ Pros
Best for finding keyword opportunities
Analyze SERP results and create your own strategy
Good User Interface
Affordable Pricing
Reliable & Updated Data
Reliable & Updated Data
Perfect Competitive Intelligence
❌ Cons
Limited rows export per report and limited reports
Pay-as-you-go after you use the allotted number of credits
Credit system limits usage
Best Ahrefs Alternatives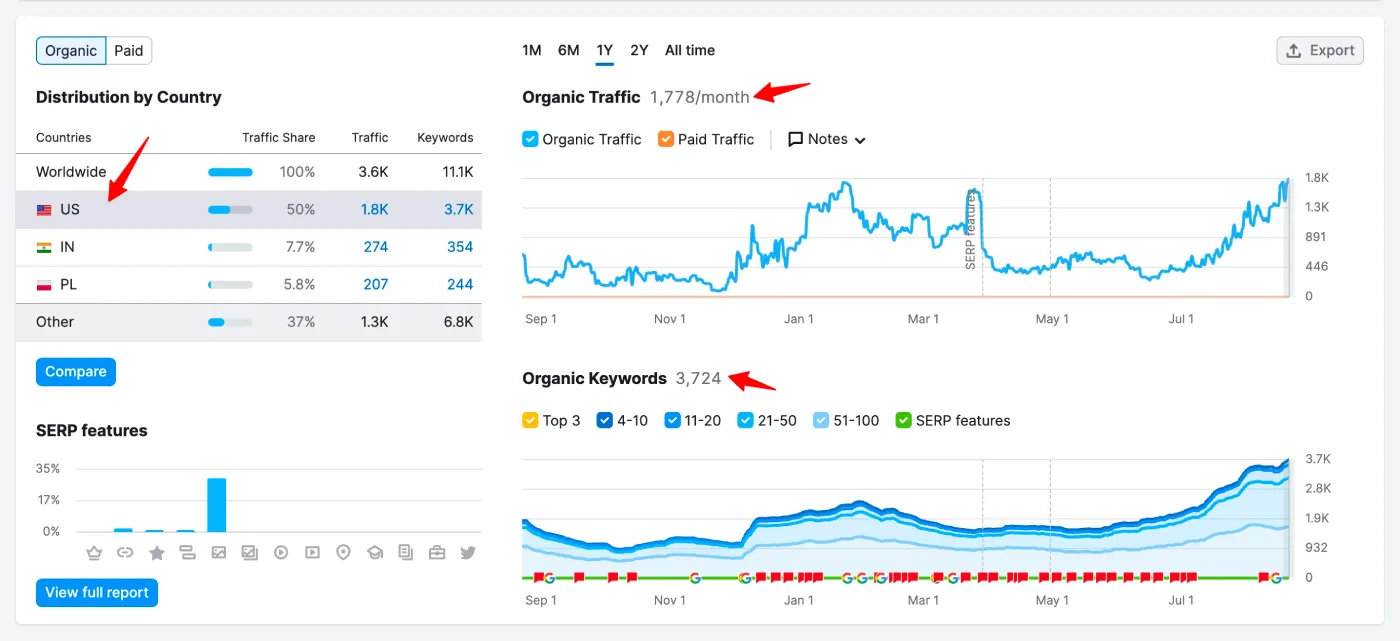 Started in 2008, Semrush has made a big name as a mainstream tool for every SEO professional. It does all that any other tool like Ahrefs will do. You can conduct keyword research, tap competitors' backlinks, and more.
Whenever you ask someone about the best alternative to Ahrefs, the most probable answer is Semrush.
The primary purpose, however, remains the SEO audit and all related functions. The rest serves as a side dish for those with a tight budget and who cannot afford to spend on additional platforms. Semrush has an incredible amount of functions. Thanks to this tool, we can:
Analyze domains and competitors and do advanced keyword research.
Study the advertisements of others in search campaigns and displays.
Analyze the cost of keywords and spy on ads and landing pages.
Schedule content on social media and track results
Create advanced automatic reports to send to customers or managers.
Manage teams and marketing campaigns with tasks, to-do lists… and dozens of micro tools and secondary functions.
The feature of advertising intelligence is even better than Ahrefs, which can work best to reveal the paid keywords of any website.
I wanted to show you all the features of Semush. But for that, I have written a detailed Semrush review on this blog.
However, I will show my favorite tools from the Semrush panel.
Organic Research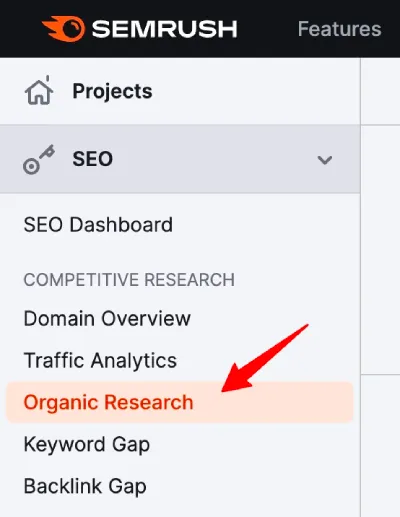 Organic research is yet another fantastic feature of Semrush. You can magically find out the most profitable keywords of your competitors with this.

Simply type in a URL, and you'll get results like this.
The first screen is just like an overview and trend of organic keyword ranking. You get the accurate data right after you scroll the page.
Here, you can give new heights to your competitive research attitude.
Find out the top organic keywords for a specific page on any website's URL
Track the performance of that particular page on SERP.
Furthermore, the page might have some featured snippets or knowledge graphs. You get all that data here.
Semrush Pricing
Semrush Pros and Cons
✅ Pros
Easy to use
See everything in one place in the overview
Creative presentation of data with graphs
Compare data with 5 other competitors
Detailed SEO audit reports
Magically generate keyword ideas.
❌ Cons
Data for Google search only
Extra cost for additional user
Multiple add-ons over plan upgrades
My expert advice about Semrush
As a blogger and a professional technical SEO analyst, I have used Semrush for all my keyword research, link-building, and competition analysis tasks. Some of the tools that Semrush offers are impressive, unique, and similar to Ahrefs' features. It's a bang for your buck.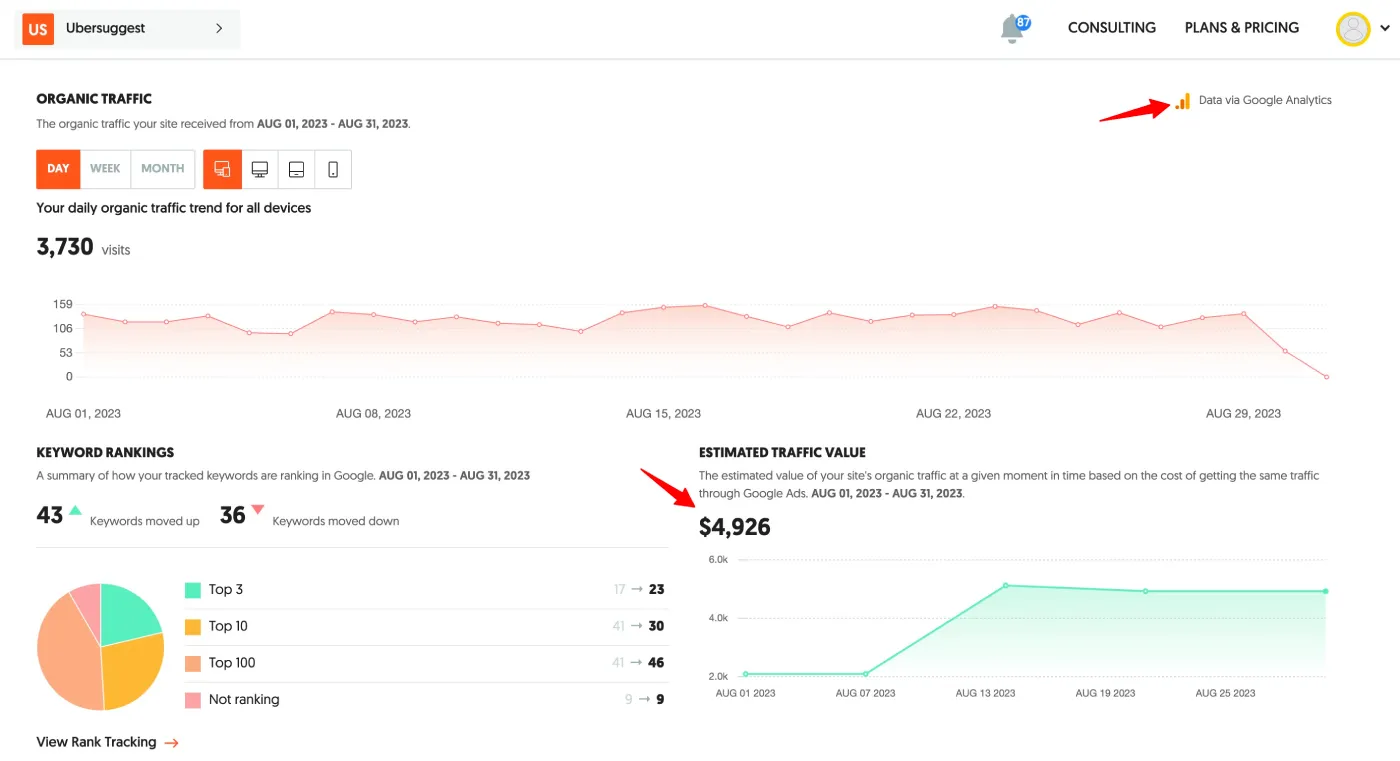 As far as Keyword research is concerned, you can not ignore the power of Ubersuggest as an Ahrefs alternative. If you have minimal usage and only have 1 owned website, Ubersuggest's free plan is more than enough.
But even if you want to go full-fledged into keyword research and grow your website traffic, Ubersuggest has an affordable monthly subscription. A lifetime plan lets you choose a one-time payment over a monthly subscription. Ubersuggest is a cheaper alternative to Ahrefs if you select a monthly or lifetime plan.
Ubersuggest is one of those free alternatives to Ahrefs that can do almost everything regarding SEO. You can integrate your Google Search Console and Google Analytics (GA4) account with the Ubersuggest project and generate SEO insights.
Ubersuggest Pricing
| — | Individual | Business | Enterprise |
| --- | --- | --- | --- |
| Monthly Subscription | $12 per month | $20 per month | $40 per month |
| Lifetime Plan | $120 one-time | $200 one-time | $400 one-time |
Ubersuggest pricing plans
Ubersuggest Pros and cons
✅ Pros
Easy to use
Top SEO opportunities suggestion
Track 25 keywords for free (Rank tracking)
Modern design dashboard
3 free daily searches (keyword, backlinks, or audit)
See an extensive list of backlinks in the free plan.
❌ Cons
Require time to understand
Rigorously low limit on free accounts
Paid plan has the real value
Keyword history not saved automatically (save to list)
My expert advice about Ubersuggest
Since the product is owned by the SEO Mastermind Neil Patel, you can stay assured that it will have great value. My experience says that Ubersuggest data is good enough to guide you in terms of SEO, Keyword ideas, and backlink analysis. Even the free plan would do wonders if you've just started your website. You may never need any other keyword research tool once you use Ubersuggest.
The big feature that it lacks is keyword research history. If I am looking for a keyword and spending valuable credits (free or paid) to fetch that data, it must be saved in the account to reaccess them without spending another credit. In Ubersuggest, you must create a keyword list to reaccess that keyword research data without spending another credit.

Mangools is not yet another SEO tool in the industry. It combines 5 powerful standalone SEO tools that do different tasks. It solves many loopholes that Ubersuggest has, but their database is not robust.
The dashboard also would feel like they do not have enough data in their backend. However, I can not underestimate its power because it offers excellent keyword research ideas.
Mangools Pricing
Mangools Pros and cons
✅ Pros
Super easy to use
Every tool does its job at its best
Rank Tracking through SERPWatcher.
5 free daily searches (keyword, backlinks, or audit).
Save data for every credit used in history.
See an extensive list of backlinks in the free plan.
❌ Cons
Limits your research by separating tools
Rigorously low limit for free accounts
My expert advice about Mangools
Mangools has a really nice set of tools for any SEO professional. However, I can not ignore the lack of features that would not let you go full-fledged in SEO activities and grow your website's traffic.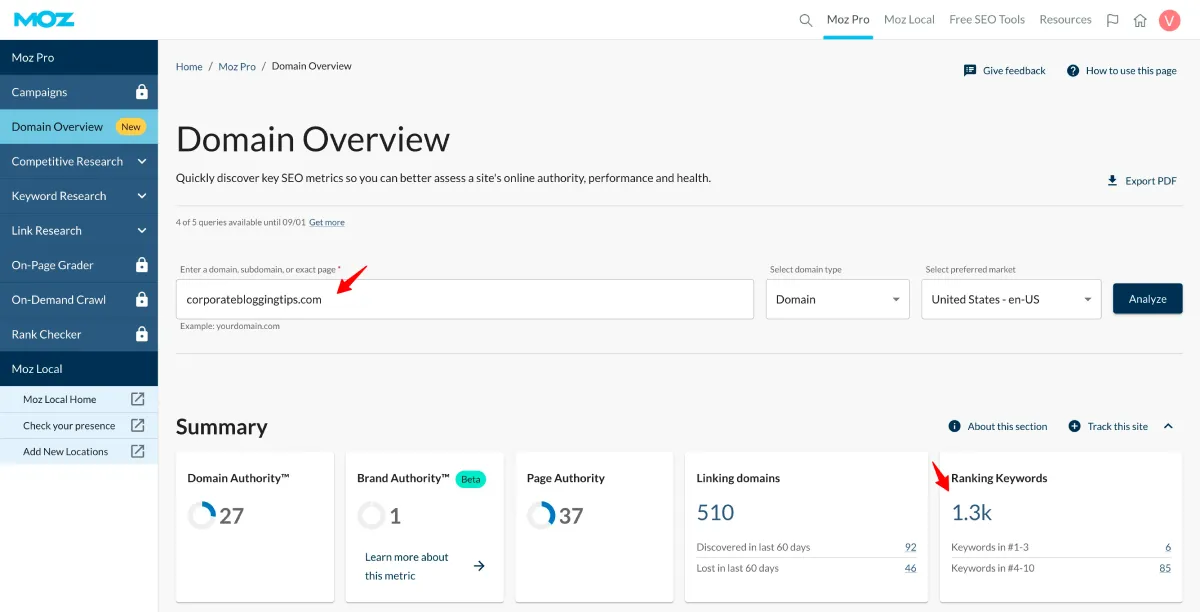 Moz Pro offers a complete set of SEO tools that help improve search engine rankings and visibility. Use proven SEO metrics such as Domain Authority and Page Authority that provide quality data to do the job more effectively.
The system automatically analyzes site errors and SEO opportunities and provides usable insights, which allow users to customize their content and design accordingly. Keeps users updated on the situation using various tools such as auditing and assigns priorities to each based on their needs.
Their keyword research data is up-to-date and accurate.

Moz Pro Pricing
| — | Standard | Medium | Large | Premium |
| --- | --- | --- | --- | --- |
| Yearly billing | $79 per month | $143 per month | $239 per month | $479 per month |
| Monthly billing | $99 per month | $179 per month | $299 per month | $599 per month |
Moz Pro pricing plans
Moz Pro Pros and Cons
✅ Pros
Easy to use.
See everything in one place in the overview.
Daily campaign data updates.
Compare data with competitors.
Detailed SEO audit reports.
Keyword ranking is accurate.
❌ Cons
DA and PA are less relevant now.
High-ticket prices are not suitable for individuals.
My expert advice about Moz Pro
Though Moz Pro's DA and PA have become less relevant, Moz has developed a Brand Authority score that will change how you evaluate a website's SEO authority. Believe it or not, as SEO professionals, we've always been fascinated by a website's DA and PA metrics. Moz's algorithms decide the DA and PA of the website, whether they directly impact any website's keyword ranking or not. From a futuristic approach, Moz Pro is an excellent buy over Ahrefs.
Conclusion – Best Ahrefs Alternative
Ahrefs may be the best SEO tool on the market, but it does come with a hefty price. Some excellent options are available if you're looking for an Ahrefs competitor that offers features like keyword research and backlink discovery at a lower cost.
For example, SEMrush is another top-of-the-line digital marketing platform that can help your company find success in today's competitive marketplace. We hope this post has helped you understand how Ahrefs Alternatives work!