Pros/Advantages
Detailed traffic statistic
Two integration methods
No coding skills are required
Easy and quick setup
Advanced traffic filtering
Machine learning capabilities
Cloaks link from strict ad networks
Cloaking without complex server setups
Cons
Limited control over traffic flow
Welcome to my comprehensive Cloaking.House review – a powerful tool designed to manage and control website traffic.
In this Cloaking House review article, we will delve into the features, benefits, and functionality of Cloaking.House, providing you with an in-depth analysis of its capabilities.
Whether you are a seasoned marketer or a beginner, this review aims to give you valuable insights into Cloaking.House can enhance your traffic management strategies.
From creating flows and setting filters to analyzing detailed traffic statistics, we will explore how Cloaking.House empowers users to optimize their campaigns effectively.
Join us as we uncover the strengths and potential limitations of Cloaking.House, and discover how it can revolutionize your approach to traffic control and link cloaking.
Table of Contents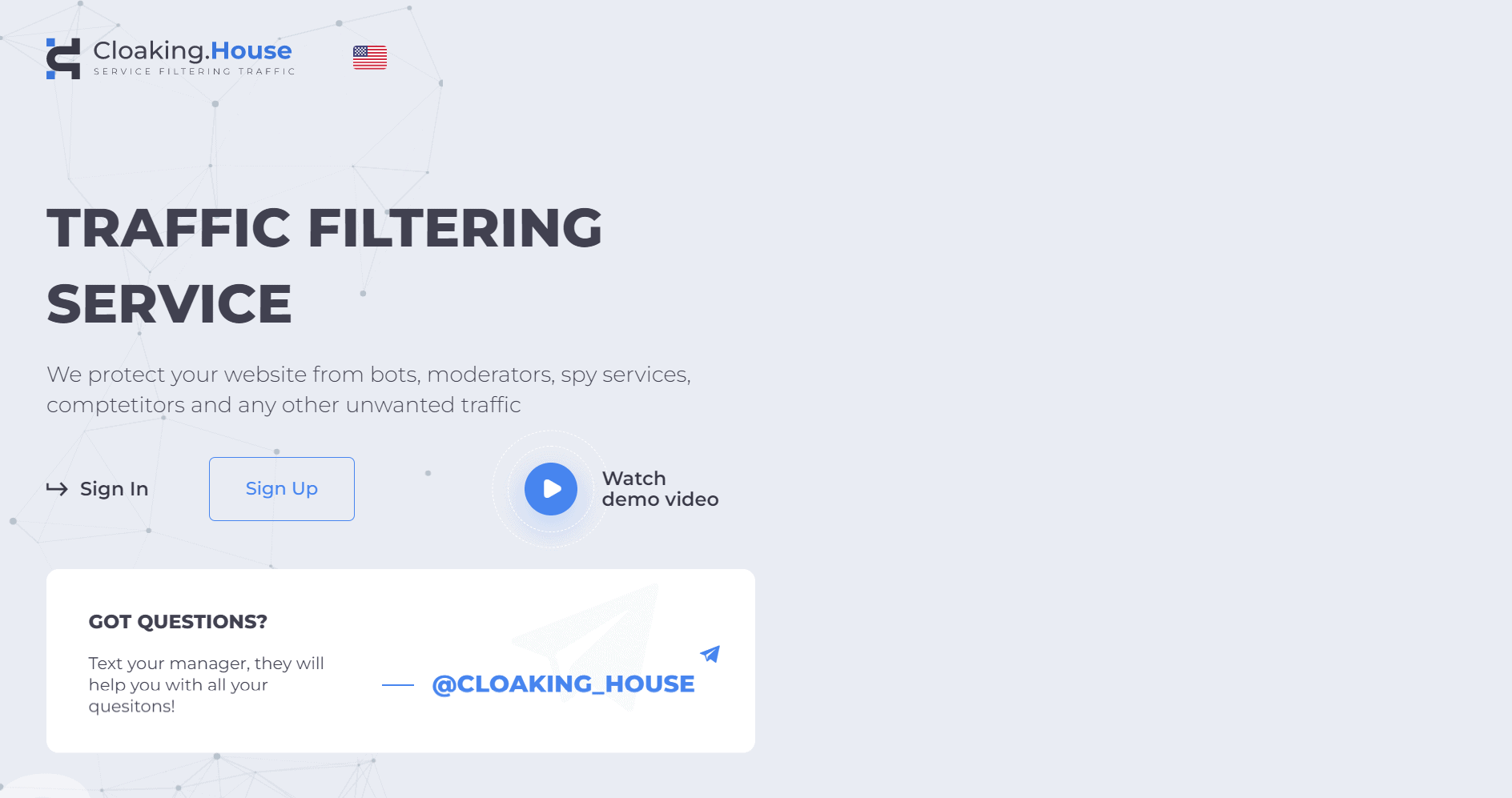 Cloaking.House, a revolutionary cloaking and bot filtering service created by House Group, is renowned for its successful ventures like Push.House, CPA.House, and Spy.House, offers an exceptional solution to evade bans imposed by social media platforms equipped with stringent anti-fraud systems, such as TikTok, Google, Facebook, bet365, and more.
With the assistance of this service, users gain the ability to bypass these bans and continue their online activities unimpeded. Additionally, Cloaking.House provides efficient bot traffic filtering, safeguarding users' prelanders and landers from prying spy services.
One of the standout features of Cloaking.House is its remarkably swift and responsive interface. Users can navigate through their accounts effortlessly, with every section loading promptly without any significant delay.
This unparalleled efficiency ensures a seamless user experience, eliminating unnecessary waiting times and allowing users to access the desired sections of their accounts swiftly.
The simplicity of cloaking with Cloaking.House is truly noteworthy.
Technical expertise is not a prerequisite to redirect moderation to the white page. Users only need to paste the link to the white page and the offer page, select the preferred type of cloaking and configure the filtering settings according to their preferences.
The user-friendly interface and straightforward process make it as easy as ABC to implement cloaking strategies effectively.
By employing Cloaking.House, users can confidently navigate the challenging landscape of online platforms with stringent moderation policies.
Whether it's evading bans on popular social media networks or protecting their online assets from spying services, Cloaking.House empowers users with the necessary tools to maintain their online presence and achieve their goals while circumventing potential obstacles.
Firstly, you'll start by creating a flow. This involves setting the default path for your traffic and guiding it to both the white page and blackhat page.
This way, moderators, bots, and unwanted traffic will be directed accordingly. If your white page meets the requirements of platforms like TikTok, Google, or Facebook, your campaign will likely be approved.
To create a flow, simply provide the flow name, link to the white page, select the redirect option, and add the link to the offer page.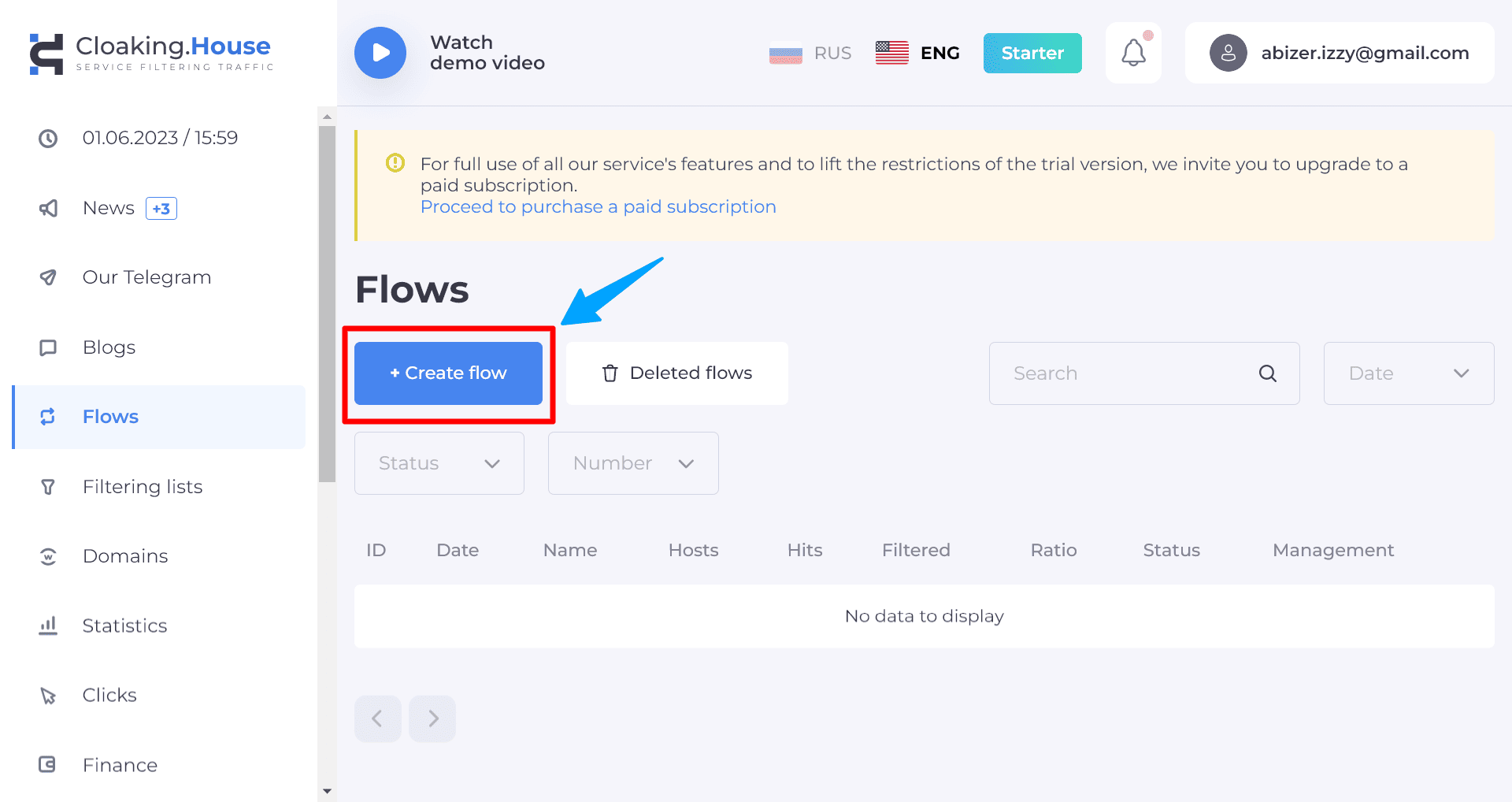 Next, it's time to set up filters for your traffic. Within this step, you can regulate traffic accessing your page. You can disable IPv6 traffic, VPN / proxy traffic, traffic without ISP, and traffic without a referrer.
Cloaking.House employs premium web databases to identify and block VPN IP addresses. Additionally, the service possesses a database of over 400 bots, all of which will be redirected to the white page.
Furthermore, you can choose the type of traffic you want to access your offer page, such as by country, device, operating system, or browser, and utilizing a blacklist feature. Once you've configured the filters, simply save the settings.
After setting up the filters, it's time to activate the flow. You have the option to further restrict specific IP addresses if necessary. Once you've started the flow and made any additional restrictions, you can save your changes.
Now, proceed to download the integration file provided by Cloaking.House. This file comes in the form of a zip file containing the cloaking script in a PHP format.
To get your cloaking set up and running, upload this PHP file to your website's server root folder using FTP. Upon adding the file, your integration will be set, and the traffic flows will begin showing data based on the filters you have configured.
Lastly, connect with your campaigns. Add the link to the white page of your Facebook or Google campaign. The moderators will see that the white page is clean and approve your campaign.
Once approved, the rest of your incoming traffic will be directed to your offer page or Blackhat landing page, depending on the filtering rules you have established.
By following these steps, you can effectively utilize Cloaking.House to manage and control your traffic, ensuring compliance with moderation requirements, and directing filtered traffic to your desired landing pages.
How To Sign Up For Cloaking.House?
Step – 1: Go to the official website of Cloaking.House and click on 'Sign Up'.

Step – 2: Fill up the details asked for, check the boxes, and click on 'Sign Up'.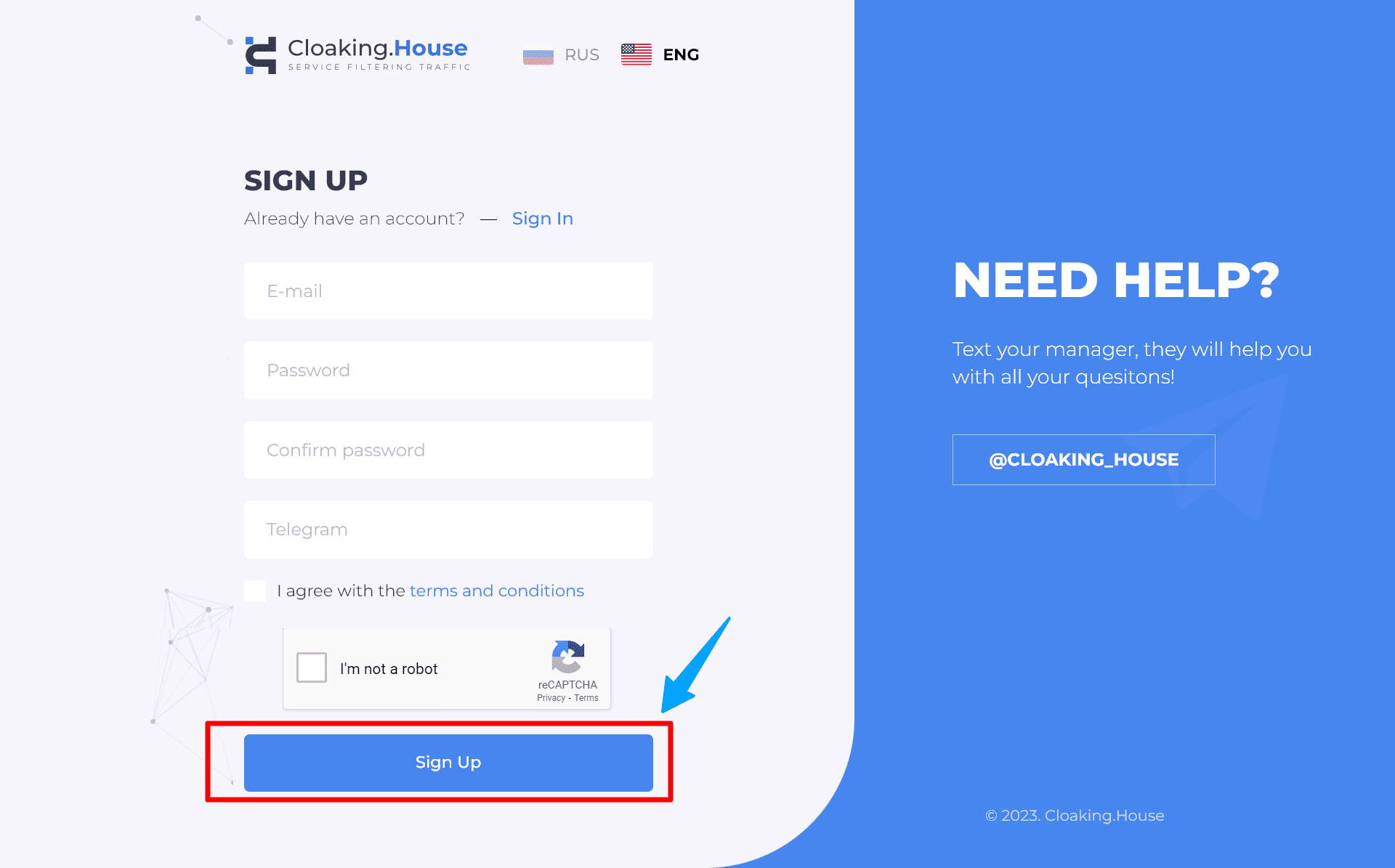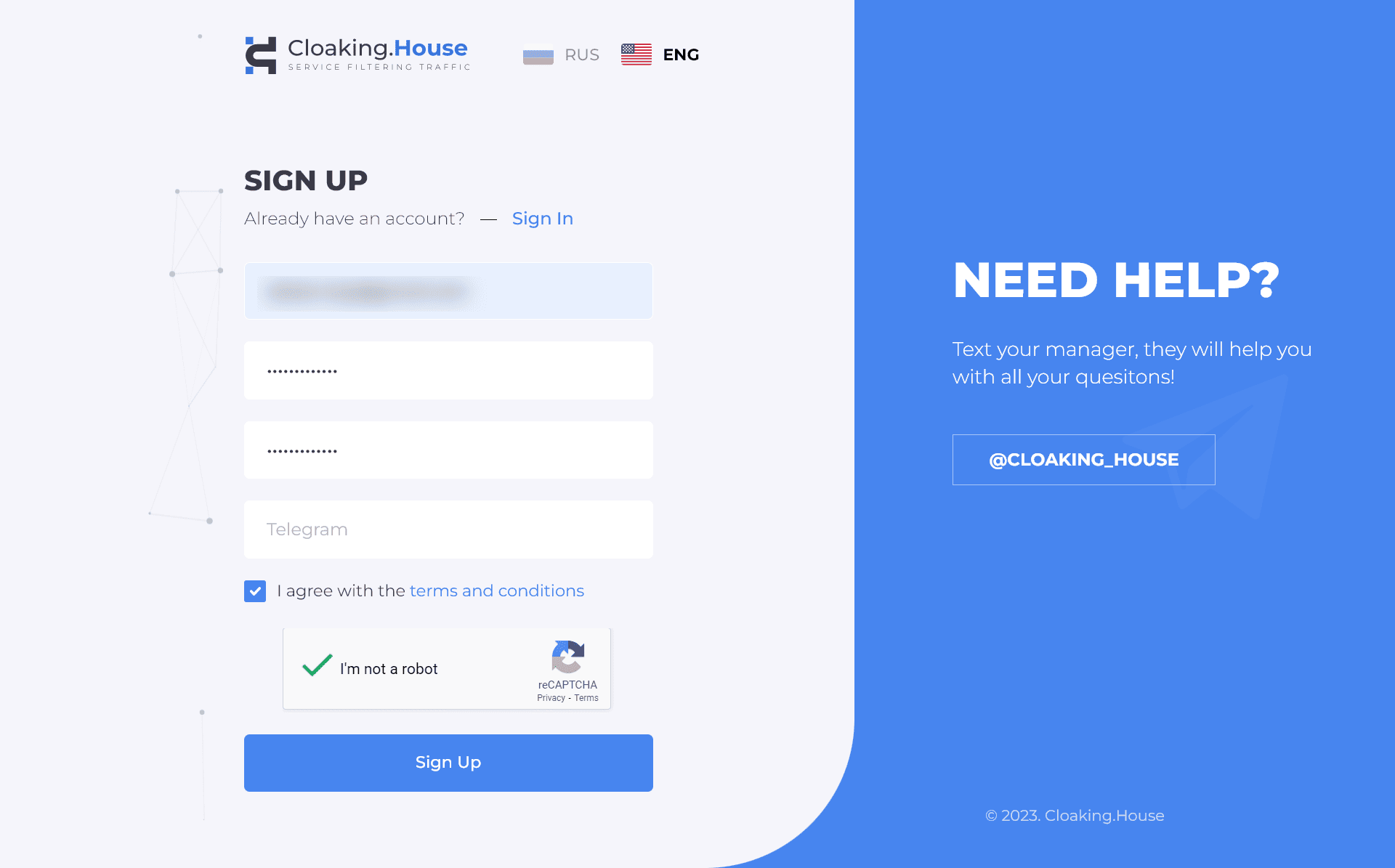 That is it. You are good to go.
You will now be logged into your Cloaking.House dashboard.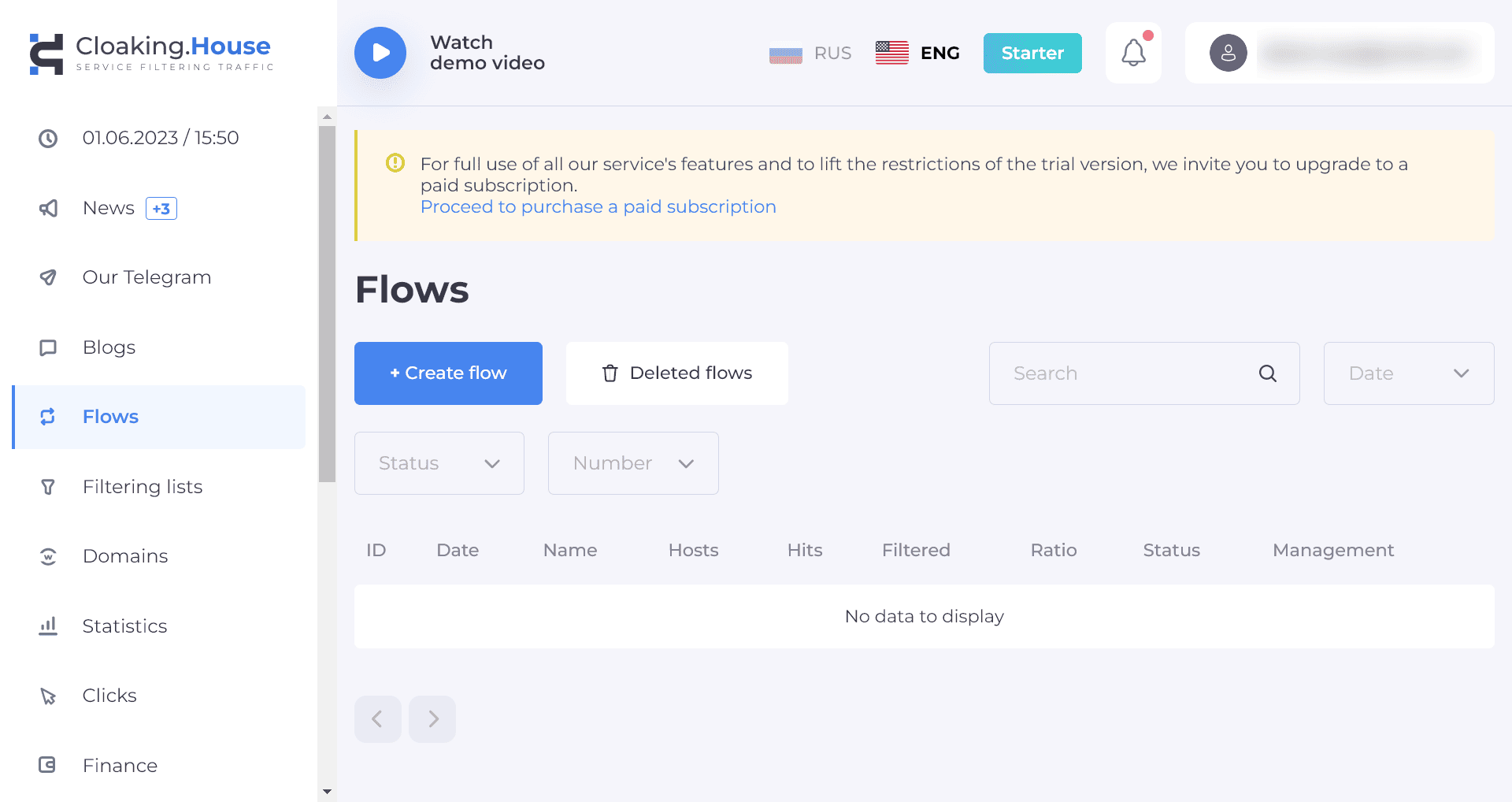 You can now explore your account. The first thing you should do is upgrade your free trial account.
For this, go to Plans and choose any one plan out of the three plans listed. This includes Starter, Basic, and Premium.
Why Do I Recommend Using Cloaking.House?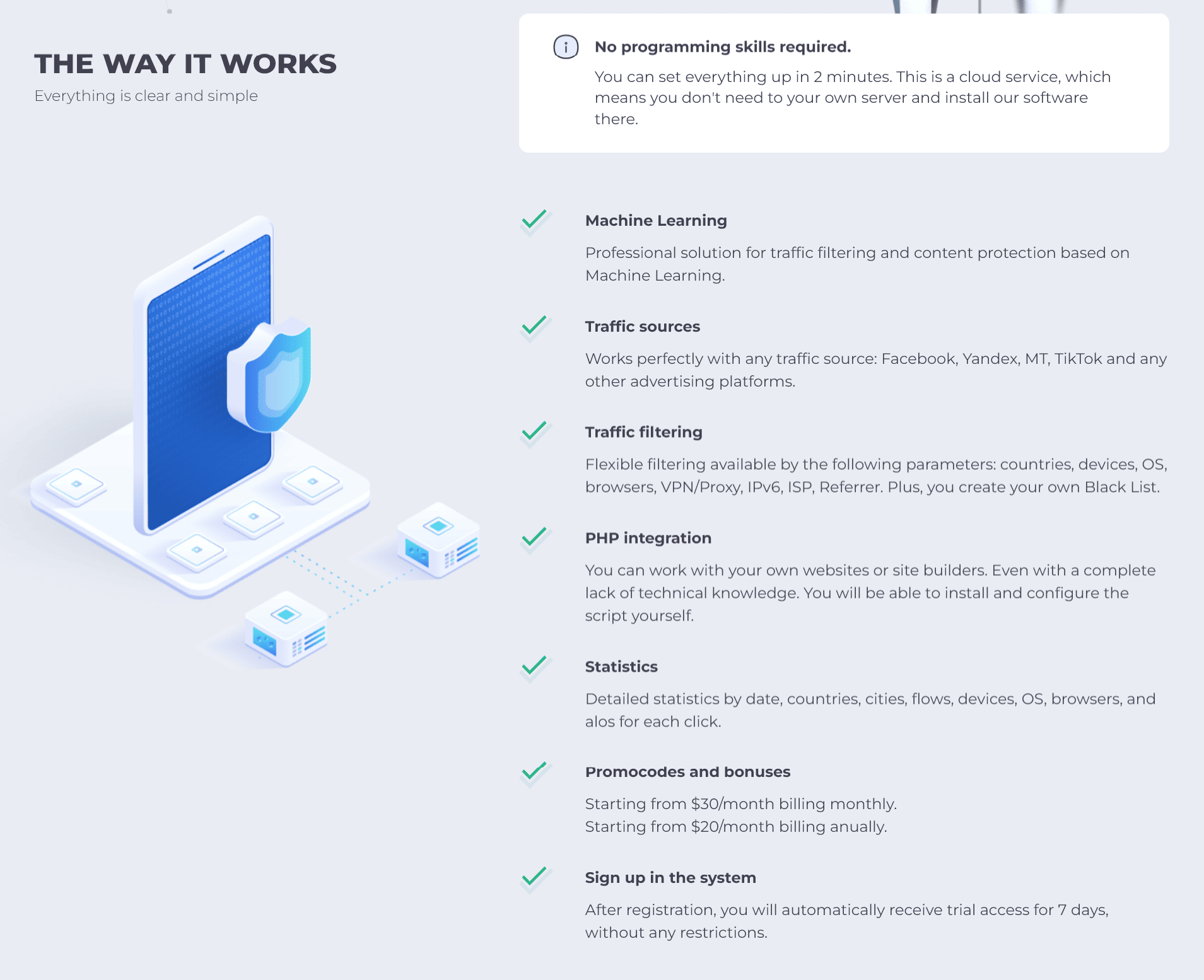 📊 Filtered Traffic Stats:
Cloaking.House provides detailed data on your traffic, allowing you to track the performance of your campaigns.
You can view statistics based on flow, date, or time of day, and see information such as the browser details, device, OS, city, and country details of your traffic.
This level of detail enables you to analyze the effectiveness of your campaigns, identify unwanted visits, and make informed decisions for future optimization.
⚙️ Three Connection Options:
Unlike standard redirection, Cloaking.House offers three connection options that provide flexibility.
You can choose between content loading, where users are directed to your hosting service's landing page, iFrame, which allows users to view the offer page within an inline frame, or redirect, where users are sent to a specified link.
This versatility allows you to tailor the user experience based on your campaign goals.
💻 Compatibility with Any Landing Page Builder:
Cloaking.House works seamlessly with any landing page builder of your choice. You don't need to have coding or programming skills to utilize this powerful tool.
Simply access the root folder of your webpage and Cloaking.House will handle the rest. This feature is especially beneficial for beginners or those with limited technical knowledge, as it streamlines the cloaking process and eliminates the need for complex server setups.
💡 No Coding or Programming Skills Needed:
Cloaking. House is designed to be user-friendly, even for those without coding or programming skills.
Setting up the cloaking process takes just two minutes, saving you time and effort. The cloud-based program handles the hosting and setup work, allowing you to focus on managing your campaigns without the hassle of managing complicated scripts.
🔎 Advanced Traffic Filtering:
With Cloaking.House, you have full control over incoming traffic through manual configuration. You can disable specific data flows, set limitations on clicks from the same IP address before filtering is applied, and establish custom blacklisting rules.
The tool also incorporates machine learning capabilities, enabling it to detect VPN traffic, bots, and moderators and redirect them to the white page.
This ensures that only legitimate users access your real webpage.
🔗 Cloaks Your Links from Strict Ad Networks:
Cloaking.House empowers you to fly under the radar of even the strictest ad networks.
Whether you're working with TikTok, Google, Facebook, or any other advertising platform, this cloaker seamlessly disguises your links, enabling you to run campaigns without concerns about link visibility or compliance issues.
Is CloakingHouse a cloud traffic protection service provider?
Yes, Cloaking.House is a cloud-based traffic filtering service provider that protects your site from bots and suspicious traffic activities. Because it is a cloud service platform, you don't need any hosting and everything can be set up in under 2 minutes.
Cloaking.House Review Conclusion: Best Traffic Protection and Filtering Service
Cloaking.House proves to be a versatile and efficient tool for managing website traffic and link cloaking. Throughout this review, we have explored the various features and benefits that Cloaking.House offers to marketers and website owners.
From creating flows and setting filters to analyzing detailed traffic statistics, Cloaking.House provides valuable insights and controls over your campaigns.
Its user-friendly interface and compatibility with any landing page builder make it accessible to both beginners and experienced marketers.
One of the standout features of Cloaking.House is its ability to filter traffic based on manual configuration and machine learning, ensuring that only legitimate users access your website.
Additionally, it offers three connection options, giving users flexibility and freedom in directing traffic to their desired landing pages.
However, it's important to note the effectiveness of Cloaking.House may vary depending on the specific requirements and objectives of your campaigns. While it offers comprehensive features, there might be some limitations that users should consider.