Pros/Advantages
Over 3000 offers in various verticals
Fraud-free high-quality traffic
Fast and free integration
Dedicated personal manager
Unrestricted funds withdrawal
Valuable audience analytics
Convenien performance reports
User-friendly dashboard
CPA.House is a leading affiliate network that has gained prominence in the industry. In this article, we will delve into the key features, advantages, and potential considerations of partnering with CPA.House.
As we explore its fraud-free traffic analysis, fast integration process, dedicated personal manager support, unrestricted funds withdrawal, valuable audience analytics, and convenient performance reports, you will gain valuable insights into how CPA.House can optimize your affiliate marketing endeavors.
By the end of CPA.House review, you will have a well-rounded understanding of the network's strengths and potential limitations, empowering you to make informed decisions about leveraging CPA.House for your affiliate marketing success.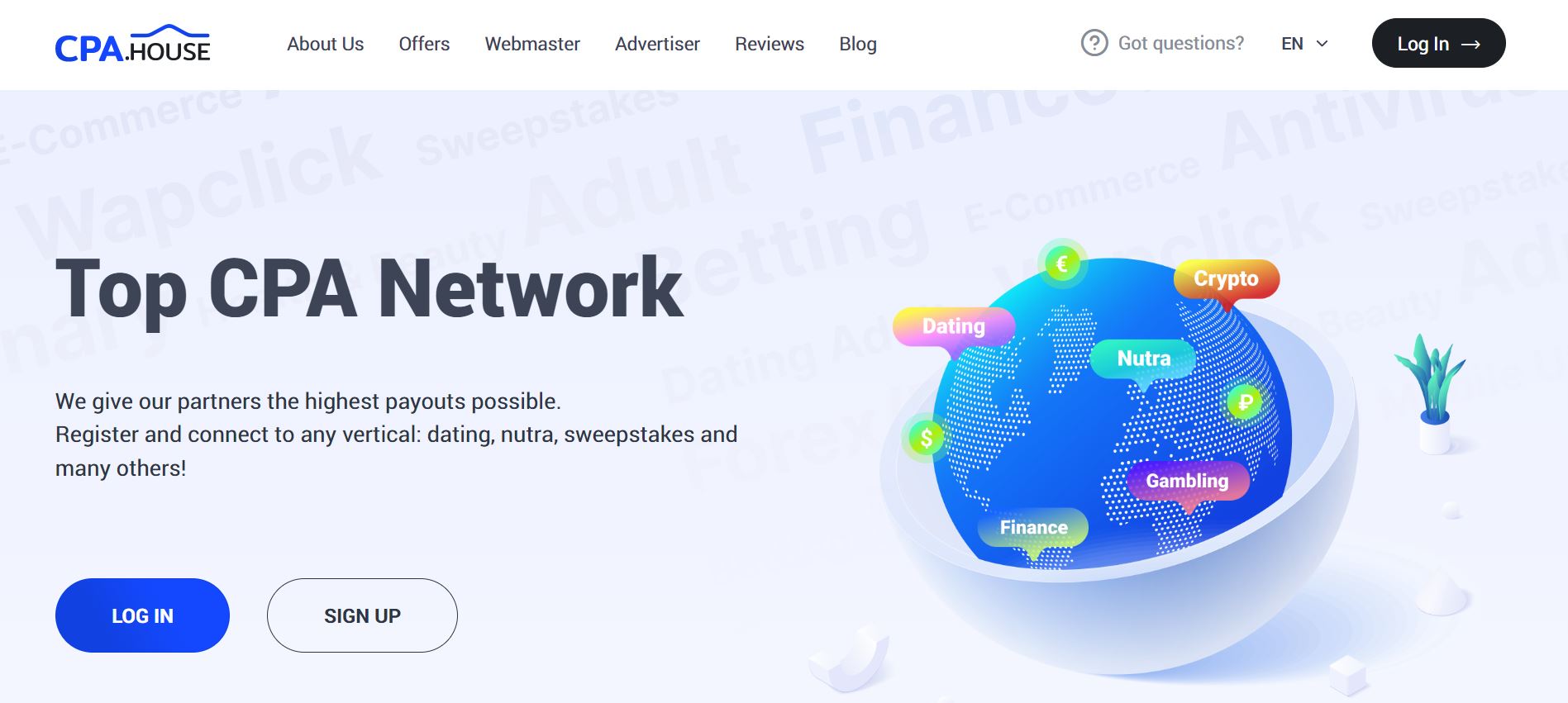 CPA.House stands as a well-established affiliate network that has gained significant traction in the field of CPA affiliate networks. It is recognized as one of the fastest-growing networks of its kind.
When it comes to industry standards, CPA.House excels in providing webmasters with highly competitive rates and impressive returns on their investments.
The network's commitment to offering superior value is evident through its provision of enhanced rates, expedited payment processing, and a robust bot prevention system.
One of the notable strengths of CPA.House lies in its ability to deliver competent assistance to its partners. The network's team is highly responsive, promptly addressing any inquiries or concerns that may arise.
Leveraging their extensive industry knowledge, CPA.House is adept at educating both new and experienced partners, ensuring that they stay at the forefront of affiliate marketing trends and strategies.
Moreover, CPA.House goes the extra mile by accommodating partner requests for unique deals, customized pricing, exclusive promotions, and tailor-made landing pages to optimize the promotion of their offers.
The website of CPA.House is designed with user-friendliness in mind, providing a seamless experience for its users. The intuitive interface and self-explanatory features make it easy for affiliates to navigate and utilize the platform effectively.
The dashboard offers real-time information and generates easily understandable reports, empowering affiliates with the necessary insights to make informed decisions.
Within the Offers section, affiliates are presented with an extensive array of options to choose from, with a particular emphasis on the profitability of Nutra offerings.
While the network strives to ensure swift clearance of payments, they also recognize the importance of urgency. Hence, affiliates have the option to directly reach out to their dedicated account manager if they require immediate assistance.

❤️ Vast offer collection: Work with the vertical you like
CPA.House has over 3000 offers you can choose from. The verticals, available are Nutra, Dating, Sweepstakes, Gambling, Betting, and more.
With CPA.House you are sure to find the needed offer even for the most exotic GEO, but even if you didn't, you can always ask your manager to add the offer that you need.
This makes finding the offer that works for you easier and helps the affiliates to try new offers.
📊 High-Quality Traffic: Ensuring Fraud-Free Engagement
CPA.House prioritizes the quality of traffic and takes proactive measures to analyze all incoming traffic, ensuring the absence of any fraudulent or unusual activity.
This commitment to maintaining a clean traffic environment provides you with peace of mind and safeguards your campaigns.
Additionally, if you require more detailed information about the traffic, the tech support team at CPA.House is readily available to assist you.
🤵 Personal Manager: Dedicated Support at Your Fingertips
When you partner with CPA.House, you gain the advantage of having a personal manager assigned to your account. This dedicated professional is available to provide consultation and assistance regarding various issues.
Having a personal manager ensures that you receive timely and personalized support, allowing you to navigate challenges and optimize your performance effectively.
You can get support via Telegram also.
💸 Funds Withdrawal:
With CPA.House, you have the freedom to withdraw any funds present in your account quickly and effortlessly as long as you pass the minimum amount allowed to withdraw, which is $50.
This unrestricted funds withdrawal feature empowers you with financial flexibility and control over your revenue streams, making CPA.House a reliable choice.
📈 Audience Analytics: Strategic Business Planning
In the online world, audience analytics plays a vital role in formulating effective business strategies. CPA.House recognizes this significance and provides you with comprehensive audience data directly from their CRM.
By leveraging the audience analytics offered by CPA.House, you gain valuable insights into your audience's preferences and behaviors.
This information allows you to create targeted campaigns, maximizing your marketing efforts and improving overall efficiency.
💹 Reports: Convenient Performance Insights
Accurate and informative reports are essential for online businesses, and CPA.House excels in this regard. By using this exceptional CPA network, you can leverage their convenient reporting system.
The comprehensive reports provided by CPA.House go above and beyond industry standards, enabling you to assess your performance, identify areas of improvement, and make data-driven decisions to enhance your results.
The advanced reporting solutions offered by CPA.House give you a competitive edge over other networks.
👨‍💻 Dashboard: Streamlined Performance Monitoring
The dashboard is a critical component of any service, and CPA.House recognizes its importance. Their user-friendly dashboard design ensures that you have easy access to a wide range of statistics and key performance indicators.
Having all the relevant data readily available allows you to monitor your progress, track the success of your campaigns, and make informed decisions to optimize your affiliate marketing efforts effectively.
How To Sign Up For CPA.House?
In a few simple steps, you can learn CPA House sign up steps as listed below.
Step – 1: Go to the official website of CPA.House and click on 'SIGN UP'.
Step – 2: Fill up the details asked for, check the box, and click on 'SIGN UP'.
That is it. You are good to go.
Why Do I Recommend Using CPA.House?
✅ High Approval Rate: Surge Ahead of Competitors –
Approval rates can often be a source of frustration or hindrance in the affiliate marketing industry. However, by choosing CPA.House, you can experience a significant boost in your order confirmation rates.
Their network's high approval rate gives you a competitive advantage, allowing you to outperform your rivals and climb to the top of your niche. CPA.House empowers you to make strides toward achieving your goals with greater efficiency.
💰 Quicker Payouts: No More Waiting –
CPA networks are notorious for delayed payout systems, causing inconvenience and frustration for affiliates. However, CPA.House sets itself apart by providing prompt and on-demand payouts.
You have the freedom to request payments whenever you desire as long as you have the minimum amount for withdrawal, which is $50.
This swift payout system ensures that you receive your hard-earned commissions without any unnecessary waiting periods, allowing you to allocate your funds according to your preferences.
🤑 Higher Rates: Unmatched Profitability –
The standout advantage of partnering with CPA.House is significantly higher rates they offer compared to other networks in the market. Their commitment to providing superior rates sets them apart from their competitors.
By choosing CPA.House, you maximize your earnings potential, making it a more logical and profitable choice compared to other CPA networks available.
Conclusion
With CPA.House's emphasis on fraud-free traffic analysis, seamless integration, and dedicated personal manager support, CPA.House proves to be a reliable and trustworthy affiliate network.
The ability to withdraw funds without limitations, leverage audience analytics for targeted campaigns, and access convenient performance reports further enhances its appeal.
While the user-friendly dashboard, robust bot protection, high approval rate, and prompt payouts are commendable, it's important to note that some market competitors may offer lower rates.