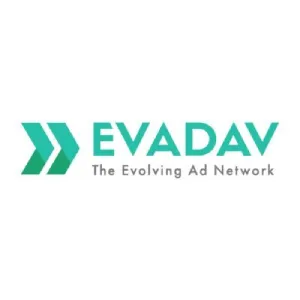 EvaDav – Review & Ratings – Ad Network is Paying or Scam?
For Publishers
For Advertisers
Targeting & Optimization
For Publishers
| | |
| --- | --- |
| Ad Network: | Evadav |
| Commission type: | CPM, CPA |
| Payment Threshold: | $5 for WebMoney & Paxum, $100 for other payment systems |
| Payment Frequency: | Net-15 |
| Available Payment Methods: | PayPal, WebMoney, Bank Wire Transfer, Bitcoin, Tether (USDT), Paxum |
| Referral Commission: | 5% |
| Contact Details: | Support (support@evadav.com) |
For Advertisers
Targeting & Optimization
Targeting & Optimization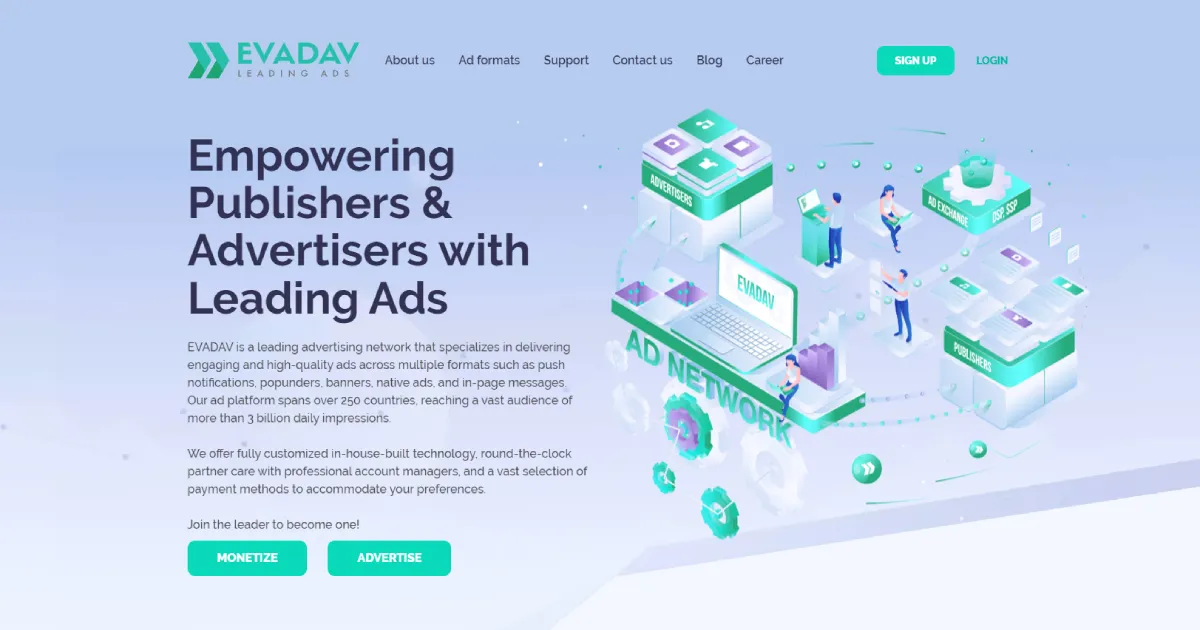 I recently stumbled upon evadav.com and was surprised to discover that this platform is designed in such a way as to automatically address numerous concerns and limitations I have encountered as an advertiser and publisher for a very long time. It was a blessing in disguise to be able to find solutions to the complex problems of native advertising and push notifications. I determined that it was crucial for me to share my knowledge with you regarding client-oriented networks.
EvaDav is one of the most effective affiliate networks that utilises push and native ads.
For Advertisers
As an advertiser, you will find everything in Evadav you are looking for
No fake traffic
Due to the prevalence of fake traffic and bots, I have lost a significant amount of money while advertising with push ads. Nevertheless, EvaDav enables me to save money by preventing fraudulent traffic with its robust algorithms.
Huge inventory of Push and Native Ads
When you begin advertising your product or campaign to a specific audience, you want that audience to be both highly targeted and large enough to generate substantial conversions. Evadav provides the same service by providing you with superior targeting options and a vast stock.
Real time bidding
With real-time bidding, advertising buyers bid on an impression, and if their bid is successful, their ad is displayed instantly on the publisher's website.
DSP/SSP Integration
Through the integration of the DSP and SSP, I (publisher) am able to monetize my own push subscribers and only display advertisements to them via Evadav. In order to monetize my push notification sending platform, I do not need to manually create a campaign. You can push your campaign to the audience of these publishers directly from the Evadav dashboard as an advertiser.
Minimum Deposit
You can initiate advertising immediately (and launching your campaigns). Simply complete the registration form and deposit money into your account. The minimum deposit amount is $100.
For Publishers/Webmasters
Currently, monetization is practised by every webmaster. However, Evadav enables you to add an additional passive income source to your website/blog.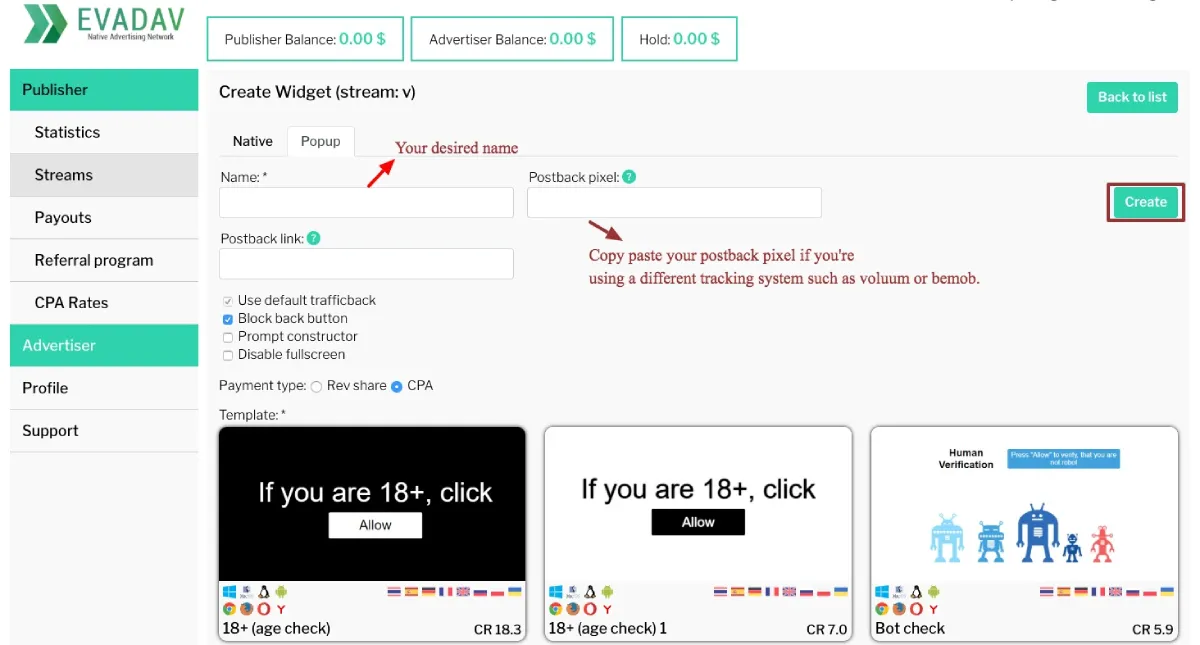 Get paid for CPM
Evadav pays you based on the number of impressions a campaign receives from your website, and not the number of clicks on those ads, so it is impossible to be dissatisfied with the monetization.
Global Traffic Accepted
No website receives 100 percent of its traffic from a single geo. It is impossible to avoid maximising the revenue generated from your website's traffic.
Weekly Payments
Payments are made automatically on Monday mornings. The minimum outstanding balance is $25. Manual withdrawals are also possible, and the minimum balance for payment withdrawals is also $25. By submitting an application through the technical department or your personal manager, manual payments are made.
Starting April 1st, EvaDav introduced a much optimized payment model so all our partners can earn a way more with their quality traffic. The more your subscribers click on push-notifications, the more profit you get.
Advertising Delights at Evadav
If you've ever put your hands into native/push advertising, launching your first campaign is not a tedious task for you. Since I've been advertising on propellerads and a few other pop advertising networks, creating a new campaign (as an advertiser) is no big thing. However, I am making sure that the campaigns do not violate any of the advertising terms to pass the moderation process.
Let me sum up all the options from the above shot for you:
Firstly I will be putting the name and URL of my campaign.
Frequency capping: It simply means the number of times a unique user would be shown my ad in 24 hours timespan.
Now comes the creative artwork and the text copy of the campaign
The targeting starts with the country selection and bids.
After the bidding, I get to target device, ISP and the browser. (Operating system targeting is not available as of now)
Finally, limiting your campaign to a set budget will make sure that I am not charged more than I planned.
Happy Pushing!
It was literally effortless, and I am not exaggerating, for me to suggest to one of my friends that they advertise with EvaDav, given that their cross-checked statistics were spot-on.
To be honest, it still lacks the "proposed number of impression graph for the given bid in the targeted geo" which is a need of the hour.
It is always said, believe in what you see and not what you listen, in this case read. I would like to share the link to this tutorial which is a DIY for any publisher: https://www.youtube.com/watch?v=r0SeXYN2mCw
Landing Page Options and Statistics
In contrast to other well-known platforms such as Google and Facebook, one has the freedom to discuss gambling, dating, and other money-making and in-demand businesses. Not only is 100 percent brand safety maintained by monitoring communication media with machine learning algorithms, but also through manual evaluation.
The target audience is segmented to ensure the efficacy of the campaign and prevent fraud by excluding bots and providing access to only real users.
With an extremely competing Cost per Click nowadays, it is extremely important to have options for comparison which not only matches our offers best, increases our reach but, increases our ROI manifold.
The offer the DSP and SSP integration which helps one monetize their push subscribers and showcase ads through EvaDav only.
EvaDav is one of these optimal media for everyone in today's ever-changing, fast-paced digital world, where staying abreast of the most recent developments requires identifying channels that help us make our presence felt and broaden our reach.
Why I like EvaDav/ My EvaDav Review?
A cluttered website with a verbose registration questionnaire is a major turnoff because the first impression is the last impression. Evadav has a straightforward, yet comprehensive registration process, which helps to ensure that all advertisers are genuine and authentic.
In addition, I was literally astounded by the variety of landing pages with enormous traffic numbers available for selection. In addition to CPM, CPA, and RevShare, they also offer global tracker integration with Binon, BeMob, and PeerClick, among others. Hang on! There is a payout minimum clause! Look it over!
Despite being able to deliver an easy and interactive platform, they have a customer support operational 24*7*365. Also, to help you incentivize for your trust and brand loyalty the platform works on a transparent and simple referral program.