Magento is the best alternative to WooCommerce sites. For launching a Magento website, you need Managed Magento hosting.
I have compiled a list to save tons of hours on researching the best Magento hosting providers.
Table of Contents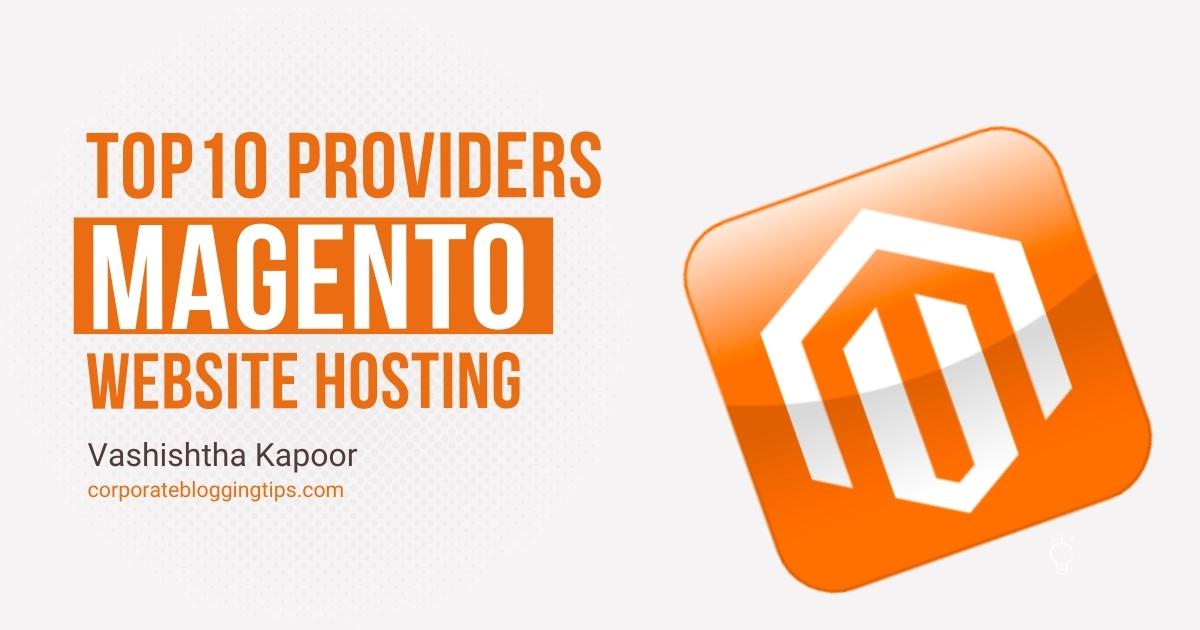 You can choose between Managed and Unmanaged Magento Hosting services. But managed hosting services will save you time in site management.
1. LiquidWeb – Moved to Nexcess Now
Liquidweb is a high-end web hosting provider based in Lansing, Michigan, United States. The company has a range of cloud, dedicated, reseller, virtual private server (VPS), and WordPress server packages but no shared plans. 
You can choose whether you want a single or dual CPU, which backup discs you want if you want servers in the central or eastern United States or Europe, and more. Nexcess is truly one of the top Magento hosting providers and deserves to be on the top of the list.
Regardless of complexity or size, Nexcess by Liquid Web can manage all administrative and support activities for the website.  It is a great managed Magento hosting.
📌 Features:
LiquidWeb VPS Web Hosting has the best RAM, storage, and a significantly powerful server.
Liquid Web guarantees an uptime of up to 100%. All data centers are state-of-the-art facilities designed to ensure consistent network availability.
Liquid Web's managed hosting environment is specifically created for installing WordPress and associated plug-ins.
It offers firewalls, a Secure Socket Layer (SSL), virtual private networks (VPN), malware scanning and removal, and more.
The company guarantees fast support. It claims the support answers the phone and live chat queries in 59 seconds. The reply time for email tickets is 59 minutes.
Auto-migrations, backups, and real-time monitoring.
🏷️ Price:
LiquidWeb hosting plans start from $15/month for Linux and $54/month for windows.
HostGator was founded in October 2002 by Brent Oxley and is a Houston-based provider of shared, reseller, virtual private server, and dedicated web hosting. Also, it is considered one of the greatest Magento hosting providers because they offer it within the shared hosting plan itself.
It has nearly limitless options and control available for its servers, with support and beginner-friendly tools that help a full range of customers. HostGator's Magento hosting on its shared, enterprise, reseller, and cloud plans are available via version 2.0, while Magento hosting on VPS and dedicated plans is compatible via version 2.1
📌 Features:
HostGator's VPS security features include a free IP table firewall, centralized DDoS protection, and a secured VPS firewall.
Its cPanel interface helps customers seamlessly manage domains, email, databases, and one-click software installations.
It offers unlimited emails, MySQL databases, disk space, bandwidth, one-click install of popular open-source projects, and a 99.9% uptime guarantee on its shared hosting plan.
This is an excellent fit for those seeking hassle-free ASP.NET support.
HostGator Managed WordPress platform is optimized for performance with cloud resources, multiple layers of caching tools, and a complimentary CDN.
🏷️ Price:
HostGator hosting plan starts from $2.75/month.
Cloudways is a managed cloud hosting solution for all PHP-based applications like Magento, WordPress, Laravel, and others, started back in 2010 in Mosta, Malta.
The platform assists freelancers, e-commerce businesses, or agencies with their websites so they can grow and that's why it is one of the most premium Magento hosting providers.
All plans include team collaboration tools, free website migration, an in-house cache plugin (which helps with faster loading times), unlimited WordPress websites, and live chat support around the clock. The best part of their magento 2 hosting is that you need to create a server for Magento CMS and then you can install multiple apps (websites) in a single server.
Cloudways provides Five cloud servers, including DigitalOcean, Google Cloud, Amazon Web Services, Linode, and Vultr.
📌 Features:
Cloudways platform offers SFTP and SSH access. With SSH and SFTP access to the server, developers can easily connect and upload/download files without any issues.
It offers the latest server resources for Magento applications to run without glitches. The hosting stack consists of Apache & NGINX, which is an HTTP.
Cloudways is partnered with Let's Encrypt allowing free SSL integration for every Magento application. It also offers IP whitelisting to restrict or allow SSH/SFTP or database IPs.
Cloudways offers a separate dashboard for application and server monitoring.
Customers can integrate New Relic to get a more thorough analysis of the server performance.
🏷️ Price:
Cloudways provide Five cloud servers starting from $12/month.
Nexcess is one of the best Magento cloud hosting providers that offer premium hosting for Magento eCommerce sites. 
It has 5 data centers in the United States, the United Kingdom, and Australia. Nexcess offers you a strong e-commerce hosting environment for your Magento store.
Nexcess synchronizes your staging and production environments, updates all of your plugins automatically, resizes and optimizes your images, and auto-scales your server if your website suffers a spike in traffic.
📌 Features:
Nexcess uses SSDs and RAID for their cloud storage and Apache 2.4, MySQL 5.7, and PHP 7.0/7.1. These technologies provide lower memory consumption, better load balancing, and improved security.
It offers near-instant asset caching, customizable tech stacks, auto platform & plug-in updates, and container add-ons.
Nexcess hosting plans come with auto-scaling, let you accept payments securely, have built-in security, and help you speed up your pages with a built-in content delivery network.
Its cloud hosting solutions include auto-scaling, PCI compliance, and comprehensive development tools.
Nexcess hosting provides a lot of storage space and bandwidth. You will receive 10 GB of storage space and 150 GB of monthly bandwidth on even the lowest shared server choice.
🏷️ Price: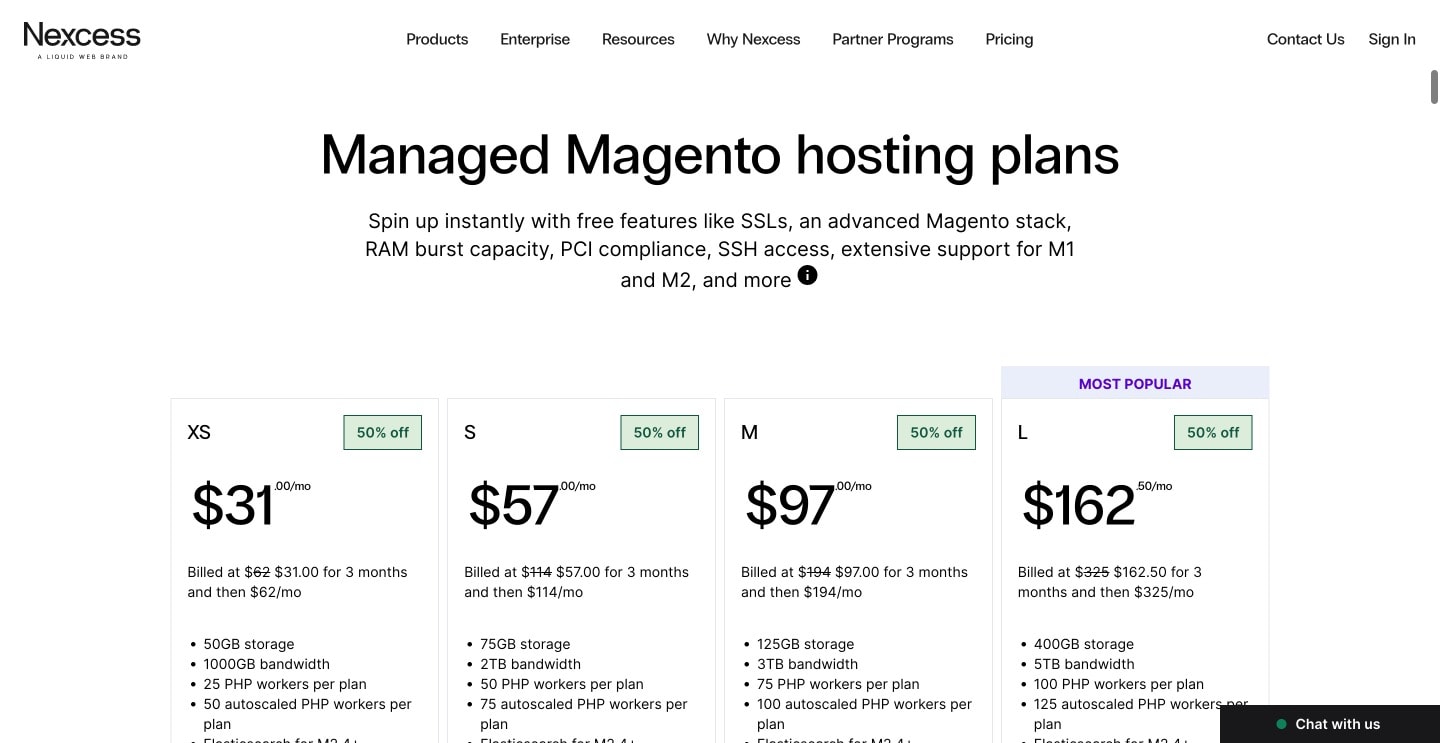 Nexcess offers 7 managed hosting plans starting from $9.50/month.
InMotion Hosting, an employee-owned and operated domain name and web hosting business with headquarters in Virginia and California, was established in 2001.
InMotion Hosting offers a wide range of services, including shared hosting, WordPress hosting, VPS hosting, dedicated servers, and even hosting for private clouds. They offer a wide range of services, including shared hosting, WordPress hosting, VPS hosting, dedicated servers, and even hosting for private clouds. 
InMotion Hosting offers a wide variety of shared plans to handle various situations. There is something for everyone, from the most straightforward starting sites to avid online shoppers. InMotion has two data centers, one on the West Coast of the United States and one on the East Coast.
📌 Features:
InMotion provides free SSL certificates on every plan and Secure Shell access and HotLink protection, which keeps users from stealing your site's traffic.
All InMotion Hosting's plans come with cPanel, unlimited bandwidth, 24/7 support, and free advertising credits.
InMotion has the advantage of working with a MySQL database system, enabling you to create unlimited databases.
InMotion offers a Softaculous Applications Installer that enables you to access the applications catalog and install the most appropriate program with a single click.
InMotion managed WordPress platform comes with free CDN, Jetpack Personal / Professional, and built-in WP site builder – BoldGrid.
🏷️ Price:
InMotion hosting plan starts from $2.99/month.
SiteGround is a famous web hosting company established in 2004 in Bulgaria. SiteGround provides domain registration, shared hosting, cloud hosting, business solutions, and email hosting.
It provides fantastic customer support, Magento support, and security features on all hosting plans.
This web hosting Supercacher helps your site load fast, and its Cloudflare CDN completes the outstanding hosting package by ensuring that your website visitors have an enjoyable and quick experience.
It provides free automatic Magento installation through Softaculous.
📌 Features:
SiteGround operates a data center on each major continent. You can choose any data center depending on your location so your target audience will experience quick load times.
It offers the Cloudflare CDN for free and the unique site performance-boosting Railgun technology.
Also offers free SSL certificates, email accounts, SSD storage, and shopping cart installation.
SiteGround's Magento hosting plans come with many Magento-rich features, upgrades, and add-ons.
99.98% guaranteed uptime.
🏷️ Price:
SiteGround hosting plan starts from $3.99/month.
Founded in 2004, Hostinger is one of the fastest-growing providers in the market. Hostinger offers Magento hosting on its cloud hosting plans, making it one of the fastest Magento hosting providers.
📌 Features:
The host delivers competitive pricing, regular discounts, and special offers. Hostinger's Magento plans include the most recent MySQL upgrades as well as a multi-tier Litespeed cache layer to assist your eCommerce shop in handling as many requests as feasible.
It provides Magento functionality via Google Cloud for complete reliability.
Hostinger offers fast SSD storage, free Cloudflare CDN, a 99.9% uptime guarantee, and a custom-built caching solution enabling quicker site load times and increased speeds.
The company offers you dedicated resources, HTTP/3 and dedicated IP addresses, and a free SSL certificate in all cloud hosting plans.
Hostinger performs daily backups and keeps them separate from website storage for a month. You can upgrade to 300 websites, 300GB SSD storage, and 12GB RAM.
Hostinger grants you its custom-developer control panel, the panel to maximize your website potential, a 1-click app installer, and 24/7/365 live chat support for all users.
🏷️ Price:
Hostinger hosting plan starts from $2.99/month.

A2 Hosting is a high-performance hosting provider founded by Bryan Muthig in 2003. Their services range from Web Hosting, Reseller Hosting, VPS & Dedicated servers. The company has four data centers based in the U.S., Europe, and Asia, with a quadruple redundant network.
They host Magento on their Turbo Boost and Turbo Max Plans. With cPanel and Softaculous, users can easily access many popular applications, from SEO tools to security features.
A2 Hosting offers many custom enhancements for caching, security, backups, and more.
📌 Features:
With the Turbo Server option, caching tools, and other optimized software, sites experience up to 20 times faster page load than average.
A2 Hosting packages include a free Cloudflare content delivery network, 24/7 Guru Crew support, and multiple SSD speed boost solutions.
It offers Perpetual Security features, and users receive free HackScan protection and KernelCare, which runs rebootless auto-updates to kernels daily.
The hosting promises 99.9% uptime and 24/7 network monitoring, virus scanning, and defense against brute-force attacks.
Its accounts come with the free Cloudflare CDN and cPanel, with the Softaculous auto-installer available for easy installation of popular web applications.
A2 Hosting is multi-language supported, featuring PHP 7, Ruby on Rails, and other programming languages.
🏷️ Price:
A2 Hosting offers hosting plans from $6.99/month.
FAQs
Is Managed Magento hosting worth it?
When you purchase a Managed Magento hosting from a trusted hosting provider, you get full server management support. If your site goes into any trouble, the tech support team is always on standby to help you resolve the issue.
Which hosting provider is best for hosting Magento website?
LiquidWeb is undoubtedly the best dedicated Magento hosting provider offering high-quality features and support.
Is Magento expensive than other Commerce platforms?
Magento is slightly expensive than other commerce platforms due to its advanced functionalities. Magento offers a single cloud platform to scale all the resources. You can explore the commerce marketplace and learn new technologies. The platform has a global certified engineers team of 315,000 developers dedicated to help you scale your business.
Who owns Magento?
As of May 2018, Magento was acquired by Adobe for $1.68 billion, therefore it is now Adobe Commerce.
Conclusion
If you have been a Magento user, share your experience with any managed Magento hosting providers.
My top pick for Managed Magento hosting would be LiquidWeb. What's yours?