Many of you might not be aware of PCI compliance. In short, every hosting company or organization that deals with various data has to take care of security measures.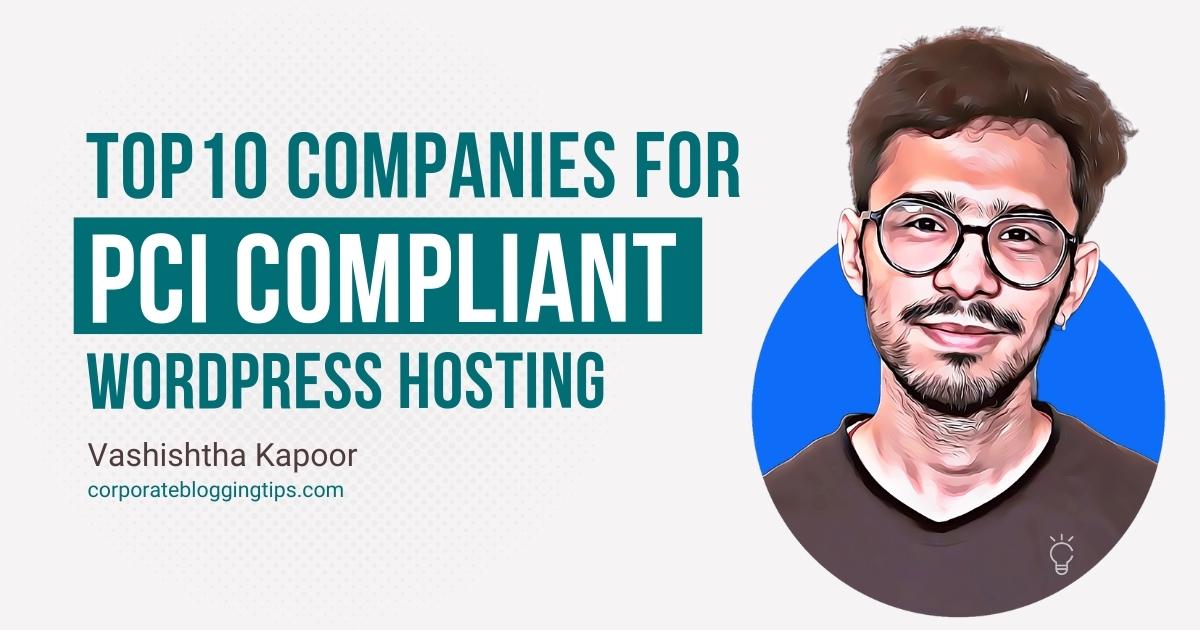 When looking for a safe hosting company, you should look for PCI Compliant Hosting providers.
Table of Contents
LiquidWeb is a privately held company that offers web hosting services was Founded in 1997 by Matthew Hill. It runs five data centers in Lansing, Michigan.
It provides full PCI compliance and expert advice. Their customer support team assists its customers in creating a secure environment for online payments and obtaining a PCI Compliance certification for your website.
It recommends its dedicated and cloud hosting as the best PCI-compliant hosting. However, all of their servers are on PCI-compliant data centers.
🔥 Features:
Liquid Web PCI Compliance Scanning provides quarterly and on-demand PCI scans from an Approved Scanning Vendor (ASV).
Advanced security measures, including Distributed Denial of Service (DDoS) protection, ServerSecure, and integrated firewalls.
Extensive Administrative, Physical & Administrative Safeguards.
Fully Managed Service to Help Remediate Vulnerabilities.
Liquid Web provides PCI protection for up to 10 IPs.
It provides 24/7/365 On-Site Support through Calls, Chats, and Email.
🤑 Price:
Liquid Web provides PCI compliance scanning services starting at $50/month.
Pressable provides managed hosting packages that are designed to enhance the speed and security of WordPress websites.
Additionally, their hosting technology enables scaling your website as it expands simply.
Pressable provides services for WordPress experts, such as agencies, independent WordPress designers and developers, and e-commerce companies.
🔥 Features:
Pressable Jetpack Security Daily service provides you with professional themes, SEO tools, and premium security tools all in one place.
The company provides free SSL certificates that help safeguard data transfers between your site and customers.
Pressable provides free site migrations, site caching, a free Content Delivery Network (CDN), enterprise-class architecture, personalized onboarding, WordPress training, and many other valuable features.
Pressable offers a combination of nightly malware scans and removals and Intrusion Detection System integrity checks.
It offers 24/7 web chat communication options and ticket support.
🤑 Price:
Pressable Hosting plans start from $25/month.
WPX was launched in 2013 by Terry Kyle and Georgi Petrov to provide the quickest WordPress hosting, rapid and knowledgeable support, and an intuitive interface.
WPX hosting has built its own content delivery network (CDN) known as WPX Cloud. WPX Cloud has mini servers worldwide at 20 different locations, which helps to handle high traffic and improve your site's security.
WPX Hosting allows you to quickly create a staging site and then publish it with the click of a button.
🔥 Features:
WPX has created an automated software that adds Let's Encrypts free SSL Certificates to your websites hosted with WPX.
It automatically backs up your website daily and securely keeps backups in a separate server for 28 days.
WPX provides free Enterprise-level DDoS protection to all WPX Hosting customers with Incapsula.
WPX Hosting offers a free site migration service, reportedly completed in 24 hours.
WPX offers access to your server space via FTP and SFTP.
🤑 Price:
WPX hosting plan starts at $20.83/month.
BlueHost was founded by Danny Ashworth and Matt Heaton in 2003 in Provo, Utah. Along with site hosting, Bluehost further provides marketing education, content development, graphic design services, SEO services, social media marketing, email, domain names, and local business listings to aid with traffic growth.
BlueHost provides full PCI compliance to assist your online store in meeting all requirements.
It provides fully dedicated server resources and root access with its managed VPS hosting plans.
🔥 Features:
BlueHost offers a free shared SSL certificate, SiteLock Protection, and options for unique IPs.
It provides unlimited bandwidth, free global content delivery network (CDN), and Secure Socket Layer (SSL) certificates.
You get 24/7 live chat and phone support and a 30-day money-back guarantee.
The company offers free site migration with its hosting plans.
BlueHost offers additional great features like a one-click WordPress install, multiple CMS integrations, and additional eCommerce plugins.
🤑 Price:
BlueHost offers PCI-compliant hosting starting from $19.99/month.
Founded in 1997, DreamHost is a web hosting service provider based in Los Angeles, US. DreamHost currently hosts over 1.5 million websites.
Along with hosting, Bluehost also offers cloud storage and computing services. DreamHost helps you buy domain names, website builders, and email hosting into your website efficiently and affordably.
DreamHost is the most comprehensive web hosting service for small and large businesses working on various projects.
This is due to its high-performance speed, customer support, and dependable uptime for most website owners.
DreamHost complies with PCI standards. However, this only applies to DreamHost's own sites and servers.
🔥 Features:
DreamHost provides pre-installed SSL certificates, daily automatic backups, on-demand backups, 1-click restore, firewalls, DDoS protection (via Cloudflare CDN), domain privacy, and automatic updates.
It has its own website builder called Remixer, and they also offer access to SquareSpace, Weebly, and Wix in its app library.
It uses a custom-made control panel where you can manage your databases, email, billing, and websites.
DreamHost offers the free ZenCart, which you can access from the One Click Install menu.
DreamHost provides one-click installation and automatic integration for a few CMS options, including WordPress, MediaWiki, and Joomla.
🤑 Price:
DreamHost hosting plan starts from $2.59/month.
GoDaddy was founded by entrepreneur Bob Parsons in 1997 in Phoenix, Arizona. It is a low-cost web hosting provider.
All of their eCommerce products are entirely PCI compliant, which means your payments are safe with GoDaddy.
GoDaddy offers a variety of themes, a highly intuitive editor, and a range of guided built-in marketing tools that simplify creating and optimizing a website.
GoDaddy offers PCI-certified products like GoDaddy Payments, Managed WordPress Ecommerce Hosting, Online Store, and Online Appointments.
🔥 Features:
GoDaddy Website Builder's editor is easy to use, with hundreds of pre-made, categorized sections.
It provides the InSight tool, which compares and scores the performance of your site in comparison to other sites in your industry.
GoDaddy's eCommerce includes features such as product variations, abandoned cart recovery, discounts and coupons, digital products, and various shipping and payment methods.
The company provides tech support through a community forum, informative Help Center, and 24/7 phone and chat support.
It also provides many stand-alone courses on website security, SEO, email marketing, and online presence planning.
🤑 Price:
GoDaddy hosting plan starts from $5.99/month.
WPEngine is a managed WordPress hosting platform founded in 2010 and located in Austin, Texas.
WPEngine is a PCI-compliant hosting provider best known for managed hosting, supporting personal sites, small businesses, and large companies like Asana, Rogers, and Telus.
It offers many server options with data centers in North America, Europe, Asia, and Australia. WP Engine uses shared servers for most of its plans but still provides fast, stable, and secure hosting.
WPEngine only offers managed WordPress hosting and does not offer a standard control panel like cPanel or Plesk. They instead employ a proprietary control panel.
🔥 Features:
WP Engine offers plenty of performance-enhancing features, such as free Content Delivery Network (CDN) service and Page Performance solution that tests your site and helps you improve.
WP Engine automatically applies critical security patches and WordPress core software.
The company provides a Staging feature that allows you to quickly create 3 versions of your website. You can also set up a development server.
WPEngine offers snapshot backup, which allows users to restore their websites at a specific point in time.
It offers free SSL certificates and SSH access.
The servers are optimized for WordPress with Evercache technology, which helps load your websites quickly.
🤑 Price:
WPEngine hosting plans start from $20/month.
InMotion Hosting was founded by Sunil Saxena and Todd Robinson in 2001 to provide web hosting services.
InMotion Hosting's servers are PCI compliant, but you need to opt for its VPS or dedicated plan for all the required modifications to be possible.
It provides its customers with several web hosting options, including shared and WordPress plans with cPanel. They also provide domain name services as well as a money-back guarantee.
🔥 Features:
InMotion Hosting offers unlimited SSD storage, bandwidth, and email, and your plan comes with a free domain name, marketing tools, and a security suite.
InMotion Hosting offers a one-click installer that allows you to install any of the over 400 applications available (options include CMSes like WordPress and PrestaShop and add-ons like message boards/forums).
InMotion Hosting plans come with access to the BoldGrid Website Builder, which makes it easy for you to design and build your WordPress site.
InMotion provides protection against DDoS attacks and a 99.99% network uptime guarantee.
InMotion provides Softaculous on the cPanel to expedite the installation of PHP scripts like WordPress, Joomla, Drupal, PrestaShop, phpBB, AbanteCart, Magento.
🤑 Price:
InMotion Hosting provides hosting plans starting from $29.99/month.
HostGator was founded in 2002 by Brent Oxley and is one of the most popular hosting companies in the world.
The company's VPS and Dedicated servers support PCI compliance. HostGator has nearly limitless options and control available for their servers, with support and beginner-friendly tools that help a full range of customers.
It recommends you properly update your WordPress core, theme, and plugins to ensure full compliance.
HostGator provides a solid hosting experience for small businesses, with service options to meet various needs and budgets and built-in baseline security measures.
It has an easy-to-use user interface that should not deter even inexperienced site hosts.
🔥 Features:
HostGator offers free website builder and building tools, unlimited bandwidth and disk space, over 4,000 website templates, free domain transfers, and unlimited MySQL databases.
HostGator has an excellent control panel with a web-based file manager and more advanced features such as cron jobs, image manager, error logs, and apache handlers.
HostGator's security features include a free IP table firewall, centralized DDoS protection, and a secured VPS firewall.
HostGator cPanel interface helps customers seamlessly manage domains, email, databases, and one-click software installations.
HostGator managed WordPress platform is optimized for performance with cloud resources, multiple layers of caching tools, and a complimentary CDN.
🤑 Price:
HostGator PCI-compliant hosting starts from $23.95/month.
Founded in Kaunas, Lithuania, the company was initially named Hosting Media. Hostinger allocates all of its servers in PCI-compliant data centers.
It provides web hosting, WordPress Hosting, Shared hosting, Cloud Hosting, Email Hosting, Minecraft hosting, Virtual Private Servers, Website DIY and Domains, etc. Hostinger uses cloud web hosting technology and provides hosting with MySQL, FTP and PHP.
Hostinger operates globally and has over 29 million users, with subsidiaries in 178 countries.
🔥 Features:
Hostinger offers a free SSL certificate, a free domain for a year, a free website builder, unlimited storage, unmetered bandwidth, and unlimited email accounts.
The company employs the classic combination of a customized dashboard and cPanel. The dashboard provides the most basic features, while cPanel provides access to more advanced configurations.
Hostinger grants you its custom-developer control panel, the hPanel, to maximize your website potential, a 1-click app installer, and 24/7/365 live chat support for all users.
Hostinger offers fast SSD storage, free Cloudflare CDN, 99.9% uptime guarantee, and a custom-built caching solution enabling quicker site load times and increased speeds.
🤑 Price:
Hostinger VPS hosting starts from $3.49/month.
FAQs
Why should hosting be PCI compliant?
As hosting providers collect online payment from customers via Credit/Debit cards, they should be PCI compliant. PCI compliance protects customers transactions made on a website.
What does PCI stand for?
PCI stands for Payment Card Industry Security Standards Council. PCI is a set of standard rules set by the government for any company accepting online payments via secure process.
Who should follow PCI compliance?
Regardless of the number of transactions per day, any hosting or other technology/non-technology company accepting online payments should be PCI compliant.
Conclusion
Security and compliance are two crucial factors to be considered when choosing any hosting provider.
I hope this list of PCI Compliant Hosting providers will help you choose the right hosting for your next online venture. If you consider my opinion, LiquidWeb is the best PCI Compliant web hosting provider.