WordPress is an open CMS platform and the easiest to work with. Due to its nature of flexibility, most hosting providers prefer offering Managed WordPress hosting to their clients.
Managed WordPress hosting has lots of benefits including security and managed services & support.
This is one such post where you will find some of the best and cheapest Managed WordPress hosting platforms.
LiquidWeb is a web hosting and managed cloud services provider founded in 1997 by Matthew Hill. The company is headquartered in Lansing, Michigan, and operates three data centers.
In addition, they have data centers in Chicago, Dallas, Phoenix, and Amsterdam. LiquidWeb offers a diverse range of services such as bare metal servers, fully Managed Hosting, Managed WordPress, and Managed WooCommerce Hosting.
It continues to evolve its service offerings to meet the ever-changing needs of its web-reliant, professional customers.
🚀 Features:
LiquidWeb provides a multi-server hosting environment including failover and redundancy features so that your site is not affected by other customers on the server.
It provides a staging site to perfect your website before you go live. Users can set up a theme, add content and then launch when the site is ready.
The company has created a stable and performance-focused platform for all types of WordPress websites by utilizing Nginx, PHP 7, a custom caching solution, and image compression.
The team automatically updates the core WordPress software. However, users can pause this feature and test new releases before applying them to their site.
New websites built on managed WordPress hosting plans come pre-installed with a few plugins, including iThemes Security Pro, iThemes Sync, WPMerge, and a few free image compression and optimization extensions.
💳 Price:
LiquidWeb Managed WordPress hosting plans start from $13.30/month.
Pressable is a WordPress hosting specialist based in the United States, founded in 2010. After successfully hosting WordPress websites for several years, they were purchased by Automattic, the business established by Matt Mullenweg, the co-creator of the WordPress platform.
Pressable provides Managed Hosting packages that are designed to enhance the speed and security of WordPress websites.
Additionally, their hosting technology enables scaling your website as it expands. Pressable provides a variety of managed WordPress hosting packages for hosting websites on its cloud-based infrastructure.
🚀 Features:
Pressable protects the user's WordPress websites from risks like viruses and hackers. Additionally, free automated backup software Jetpack Security Daily is included with its hosting services.
Pressable provides a free Secure file transfer protocol (SFTP) so that users can gain secure access to their WordPress files and web server, providing all-over control to users.
Pressable caching system stores users' WordPress files and loads them up at fast speeds for their website visitors.
When creating or administering a WordPress site, you can consult with other professionals using the admin-level feature.
Pressable allows you easy and free migration of your website and free SSL certificates.
💳 Price:
Pressable managed WordPress hosting plan starts from $19/month.
WPX was founded in 2013 by Terry Kyle who has vast experience in web hosting. WPX hosting was designed with three goals in mind: providing the fastest WordPress hosting on the market, providing quick and knowledgeable support, and providing an easy-to-use interface.
The WPX Hosting infrastructure was built to support large, resource-intensive eCommerce websites.
WPX provides a vast network of digital, physical, and software assets that support cloud computing to provide top-tier web hosting services to businesses and entrepreneurs.
🚀 Features:
WPX Hosting offers superior speed via its own high-speed Content Delivery Network (CDN), which is available to all WPX customers for free.
It provides all accounts with high-performance SSD drives, HTTP/2 and PHP 7.X by default, and 1-click SSL installation.
It provides free daily backups of your WordPress websites. Users can also access your daily backups (from the previous 28 days) from the dashboard.
WPX has a fast TTFB with an average response time of 82ms, displaying the highest and best peak response time percentage, delivering the quickest and easiest experience to its customers.
You get free and easy website migration as well as unlimited SSL certificates.
💳 Price:
WPX Managed WordPress hosting plan starts from $20.83/month.
HostGator was founded in October 2002 by Brent Oxley based in Florida. Later it moved its office to Texas and opened its first international office in Canada in 2006.
They have hosted more than 8 million domains and have more than 850 staff members available around the clock to assist its clients.
It provides limitless options and control over its servers, as well as support and beginner-friendly tools that benefit a wide range of customers.
HostGator's robust shared hosting packages include unlimited storage, email, and monthly databases, giving businesses plenty of room to expand.
🚀 Features:
HostGator provides free Malware protection with automatic malware removal, free website backups, a free SSL certificate for each site you host, and two outstanding features, CodeGuard and SiteLock Fix.
HostGator Managed WordPress platform is optimized for performance with cloud resources, multiple layers of caching tools, and a complimentary CDN.
HostGator provides free account migration with all new accounts. During the first 30 days after signing up, their expert team will transfer your website from your previous host at no extra cost.
The HostGator cPanel interface allows customers to manage domains, email, databases, and one-click software installations with ease.
HostGator guarantees an uptime of 99.99%.
💳 Price:
Hostgator Managed WordPress hosting plan starts from $5.95/month.
SiteGround is a web hosting company based in Sofia, Bulgaria, founded in 2004. It offers shared hosting, cloud hosting, enterprise solutions, email hosting, and domain registration.
It runs CentOS, Apache, Nginx, MySQL, PHP, WHM, and an in-house developed control panel.
The company uses carbon-neutral data centers and even offsets the electricity used by its customers' servers with renewable energy generation.
SiteGround can achieve some of the fastest speeds and highest reliability in the industry thanks to Google Cloud, SSD drives, and their custom optimization solutions.
🚀 Features:
SiteGround hosting packages include great features like access to a free content delivery network (CDN), free email services, out-of-the-box caching, unlimited databases, and a Secure Shell (SSH) certificate.
It provides SSL certificates, SSD storage, email accounts, and shopping cart setup for free.
SiteGround has a data center on every major continent. You can select any data center based on your location to ensure that your target audience has quick load times.
99.98% guaranteed uptime.
It provides access to a custom drag-and-drop site builder, as well as applications to quickly install popular CMSs.
💳 Price:
SiteGround Managed WordPress hosting starts from $3.99/month.
DreamHost is a Los Angeles-based web hosting provider and domain name registrar founded in 1996.
Its developers routinely contribute code to communities such as WordPress and OpenStack, and the company has used their expertise and experience to create the open-source storage system Ceph and the OpenStack cloud network virtualization tool Akanda.
The hosting company has become well-known for its generous and industry-leading 97-day money-back guarantee, no-lock-in contract pricing, performance, speed, and security.
🚀 Features:
DreamHost provides customers with a powerful, fast, and stable environment ripe for growth, thanks to scalable RAM and SSD storage.
It has been independently owned for decades and promotes fundamental ideals like a 100% uptime guarantee to better serve both customers and developers.
It improves speed, scalability, and security by configuring various settings and plugins that simplify WordPress installation, databases, and server operations.
The hosting uses NGINX, HTTP2, and Let's Encrypt SSL/TLS certificates to balance performance and privacy.
DreamHost enables users to export their Remixer website to WordPress to take advantage of powerful features such as SSL certificates, blogging, eCommerce, WordPress plugins, and other tools associated with the popular CMS.
💳 Price:
DreamHost managed WordPress hosting plan starts from $2.59/month.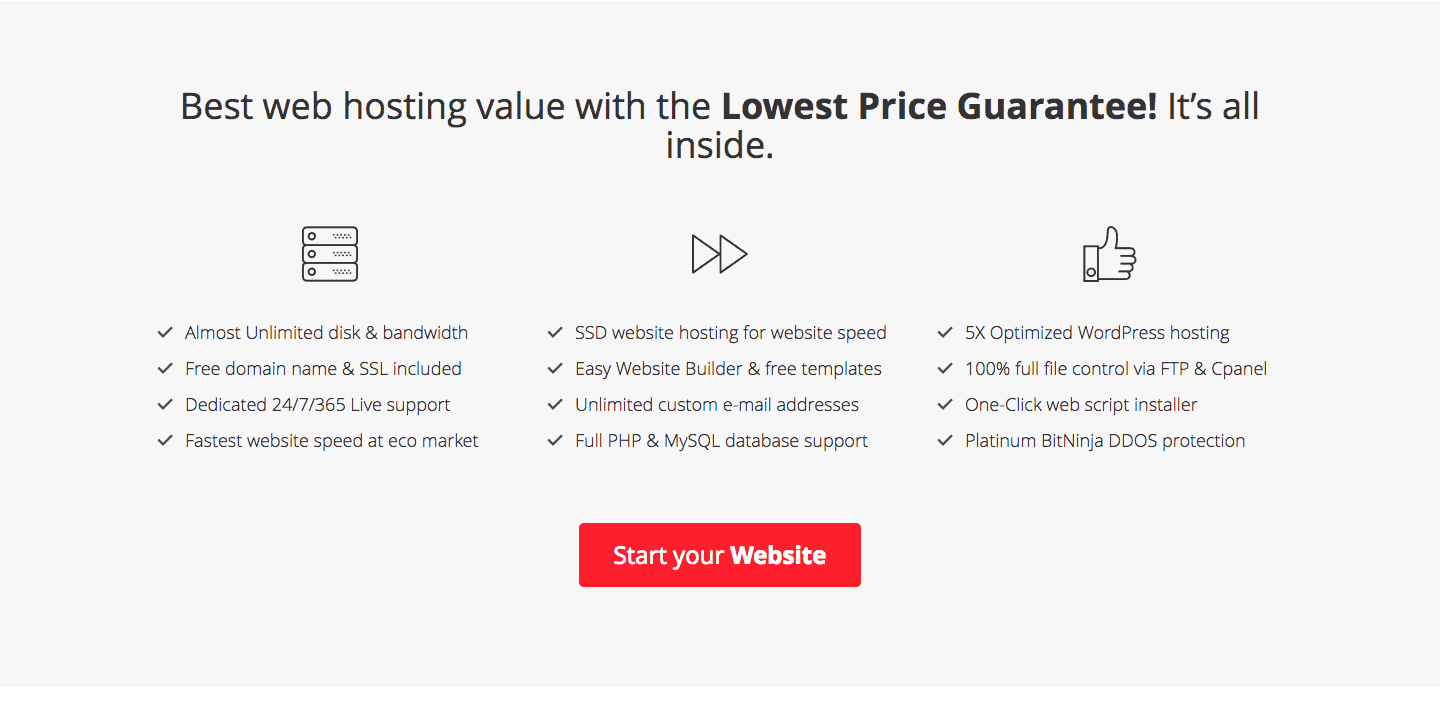 Hostinger International, Ltd was founded in 2004 as an employee-owned Web hosting provider and Internet domain registrar.
It is the parent company of 000webhost, Hosting24, Zyro, Niagahoster, and Weblink.
Hostinger uses cloud web hosting technology and offers MySQL, FTP, and PHP hosting. It is a global company with over 29 million users and subsidiaries in 178 countries.
The company has data servers in the United States, the United Kingdom, Singapore, Indonesia, Brazil, Lithuania, and the Netherlands. Hostinger provides 24/7 customer service 365 days a year.
🚀 Features:
Hostinger's backend is powered by LiteSpeed Cache for WordPress (LSCWP) you can utilize for cache integration and management.
Users can optimize their sites by enabling automatic page caching, a private cache for logged-in users, scheduling automatic purges for specific URLs, and creating an SEO-friendly sitemap.
Hostinger uses the standard setup of a customized dashboard and cPanel. The dashboard gives you access to the most basic features, whereas cPanel gives you access to more advanced settings.
Hostinger provides quick SSD storage, a free Cloudflare CDN, a 99.9% uptime guarantee, and a custom-built caching solution for faster site load times and increased speeds.
Hostinger offers a free SSL certificate and free site migration.
💳 Price:
Hostinger Managed WordPress hosting starts from $1.99/month.
BlueHost was founded in 2003 by Matt Heaton and it is owned by Endurance International Group. It takes care of all the details so you can obtain the dynamic WordPress website you want, whether that means choosing a theme for your website design, making platform changes, or making sure your website is running the most recent and safe version of WordPress.
In addition to website hosting, Bluehost also offers other services to help with traffic growth, including marketing education, content creation, graphic design, SEO services, social media marketing, email, domain names, and local business listings.
🚀 Features:
Bluehost's value-priced hosting packages come with unmetered bandwidth, free global content delivery network (CDN), and Secure Socket Layer (SSL) certificates.
It has integrated Cloudflare support, which can reduce the time it takes for your site to load by using local storage space for important files.
Also, it provides unlimited bandwidth, free global content delivery network (CDN), and Secure Socket Layer (SSL) certificates.
The company offers an unrestricted shared SSL certificate, SiteLock Protection, and options for unique IPs.
A 30-day money-back guarantee with all of its hosting plans.
💳 Price:
BlueHost Managed WordPress hosting plans start from $2.95/month.
InMotion Hosting is a privately owned web hosting service company headquartered in Los Angeles, California, and was founded in 2001 by Todd Robinson and Sunil Saxena.
The company makes use of the most modern cPanel control panel and provides access to Fantastico scripts for easy installation of blogging applications, content management systems, wikis, and customer support solutions.
In addition to its standard hosting services, It provides private cloud solutions, website-building tools, domain name registration, and more.
🚀 Features:
InMotion provides Softaculous on the cPanel to expedite the installation of PHP scripts like WordPress, Joomla, Drupal, PrestaShop, phpBB, and more.
InMotion provides unlimited disk space and bandwidth even with its most basic plan.
InMotion offers a free SSL certificate via LetsEncrypt, free hack protection, free backups, and DDoS protection.
All InMotion Hosting's plans come with cPanel, 24/7 support, and free advertising credits.
InMotion Hosting plans come with access to the BoldGrid Website Builder which makes it easy for you to design and build your WordPress site.
💳 Price:
InMotion Managed WordPress hosting plan starts from $2.29/month.
GoDaddy is a web hosting and internet domain registrar, Founded in 1997 by Bob Parsons. It provides a variety of themes, a highly intuitive editor, and a variety of guided built-in marketing tools that make it simple to create and optimize a website.
The company also offers e-business solutions and services like email, website creation, Internet marketing services, SSL, and security services in addition to hosting and registration services.
GoDaddy's hosting strategy includes plenty of storage, bandwidth, and databases. The majority of its shared hosting plans include unmetered resources.
🚀 Features:
GoDaddy offers access to developer tools like MySQL, cPanel, Python, and several versions of PHP.
It provides user control options e between the easy-to-use cPanel or Plesk control panels, plus root (administrative) access for more tech-savvy customers.
GoDaddy allows you to back up your site and related databases via FTP or SFTP to a secure cloud location.
It provides a wide range of stand-alone courses on topics such as website security, SEO, email marketing, and online presence planning.
The InSight tool compares and scores the performance of your site in comparison to other sites in your industry.
💳 Price:
GoDaddy Managed WordPress hosting starts from $8.99/month.
FAQs
Is GoDaddy Managed WordPress hosting better than LiquidWeb?
GoDaddy does provide cheap hosting and domain services, but don't fall prey to cheap prices. LiquidWeb Managed WordPress hosting services are better than GoDaddy in terms of features and support if not price.
Do Managed WordPress hosting offer good support?
All Managed WordPress hosting plans come with managed support. You get full site transfers, backup and around the clock technical support.
Is VPS cheaper than Managed WordPress hosting?
VPS is much faster than Managed WordPress hosting. You can choose unmanaged or managed VPS hosting. Unmanaged VPS does not include support but comes at a cheaper price and sometimes cheaper than Managed WordPress hosting.
Conclusion
I am sure the list of the top 10 cheapest Managed WordPress Hosting platforms will help you choose the right hosting for your online business.
If you have experience using any of these hosting, then do share your experience with us.
My recommended Managed WordPress Hosting is LiquidWeb. The cost might sound a bit higher than other hosting, but it is completely worth it.