Are you in search of the best VPS hosting providers? Look no further! In this article, I will be discussing the top 15 VPS hosting providers available in the market today.
From affordable options to high-performance VPS providers, I have gathered all the information you need to make an informed decision on which provider is right for you.
Whether you're a seasoned website owner or just starting out, I've got you covered. So, let's dive in and explore the best VPS hosting providers out there!
List Of Best VPS Hosting Providers Of 2023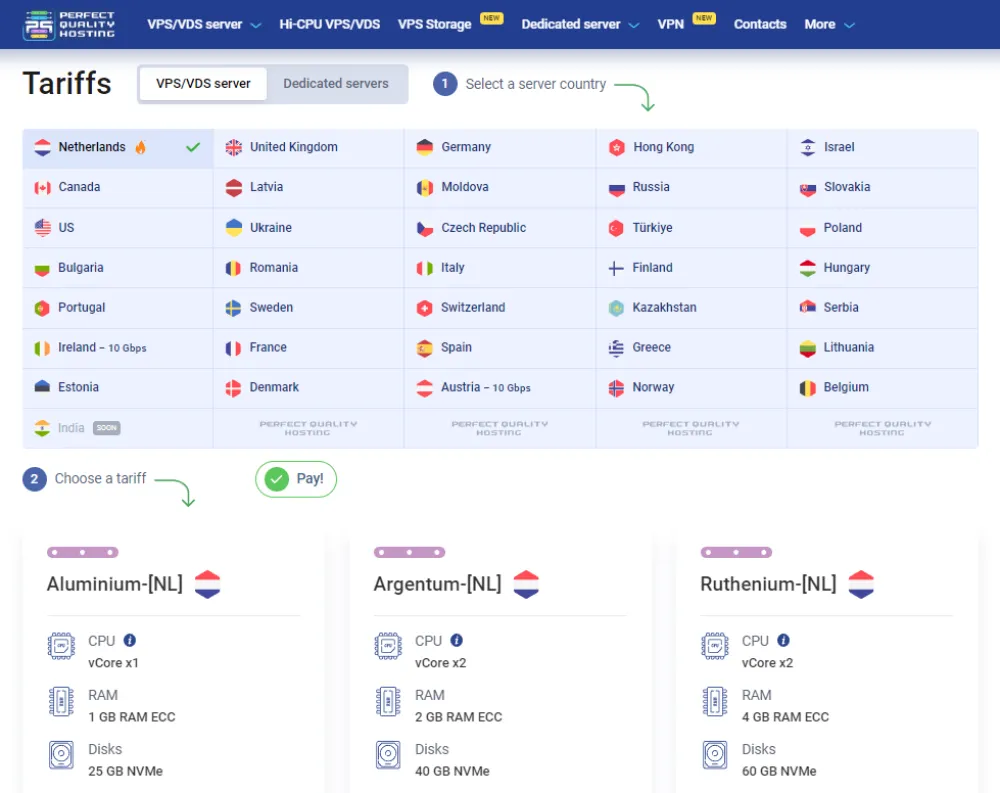 PQ Hosting Plus S.R.L is a Moldova based hosting provider that offers low-cost virtual servers (VPS/VDS) in over 30 countries. They use proprietary hardware and offer 24/7/365 support with an SLA of 30 minutes. In addition to VPS/VDS, they also provide dedicated servers.
| | |
| --- | --- |
| Starts at | 4.05 €/month |
| No. of Datacenters | 35 |
Customers can create support tickets via the ticket system for 24-hour technical support. A life hack for working with PQ support is to create a request in your personal account and provide the ticket number in the chat for an instant response.
PQ Hosting is a low-cost option for customers looking for virtual servers or dedicated servers, with a focus on providing quality support and a proprietary hardware setup.
2. InMotion Hosting
InMotion Hosting, a web hosting company, has been in business since 2001 with over 300 employees. They have hundreds of thousands of satisfied customers over the course of their years in business and have received prestigious awards from CNET and the Better Business Bureau.
| | |
| --- | --- |
| Starts at | $14.99/month |
| No. of Datacenters | 2 |
With 4GB RAM and 75GB SSD space, InMotion's managed VPS plans are a cost-effective solution for small and medium-sized enterprises.
In addition, InMotion Hosting liberates CPU nodes on its virtual servers, allowing customers to distribute their traffic equitably during periods of high demand and avoid service interruptions. However, the absence of ticket support can be a disadvantage for certain customers.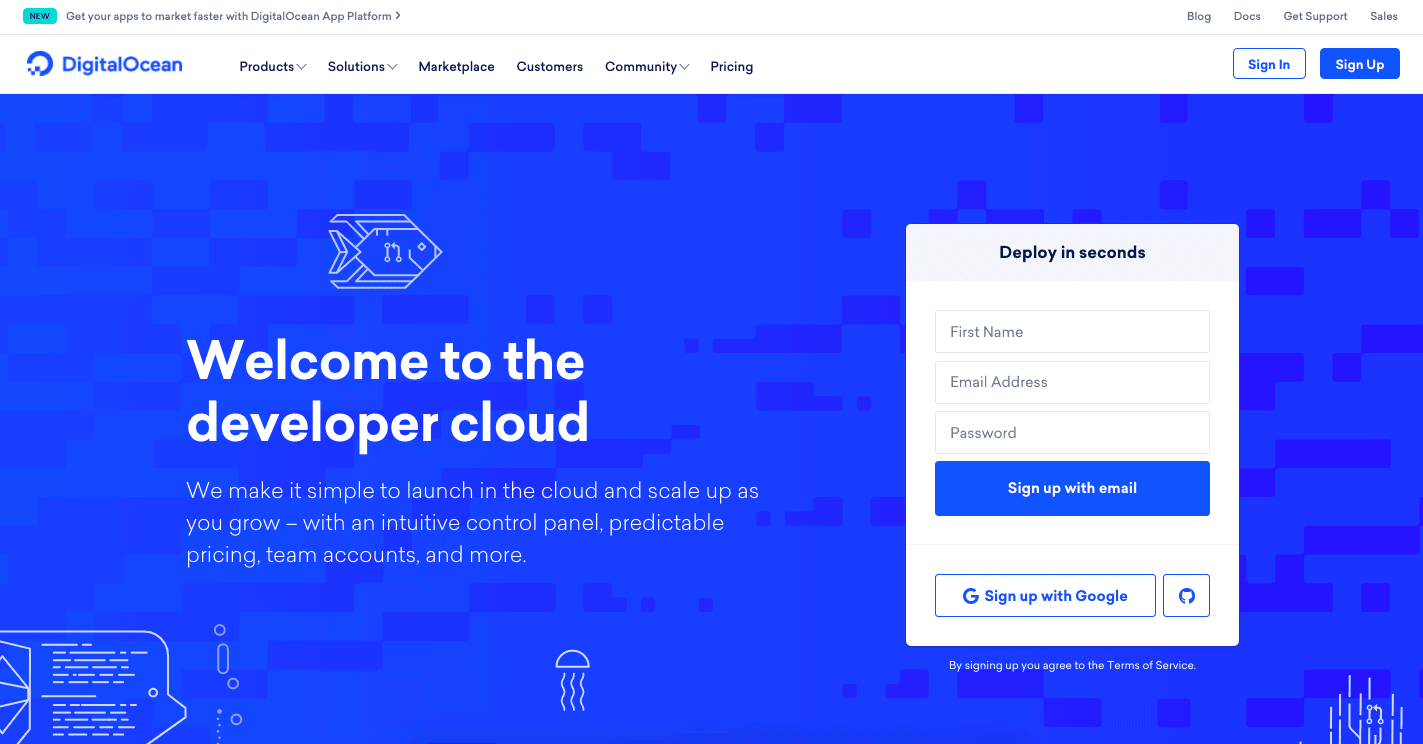 DigitalOcean is the leading cloud infrastructure provider for developers, small, medium and large businesses.
| | |
| --- | --- |
| Starts at | $6/month |
| No. of Datacenters | 14 |
DigitalOcean maintains 12 data centers in Bangalore, Singapore, Frankfurt, London, Amsterdam, Toronto, San Francisco, and New York to host customer projects.
They offer database administration, Kubernetes containers, straightforward object storage, and developer tools in addition to traditional cloud compute droplets.
In addition, the company guarantees a 99.99% availability and offers pre-defined firewalls, pre-built open-source applications, and API/CLI support.
4. A2Hosting
The company's moniker is a reference to the birthplace of its CEO, Ann Arbor, Michigan. Additionally, the provider is committed to ecological initiatives, combating climate change, and reforestation.
A2 Hosting has 4 data centers strategically located in Michigan, Arizona, Amsterdam, and Singapore to assure optimal response times for consumers worldwide.
They takes performance seriously and provides free SSD enhancements as well as a paid Turbo feature to make web projects lightning-fast. In addition to Windows and Linux VPS hosting, Unmanaged, Managed, and Core VPS services are available.
DDoS protection, firewall, site migration, dedicated IPs, Cloudflare CDN, and SSL certificates are among the provider's gratis amenities.
| | |
| --- | --- |
| Starts at | $2.99/month |
| No. of Datacenters | 4 |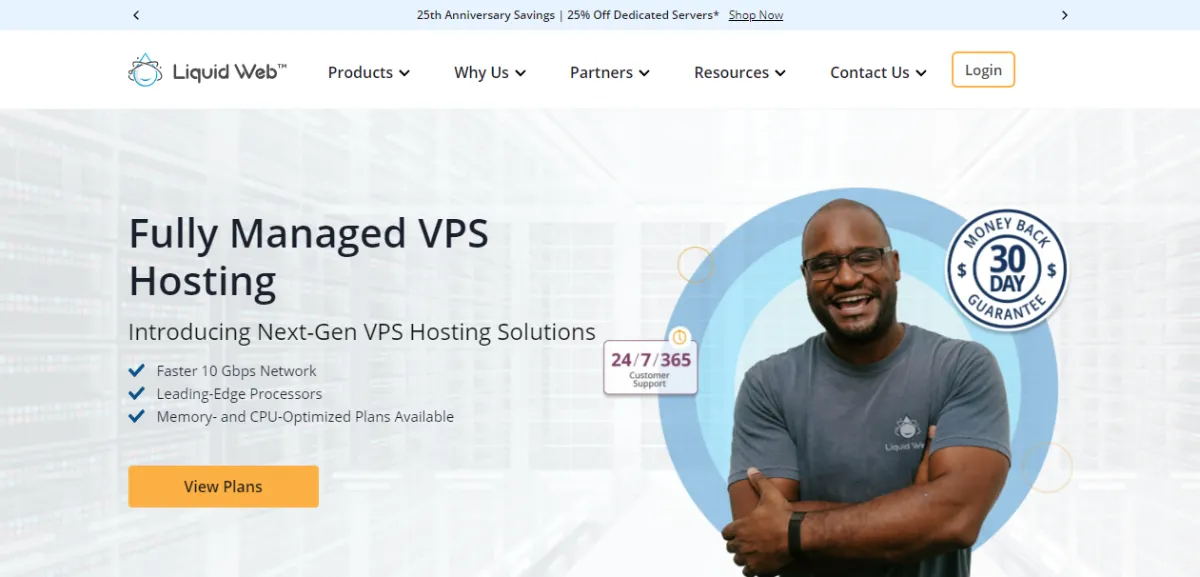 Liquid Web is a hosting provider that transitioned from shared hosting to premium VPS, Cloud, and dedicated services over time. It employs approximately 250 engineers, administrators, developers, and support personnel to meet the requirements of more than 30,000 customers in 130+ countries.
One of the company's distinguishing characteristics is its VPS services, which combine the server power of a dedicated solution with the flexibility of cloud services.
Even the most basic VPS plan includes remarkable resources, including 2CPU cores, 2GB RAM, and 40GB SSD storage, with a monthly bandwidth limit of 10TB for all plans.
In addition, the company offers a variety of features that accommodate both minor and large undertakings.
Liquid Web also provides clients with unrestricted access, which is an attractive feature, but it can lead to clients making modifications to the server, which negates the purpose of a managed server.
The concept behind a Managed VPS service is that the provider's employees should do all the tweaking since they are more familiar with the system.
6. Hostwinds
For almost a decade, Hostwinds, a Seattle-based hosting company, has provided various hosting services, including VPS hosting.
The company operates three data centers in the United States and Europe and provides managed and unmanaged Linux and Windows services. Hostwinds accommodates all requirements and budgets, making it a highly accessible option for all.
The cost-effectiveness of Hostwinds is one of its finest features. With the introductory discount, the entry-level VPS subscription includes 30 GB SSD storage, 1 GB RAM, and 1 CPU core storage for just $5.17/month.
Those upgrading from shared hosting and wishing to attempt a virtual server for the first time will find this option appealing.
Hostwinds accommodates to resource-intensive projects with its premium bundle, which includes 16 CPU processors, 96GB RAM, and 750GB SSD storage.
SSD storage space, free website transmission, and an enterprise firewall are provided by Hostwinds. Although it is not much, it is sufficient to get begun.
When it comes to customer support, Hostwinds is always available via live chat, phone, email, and support inquiries.
However, online reviews indicate that the company's invoicing policies can be problematic, with some customers encountering issues with cancellation requests, refunds, and concealed charges on their credit card statements.
7. HostGator

HostGator is one of the world's largest hosting companies, and its acquisition by Endurance International Group (EIG) for $300 million in 2012 was one of the industry's most significant moves at the time.
The company has maintained its position as one of the market's top competitors, ranking fourth. However, the majority of HostGator's customers are on shared hosting, and the efficacy of the company's VPS services is unknown.
HostGator provides three fixed VPS plans, but they do not include many features. For instance, the most expensive plan, Snappy 8000, only includes four cores,8 gigabytes of RAM, and 240GB of HDD storage capacity.
Even worse, there is no SSD storage, which is a significant disadvantage. When the introductory rate expires and the renewal rate kicks in, prices that initially appear reasonable can quickly become prohibitive.
In terms of consumer support, HostGator provides assistance via chat, phone, email, and fax. However, it is important to observe that EIG-owned businesses share support personnel.
Therefore, personalized and comprehensive assistance is unlikely. Based on previous interactions, HostGator's customer service is subpar. Customers may find the agents' sluggishness and frequent difficulty in answering simple queries exasperating.
8. BlueHost
Bluehost, another hosting company owned by Endurance International Group (EIG), is one of the market leaders, powering over 2 million domains with a 2.26 % market share.
While Bluehost has been providing shared hosting services since 2003, VPS and Dedicated hosting were only introduced to the company's portfolio in 2013.
Bluehost, like other hosting companies owned by EIG, does not prioritize providing an extensive feature set or an abundance of extras.
Instead, they rely on their reputation to attract new customers. The only significant difference between Bluehost and HostGator's VPS plans is the amount of space allocated to the most costly plan.
HostGator provides 240GB, whereas Bluehost only offers 120 GB. Bluehost, however, utilizes SSD storage, which offers quicker performance.
Aside from the complimentary domain and SSL certificate, the VPS program does not include much else. According to the company's provisions, even backups are the sole responsibility of the client, and the host is not responsible for any content loss.
9. Hostinger
Lithuania-based Hostinger offers a comprehensive variety of hosting services. Despite the fact that the company was founded in 2011, the core team had been involved in multiple online enterprises prior to that.
In recent years, Hostinger has witnessed remarkable development, hosting over 29 million clients worldwide who produce over 15,000 new web projects daily.
However, the majority of these clients utilize Hostinger's free and shared services, leaving us curious about the company's virtual server customers.
When it comes to VPS services, Hostinger's priorities are evidently elsewhere. While the company does offer VPS and cloud hosting, it is clear that the majority of its focus was placed on free and shared hosting.
Hostinger will not attempt to dazzle you with potent servers, as its most significant product only includes 8 CPU cores and 8 gigabytes of memory.
10. Scala Hosting
Scala Hosting is a modest yet innovative VPS hosting provider that offers clients a variety of one-of-a-kind features.
Scala Hosting, unlike many other hosting providers, has its own proprietary control interface called SPanel, which has been developed and refined over the past five years to become a robust, versatile, and potent solution that simplifies site administration.
Scala Hosting offers a variety of customizable hardware and feature options, including 1-24 CPU cores, 2GB-32GB RAM, 1GB-500GB SSD, and 1TB-2TB HDD.
Users can select from pre-configured VPS plans or configure a virtual machine to satisfy their particular requirements.
Bandwidth allocation information is conspicuously absent from the Scala website, but customer support confirmed that the default allocation is approximately 3TB, which should be sufficient for the majority of websites.
Scala Hosting is distinguished from other VPS providers by its emphasis on security. SPanel includes the real-time monitoring system SShield Security Guard, which employs artificial intelligence to detect and eliminate any malicious activity on a website.
Scala Hosting also provides the SWordPress Manager, a proprietary utility that aids in the acceleration of WordPress sites and adds an additional layer of security.
11. Kamatera
Kamatera is a highly configurable VPS hosting provider that enables rapid server deployment. Its most comprehensive product, Kamatera Express, is compatible with Linux, Ubuntu, BSD, Windows, and CentOS.
Kamatera Express is affordably priced, allowing you to acquire a customized server interface without breaking the budget.
One of the primary advantages of utilizing Kamatera is its ability to scale up or down as necessary. This feature allows you to save money while ensuring 99.95% reliability for your business, so your website is always accessible.
In addition, Kamatera provides cloud block storage, a private network, and a cloud firewall that offers industry-leading protection from cyber threats and malware.
Kamatera provides round-the-clock individual support via live chat, phone calls, and email, making it simple to obtain assistance when you need it.
The company provides an entirely managed service, allowing you to focus on other revenue-generating aspects of your business.
12. Ultrahost
Ultrahost provides Virtual Private Server (VPS) hosting plans that are both affordable and scalable. They specialize in offering users the flexibility and control of a dedicated server, as well as a variety of features and customization options for Windows or Linux.
One of Ultrahost's primary features is high-performance VPS hosting with SSD storage and robust resources that ensure websites and applications run quickly and reliably.
In addition, their platform features an intuitive control interface that enables users to easily administer their VPS hosting environment. Among the features of the control interface are one-click installations, automatic backups, and more.
Ultrahost supports multiple operating systems, including Windows and multiple Linux distributions, allowing users to select the platform that best meets their requirements.
The Linux-based servers of Ultrahost offer support for additional operating systems, including Debian, Ubuntu, CentOS, Fedora, Red Hat, and AlmaLinux.
These servers are propelled by the most recent Intel processors and provide unrestricted storage and bandwidth, in addition to free SSL certificates and other features.
What is the difference between VPS Server & Shared Hosting?
A shared hosting server allocates server resources to multiple websites. This means the server resources like CPU, RAM, storage space, etc. are shared with multiple websites owned by different users.
Due to this, the speed of the website hinders a lot and if one website is badly affected, then it has a bad effect on other websites too. Shared hosting is much cheaper than VPS hosting
A better option is VPS hosting server. Both VPS hosting servers are faster than traditional shared hosting servers. Moreover, when you choose a fast VPS server, you get the resources owned for your website and do not need to share them with other website owners.
Also, Read:
Conclusion
You can not rely on any VPS service provider without trying it. So, make sure you check most of them and start a free trial with them, if available.