Pros/Advantages
High-Converting Brands
Localization and Personalization
Exclusive Promotions
Expertise and Industry Knowledge
In the ever-expanding world of affiliate marketing, finding a reliable and successful program can be daunting. However, look no further than N1 Partners, a multi-brand affiliate program making waves in the industry.
This comprehensive review dives deep into the core features, benefits, and performance of N1 Partners, shedding light on its exceptional offerings and value to its partners.
From its diverse portfolio of high-converting online casinos to its commitment to transparency and trust, join me as I uncover the inner workings of N1 Partners and why it has become a powerhouse in the affiliate marketing landscape.
Pros
Wide Range of High-Converting Brands
Localization and Personalization
Exclusive Promotions and Player Engagement
Expertise and Industry Knowledge
Transparent and Timely Payments
Comprehensive Reports and Marketing Tools
Exclusive Partner Privileges
High conversion rates
Own retention system,
Multilanguage call-center 24/7 and VIP service
30+ profitable GEOs
The affiliate program is ready to accept almost any traffic, except for the motive and from the
context to the brand.
A call center and round-the-clock multilingual (RU, EN, DE) support to resolve any issues of
both players abroad and arbitrators.
N1 Stars AffClub is an exclusive club exclusively for active webmasters working with an affiliate program. This exclusive club offers additional privileges and rewards for traffic. For example, in
one of the recent activities, the program partners won pleasant and very valuable prizes, from
Apple equipment to a paid trip to anywhere in the world).
Detailed reports that can be uploaded in csv, json, xml formats, a wide range of marketing tools
and unique offers to maximize profits.
All the necessary materials for promotion: from standard landing pages and banners to extraordinary types of soaking.
No commission when withdrawing earnings.
API integration.
Personal manager and the opportunity to agree on individual working conditions.
Despite the fact that the language of the website and emails is English, there are
Russian–speaking managers in the support of webmasters.
Cons
About N1 Partners
N1 Partners is a dynamic and reputable multi-brand affiliate program that has worked for five years in the iGaming market and brings together top-notch online casinos and betting brands.
With a strong focus on meeting the diverse needs of their audiences, N1 Partners offers an extensive range of games, exclusive promotions, and tailored experiences.
Payment models and minimum withdrawal amount in N1 Partners
Payment models are standard:
RevShare: the rate is dynamic and ranges from 25% to as much as 45%, and the rate works all the time while the webmaster fills in affiliate offers, does not hide any additional commissions, and does not have a negative carryover.
CPA: when choosing this model, it is worth paying attention to the fact that the rate will fluctuate depending on the quality of traffic and the selected geo, but it starts from 150 euros for the first deposit made by the listed player.
Hybrid: the first deposit will be paid from 100 euros, plus 40% from the rev share.
Sub Affiliate: 5% of the earned by referral.
You can withdraw 20 euros by bank transfer or via BTC, Neteller, Coins Paid, or Skrill.
What is N1 Partners Program? – All You Need To Know Before Starting Out
As someone who has experienced the benefits of N1 Partners firsthand, I can confidently say that it is a remarkable multi-brand affiliate program. N1 Partners consists of several highly converting online casinos and betting brands, including Slot Hunter, Joo Casino, N1 Bet, and N1 Casino operating under the license of Malta and Curacao and also N1 Casino Greece (the Hellenic Gaming Commission licence). What sets them apart is their unwavering commitment to staying up-to-date with industry trends and their dedication to meeting the diverse interests and needs of their audiences.
One aspect that truly impressed me is their meticulous approach to localization. N1 Partners goes above and beyond to tailor their projects for each specific country, even individualizing the color preferences of their websites. This attention to detail creates a personalized experience that resonates with players in different regions, making them feel right at home.
The selection of games offered by N1 Partners' casinos is truly remarkable. With over 7,000 games sourced from 100 different game providers, there is something for everyone. Whether you're a fan of slots, table games, or live dealer experiences, you'll find an extensive range of options to choose from.
I must mention the two unique promotions developed by N1 Partners: Mystery Drops and Lucky Spin. These promotions have become an absolute hit among players, including myself. Mystery Drops allows you to play your favorite games and receive random prizes along the way, adding an exciting element of surprise. On the other hand, Lucky Spin offers the thrill of spinning a wheel with a guaranteed prize awaiting you. These promotions have not only kept me engaged but have also attracted an increasing number of clients from various countries on a daily basis.
N1 Partners truly values its partners, and this is evident in their approach. The foundations of their partnerships are built on the principles of honesty, transparency, and trust. With their excellent expertise in the industry, they know exactly how to help partners increase their individual traffic income. Each partner is assigned a personal manager who provides timely feedback on their traffic performance, ensuring that partners receive the necessary guidance and support to succeed. I have personally found this level of support very helpful in optimizing my traffic.
One aspect that I greatly appreciate about N1 Partners is their reliability when it comes to payments. They understand the importance of timely payments, and without fail, payments are made on the first working day of each month. This level of professionalism and punctuality further solidifies my trust in their partnership.
N1 Partners goes above and beyond in offering exclusive benefits to their partners. Their retention system and VIP program ensure that players receive exceptional treatment and stay loyal to the brands. Additionally, they provide a dedicated multi-language (EN, DE, PT, RU) call center and 24/7 support, ensuring that players receive prompt assistance whenever needed. As an active partner, I have also had the privilege of joining the N1 Stars AffClub, an exclusive club where I receive additional privileges and gifts for my valuable traffic.
The comprehensive reports, robust set of marketing tools, and exclusive offers provided by N1 Partners have been instrumental in maximizing my profits. The detailed reports have given me valuable insights into my performance, allowing me to fine-tune my strategies for optimal results. The marketing tools provided are extensive and effective, enabling me to reach a wider audience and increase conversions. Additionally, the exclusive offers have provided an extra edge in attracting and retaining players.
Major Features & Benefits of N1 Partners
Wide Range of High-Converting Brands:
N1 Partners comprises several renowned online casinos and betting brands, including DasIst Casino, Slot Hunter, Joo Casino, N1 Bet, and N1 Casino. These brands are recognized for their exceptional conversion rates, offering a diverse selection of games, attractive odds, and a seamless user experience. With such a variety of high-quality brands to promote, affiliate marketers can tap into different target audiences and maximize their earning potential.
Expertise and Industry Knowledge:
N1 Partners prides itself on its team's extensive expertise and in-depth knowledge of the industry. Their experienced professionals understand the intricacies of affiliate marketing and know exactly how to help partners increase their individual traffic income. With their guidance and insights, affiliate marketers can optimize their strategies and achieve outstanding results relatively quickly.
Localization and Personalization:
One of the standout features of N1 Partners is its commitment to localization. They understand that catering to specific countries' preferences is crucial for success. N1 Partners goes the extra mile by individualizing the color preferences of websites to create a personalized experience for players in each target market. This level of attention to detail enhances user engagement, boosts conversions, and ultimately increases affiliate marketers' earnings.
Exclusive Promotions and Player Engagement:
N1 Partners has developed two unique and highly engaging promotions: Mystery Drops and Lucky Spin. These promotions have proven to be hit among players, creating excitement and encouraging longer gameplay. Mystery Drops surprise players with random prizes as they enjoy their favorite games, while Lucky Spin offers guaranteed prizes through a thrilling wheel-spinning experience. By promoting these promotions, affiliate marketers can attract more players and boost their conversion rates significantly.
Transparent and Timely Payments:
N1 Partners values its partners and ensures a transparent and reliable payment process. Payments are made on the first working day of each month, without any delays or hidden fees. This punctuality instills confidence in affiliate marketers, allowing them to focus on their promotional efforts and trust that their hard work will be rewarded promptly.
Comprehensive Reports and Marketing Tools:
N1 Partners provides affiliate marketers with detailed reports and a comprehensive set of marketing tools to optimize their campaigns effectively. The real-time views, clicks, and daily stats offered through SoftSwiss Software empower affiliates to track their performance, identify areas for improvement, and make data-driven decisions. Moreover, the marketing tools provided by N1 Partners enable affiliates to enhance their promotional efforts, reach a wider audience, and maximize their profits.
Exclusive Partner Privileges:
Affiliate marketers at N1 Partners gain access to exclusive privileges, further enhancing their experience and earning potential. The complete retention system and VIP program ensure that players receive top-notch treatment, increasing player loyalty and lifetime value. Additionally, the N1 Stars AffClub provides active partners with additional privileges and rewards for their valuable traffic, creating a sense of exclusivity and motivation for affiliates to excel.
Brands Offered By N1 Partners
N1 Casino:
Imagine the excitement of revving engines, the anticipation of an enthusiastic crowd, and the distinct smell of gasoline in the air. You are a racer, and N1 Casino is your ultimate destination for an adrenaline-fueled gaming experience. This thrilling online casino is all about racing, and it caters to the needs and desires of its treasured Racers in every way possible. From a wide range of gaming providers to hundreds of games across various genres, 24/7 support, multiple language options, and a mobile-optimized platform, N1 Casino offers an exhilarating world for Racing Champions.
SlotHunter:
As the name suggests, SlotHunter Casino is the ultimate destination for true hunters in the world of online gaming. The casino is designed to entice players to explore its vast offerings and discover hidden treasures. SlotHunter captivates players with its beautiful artwork, immersive texts, and website style that sets the mood for an unforgettable gaming experience. With multiple currencies available in a single account and several languages to choose from, players can fully immerse themselves in the hunt at SlotHunter Casino.
Joo Casino:
Joo Casino is the ultimate destination for those seeking the most exhilarating things in the world: money, cars, and competitive sports. This exciting online casino is powered by leading software platforms, including NetEnt, BGaming, and Ezugi, providing players with a user-friendly gaming interface complemented by stunning design and seamless gameplay. Joo Casino offers a diverse selection of casino games, including slots, poker games, roulette, and card games. With its optimized mobile version and compatibility with Flash browsers, Joo Casino ensures that players can enjoy an action-packed gaming experience without any hassle of downloading. What sets Joo Casino apart is its dedicated section for sports betting, allowing players to utilize their knowledge of their favorite teams.
N1 Bet:
Step into the world of sports betting like a true champion with N1Bet! This revolutionary platform invites you to explore the boundless possibilities of the digital age and experience the thrill of trending one-click sports betting. N1Bet takes your betting journey to new heights by offering a wide range of sports and cybersport events for you to wager on.
How To Sign Up For N1 Partners?
Step – 1: Go to the official website of N1 Partners and click on 'Become our Partner'.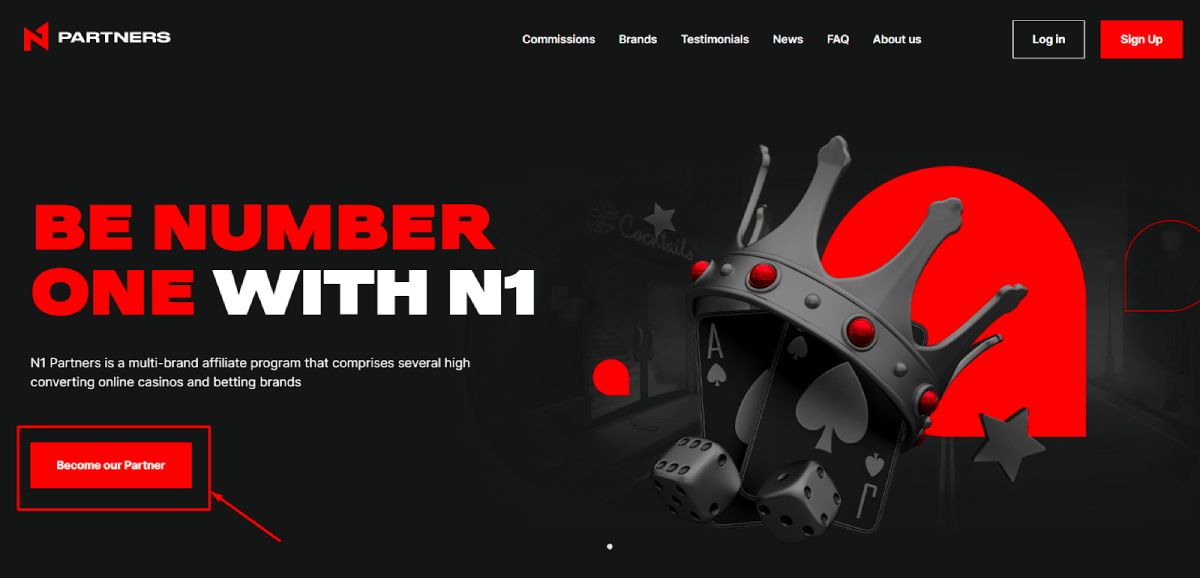 Step – 2: Fill up the details asked for, check the boxes, and click on 'Register'.
Step – 3: That is it. You are good to go. Wait for their confirmation and start earning.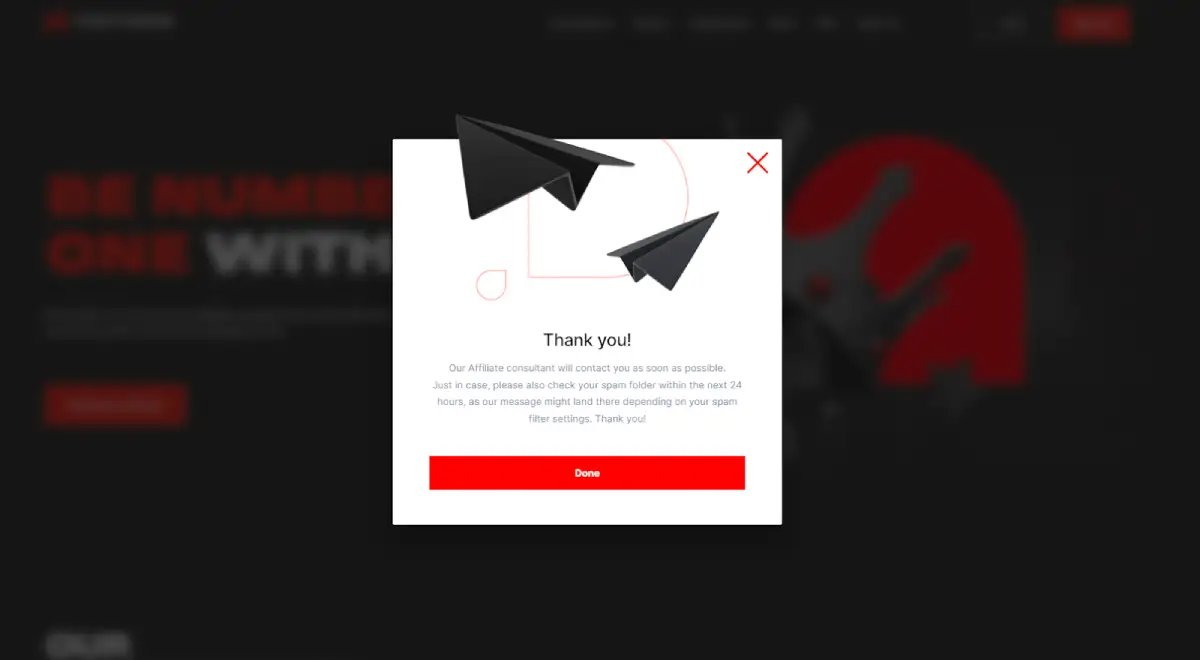 Conclusion
N1 Partners stands as a beacon of reliability, trust, and success in the affiliate marketing landscape. With its impressive track record, innovative strategies, and unwavering commitment to partner satisfaction, it's no surprise that N1 Partners has earned its esteemed reputation.
Also check –
Whether you are a seasoned affiliate marketer or a newcomer to the industry, joining forces with N1 Partners will undoubtedly boost your profits, elevate your online presence, and unlock a world of exclusive privileges. Embrace the opportunity to be number one with N1 Partners and embark on a journey toward unprecedented success.