Affiliate marketing is a great way to make money, but you need to start with good creatives to be successful. Push advertising is no exception. You can make creatives for push ads yourself, or you can use a push spy tool for inspiration. Several different spy tools are available, each with its advantages and disadvantages.
To find the right one for you, consider your needs and budget. Once you've found a tool that meets your needs, you can use it to gather data on your competitors' ads and create better ads of your own.
Remember to always test your ads before you launch them so that you can be sure they're effective. You can be a successful affiliate marketer with the right push ads spy tool and hard work.
But from where would you get the best affiliate offers to run ads?
I recommend AdsEmpire for affiliates with little or no experience or even experienced affiliate marketers. AdsEmpire offers weekly payouts to affiliates in every corner of the world. You can find some lucrative CPA direct, and Smartlink offers with high-conversion rates.
AdsEmpire ensures to monetize 100% of your traffic with its in-built algorithms. Thus, maximizing your ROI. You can run campaigns in different verticals like Dating, iGaming, Mainstream, and CPI via push notifications. For best results, you can spy on your competitors by using push ad spy tools.
I have collected a list of the best push notification ad spy tools here and added some ideas about properly using affiliate marketing spy tools.
What Are Push Notification Ad Spy Tools?
A spy tool is an essential tool for any online marketer. A Spy tool is an online database that contains a vast collection of digital ads from around the world. These ads can be sorted by country, ad format, and traffic source, making it easy for marketers to find inspiration for their campaigns.
In addition, spy tools often contain detailed information about the ads, such as the landing page URL, the ad copy, and the targeting options. This data can be precious for understanding what works well for other brands in your industry.
While many different spy tools are available, they all serve the same primary purpose: to help you keep tabs on the competition and learn from their successes.
10 Best Push Notification Ad Spy Tools You Can Rely On
Adplexity is one of media buyers' most popular and well-known spy tools. It offers a wide range of features and options for its users, making it an essential tool for anyone looking to stay ahead of the competition.
Adplexity is split into different versions for push, mobile, native, desktop, adult, e-commerce, and carriers, each with unique features. Adplexity is the best push ad spy tool.
The general community opinion is that the interface is straightforward to navigate, and there seems to be an impressive amount of search and filtering options.
Just to highlight some of the best features of Adplexity Push – it allows you to see what ads run on carrier traffic. It has the most important push traffic data from over 80 countries, 10 push traffic sources, 90 carriers, and 100 affiliate networks.
Pros
Easy-to-use client user interface
Running in over 75 nations together
Adplexity is an essential tool for anyone looking to stay ahead of the competition in the ever-changing world of online advertising.
Anstrex is an excellent tool for those looking for data insights. It offers three different native, push, and dropshipping options, each with its own features.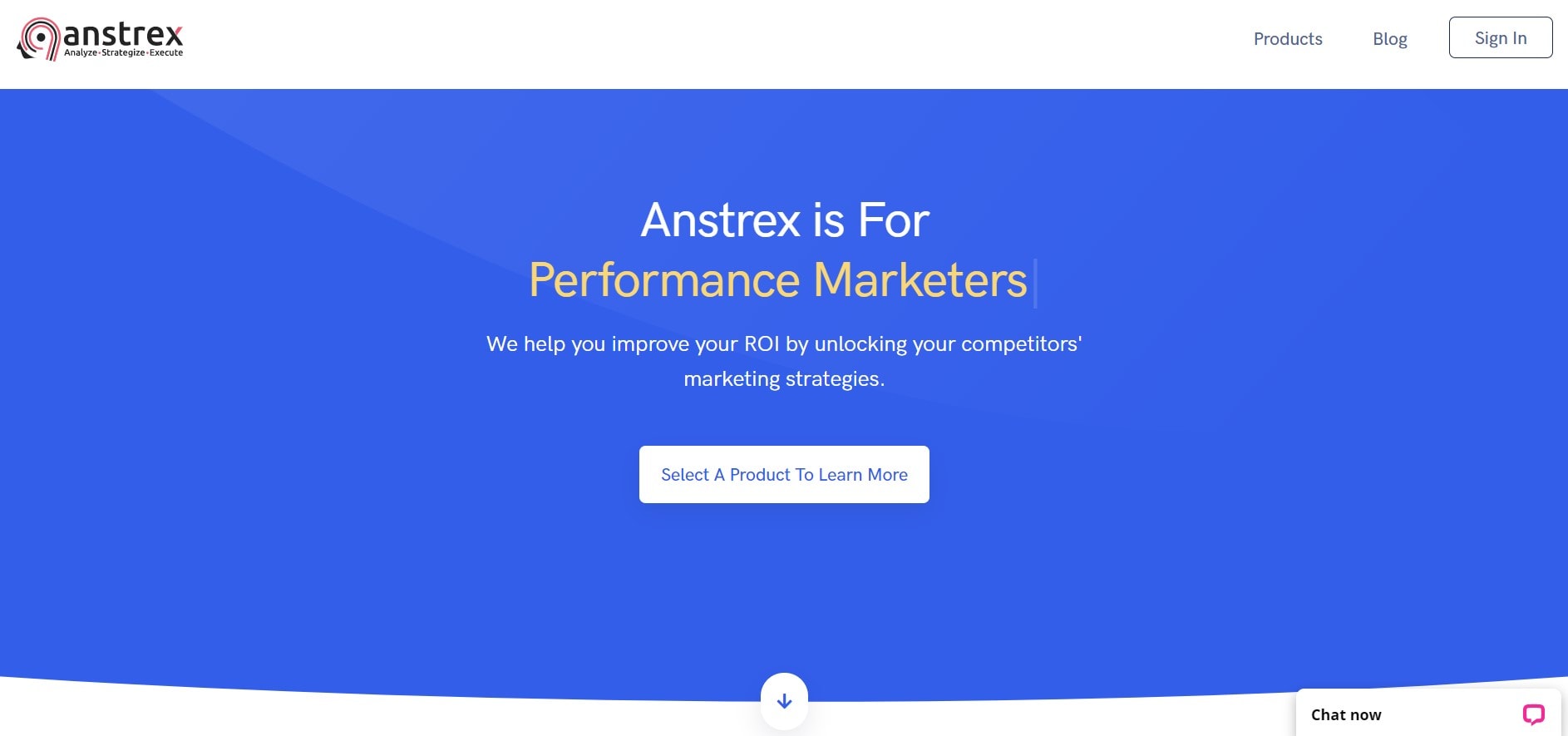 The community appreciates Anstrex's easy and straightforward interface, the best value for money, and impressive database with easily downloadable landers and creatives.
Anstrex Push gathers over 3 million ads from 92 countries, 15 traffic sources, and 38 affiliate networks. The results can be filtered by keywords, ad network, category, country, device, affiliate network, tracking tools, and more.
Pros
Chrome Extension Available
Dominate push notification advertising
Using English keywords, you can search for foreign language ads and view each campaign's CPC bid history.
And these are only some of the impressive features worth mentioning! If you're looking for an affordable and easy-to-use tool with lots of data insights, Anstrex is worth checking out.
#3. DropiSpy
DropiSpy is a free push notification spy tool that provides users valuable insights into their competitors' strategies.
With this ad intelligence tool, you can see what products your competitors are pushing and how they promote them on Facebook.
In addition, Dropispy provides information on the goods they use, such as average page views, ranking variables, and so on. As a result, this tool can be beneficial in developing your own dropshipping business.
Pros
In-depth insight into trending ads
Cons
The possibility that this tool used by competitors
Moreover, Dropispy's primary goal is to assist you in locating the best-performing adverts using complex criteria. This allows you to create more successful marketing campaigns and discover winning items.
Consequently, Dropispy is a handy tool for any entrepreneur seeking a competitive edge in the dropshipping industry.
#4. PowerAdSpy
PowerAdSpy is the world's first and best push notification ad spy tool free, created from the ground up with Facebook, Instagram, and other prominent social media platforms for marketing in mind.
It has the world's largest database of billions of past and present social media ads, updated daily with a minimum of 1000 adverts.
This competitive intelligence tool lets you monitor competition ad strategies across all major social media platforms, including Facebook, Google, Instagram, YouTube, Reddit, Quora, GDN, and Native.
PowerAdSpy includes a 50 million ad database from over 100 countries. It is the best ad intelligence program compared to others because its database is updated daily with more than 50,000 ads.
Pros
Real-time engagement
Access to ad videos and images
Cons
You need to spend some time learning how to use this tool
It's also accessible as a Chrome extension, making it even more convenient. In addition to these features, PowerAdSpy also offers a 7-day trial so that you can test out the program before committing to it.
Overall, PowerAdSpy is an essential tool for any marketer who wants to stay ahead of the competition.
#5. SpyPush
Push notification spy tools are becoming increasingly popular among online advertisers. spyPush is one of the leading providers of such tools, with over 2 million push ads in its database.
The company offers access to advertising from 95 countries, making it one of the most comprehensive resources for push notification advertising data.
In addition to a massive database of ads, spyPush also provides users with landing pages and creatives that can be easily downloaded and used for their campaigns.
Pros
Free trial
Choose and mix match existing ideas
Cons
Free trial only valid for 24 hours
With so many features, it's no wonder that spyPush is one of the market's most popular push notification spy tools.
AdPeriscope is a spy tool created by the people from Anstrex to monitor adult advertising.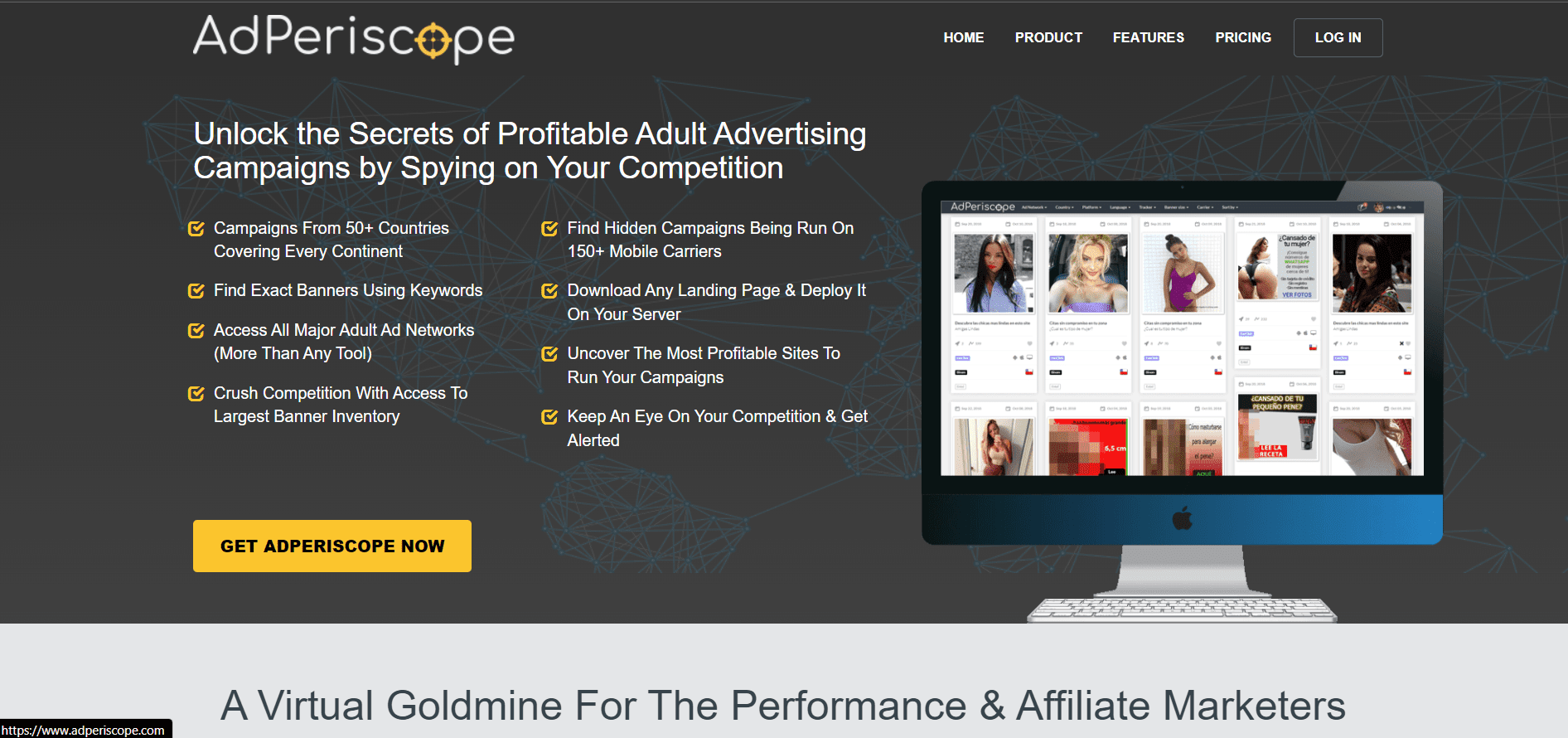 Similar to Anstrex in design and function, AdPeriscope offers a more comprehensive inventory of ads for the adult industry.
According to user feedback, AdPeriscope does precisely what it promises, offering an excellent tool with a massive database of ads at a great price point. In terms of scope, AdPeriscope covers inventory from over 50 countries, all major adult networks, and 150+ mobile carriers.
Pros
3G/4G Data from 150+ carriers
Cons
Anstrex is a strong competitor
For those in the adult industry looking for a reliable and affordable way to keep track of their competition, AdPeriscope is an excellent option.
#7. BigSpy
BigSpy is a free FB ad spy tool that discovers the most effective ads on Facebook, Instagram, YouTube, Twitter, Pinterest, and Yahoo. More than 650 million ad creatives have been created with this ad spy software, which is used by 300,000 Internet marketers worldwide.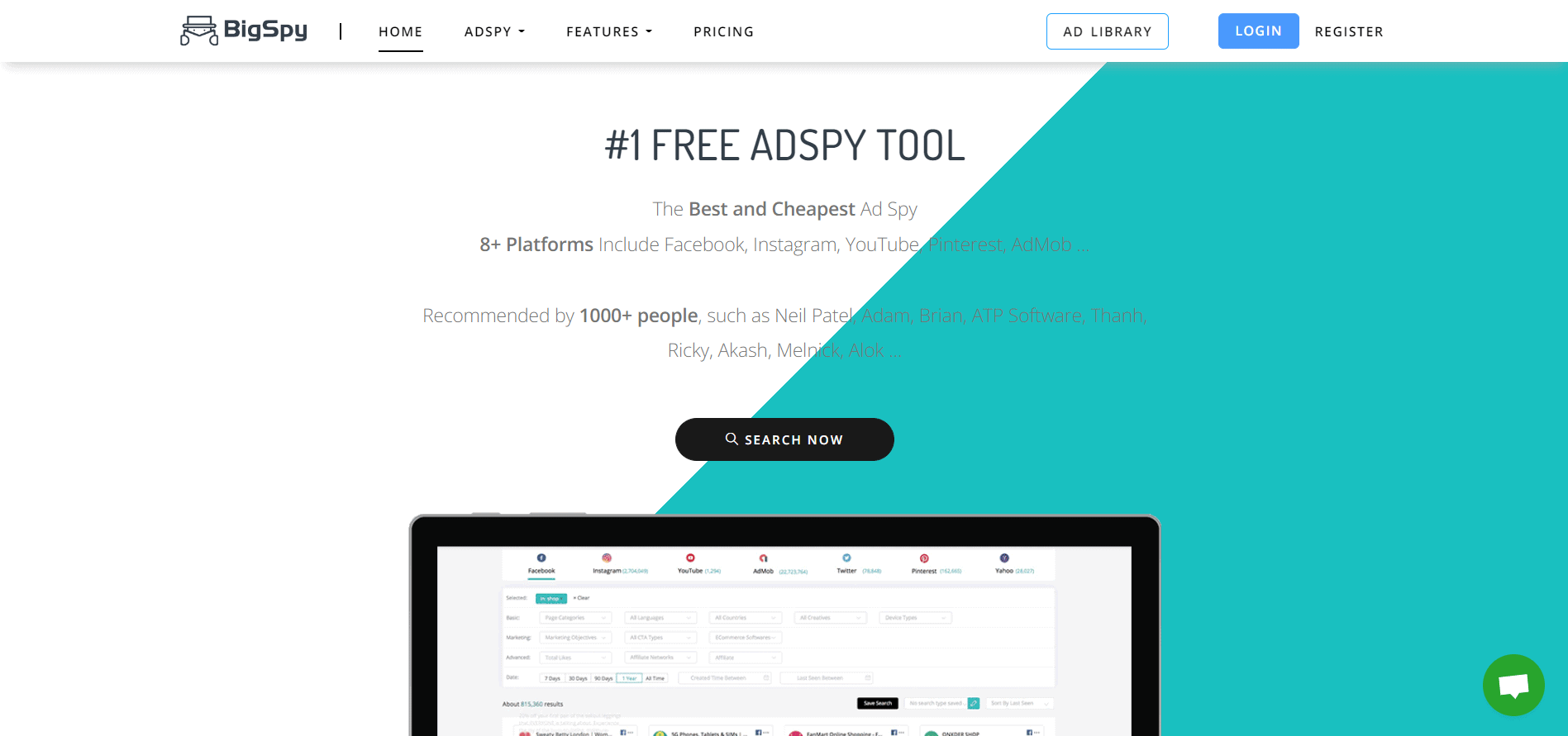 It's not only a fantastic Ad spy tool for getting innovative ideas for new marketing campaigns, but you can also use it to track competitor advertisements to see what's working for them and see if they'll work for your business!
BigSpy is one of the best free push notification ad spy tools for YouTube ad spying, TikTok ad spying, Google PPC ad spying, and other 10 affiliate networks. BigSpy can help you gather and track advertising to evaluate user-to-test ads.
Pros
a massive number of creatives
Cons
Relatively challenging to use
With BigSpy, you can get accurate data about an advertisement's Reach potential as well as view historical data of how an ad has performed in the past. Additionally, you can use BigSpy's "Interest" function to see what other interests are likely associated with people who have engaged with a particular ad.
This precious data can help you create targeted ad campaigns that are more likely to succeed. If you're looking for a high-quality, reliable FB Ad Spy tool, look no further than BigSpy!
#8. Mobidea
The advertising network Mobidea has launched its own spy tool, which may be the leader in this area.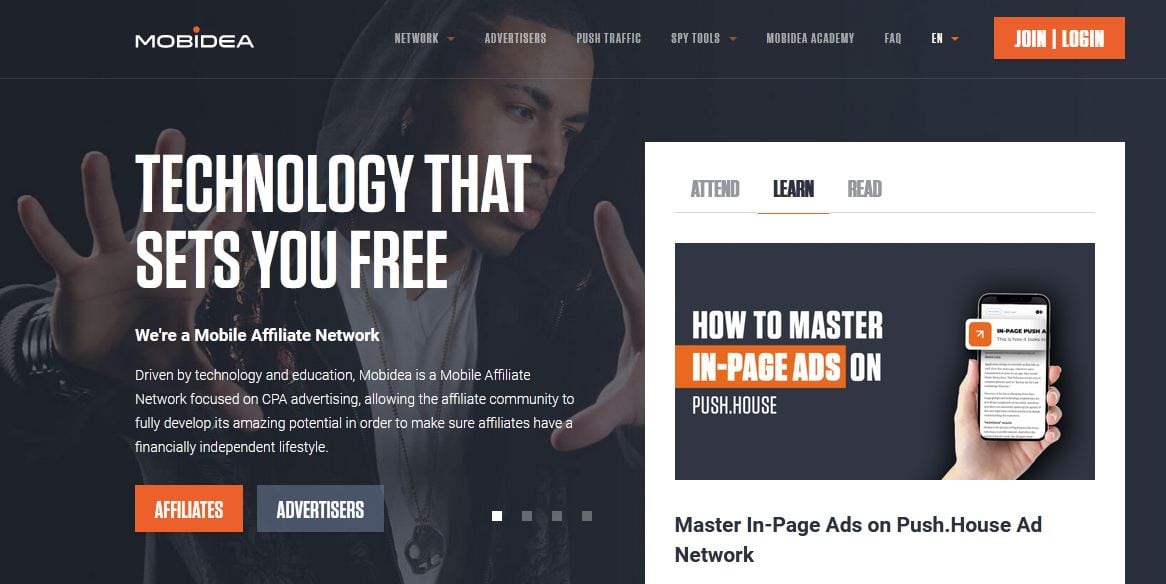 The spy tool for push ads contains more than 19 million ads from 92 countries! It is a valuable service that provides information about CPC bids in real-time and allows you to download landing pages and divide ads into mobile and desktop campaigns.
The most valuable feature of this spy tool is the data about which source of push traffic works best with a particular offer. The service description says there is a free trial, but we cannot use it.
Cons
No free trial (was probably for a limited period of time, I could not access it)
Perhaps the offer was limited in time, or the information on the site's pop-up is already outdated.
However, even without the free trial, this spy tool is still worth considering for its wealth of features and ability to provide valuable insights into push advertising campaigns.
#9. Pushycat
Pushycat is an independent service from Russia that only has a Russian interface. This tool is focused on spy push ads.
The service scans 6 popular ad networks and 16 GEOs (Europe, CIS). So far, there are not enough filters in this service but remember, it is an absolutely free push ads spy tool.
Well, you won't find indicators of the popularity of the push campaign or how long it was running. There are no extended statistics for advertising campaigns either.
So far, this is just a showcase where you can view and download creatives and landings. Not bad, but it could be better.
Nonetheless, it remains a valuable tool for those who want to keep track of push ads in Russia and the surrounding region.
#10. PiPiAds
PiPiAds is one of the most popular push notification ad spy tools for TikTok Ads' searchable database.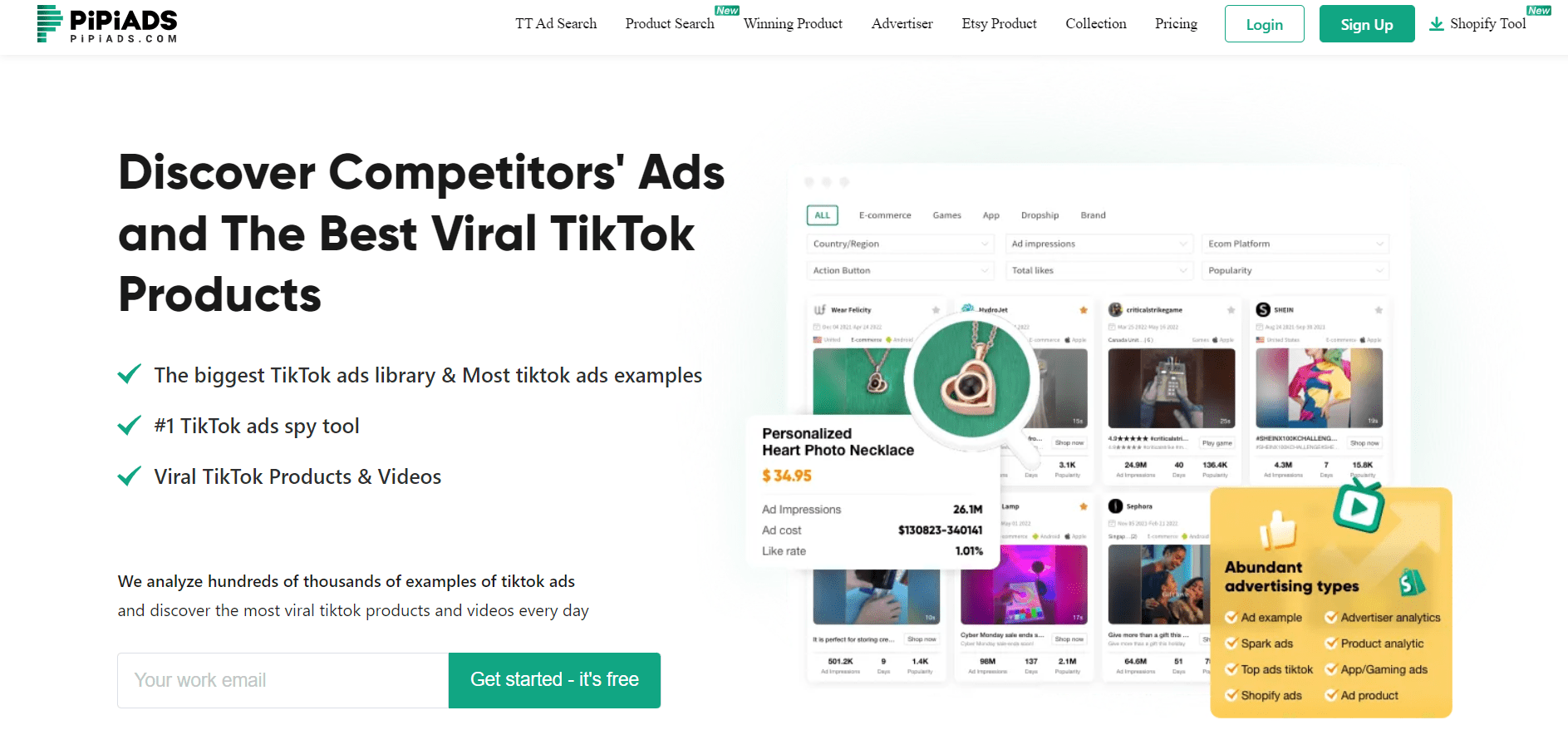 This database can assist you in locating TikTok video ad data for your online business. They have advertisements for inspiration on numerous social media sites, as well as selection references, Etsy, and Shopify, which enables you to build unique advertisements.
Innovative screening, as well as broad ad searches, are possible thanks to their global database. Thanks to PiPiAds, you will receive the most current and up-to-date advertisements for promotional campaigns, apps, and e-commerce selling.
Pros
The most extensive TikTok ads library & Most TikTok ads examples
Using PiPiAds may be able to assist you in locating high-quality advertising materials. Their extensive features and resources could give you a leg up on the competition.
Consider using PiPiAds the next time you need assistance with your promotional strategies.
Frequently Asked Questions
How To Search For Ads In A Push Ads Spy Tool?
Using the correct search algorithm is essential when finding the best ad campaigns. The following tips will help you find the most popular creatives and see which offer or brand converts better.
First, use keywords in English to see ads in all languages. However, this rule won't work in some free spy tools, so use the keyword in the native language to check all available results.
Next, narrow your search by country or region to get more targeted results. You can also use filters to exclude certain types of ads that aren't relevant to your needs.
Finally, sort the results by date to see the most recent campaigns. This will help you stay up-to-date on the latest trends and ensure you're not missing out on any new opportunities.
By following these tips, you can be sure you're using the correct search algorithm to find the best ad campaigns for your needs.
How Can I Spy On Social Media Competitors?
There are a few different ways to identify businesses that buy pay-per-click ads. One method is simply searching for the business on a search engine and looking at the sponsored results.
If the business appears in the sponsored results, they are likely paying for pay-per-click ads. Another method is to look for businesses advertising on similar industry platforms.
For example, if you are in the online marketing industry, you might look for businesses that advertise on Google AdWords or Bing Ads. You can also search for competitors on eCommerce stores like Amazon or eBay, or on social media platforms like Facebook or Twitter.
By doing a little research, you should be able to quickly identify businesses that buy pay-per-click ads.
Conclusion
When it comes to business, knowledge is power. You need to know your competition to make the best decisions for your company. This is where spy tools come in. Spy tools allow you to gain insights into your industry and see your competition's moves. This information is essential for making informed choices about your business strategy.
However, it is essential to remember that not all spy tools are created equal. When choosing a spy tool, make sure to consider what sort of ads you want to spy on. Also, ensure that your chosen tool has inventory for your favorite traffic sources and ad networks.
Additionally, while a spy tool needs to be easy to use, it should also discourage copycatting. Copy-cat campaigns are not typically profitable, so look for a tool to help you research the market and customer needs rather than provide ready-made creatives. Choose wisely, and you can give your business the upper hand.