Yes, marketing is good but instead of analyzing your marketing strategies, have you ever looked at your sales funnel? We all are so occupied with coming up with the best strategies that we forget it is equally important to have track of our marketing systems. 
Sometimes, it is not about having a new marketing campaign to attract more conversion. You can track and see which part of your sales process is working the best and giving you more leads. In fact, systems like RedTrack can help you focus on that and generate more leads. 
So, here is the RedTrack Review that will help you better understand the real meaning of working on your sales funnel. It helps you in tracking and creating more conversions. However, more on that later but let's first focus on what it is actually about. 
So, let's start with the review. 
What is RedTrack?
There are many SaaS solutions out there that give you the best of their services for better conversions. However, RedTrack is the one that helps you to monitor the performance and results of your promo campaigns, whether it is paid advertising, referral or affiliate marketing, etc; all in one place.
So, in simple words, it provides you with the tools to make data-driven decisions and increase your ROAS.  
Now what exactly RedTrack does?
RedTrack is one easy-to-use and understandable SaaS program that helps you deal with business challenges.
These challenges are:
Lack of transparency in the performance of different advertising channels for your business;
Big costs for consolidating ad campaign results from different dislocated platforms;
Lack of technologies that comply with regulations for data security (hello, Google cookieless solution, Facebook Conversion API, and iOS 14 update);
No understanding of the results affiliates, influencers, or partners brings for your business, etc.
Therefore, RedTrack uses its sophisticated and data-ready technology to help affiliates, publishers, and ad agencies understand their campaigns and break all those challenges. 
[wp-review id="14839″]
The company was started in the year 2017 with a view to making things easier for media buyers via data consolidation. They work with a team that is spread in 6 countries across the world. This team handles customers from, over 120 countries daily. Undoubtedly, they deliver the best of their services with the utmost transparency. 
What Solutions does RedTrack offer?
Now, as we are familiar with what RedTrack is all about, let's see who can make the best use of its services. 
For Affiliates: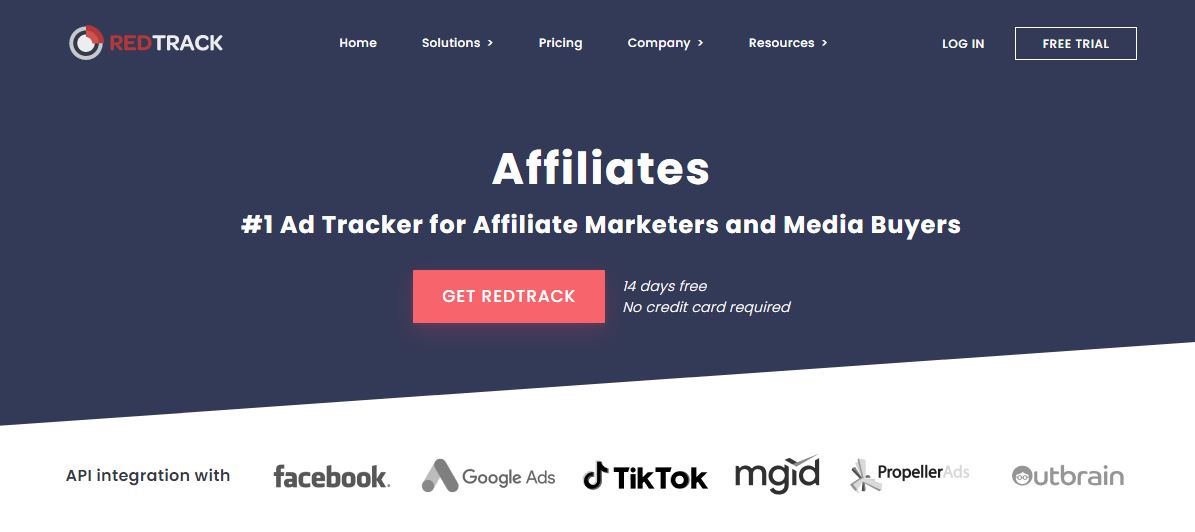 RedTrack has a smart Ad Tracker for all the affiliates out there. It helps in making smart decisions with a thorough analysis of your ad campaigns and auto-optimization. So, no matter how complex your funnel is, RedTrack helps to monitor the performance of each step with ease. Be it about impressions, clicks, and conversions. 
What's worth mentioning for sure, RedTrack is probably the only (or among a few ones) ad tracker that introduced native Facebook Conversion API support.
It means that despite iOS 14 and Facebook post-pixel updates, you get accurate and timely statistics with your Facebook ad campaigns. Besides API integration with Facebook, RedTrack has similar solutions for Google and Bing as well. 
What else? As an affiliate marketer you will also leverage: 
Auto-optimization of your ad campaigns on offer/lander/funnel, and campaign levels 
Automatic cost update for 20+ API integrated traffic sources;
Integration of multiple FB or Google ad accounts to one RedTrack profile with no extra cost  
Ad agencies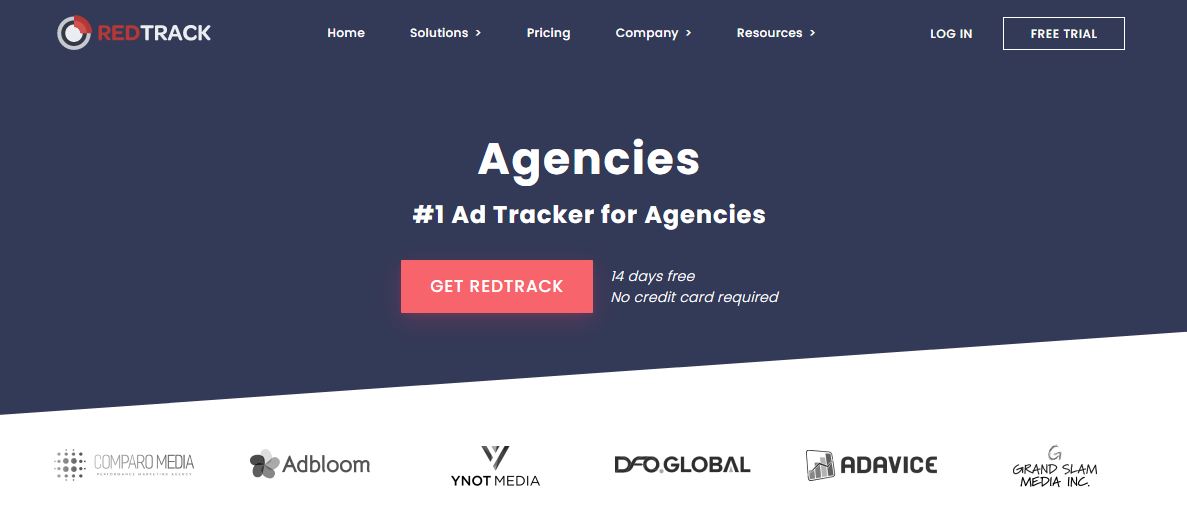 If you have an agency, RedTrack can be your way out to attract more clients to your business. It acts as an end-to-end platform with better analytics and reporting.
With this, you can easily track and analyze the performance of your partners and affiliates, i.e. the sales and conversions they bring to your business. Also, sharing your results with partners becomes easier because of its white-label reporting portal. 
Here are the points that make RedTrack a good platform for ad agencies:
It offers well-integrated data from any source you want. 
It saves a Lot of time on manual data consolidation providing a real-time reporting portal. 
It gives you a white-label panel to build your branded relations with the partners.
Advertisers
For an advertiser, having in-depth knowledge of the performance of every advertising and marketing channel is very essential. It is no problem with RedTrack because it gives you efficient and timely insights on every channel – paid advertising, affiliate, or referral marketing.
These reports are not something that the system scans. They are more insightful and provide value at each stage of your advertisement. So, you can make data-driven decisions optimizing your customers' journey and generating high ROIs. 
What makes RedTrack amazing for advertisers?
You can use RedTrack to speed up your work through daily reporting.
You can easily measure your advertisement on multiple channels.
Whatever challenges you face because of the cookies block, you can overcome them using this amazing tool. 
Publishers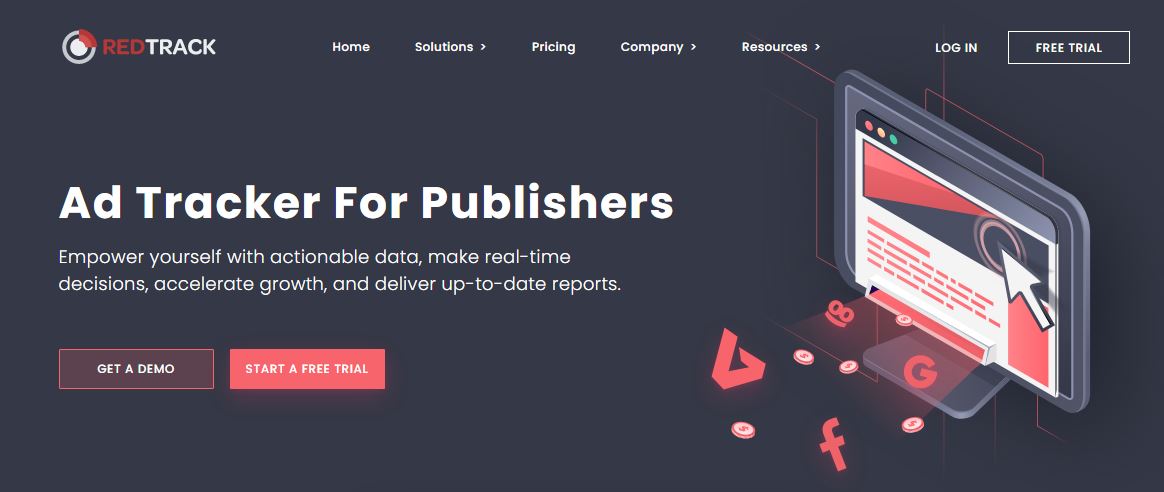 Publishers often struggle with delayed and inaccurate reporting, resulting in a waste of opportunities and money. If you use RedTrack you can literally forget about all these.
Moreover, you can accelerate your growth and deliver timely and insightful reports. Thus, RedTrack becomes easy-to-use and highly descriptive for having access to actionable data. 
Why Choose RedTrack?
It offers you an effective and cookie-free tracking system. 
You can alter the funnel as per your requirement. 
Its data is remarkably business-ready. 
You may think that RedTrack is just a tracking system but it has a lot to offer you. Its versatility is something that makes it an amazing and must-have tool for anyone who deals with a sales funnel. 
RedTrack Interface
When we talk about its interface, we have to say that it is totally beginner-friendly. You will be able to understand everything because of the way it is defined in the so-called dashboard.
The only problem you might face – their advanced features can be well-hidden and it's hard to find them unless you contact their support team.
What you will find on your RedTrack board?
There are more than 80 integrated traffic sources for you. These traffic sources include software like Taboola, Google Ads, Facebook, Bing, etc. Moreover, even if you will not find your traffic source here, you can always add it as a 'New Customer Traffic Source'. This can be a programmatic channel or even direct publishing. 
To help you scale up your work, there are over 20  API-integrated traffic sources. Use them and leverage automation suite, like auto cost update, the automatic pause of poorly performing ad placements, traffic quality check, etc. 
This is the place where you add the Affiliate Network you work with. The best part about RedTrack is that it has amazing pre-made templates for your network in which you can save all the information for easy access. 
As another awesome part of RedTrack, you will have the ten additional conversion IDs that help in tracking back to RedTrack.  
In the offers section, you will have your URL, the client's URLs, and the direct link to the product. It will also have a click add a parameter to help you track data with convenience. 
Landing pages are the most essential part of your business website that directly leads to more and more conversions. So, RedTrack offers you 4 types of landing pages: Pre-landing, Landing, Landing listicle, and Pre-landing listicle.
Now, you are probably wondering what is the difference between a landing and a listicle landing page? In simple words, a landing page only comprises 1 offer whereas a listicle landing can have as many offers as you want. Besides, by Pre-landing, we mean taking your customer through various processes before turning their casual visit into leads. 
Having multiple campaign cost tracking can be the best thing you have for your best leads conversions. RedTrack offers a number of cost tracking when it comes to campaigns. Some of them are CPC, CPA, RevShare, CPM, pop CPM, and much more. Also, there is an option to not track the cost at all. 
RedTrack has a system in which it simply attributes all costs in your reports. There are optimized settings that determine if any landing page or offer needs more visitors or weight. This system works on the basis of your CR or ROI. 
Its easy-to-use dashboard allows you to filter by campaign offers and traffic sources. There are more amazing options such as you can have logs for clicks, conversions, and postbacks. 
There is one significant tab that has all the important settings for your RedTrack operations. This is the Tools tab where you can change and control the settings of your domain and integration. 
How to set up tracking software with RedTrack?
In this RedTrack review, we are not only looking at its positive and negative sides but we also concentrate on Setting up your tracking system. So, follow these steps for a better creation. 
The good news is, RedTrack offers a 14-day trial without submitting your card information. 
Now, click on "Free Trial" and follow the steps to set up your account. 
Thereafter, simply click on Traffic source and create a new one. For that, you first need to select your traffic source from all the options it has. If you cannot find your network, you can simply add a new one. 
Next, you need to add parameters for your tracking agenda. This can work automatically which is the fun part. 
You need to link it to your network. Click on the Offer source tab on the top menu, click on 'New', select the network of your choice, and submit the details. 
You must place the URL to your campaign which is one of the most important things for tracking. 
Copy the click URL and go straight to the 'Offers' tab. Use a funnel of your choice can paste the link at the end of the campaign. 
Note: Make sure your URL has SSL on it which allows it to track without any hindrance. 
Set up the campaign
We are not yet done setting up the tracking system. Now, we need to set up a campaign too. For that:
Click on the Campaign tab and then use the button "New Campaign". 
Fill in all the details such as name, source, Campaign cost tracking, and most importantly – set your funnel, adding offer(s) and lander(s). 
Later, save all the information, and do not forget to copy the no-redirect text. 
And You Are DONE… 
Features of RedTrack
1. Analyze & Optimize Real-time

RedTrack's "Analyze & optimize real-time" feature lets you get accurate data for each impression, click, and conversion in real-time. You can save hours of manual work and turn insights into actions with campaign automation rules and alerts.
RedTrack is a real-time analytics and attribution solution. The tool provides key metrics including page views, ad impressions, clicks, CTR (click-through rate), conversions, and more.
They also offer automated rules that can be set up on your campaigns to change bids and budgets automatically based on these performance indicators.
2. Attribute all Conversion Events

RedTrack's "Attribute all conversion events" feature is one of its most powerful tools for optimization.
By being able to see when every conversion happens, you can identify which parts of your funnel are most effective at driving conversions, and optimize them to get the highest return on ad spend.
You can also see which ads and channels are most effective at driving conversions, so you can focus your efforts on the ones that are giving you the best results.
With RedTrack, there's no need to guess where your money is best spent – you can see for yourself exactly how each part of your marketing funnel is performing.
3. Collaborate & Share Results

The Redtrack has a Collaborate & share results feature. This allows your team to collaborate and share their results with each other within the platform. The user only needs to set up different permissions for who can see what data.
You can also save hours by having everything in one place. The Redtrack also makes it easy to show different reports to your peers, partners, or customers. This can help with making decisions and getting approvals.
Overall, the Redtrack is a great tool for collaboration and sharing results.
4. Automation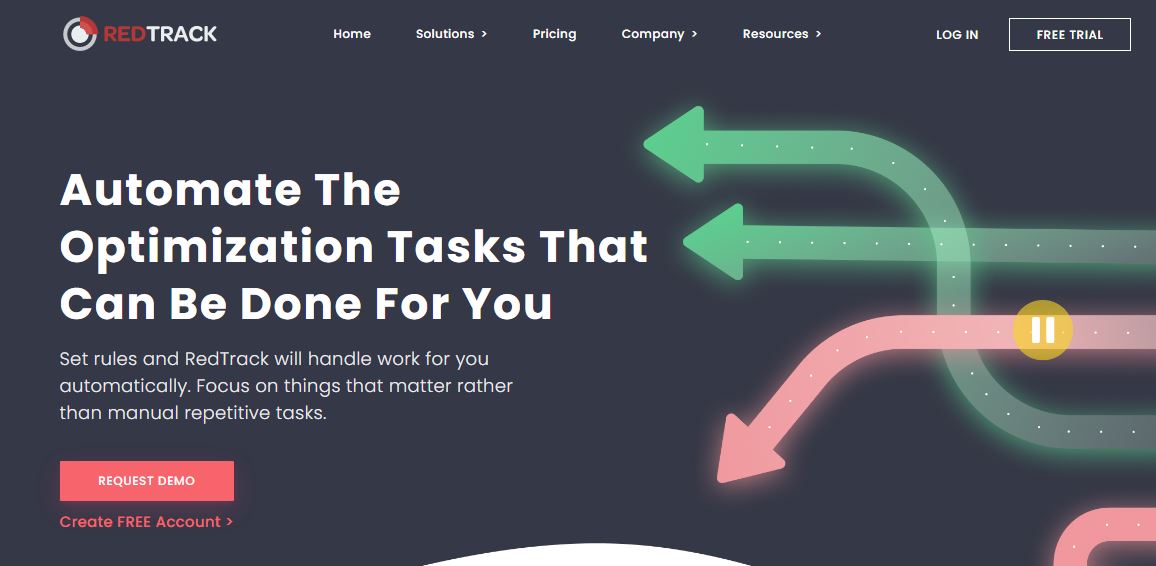 RedTrack's Automation feature is a great tool to help you optimize your traffic. With Automation, you can set rules for your traffic to be controlled by algorithms.
That means that algorithms will be finding better-performing offers and directing traffic to them (works like a SmartLink) or pausing worse-performing offers. All according to the setting that you choose.
5. Facebook CAPI
Facebook CAPI is also the way forward for RedTrack. Earlier, all of the conversion events were being attributed to the ad since it was not possible to attribute them accurately to any other sources.
With Facebook CAPI, marketers are able to verify domains, even landing pages which are used by their affiliate companies. Marketers can also track conversions for a prolonged period of time after the click-through event has occurred.
They have options for flexible attribution windows and optimization in Aggregated Events Measurement. The inclusion of these features benefits marketers tremendously because they are able to integrate the data gathered from various sources while attributing conversions accurately to various sources.
6. Geo-balancing
Geo-balancing is a solution for load balancing in a geographical area. It can improve the server performance in GEOs by moving traffic to other servers that are closer to the site. Geo-balancing is being used in various fields of computer science, such as distributed computing or database systems.
The geo-balancer's goal is to move the load from overloaded servers in one GEO to an idle server in another GEO without moving too much traffic at any time, keeping latency low and throughput high.
There are different techniques that serve this purpose – round-robin DNS, routing traffic through intermediate hosts with higher capacity links, replication of applications between clusters located in different geographical areas, among others.
7. Custom Domains
With RedTrack, you can use custom domains for your tracking needs. This means that you can manage your traffic with your own rules, without having to pay any extra fees. Additionally, if you need a lot of custom domains, you don't have to worry – RedTrack doesn't charge any extra fees for this.
RedTrack is a tool for marketers and webmasters, which allows them to manage their traffic sources. With this tool, users can track their advertising campaigns in real-time and have detailed statistics about which source exactly brought the most conversions.
8. Streams
RedTrack lets you create streams based on a number of different factors, which means you can create a unique stream for each campaign or test that you run.
Some of the factors you can base your stream on include:
– The source of the traffic, such as a specific website or social media platform
– The type of traffic, such as desktop or mobile
– The country or region of the visitor
– The language of the visitor
– The browser or device used by the visitor
Pricing of RedTrack
If you want to test RedTrack before investing anything in it, guess what? It has a free trial for 14 days. Now, what about after the free trial ends? For that, there are 4 plans available at RedTrack. So, let's have a look at them.
Basic Plan-
The basic plan costs $49/month if you pay monthly and $41/month if you pay yearly. With this, you will get unlimited campaigns, unlimited conversions, advanced reporting, and 3 custom domains. 
Pro Plan-
This will cost you $83/month (annual payment) and $99/month (monthly payment). You will get everything that the Basic plan offers + unlimited custom domains, free SSL, and an automation suite. 
Team Plan-
This plan costs $199/month (monthly payment) and $166/month (Annual payment). With this plan, you will get everything in the basic and pro plan. With this, you will get 2 additional team users + publisher tracking and management. 
Agency Plan-
The Agency plan will cost you $449/month (monthly payment) and $375/month (annual payment). Whatever you get in the basic, pro, and team plan will be there with the agency plan. Apart from that, you will get publisher discovery, a white-labeled reporting portal, and 5 additional team users. 
These prices may seem a little heavy on your pocket but the services you will get will make you realize that it was worth every penny. Anyhow, you still have the free trial with you. So, choose wisely. 
What are the Differences Between RedTrack and Other Marketing Automation Tools?
RedTrack is an all-in-one suite of marketing automation tools that includes everything from an email newsletter platform to analytics features. This makes it easy to manage your marketing campaigns and get detailed insights into how they are performing.
Other marketing automation tools may require you to use multiple different tools to achieve the same results. This can be time-consuming and difficult to manage. RedTrack brings all of these features together in one easy-to-use platform, making it the most effective solution for managing all of your marketing campaigns.
Alternatives to RedTrack

Google Analytics is a program that you install on your site to track the visitors of your website. It gives information about browsing history, location of visitors, devices they are using to browse the site, and more.
It also provides insights about browsing habits, behaviors, time on site, pages visited, bounce rates which are how many people leave the site after one pageview. Google Analytics also tells you how much traffic your social media posts have had which can be done with Universal Analytics.
You can use this information to make changes like changing ad campaigns or marketing product placements. You can also use it as a benchmark for changing the content on your website and redirecting those visitors who don't seem interested in what you are offering.
Google Analytics is free to use but if you wish to see even more detailed reports then there is a paid version as well.
Features of Google Analytics
Google Analytics is a freemium web analytics service offered by Google that tracks and reports website traffic. It is the most widely used website analytics service. Google Analytics is composed of three main features:
Metrics:
This feature provides data on a website's traffic, such as Pageviews, unique visitors, and average time on site.
Reporting:
This feature generates reports on a website's traffic and conversion data, such as what pages people visit and how they arrived on the website.
Administration:
This feature allows website owners to manage their website's settings, users, and tracking code.
Additionally, Google Analytics offers two main ways to view data: standard reporting and an advanced reporting view. The standard reporting view is more user-friendly and includes pre-built reports on website traffic and conversions. The advanced reporting view provides more customization options, including the ability to create custom reports.
Google Analytics can be used to track website traffic from a variety of sources, including organic search, paid search, social media, and email. Free and paid plans are available. The service's free plan includes access to website statistics and analytics, but users must upgrade to a paid subscription for detailed analysis and additional features.
Pros of Google Analytics 
1. Google Analytics is free to use.
2. You can create custom reports with Google Analytics.
3. Google Analytics integrates with other tools, such as Lucky Orange!
4. You can see real-time traffic data with Google Analytics.
5. You can understand where your traffic came from with Google Analytics.
6. You can rank your pages by popularity with Google Analytics.
7. You can track campaigns with Google Analytics.
8. Google Analytics is easy to use.
Cons of Google Analytics 
The cons of Google Analytics are that it can be confusing to use and time-consuming to set up.
It can also be difficult to find the right resources online.
HubSpot Marketing Hub is a marketing automation software that will help you attract the right audience, convert more visitors into customers, and run complete inbound marketing campaigns at scale.
This powerful CRM platform will allow you to send targeted content to your leads, create smart workflows for repetitive tasks, and offer personalized updates on your status. Plus it works with all of your favorite apps like Gmail, Outlook, Salesforce, Slack, and Zapier.
Features of HubSpot Marketing Hub
1. Email Marketing
With HubSpot Marketing Hub, you can create and send newsletters, automated emails, and other email campaigns. You can also track the success of your email campaigns with detailed reports, and use that data to improve your future campaigns.
2. Online Marketing
With HubSpot Marketing Hub, you can create and manage landing pages, forms, and popups to collect leads online. You can also track the success of your online campaigns with detailed reports, and use that data to improve your future campaigns.
3. Lead Management
HubSpot Marketing Hub lets you track leads as they progress through the sales funnel, from first contact to a closed deal. You can also assign leads to specific sales reps, and track the progress of each lead.
4. Reporting & Analytics
HubSpot Marketing Hub provides detailed reports on every aspect of your marketing activity. You can use this data to improve your marketing campaigns and measure their success.
Pros of HubSpot Marketing Hub
With HubSpot Marketing Hub, you can:
Create and send newsletters, automated emails, and other email campaigns
Manage landing pages, forms, and popups to collect leads online
Track the success of your online marketing activity with detailed reports
Assign leads to specific sales reps and tracks their progress
Use powerful analytics on every aspect of your marketing activity
Cons of HubSpot Marketing Hu
Workflows can be tricky to understand – they're not always intuitive and it can take some time to get the hang of them.
The pricing structure is a little steep, especially if you're just starting out and don't have a lot of money to spend.

BeMob is an excellent software for anyone who wants to measure and analyze the effectiveness of their marketing campaigns. It's safe, cloud-based software that makes it easy to keep track of your data without having to worry about extra hardware or server space.
Additionally, BeMob's staff members are constantly updating all Amazon data centers, so you'll be able to redirect traffic to the closest server no matter where your customers are located. They also use mobile traffic analysis tools to provide you with instant updates on new information. If you're looking for exceptional tracking software, then BeMob is definitely the right choice!
Features of BeMob:
The features of BeMob are traffic coverage, mobile prioritization, server selection, and domain registration.
The traffic coverage allows advertisers to have their ads shown even in the poorest regions of the world. It may not be possible for companies to do this on their own, but BeMob can make it happen.
Mobile prioritization ensures that mobile customers are able to get the best experience when browsing your website. This usually means that sites are more responsive on smartphones and useless data if they are loaded through WiFi. Server selection allows merchants to choose where their store is hosted while domain registration makes it easy for customers to find your company online.
Pros of BeMob:
Automated platform – BeMob provides an automated platform that makes it easy for users to get started.
Fast servers – BeMob's servers are fast, which ensures that your traffic is directed to the right places quickly.
Free SSL certificate – BeMob provides a free SSL certificate to all its users, providing an extra layer of security.
Preconfigured ad traffic sources templates – BeMob provides preconfigured ad traffic sources templates that make it easy to get started.
Reliable customer support and resources – BeMob has a reliable customer support team that is available 24/7 to help its users. It also has an extensive library of resources that users can access for help.
Free account and 30-days free trial – BeMob offers a free account to all its users, as well as a 30-day free trial of its premium services.
Also Read:
Frequently Asked Questions
✅Does RedTrack Offer Any Free Trial?
RedTrack offers 14-days Free Trial
💁 Can I buy traffic/ads from RedTrack?
RedTrack CPAPI integrated hundreds of Affiliate Networks, enabling access and management of the very best offers in one place. With Redtrack you can purchase traffic from multiple ad exchanges right within your tracker interface!
🙅 Is my data secure with RedTrack?
RedTrack has a deep commitment to keeping you, your data, and information safe. With our clients' trust at the forefront of all we do - RedTrack takes security very seriously indeed! We never share customer details without permission so that every client can enjoy their account in complete peace of mind. If there are any questions or concerns regarding how security works with us then please get chatting –we always want help make sure everything runs smoothly on both sides
🙆‍♂️ Does RedTrack provide traffic domain?
Yes, you can choose to use their default tracking domain for free without any restrictions. However, if your business needs a custom one we recommend setting up that too!
🧏 How is customer support at RedTrack?
Whether you're a first-time user or an experienced entrepreneur, RedTrack has something for everyone. They have easy to use features and our support team is always ready with help when needed!
🤷‍♀️ How is RedTrack different than other ad trackers?
The RedTrack team is always looking for ways to improve the user experience. In addition, they have added new features like CPAPI and AI Smartlinks that will help you get your work done in no time!
🙇‍♂️ Can I use RedTrack to measure online marketing?
Using RedTrack, you can measure your online marketing campaigns and track their ROI.
🙋 Is RedTrack legit?
Yes, Redtrack is a legit ad tracking tool available in the market today.
Conclusion- RedTrack Review In 2023
All in all, RedTrack is a great tool for affiliate marketers and performance marketers alike.
It has the core set of features that they'll need to succeed at their job, constantly evolves as marketing practices change, and gives you full control over what information you want to see on your dashboard.
My Verdict:
For affiliate marketers who want to get their hands on a powerful analytics tool, RedTrack.io is the right choice for you. The software doesn't just offer basic features like monitoring and reporting, but also has advanced functions that allow you to analyze your campaign in detail. 
If you feel like this is something that will work well with your business then we highly recommend giving it a try!
In the RedTrack review, I covered all the important aspects of this amazing SaaS tool. So, what did you learn from the RedTrack review?
Share your thoughts so we can help others understand more and improvize more..