SE Ranking is an all-inclusive SEO toolset that helps agencies, company owners, and SEO professionals successfully conduct and manage their day-to-day SEO operations.
Anybody can use SE Ranking, regardless of their level of knowledge.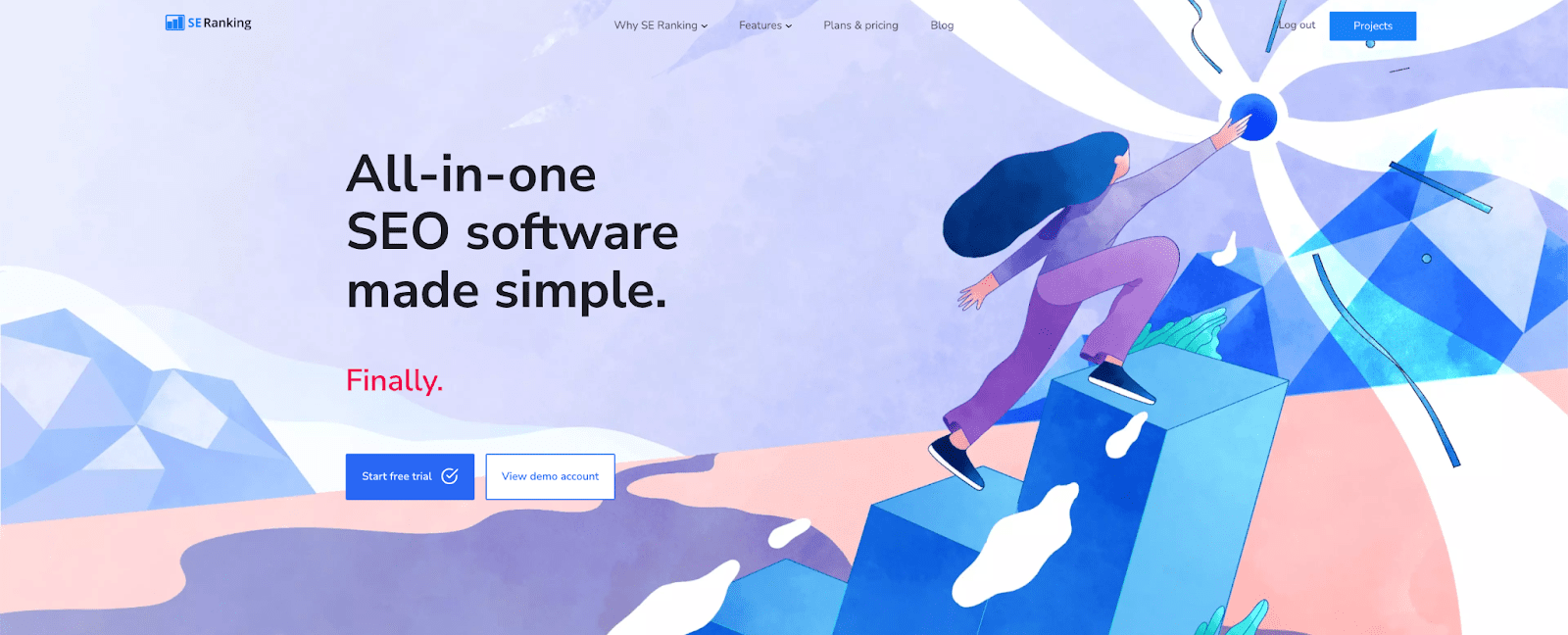 When it comes to features, the SE Ranking SEO platform includes a keyword rank tracker that allows you to monitor the performance of your keywords in major search engines. In addition to the keyword rank tracker, there are backlink monitoring and checking capabilities, on-page audits, and keyword suggestion and grouping tools.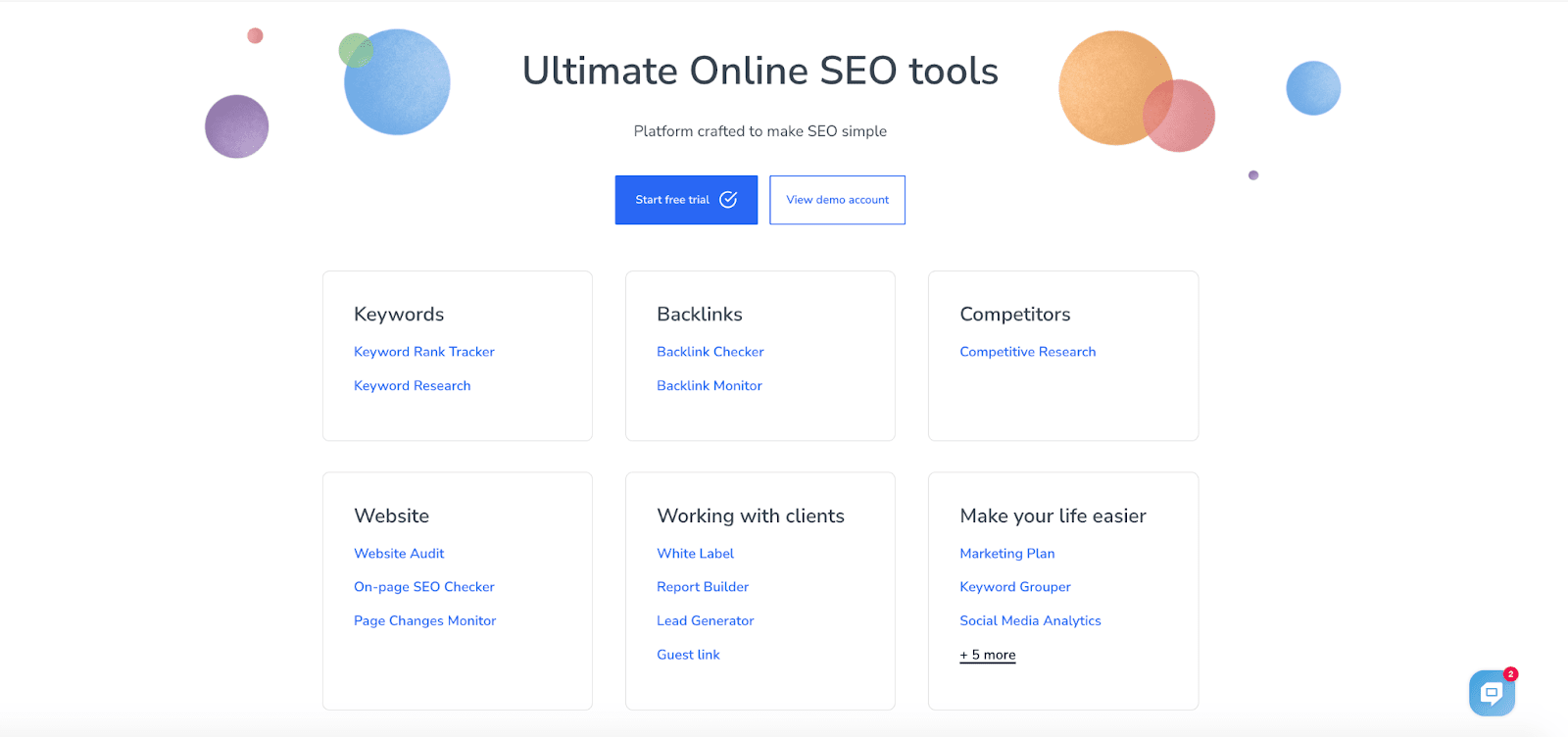 Why Choose SE Ranking?
Here are some of the reasons why choosing SE Ranking is a good idea –
#1 Keyword Rank Tracker:
SE Ranking is a powerful and easy-to-use keyword rank tracker tool. It lets you track your website's rankings in major search engines, including Google, Yahoo, and Bing. You can also track your competitor's keyword rankings to see how you stack up against them.
SE Ranking is an excellent tool for keeping track of your website's SEO progress and finding new keywords to target. It's easy to use and has several features to help you improve your website's rankings in search engines.
SE Ranking Keyword Rank Tracker Features –
Compare desktop and mobile Google/Yahoo/Bing/YouTube ranks for all locations.
Learn how ranking positions change over time and get more statistics on terms, including Search Volume, Competition, Suggested bids, and tracking of Google Ads/Maps/SERP features.
Add up to 20 rivals and get a comprehensive report comparing their ranks to yours.
Integrate GA and GSC to see everything in one location.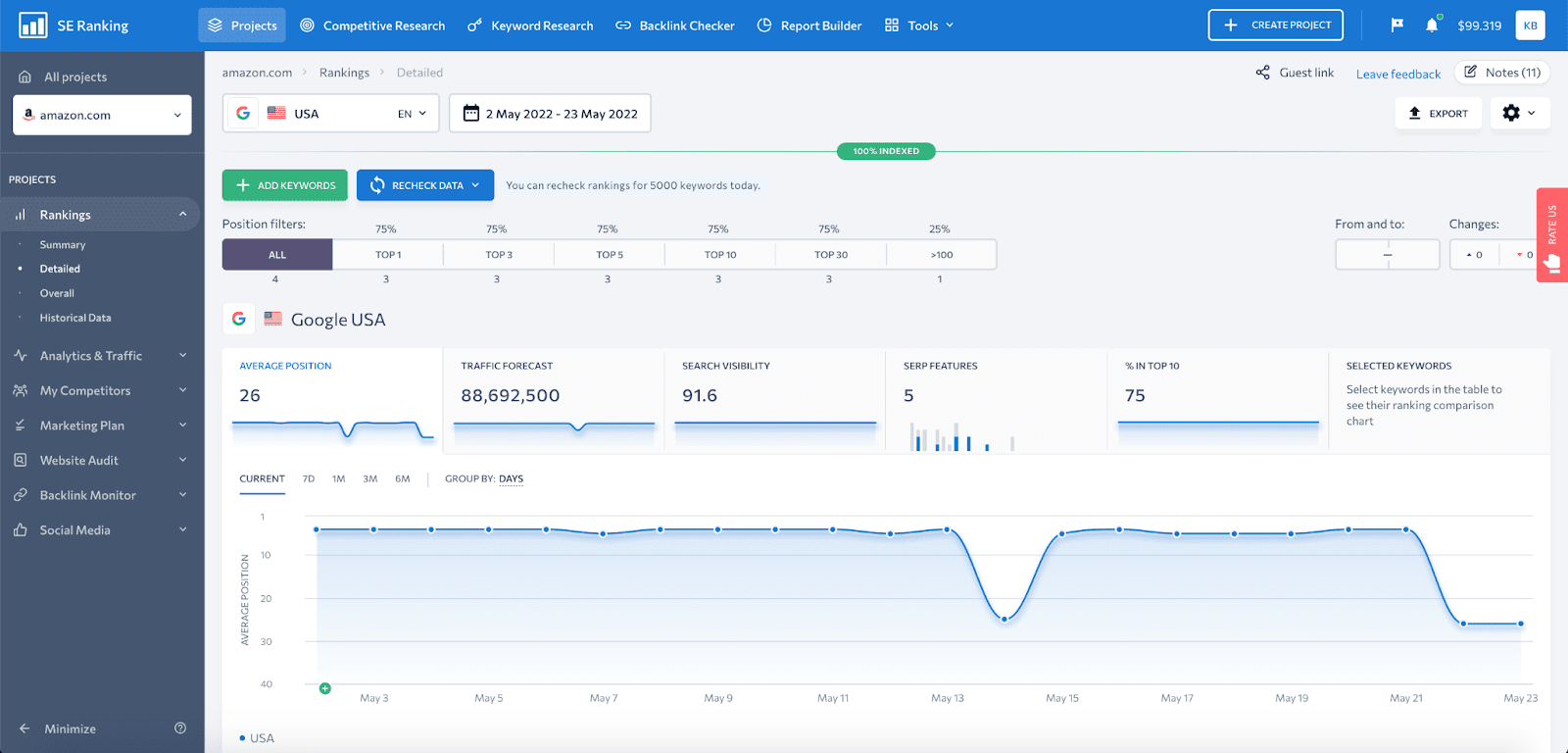 #2 Keyword Research Tool:
SE Ranking's Keyword Research Tool is the perfect tool for those who want to get the most out of their keyword research. It allows you to see how much traffic each keyword receives and how difficult it is to rank for that keyword.
This information is invaluable for keyword research and can help you determine which keywords are worth targeting.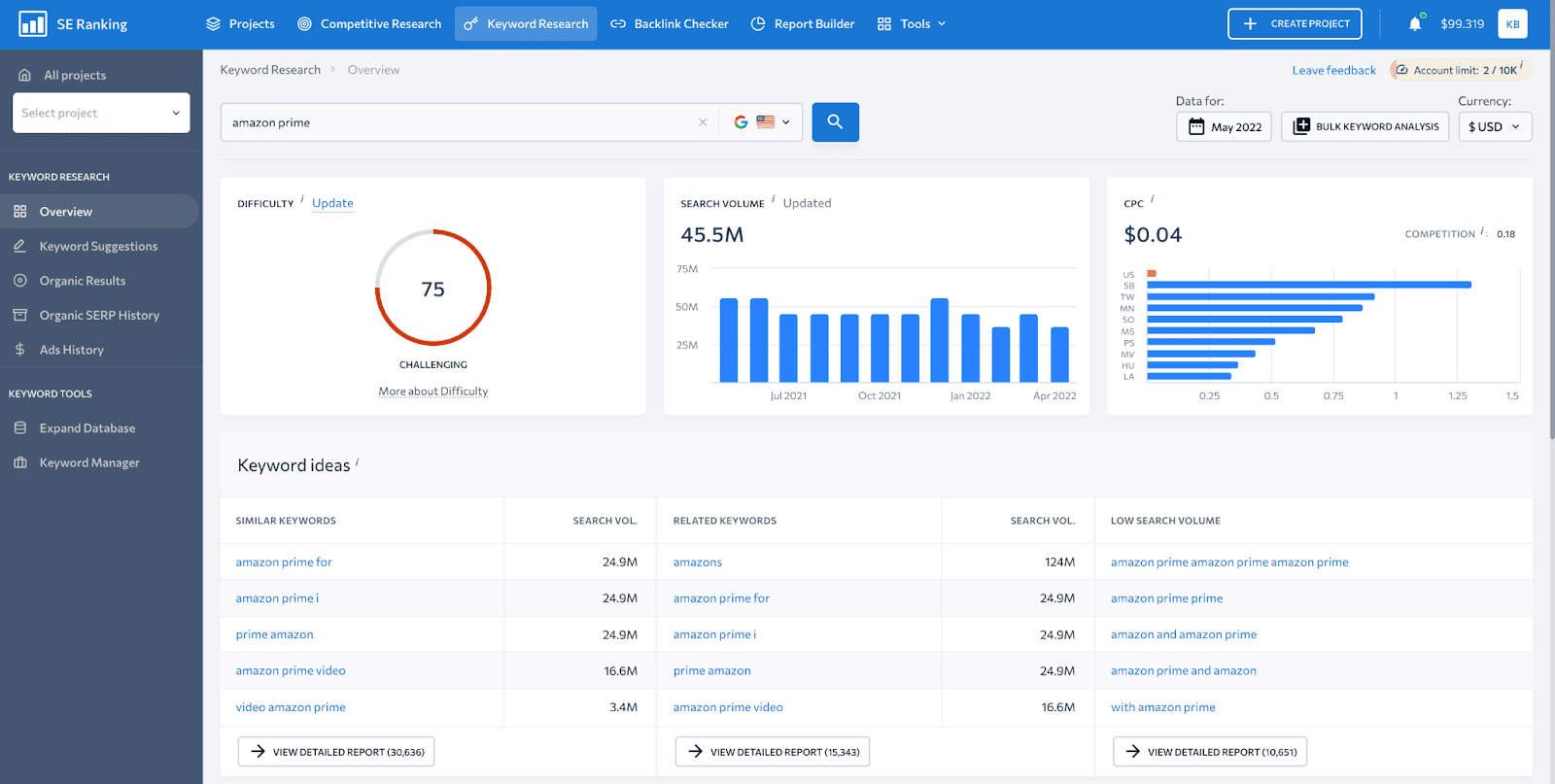 SE Ranking Keyword Research Tool Features –
Analyze primary keyword parameters such as difficulty score, search volume, CPC, and paid competition.
Find alternative keyword suggestions that include search queries that are similar to or linked to the term being evaluated and keywords with low search traffic.
Quickly see your competitors in organic and paid searches when selecting keywords to target in search campaigns.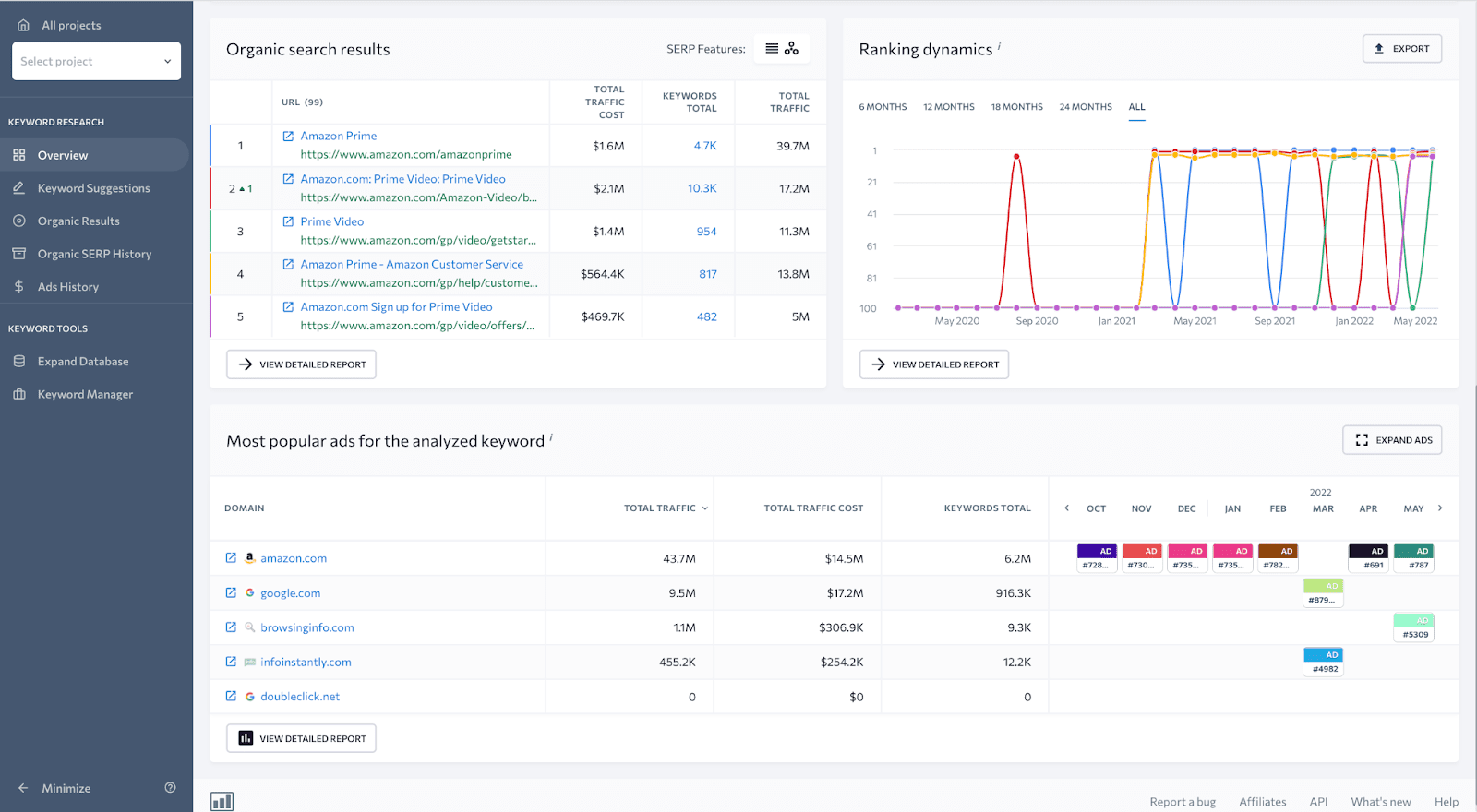 #3 Competitive Research:
You need a competitive research tool like SE Ranking if you're serious about SEO. With SE Ranking, you can get detailed insights into your competition's SEO strategies, keyword rankings, backlink profiles, etc.
With this information at your fingertips, you can adjust your SEO strategies to beat the competition.
SE Ranking Competitive Research Tool Features –
Examine the website traffic patterns of your rivals' organic and PPC efforts.
Determine which pages and subdomains of a website get the most organic and paid traffic, and see if you can perform better.
Examine keyword overlaps between your website and your competitors'.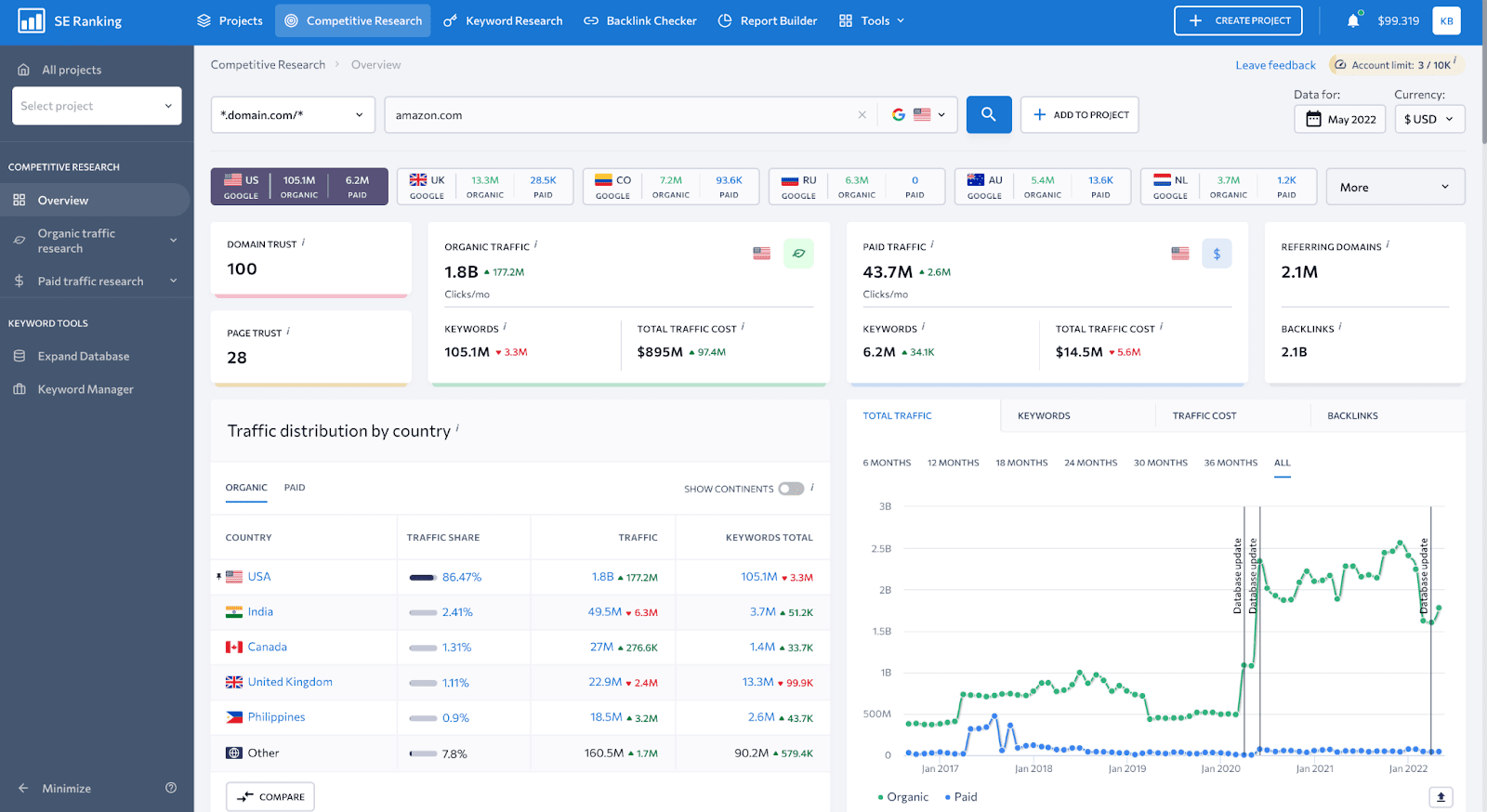 #4 Backlink Checker:
The SE Ranking Backlink Checker tool is a powerful and easy-to-use tool that allows you to check the backlinks of any website. Just enter the URL of the website you want to match, and the SE Ranking tool will do the rest.
The SE Ranking Backlink Checker tool is very accurate and it will show you the exact number of backlinks for any given website. You can use the list of features below for your link-building strategy.
SE Ranking Backlink Checker Tool Features –
Examine the link profiles of your competition.
Examine the evolution of new and lost backlinks and referring websites.
Analyze the distribution of anchor text among referring websites and backlinks.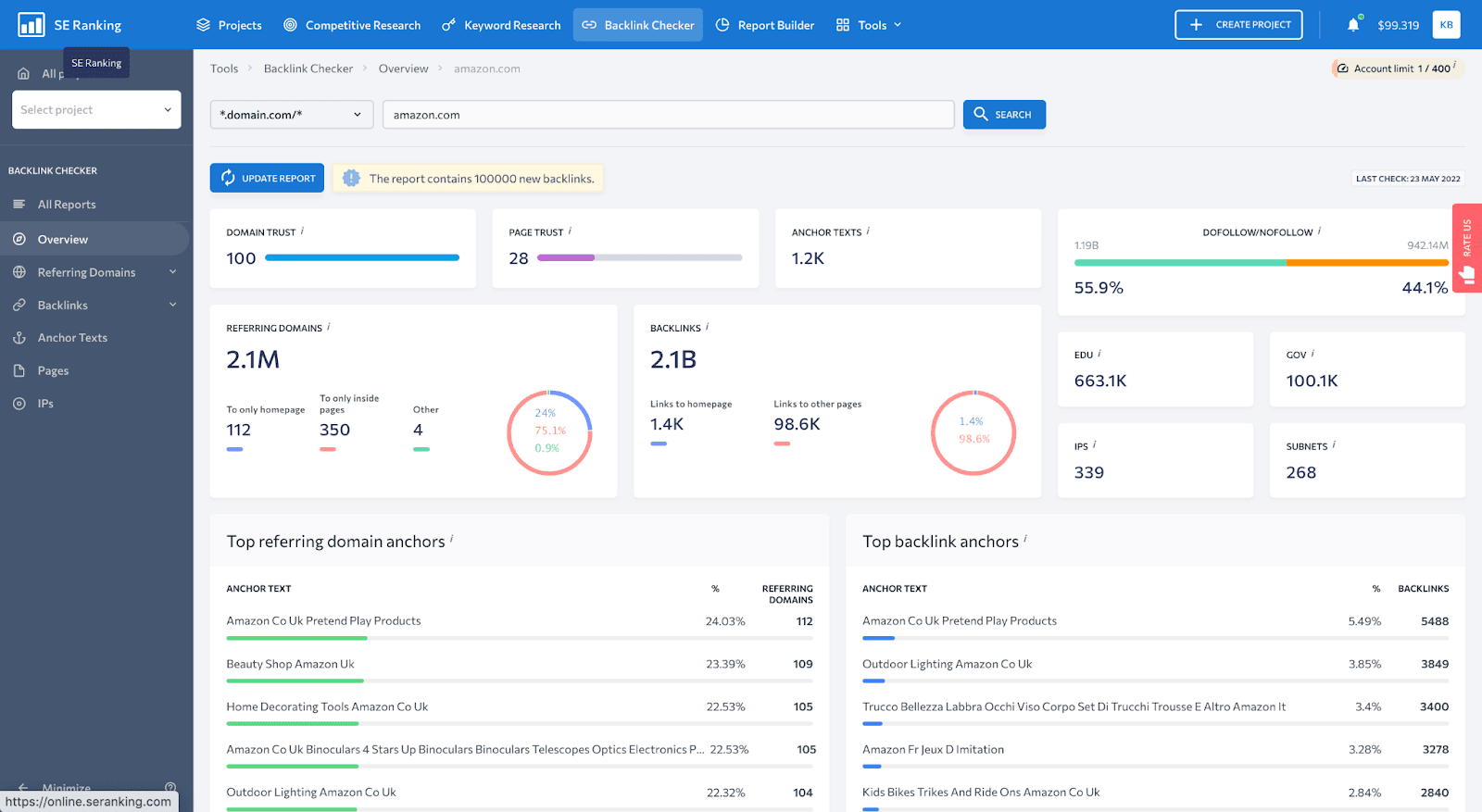 #5 Website Audit:
Not sure how your website is performing? Use SE Ranking's website audit tool to find out! After you add your website to the platform, the audit will run automatically.
The website audit tool will check your site for common technical SEO issues and provide recommendations on how to fix them.
SE Ranking Website Audit Tool Features –
It evaluates the website's health and identifies any technical SEO concerns that may be impeding performance.
The tool examines Domain metrics, technical factors (redirects, HTTP status code, page load time, and security), page breakdown (links, meta tags, etc.), page structure (h1-h2 headings), page resources (JavaScript, CSS, and images), and internal and external links.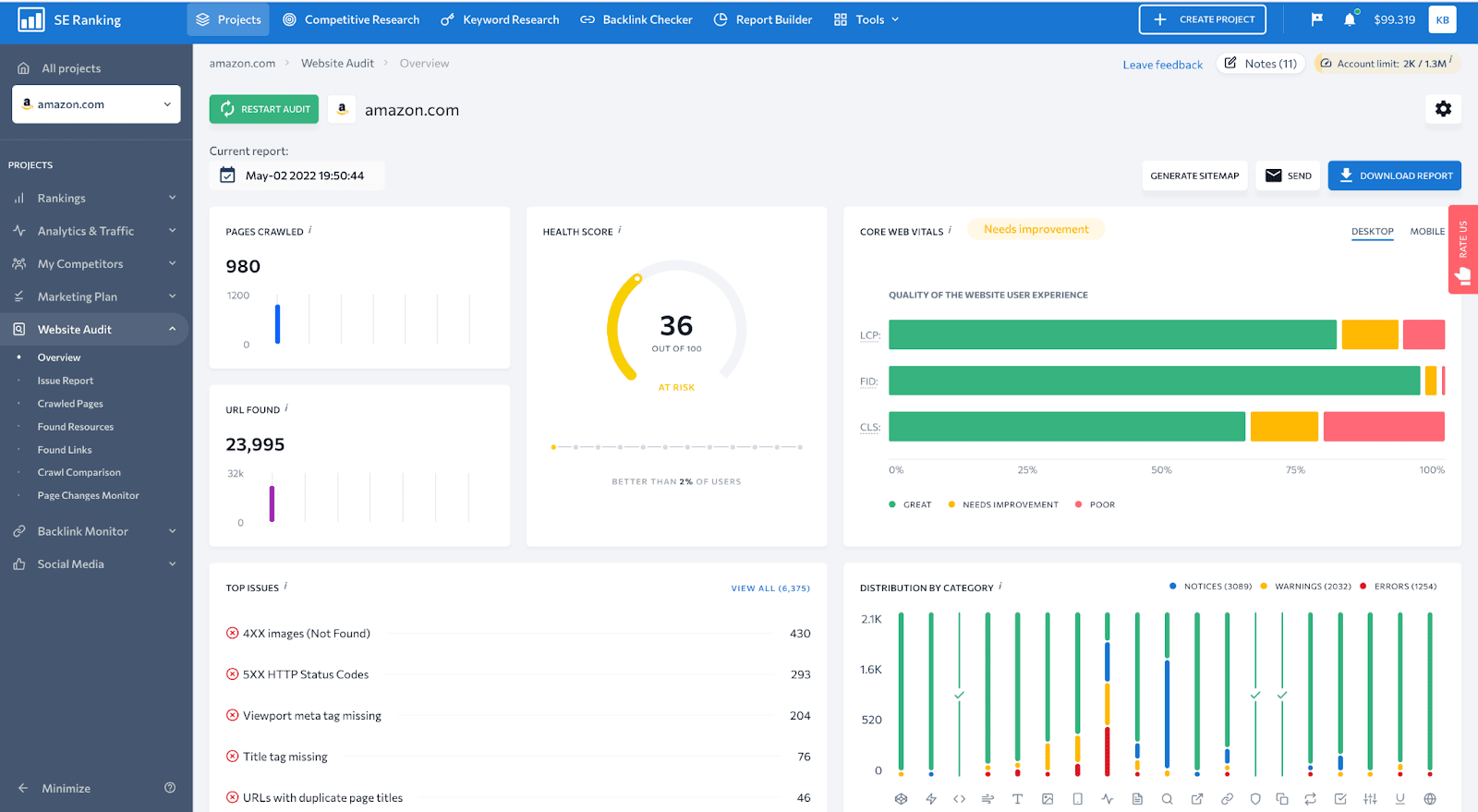 #6 On-Page SEO Checker:
This on-page SEO checker from SE Ranking helps you optimize your website's content and improve your search engine ranking. The tool analyzes your URL's structure and provides recommendations on how to improve your page's title, description, keywords, and other elements.
SE Ranking On-Page SEO Checker Features –
It determines how effectively a website is optimized for a specific query by examining the page and comparing it to your top organic rivals.
The result page displays a comprehensive report including the following parameters: meta tags (Titles and descriptions), Page content (keyword use and keyword density), Core Web Vitals, Usability metrics, Media files, Page indexation status, Domain metrics, and internal and external linkages.
It compiles a list of SEO activities based on the on-page analysis.
Compare all significant on-page factors, such as keywords and associated metrics, content parameters (title, description, headers), and technological metrics, to rivals.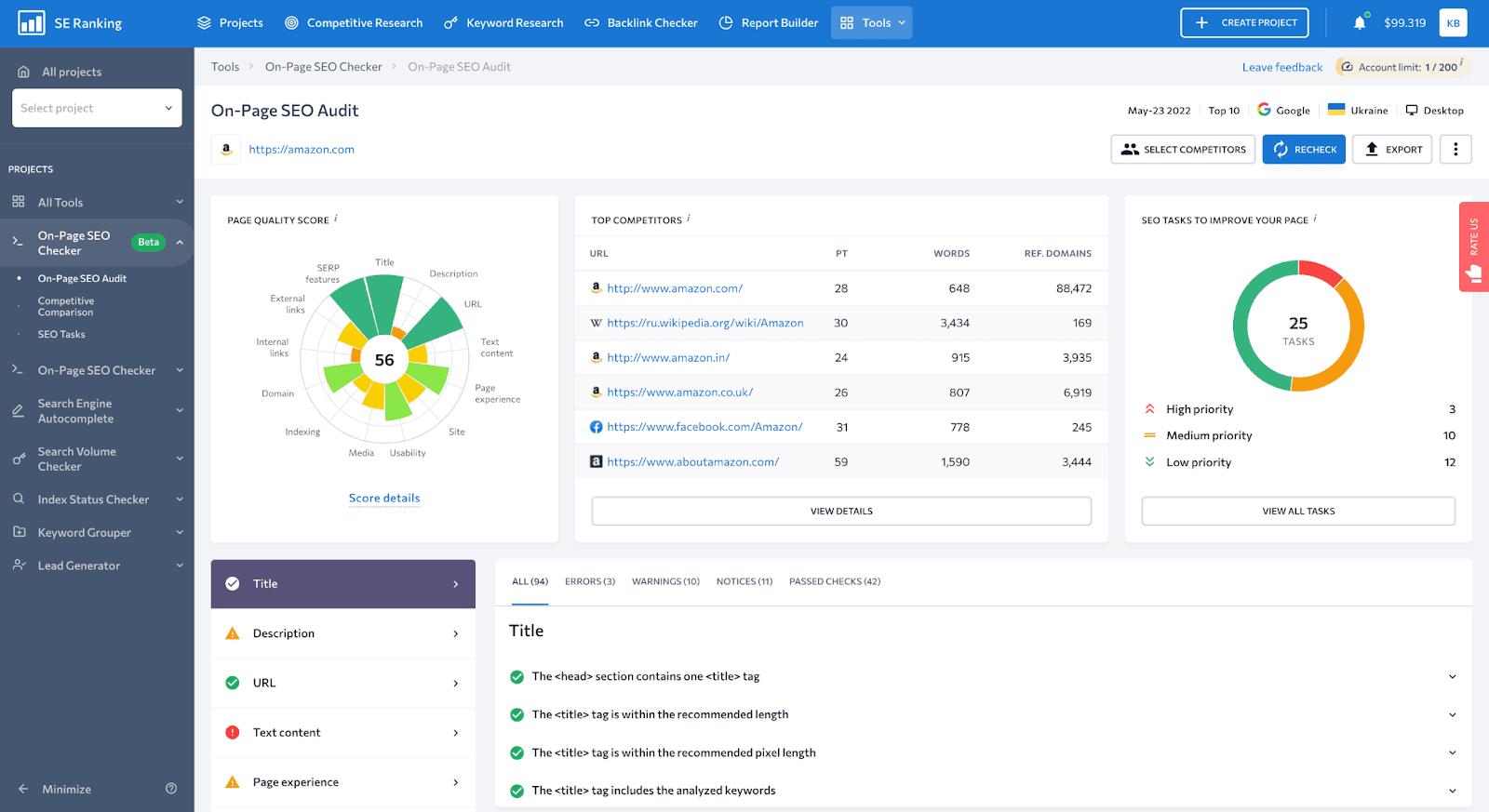 SE Ranking Review: In-Depth Features
#1 Page Changes Monitoring
SE Ranking is a robust and comprehensive website monitoring tool that allows you to track any changes made to your website's pages.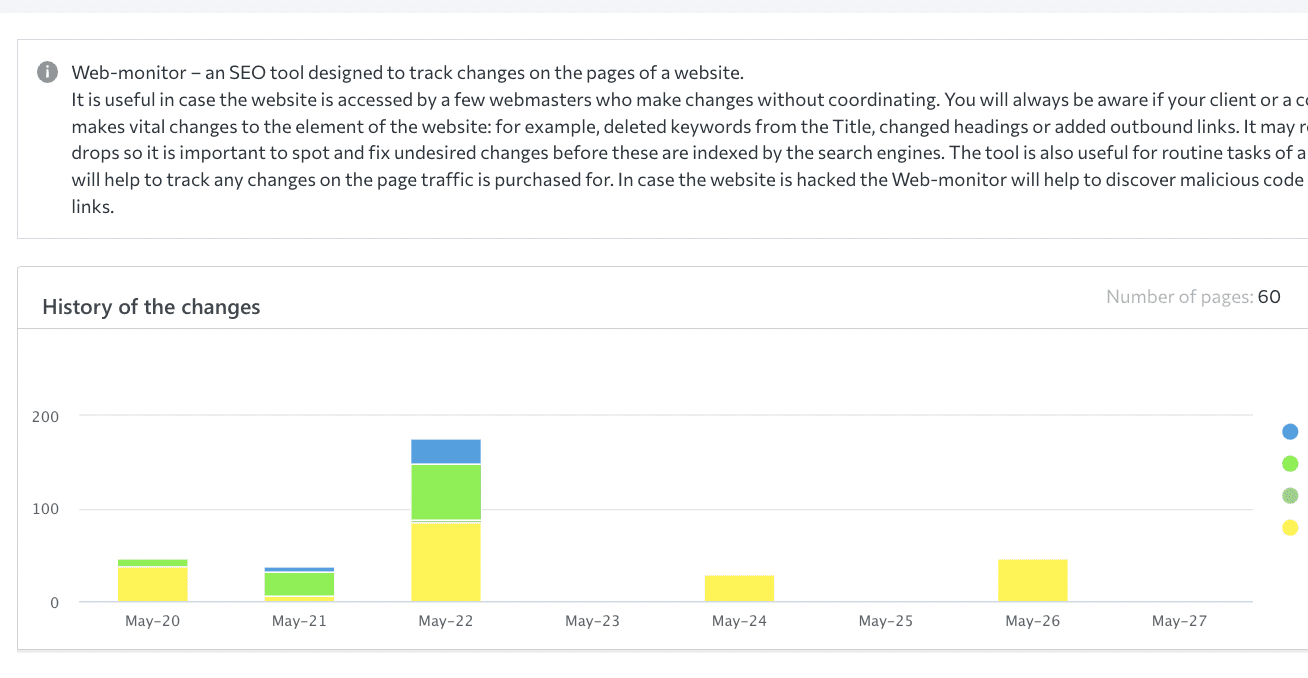 With SE Ranking, you can easily detect any modifications or additions made to your web pages, including text, links, etc. It ensures that you can quickly react to any changes and take appropriate action to protect your website from harm. SE Ranking also provides detailed reports on all page changes, making it easy to track your website's progress over time.
SE Ranking Page Changes Monitoring Features –
Notifies the user of any changes detected on the monitored pages.
Monitors modifications to the following page elements: meta tags, Internal and external links, Index status, HTTP code, Canonical URL, Alternate URLs, and Robots.txt.
#2 Backlink Monitor
This powerful tool lets you monitor backlinks that are pointing to your site and provides valuable information such as the anchor text used, DT (Domain Trust) and the indexation status of the linking site, link type, and more.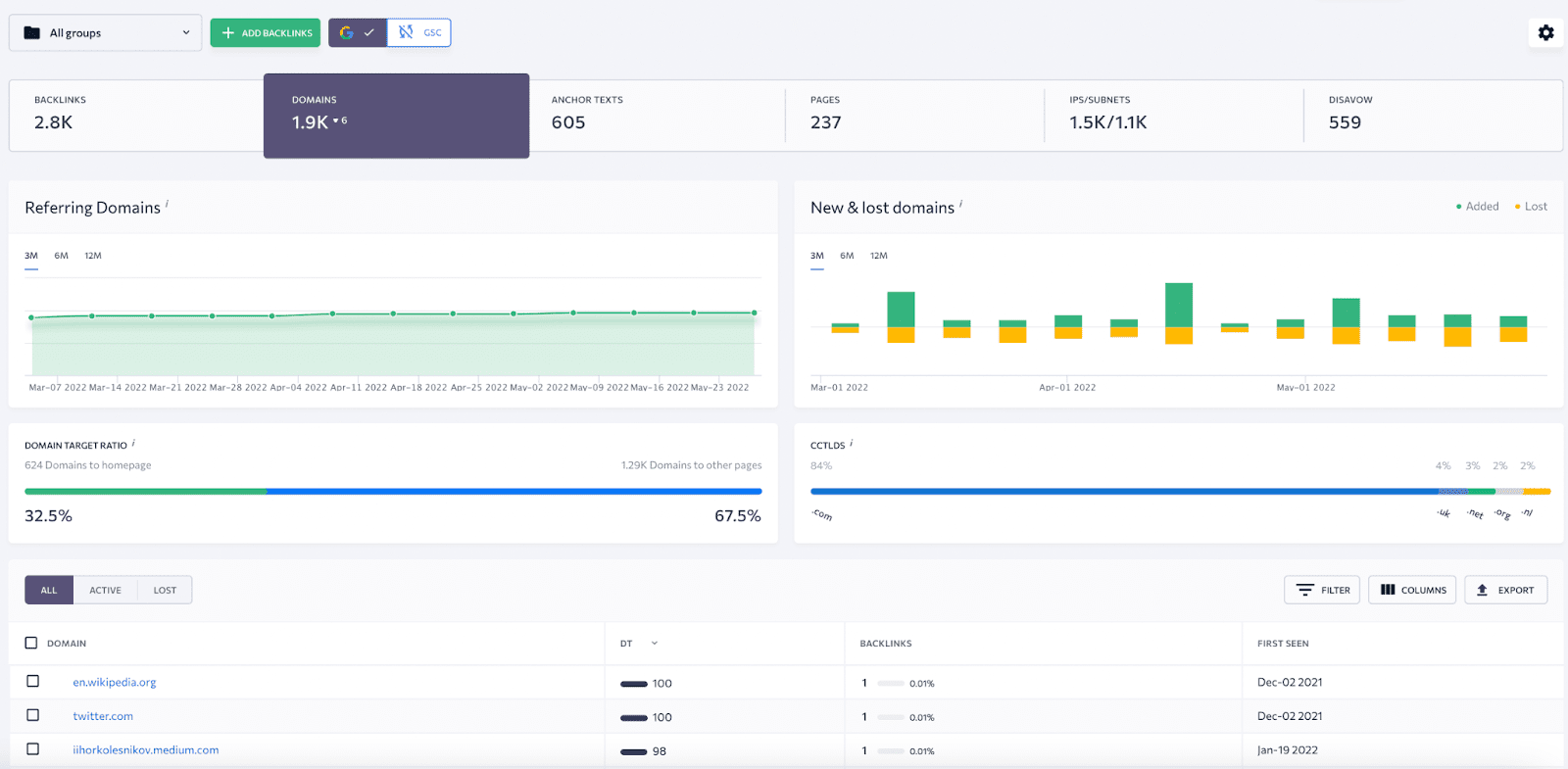 With the SE Ranking Backlink Monitor, you can easily keep track of your backlinks and make sure that they are helping to improve your website's search engine ranking.
SE Ranking Backlink Monitor Features –
It provides a rapid analysis of all backlinks added to the tool: Referring Domain Trust, Number of backlinks connecting to the linking page, Number of referring domains going to the linking page, and Dofollow/Nofollow ratio.
Receive automatic email alerts whenever the status of any of your backlinks related to these factors changes. Found / Not found, Indexed / Not indexed, First seen/Last seen.
You may import all backlinks from Google Search Console automatically for additional analysis.
#3 Keyword Manager
SE Ranking's Keyword Manager is essential for any serious online marketer. It allows you to create and manage your keyword lists easily.
The Keyword Manager lets you manage new keywords and see detailed parameters about your added keywords all in one place. You can also set up custom alerts to always stay up-to-date with your keywords.
SE Ranking Keyword Manager Features –
Create and maintain keyword lists
Manually add keywords from Keyword Research and Competitive Research.
Add, update, and store keyword lists for several areas in one location and monitor how they are managed.

#4 Keyword Grouper
If you're looking for a quick and easy way to group your keywords, look no further than SE Ranking's Keyword Grouper. This handy tool allows you to enter your keywords and then automatically groups them into related groups. It's perfect for when you need to organize your keywords for SEO purposes (e.g. to design the SEO architecture of your website) or pay-per-click campaigns.
SE Ranking Keyword Grouper Features –
It automatically organizes keywords depending on how well they match the URLs of the page with Google's top 10 results.
Country, location, and language must be selected when grouping keywords.
You may modify the grouping precision and technique.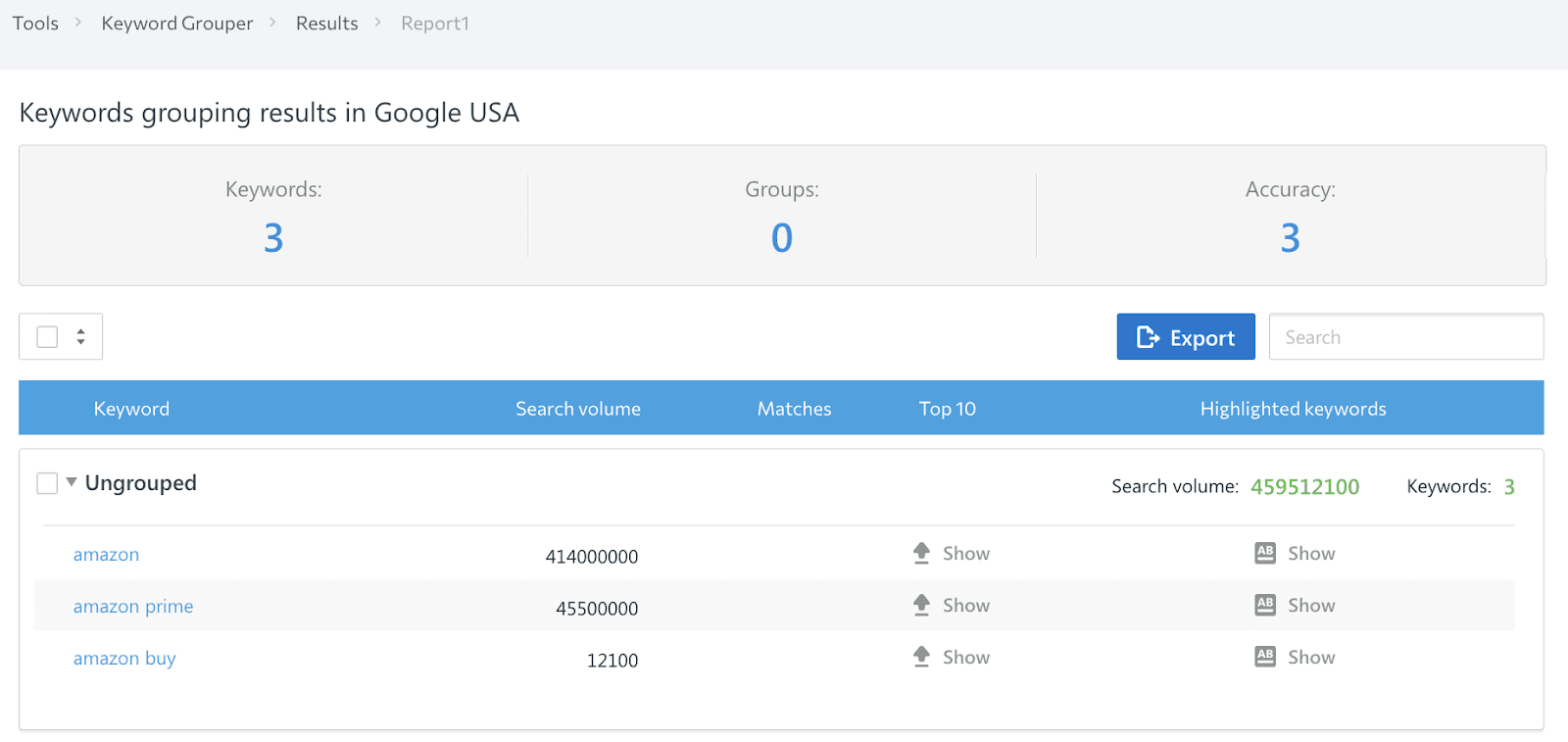 #5 Report Builder
The SE Ranking Report Builder is a powerful tool for creating detailed reports about your website's SEO performance. The tool was developed to assist you in producing professional reports that display facts clearly and simply.
To use the report builder, choose a template or generate it from scratch. Then, select the period for which you'd like to generate a report and add the needed report modules (Rankings, My Competitors, etc). It's that simple.
SE Ranking Report Builder Features –
A number of ready-to-use templates
You can automatically send such reports to customers, coworkers, and superiors. You can generate files in .PDF, .HTML, and .XLS formats.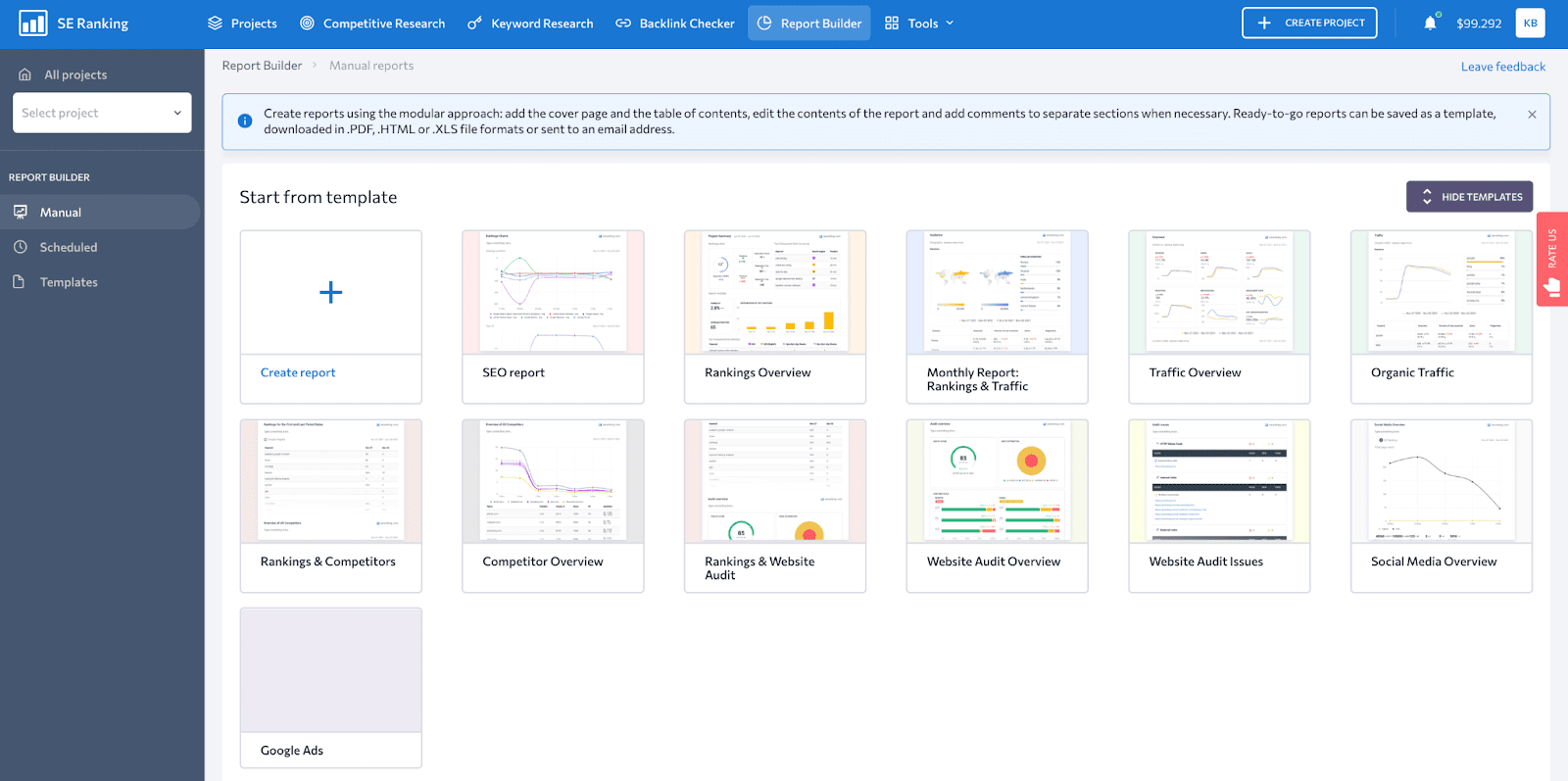 SE Ranking Plans and Pricing
SE Ranking offers three pricing plans –
1. Essential ($ 31.20 per month if paid annually): This includes 10 projects with 5 competitors per project and a lot more.
2. Pro ($ 71.20 per month if paid annually): This plan includes unlimited projects with 10 competitors per project and a lot more.
3. Business ($ 151.20 per month if paid annually): This includes unlimited projects with 20 competitors per project and a lot more.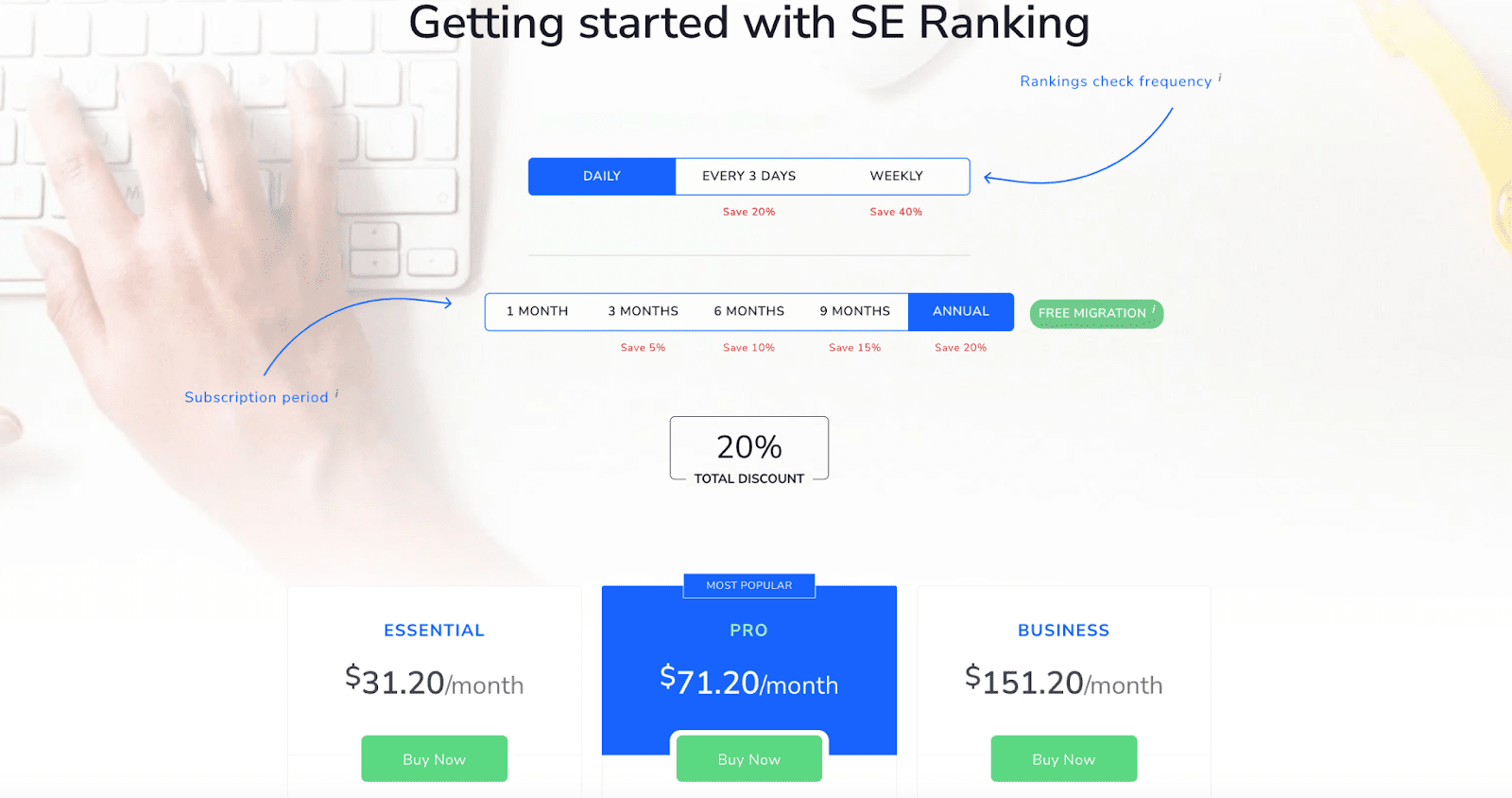 You can also have a custom plan made for you. Use the pricing plan calculator to help you get an accurate estimate of what you may have to spend (This is something I love about SE Ranking).
SE Ranking also offers a 14-day free trial, so just take a test drive. It is definitely worth your time.
Conclusion: SE Ranking Review
SE Ranking is an extraordinarily scalable and adaptable SEO solution. Its price structure allows you to locate the optimal required power and features. It's a reasonably priced, all-in-one SEO and marketing solution.
It's helpful to know what the competitors are doing, and what is working for them. SE Ranking's competition research offers you the edge you need to stay competitive in your area. Additionally, it lets you compare your growth to your competitors and watch your performance.
The white-label option is excellent if you manage SEO and marketing for customers. By leveraging all of SE Ranking's power, your customers will be wiser. You will be able to continue to deliver outstanding services while maintaining your brand and image. SE Ranking is a superb tool that will transform the way you look at SEO.