Not a big fan of hectic eCommerce? I have an idea, why don't you go for the most minor work with significant profit and make it your side hustle? There's one place where you can get the freedom of leaving behind the production, delivery, and more complex eCommerce system and that is Dropshipping.
No matter how eased-up eCommerce dropshipping is, you still need a fabulous presentation of your products to go out in the market and create its mark. What's one thing that can make your dropshipping presentable? It's all about having a professional and gorgeous website. That's why here we are with amazing Shopify dropshipping themes you must try in 2021.
Want to know which ones are those? Have a look.
What is Dropshipping?
Before moving to the themes, we should have a clear idea of what Dropshipping is all about. So, to put it simply, Dropshipping is when the seller accepts an order but does not keep any of the products. Instead, it sends the order to a manufacturer or someone else to get it.
Think of it this way, you take the money from your friend who orders you to get a chocolate from the supermarket. You go to the market and get the chocolate at a lower price. You tell the shopkeeper to deliver the chocolate to your friend's house. The margin price is where your profit lies.
Dropshipping is a way to sell things. You take orders, but you do not have the items to give them. That is OK because someone else will sell it for you or find it for you and then send it to the person who ordered from you.
Top 15+ Shopify Dropshipping themes:
Now for this business, you need an attractive theme for your website. No doubt Shopify is the best platform for your Dropshipping business. But which theme design should you pick?
Down here are the best options you can go for.
DropShip is a theme for Shopify that is made for shops that sell things without needing to keep them in stock. This can save you time and money, as you don't need to buy anything before it sells. The design lets you make the website quickly because it's easy to use.
DropShip is an excellent website template for Shopify e-commerce stores. It is easy to customize. The theme has many ways to make the design modern and elegant. It also gives you many opportunities for fast website development, SEO promotion, and even social media integration! These are all great features that make DropShip an excellent solution for any site owner who wants their site to work well with any browser or device.
2. Korando
This Korando Shopify Theme is designed so that it will work on different types of devices. It works with RTL and Shopify's latest version. It is a modern theme that can be used for many online businesses, such as furniture, fashion, jewelry, bags, shoes, and websites for digital products.
Korando is a great theme for you. It has many templates with the best features for your store. It has many homepages styles so it can be different every time you change it up. Get this theme now!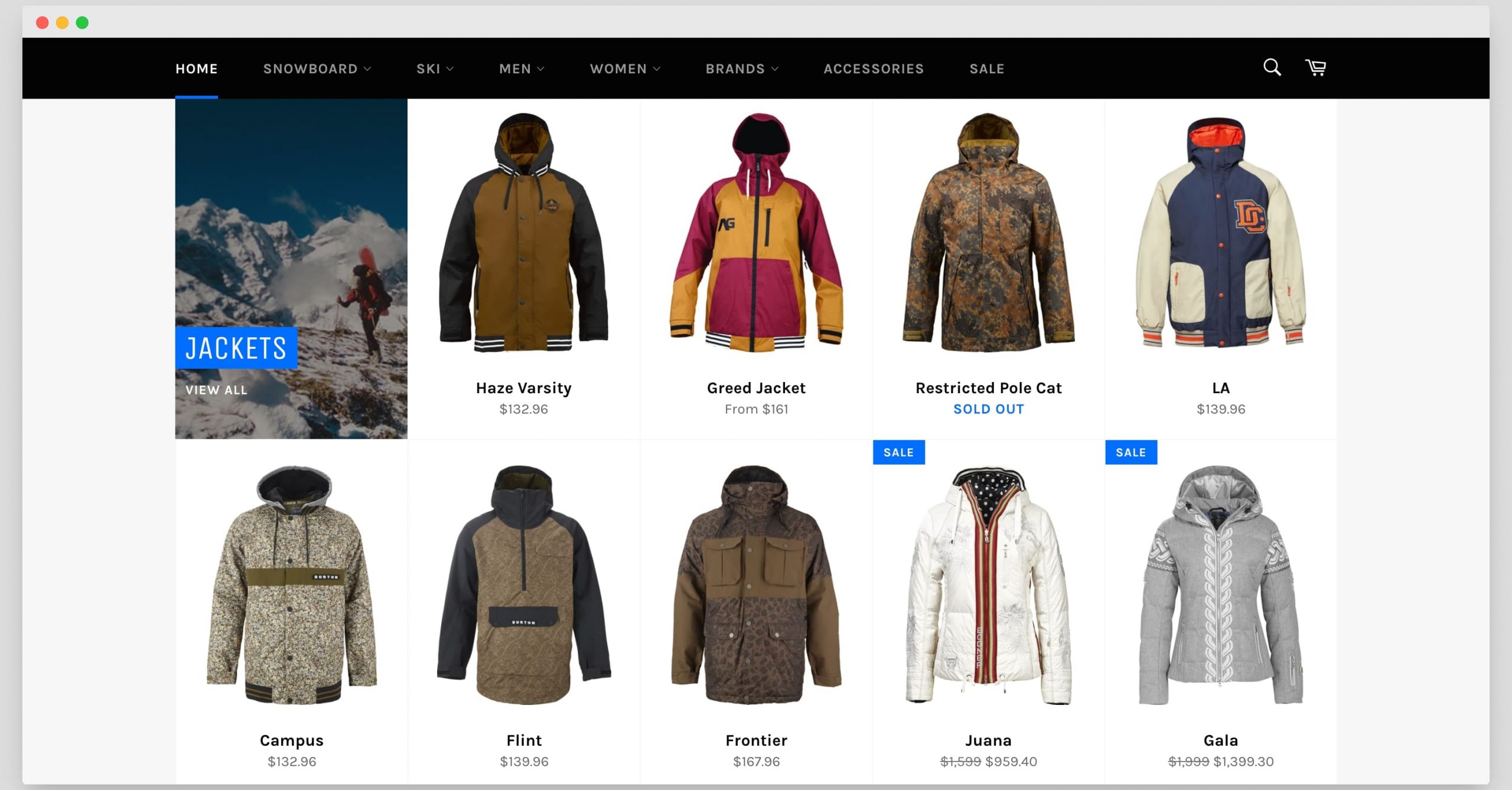 Next, we have Venture. It is suitable for stores with lots of products. You can show the details and pictures on a big, multi-column table on the website. You can also show photos of other things on your home page too like other products or brands.
You can promote your latest sale by using a Venture theme. It can help you filter products into different categories and sort them by price and bestseller status. You can also promote a single product by making it the first thing people see when they go to your store's website.
4. Booster
Booster is a fantastic theme for your dropshipping business. They will help you with anything you need to do. And the product is excellent too. It has lots of features and it updates regularly. Booster has a preset that you can use to get started on a new project, and then change it as much as you want after that point on your own time.
Shopify has a booster theme that is used by over 45,000 merchants. And when the booster team started thinking about it, they realized that this Shopify theme was made to solve our own problems first.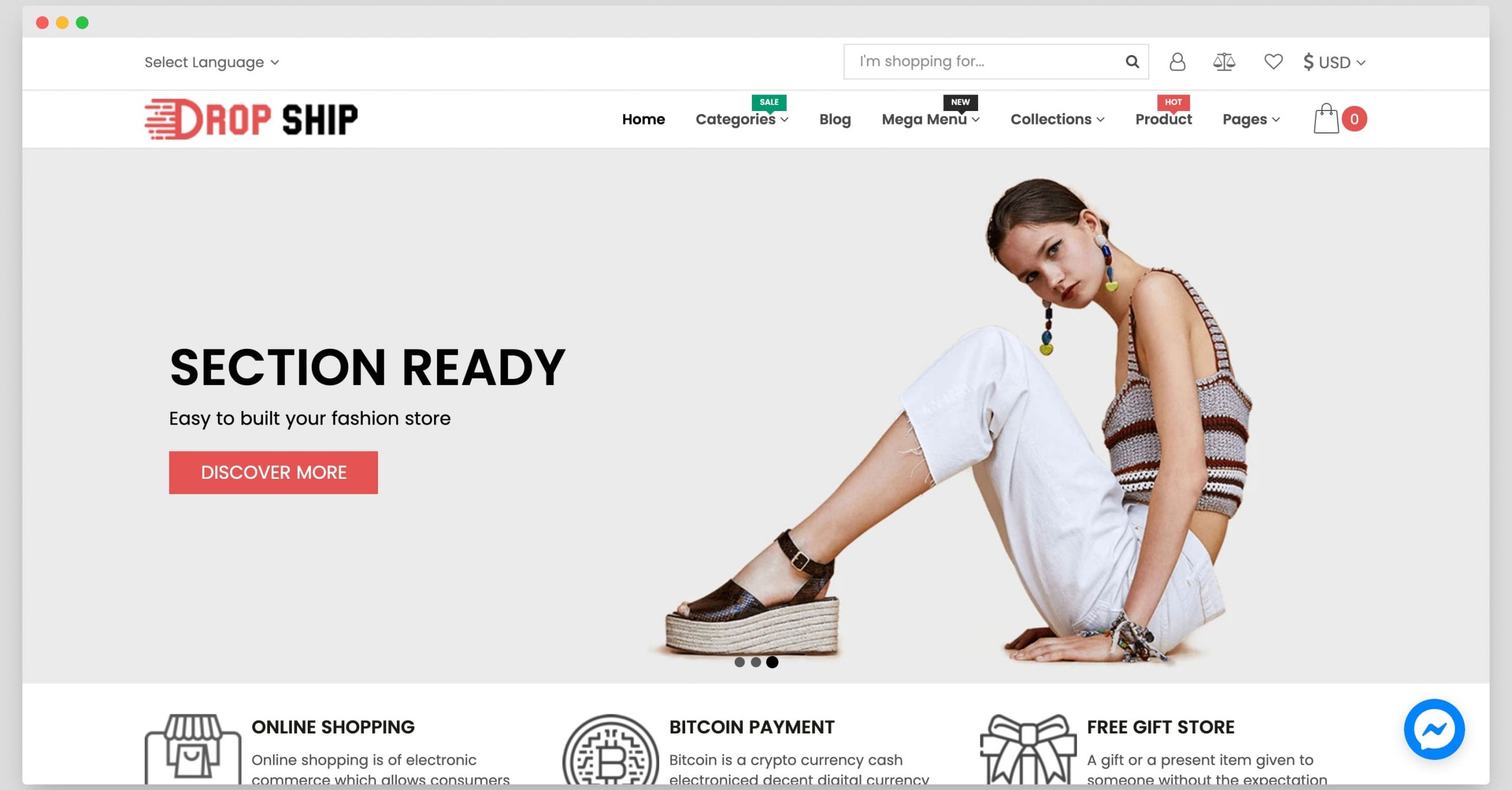 Dropshipping Multipurpose Responsive Shopify Theme gives a store a new look. It allows you to create different designs for your store which you can preview in desktop or mobile views. With this theme, you can make changes and see what they will look like before finishing the design.
This Dropshipping theme includes many features, like customizable sections, a responsive design, Google web fonts integration, advanced group filtering, and an Ajax shopping card with a nice success message. It is compatible with all modern browsers and has powerful options. It also has lots of SEO optimizations.
You can add things to your product to help you sell it better. For example, you can add related products that people might want or need or more than one different color of the same product. You can also use Facebook Live Chat on your website so people can talk quickly.
6. Turbo Theme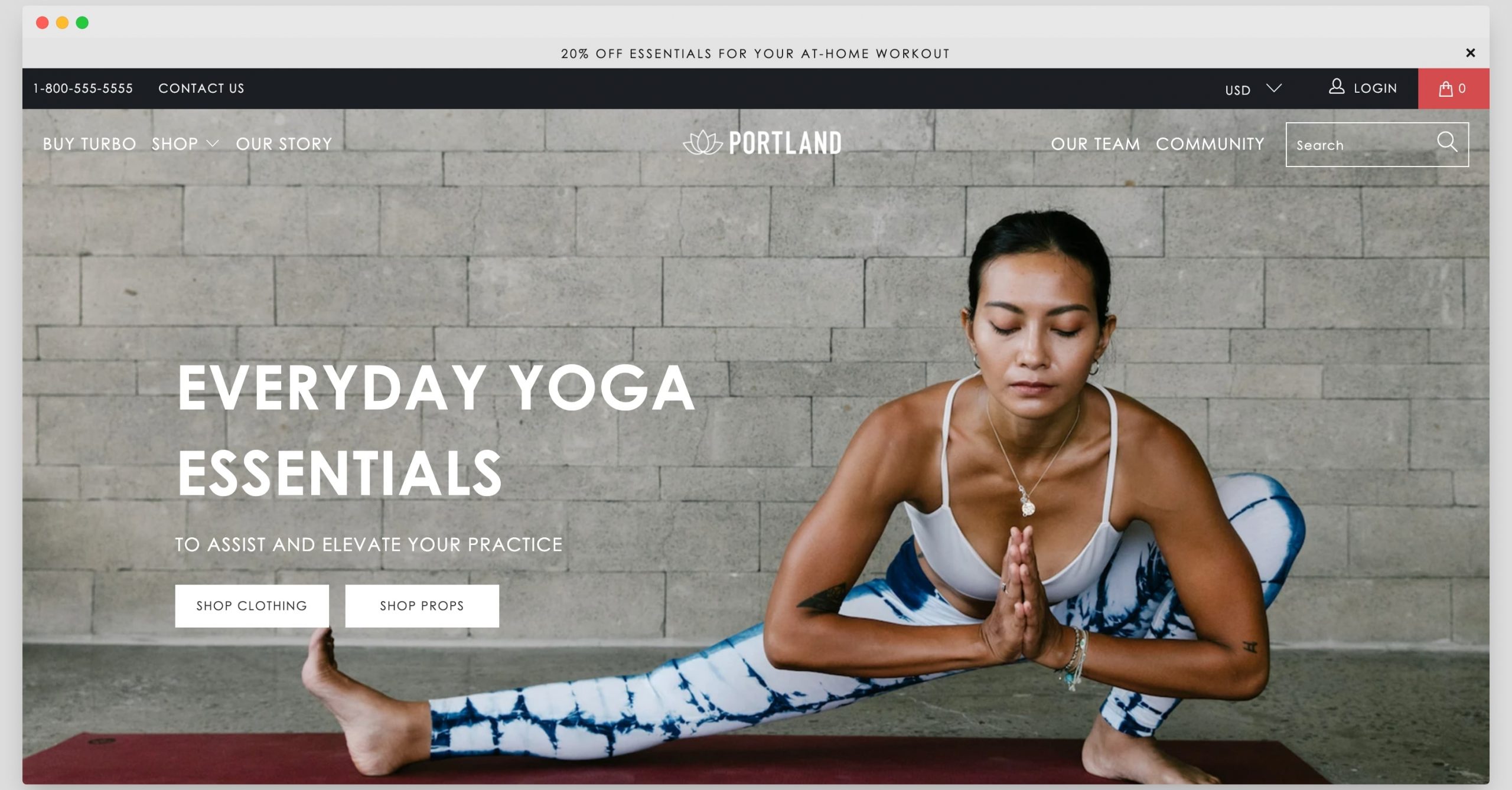 Turbo Theme is a premium theme with unmatched speed, performance, and style. It has many options for customization. This theme is perfect for large catalogs or agencies that need to build websites quickly with lots of functionality.
You can use Turbo on your website, and it will come in 6 styles. We'll send you the files when you buy it. You can try Turbo for 14 days if you want to see if you like it. If not, we'll give you your money back!
7. Brooklyn
Brooklyn theme is a top-notch theme for your website. It is designed to show many different types of clothing, such as "modern". It has a slideshow on the front page that will show different images and allow you to display more than one type of clothing. It also has a "dynamic grid" which automatically changes the layout depending on how many items are displayed.
This is a theme for a website that will help people sell products on the internet. It has a slide-out cart for your customers to quickly add products to their cart. The home page has a video that tells your story by showing it front and center of the page.
Vendy Shopify theme is the right choice if you want to sell clothes, shoes, or other fashion supplies. This design is simple and clean. It suits any purpose. You can also choose Vendy if you want a high demand for minimalism with good usability and an appearance that wins people over too.
Vendy is a Shopify theme for people who are not experts. If you want to know how to make an online clothing store, you should use this theme. This all-in-one layout is based on one of the best eCommerce platforms. With this, you will not only set up a place to buy and sell clothes but also power your brand awareness. And all of this can be done without touching any code lines.
Porto is a Shopify theme that has all of the features you need to create your dropshipping store. There are 20+ different themed demos, layouts, and styles to choose from so you can have something different every time. The theme has many features that will make it easy for you to build your website quickly and with a great UI/UX experience.
Porto's website has many designs. There are 20+ modern designs to choose from. This theme is optimized for speed performance. You can change the look of the site with powerful options, like changing the design or showing more or less information on a page. It always has updates because it is always getting better and better to use!
10. Startup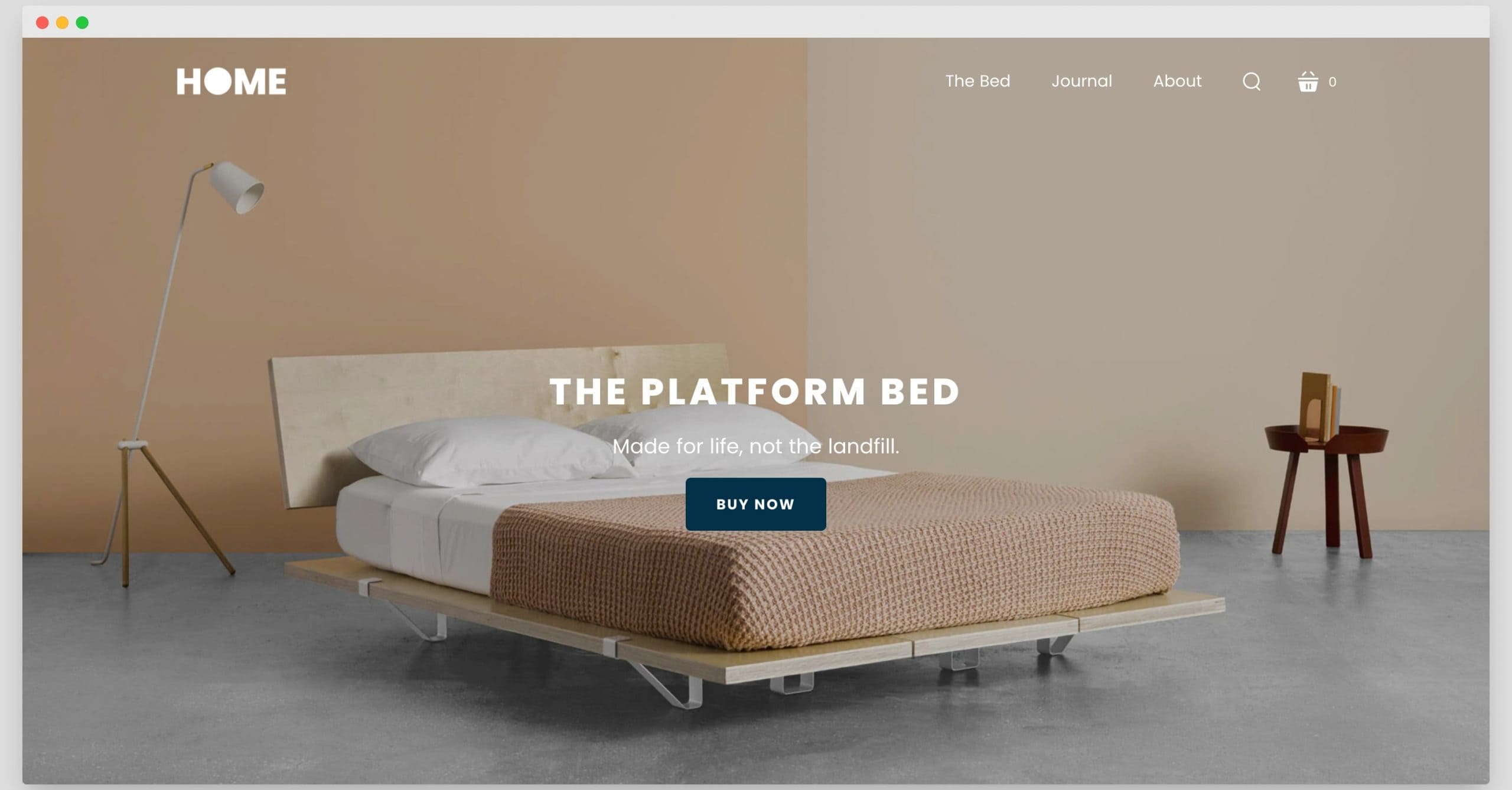 Startup theme is good for people who want to start their own online store. This theme is perfect for people who sell small items because it has modules that can be used to design a homepage. The Startup theme also lets you have a homepage that can stand on its own as well.
The Startup theme is a popular choice for WordPress. It has many features that make it easy to use. The best parts are single-product stores, the modular-style home page, customer testimonials, home page video, Instagram feed, and a comprehensive layout.
With Startup, it is easy to customize the content sections on the home page and it also works well on mobile devices. There are search engine optimization built-in and social media icons and drop-down navigation support. You can also get free stock photos from Burst with your purchase of the startup theme.
11. Debut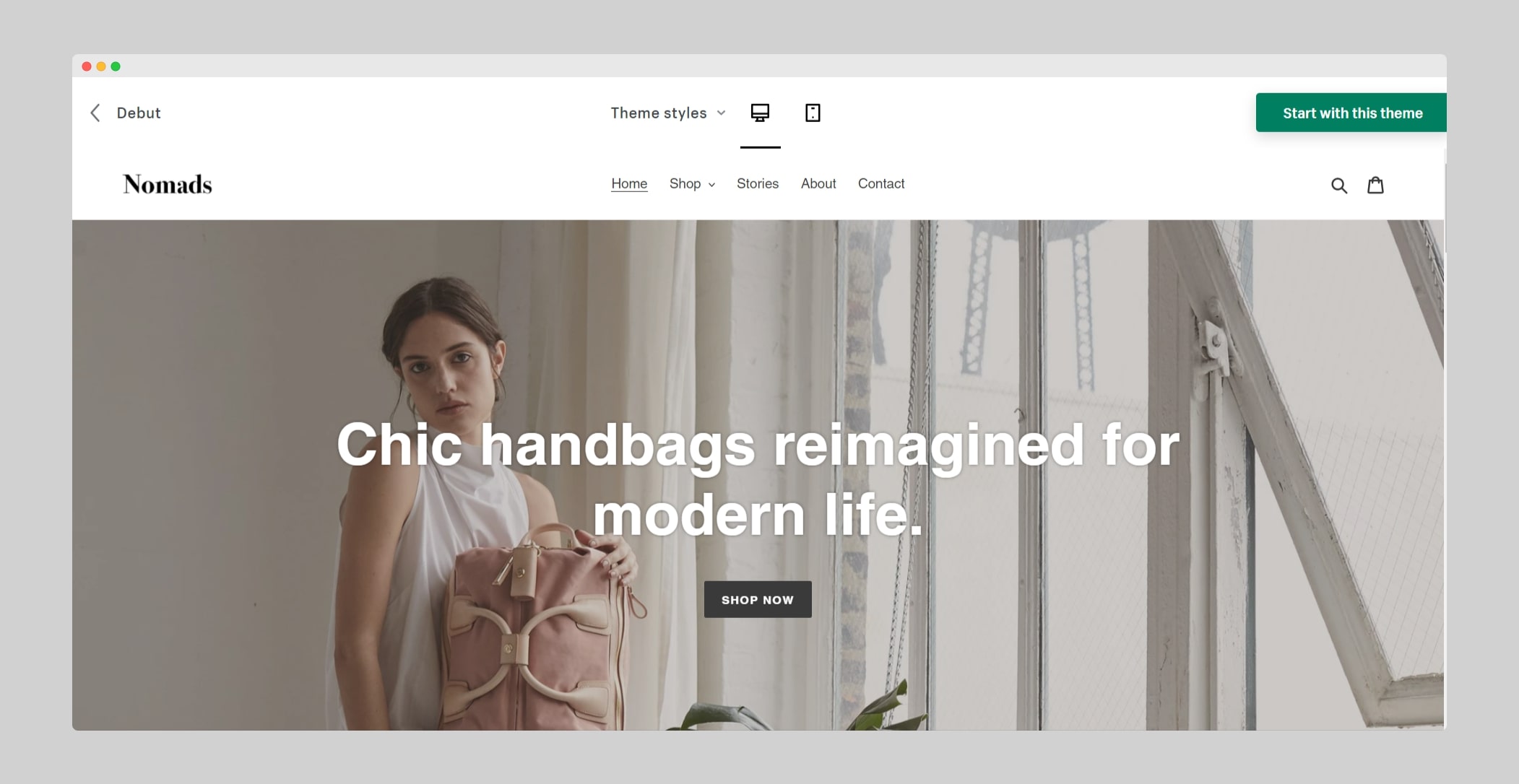 There we have Debut for your Debut dropshipping store. With Debut for your store, you can show where products are available to be picked up. When people search, they will see live search results and quick links to the product page. You can also include customer testimonials to promote your products by sharing what customers say about them.
Debut Theme uses it for dropshipping stores and their banners. It promotes its latest sale, promotion, or discount at the top of the store's home page. It is suitable for small catalogs and stores with a small number of products. You can add a video to tell your story on your home page or show other people's videos on YouTube or Vimeo. Then you can also recommend products on product pages to increase discoverability if you want to make more money.
Additionally, it can filter products by type and sort them by best sellers and price on the collection page if the team wants to find something quickly that other people might like too!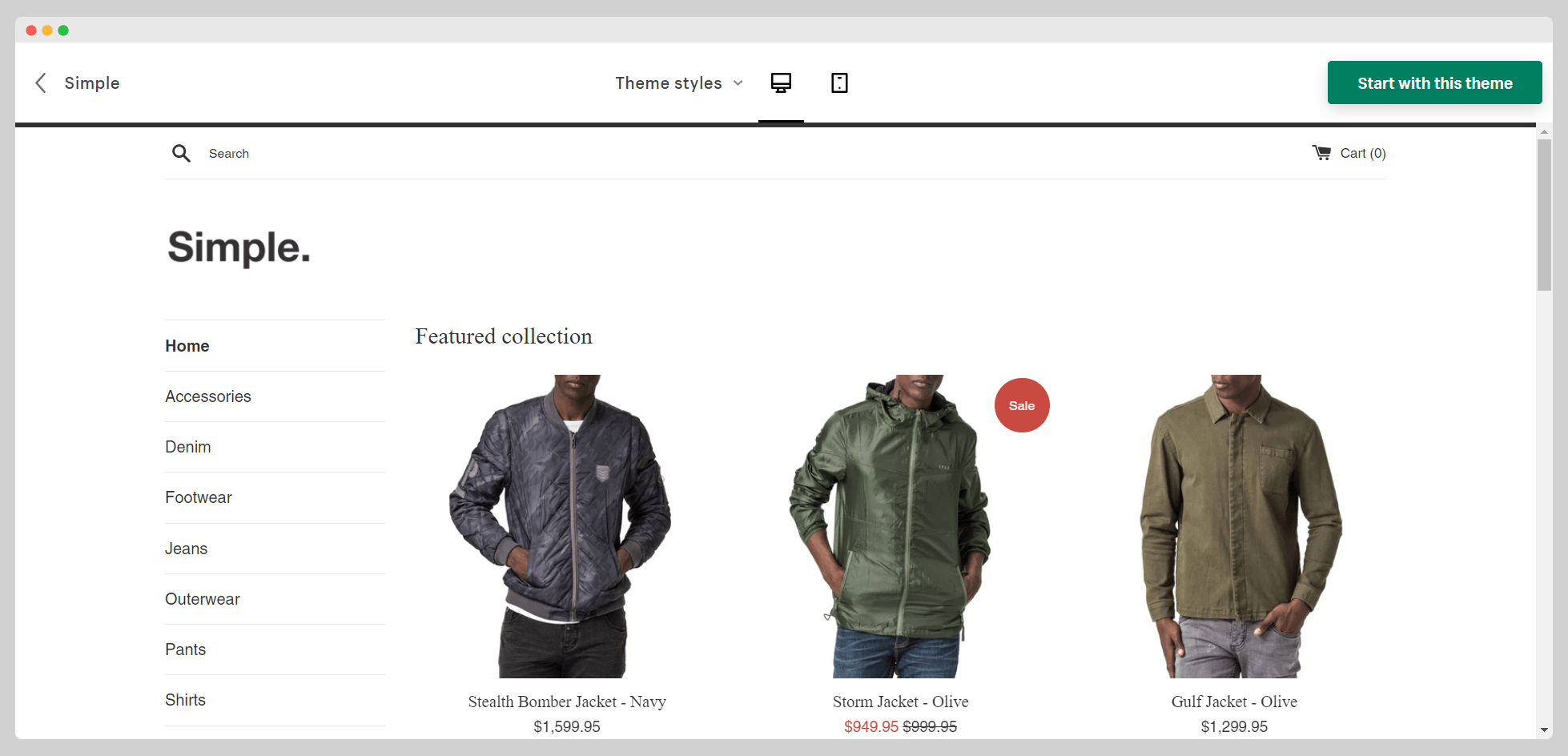 The simple theme is not complicated and it has a sidebar menu with an accordion-style menu that you can use to show your products and collections. Your customers will be able to see more details when they hover over the pictures. Images will animate when they move around the page, which is cool. You can also recommend specific products on product pages to make them easier to find.
The Shopify theme The Simple Theme is the latest and will work with all Shopify updates. It has been tested and approved for performance. You can try it out for free with your own brand colors and customizations. And you get free high-quality photos that you can use in your store.
13. Supply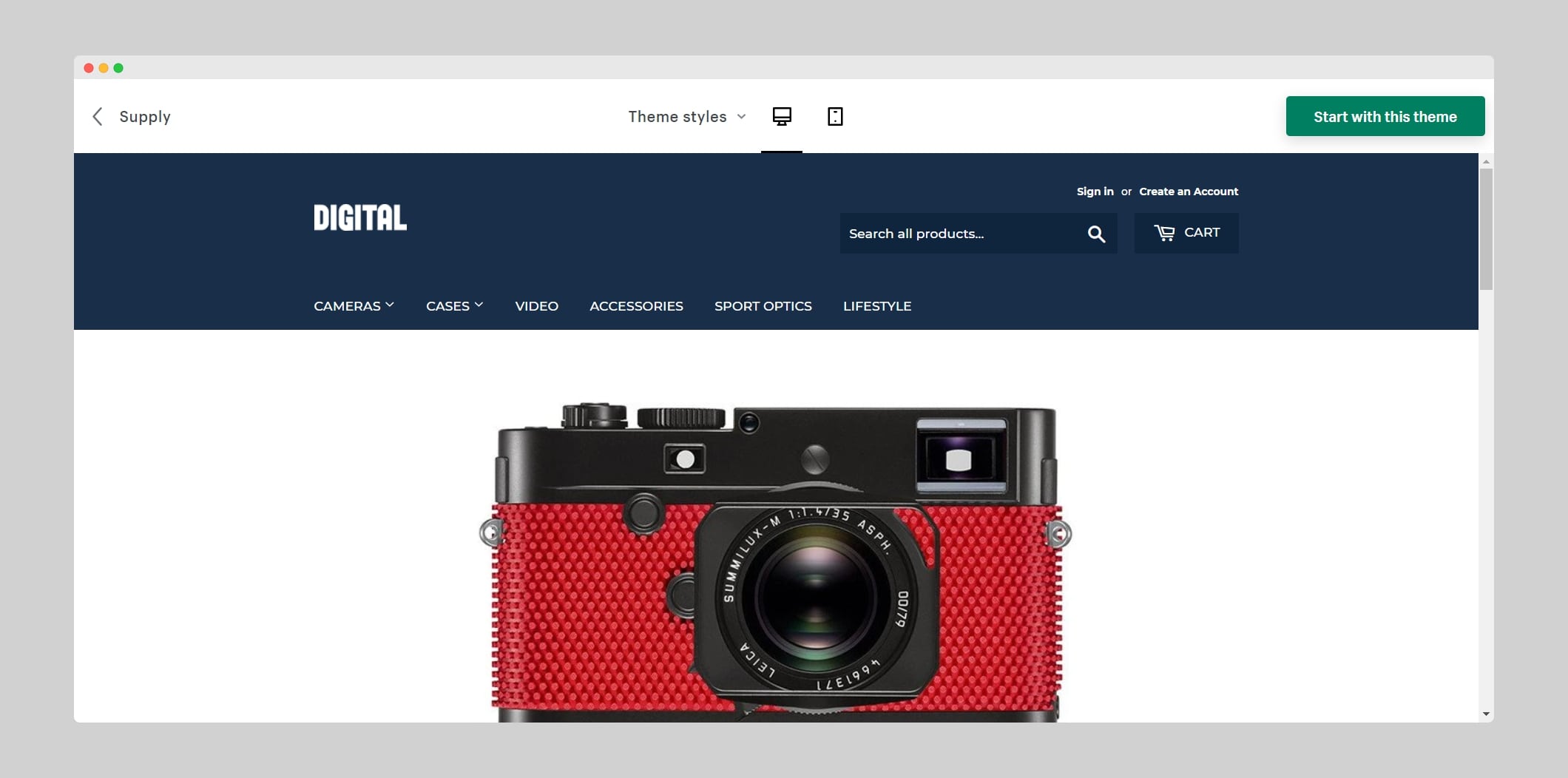 The Supply theme has the feature of being Built for large catalogs. This is good for stores with many products, like stores. Collection filtering in the sidebar means that customers can filter pages by brand, price, and other options they choose in the sidebar. The slideshow shows multiple products or brand images on your home page. Featured collections offer multiple featured groups on your home page.
The Supply Theme Store will have themes that take care of the latest features from Shopify. Themes are tested to make sure they work well with all the other features in your store. You can try an article for free and customize it as you need to, so you have a good starting place for your own store. You can also get free photos from Shopify Burst for your demo store.
Ecommerce stores are hard to build. You have to spend a lot of time creating pages and adding apps that help people buy things. After you finish your store, it will be hard to manage it because there are so many pages and so many apps. Debutify is a more innovative way of launching an eCommerce store. Build your store in hours instead of weeks, verify your product idea today, and rely on Debutify's marketing features to sell more products online.
With Debutify, you can save money. Apps are expensive. With Debutify, it is already built-in. You do not have to spend lots of money on different apps for your store's website or online store. This means that you can test and try new things without spending a lot of money.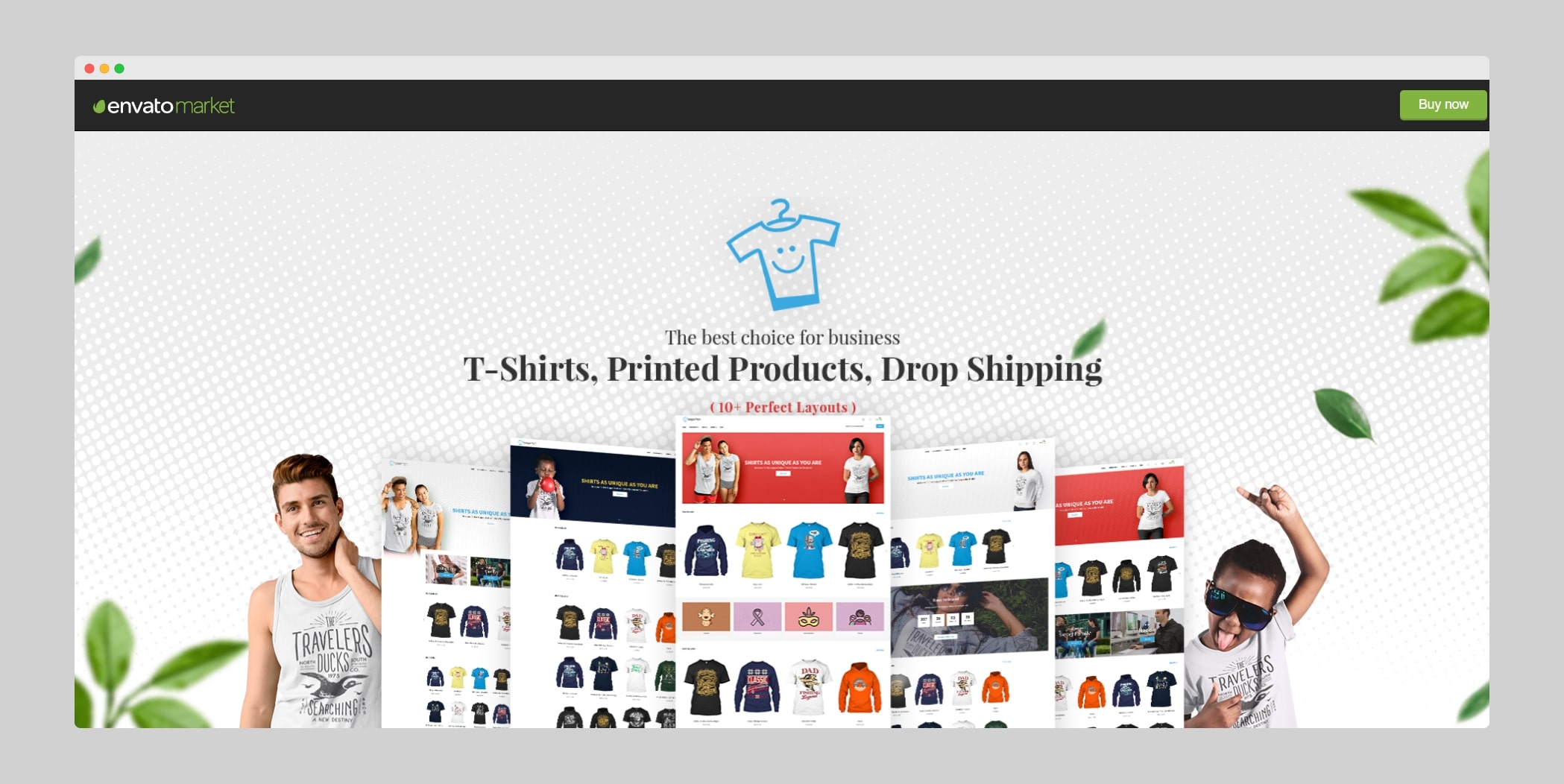 TeePerfect is a Shopify Theme that was designed for dropshipping. You can build a website with this theme in no time. All credit goes to its drag-and-drop interface. This theme has many special features for those who want to dropship products such as t-shirts or mugs. It was built by developers who have experience in this market, so it is suitable for people looking to do the same thing.
TeePerfect has many features. They include 10+ homepage layouts, large-sized images, responsive designs, and features like an advanced mega menu. This theme also has variant color swatches, multi-languages, and currencies. The Instagram feed is perfect for people who need to see pictures of their products.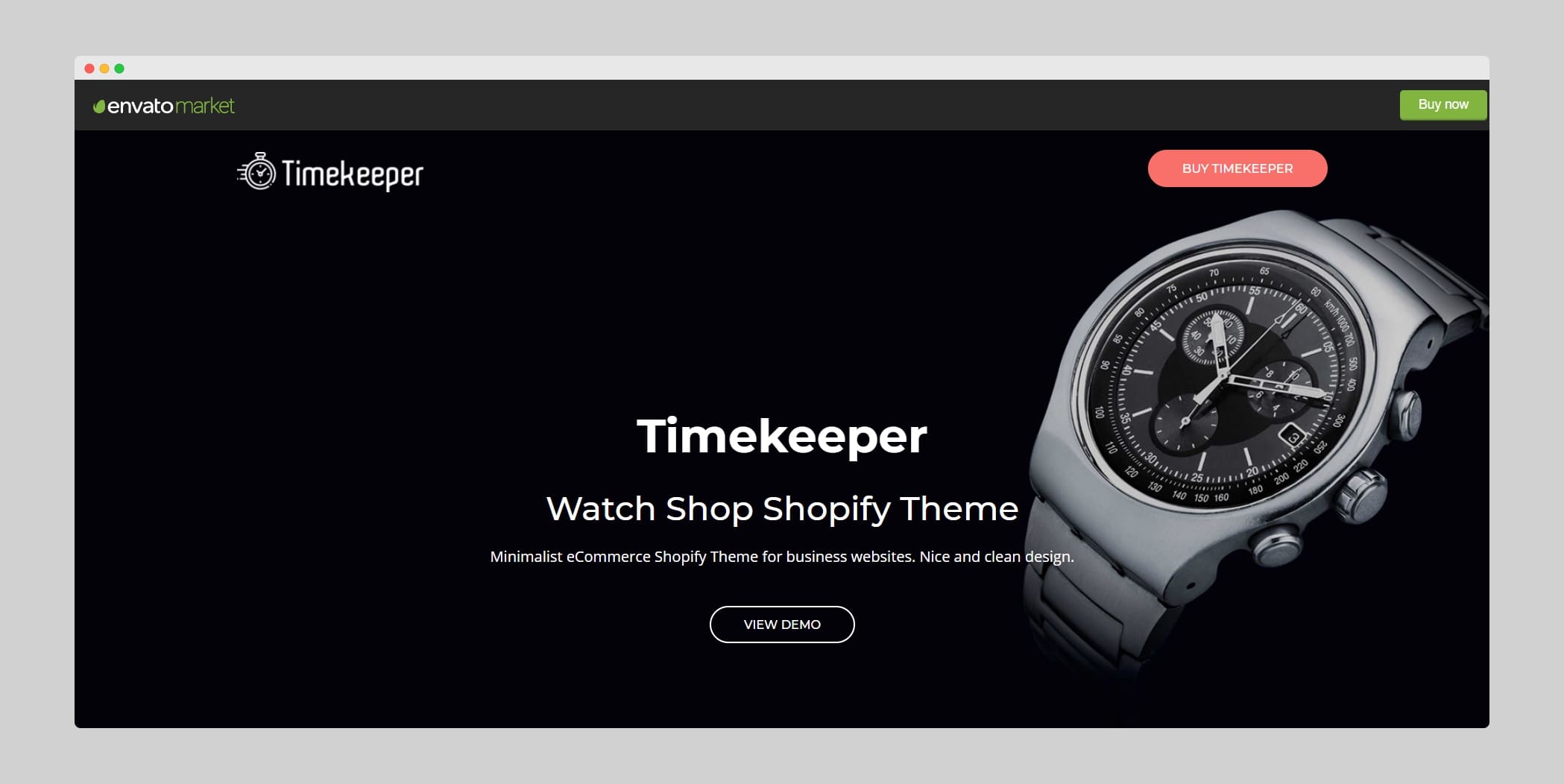 TimeKeeper theme creates a really cool website that you can use to sell watches. It is also responsive, so it will work on any screen size. You can use this multipurpose theme for your business or your non-business watch store. This theme has been built with Shopify builder, making it much easier to create your own website.
Timekeeper Bootstrap has 2 different homepage layouts. You can luxuriously display your products and promote them by adding a beautiful slider and banner. The easy customization and other features make it easier to do your work with Timekeeper Bootstrap.
FAQs (Shopify Dropshipping Themes)
Is Shopify dropshipping Dead 2021?
Dropshipping is a new concept. It will go for a long time and will not die. So, no, it is not dead and is still profitable in 2021 and many years to come.
Is it better to buy a Shopify theme?
There are free themes and there are premium themes. Free ones might work for people who don't have much money, but if you want to pay a little extra and get a better theme then that is also fine.
Who is the richest drop shipper?
The first person made a lot of money as a drop shipper. He is from San Diego and within 8 months he made $1,000,000.
Can Shopify make you rich?
You can make money with Shopify without selling anything. The Shopify program gives you a reward for every person you refer to the platform. If more people sign up, then you get more money from each referral.
How much do dropshippers make?
On average, dropshippers make between $1,000 and $5,000 per month. They also spend money on the products they sell and fees for hosting websites. Marketing is also important to attract customers.
Are free Shopify themes good?
If you are making a website for your business, there are some free themes that you can use. These templates have beautiful designs and easy-to-use features. But not all of them work the same way so it is important to choose carefully.
Conclusion
Which theme is the best for you?
The winner theme
Clearly, Turbo is the winning theme that everyone must try. The Turbo theme is one of the most common themes for Out of the Sandbox team users. This theme has a lot of functionality that other people don't have. The functional toolbar filters, product sorting, and color swatches under product thumbnails are all in there. Turbo also presents full-scale banners on the selection pages.
The cheapest Shopify theme
Talking about the cheapest themes on Shopify for your dropshipping needs, how about getting the free themes? Well, in this list, there are 6 free themes that you can enjoy without paying a single penny. What are they?
Brooklyn
Debut
Simple
Debutify
Venture
Supply
Get your hands on most of these and see how amazing they are as the free themes you can get.
The best features
Vendy's perfect for fashion stores, but it also works well with all other types of eCommerce stores. This is because it comes with pre-styled homepages with a minimal and clean design. You can save time by choosing the one you like the most and customizing it up to your taste by inserting products.
Vendy has 5 listing pages, 5 product pages, 2 About Us pages, 1 Lookbook page, 2 Collections pages, and 3 newsletter pop-ups variations. It is a website design that has many features. It can be used with all modern browsers, popular payment systems, social networks, Amazon, eBay, Houzz, etc.
With Vendy, you can make web forms for your business or blog. You can also put banners to promote your company, product listing, and grid mockups for shopping carts and wishlists. You can also create stylish layouts with many options like an image generator and Lightbox.
Wrapping up
Dropshipping is a form of retail in which the seller does not keep goods in stock. The sellers accept customer orders, and when they get an order, they order from another company and then send it to the customer. Themes are suitable for some stores. They can help you sell more things. You can pick one out of this list and have them for your store.
Please leave a comment with links to Shopify themes for dropshipping if I missed your favorite one.
Relevant posts