If you are an affiliate marketer looking to monetize your campaigns effectively, you need tracking tools for affiliates.
There are hundreds of affiliate marketing tracking tools in the market, but choosing the best one might be daunting.
I have done the hard work to save you time in searching for the top tracking tools for affiliates. Before I proceed with the list of top affiliate marketing trackers, let me tell you about a tracking tool.
What are the tracking tools for affiliates?
Every successful advertising campaign requires appropriate data tracking.  Imagine going on a treasure hunt. Your location software is your map.
The key to successful advertising campaigns is to understand and analyze data. The Affiliate marketing tracking tools for an affiliate is what makes a campaign successful.
The tracking tools for affiliates provide you the following metrics:
User's IP address & country.
The operating system, device, and browser used.
The time when the conversion or click is received and a lot more
All these data will tell you the type of user that converts and, consequently, exclude the one that does not convert.
A single element discarded from the path could be the winning move to boost your ROI.
Now that you know what an affiliate tracker is, I will show you the top 10 Tracking Software:
Best Affiliate Marketing Tracking Software for Affiliate Networks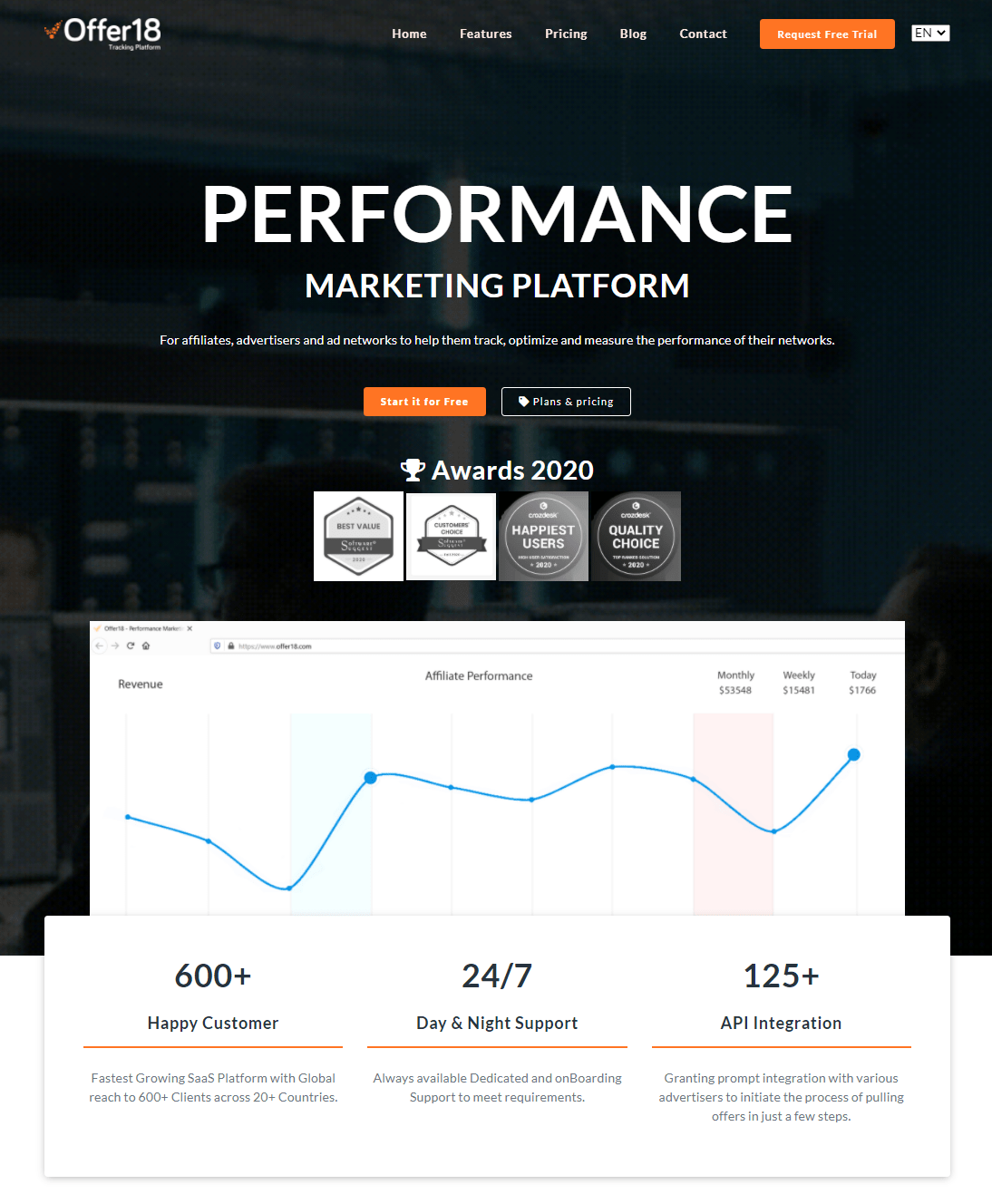 Offer18 is a top-class Performance Marketing Solution for Affiliate Networks, Advertisers, and Agencies with professional tracking capabilities. Offer18 helps digital professionals create their affiliate network, optimize their campaign performance, and utilize every bit of their traffic sources to generate ROI using in-built advanced technology tools. Offer18 is built not only to track and monitor but also to optimize the campaign performance. It is the most flexible SaaS platform with a market presence for a long time in Performance Marketing. Its services are more cost-effective with better features. And adding new technologies that might be lacking in your current services provider.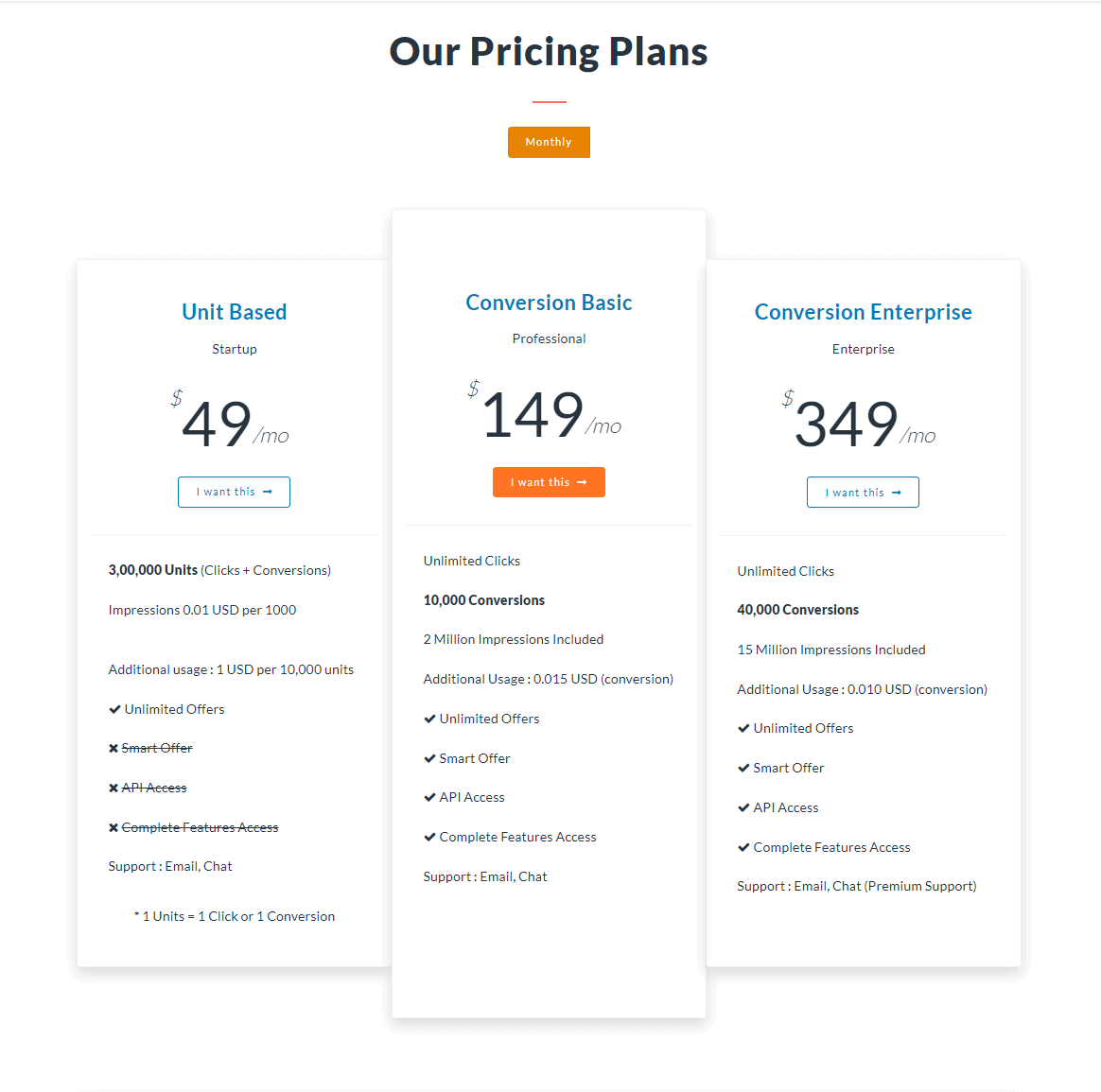 Offer18 Feature Highlights:
In-house Fraud Detection Tools
Link Checker
Complete Whitelabel
Campaign Automation Tools
A Dedicated interface with customization options
Advanced Targeting Options
Smart Link with the Re-targeting feature available.
Offer sync API feature
24×7 Support services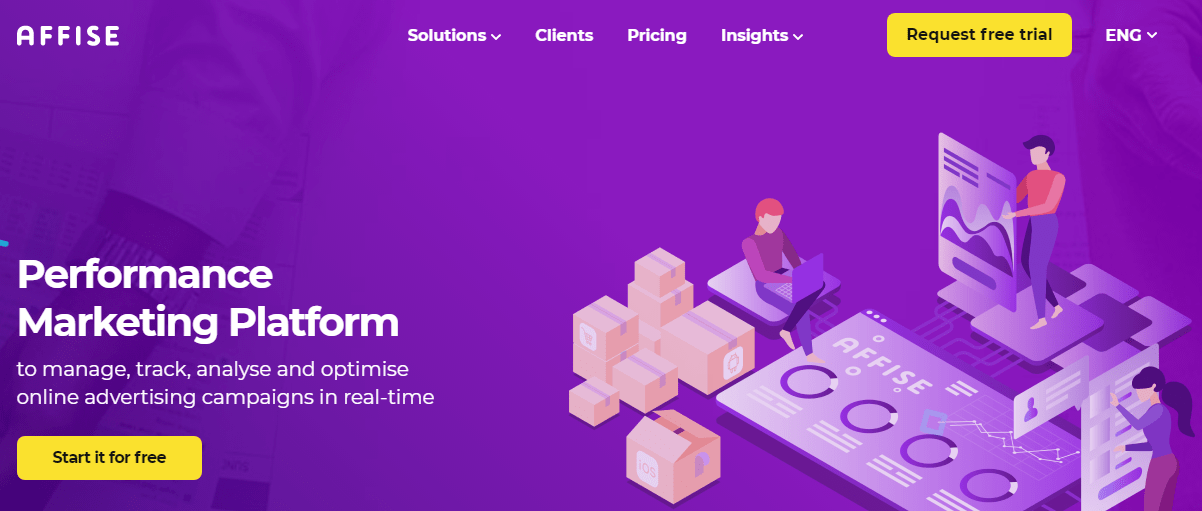 Affise is the best affiliate marketing tracking tool for affiliates around the world. Due to the features provided by this tool, it is now one of the most popular trackers worldwide.
If you want to manage, track, and analyze your campaigns in real time, choose the Affise performance marketing platform. Over 1000+ satisfied customers in over 104 countries use the Affise affiliate platform. 
The Affise performance marketing platform operates in various niches. These include eCommerce, Mobile, Gaming, Dating, Nutra, Crypto, etc.
To skyrocket your affiliate journey at Affise, you need to send a request. The manager contacts you and walks you through the on-boarding process.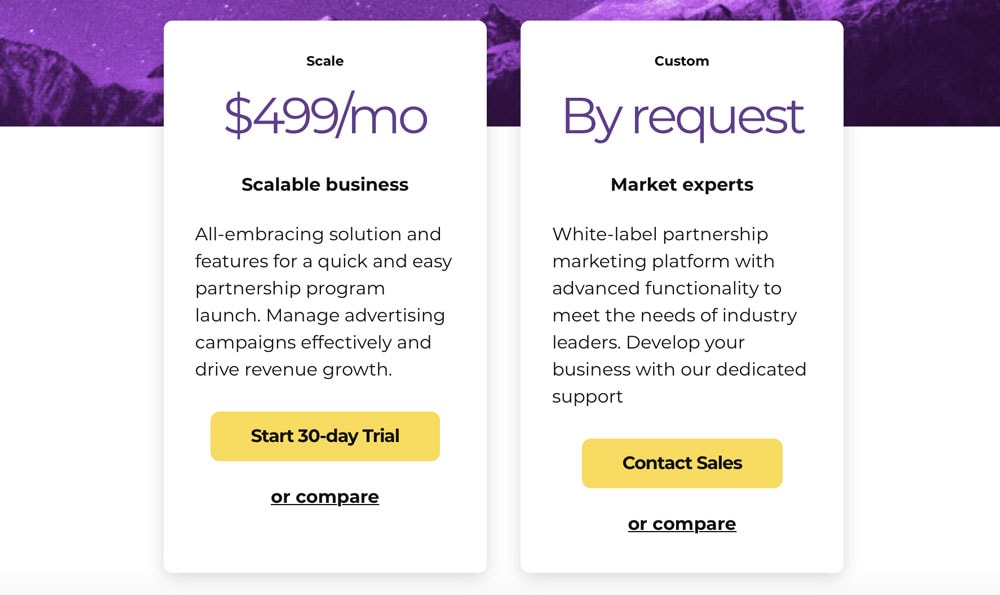 Affise Features:
Fast & smooth migration to Affise with automated service, CPAPI.
You have control over your budget.
Customer support and technical support is available 24/7.
Anti-fraud protection.
Feature-rich API.
Integration with third-party tools.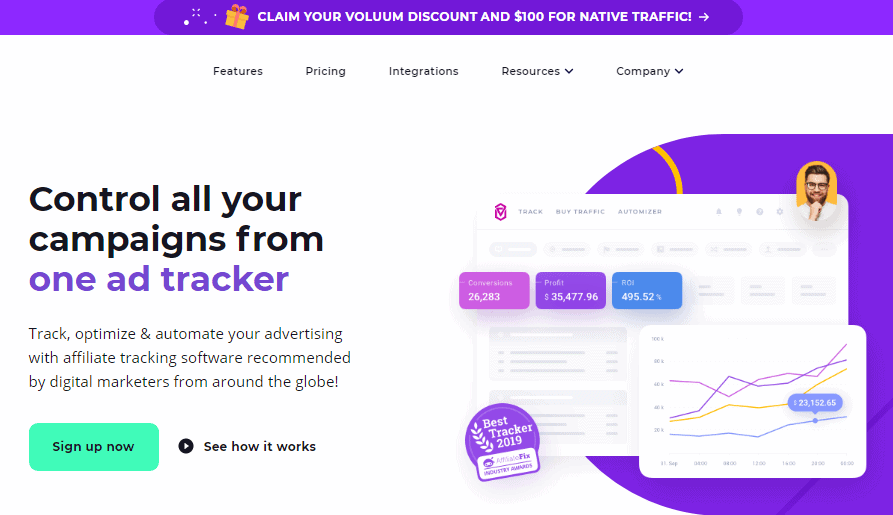 I believe Voluum is one of the most remarkable tracking tools for affiliates. Below are reasons that justify its importance:
1. Manage and analyze a high amount of traffic.
Thanks to this tool, you don't have to worry if your server crashes when you have unexpected traffic spikes.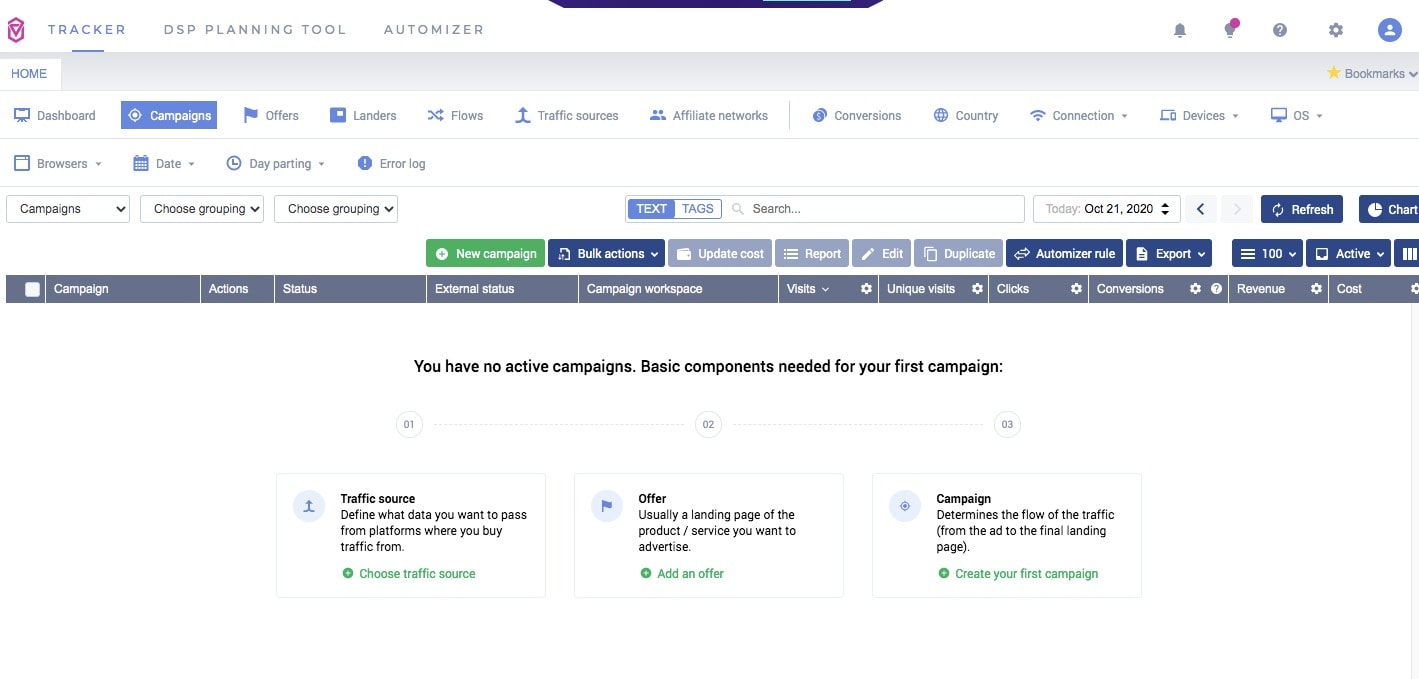 I have tried various tracking software but can guarantee that Voluum is the fastest to redirect clicks, with an almost nonexistent error rate.
2. Everything is fast.
Some software has limits regarding the amount of data you can store. If you accumulate too much data, the software slows down, and the system no longer works. Consequently, you will find yourself erasing valuable data to make the tool fast again.
With Voluum, this does not happen. You can store as much data as you want without necessarily deleting them.
3. Best Support system
If you have any doubts about the system or facing a technical problem, you can contact us via Live Chat or Phone.
A technician will answer you within a very short time, solving your problem. The support is friendly, and it just makes your day.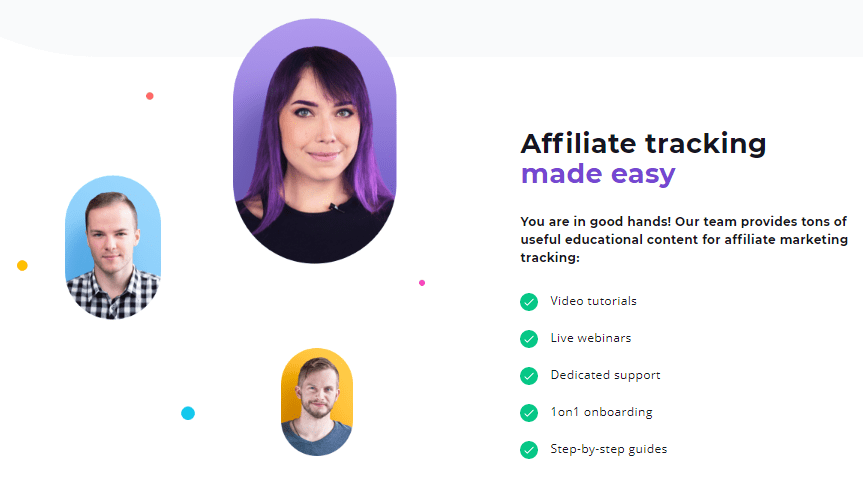 4. It has the best graphical interface ever.
I used Voluum for some time and then switched to a cheaper AdsBridge tool. I tried to save a few monthly dollars by using the economical alternative to Voluum AdsBridge. Trust me, it was a disaster. 
I came crawling back.
The graphical interface and the changes were traumatic. Voluum has a graphical interface and an order of data that is simple and intuitive. It is the easiest to understand.
5. Locate and redirect with the utmost precision.
When any user passes through the link created by Voluum, all the data is promptly stored. It has the lowest error rate ever compared to other tracking software.
If you have 500 conversions marked by your affiliate network, then Voluum will show you precisely 500 conversions. You will be mesmerized by the results.
Other software may result in fewer conversions, and you might deactivate the paths that instead serve you profit. This would result in a considerable loss, but with Voluum, your earnings will soar high.
6. Worldwide data centers
Voluum is a cloud-based affiliate tracking tool with multiple data centers located strategically worldwide. If any datacenter experiences downtime, the traffic is redirected to the nearest datacenter. This keeps your campaigns live & working.
7. Updates according to the user needs.
If you have a suggestion for improvement, the team will evaluate it and employ the technicians to implement it.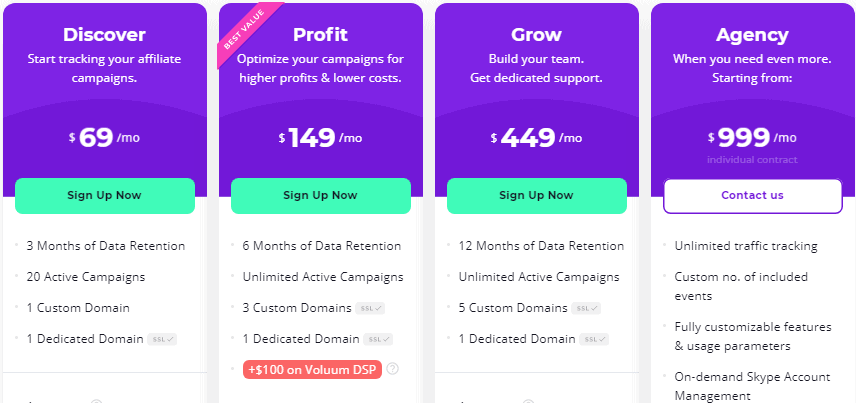 Post Affiliate Pro is a potent solution for online stores and eCommerce websites that helps them track and control their affiliate network. Advertisers require affiliate marketers to drive customers to their websites and boost sales.
With Post Affiliate Pro, managing affiliate marketers becomes easier, mainly when the system is large and growing. It also helps in controlling commission payouts given to the affiliates.
With a robust payment system, commissions are given to the affiliates only for valid & tracked sales.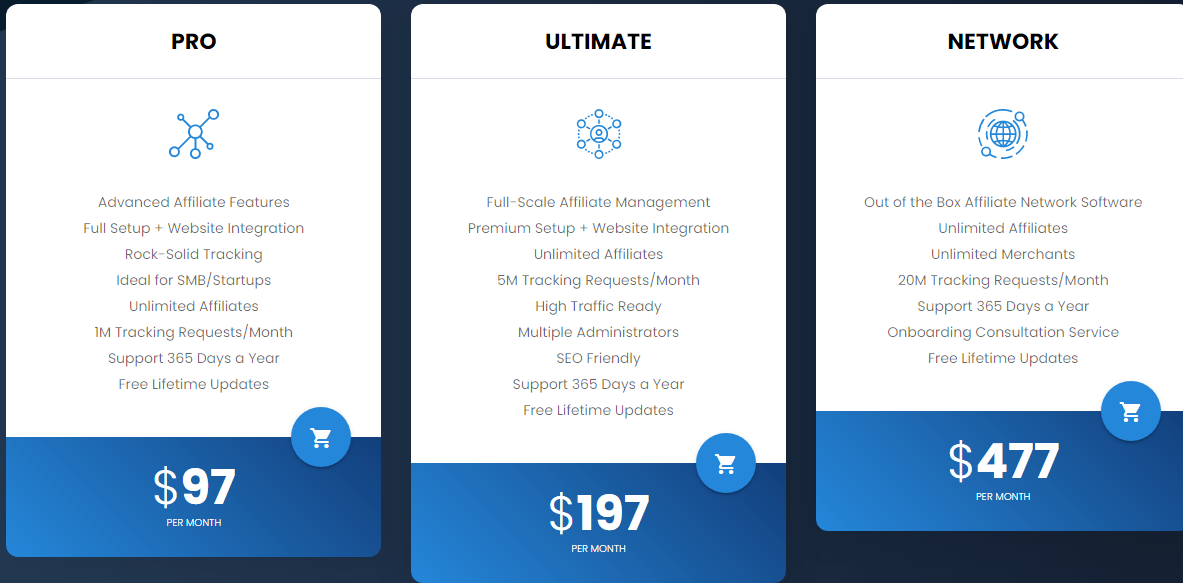 Post Affiliate Pro Features:
Over 170+ CMS and payment gateway integrations.
A 5-star customer support team.
Uses different tracking methods like browser, HTML 5, Flash, and IP address cookies.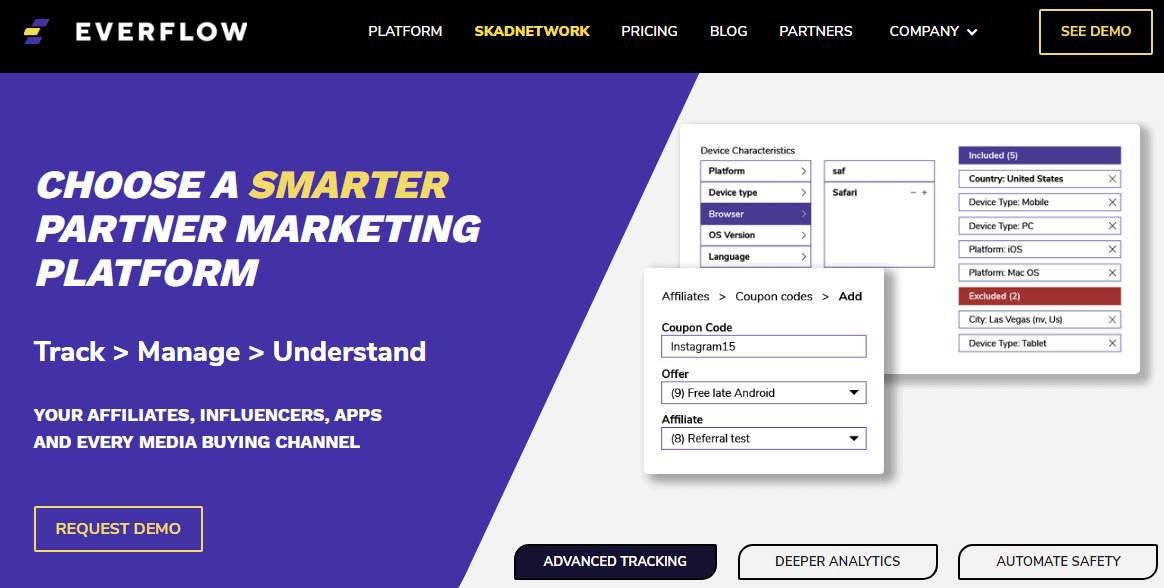 Everflow.io is a cloud-based affiliate management tracking platform with analysis, monitoring, and automation capabilities. If you are into the digital market, Everflow is the recommended affiliate software.
It can process the achievement of businesses of any scale, thanks to its capability to manage clicks ranging from a hundred to billions.
The platform gives multi-dimensional analytics, rich data visualizations, and reporting capabilities. These metrics help you track and analyze campaign performance.
Everflow's tracking capability lets you control every action and event, like payouts, number of clicks, cost-per-click, etc. It can find fraudulent traffic and deal with them.
One approach is using SmartSwitch, which allows you to set clear rules using specific criteria. It helps you to identify which of the sources are fraud.
There are also reports available that help identify legitimate and false traffic. Any sources found fraudulent get blocked automatically, and the accountable partners are notified.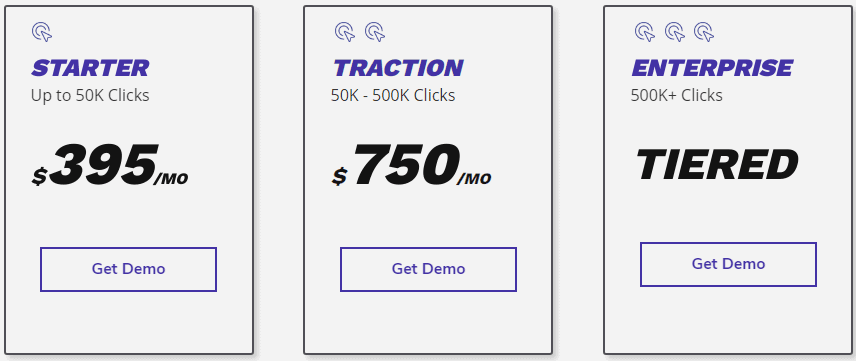 Everflow Features:
Everflow's Fingerprint Tracking Technology offers click-less tracking.
Real-time analytics that shows placement, city, post-conversion engagement, and more.
Discover potential partners by accessing EverXChange Partner Discovery.
With SmartSwitch, you can set rules to optimize and block frauds.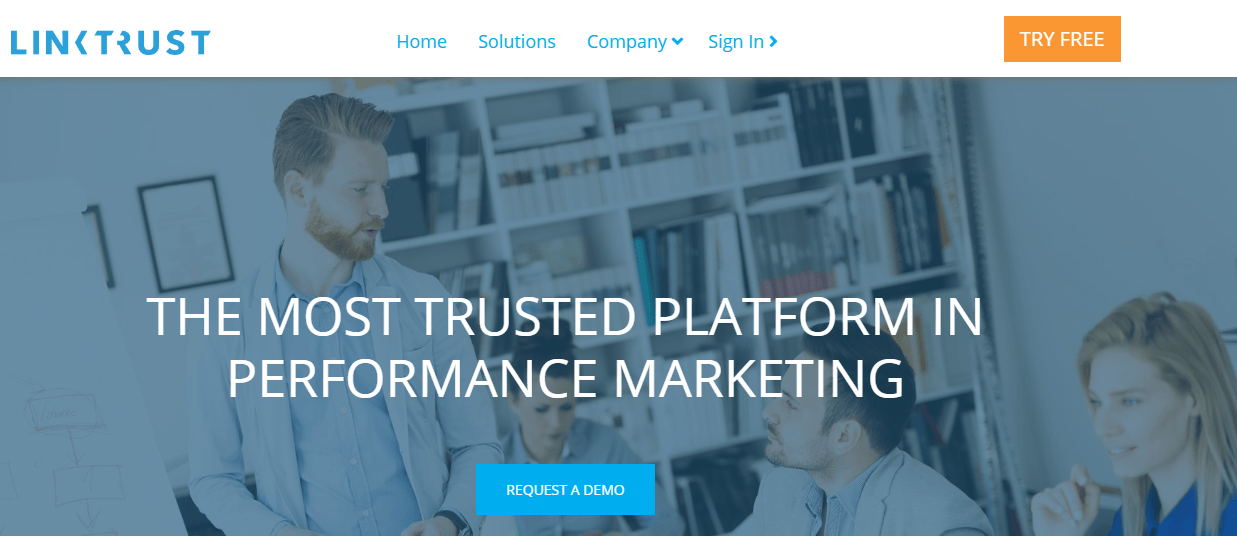 LinkTrust is an affiliate tracking software serving businesses to track and optimize the performance of their campaigns. It also provides users with reporting and analytics.
This platform allows digital marketers to track ads, calls, leads, sales, affiliates, and networks.
LinkTrust assists you in planning, running, and managing complete affiliate programs and ad campaigns. It helps affiliates track their performance, set up traffic caps and filters, watch events, and detect fraud.
Because it can be customized, you can white-label your affiliate and advertiser logins. You can set your tracking links utilizing your own domain.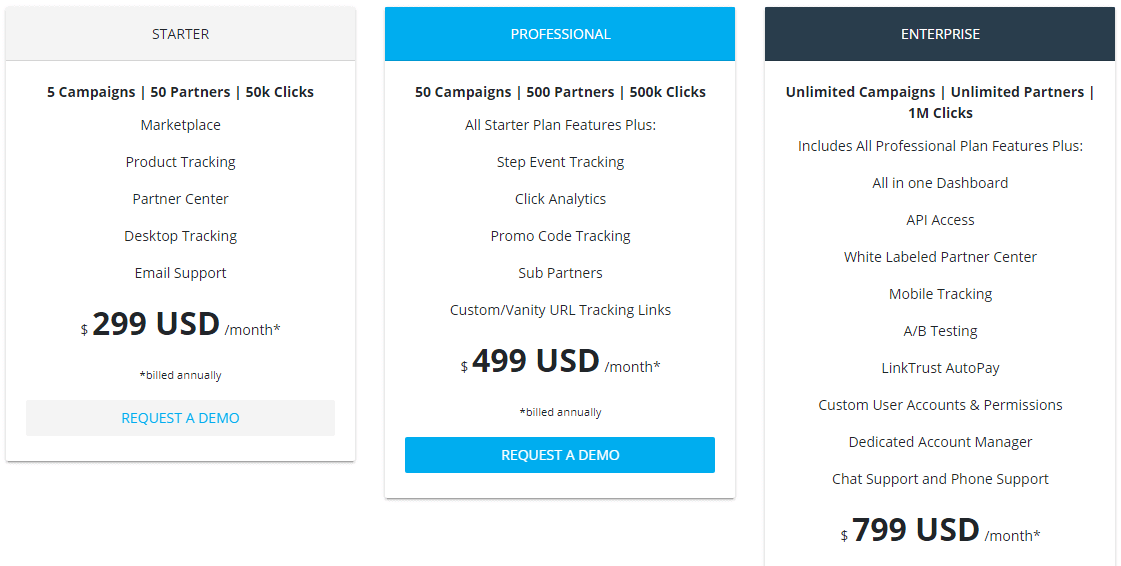 LinkTrust Features:
You can track & monetize your customer journey with the Step Event Tracking feature.
Helps in tracking the performance of a promo code with the Promo Code Tracking feature.
Easily customize tracking links with your own domain or subdomain.
Share an all-in-one dashboard with marketing, sales, and finance data with team members.
AffTrack is a tracking software that gives users the tools they need to create an affiliate network.
With AffTrack, you can look for customers, monitor clicks, and send bills & invoices. There are many packages to suit each client's needs. This enables them to keep firm control over their budgets while keeping open the door for scaling up.
With Afftrack, marketers can understand the trails left behind by clicks even when not on their computers.
The software is flexible and works seamlessly on any device.
AffTrack Features:
Real-time analytics with 99.99% uptime.
Real-time proxy and fraud protection with alert notifications.
No overage charges or unwanted fees.
Full API access with custom integrations.
Target offers based on country, device, language, and more.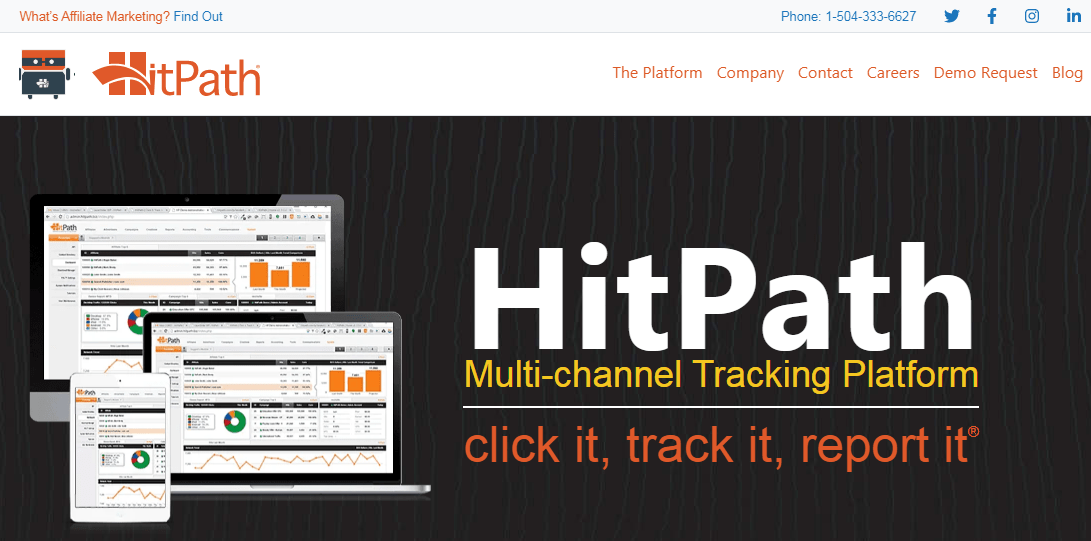 HitPath is a multi-channel tracking platform for affiliates who want to succeed in affiliate marketing. You only pay for what you use, which will help grow your sales and turnover.
There are two components of HitPath that we think merit particular consideration.
First is how Hit Path combines existing methods to produce a tremendous overall resolution to your affiliate marketing needs.
Indeed, the service allows clients to use branded affiliate interfaces that suit the look and feel of a client's website. It serves to create a tailored appearance without the elevated cost and difficulty.
Secondly, the analytics are of high quality and help users with all the data they need to make decisions about the future of a program.
HitPath provides a seamless, elegant user experience and a software package suited to an affiliate program. It is constantly growing due to its impressive features, so it's worth trying out.

HitPath features:
Around-the-clock customer support.
99.99% SLA performance guaranteed.
An intuitive set of tools and reports with proven flexibility.
Custom payouts, affiliate application approval, and fraud detection tools.
Get real-time chat support with Pixel Chat™.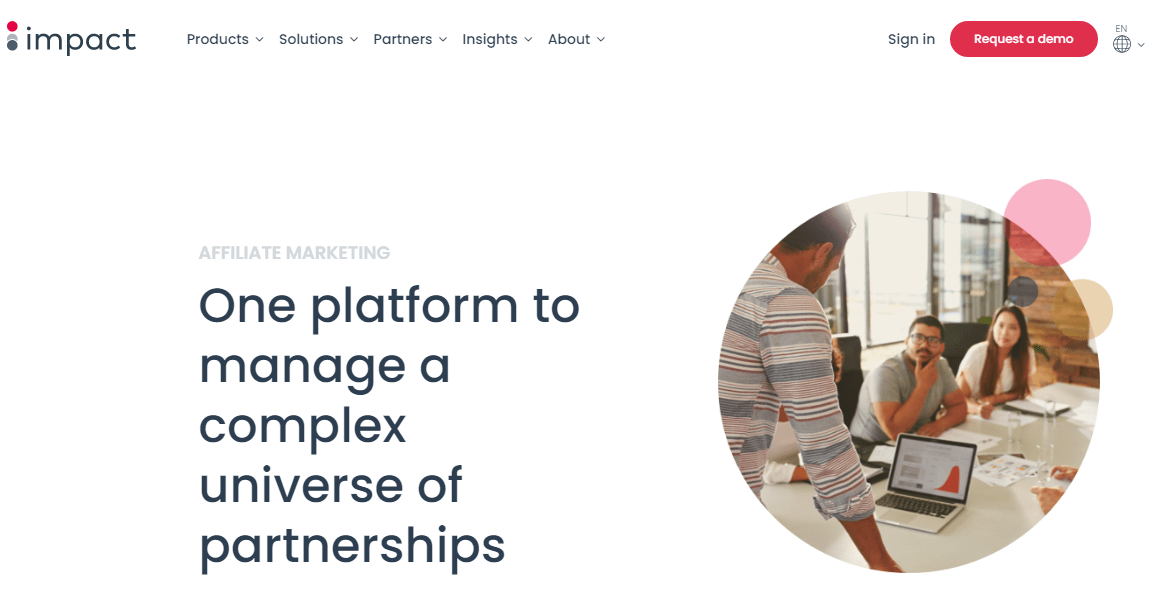 Impact by Radius allows businesses to consolidate their partnerships on a single, intelligent software platform. It clarifies the process of recruiting, tracking, and paying all of your associates.
Huge businesses like Coinbase now use Impact for affiliate management and associate programs. Well-recognized marketing automation SaaS companies like Drip and Leadpages also trust them.
Brands operating with affiliate marketers get next-generation insights and workflows for running their sites, bloggers, and e-commerce associates.
Companies concentrating on influencer marketing can price the actual value each partner contributes to a sale.

Impact Radius Features:
Dynamic payouts give the ability to pay more for new customers.
A large marketplace with over 800,000 potential partners.
Impact's team of experts helps to migrate from your existing affiliate network to their partner platform.
Deeplink Chrome extension allows you to generate affiliate links by visiting any page on the advertiser's site.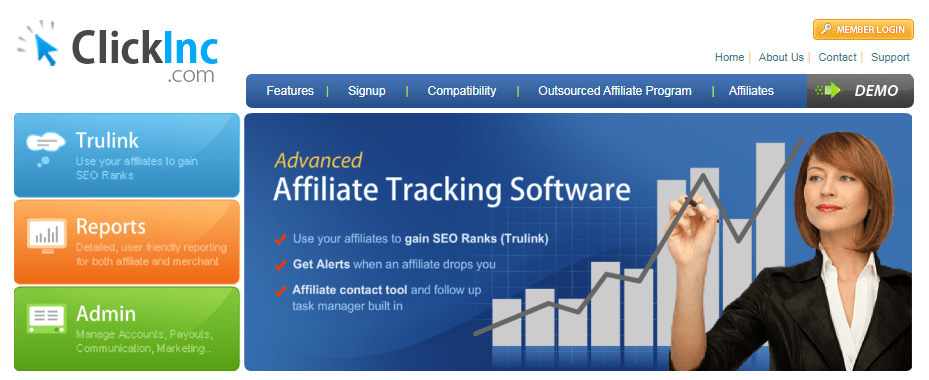 ClickInc affiliate tracking software that doesn't require partners to have any programming skills. Partners need simple HTML experience to manage their tracking system and sky-rocket their sales.
You can expect all the features at ClickInc you would want from any affiliate tracking software, and the new features are updated regularly for the best user experience.
There are two unique features offered by ClickInc, which are TruLink and Alerts. The TruLink feature improves SEO ranking, and the Alerts feature notifies the traffic spikes by SMS or email.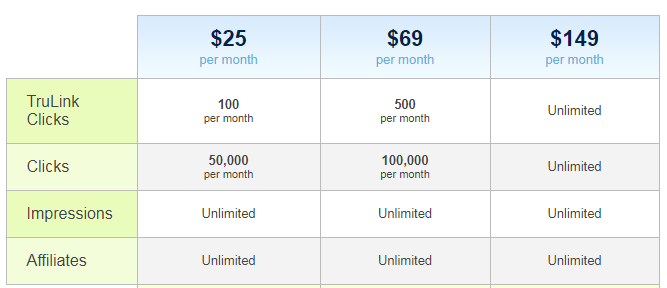 ClickInc Features:
Affiliates can use coupons to promote the brand to their customers.
Get email with metrics like Clicks, Impressions, and more.
Fraud detection and prevention.
Track your website's traffic.
Easy traffic comparison based on day, week, and month.
HasOffers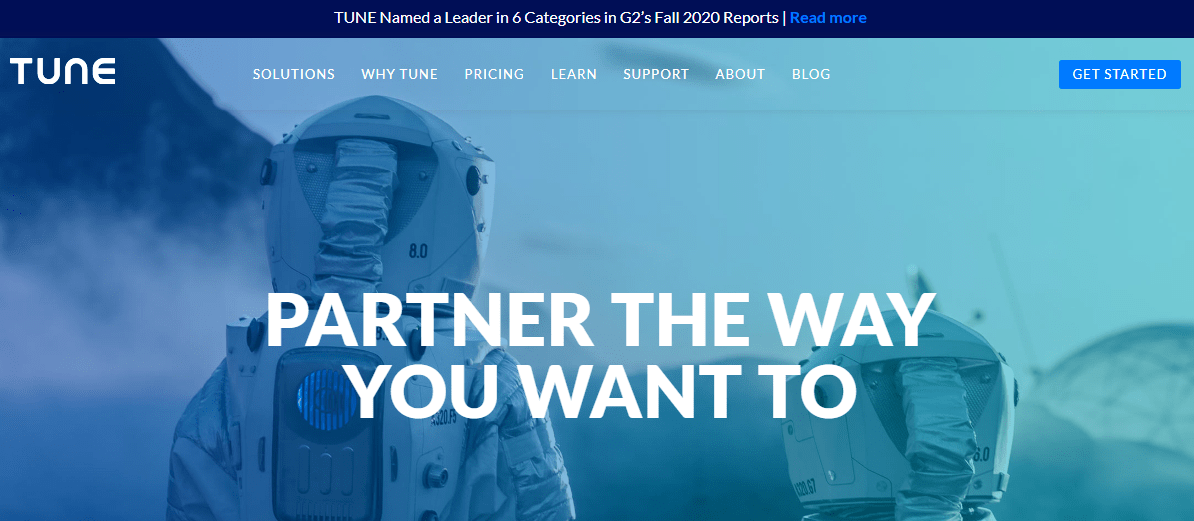 HasOffers is a performance marketing app re-branded to Tune for building your mobile or desktop affiliate network.
It supports advertisers, agencies, and networks to run their campaigns directly with publishers.
HasOffers allows customers to manage publishers, creatives & campaigns and generate invoices and payouts with real-time statistics & reports.
Like any other marketing software, you can effortlessly combine it with your favorite CRM, shopping cart, or project management app.
Current integrations include Google AdWords, LimeLight CRM, Shopify, Atlas, Invoca, ScrubKit, Magento, etc.
HasOffers pricing ensures that all companies can use it, whether small or large. Large enterprises can contact the vendors for a special quote.

HasOffers Features:
Keep your brand alive with white-label, customized dashboards.
Advanced automation tools to save your time and minimize risks.
The cloud-based system ensures 99.9% uptime.
High security with 98% customer satisfaction.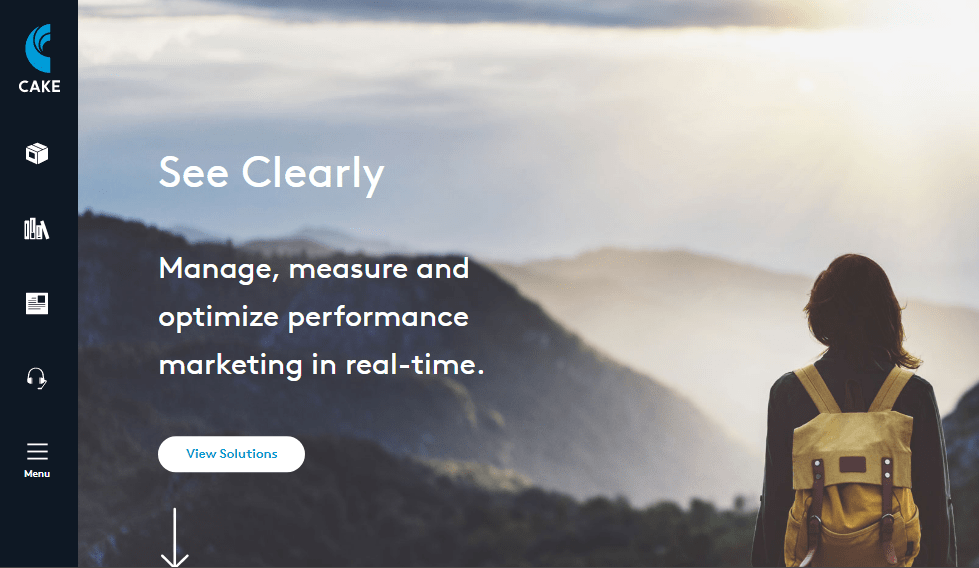 CAKE is a digital performance marketing and affiliate tracking software. Advertisers can take charge of their affiliate network program from one interface.
At Cake, you get the tools for tracking affiliates, interpreting and recognizing results, and distributing creative content to fellow associates in one window.
These features help save the spend on different marketing software, as everything is under one roof.
Moreover, CAKE provides top-notch support to its clients. The support team is quickly accessible via 24/7 phone support with a quick response time.

CAKE Features:
Scale your business with insightful data into your campaign performance.
Accurate traffic measurement with metrics like clicks, impressions, and conversions.
High reliability, as the system is powered by Amazon Web Services (AWS).
A client manager and Implementation specialist will assist you all the way.
Scaleo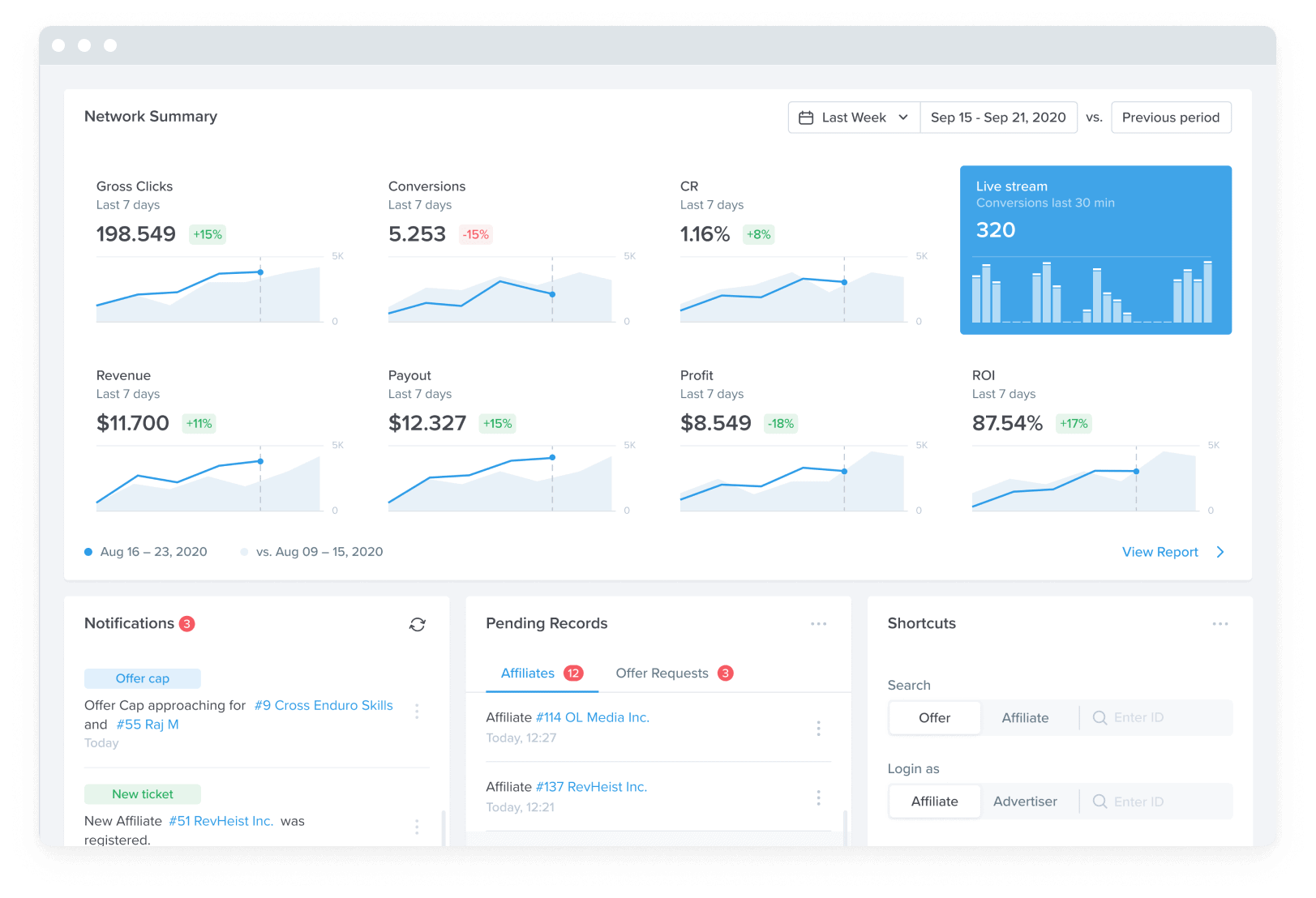 Scaleo is a complete affiliate marketing software that can be used as an affiliate program or as a stand-alone platform for creating your affiliate network.
It's a widgetized white-label affiliate marketing solution that offers full UI customization to fit your brand – from logo to color scheme.
If you are looking for an eye-candy design with unbeatable functionality and a robust backend with dozens of innovative features, including ultra-fast redirects, 10+ targeting options, custom notifications, and intelligent traffic redirection – you'll love Scaleo. Easy integration with Google Tag Manager (GTM) for Cookies-based Tracking, Shopify, Woocommerce, Tilda, Wix, Big Commerce, Magento, CS-Cart, OpenCart, Squarespace, and others.
The developers behind Scaleo have 10+ years of experience in the affiliate and tracking industry, which allowed them to assemble robust software with an in-built Anti-Fraud Logic™ algorithm that helps eliminate and prevent fraud clicks and transactions in real-time.
Scaleo's lightning-fast backend interface will save you a lot of time, as all statistics are generated and updated in real time, including incoming clicks and transactions.
Thanks to these instant, detailed reports, you can optimize your campaigns and increase margins without wasting money on illegitimate traffic or unscrupulous affiliates. Scaleo's innovative pricing model is based on conversions and offers unlimited clicks.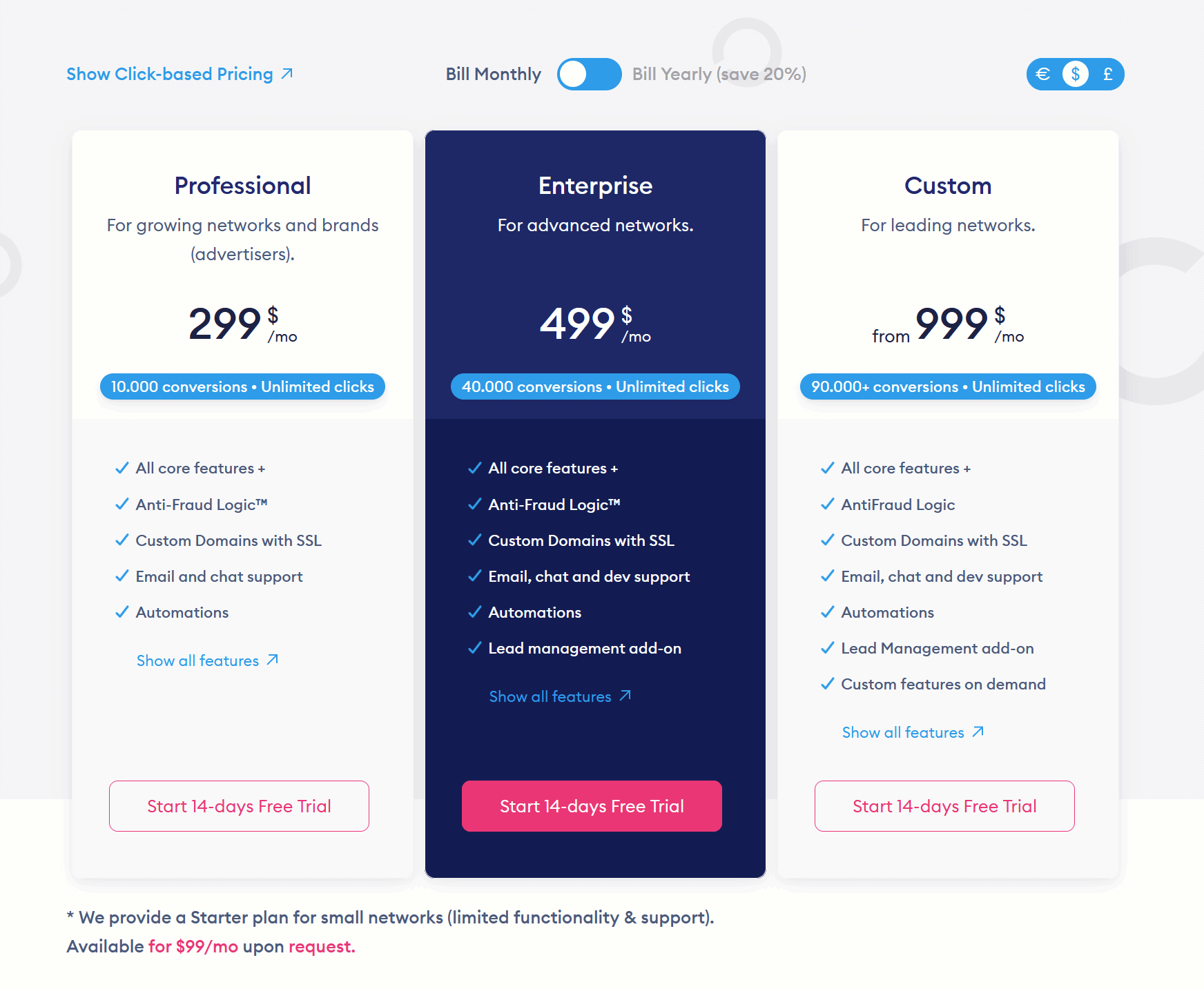 Scaleo is for anyone considering starting an affiliate network with extended functionality yet intuitive and fluent UX for admins and affiliates.
Scaleo offers instant access to a 14-day trial; no credit card is required. Start your free trial immediately and get into the affiliate marketing business with a professional solution that will cover all your needs. If you need any help, don't hesitate to contact their friendly support team.
Wrapping It Up
Only serious affiliate marketers would have read this article till the end.
Tracking tools for affiliates are essential because they generate tons of data. A fellow needs to find out the loopholes in his/her strategies. And tracker software makes it easy to find out what's working and what's not.
The list of best affiliate marketing tracking software shown in this article is my opinion. If you are using another tracker, share it with our readers.
Get Affise Tracking